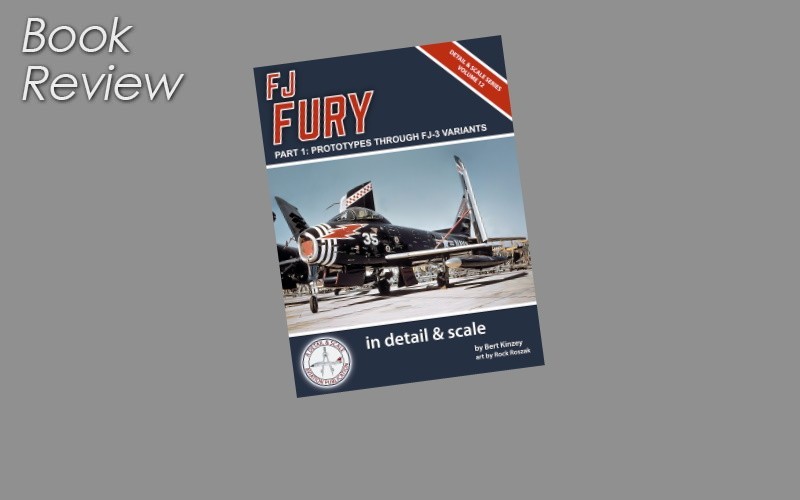 Introduction
Detail & Scale first published a Fury book in 2003 but there is a lot to Fury history, so to cover it properly, D&S has now divided the subject into two volumes. Modern digital publishing affords the ability to economically add more color photos and this book - and you - reaps that benefit.  FJ Fury, Part 1: Prototypes Through FJ-3 Variants presents two sections with 180 photos. 
FJ Fury, Part 1: Prototypes Through FJ-3 Variants covers the development of the fighter in 102 pages, with 264 photos (207 in color), with 10 full color profiles and several additional illustrations. That is the print version, catalogued as ISBN 9798524130945.  The electronic Kindle and Apple formats feature 178 pages, 269 photos (211 in color), 10 color profiles.  Volume 2 focuses on the FJ-4 and FJ-4B and is also available.

Detail and Scale books are excellent sources for modeling and history that I have been reading since the late 1980s.   They impressed me then and yet only recently have I comprehended just how comprehensive they are.  Founders and authors Bert Kinzey and Rock Roszak bring over 60 years of first-hand military aviation expertise into their Detail and Scale brand. Roszak, a USAF navigator who retired as a colonel, creates illustrations for the books.   Both of the Detail and Scale creators are modelers, too.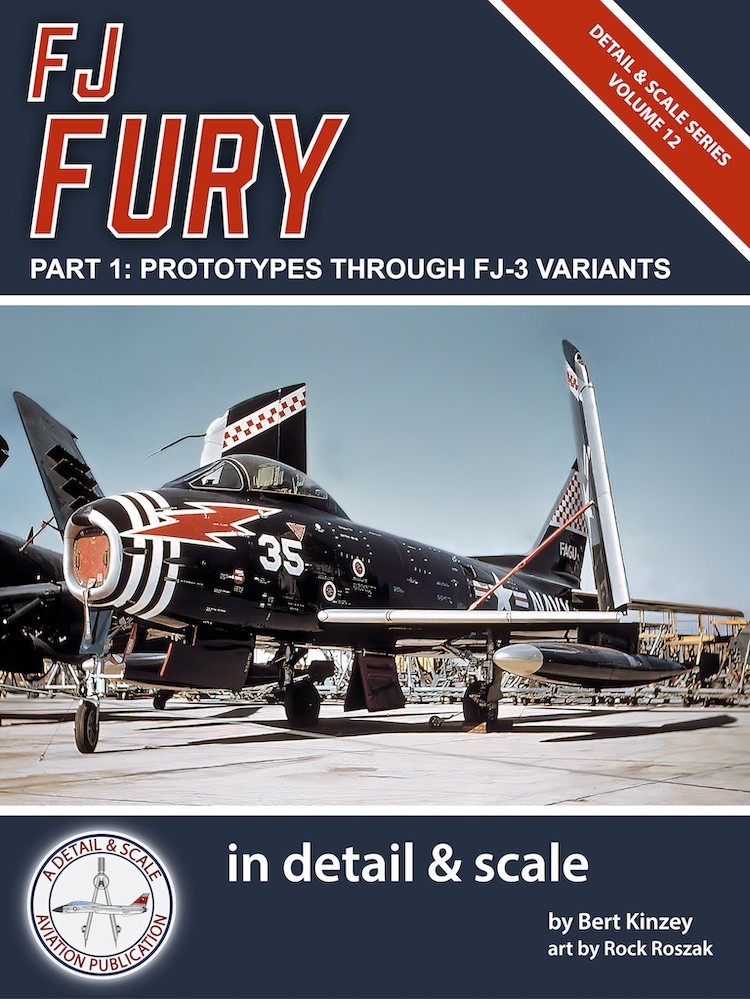 Preface
Under the early atomic postwar sky, United States Navy (USN) jets were carried aloft on straight wings that kept them inferior to friendly and enemy swept-wing land-based jets. The Navy was in danger of becoming little more than a water taxi service. USN decided to sweep the wings of their two brightest fighters, the F9F Panther (review available here Detail & Scale F9F review ), and the FJ Fury.
How did that work out?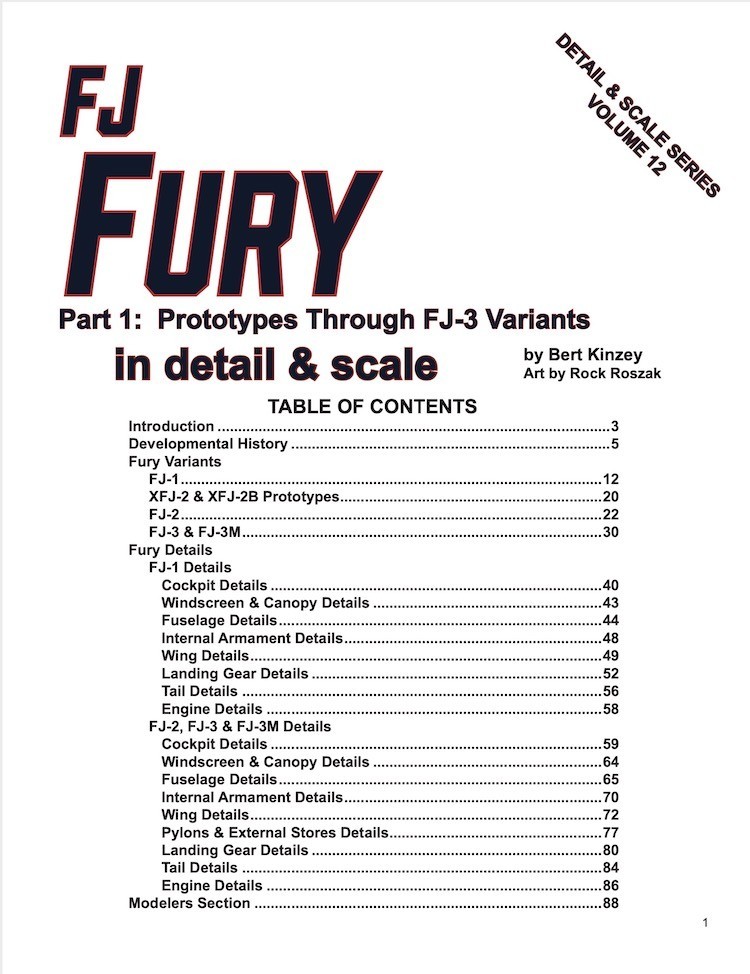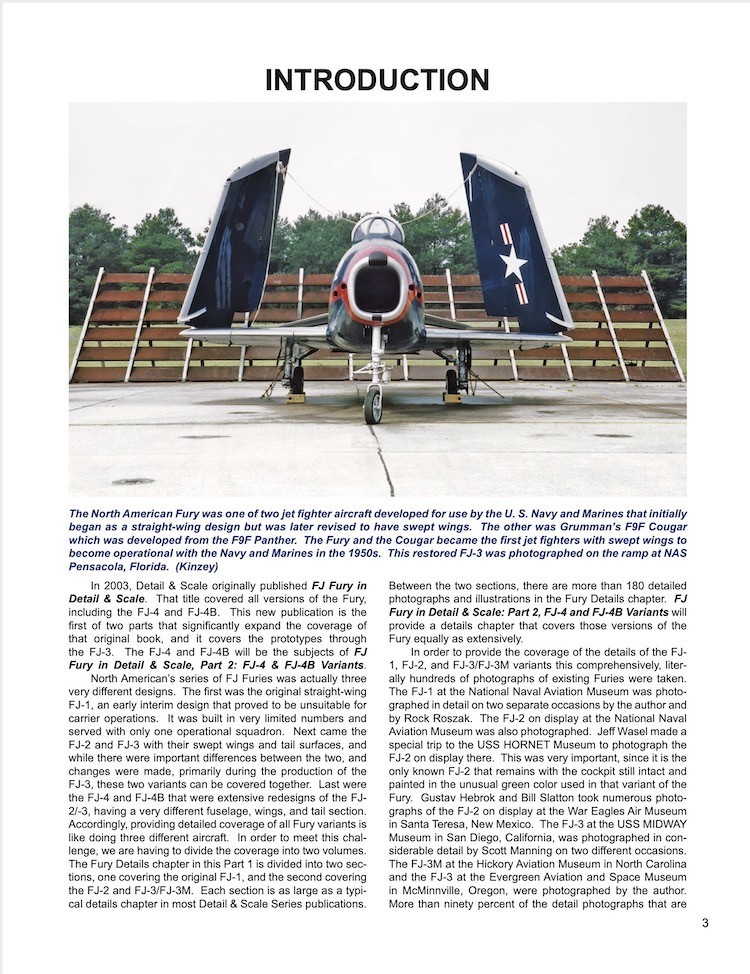 Content
FJ Fury, Part 1 features 102 pages of content presented through six chapters and over two dozen subchapters and sections:
Introduction

Developmental History

Fury Variants

FJ-1

XFJ-2 & XFJ-2B Prototypes

FJ-2

FJ-3 & FJ-3M

Fury Details

FJ-1 Details

Cockpit Details

Windscreen & Canopy Details

Fuselage Details

Internal Armament Details

Wing Details

Landing Gear Details

Tail Details

Engine Details

FJ-2, FJ-3 & FJ-3M Details

Cockpit Details

Windscreen & Canopy Details

Fuselage Details

Internal Armament Details

Wing Details

Pylon & External Stores Details

Landing Gear Details

Tail Details

Engine Details

Modelers Section
Keep in mind those sections are richly supported with photographs.  More on that, later.  
Here is what you'll find between the covers.   Introduction explains the book in relation to other D&S books, from its first publication in 2003 the material has burgeoned to the point that it was deemed too big even for the digital format, and divided into the two aforementioned books.  Contributors are acknowledged as well as which aircraft were visited for photographed.  It also offers basic Fury history, and the general overview of this content.  If you wonder if the design was based on captured German data, we learn of when the contract for the aircraft was issued.  Developmental History presents the gestation of the Fury, from a bloated pufferfish with wings and a disastrous aircraft carrier operational debut, to a significant redesign at the behest of the United States Air Force that USN adopted, through slapping stopgap carrier equipment on said USAF bird, through a proper navalized carrier fighter.  Those various versions and variants can be tricky to keep track of but thankfully, D&S includes gems such as North American Aviation's project design numbers, e.g., NA-134 for the XFJ-1, NA-140 was the F-86.  It explains why the swept-wing FJ-2 was very different from the FJ-1 but USN kept the name Fury. Re-engining of the jet is covered, too, as well as other changes and refinements like modification of the speed brakes and adding wing root fillets, numbers built, and the FJ family in relation to further naval jet development.  A good deal of information in 11 pages.
Fury Variants explores the metamorphosis of the Fury design.  FJ-1 explores the tubby jet with further developmental information through eight pages. Included is a two-page reproduction of a North American Aviation engineering schematic showing theFJ-1 in profile, planform, and frontal aspect, with component details and cross sections, including painting criteria.  For those trying to properly position landing gear and doors, deflection angles and arcs, reference and datum lines, are present.  A further 10 pages presents the redesigned refined XFJ-2 & XFJ-2B Prototypes and the FJ-2.  Herein we are also treated to the first of special artwork enhancing the text, including two views of the FJ-2 overlaid on a F-86, demonstrating the contours and size differences.  Again, specific detail is covered, i.e., redesign of the canopy, reshaping the inlet, folding wings and required tweaks to the wing design, changes to the rudder and elevators, new electronics.  One curiosity is the performance of Fury gunfire against maneuvering targets.  Airframe finish is explored, including USN's flirtation with bare metal airframes.  FJ-3 & FJ-3M reveals USN attempts to increase performance.  We learn that the FJ-3 was slightly bigger than preceding FJs and a more powerful engine gave it superior performance to Sabre/Fury variants except the F-86H.  Detail includes changes to air scoops,modifications to the wings, rudder and elevators, and external stores, to name a few items.  These Furies packed heat in the form of infra-red guided missiles.
For Fury Details, it takes two separate sections and48 pages to adequately cover the four various Furies.  (Five if you count the XFJ-1 cockpit.) These are photographic explorations of the jets, supported with more original artwork.  These galleries contain color photos (except where noted) even contain a rarity, the FJ-2 with an uncommon green cockpit. The images are clearly explained in captions, many pointing out unique details, with some of the highlights noted:
FJ-1 Details
Cockpit Details:

XFJ-1 Prototype Cockpit – four black-and-white photos.

FJ-1 Production Cockpit – two pages and eight photos

Windscreen & Canopy Details –four photos.

Fuselage Details – four pages and15 photos; explained are the angled lines on the front-bottom half of the fuselage, radio antenna wire, identification lights, and a "look up the spout"of the exhaust pipe, clearly showing the fuselage interior and the inside lip colors.

Internal Armament Details – two detailed cutaway illustrations by Mr. Roszak, keyed to 25 components, i.e., live and expended ammo chutes, solenoids, hydraulic chargers, voltage regulators, gun heaters (noting model and type numbers) to name a few parts.

Wing Details – three pages, 13 photos of airfoils, control surfaces, drop tanks, noting painted markings.

Landing Gear Details – four pages, 17 photos of very clear views of wheel wells and landing gear.

Tail Details – two pages, seven photos, showing actuator links, hinges, antenna wires, etc.

Engine Details – okay, I know some jets had curious designs to access their jet engine but the first Furies surprised me, as shown in a photo; three color and a B/W photo of an Allison J35.
FJ-2, FJ-3, & FJ-3M Details
Cockpit Details: FJ-2 – two pages, seven photos of that unique green-painted cockpit.

FJ-3 & FJ-3M – three pages, seven B/W photos, a color view, original color artwork of the early and late ejection seats (based on illustrations in the FJ-3 NATOPS manual).

Windscreen & Canopy Details –six photos.

Fuselage Details – seven pages with27 photos and illustrations (3 x B/W); all except two of a gray & white Fury, which extenuates the red and zinc chromate green interiors of the speed brake and its well.  An unpainted exhaust fairing, fuel dump vent, tail bumper and arresting hook, gun and ammo bays are displayed.  Mr. Roszak illustrated cannon arrangement details of the FJ-2 & FJ-3, again identifying components and providing information.

Wing Details – 20 photos on five pages: hard or slatted wings, folded and extended, wing fences, refueling probe, pitots, barrier snags, and wing fold mechanism interiors - both green or exterior painted interiors.

Pylon & External Stores Details– 3 pages, nine photos (one B/W) of thew subjects, and two illustrations of an AAM-N-7 Sidewinder and the missile rail and pylon.

Landing Gear Details – four pages,17 photos of, again, very clear views of wheel wells and landing gear.  Striking colors are shown.

Tail Details – two pages, seven photos (two of a blue Fury), displaying rudder and elevator differences, pivot points.

Engine Details – five photos on two pages showing the J47-GE-2, and a more conventional method to access the powerplant.
Those images should cover about any question a modeler may have about the various Fury designs.  For those who debate the authenticity of a spiderweb of scribed panel lines on a model, these images show just what can reasonably be seen.
Modelers, you should treasure the final part of the book: Modelers Section.  Thirteen pages of commentary and reviews begins with a page of history concerning the dearth of Fury models.  Author Bert Kinzey built many of the models, and includes models built by other contributors.  From 1/72 to 1/32 kits - as of 2021 - all known Fury models from manufacturers in each scale are covered, including accuracy, molding/casting quality, fit (if built), details, and personal assembly recommendations.  Who knew the catapult cradle recess was wrongly shaped on a popular kit?   Want to know which popular kit has inferior decals to a re-release from the1970s?  We are treated to reviews of built models, six each in 1/72 and 1/48.  A photo of the model accompanies each review.  Aftermarket detail and add-onsets are mentioned.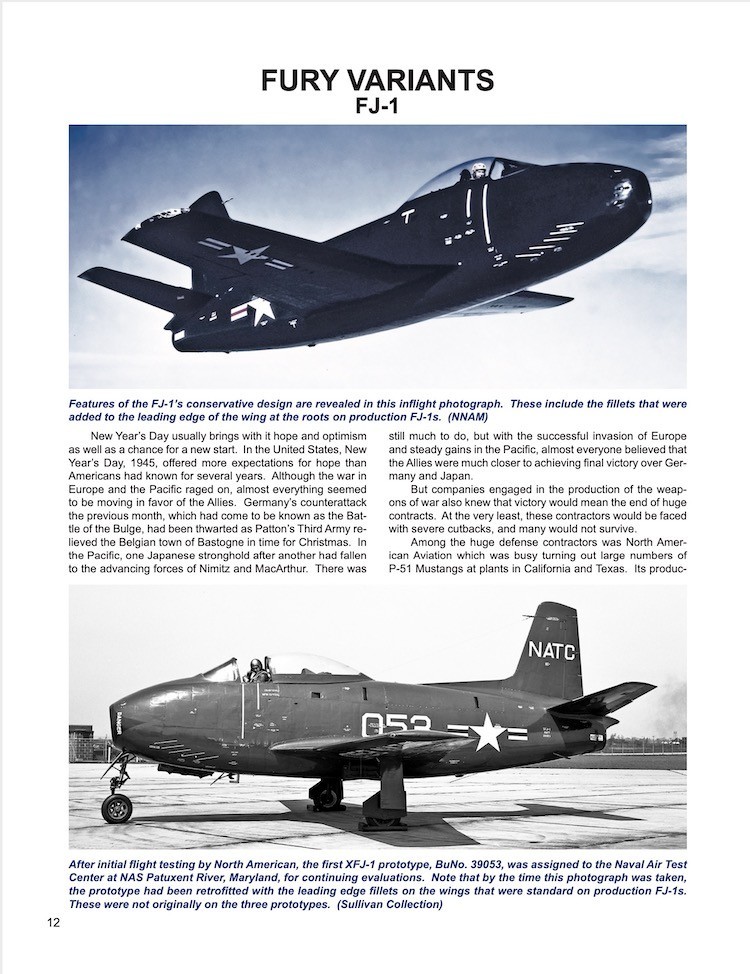 Visual Support
Photographs
Modelers and enthusiasts of early to modern jets, this series is a cornucopia of resource material and inspirations.  I already want to create a diorama based on one photograph – a glossy blue Fury with bright yellow jeeps and service vehicles.  Extensive color photo galleries even contain a rarity, the FJ-2 with an uncommon green cockpit.  As we have seen, most of the photos in the detail section are color.  Their quality is what I describe as studio quality – precisely focused, expertly composed and framed, and effectively lighted.  The publishers use a remarkable collection of B/W or color images from the Fury era.  A significant number are described in the preceding chapter Fury Details.
Artwork
What the camera missed is recreated with color artwork by Rock Roszak.
1.     FJ-2, VMF-122 "Candystripers" in profile.
2.     FJ-2, VMF-334 "Falcons," MCAS Miami in profile.
3.     FJ-2, VMF-451 "Warlords," MCAS El Toro in profile.
4.     FJ-2, BuNo. 131951, Naval Reserve, St. Louis in profile.
5.     FJ-3M, CAG, VF-24, NAS Miramar, Sept. 1956 in profile.
6.     FJ-3M, VF-142 "Fighting Falcons" in profile.
7.     FJ-3, VF-143 "Kingpins," Squadron Commander, August 1956 in profile.
8.     FJ-3, VMF-124 in profile.
9.     FJ-3, VMF-251 in profile.
10.  FJ-3D, BuNo. 135995, Naval Missile Test Center, April 22, 1961 in profile, painted in the blue-red-yellow tri-color.
11.  AAM-N-7 Sidewinder missile and carriage pylon unit.
12.  FJ-2 & FJ-3 Cannon Arrangement and Gun Bay, as previously described.
13.  Ejection Seats, Early and Late, as previously described.
14.  Internal Armament Details – two detailed cutaways, keyed to 25 components.
15.  Previously noted is the Two-Page Reproduction, North American Aviation Engineering Schematic of the FJ-1.
Tables effectively present what would require many more pages and hundreds of words to cover as text.
A.     Major Units Operating the FJ-2 by:
Squadron
Nickname
Home Base
Tail Code
Remarks
B.     Major Navy and Marine Squadrons and FacilitiesOperating the FJ-3 and FJ-3M: over 50 fighter, fighter-bomber,drone-control, Naval Test Center and Reserve units, by:
Squadron
Nickname
Home Base
Tail Code
Remarks
Detail & Scale Series publications are valued part of my bookshelf because of that synergy of text and graphics.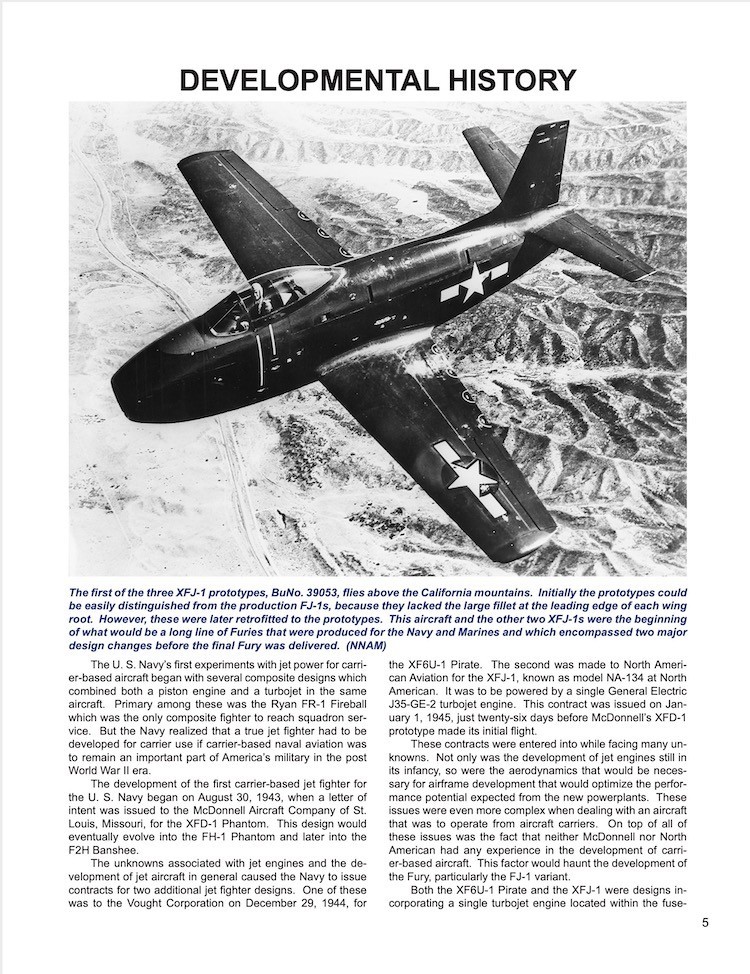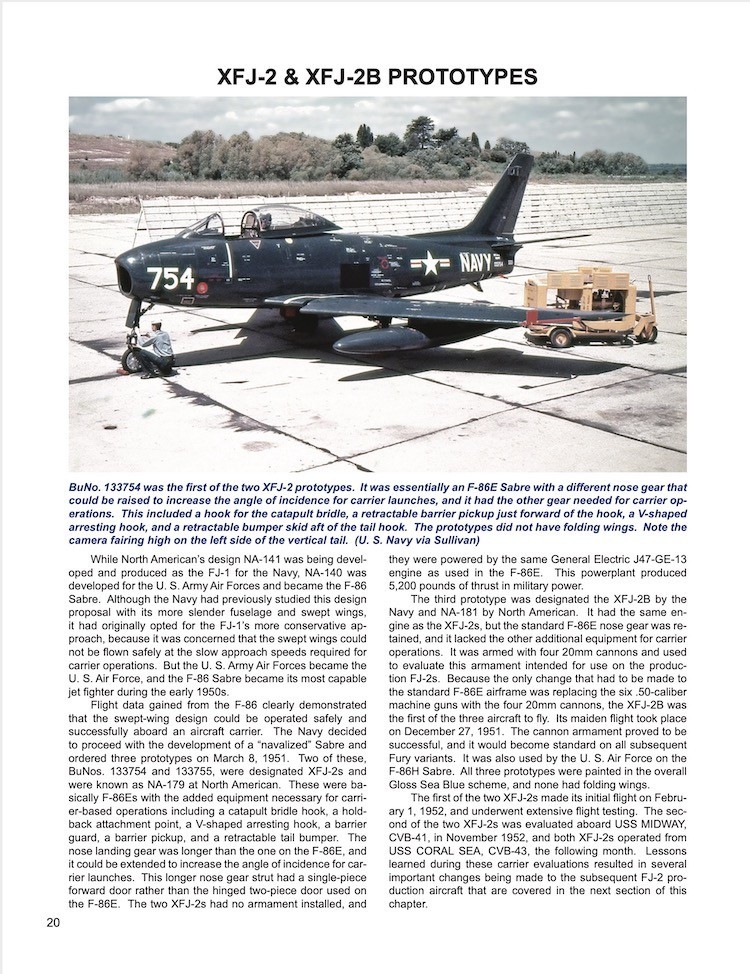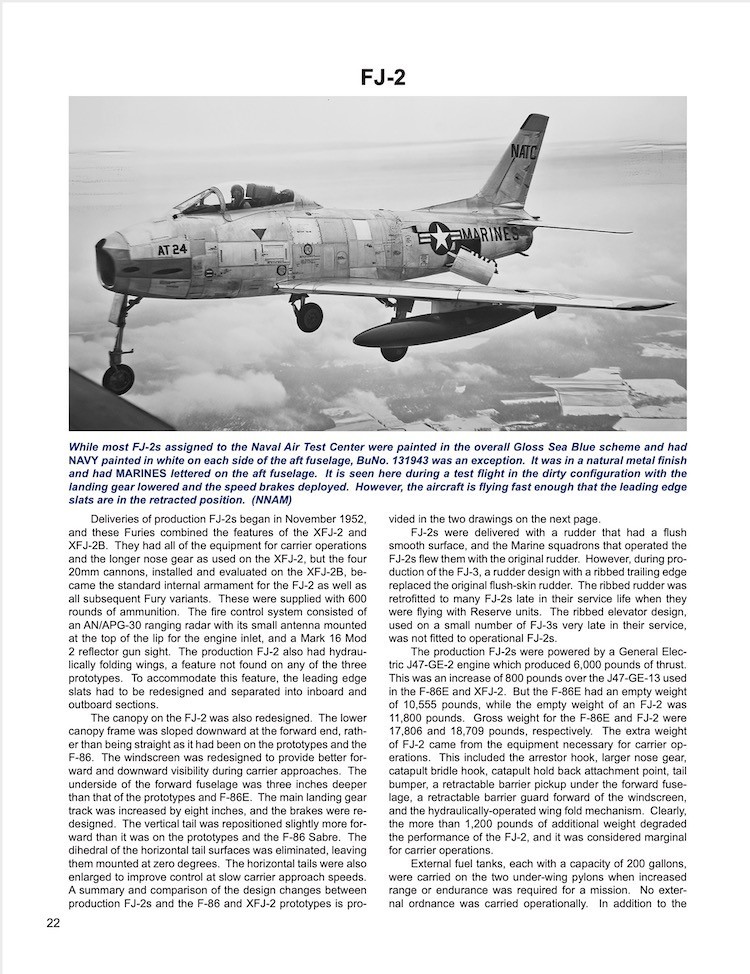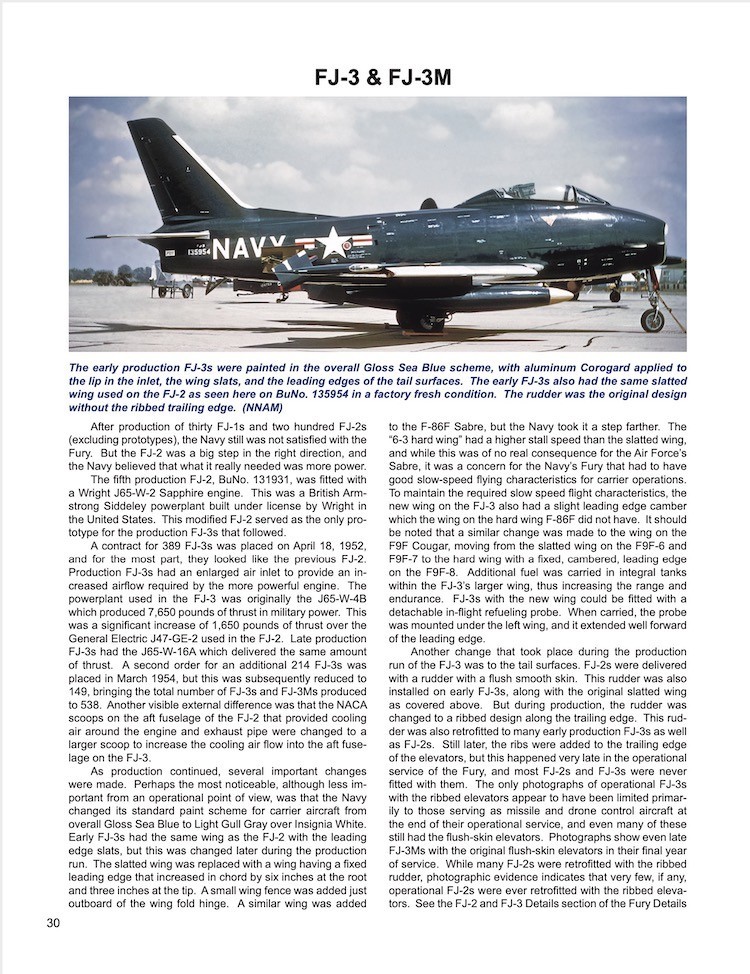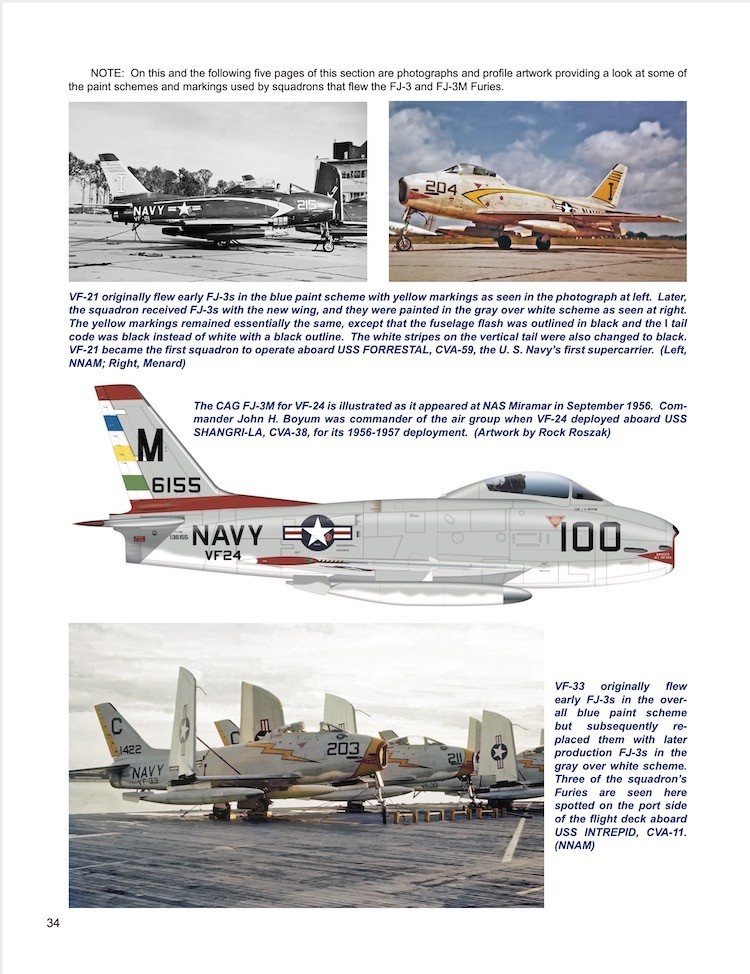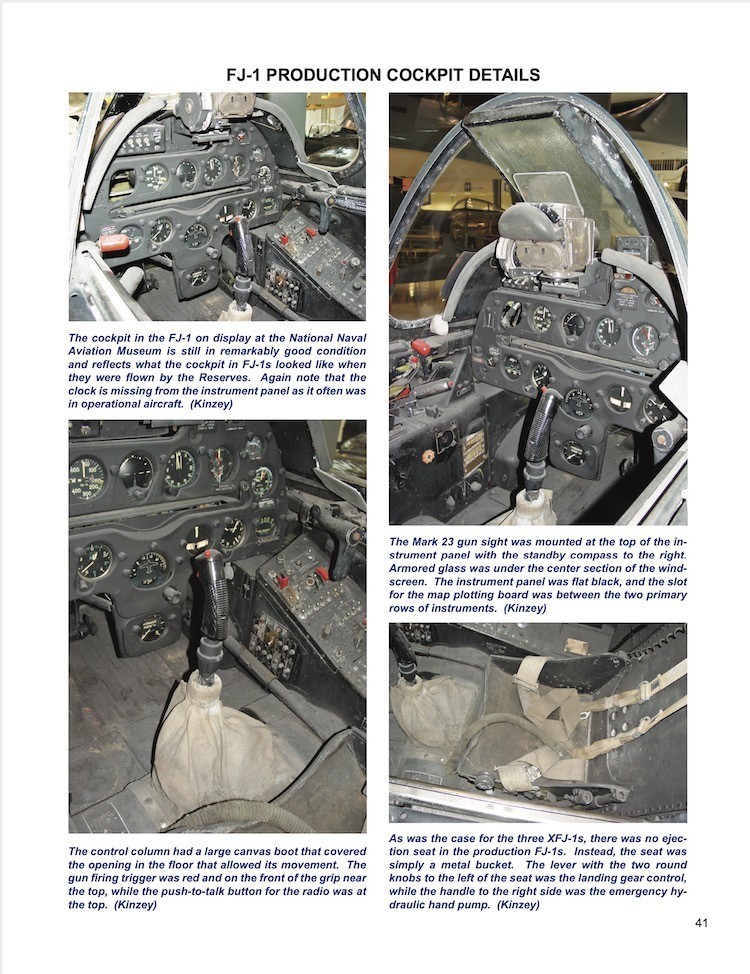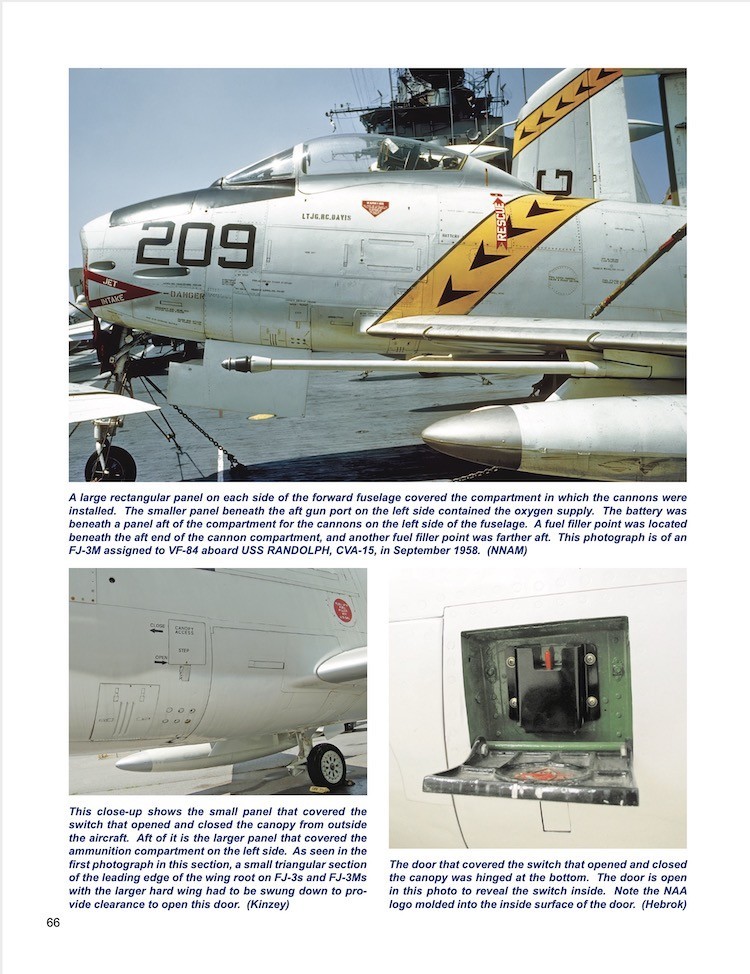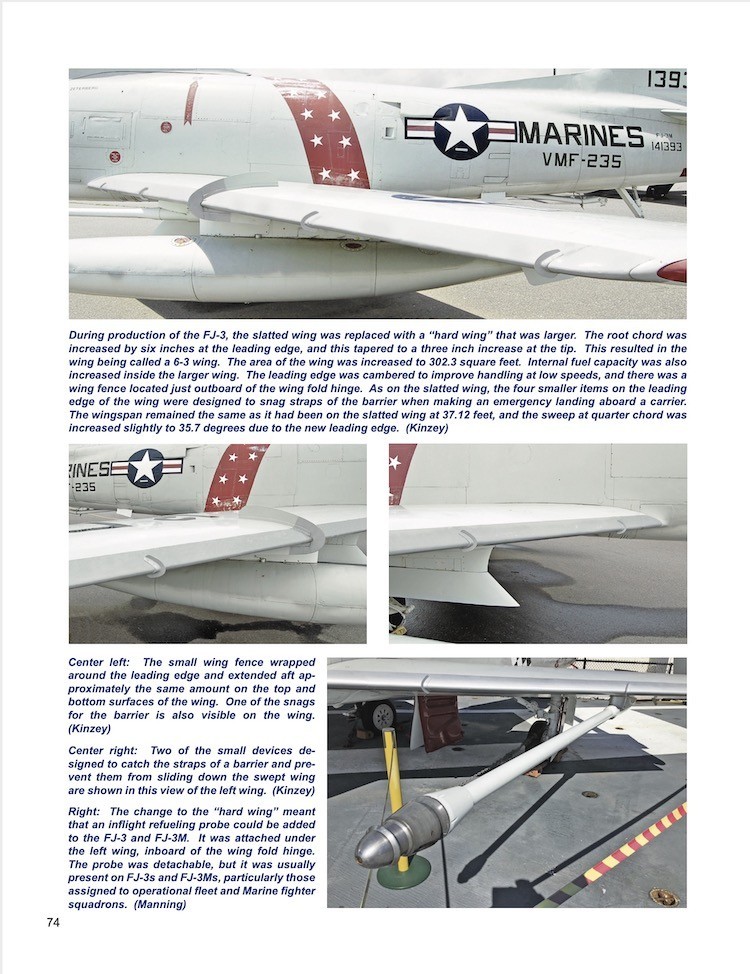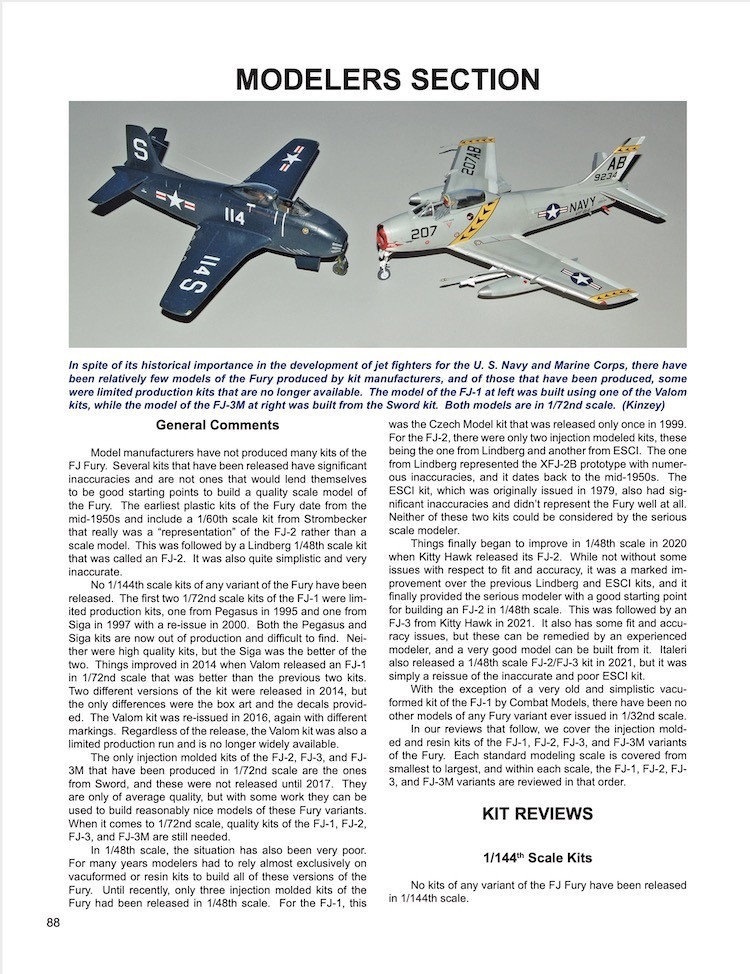 Conclusion
USN's Fury is a classic fighter of a classic era and FJ Fury in Detail & Scale, Part 1:  Prototypes Through FJ-3 Variants should become a classic reference of the jet.  Detail & Scale authors and artists are historians and modelers, creating products with erudite content for both communities.  With an exceptional gallery of photos and original artwork supporting expertly researched text, the content creates a book worthy of any bookcase.  FJ Fury in Detail & Scale, Part 2 is becoming available at the time of this review, and no doubt will be an equally desirable companion to this book.  Both should be valued for modelers and enthusiasts of early jets, naval or land based.  
Expert content richly supported with graphics, what more could one want?  I am impressed with this volume and recommend it to aviation enthusiasts.