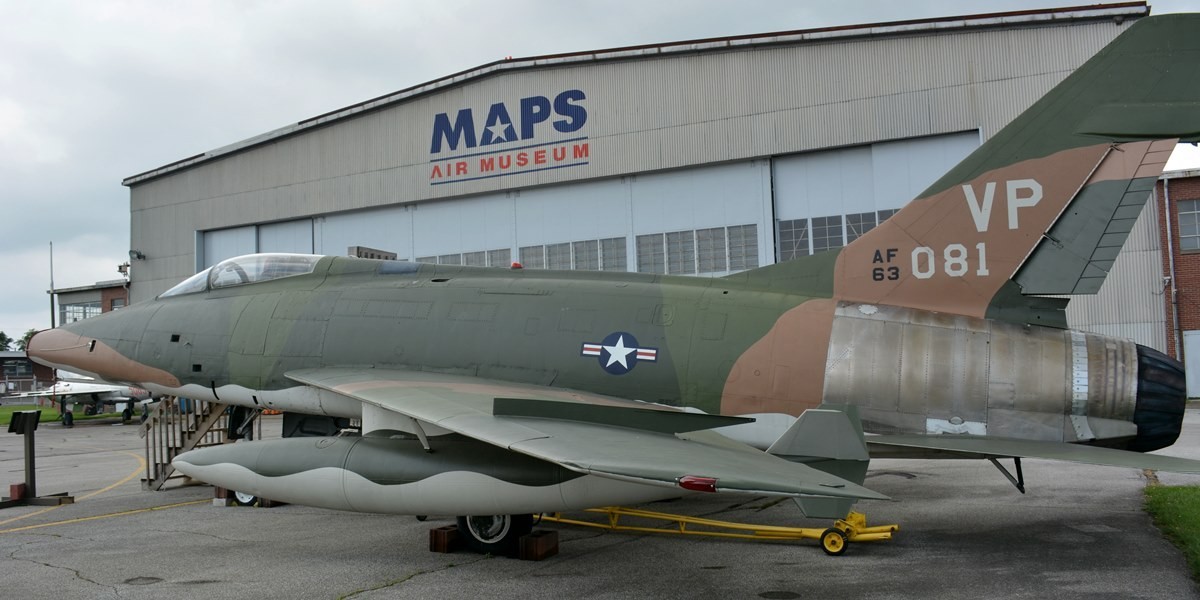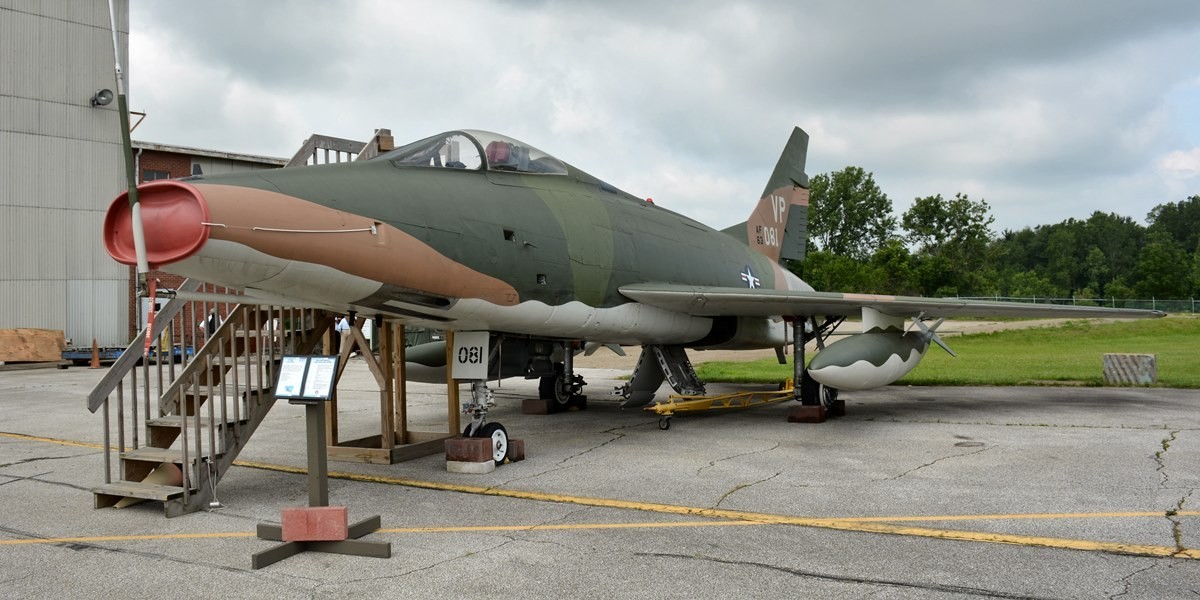 History:
The North American F-100 Super Sabre, the first of the "Century Series" of jet aircraft, was the first Air Force fighter capable of supersonic speed in level flight. The F-100 was originally designed by North American Aviation as a higher performance follow-on to the F-86 Sabre air superiority fighter. The F-100 flew extensively over South Vietnam as the Air Force's primary close air support jet and also served in several NATO air forces and with other US allies.
The F-100D was built in greater numbers than any other version, there were also two seat reconnaissance versions built. When production stopped in 1959 almost 2300 had been made. Super Sabre's retired from USAF service in 1972, but remained in use with Air National Guard units until 1980. Super Sabre's were supplied to Denmark, France, Taiwan and Turkey, with the last finally retiring the type in the mid-1980's.
Career Highlights:
The first operational aircraft in the USAF capable of exceeding the Mach 1 in level flight.
On August 20, 1955, an F-100C set the first supersonic world speed record of 822.135 mph
May 13, 1957 set a speed and distance world record from New York to LA in 14 hours 4 minutes.
August 7, 1959 became the first ever Jet fighter to fly over the North Pole.
April 16, 1960 became the first USAF combat jets to enter the Vietnam war.
April 4, 1965 became the first aircraft to engage in aerial Jet combat in Vietnam.
The USAF Thunderbirds operated the F-100C Super Sabre from July 1964 to November 1968.
The Display Aircraft's Service Record.
Jun 1957 Built at North American Aviation, Inglewood, California.
Delivered to United States Air Force June 19, 1957
312th Fighter-Bomber Wing, Tactical Air Command (TAC)
Cannon Air Force Base (AFB), New Mexico.
Deployed to Seymour-Johnson AFB, North Carolina.
Jul 1958 312th Fighter Bomber Wing, TAC, George AFB, California
Deployed to Cannon AFB, California and Chiayi Air Base (AB) Taiwan
Feb 1959 27th Tactical Fighter Wing, TAC, George AFB, California
Deployed to Incirlik AB, Turkey and McConnell AFB, Kansas
Mar 1965 4510th Combat Crew Training Wing, TAC, Luke AFB, Arizona
Apr 1967 3rd Tactical Fighter Wing, Pacific Air Forces (PACAF), Bien Hoa AB, Vietnam
Oct 1969 35th Tactical Fighter Wing. PACAF, Phan Rang AB, Vietnam
Jun 1970 31st Tactical Fighter Group, PACAF, Tuy Hoa AB, Vietnam
Sep 1970 4403rd Tactical Fighter Wing, TAC England AFB, Louisiana
Apr 1972 121st Tactical Fighter Group, Ohio Air National Guard (ANG), Lockbourne AFB, Ohio
Oct 1974 132nd Tactical Fighter Wing, Iowa ANG, Des Moines, Iowa
Sep 1976 131st Tactical Fighter Wing, Missouri ANG, Lambert Field, Missouri
Nov 1978 Transferred to Aerospace Maintenance and Regeneration Center, Davis-Monthan AFB, Arizona
Jun 1988 Converted to QF-100D Target Drone (Note damage to left wing aileron from sidewinder missile strike.)
Jun 1998 Transferred to Florida Air Museum, St. Petersburg, Florida by the U.S. Air Force Museum
Nov 2004 Recovered and placed on indefinite loan to MAPS from the U.S. Air Force Museum.