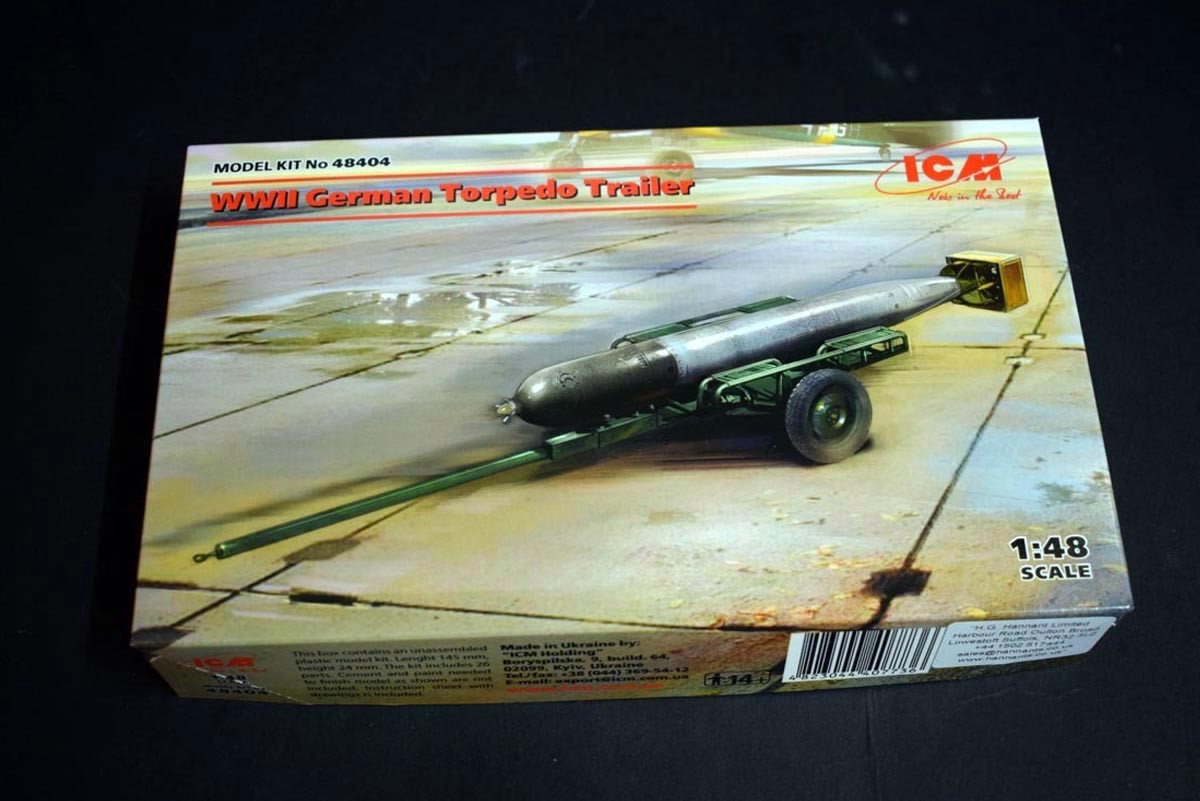 Introduction
ICM has recently released a torpedo trailer with torpedo in 1/48th scale. I suspect the scale has been chosen to accompany the large number of 1/48th scale aircraft that they have released. I particularly think of the twin engined German bombers, that they have released over the last few years, that are armed with torpedoes. I will say that I would like to have seen an item like this in 1/32nd and 1/35th scales, as I would imagine that armour modellers and large scale aircraft modellers would have liked to have had an item like this. So let's see what's inside.

Review
This offering from ICM, is packaged in the standard manner, of a flip top cardboard tray with and additional card lid with the art work on it. Inside there is a re-sealable plastic bag, containing the single sprue for the product, and there is a pull out sheet of paper covering assembly and finishing.
The trailer is a cruciform style of trailer, with the support structures added after. A simple axle with single piece wheels is provided. The guard rails down both sides of the weapon, are very fine and will require care during their removal in order to prevent breakages. The torpedo itself, I am unable to identify any specifics on, other than I know it is an aircraft dropped torpedo due to the boxy structure, and the rear end of the torpedo. This structure is to prevent the torpedo going too deep into the water, and or breaking up when it hits the surface.
Construction of this model, is fairly simplistic. With the warning about the rails being the main concern, and removal and clean up of the 2 four blade props due to their small size. There is nothing much to the assembly of the torpedo, as it is a simple case of two torpedo halves, props for the propulsion, the tail fin and the box assembly already mentioned.
Conclusion
I am a little confused as to the purpose of this release. As in 1/48th scale it is a small element, which would look nice in a small diorama, with a suitable aircraft. But I cannot help thinking that its appeal would have been far better if it had been included in 1/35th scale, as I suspect that armour modellers would have liked this as a unusual element for a diorama.