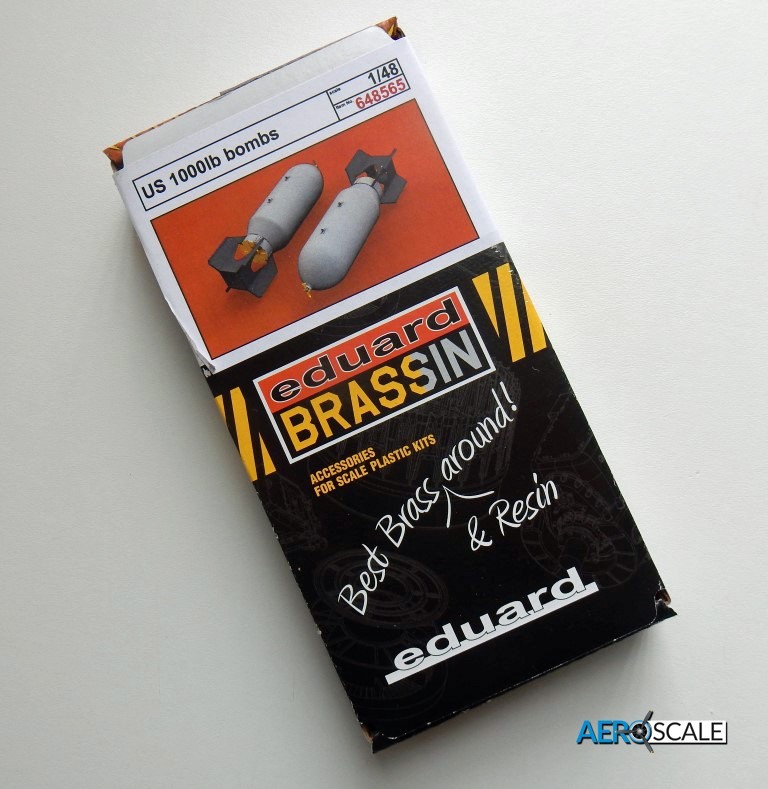 In the box
Packed in the now standard cardboard box, the 4 resin parts, one small fret of photo etch and a small decal sheet are sealed in their own bags, with a set of instructions folded at the bottom of the box.

Casting as usual from Eduard is superb with no discrepancies in the resin.
Each resin part is connected to a casting block and will need to be removed. Where to cut is easy to see, but the main bomb bodies are fully connected to the casting block, so a razor saw will be needed, along with some sanding to level things up.
Detail is quite nice, with the mounting lugs moulded onto the bombs and some nice detail for where the tail fin connects.
The tail parts should be easy to remove as they are only connected with a little resin gate. Care will still be needed though as the tails are very fragile looking.

The photo etch sheet holds on the most part the arming mechanisms for the bombs. Each bomb consists of 5 parts each. The smaller parts do come with some spares, incase the Carpet Monster gets hungry.

Decals, markings and instructions
The small decal sheet is printed by Eduard and is of a good quality. Carrier film is at a minimum and the colour registration is very nice.

The decals cover the stencils data, which are legible and the yellow bands found on the bombs, which are always a pain to paint.
The front of the instructions hold the decal placement guide and a painting guide.
Colours are for the Gunze Mr Color and Aqueous paints range.
The instruction sheet has the build sequence, if you can call it that, with the bombs only having six parts each, on the one page and is very easy to follow, and shouldn't be any trouble.