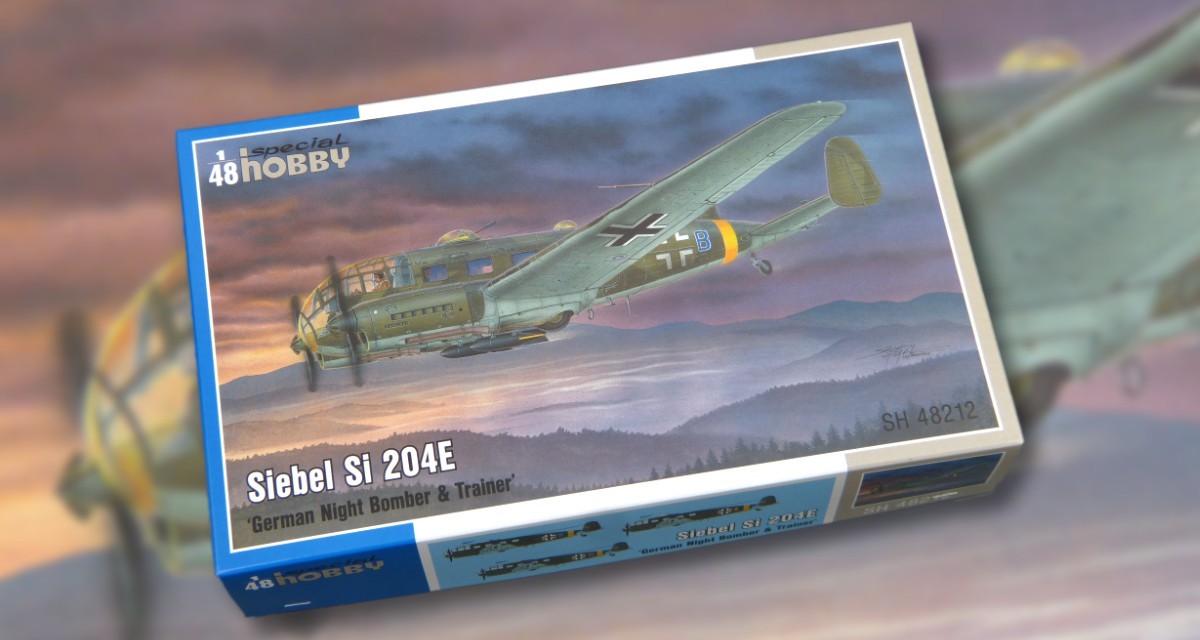 The Si 204 has long been a favourite with MPM/Special Hobby, being the subject of a very good vacuform kit back in the 1990s, but the new-tool injected model raised things to a completely new level when it first appeared in 2019. Boasting a very complete interior, the kit offers an exciting prospect for Luftwaffe modellers who are looking for something a little bit unusual.
The Si 204 is best known as a transport/trainer, but a fully armed version was developed towards the end of the war, complete with forward-firing and turret-mounted 13mm machine guns, plus provision for an internal bombload along with external ETC 500 racks. The pilot was protected by an armoured headrest, while the original dual controls were removed to make room for a bomb-aimer's couch beside him.
If you can find a copy, Zlinek magazine Vol 1 Issue 4 from 1992 contains a lot of useful information of the aircraft, including a section of original photos of the interior of the armed version.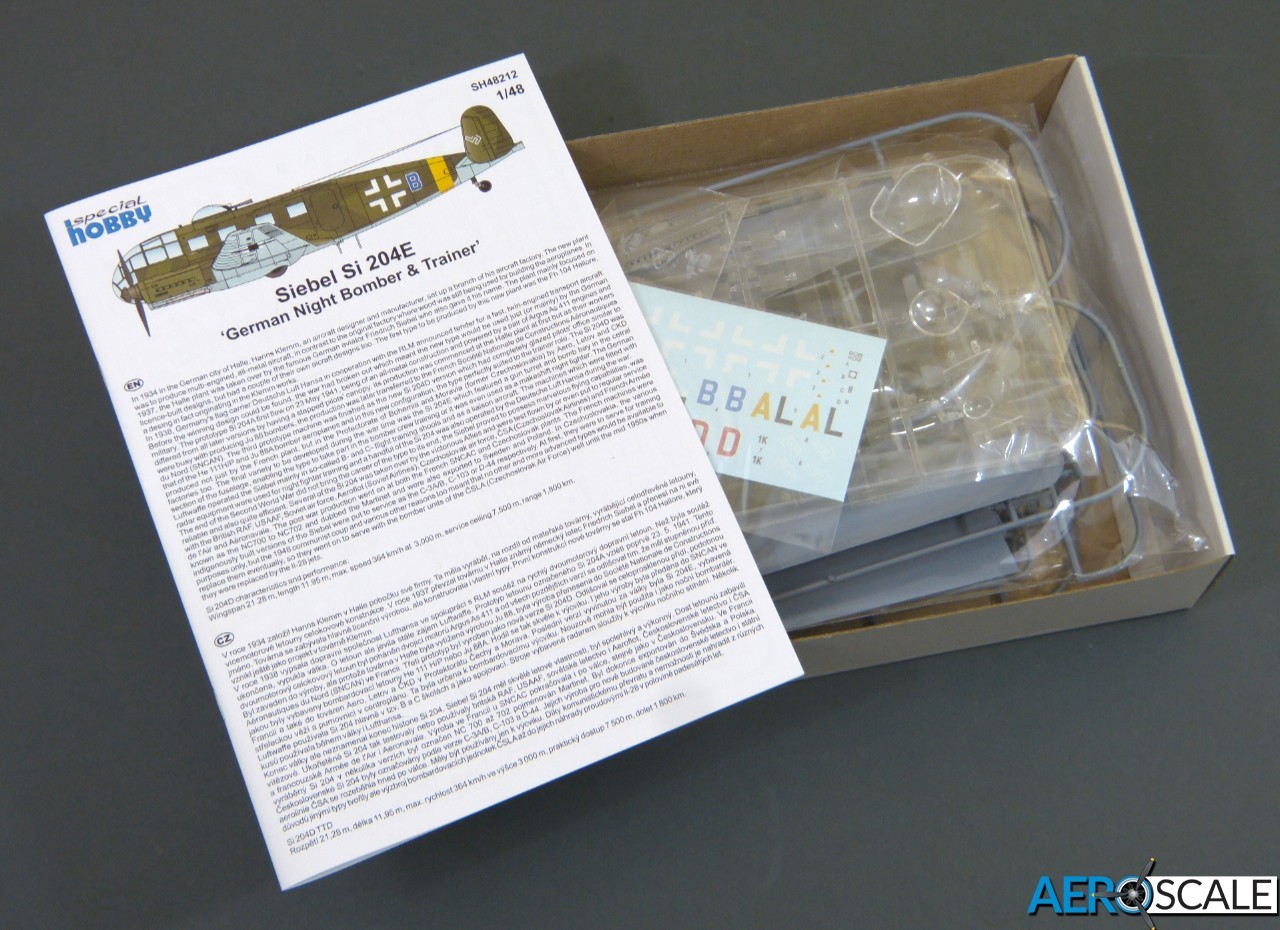 The kit arrives in an attractive conventional box with the runners and accessories bagged separately for protection. This version comprises:
217 x grey styrene parts (plus 23 spare)
19 x clear styrene parts (plus 6 not needed)
4 x grey resin parts
Decals for 3 x colour schemes
The mouldings are very good, showing two distinct styles in common with many Special Hobby kits of recent years; the larger airframe parts are produced to a high standard with the company's traditional pattern-making, while the smaller detail parts use CAD.
So, the Si 204 features neatly scribed panel lines and fasteners, with a few rivets here and there. There are also some appliqué panels, particularly along the bottom of the fuselage, so you'll need to take a bit of care not to damage these when you clean up the seam. The control surfaces have the taut appearance of a well-maintained airframe and feature rib tapes which are done much more subtly than you often see.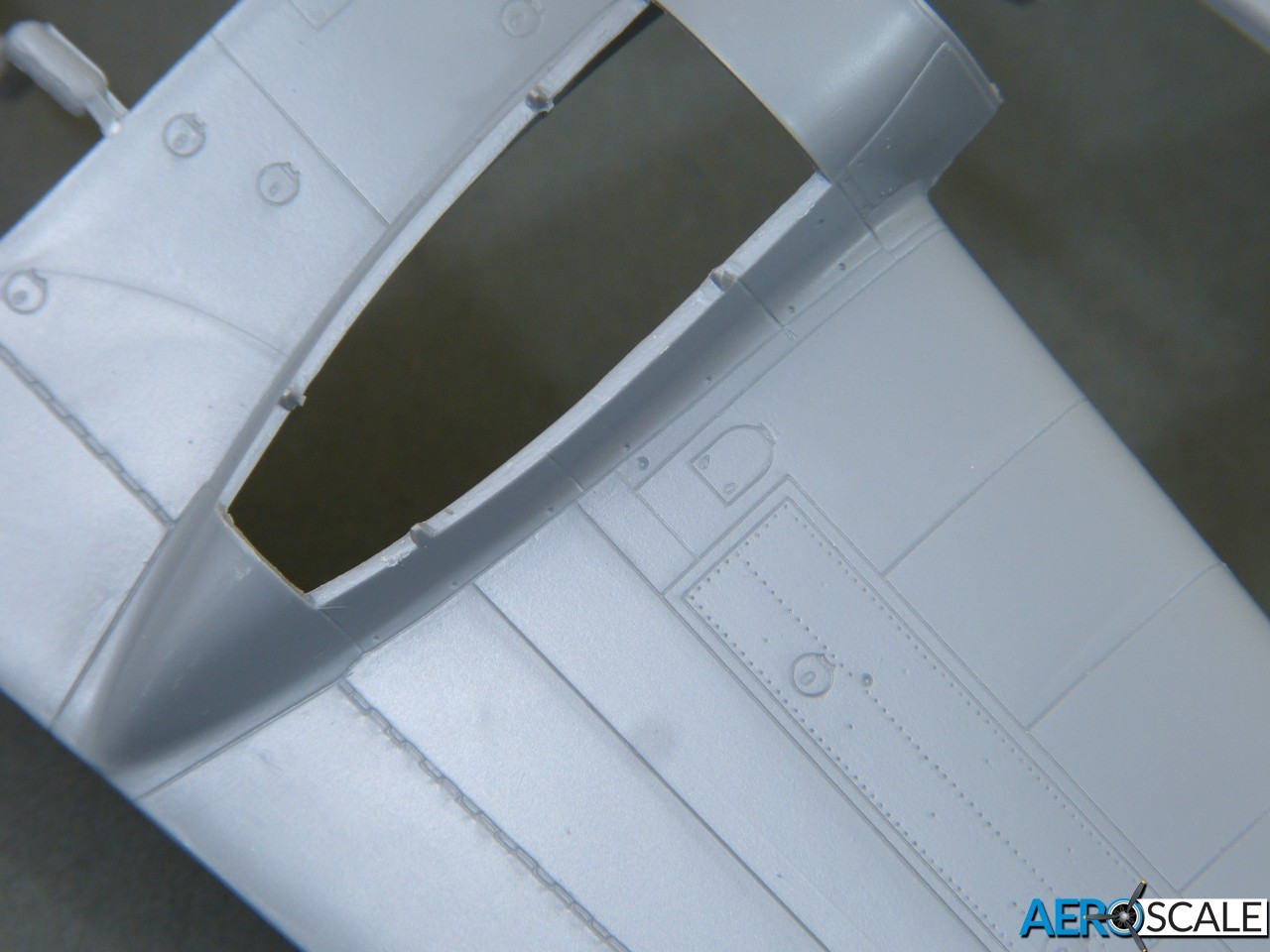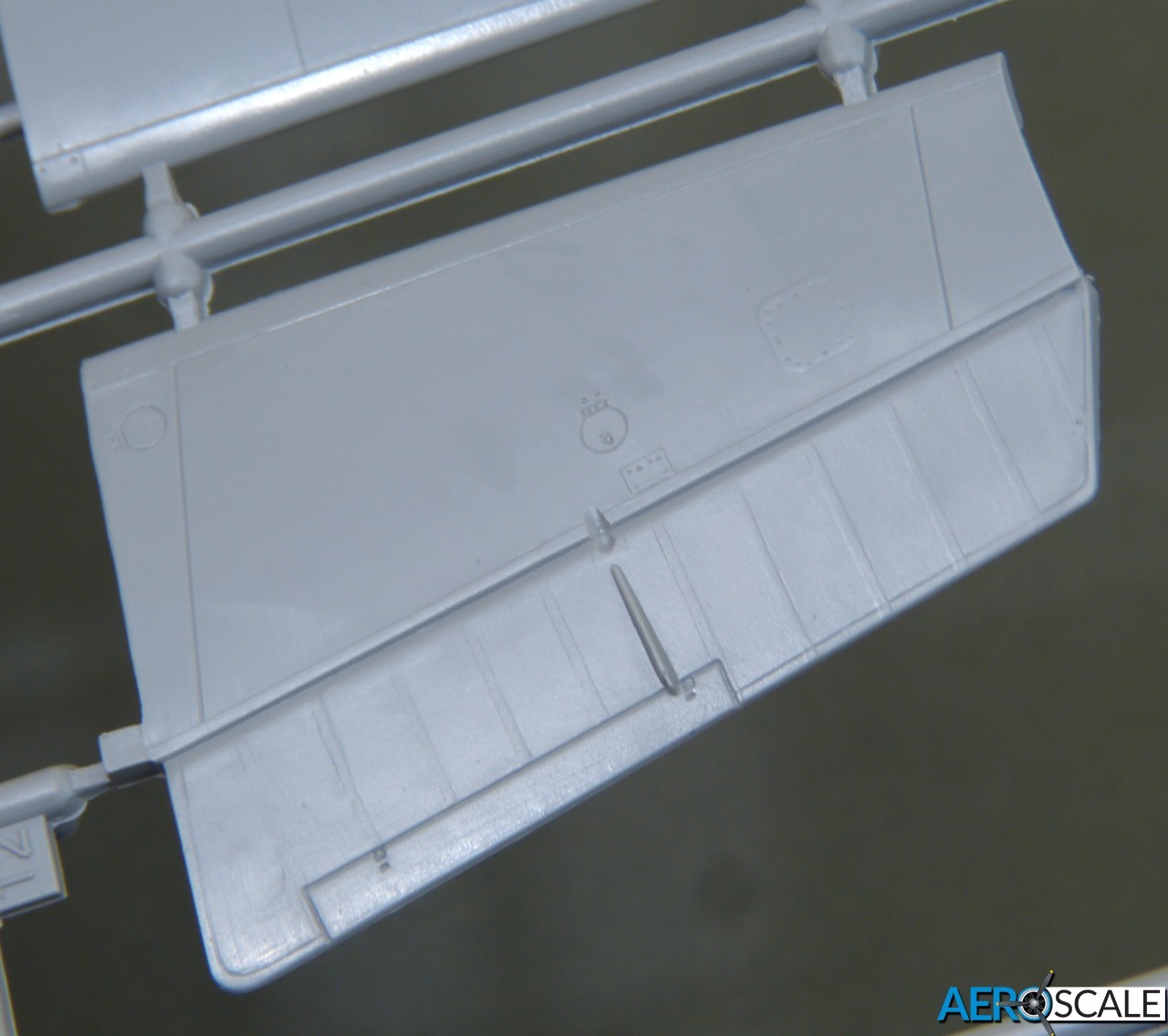 Checking the parts shows no sign of problems with sink marks, but the inside of the fuselage has numerous ejection pin marks which you may want to fill. How many will actually be visible in the completed model remains to be seen, so it could be a good idea to dry fit the interior sub-assemblies before going overboard filling every single knockout pin mark.

Test Fit
The airframe parts are moulded straight and true, and a dry-fit is encouraging. The fuselage halves line up well, but there aren't many locating pins so you may want to add some tabs for extra support. The kit has long and slender wings which tend to flex a bit, but they straighten out fine. I had to ease one of the slots for the wings' locating tabs, but once that was done everything looks set ready for a straightforward build.
A Few Details
Special Hobby have really gone to town on the kit's interior, with over 90 parts devoted to the cockpit and fuselage cabin. The pilot and bomb-aimer's stations are neatly fitted out and there's a crisply moulded set of radio equipment. The centre fuselage is devoted to 8 bombs and their racks, and the bomb doors can be opened up to view them from underneath. All in all, the interior should look very impressive when completed. Really, the only obvious thing missing is that there aren't any seat harnesses included and these will be worth adding to add to complete the job.
The 14-part gun turret is nicely detailed and fitted with a seat and a chute for spent cartridges. The MG 131 has a prominent flash-suppressor which will look better drilled-out.

The entry door is moulded closed, but there's the option to cut it open and replace it with a separate part with crisply moulded handles and locking mechanism.

The bomber version features a new glazed nose with locations for a pair of machine guns mounted low on each side. The clear parts are excellent quality - being thin and crystal clear  with crisply defined framing. Typical of the Luftwaffe's penchant for "greenhouse" canopies there are masses of individual panels to mask, so Eduard's die-cut washi-tape set is definitely worth considering if you want to save time and hassle.

The wheel wells are boxed in and inserts provide solid foundations for the neatly detailed gear legs and retraction arms. The mainwheels have crisply defined hubs. The tyres are moulded unweighted, so I'll file flats to give a realistic sit to the finished model.

The nacelles are fitted with inserts to represent the cylinders of the Argus engines. Special Hobby also offer aftermarket engines in their CMK range if you want to build a servicing vignette, but the kit parts will do fine for normal purposes. The resin flame dampers are nicely cast with hollowed out openings.

Instructions & Decals
The construction guide is very nicely produced as a glossy 20-page A4 booklet printed in colour. Exploded views are colour-shaded with suggested Gunze Sangyo paint matches keyed to the details. The depicted sequence is clear and logical, breaking things down into over 80 stages (don't worry - many consist of only one or two parts), and assembly looks pretty straightforward.
A trio of colour schemes are offered, all sporting RLM 70/71 topsides with RLM 65 lower surfaces:

A. Siebel Si 204E-0, 1K+BA, "Blue B", Stab./NSGr.4, Balice, Poland, autumn 1944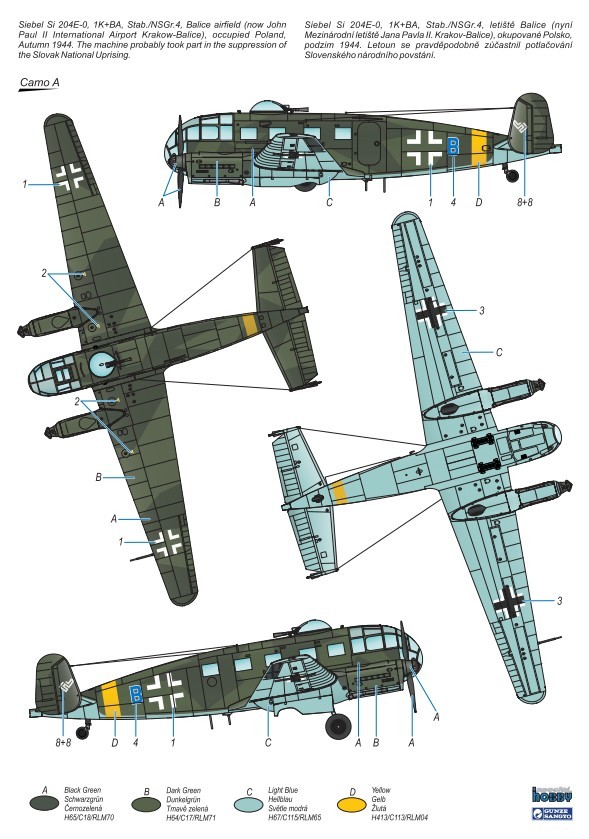 B. Siebel Si 204E-0, 1K+AL, "Yellow A", Stab./NSGr.4, Balice, Poland, autumn 1944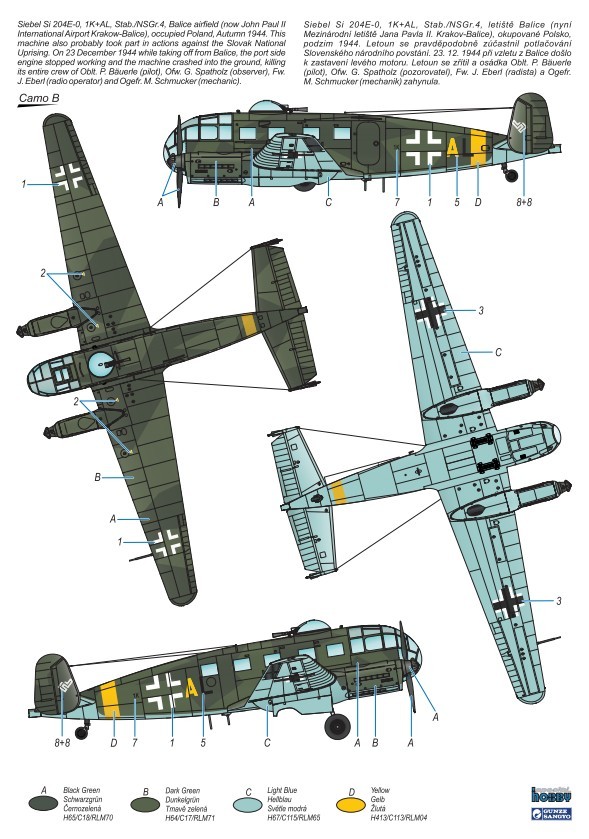 C. Siebel Si 204E-0 V-22 "Red D"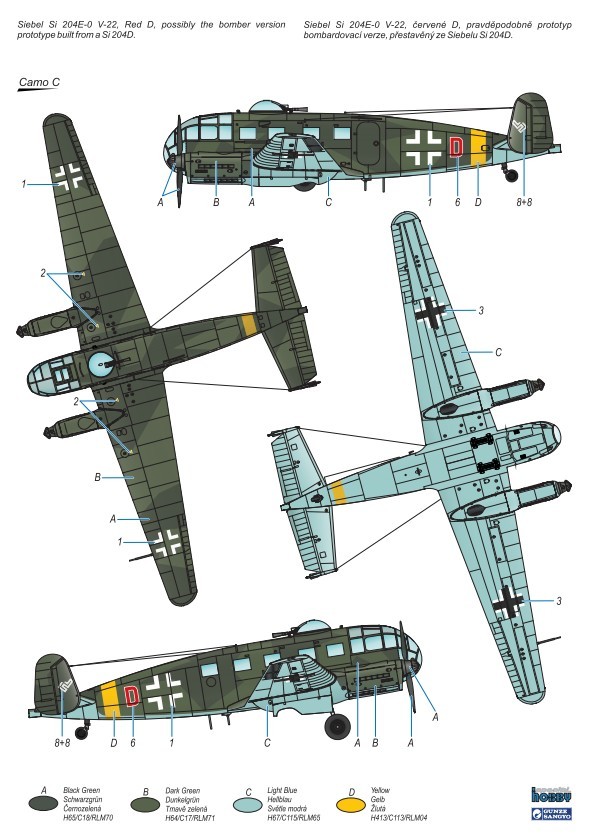 The decals look very good quality, being thin and glossy with precise register. The colours look convincing - particularly the yellow chosen. In common with recent Special Hobby and Eduard decals, there is some excess carrier film evident, but I've found this snuggles down and disappears fine in use. Swastikas are provided in split form.

Conclusion
Special Hobby's Si 204 is an impressive kit. It's not a "shake 'n bake" model, so some experience is recommended, but it should be a very enjoyable build - not least because of the beautifully detailed interior which will really reward time and care spent on it.
Kit #SH48212 is available now from Special Hobby - Price: 54.80 Euros
Many thanks to Special Hobby for the review sample.
Please remember, when contacting retailers or manufacturers, to mention that you saw their products highlighted here - on AEROSCALE