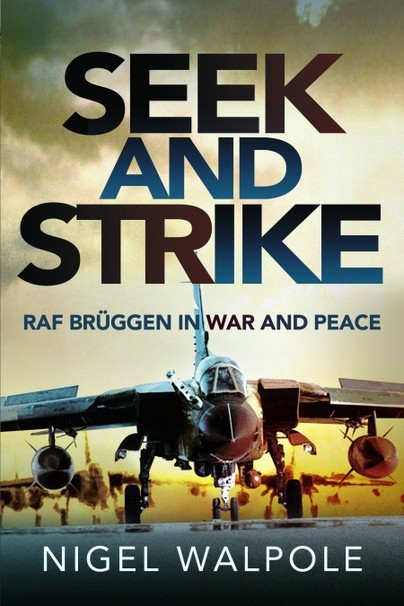 Introduction
The following is taken from the Pen and Sword website:
Seek and Strike – RAF Brüggen in War and Peace is an anecdotal history of the largest RAF station in Germany. Optimized for a new breed of aircraft, and to NATO requirements, this huge airfield was cut out of the Elmpt Forest, on the German border with Holland, and completed in one year to become operational in 1953. First occupied by a fighter wing equipped with Vampires, Sabres and Hunters, its 'Seek and Strike' motif took on real meaning when the station re-equipped with strike, attack and reconnaissance Canberras, followed by strike/attack Phantoms, Jaguars and finally Tornados.
RAF Brüggen was at the forefront of the Cold War, during which innovation and determination brought it many accolades. It further distinguished itself in the Gulf War and continued to play its part in subsequent monitoring operations in that theatre; it was also the only Tornado Wing to operate directly from its home base during the Kosovo campaign.
This is the story of a station at war, of the men and women at the sharp end and in support. At work and play, it was they who made Brüggen what it was, excelling in all things and justifying a claim to have been RAF Germany's 'jewel in the crown'. With its closure in 2001, the RAF relinquished its last main operating base outside the UK. Brüggen was indeed 'last and best'.
Review
This offering from Pen and Sword is written by Nigel Walpole, looks at the history of RAF Brüggen. This is a soft backed book, of 356 pages. The paper has a satin finish, that display both text and images well. Contents of this title are covered as follows:
Glossary
Preface
Forward
Acknowledgements
Chapter 1    Before the Beginning
Chapter 2    Starting from Scratch
Chapter 3    Number 135 Fighter Wing
Chapter 4    Multi Role Station
Chapter 5    Brüggen Phantoms
Chapter 6    Jaguar Strike Wing
Chapter 7    Tornado Change and Continuity
Chapter 8    The Gulf War
Chapter 9    The Last Ten Years
Chapter 10   Marching Out
Epilogue
Appendix I   Station Commanders
Appendix II   Resident Operational Squadrons and Aircraft
Bibliography
Index
This book is presented with a good mix of text and images, text is written in a good script that I found easy to read, despite being an older person who wears glasses!!. The story of Brüggen is covered in a logical manner, which prevents a lot of back and forth, if you are looking for a specific portion of history. The text provided covers an in depth history of the airfield, perhaps one of the aspects of the writing that will appeal most, is that the author has not stuck strictly to the story of the airfield, and has instead has tried to tell the life and times at Brüggen.
Moving on to the photographs, disappointingly all of the photographs provided in the book, are black and white. However, on the plus side, black and white photographs tend to be better focused than colour images are generally. The result of this is that the photographs provided a higher level of detail, than may otherwise be the case. As aspect that I appreciated of the photographs, is that in addition to the machines and the people stationed at Brüggen over its history, the photographs cover downtime, accidents and the background running of a RAF station. Each of the photographs is provided with a caption, and while these captions are of varying lengths, they do a good job on the whole.
Conclusion
While this offering from Pan and Sword covering RAF Brüggen in war and peace provides little information that would be beneficial to the modeller, a number of the photographs do provide some reference for those wishing to display a model aircraft in a way other than flying or on its undercarriage. As there are a good number that show aircraft in a "How did you walk away from that? "condition there are a great selection of photographs provided covering every aspect of life in the RAF. The result of all this is a book, that goes a long way to aide the reader to understand what it was like to serve with the RAF in Germany during the golden age of jets.