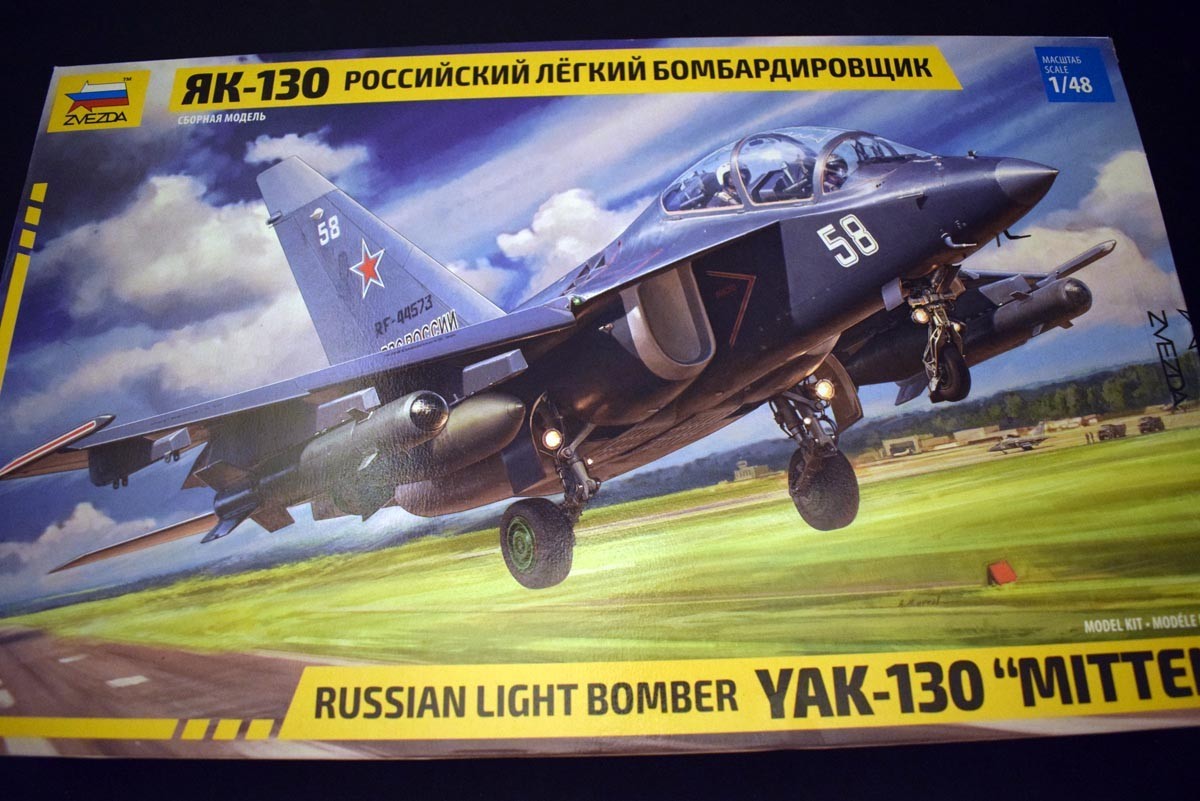 Introduction
The Russian YAK-130, NATO code "Mitten", is a sub sonic trainer and light attack aircraft. It's cockpit can simulate the characteristics of different planes such as, Su-24, Su-30, and many others. Sighting and navigation equipment allows the YAK-130 to practice not only piloting, but also types of combat missions. If necessary, YAK-130 can also be used as a light combat aircraft, able to perform the function of attack, recognisance and bomber. The plane can carry up to three tonnes of ordnance or guided ammunition, on nine suspension points. It was also tested with four 500kg KAB-500 Kr under wing guided bombs. The YAK-130 is one of the best cost effective choices for fighter pilot training, and combat missions, in various local conflicts.

Review
This offering from Zvezda, is provided in a flip top cardboard tray which is provided inside an end opening carton, with the artwork on it, and this packaging means the model has a good chance of reaching you in the condition intended. Inside the packaging are two plastic bags, containing the sprues for the model, and a Ziploc bag containing the clear elements for the model. The decals sheet is loose and packed underneath this, and I myself would package this inside the instruction booklet at least, and ideally would bag it to protect from possible moisture issues. An examination of the parts, causes me no concern, other than the largest sprues, being a very tight fit in the box which could cause bowing.
With this aircraft being primarily a trainer, it is set up as a tandem twin seater. The ejector seats of the model, are extremely well detailed for a 1/48th scale offering, with five pieces to replicate the seat itself and then four more to replicate the seats padding, harness detail and ejector handle. Careful assembly and painting of this area should I feel result in a pleasing finish. The instrument panels provided are a little basic, and despite decals being used for display screens - I cannot help thinking it would be worth waiting for Eduard to release an upgrade set for the model. But as stated I would not be looking to use after market harness detail. The HUD looks to be well designed, and should result in a pleasing look. Something that is unusual in a model kit is that the nose wheel, is assembled as part of the cockpit assembly, which raises concerns about damage for me.
The fuselage of this model is tackled in an unusual way, in that the portion encasing the cockpit is in two halves, with a separate nose cone. The upper body is a separate part, to which you attach the intake tunnels and rear wheel wells. With the rest of the fuselage made up with another two half pieces, plus tail control surface and then you add another complete panel which spreads the width of the upper wings to finally get the shape of your model. By tackling the model in this manner, it has enabled them to add a lot of detail to the surfaces, which is clear and well defined. However, with so many panels coming together, one minor error could result in a bad fit further along and one which you may not be aware of until you get to that point, which could be too late to correct. With all that said, for such a small aircraft in 1/48th scale, the detail provided in the model is nothing short of stunning, and really does show just how far Zvezda has come as a modelling company. During assembly of the fuselage, the modeller needs to add the rear wheel struts and so you can understand there is an awful lot going on, which could result in damage to the parts or errors in construction as there is a lot going o over a short space.
Zvezda has considered the display of this model with the result that alternate parts has been provided to show the leading wing edges as flight controls in different positions, which will make life easier for the modeller. The only thing that I am not keen upon, is that Zvezda has shown the model, on one of their display stands with the nice lines, but have not included it in the box. The four hard points on each of the wings, have been well covered and a selection of ordinance provided. My knowledge of Russian aircraft ordinance is limited at best, and so I cannot with any accuracy determine what I am looking at. What I will say is that judging by the efforts of Zvezda, with crisp moulded details that will result in a pleasing weapons load, should you decide to add it. I myself, would prefer the look of this air plane clean.
The canopy pieces are especially clear, and being large and bulbus like the Hawk air craft, closed it allows a great view of the cockpit interior, and you can have it open, with all the relevant detail provided. This canopy offering from Zvezda is in my opinion at a level normally restricted to after market, with the rear view mirrors being the only aspect that could be better with photo etch. Something that for me makes this offering particularly special, is that in addition to parts such as crew ladders, you also get intake and exhaust covers and wheels chocks. Included in this kit plus two exceptionally nice pilot figures, which will with careful painting will give you a really nice crew, should you decide to use them.
Zvezda has provided four finishing options for this model, which are as follows:
YAK-130, Serial number not established, from the LAO Airforce, Vientiane Airfield, Early 2019
YAK-130, From the Bangladesh Airforce, 2015
YAK-130, From the military Educational scientific centre of the Russian Airforce (Voronezh), Forum ARMY-2020, Kubinka, August 2020
YAK-130, From the military educational scientific centre of the Russian Airforce, (Borisoglebsk), Borisoglebsk Airfield, 2014
Conclusion
This offering from Zvezda, covers an air craft that I know nothing about, beyond what I have looked up for this review. All I can say is that this is a release that if you did not know who had made it, you would think it was from the very best model producers in the world. The crispness of the detail, and the options for display, along with the parts provided make this a truly great model. The only critique at what this model provides, is that the instructions could have been a little easier to follow, on other matters I wish they would not mention a stand that does not exist. In all other respects this release from Zvezda shows them at their very best.