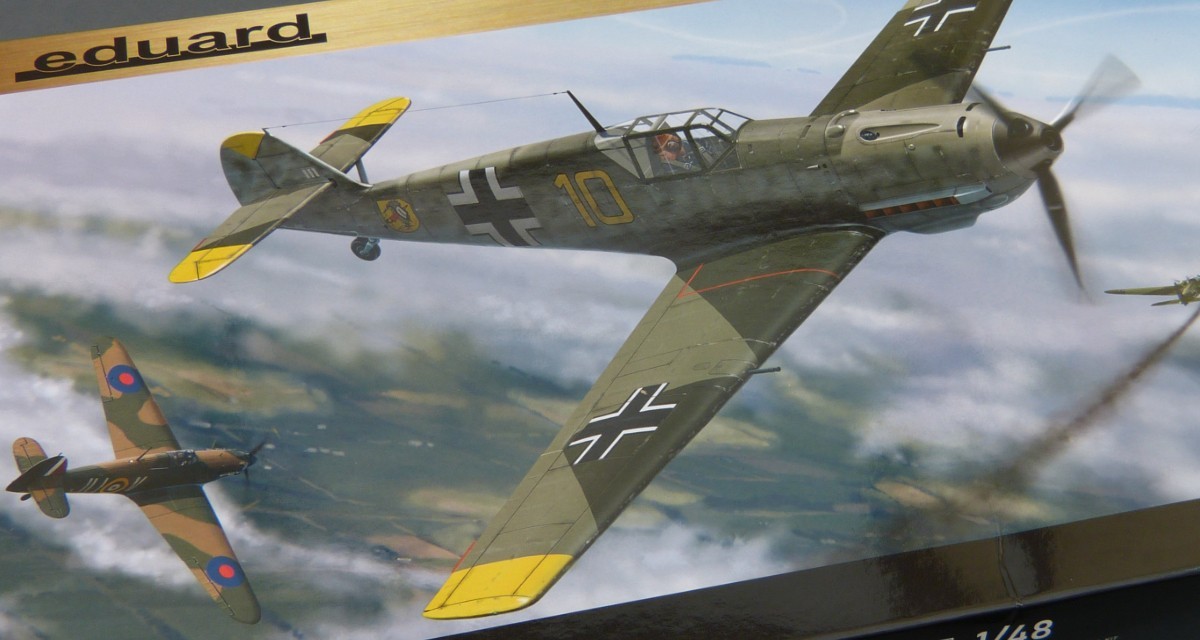 The winter sees the very welcome re-release of Eduard's excellent 1:48 Bf 109E-4. Time flies by all too fast in the world of modelling and it's hard to believe it's already almost 10 years since the then new-tool series of Emils appeared. It's almost as long since I last examined one, so I was keen to see how well the kit has stood the test of time – all the more so, as Eduard were credited with collaborating with Special Hobby on the latter's cracking little 1:72 Emil, and the influence of their 1:48 kits was clear to see.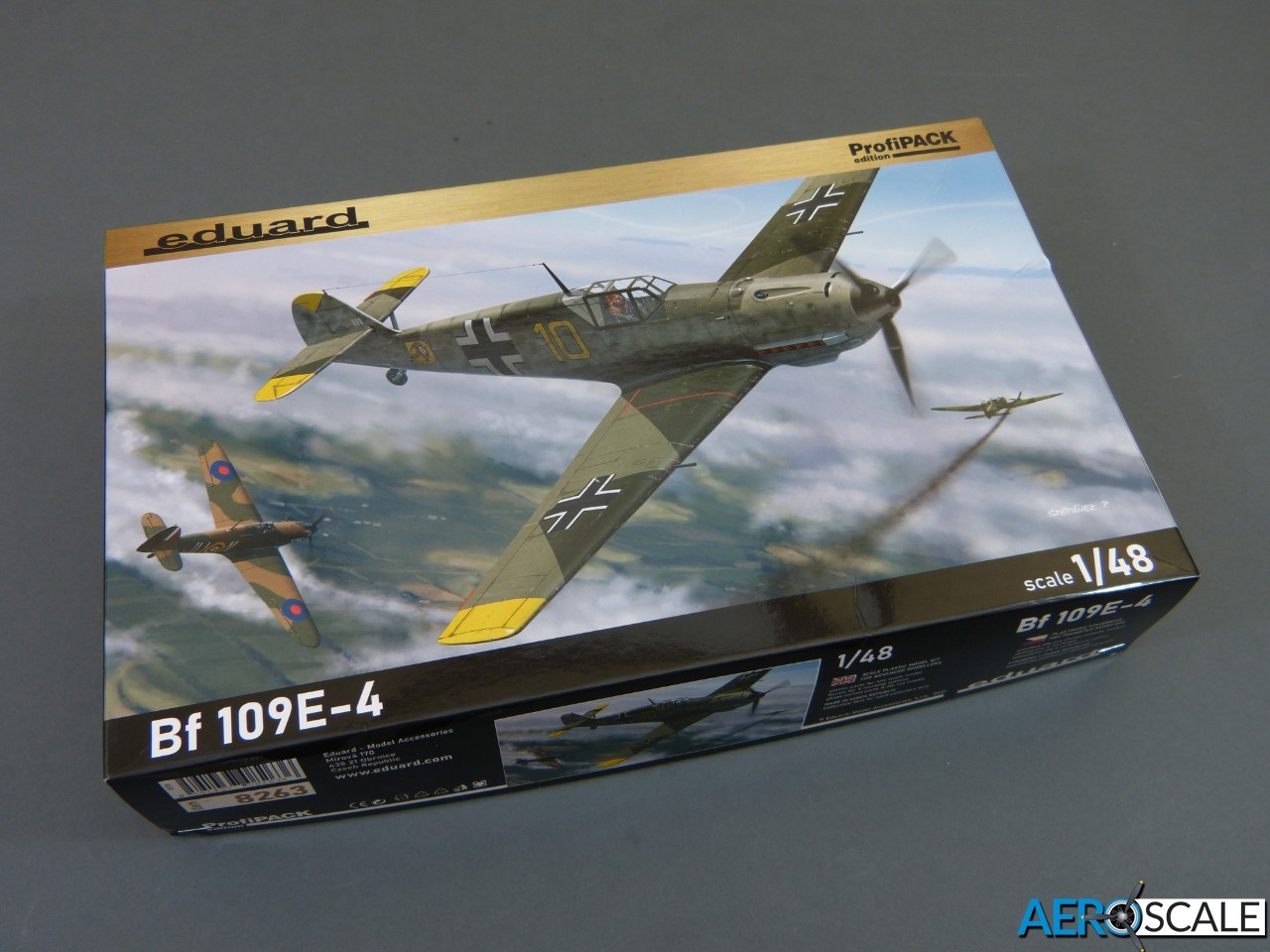 This is a straight re-release of the kit which Sven Harjacek and Allen Berry reviewed for Aeroscale back in 2012 (AeroScale :: Eduard 1:48 Messerschmitt Bf 109E-4 Review and AeroScale :: Eduard 1:48 Eduard Bf109 E-4 Profipack Review) and, as far as I can see, the contents are unchanged, the only difference being the use of dark grey styrene instead of the original grey-green. While I liked the old colour, the new dark grey does undoubtedly look "classier" to my eyes (I don't know why) and shows off the surface finish slightly better.
As before, the kit arrives in an attractive top-opening box, with the main runners and accessories bagged separately. The kit comprises:
128 x dark grey styrene parts (plus 23 unused)
6 x clear styrene parts (plus 2 not required)
52 x photoetched parts, many pre-painted
A sheet of die-cut washi tape painting masks
Decals for 5 x colour schemes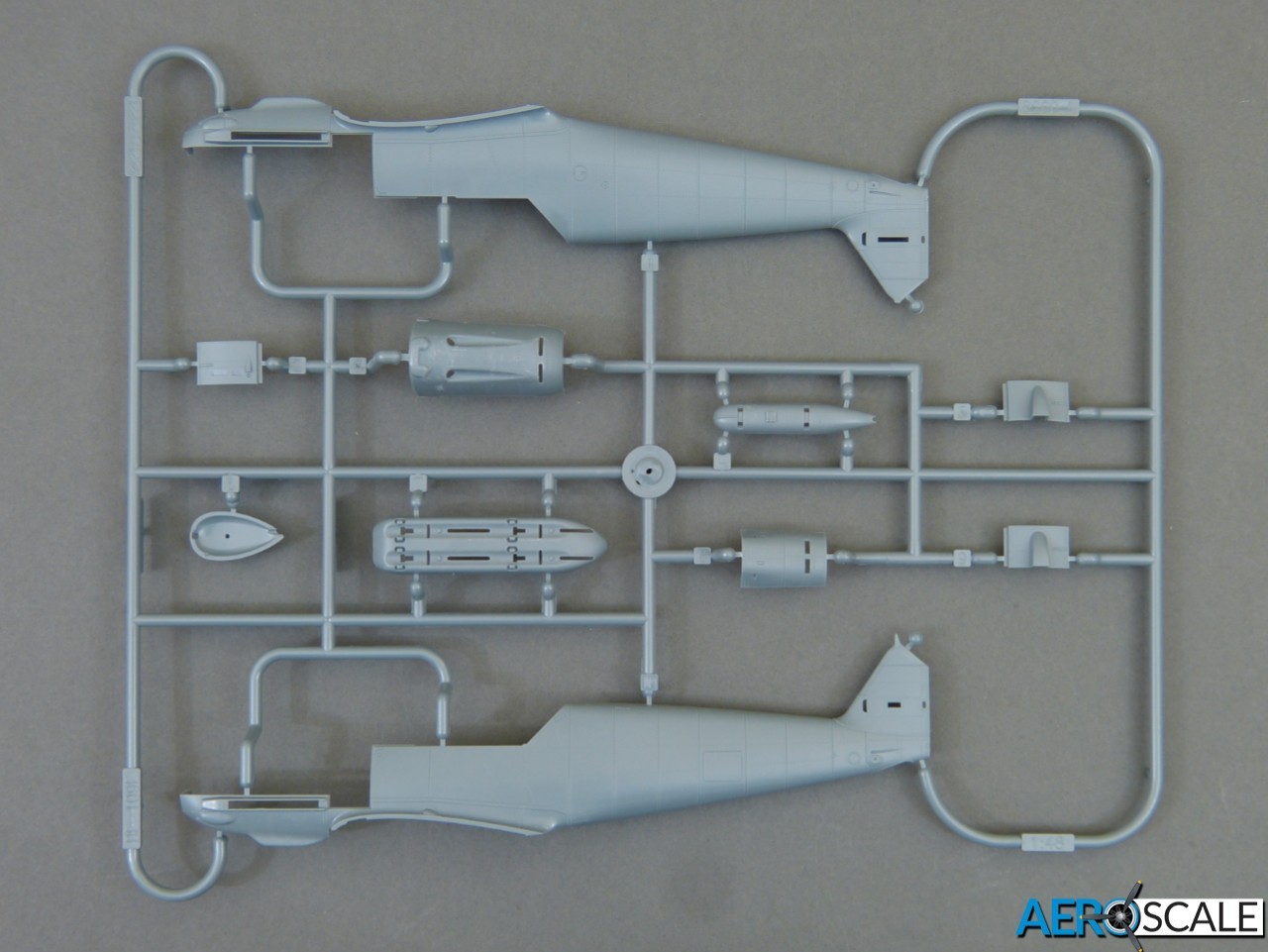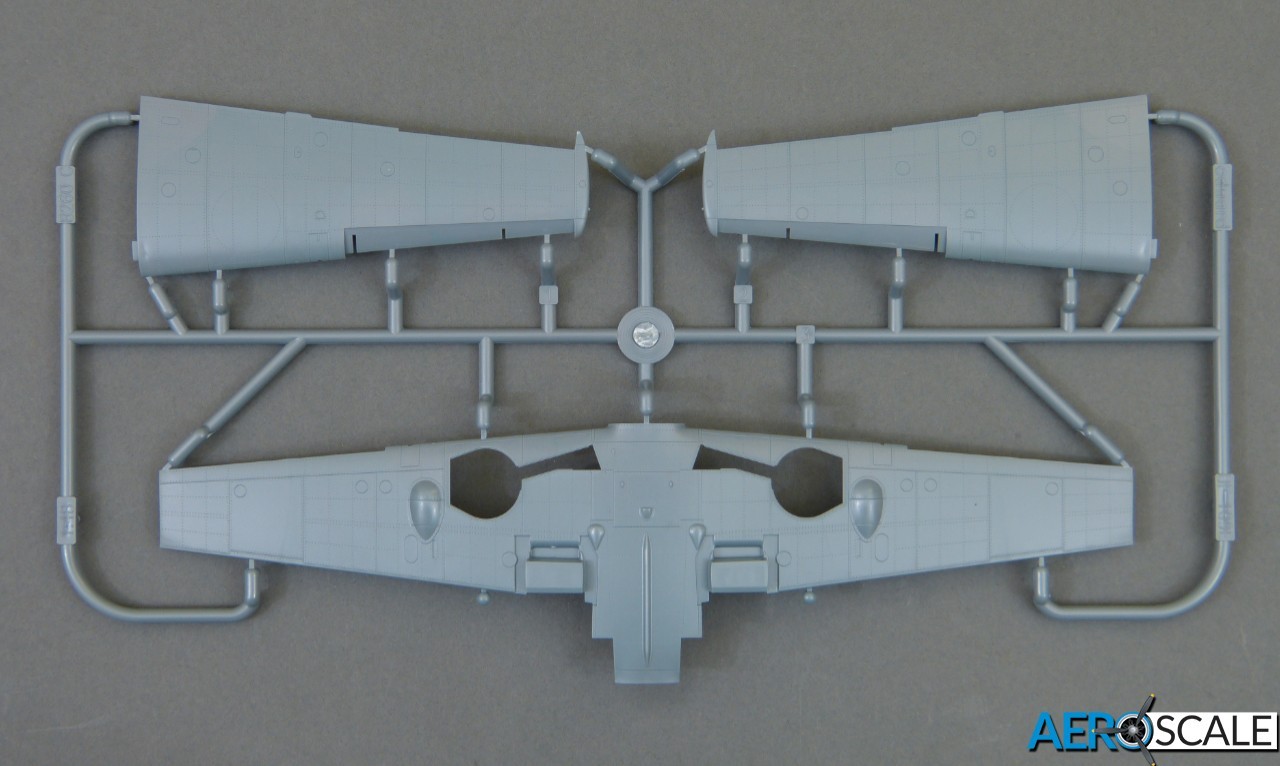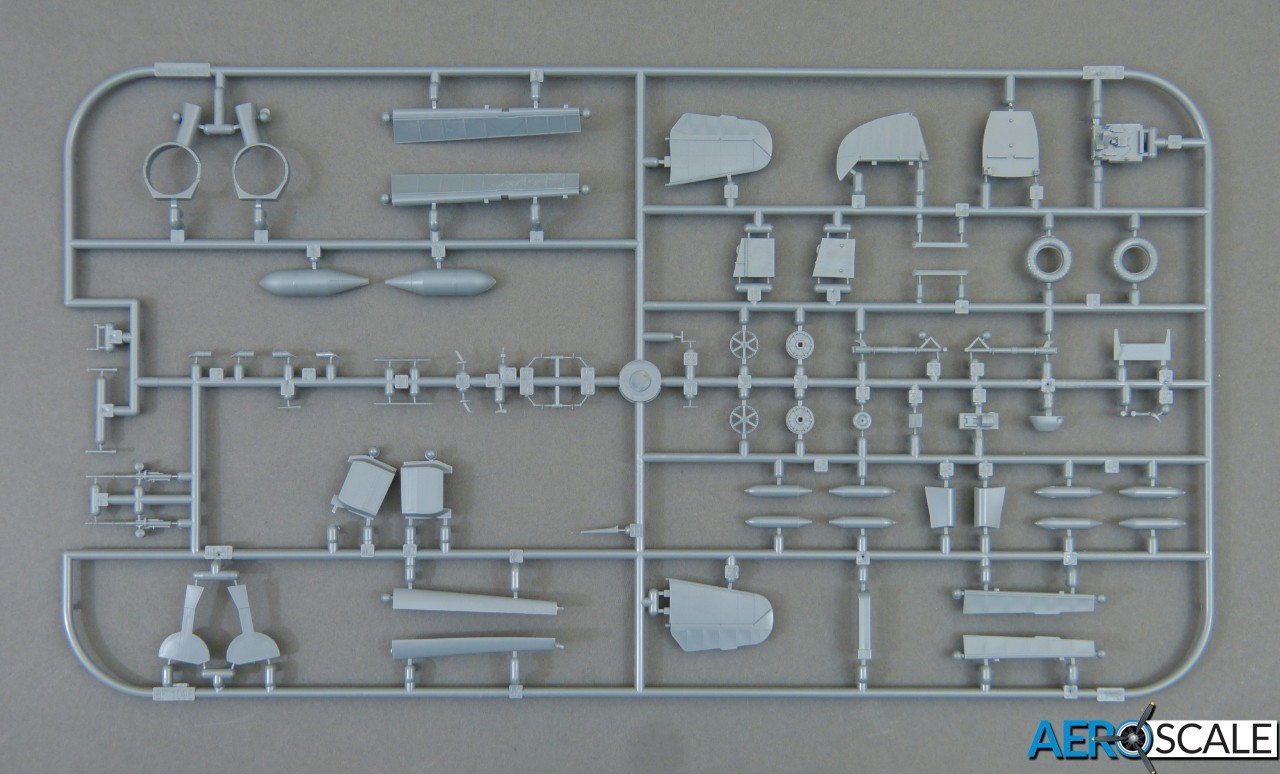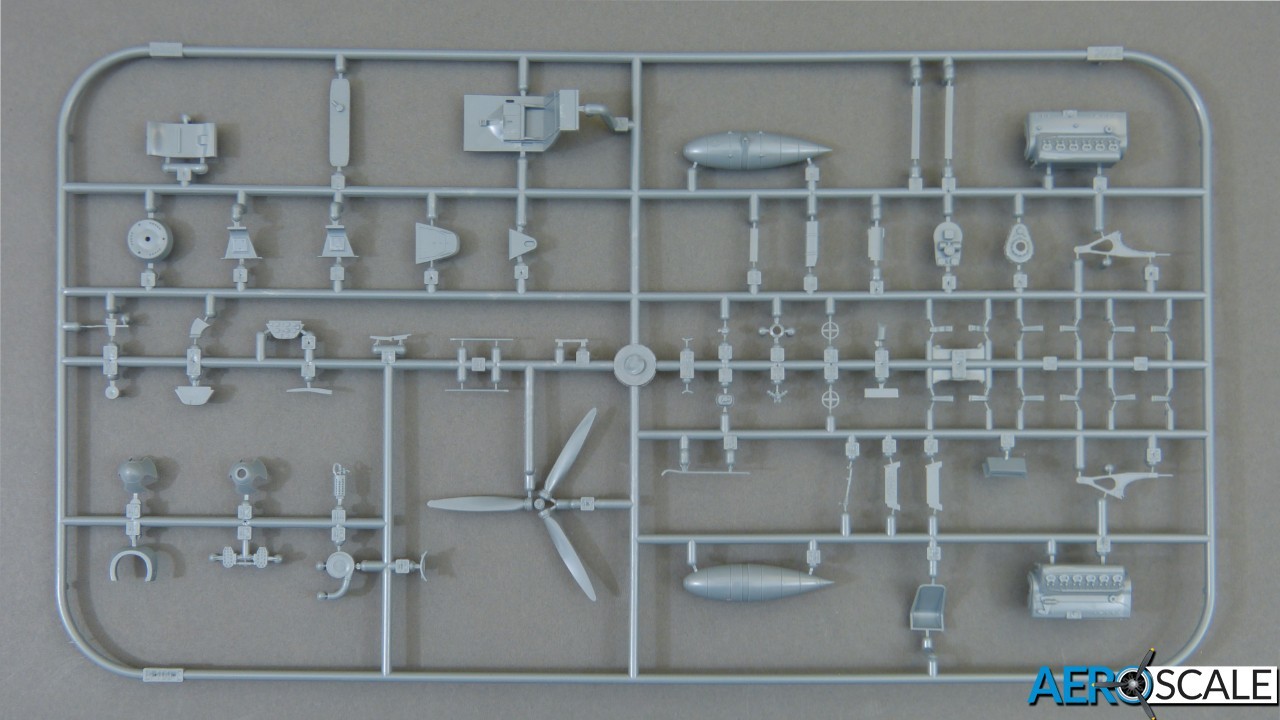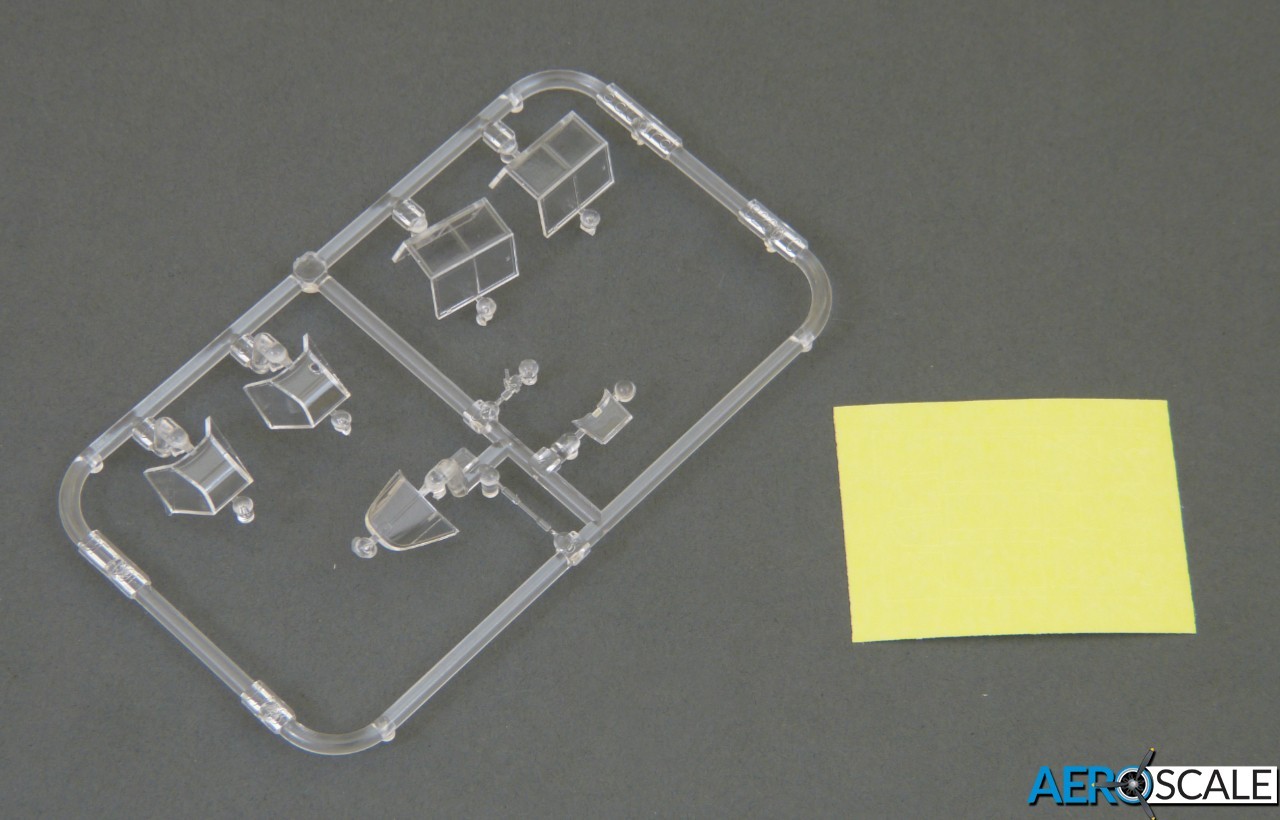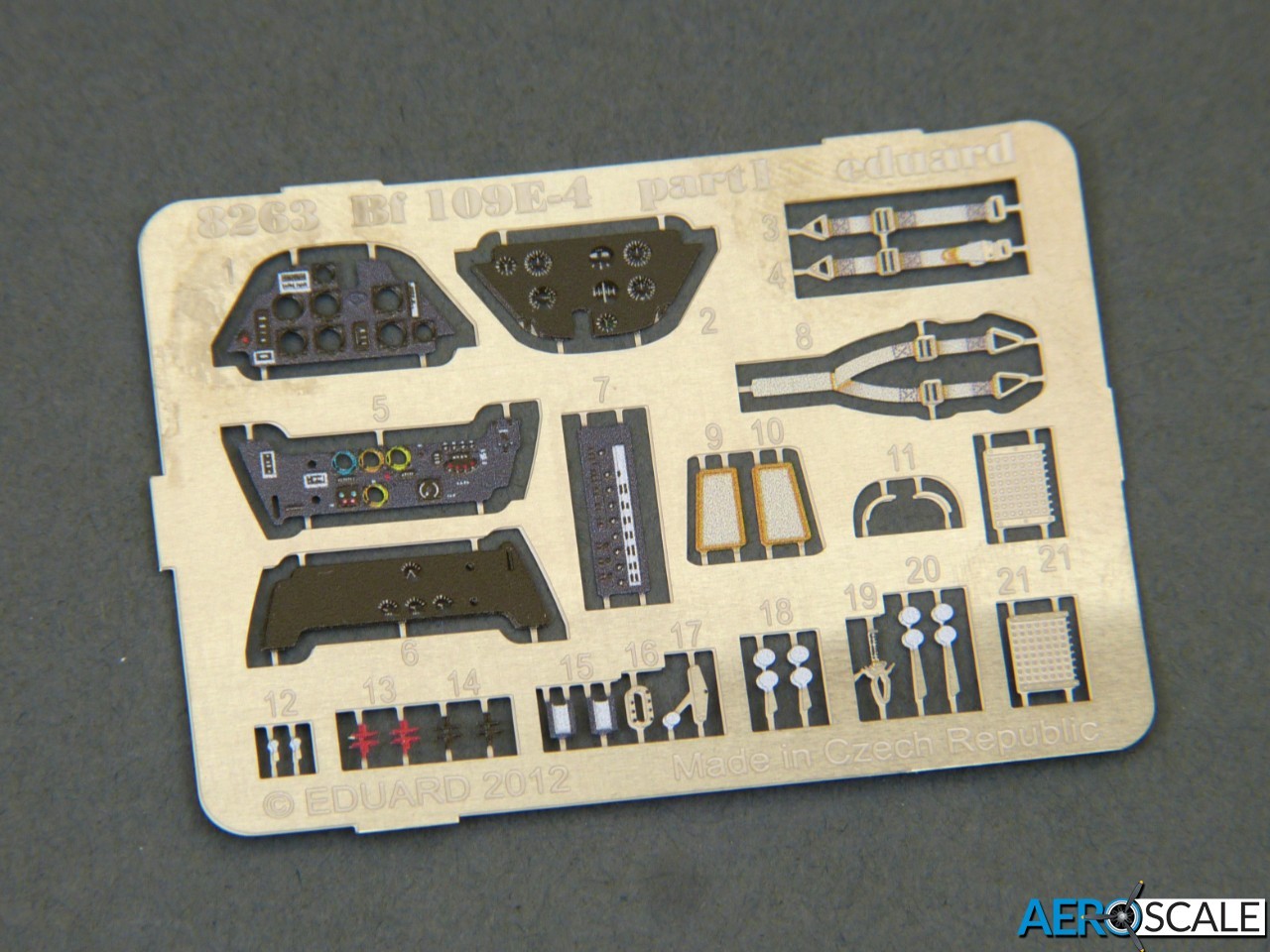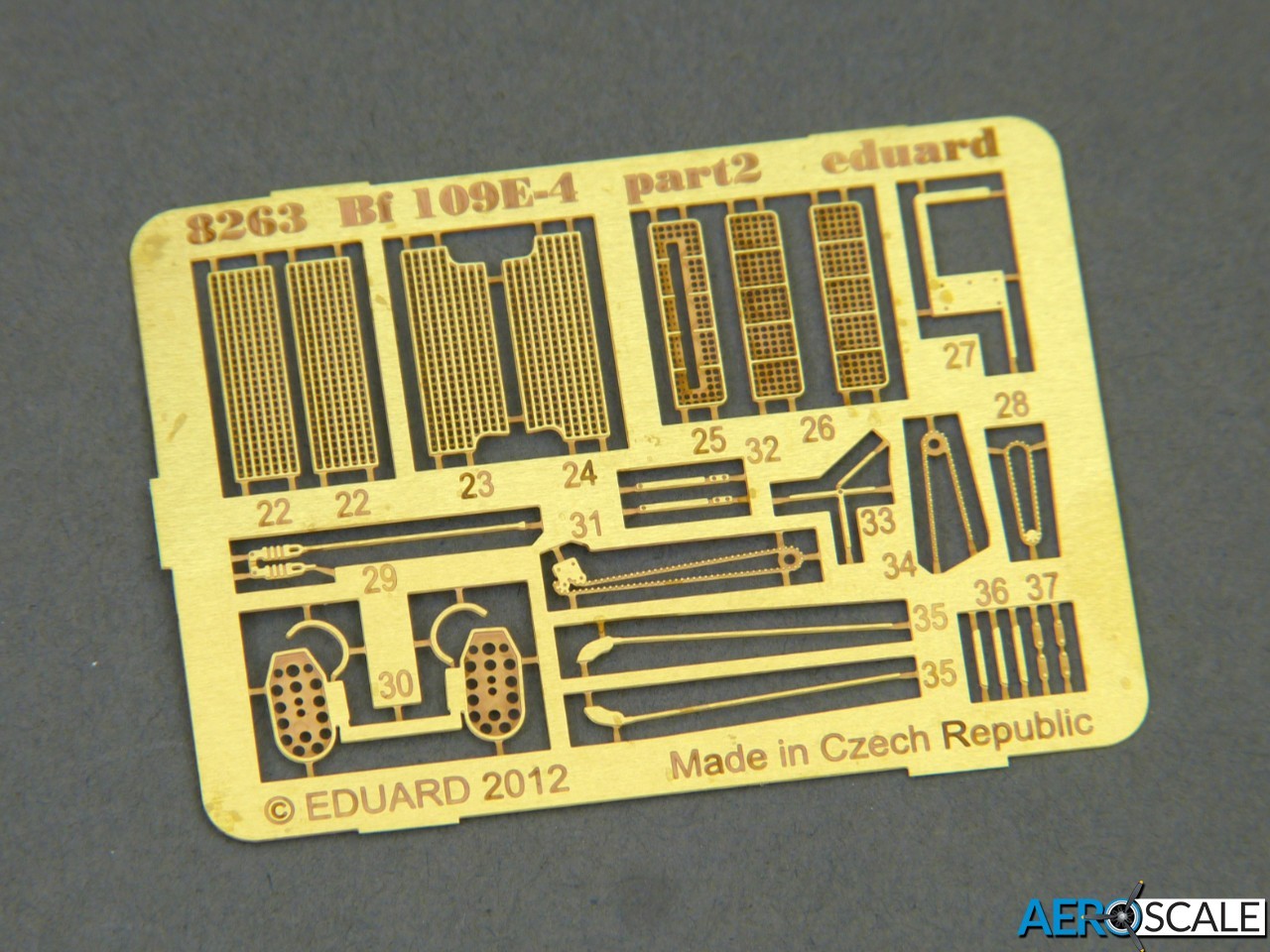 I've got to say it was a very pleasant surprise opening the boxing and seeing Eduard's Emil again. I'd forgotten just how good it looks. Despite being in pretty much constant production in one form or another for a decade, the mouldings are still very crisp and sharp, with no signs of flash in the sample kit. Ejection pins have been kept out of harm's way, and I found just a couple of shallow sink marks where the plastic is thick, the most noticeable being on the wings' top surfaces over the landing gear locators. These will be quick and easy to remedy.
The surface finish is excellent, with delicate embossed rivets and fasteners along, with precisely engraved panel lines. The fabric covered control surfaces are neatly depicted (although, as usual, I'll probably soften them a tad), and the overall finish will look great under a coat of paint. Sitting the parts next to the new 1:48 Zero, Eduard have raised their game even higher in their latest state-of-the-art moulding, but the Emil still eclipses many (if not most) modern mainstream kits from other manufacturers – and this is 10 years old technology.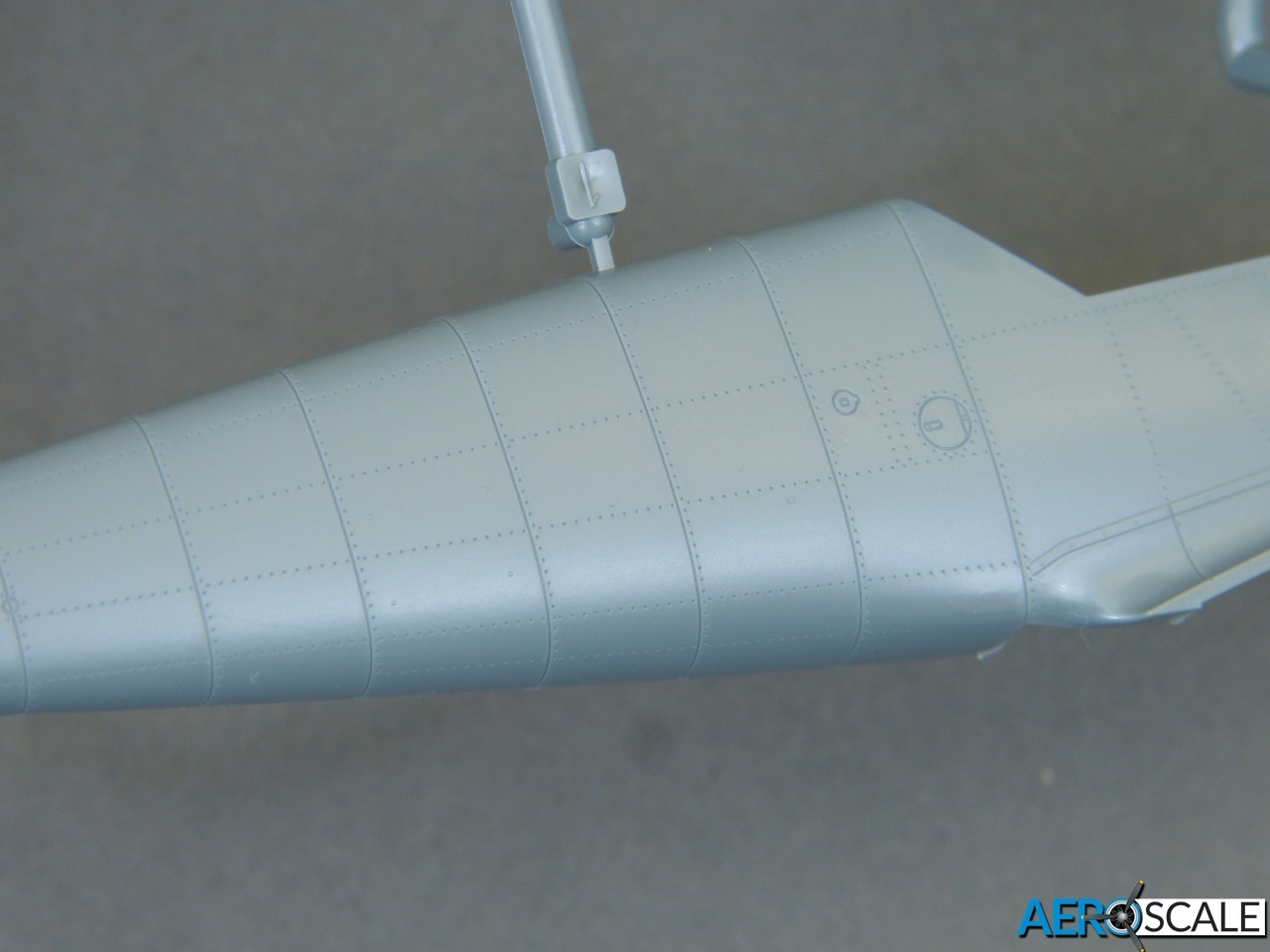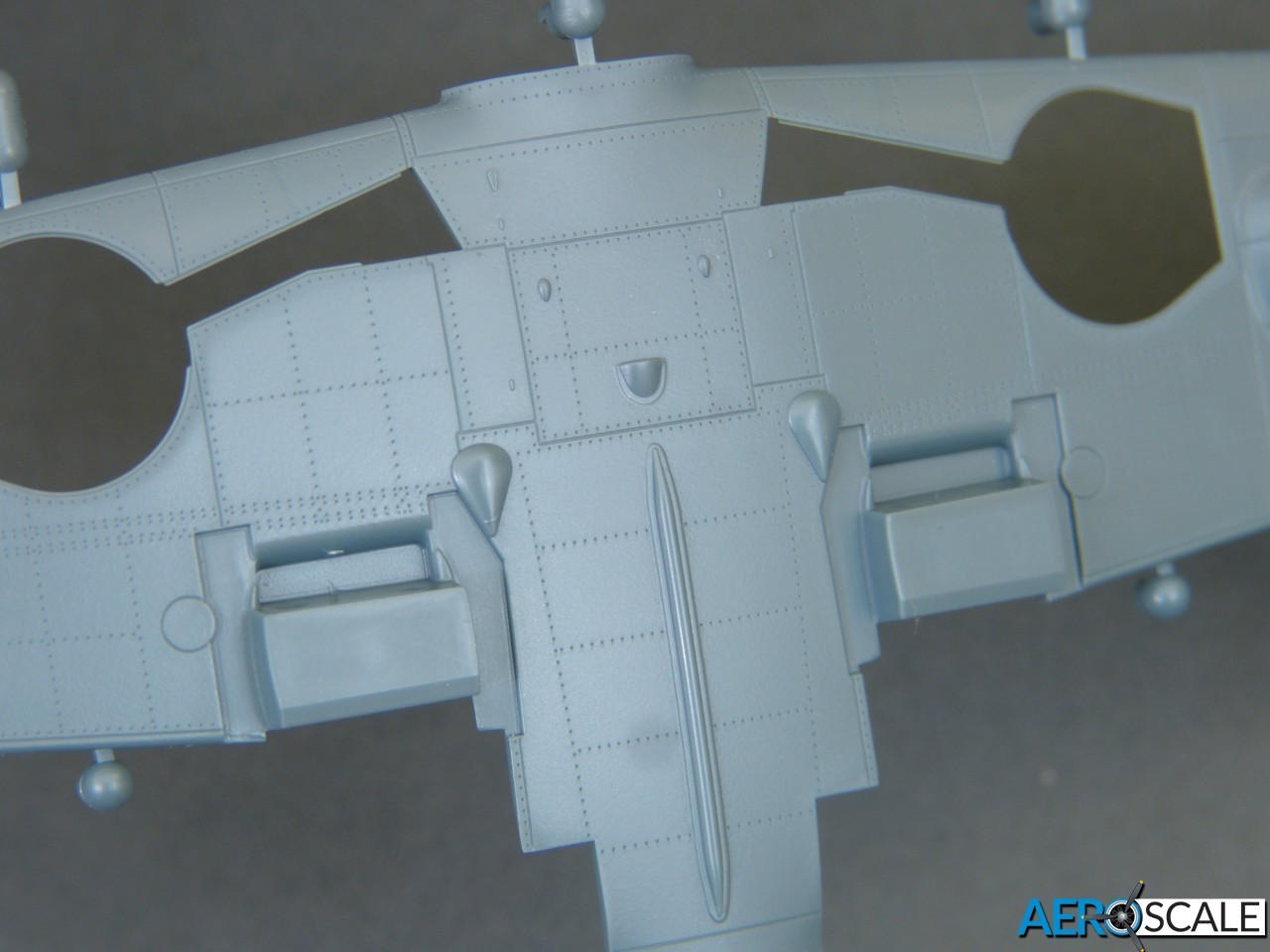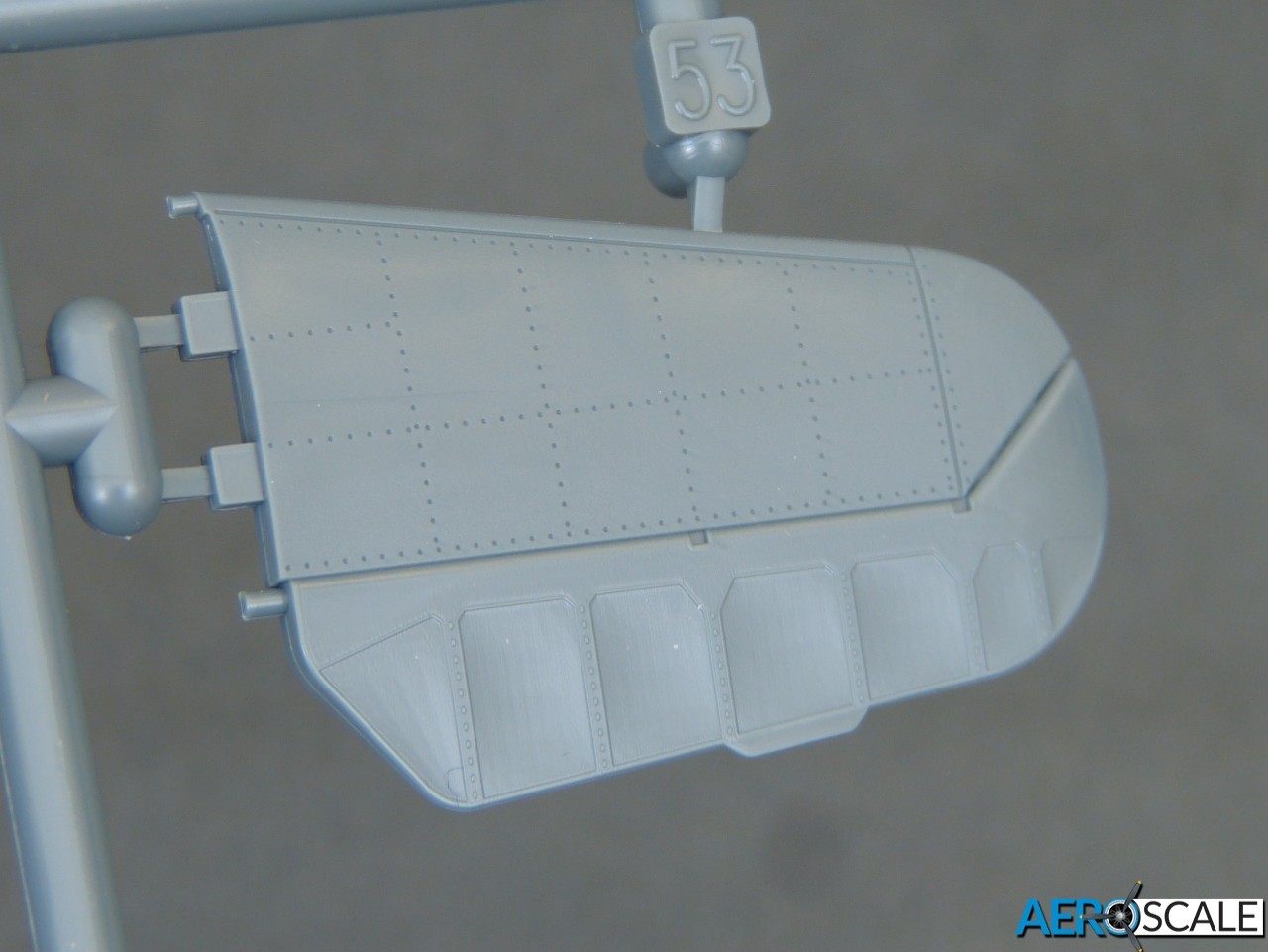 Test Fit
Dry assembling the main parts of the airframe shows everything still fits together very precisely. The fuselage halves align exactly and the seams at the wing roots are very tight. If you're careful, you should need no filler and the seams will match nearby panel lines. The tail planes clip in tightly and sit true and square.
The only point to watch out for is the dearth of locating pins. There are none at all on the wings, and just three tiny pips on the fuselage.
A Quick Look At The Details
Eduard's Emil has been well covered over the years, so the details will be familiar to most readers. But, for anyone unfamiliar with the kit, it boasts a very nicely fitted out cockpit comprising around 40 parts, with a mix of styrene and etched details. Eduard provide a full seat harness, and there's a choice of plastic and pre-painted etched instrument panels. If you prefer the moulded panel with its more 3D bezels, there are decals included for the instrument faces. 

Moving to the nose, there's a 40+-part engine and gun bay that can be displayed with the cowlings removed. It's important to note that you can't fit the cowlings if you go for the detailed engine because, unlike many kits with engine detail, Eduard haven't scaled down the engine to allow the covers to fit.

The kit features separate ailerons and rudder, but the elevators are moulded integrally with the tail planes. A nice touch is the inclusion of slats and flaps which can be displayed extended.
The undercarriage is crisply detailed and with angled rectangular lugs to ensure the correct angle. They could be a tad longer, but you should have no problem getting the correct sit if you're careful. The mainwheels have neatly detailed separate hubs and well-defined tyre treads. The tyres are un-weighted, so you may want to file small "flats" for a realistic appearance.

The propeller features nicely detailed hubs, a choice of spinners and a perforated backplate.

The canopy looks excellent, thin and crystal clear, and can be posed open. Eduard include grab handles and the latch as photoetched parts, and there's an alternative windscreen for Galland's famous telescope (not a sight – he used it purely to identify aircraft in the distance). The inclusion of die-cut painting masks is very welcome and will save a lot of time.

Instructions & Decals
The Emil is provided with a high quality 16-page A4 construction guide that's printed in colour on glossy paper. The assembly diagrams are clear and easy to follow, and the sequence looks logical. Colour matches are given for Gunze Sangyo paints.

Decals are provided for five aircraft offering an interesting selection of colour schemes:

A: W.Nr. 5587, Ofw. Fritz Beeck, 6./JG 51, Wissant, France – 24 August 1940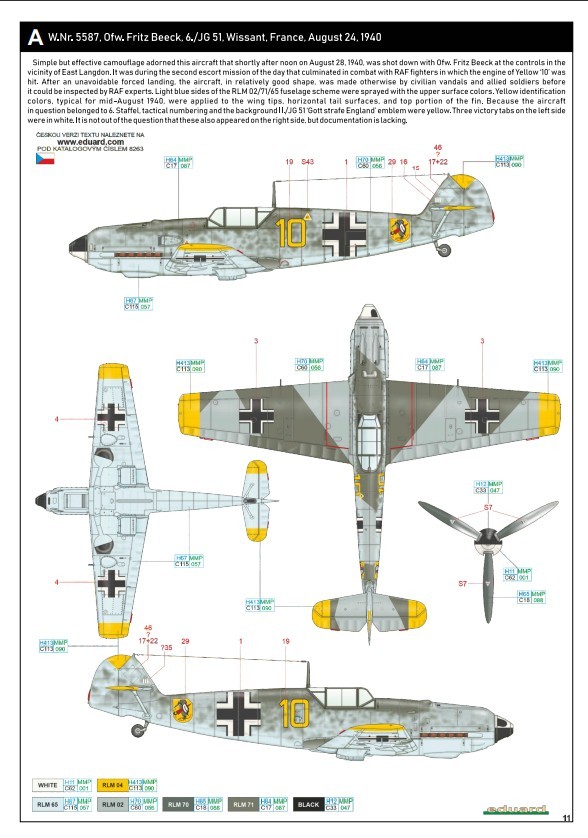 B: W.Nr. 5344, Maj. Helmut Wick, Geschwaderkommodore JG 2, Beaumont, France - November 1940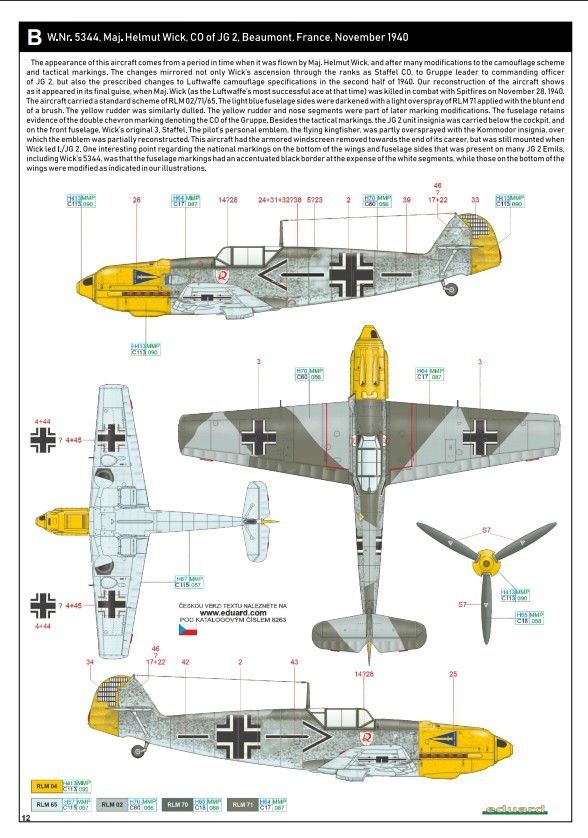 C: Lt. Josef Eberle, 9./JG 54, The Netherlands – August 1940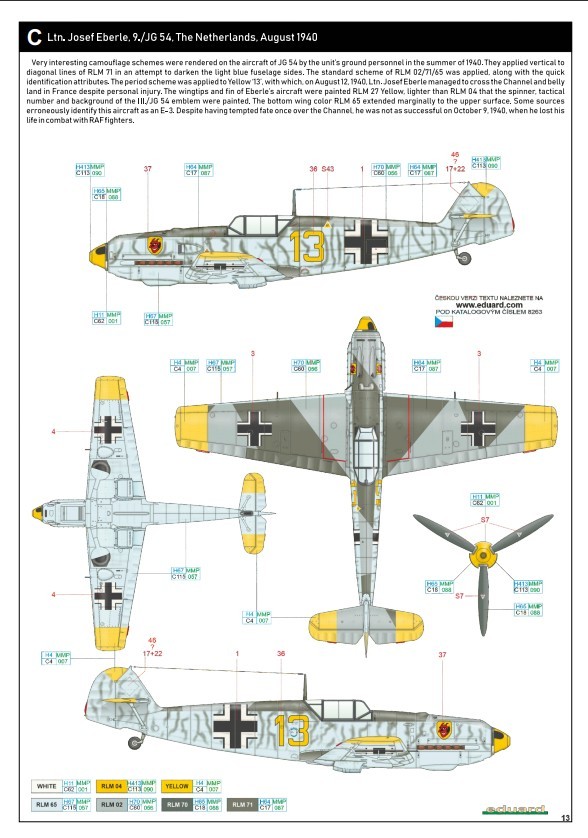 D: W.Nr. 1480, Oblt. Franz von Werra, Gruppenadjutant II./JG 3, Wierre-au-Bois, France - 5 Sept. 1940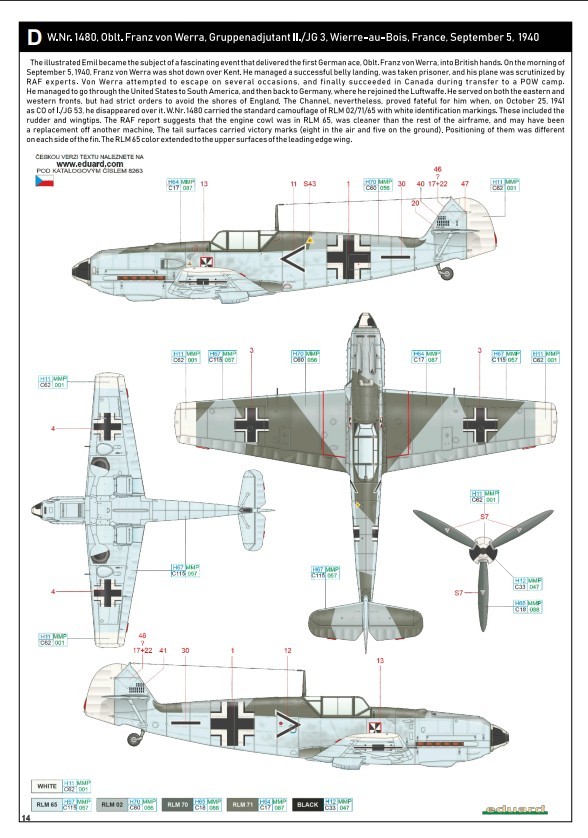 E: W.Nr. 5819, Obstlt. Adolf Galland, Geschwaderkommodore JG 26, Audembert, France – Dec.1940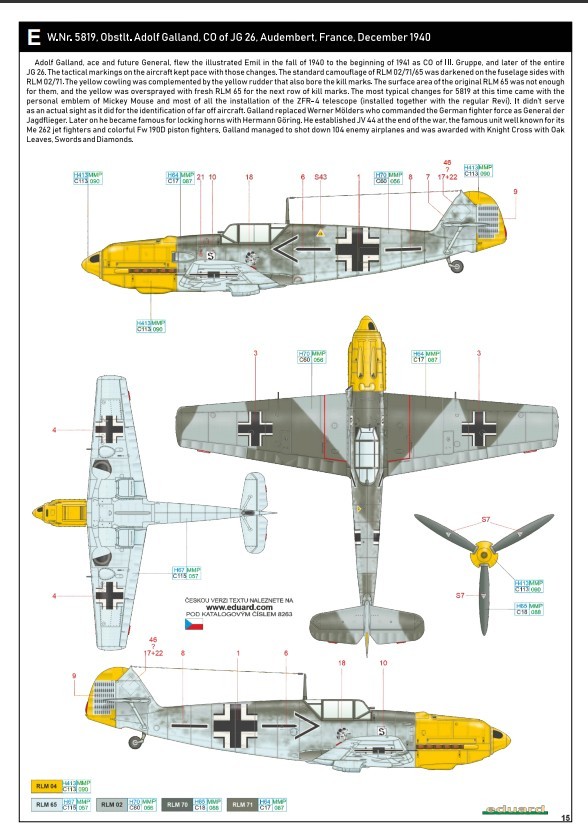 Along with the main markings, Eduard include a comprehensive selection of servicing stencils and a full-page placement guide.

The decals appear to be excellent quality, being thin and glossy and printed in precise register. In common with recent Eduard decals, there is a bit of excess carrier film, but I've found this snuggles down invisibly in use. One thing to watch out for, though, is that the thinness of the decals makes them rather prone to folding over on themselves, so a bit of extra care in applying them is required.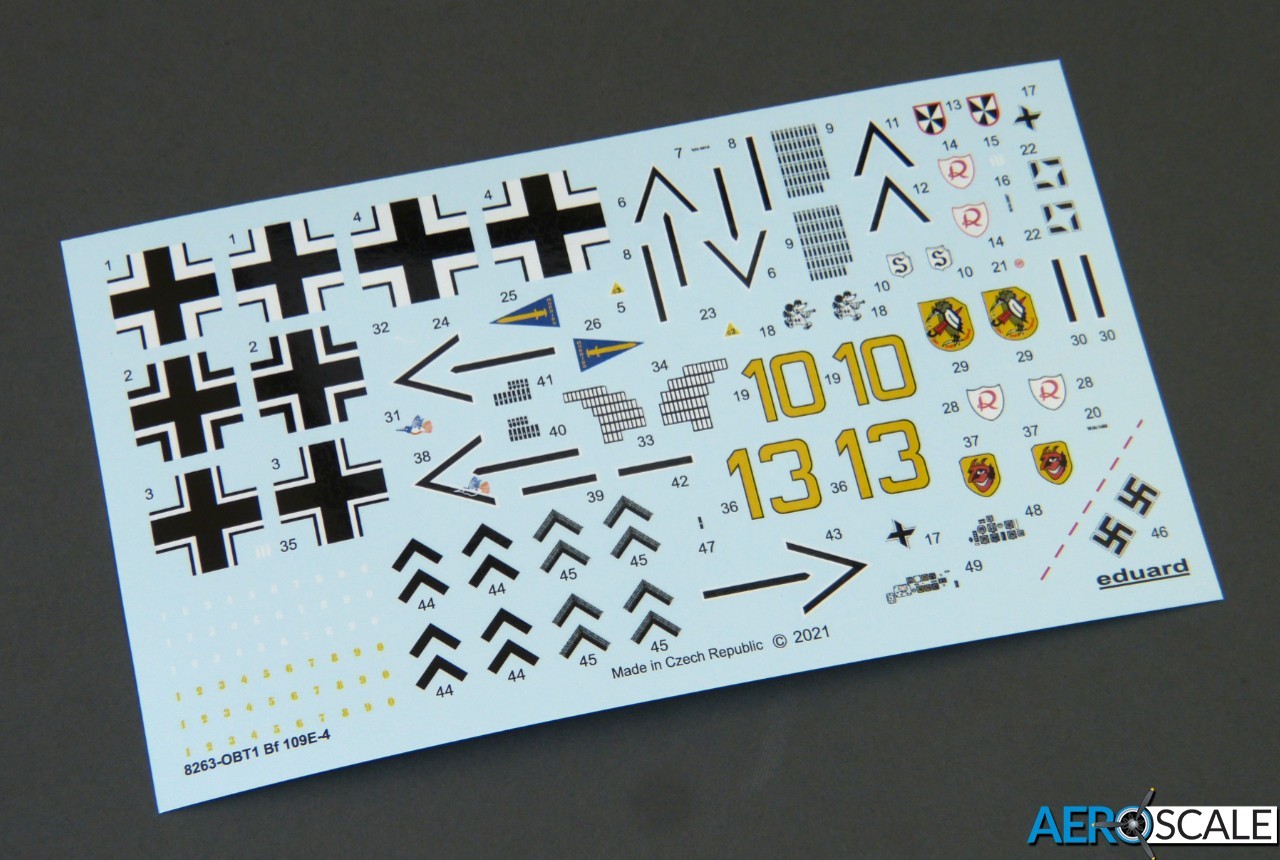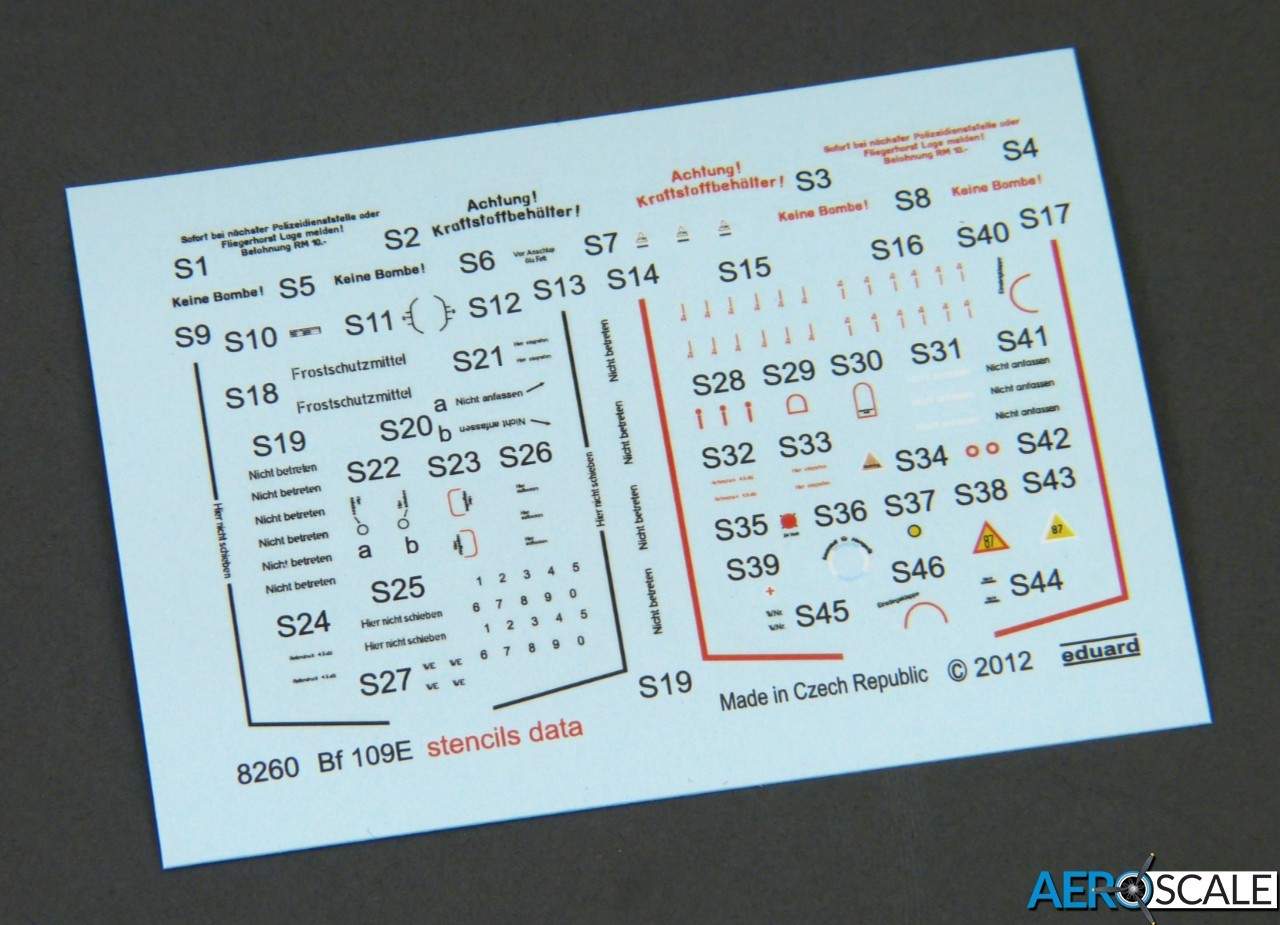 Conclusion
Eduard's 1:48 Bf 109Es were excellent kits when they were first released, and it's great to see just how impressive the 'E-4 still looks all these years later. It can certainly hold its own alongside more recent releases. Construction is pretty straightforward, but beginners should obviously be wary of the added complexity of the photo-etched details (a Weekend Edition boxing might be a better option until you have a bit of experience under your belt).

Kit #8263 - Bf 109E-4 is available now from Eduard - Price: £19.40
Many thanks to Eduard for providing the sample copy for review.
Please remember, when contacting retailers or manufacturers, to mention that you saw their products highlighted here - on AEROSCALE