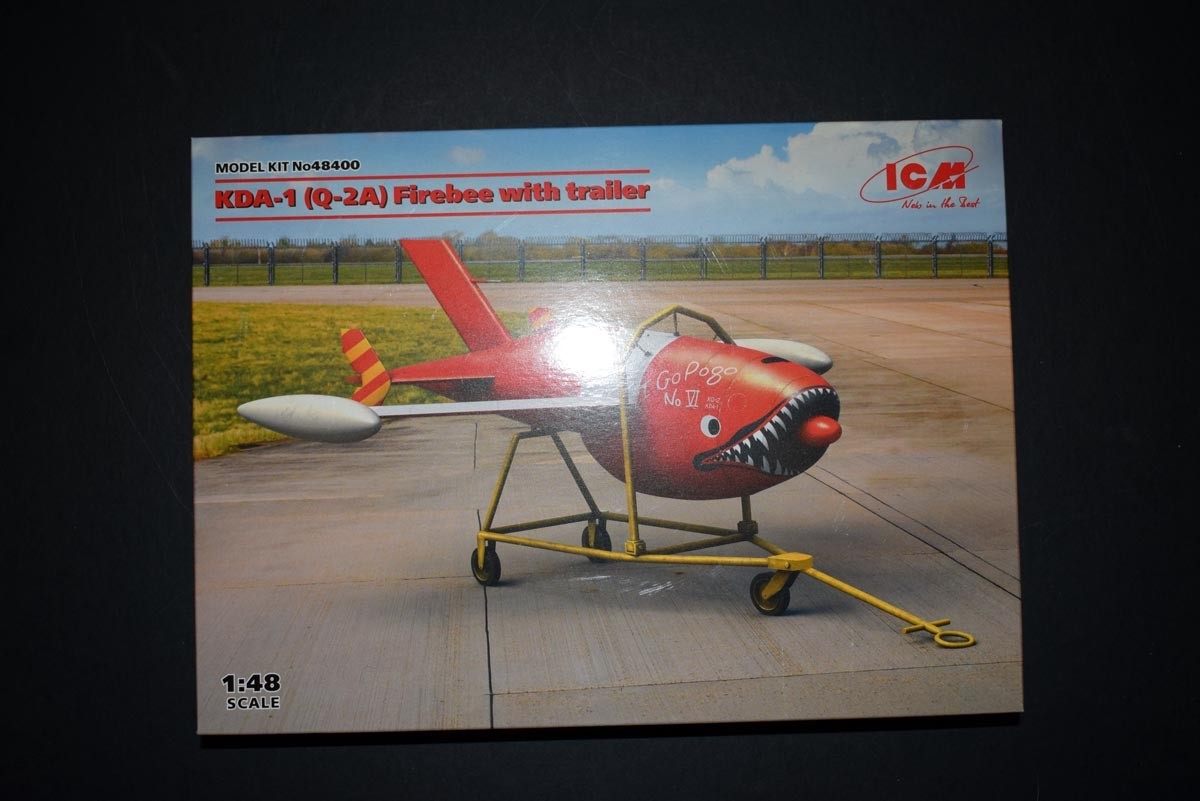 Introduction
The following introduction is provided by ICM:
In 1940 the US Air Force, signed a contract with Ryan to build a jet drone, that would serve as a target for shooting training. Ryan developed the Fire bee, a prototype of which designated XQ-2 first flew in1951. The drone was distinguished by swept wings, and plumage as well as an air intake in the bow. The fire bee could be launched either by a carrier aircraft, the first of which was the A26 Invader, or from the ground with a single JATO missile. Test was final and the Fire bee entered service as the Q-2A. The US Navy and US Army acquiring a slightly different version of the Q-2A, featuring a1,000lb Fairchild J44-R-20B engine and a front tip in the front air intake, this received the designation KDA-1.
Review
This offering from ICM, arrives in a flip top cardboard tray with an additional card lid with the art work upon it. Inside is a single re-sealable plastic bag containing the two sprues for the model. A decal sheet and instruction sheet are loose inside. The parts for the model are cleanly moulded, with a good level of detail on them, and no obvious moulding issues that I can see. Gates between the sprue and moulded parts are of a reasonable size, and not excessive in number.
The drone itself, has a promising jet engine, in that you get good detail on the compressor face and the exhaust extends the full length that is should. There will by a joint in the exhaust of the jet engine, which will need to be hidden. The flight surfaces interlock inside the body of the drone, and all surfaces have finely engraved panel lines. The flight control surfaces are moulded as part of the wing and tail, and so if there is a desire to show their position other than neutral some surgery will be required. The transport trolley for the drone, is a tubular steel construction with simple wheels. The drone itself connects to the trolley via a pin front and rear.
Finishing wise, we have been presented with three options, any of which have a nice degree of colour.Q-2A Fire bee US Air Force Circa 1951
Ryan KDA-1 Fire bee drone at the naval ordnance test station, China Lake California Circa 1960
US Navy XQ-2 prototype circa 1950.