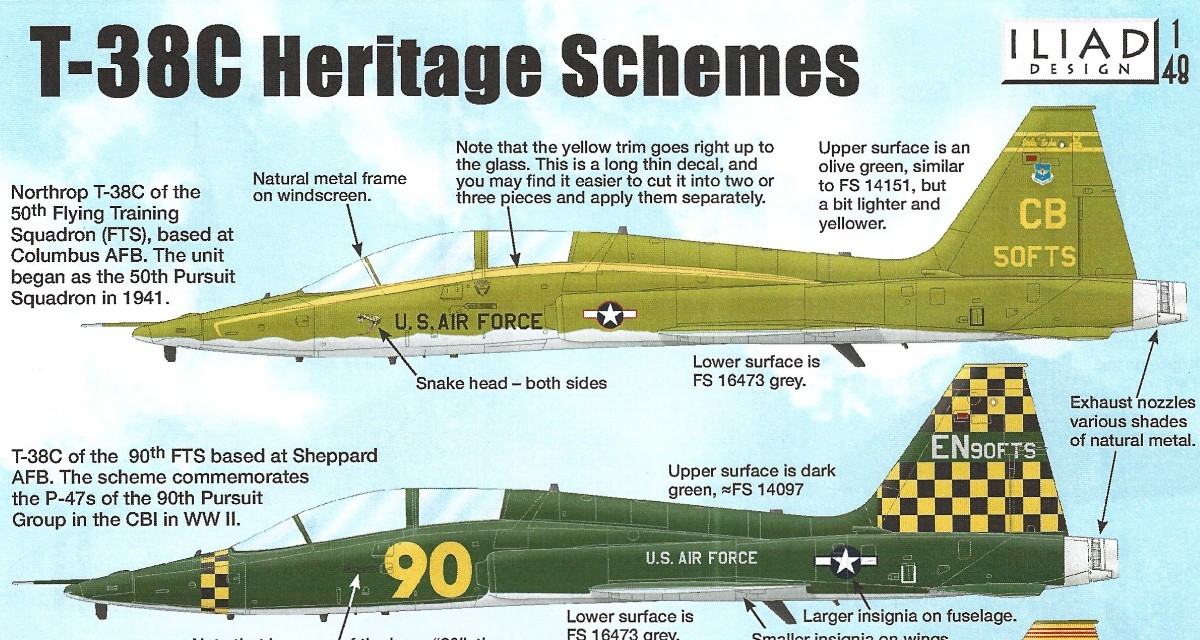 New from Iliad Design comes a set of 1:48 decals featuring T-38C Talons with a difference - all the aircraft are painted in "heritage" colour schemes, commemorating aircraft from WWII and the Vietnam War.
The set includes markings for 5 aircraft:
1. T-38C of the 50th Flying Training Sqn. (FTS) in the 1941 colours of its original incarnation as the 50th Pursuit Sqn. (PS).
2. T-38C of the 90th FTS painted to represent the P-47s of the 90th PS in the CBI during WWII.
3. T-38C of the 469th FTS finished as a Vietnam War F-4 Phantom II.
4. T-38C of the 586th FTS sporting invasion stripes as worn by the B-26 Marauders of the unit's ancestor, the 586th Bomb Group.
5. T-38C of the 46th FTS commemorating the P-38 Lightnings of the 49th PS.
The decals are superb quality, with rich colours and pin-sharp registration. The items are thin and glossy, with minimal excess carrier film.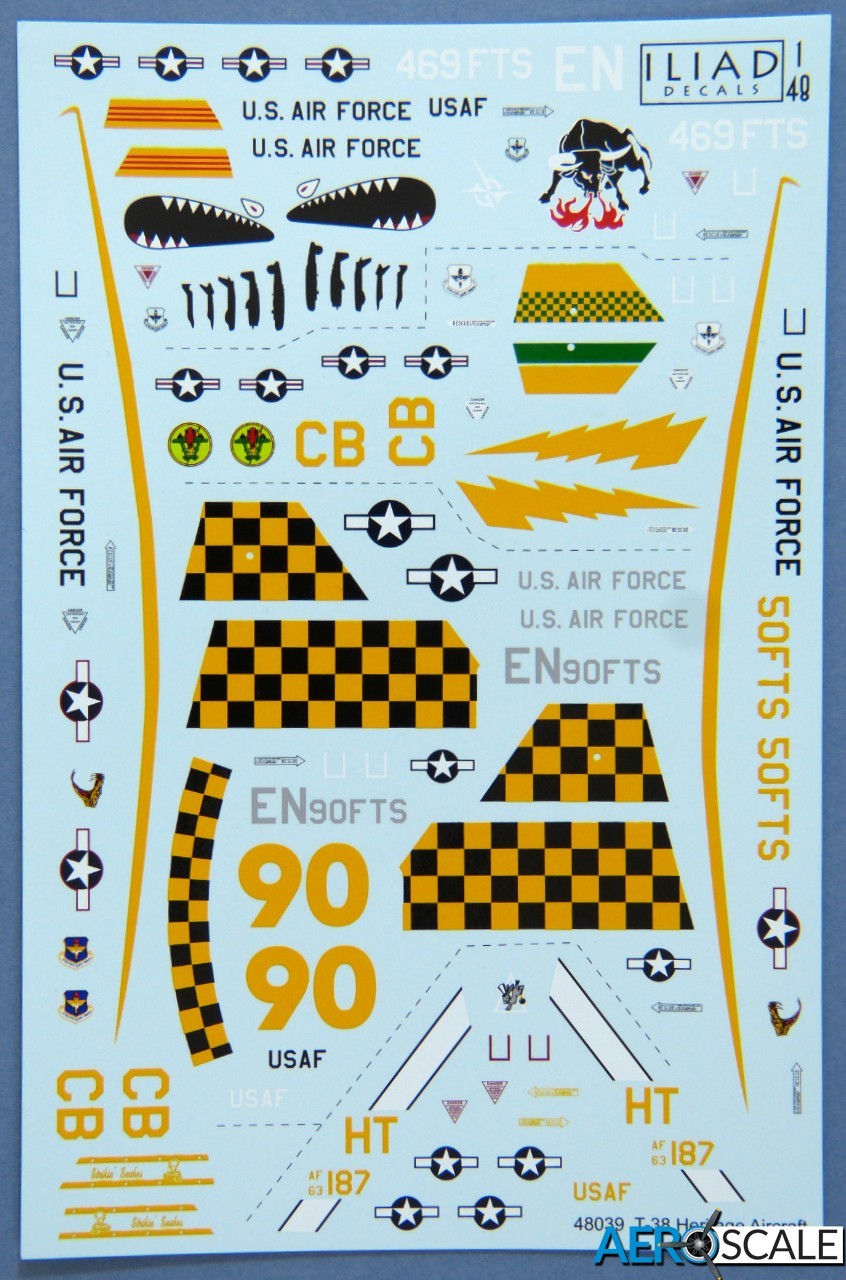 An important point is that Iliad Design provide sufficient national insignia to complete all 5 subjects, and a line-up of all the featured Talons in their distinctive markings will be a real talking point in any display. 
The sheet is accompanied by a comprehensive set of instructions, with high quality profiles and plan views of each aircraft, reference photos, plus details of the ballast box fitted to two of the subjects. A useful illustration is included showing the required part which is included, but not listed, in the Wolfpack kit of the T-38C.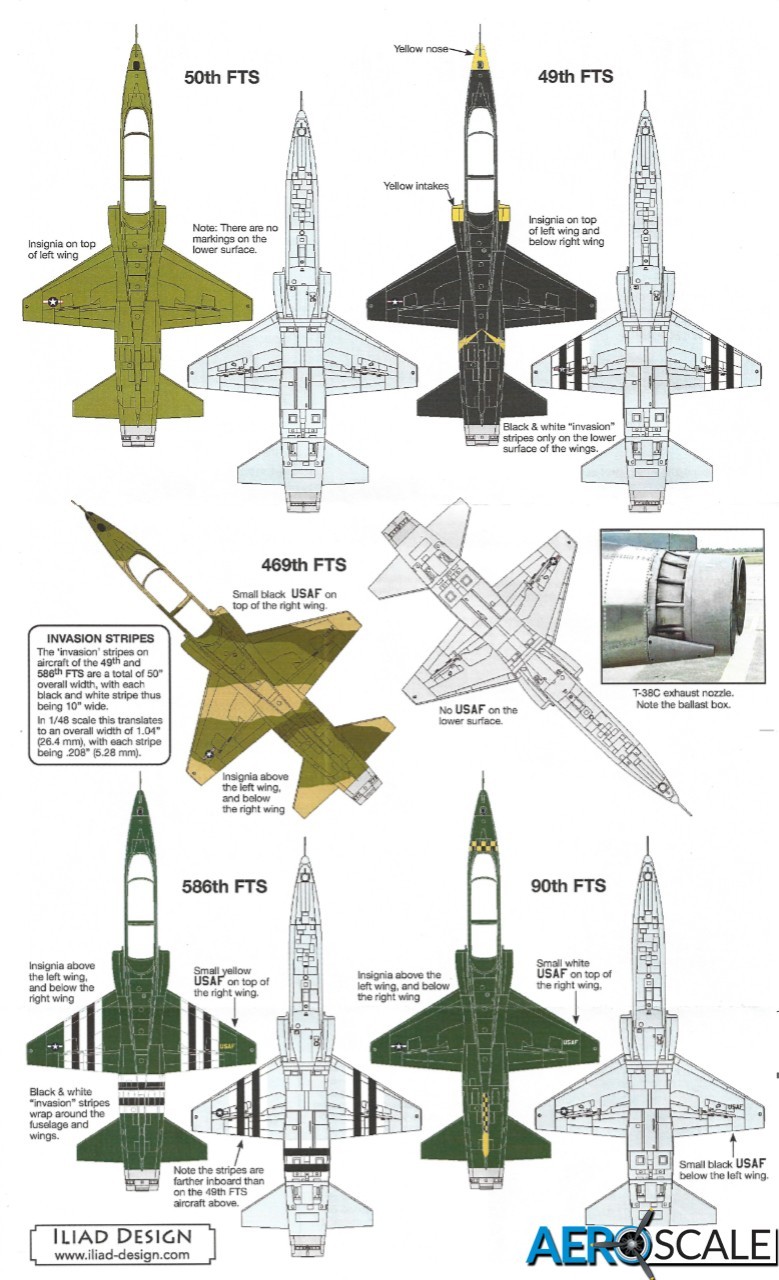 Conclusion
This looks a great set of decals for anyone looking to build a Talon with a bit of a difference. The complete line-up of all five aircraft would make an excellent group/club project, and I'm seriously tempted to get the Wolfpack kit because I don't have a T-38 in my collection.
Set #48039 is available from Iliad Design now - Price:  $12.00
Many thanks to Bob Migliardi at Iliad Design for providing the samples for review.
Please remember, when contacting retailers or manufacturers, to mention that you saw their products highlighted here - on AEROSCALE