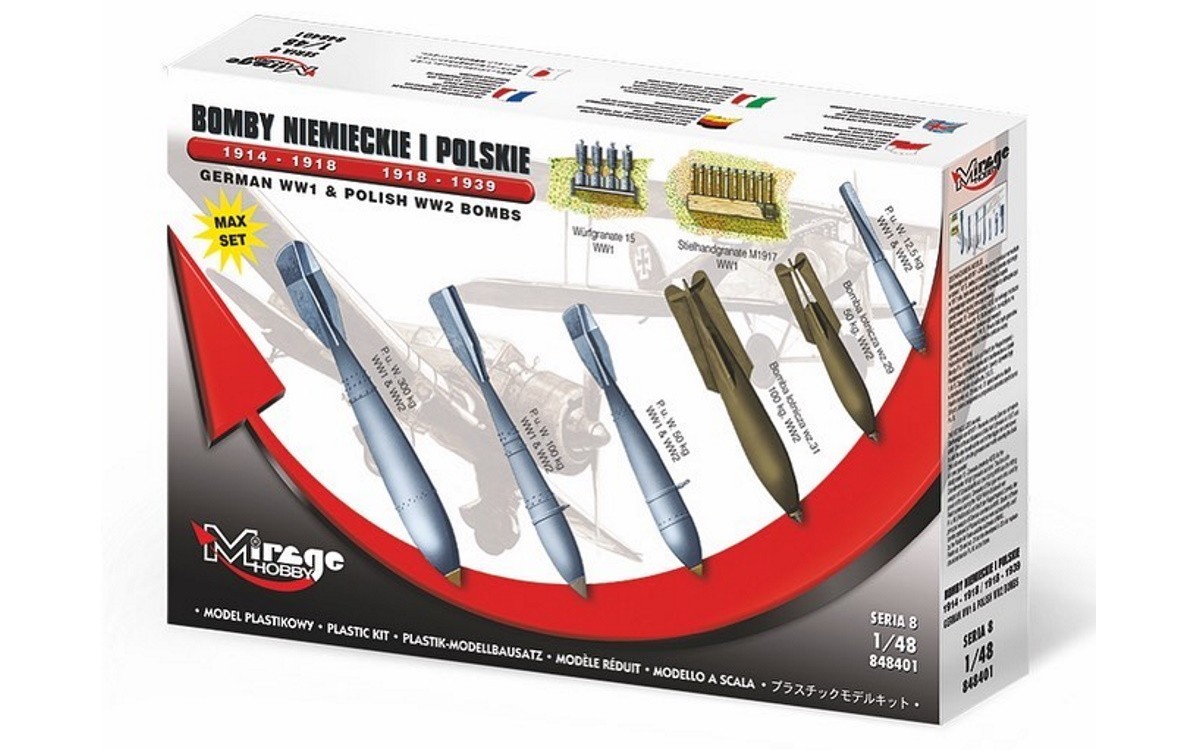 Plastic model kits of bombs in 1:48 scale

 In the set:
16 x Würfgranate 15
16 x Stielhandgranate M1917
32 x P.u.W. 12,5 kg
8 x P.u.W. 50 kg
24 x P.u.W. 100 kg
3 x P.u.W. 300 kg
4 x Bomba lotnicza wz.29 4 x Bomba lotnicza wz.31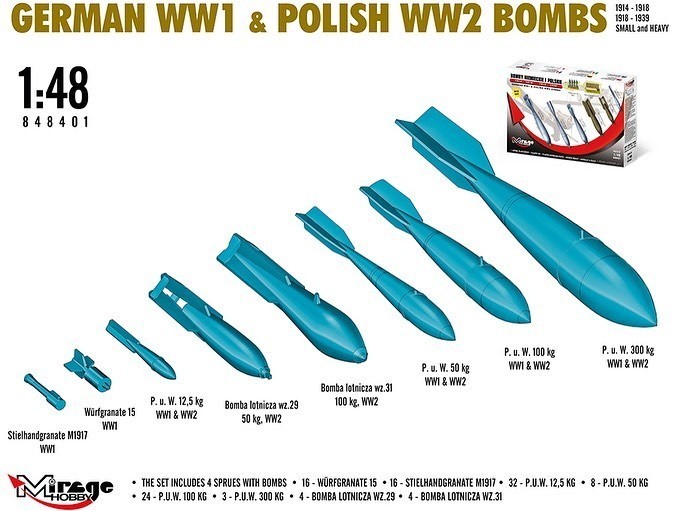 History:
Stielhandgranate M1917 - Favorite among German airmen in WWI. One of the modifications of this hand grenade in 1917 was
to add the star-handle at the end of the trigger pin cord cover. This allowed to arm the grenade even while wearing the thick air crew gauntlet.
Würfgranate 15 - Grenade (made by AEG) for the Granatewerfer 16 light grenade launcher. The favorite weapon of Schlacht staffel air crew during WWI due the hitting
power of its splinters. Grenades of this type were also used by Polish airmen during the 1920 Polish-Bolshevik war.
P. u. W. (Prüfanstalt und Werft der Fliegertruppen)bombs, the principal weapon of German bombers in WWI. Stocks of these bombs captured at Poznań-Ławicya were subsequently used
by the Polish Air Force until the outbreak of WWII...Polish wz. 29 and wz. 31 bombs developed in 30's for replace obsoleted bombs P.u.W. in the future.
848401 German WWI & Polish WWII Bombs 1914-18/1918-1939– 1/48
Please remember, when contacting retailers or manufacturers, to mention that you saw their products highlighted here – on Aeroscale.