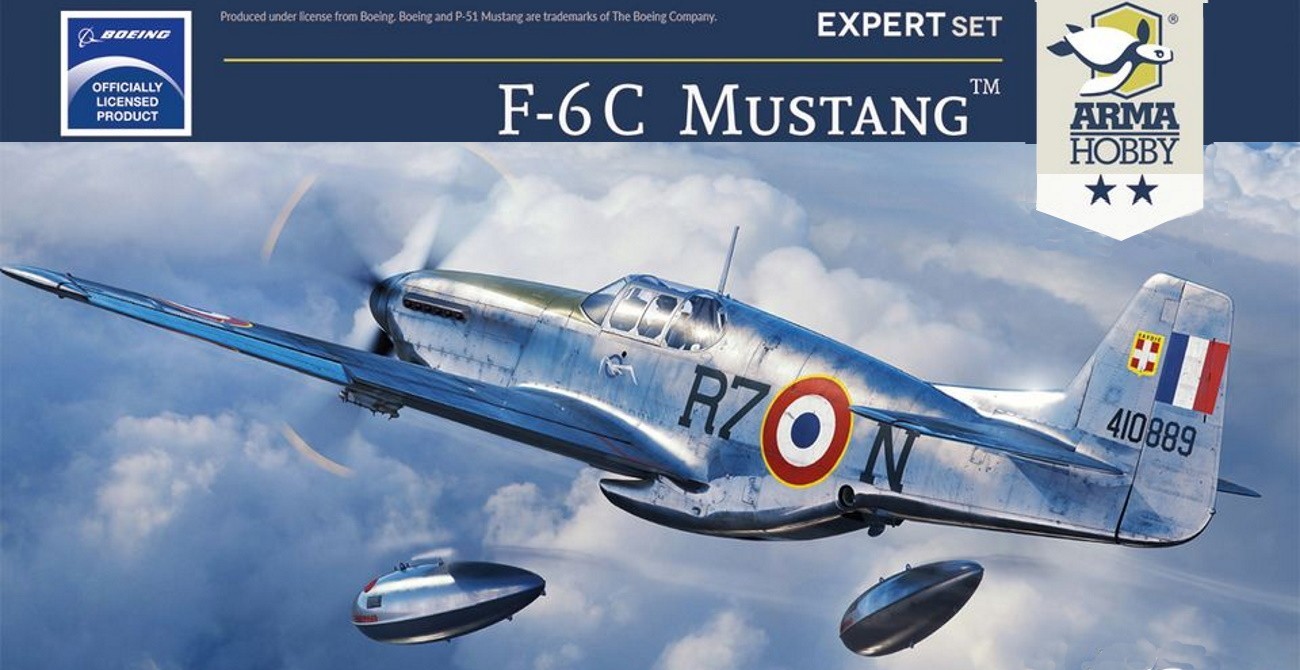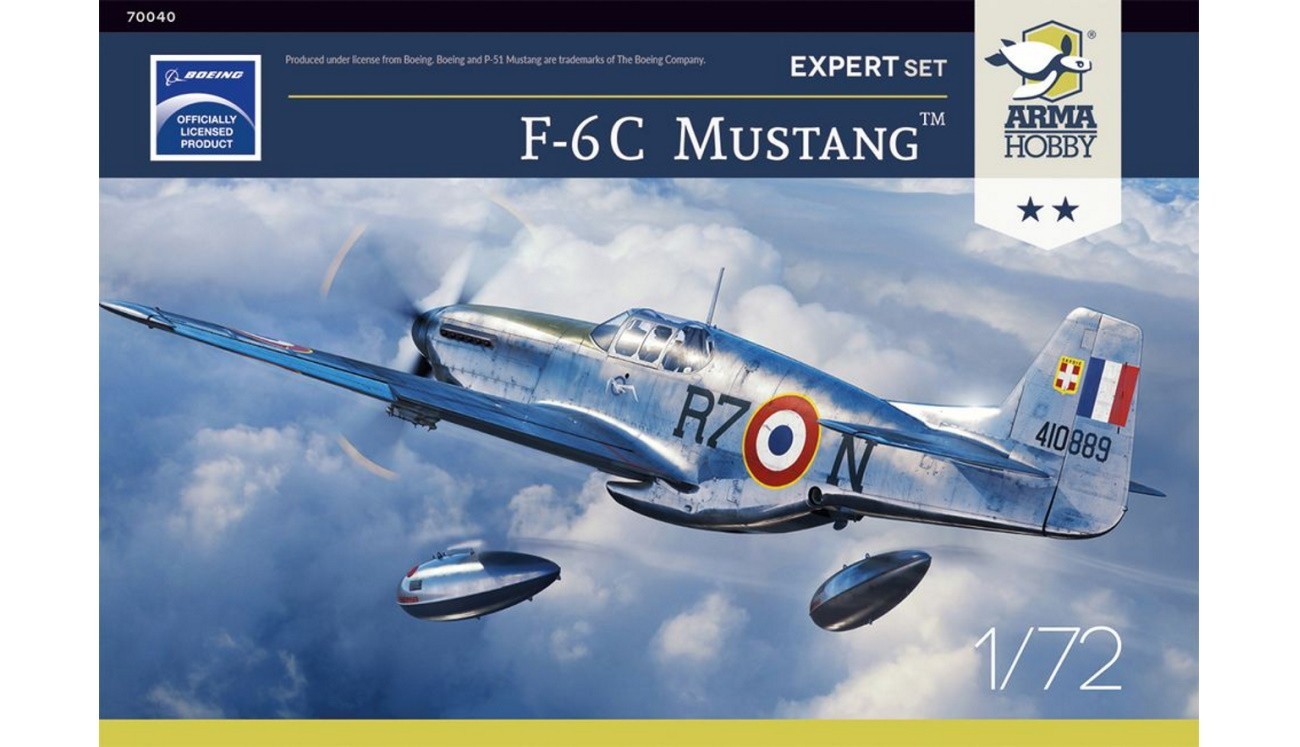 "New! Reconnaissance Mustang F-6C Expert Set Preorder
Today we are starting the preorders for the new Mustang model kit - this time in the reconnaissance F-6C version. The expert kit includes plastic parts, a decal sheet with four very attractive markings (3x U.S. and 1x French), excellent kabuki paper masks and a new photo-etched set, enriched with a template for scribing the camera's hatch.
Reconnaissance Mustangs
The reconnaissance Mustangs F-6C were modified P-51B/C fighters. Their armament allowed them not only to defend themselves, but also to undertake equal combat with enemy planes, and even to successfully attack ground and naval targets. Although it is hard to believe, Major Edward McComas managed to sink a Japanese destroyer with bombs dropped from his reconnaissance Mustang! The marking of that McComas' plane is one of the four we have selected for this set!
What's new in the kit?
The Mustang F-6C model is built from standard Mustang P-51B/C sprues, which on the inner sides of the fuselage halves are provided with special undercuts to cut openings for camera lenses. The transparent sprue includes glazing for these openings. A special, new photo-etched fret is enriched with a template for scribing the camera hatch. The kit includes excellent kabuki paper masks for painting the canopy and wheels, which have recently been available again - after problems related to covid disruptions on communication routes. Very attractive decals include three U.S. and one French painting scheme.
Preorders
The preorders start today, and the model kit will be available in May. The offer includes deal packages, also with additional plastic frames (so-called overtrees) - check the bottom of the product page in the webstore"!.......................................................ARMA Hobby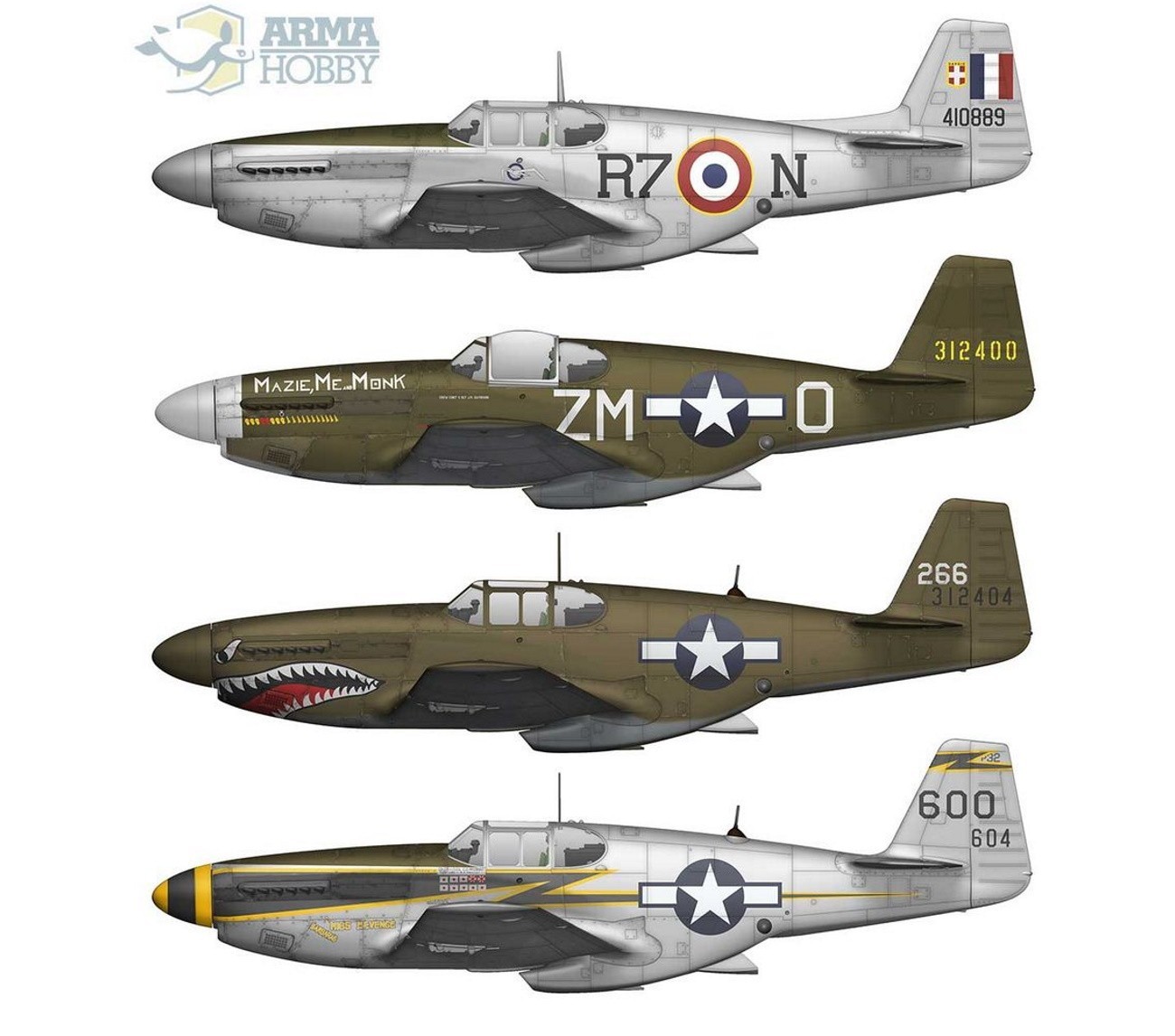 There will be four marking options:
F-6C-10-NT Mustang, 44-10889 / R7-N, GR II.33 Savoie, French military aviation, April-May 1945.
F-6C-1-NA Mustang, 43-12400 / ZM-O, Cpt. EB '' Blackie '' Travis, 12th Tactical Reconnaissance Squadron, 67th Tactical Reconnaissance Group, Middle Wallop, England, Spring 1944.
F-6C-1-NA Mustang, 43-12404 / 266, 26th Fighter Squadron, 51st Fighter Group, China 1944-45.
F-6C-5-NT Mustang, 42-103604 / 600, May. EO McComas, 118th Tactical Reconnaissance Squadron, 23rd Fighter Group, Chengkung, China, October 1944.
Release is scheduled for May
70040 - F-6C Mustang™ Expert Set – 1:72
Please remember, when contacting retailers or manufacturers, to mention that you saw their products highlighted here – on AEROSCALE.