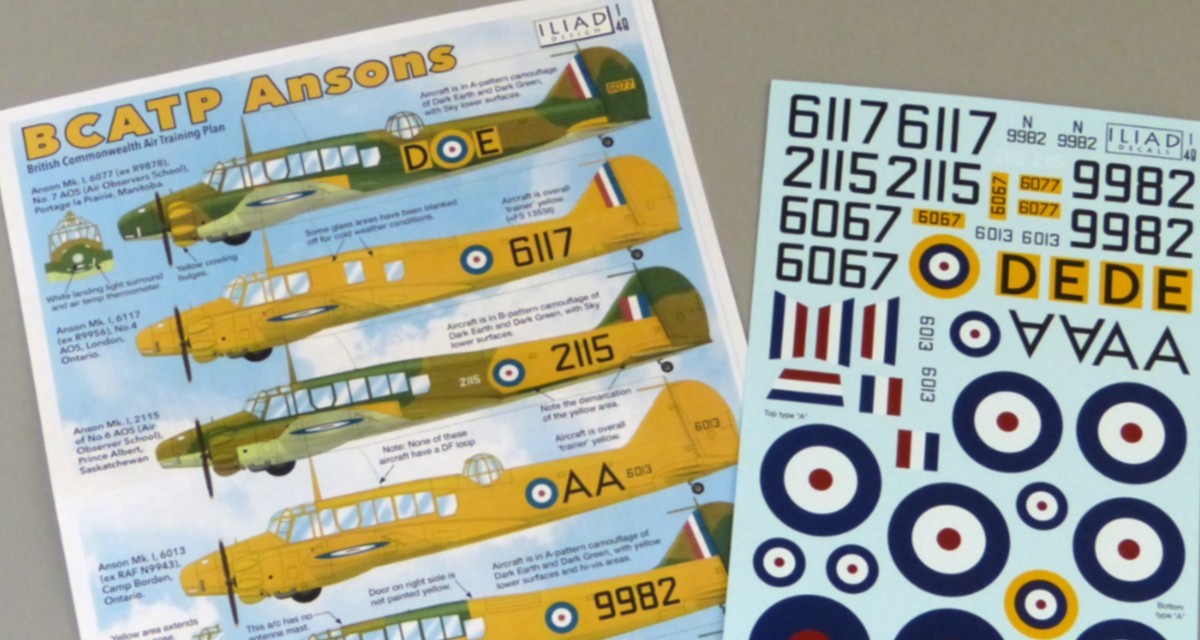 "Faithful Annie" played a crucial role training aircrews during WWII as part of the British Commonwealth Air Training Plan, and to honour this Iliad Design has released decals for a sextet of Anson Mk. I operating in Canada. Three of the featured aircraft feature dorsal turrets, the remainder having a smooth fuselage roof. The Anson is, of course, enjoying a thoroughly deserved spot in the limelight thanks to the release of Airfix's new-tool 1:48 kit, and this includes inserts for both options, plus the steeper style of windscreen required for the machines in Iliad Design's set.

The decals arrive in a simple zip-lock bag, complete with a full-colour sheet of instructions.

As you'd expect with Iliad Design decals, the quality is superb, with pin-sharp registration on all the items. The colours used look excellent and there is virtually no excess carrier film except where its used to group letter a numerals as single decals. The finish is gloss except for the very convincing Trainer Yellow.

The subjects included are:
1. Anson Mk. I, 6077 (ex R9878), No. 7 Air Observers School, Portage la Prairie, Manitoba
2. Anson Mk. I, 6117 (ex R9956), No. 4 Air Observers School, London, Ontario
3. Anson Mk. I, 2115, No. 6 Air Observers School, Prince Albert, Saskatchewan
4. Anson Mk. I, 6013 (ex N9943), Camp Borden, Ontario
5. Anson Mk. I, 9982, No. 6 Air Observers School, Prince Albert, Saskatchewan
6. Anson Mk. I, 6067 (ex R9835), No. 6 Air Observers School, Prince Albert, Saskatchewan
Between them they offer some really interesting colour schemes, ranging from overall Trainer Yellow to a variety of Yellow areas over standard Dark Earth, Dark Green and Sky camouflage in a mix of A and B patterns.
The instructions are well designed, with high quality colour illustrations that include side profiles and plan views, plus detail views and a B&W reference photo. 
Conclusion
This is another excellent release from Iliad Design that offers striking colour schemes for an important aircraft that it all too often overlooked.
Item #48042 is available now from Iliad Design - Price: $14.00
Many thanks to Iliad Design for the review sample.
Please remember, when contacting retailers or manufacturers, to mention that you saw their products highlighted here - on AEROSCALE