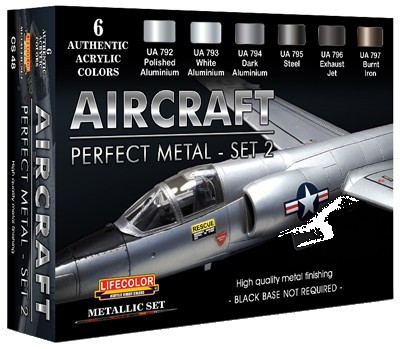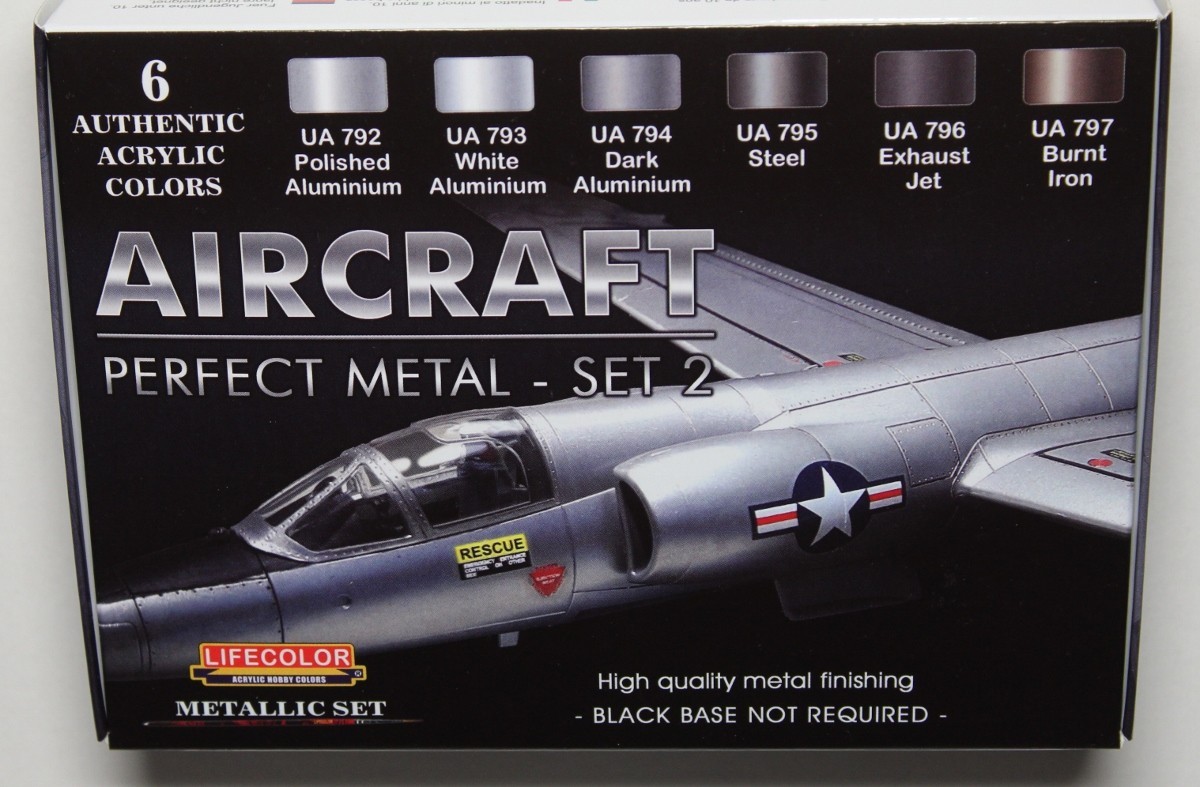 Acrylic Metallics
Aircraft Perfect Metal Set 2 was generously provided for review by Airbrushes.com, where you can read their description on their site at  Aircraft Perfect Metal Set 2.
Around 30 years ago Fine Scale Modeler ran an article by a chemist or such, who listed the ingredients common to our solvent-based model paints and glues, and their affects on our bodies.  It was disconcerting and I began transitioning to acrylics but I needed metallics for my aircraft.  Acrylic metallics for models have been around since the late 1970s or early 80s.  I have a set of 8 by Polly S (no, not Polly Scale) from c.1981, and Tamiya released a metallic or two about then, too.  But metallics and acrylic carriers and binders usually did not work well for me until I tried Polly Scale in the mid-90s.  My search for quality acrylic metallics that performed well and looked right has become easier over the last couple of decades, and better still now that LifeColor is formulating acrylic metallics.  Recently I tried their set of brass hues and was impressed.  Then they came out with this set for aircraft, among other uses.  Thanks to Airbrushes.com we have this demonstration on Aeroscale.
Other Lifecolor reviews can be seen here:

There are no instructions other than examples printed on the box. This set lacks the graphics demonstrating application techniques.  Lifecolor reminds us that these can be mixed with their Tensocrom Medium to create washes and glazes.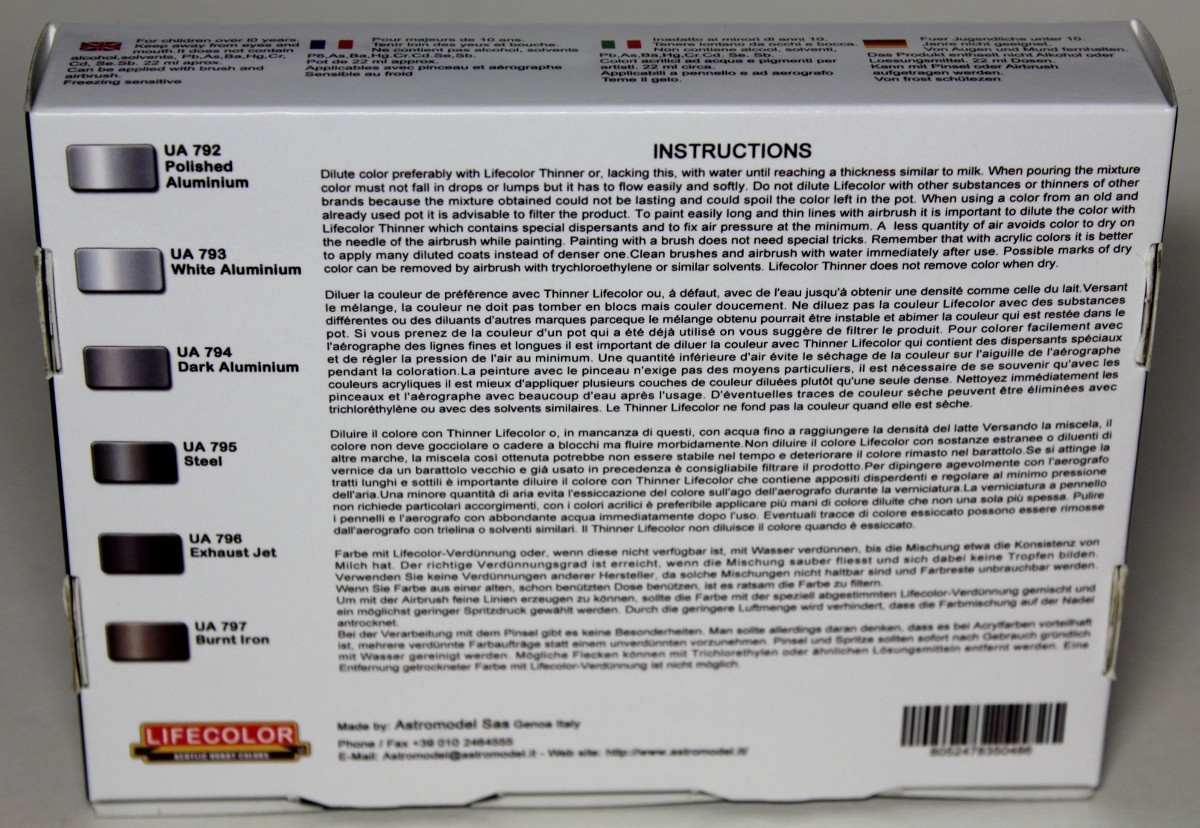 In the Box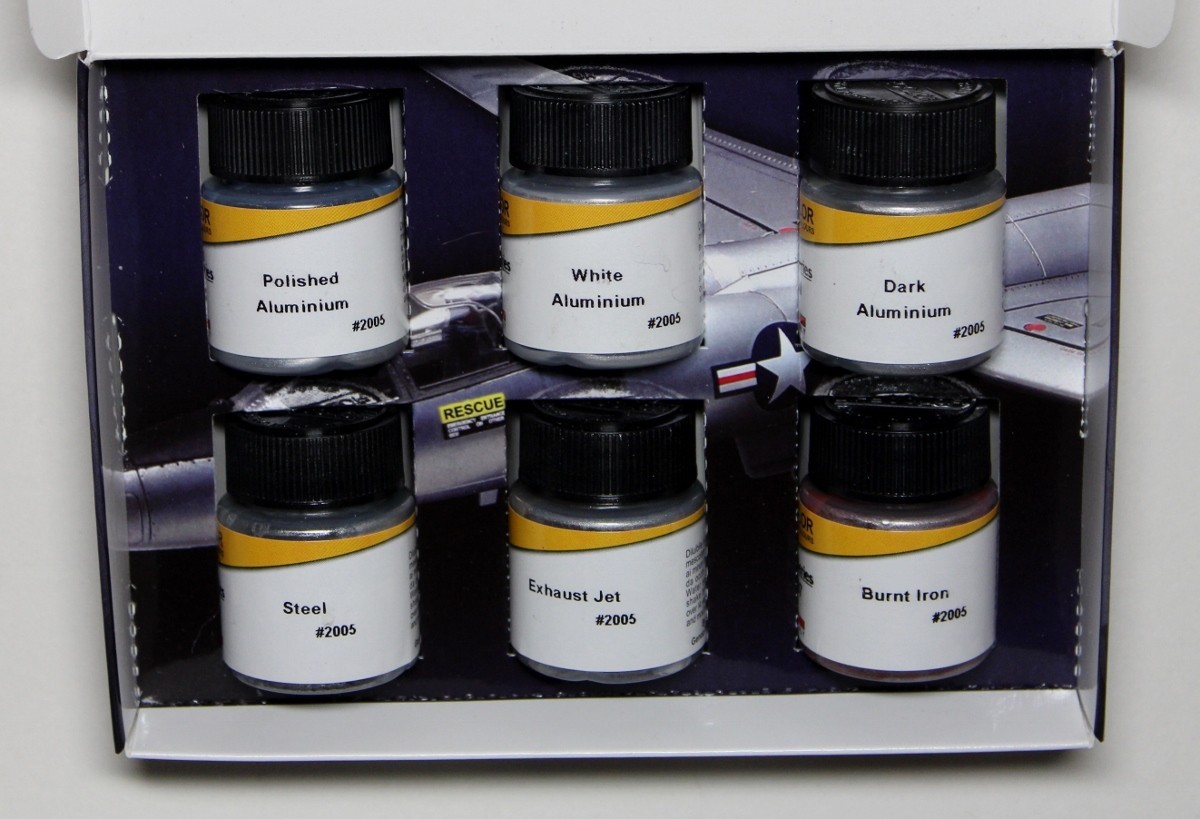 LifeColor pots their paints sets in six 22ml screw top bottles, packed in a good looking flip-top box.   Multilingual text on the back of the box explains how to use these paints.
The bottle caps are molded with an internal rim which both provides a small palette cup as well as inhibiting paint fouling of the bottle cap thread.
I find these water soluble paints to have very fine ground pigments.   They have no offensive odor.  Generally, I find them to be much thinner than other brands I use, LifeColor recommending several thin coats over a thick coat.   LifeColor tends to be formulated for multiple airbrushed coats; formulation favors airbrushing and even though a couple of this set's paints are thicker, the couple I tried with a brush did not like the hairy stick.

This set includes:
UA 792 Polished Aluminum
UA 793 White Aluminum
UA 794 Dark Aluminum
UA 795 Steel
UA 796 Exhaust Jet
UA 797 Burnt Iron
These six colors afford a good range of structural aluminum ("aluminium" across The Pond), steel, and heated metals common to aircraft.  The three aluminums can simulate different panels seen on NMF (natural metal finish, i.e., unpainted) airframes, shown to good effect by this B-29:
Use
I did not try paintbrushing these as a couple of tries convinced me it is fruitless.  Per LifeColor's instructions, I sprayed the three aluminiums with low air pressure while planning for multiple coats of paint.   are preferable to a single heavy coat.   I thinned most with their thinner, and it was necessary for a couple of colors that are so thick that they hardly drew into a pipette, although they would still spray at 12+/- psi.   Fortunately, LifeColor thinner works as advertised and allowed them to flow through my airbrush, although two colors required a 50/50 paint to thinner ratio.  Three colors shot straight from  the jar without thinning, and the other required a 3 - 4-to-1 paint/thinner mixture.
Each color was shot onto a plastic spoon, a piece of styrene, and onto a representative model part.  Unlike the brass set, these are not advertised to dry matte.  I find they all have an element of glossy reflectivity to them, which is what one should want for NMF.
Each color was stirred, mixed, and shot through a medium nozzle.
Results
UA 792 Polished Aluminum was applied to a 50-year-old Tamiya Ki-84.  It has smooth surface texture and very fine engraved and relief detail.  I sprayed two coats and thought I had made a big mistake - the paint seemed to puddle and be so thick as to obscure all detail.  Fortunately, the next day, the paint had dried level, uniform, and perfectly settled into the finest of raised and engraved surface detail.

Aluminum Family Album

Each color has a distinct look although it is subtle.  These images may be overkill but they compare and contrast the three colors on the wing.

UA 793 White Aluminum
UA 793 White Aluminum was trickier to use.  The first attempt left a slight "orange peel" effect that did not settle overnight.  I used a second, more thinned coat.  It was awful and I washed it off immediately.  What you see on the top wing was achieved after four to five tries.
Going against the instructions, I thinned it less and cranked up the pressure, and shot it onto the bottom of the wing.  It looked bad but dried smooth, although it still has that splotchy look.  It might be a good out-of-bottom paint to simulate hammered sheet metal such as found on many First World War aircraft cowlings, e.g., Fokker Eindekker.

UA 794 Dark Aluminum performed well.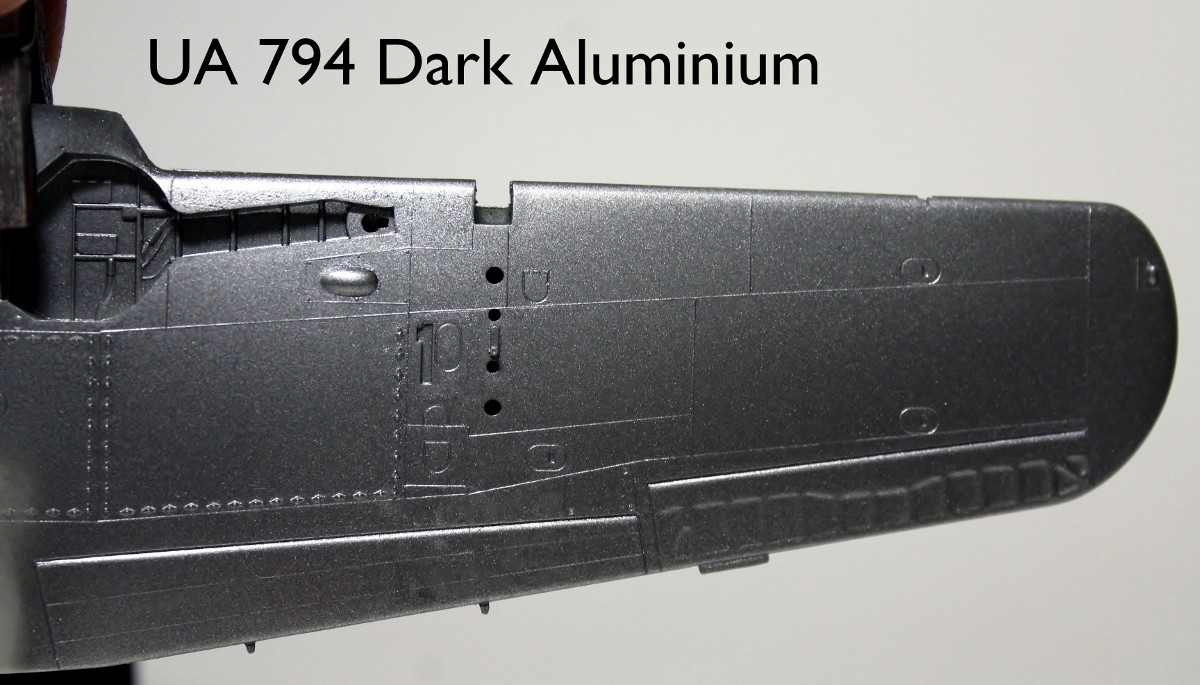 This may be overkill but you can judge for yourself the difference in the colors side-by-side.

White and Polished Aluminums

White and Dark Aluminums

Aluminums on a car
I also shot the colors onto a car.  With a few hours of experience and experimenting behind me, I shot all three colors almost per LifeColor's instructions.  The results are very pleasing.

Specialty Colors: UA 795 Steel, UA 796 Exhaust Jet, and UA 797 Burnt Iron
The only problem I had with these colors was with UA 797 Burnt Iron.  It has a definite reddish look but that is hard to capture depending on the angle of the surface to the light source.


Burnt Iron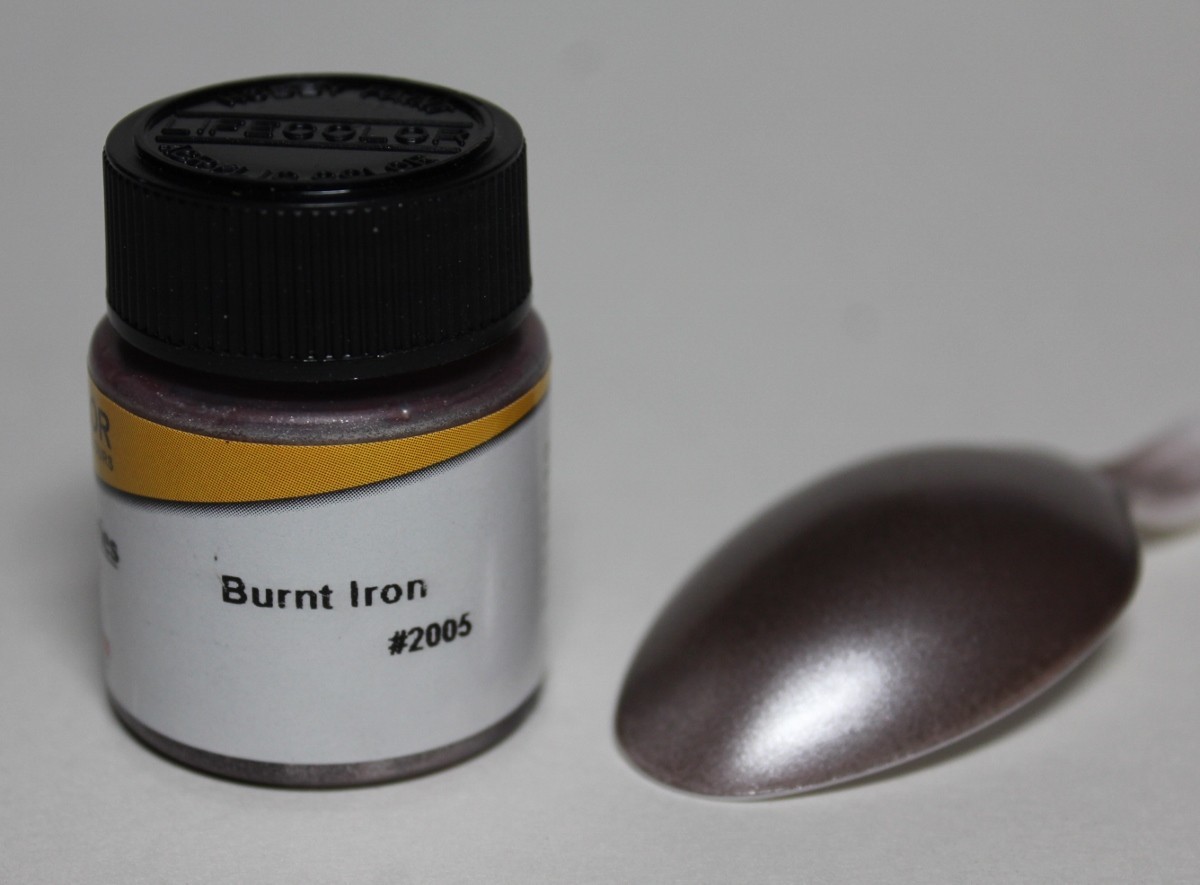 Jet Exhaust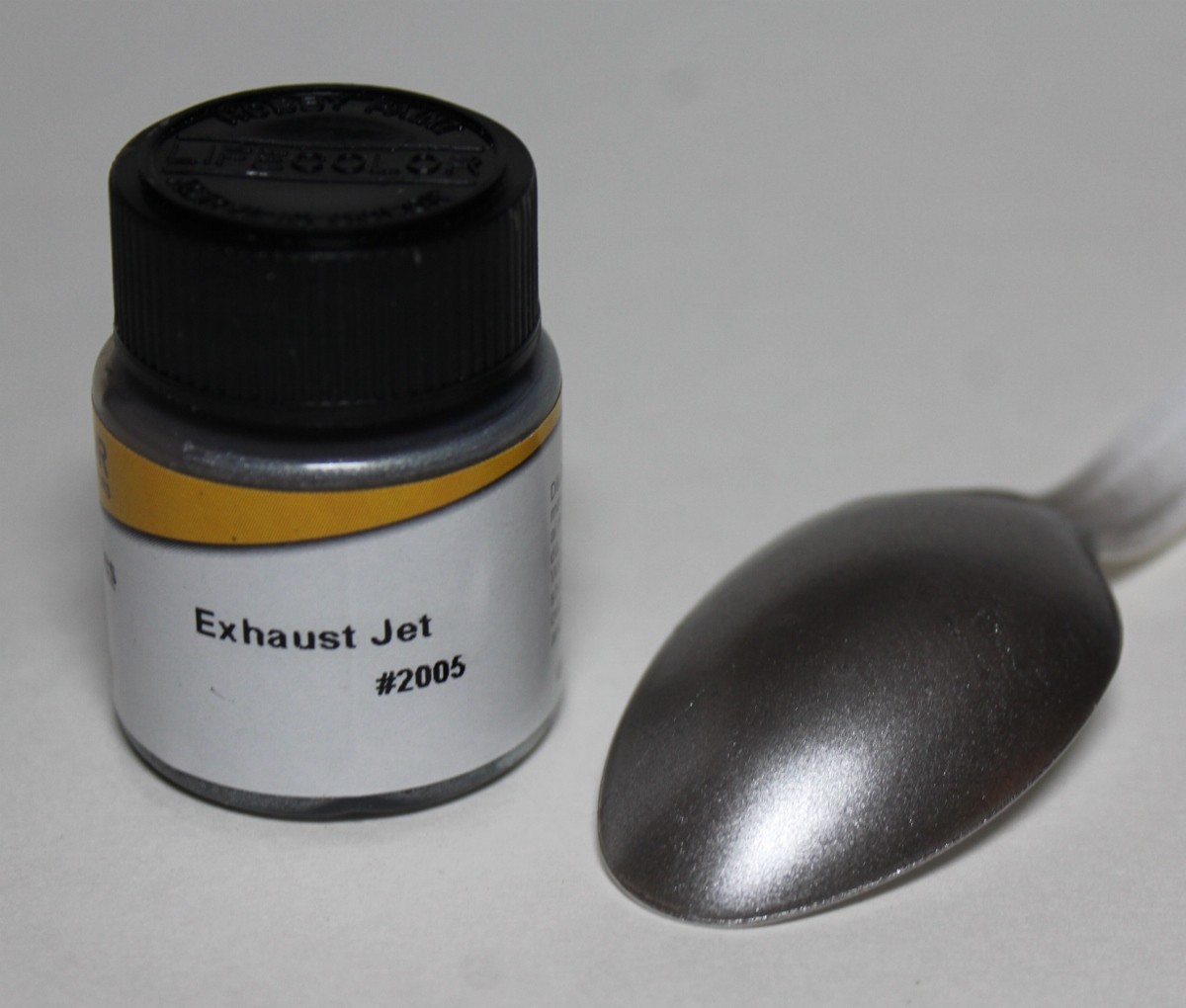 Steel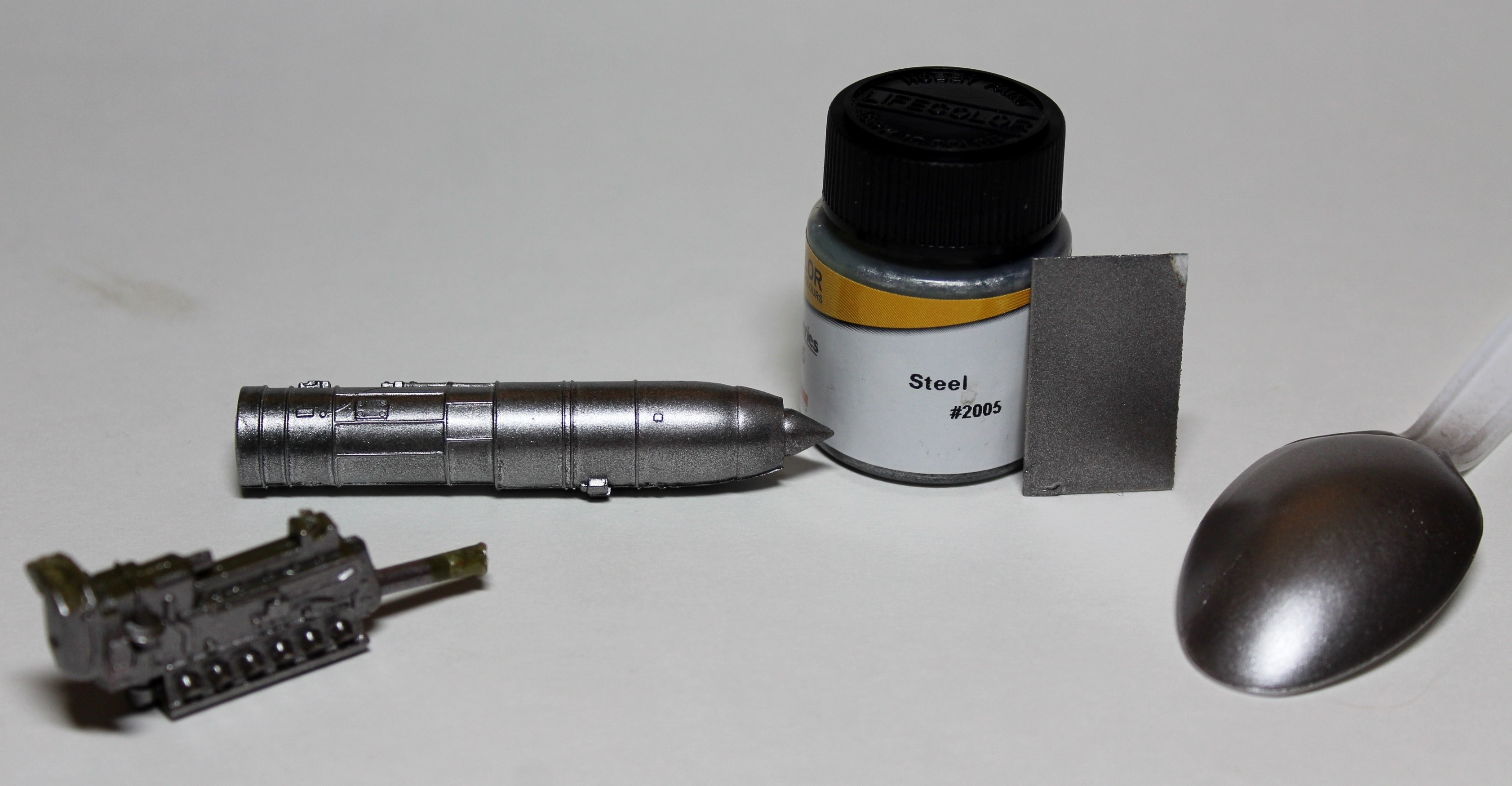 Adhesion
Like many previously tested LifeColors, these stick to the surface and resist scratching.  However, even after drying for a couple of days, a couple of the colors feel slightly tacky.  Not enough to leave fingerprints, capture dust, or rub off but just a bit tacky.

Conclusion
Like LifeColor's Perfect Metal Set 1, Shell Case, I appreciate this new set Aircraft Perfect Metal Set 2. It is another versatile set for painting metal surfaces common to aircraft, spacecraft and other unpainted metal vehicles, and a myriad of other subjects.

The colors took more trial and error than other LifeColor sets but I got the hang of it. Applied with airbrush most of these paints provide realistic colors with good consistency. White Aluminium gave me the most trouble.

Bristle brushing performance is not good.

Other than paintbrushing and the color White Aluminium, I do not have anything meaningful to criticize and recommend this set.
Thanks to Airbrushes.com for providing this set. Please remember to mention to them and to LifeColor that you saw this paint set here - on Aeroscale.