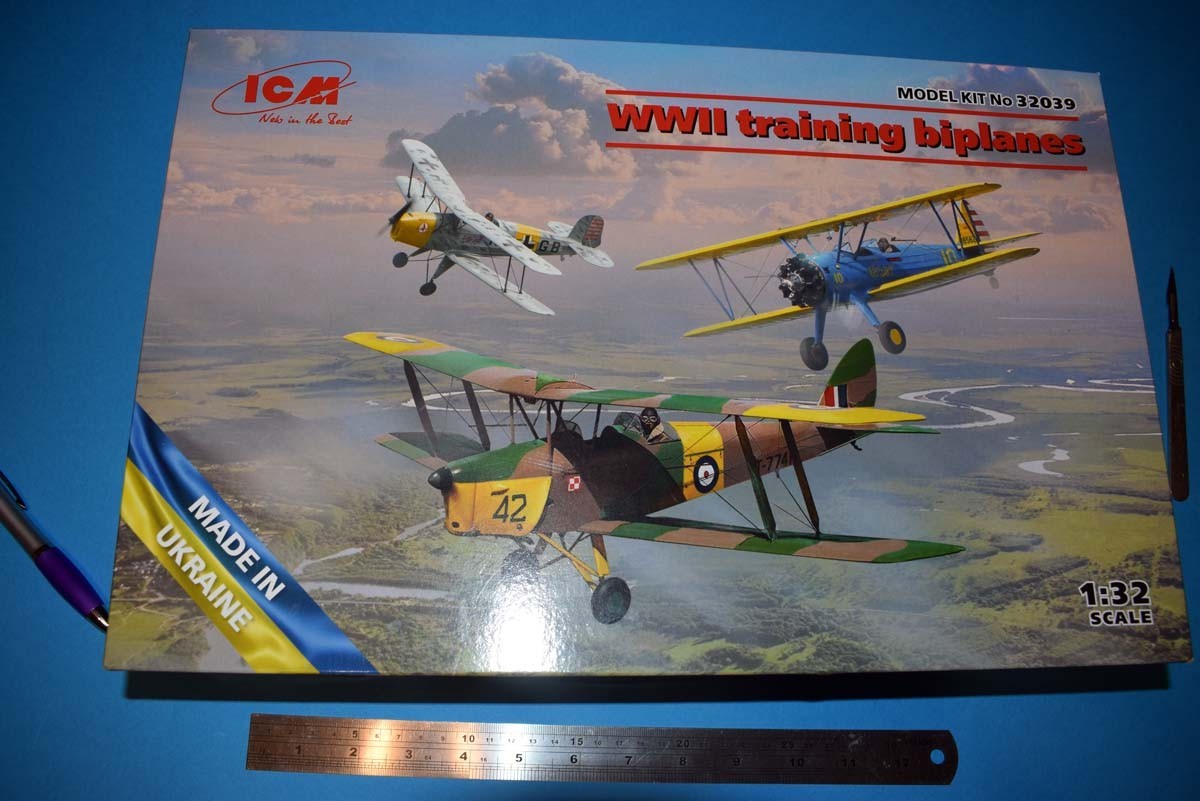 Introduction
This three in one kit offering from ICM features three training aircraft in 1/32nd scale as use by America, Britain and Germany during World War 2. Many of the aces some of us know of would have first gone into the air in one of these aircraft and likely earned their wings in one of them. All of these kits and the finishing options have been provided as standalone offerings in the past from ICM and so I am going to keep this review short by looking at the product quality more the model details. The models in this mix are a Tiger Moth, Bucker Bu 131D and a PT-17.

Review
The offering is in one of ICM's flip top cardboard trays with an additional card box top; a packing style that many manufacturers are taking onboard due to the level of protection it offers the contents. Inside the three models are individually packaged and due to space in the box no obvious issues are present that I can detect. The moulding quality is still fresh and only really has flow marks that do not affect the finish of the plastic parts.
As with every model offering there are good and bad points with ICM have particular issues that they could easily have been overcome by ICM, but that need to be tackled by the modeller instead in my opinion. This in all cases with these models is the cockpit. At the very least these open and exposed cockpits need harness detail added. The modeller could go further in dressing up the cockpits but that is a matter of personal taste. The upside to these offerings are that ICM has provided a guide for cutting your own masks for the clear aspects and the effort ICM has gone to in covering guides for stringing the models.
Conclusion
These offerings as a set do work as an offering due to the role they performed and the period they were in service. Built from the box the result is pleasing but with some extra effort on the part of the modeller can be made so much better than the base product provides for. So these kits are what I consider a starting point that will benefit from some extra work, but then again what model doesn't.