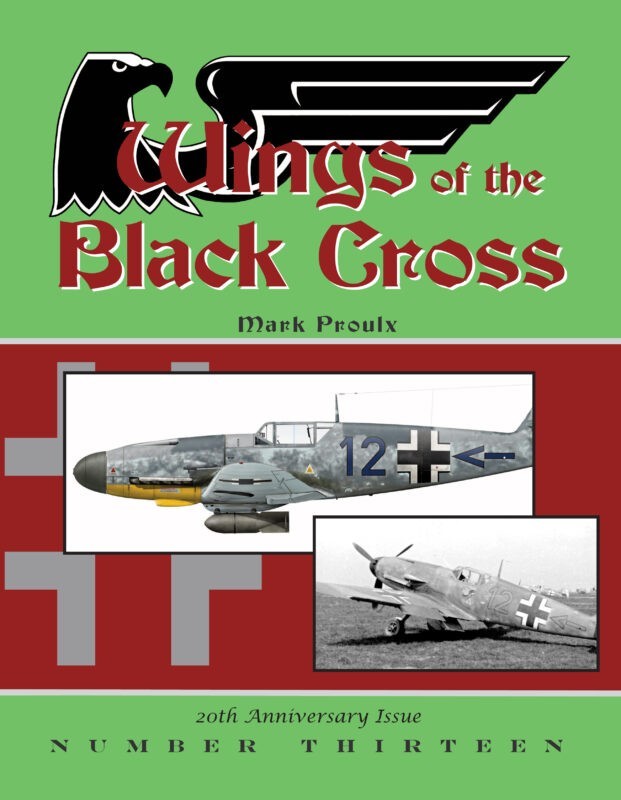 JUST RELEASED - Wings of the Black Cross Number Thirteen
by Mark Proulx, illustrated by James Bentley

In this edition are sixty photos in total, most are previously unpublished. Supporting the photos, captions broaden the historical narrative. Aircraft color and markings are discussed which are supported with eight color profiles from noted graphic illustrator, James Bentley.
While day fighters form the backbone of the series from its inception, coverage is not limited to those types. Several aircraft types are also featured including:
• Bf 108
• Bf 109
• Bf 110
• Fw 190
• Me 262
• Ju 87
• Ju 88
• Mistel Composite
• Me 410
• Fi 156
• Ar 196
The 36 page booklet maintains its standard of quality with the continued use of high quality gloss paper. It measures at 8.5" x 11", saddlestitched with the cover laminated and in full color.
The study of German Second World War aircraft still fascinates people to this day. The Wings of the Black Cross series provides a brief look at that important time in history and adds to our ongoing understanding.
More titles of the Wings of the Black Cross series are planned. Sign up for our emailing list and follow the Eagle Editions Ltd. Webpage for further exciting details.
Wings of the Black Cross Number Thirteen
ISBN: 978-0-914144-66-3 (0-91414144-6-9) $19.95
Please remember, when contacting retailers or manufacturers, to mention that you saw their products highlighted here - on AEROSCALE