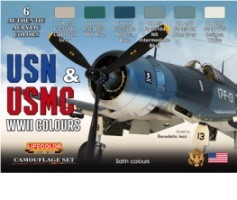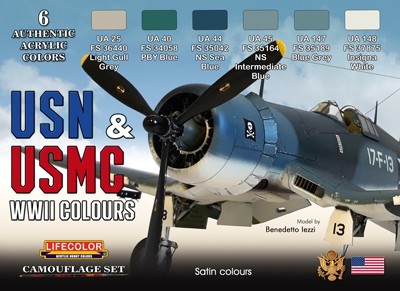 USN & USMC WWII Colours
LifeColor USN & USMC WWII Colours set is set CS-46.  Airbrushes.com kindly provided this set and writes about LifeColor paints:
Water soluble acrylic colours for modelling and hobby. LifeColor is excellent for paint brushing or airbrushing on plastic, resin, metal, vinyl, wood, cloth and ceramic.
It has been years since I have found a satisfactory nonspecular sea blue so I was interested in trying these paints. 

There is one odd color in the set, PBY Blue.   It is a green-tinted blue, more green in direct sunlight.  In the mid 1930s, the United States Navy (USN) conducted a series of comprehensive tests to determine the best colors and patterns to paint their aircraft.  Renowned aircraft restorer and color  researcher Dana Bell discovered documentation of the three-phase test in a Washington DC archive and wrote about it in 2014.  Unfortunately, the colors were matched to Munsell's 1929  standards, which are different from today's Munsell colors, and the paints were mixed by field personnel with supplies from the Bureau of Aeronautics.  One color was "BGB 2/4", a dark bluish-green, presumably the one replicated for this set.  In 1940, USN tried other experiments that included a nonspecular dark green.   Why LifeColor included this color and not the ubiquitous dark sea blue used for the last year of the war is odd.
The Set
LifeColor  packs their sets in a good-looking flip-top box.   Inside are six 3/4 fl oz (22 ml) screw top bottles. There are no instructions other than as printed (in multiple languages) on the back of the box, plus six printed color chips. LifeColor reminds us that these can be mixed with their Tensocrom Medium to create washes and glazes. I very much appreciate that the bottle caps are molded with an internal rim, which both provides a small palette cup, as well as inhibits paint fouling the bottle and cap threads.
These paints are made with very fine ground pigments.  LifeColor advertises that they have no noticeable odor, for which I am not certain of that meaning unless it means there are no harmful solvents within. Generally, I find them to be thinner than other brands I am used to, almost like a heavy wash. The paints of this set seem to be formulated for airbrushing.
The six (6) satin colors of this set are:
UA 25 Light Gull Grey FS 36440
UA 40 PBY Blue FS 34058
UA 44 Nonspecular Sea Blue FS 35042
UA 45 Nonspecular Intermediate Blue FS 35164
UA 147 Blue Grey FS 35189
UA 148 Insignia White FS 37875
With these colors, you can model USN and USMC aircraft from the Pearl Harbor attack through mid-1944, when the overall gloss blue became the standard.   Light Gull Grey and Blue Grey was the Pacific scheme into early-mid 1943, when the tri-color scheme was adopted.  It consisted of Nonspecular Sea Blue, Nonspecular Intermediate Blue and  Insignia White (per the box art).  The Official Monogram US Navy & Marine Corps Aircraft Color Guide Vol. 2 - 1940-1949  by Anthony Knight discusses a dark green color on PBYs and TBDs, which could be this blue-green special PBY color.
UA 25 Light Gull Grey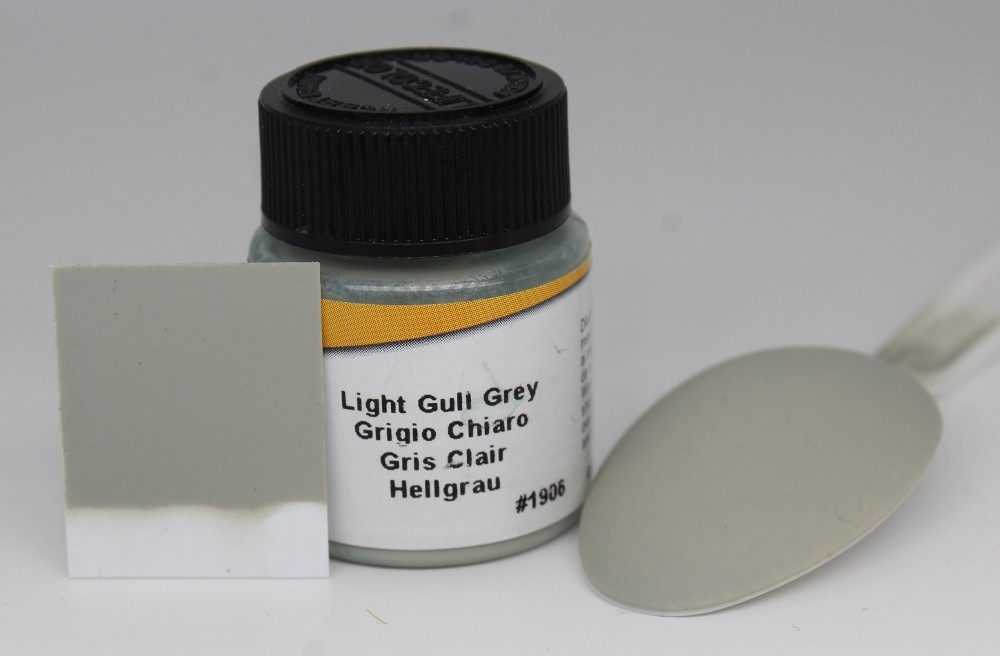 UA 147 Blue Grey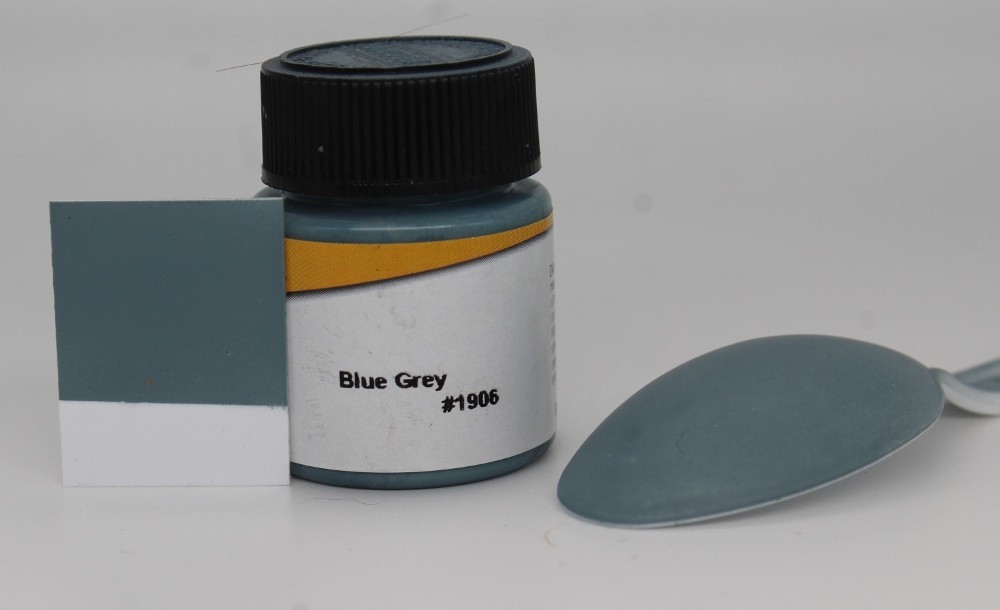 UA 40 PBY Blue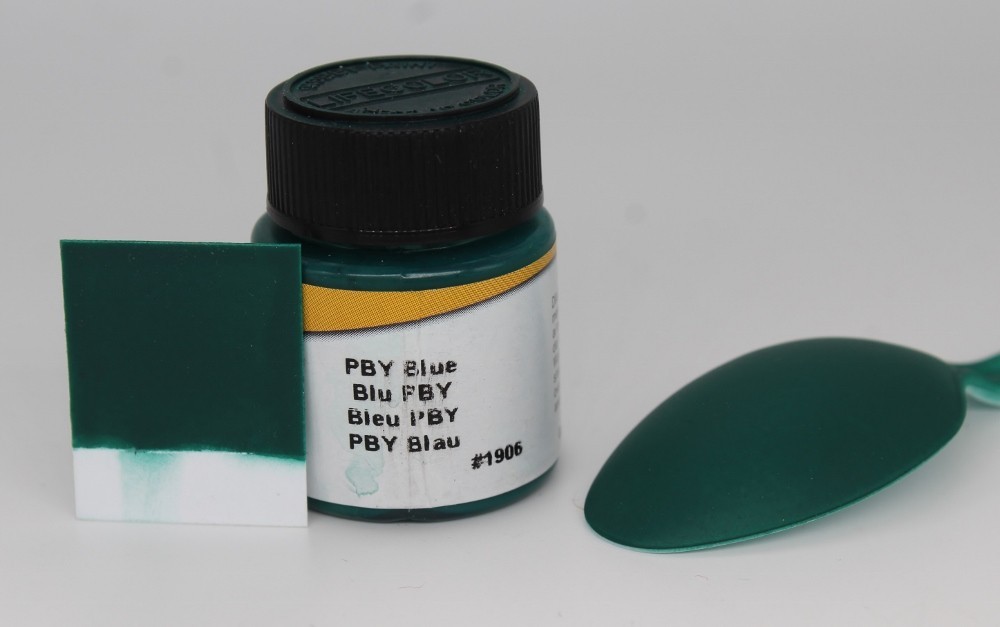 UA 44 Non-Specular Sea Blue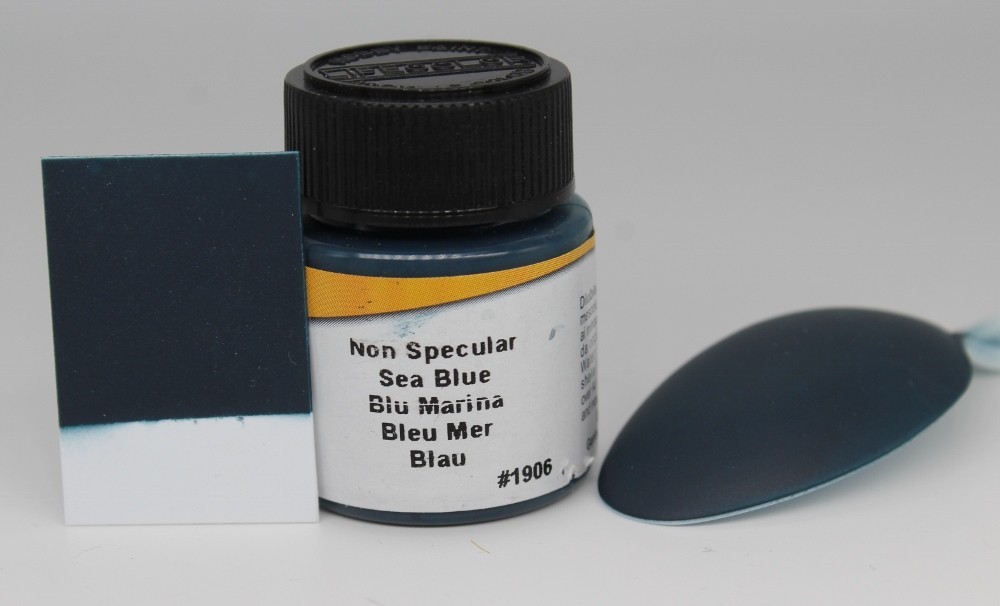 UA 45 Non-Specular Intermediate Blue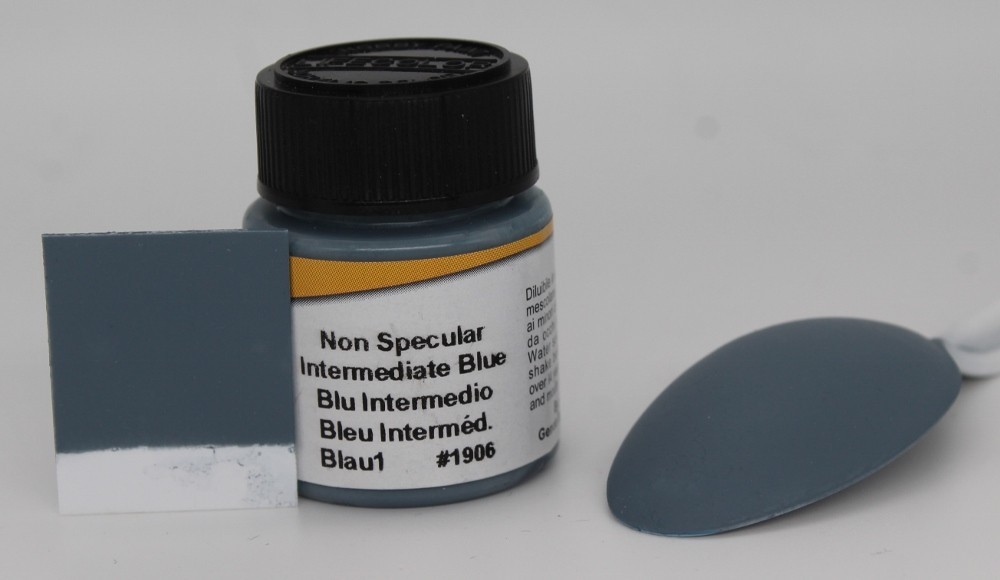 UA 148 Insignia White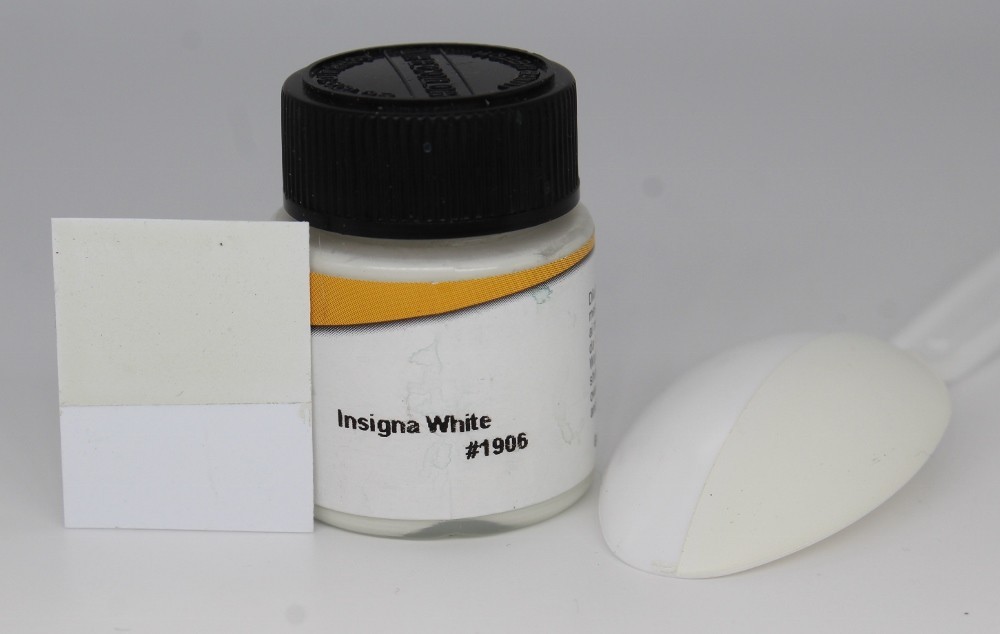 Performance
I did not try hand-brushing these colors.  Each color was shot through an airbrush with an acrylic tip at approximately 12 psi.  I used a finer tip for the demarcations between the non-specular colors and blue gray/gull grey.  Most of the colors shot straight out of the bottle.   Non-Specular Sea Blue required thinning at four drops of thinner to 10 drops of paint.  Insignia White is very thin and the bottom of the PBY has three coats on it.  The color also scratched off.  The rest stick well.
Blue Grey and Light Gull Grey, and the two non-specular blues sprayed with tight demarcations.

Accuracy
Writing about accuracy of colors can be risky. Your monitor, my monitor, lighting, y' know? I compared these colors to the chips in Official Monogram US Navy & Marine Corps Aircraft Color Guide Vol. 2 - 1940-1949. PBY Blue was not forgotten, it just does not have a chip with anything close in color.
UA 25 Light Gull Grey: looks spot-on.

UA 44 Nonspecular Sea Blue: spot-on.

UA 45 Nonspecular Intermediate Blue: shown with two light sources - camera flash, and sunlight spectrum bulb.

UA 147 Blue Grey: according to Mr. Knight, there were at least three blue gray colors, and they varied noticeably; I show the closest match. Note the chip I made is much lighter than the Official Monogram book chip while the curved spoon matches more closely.

UA 148 Insignia White: spot-on, although notice the difference between the paint and the white plastic of the sample surfaces.
The Monogram guide states the chips are produced with the correct sheen - nonspecular - so I did not put a gloss on my chips.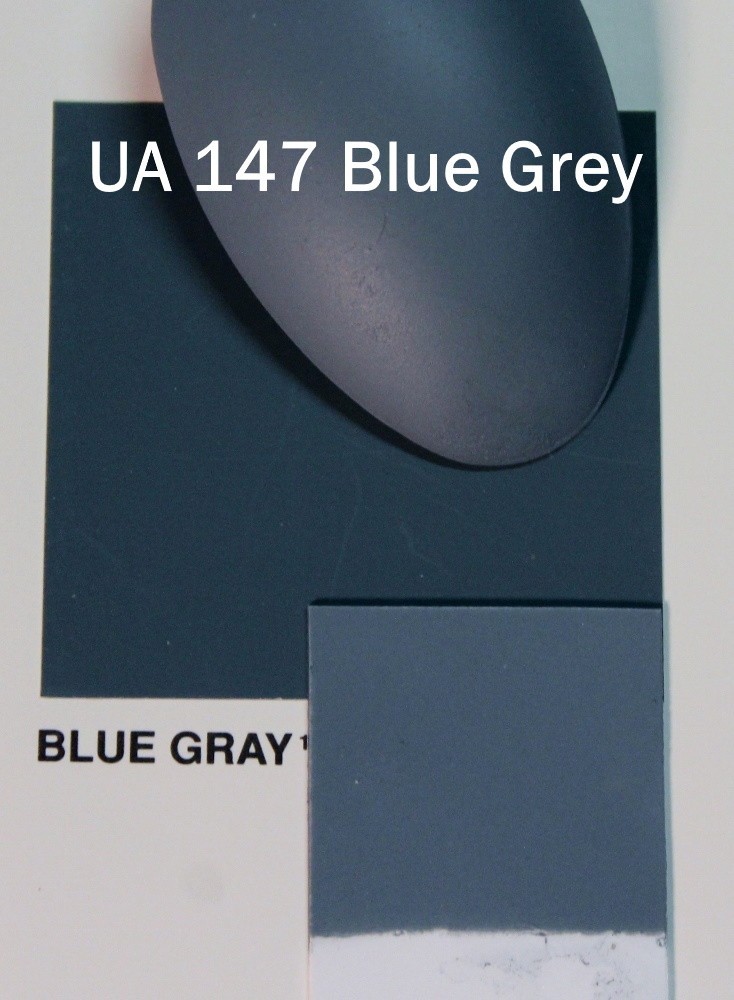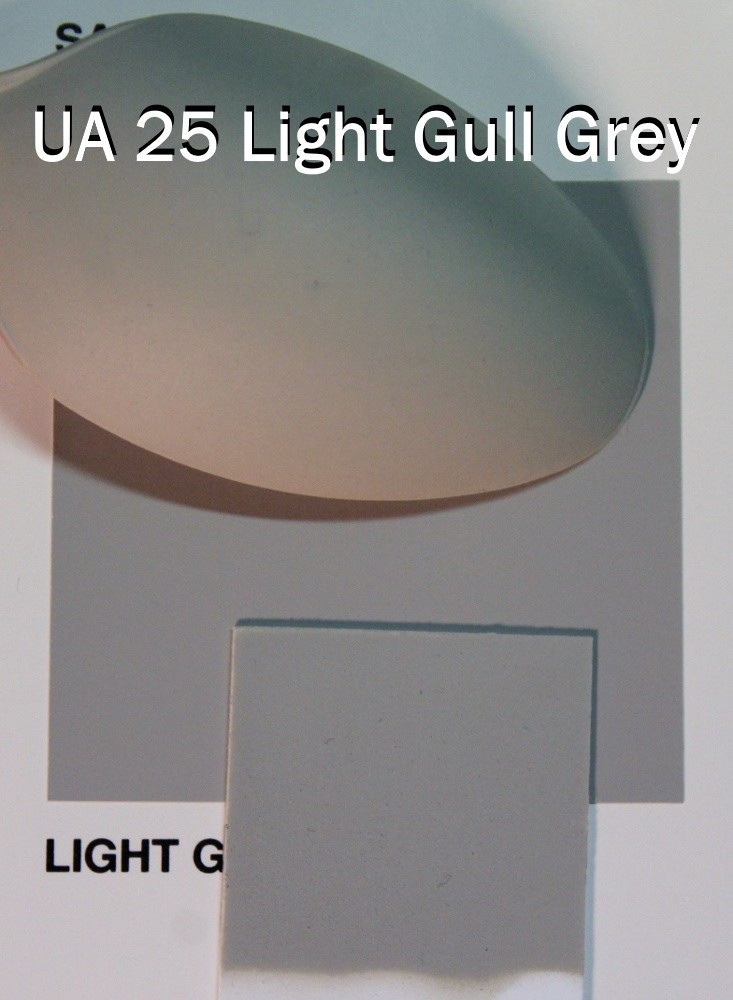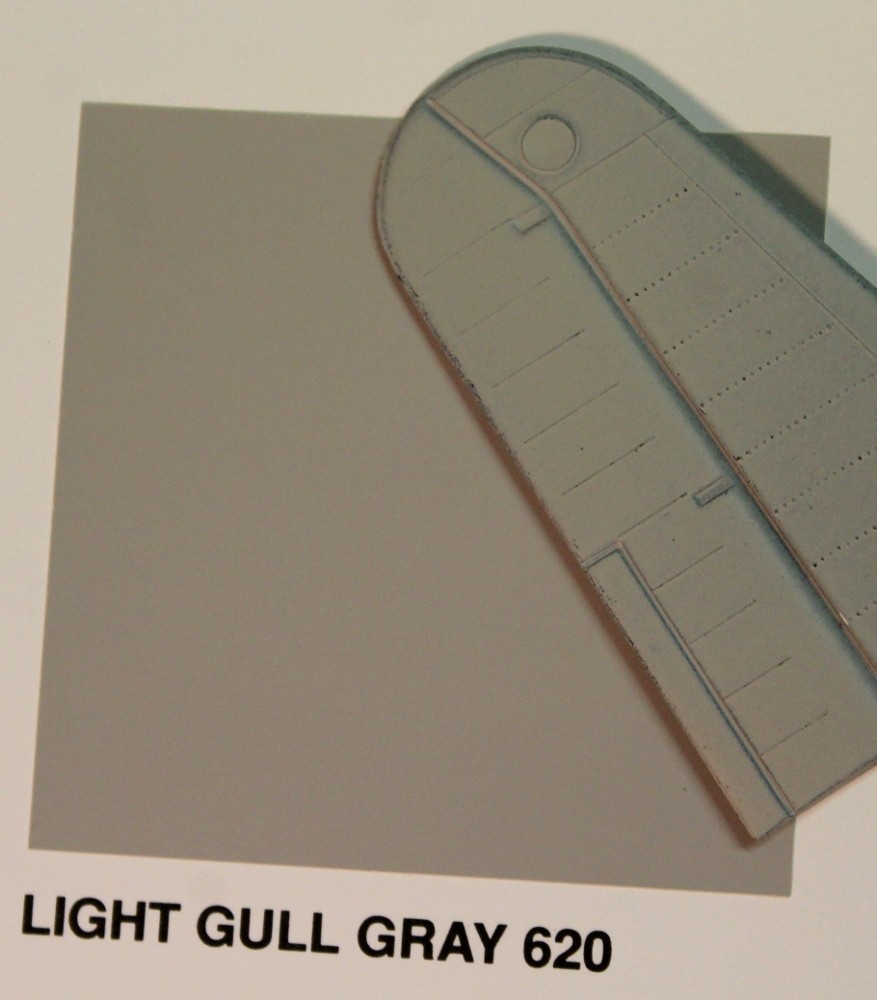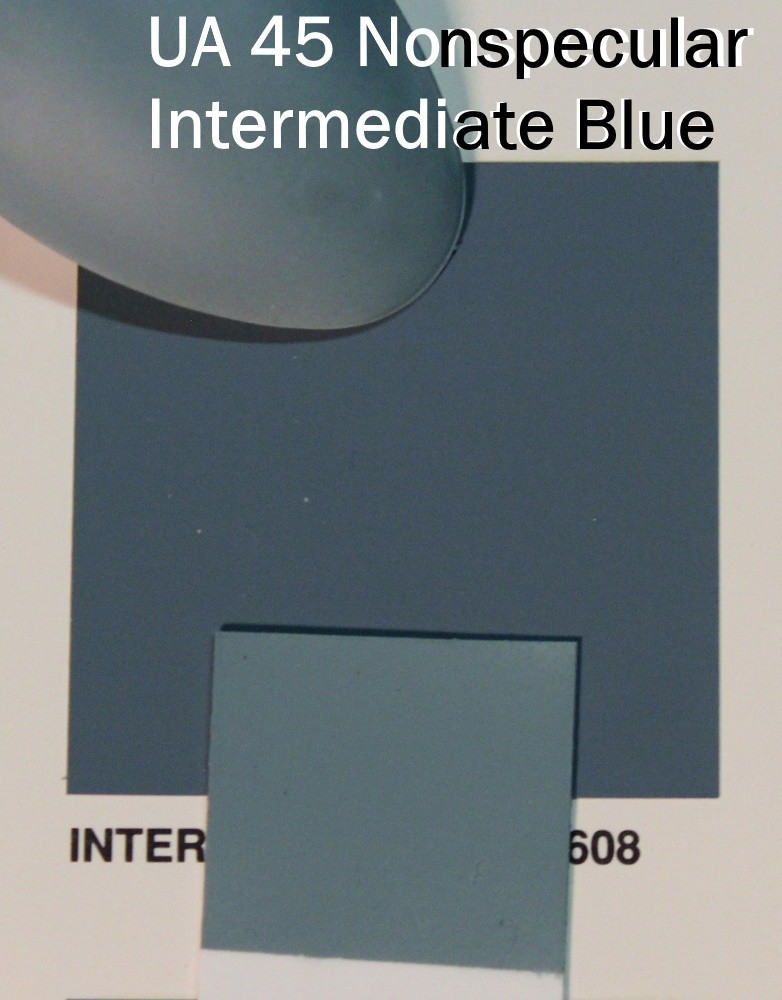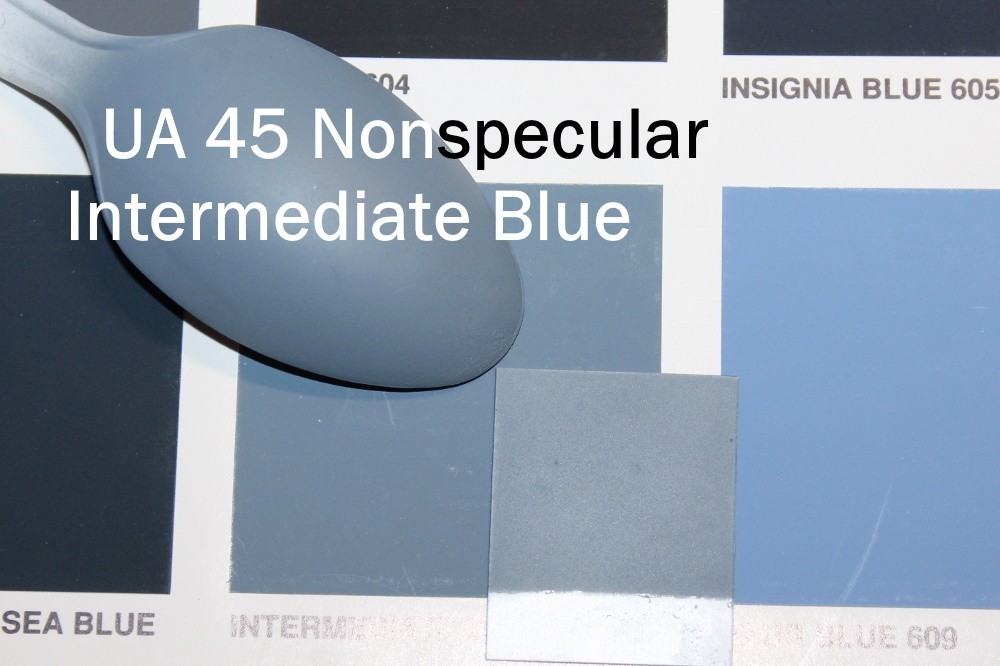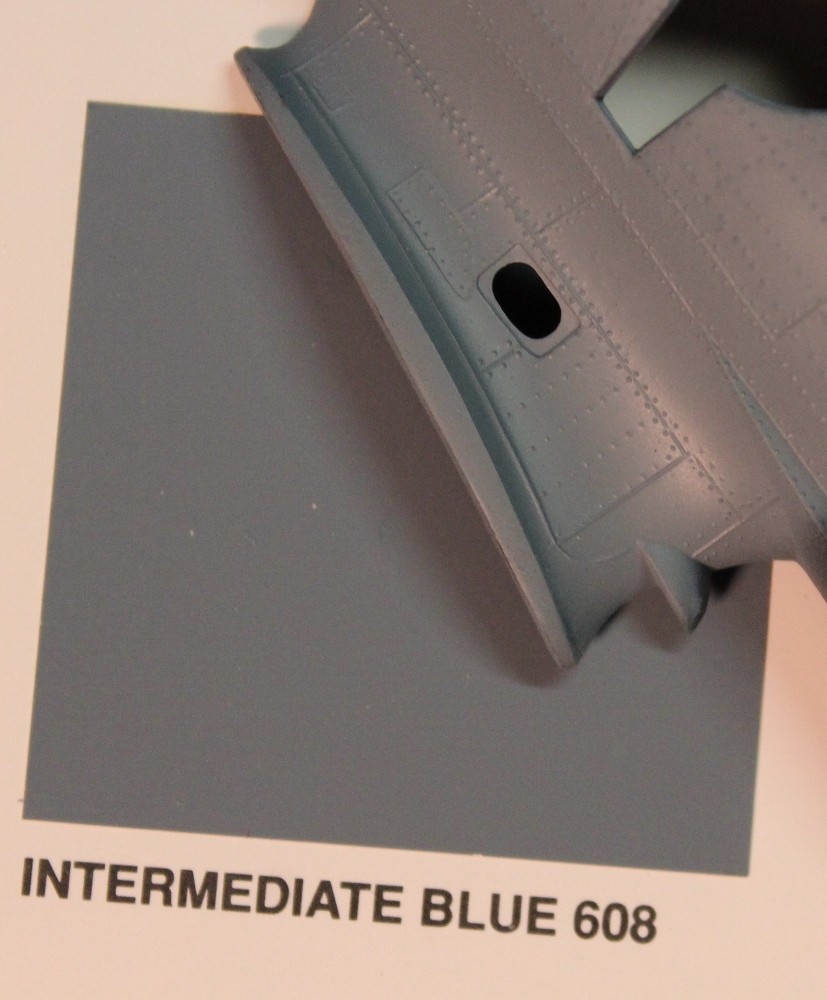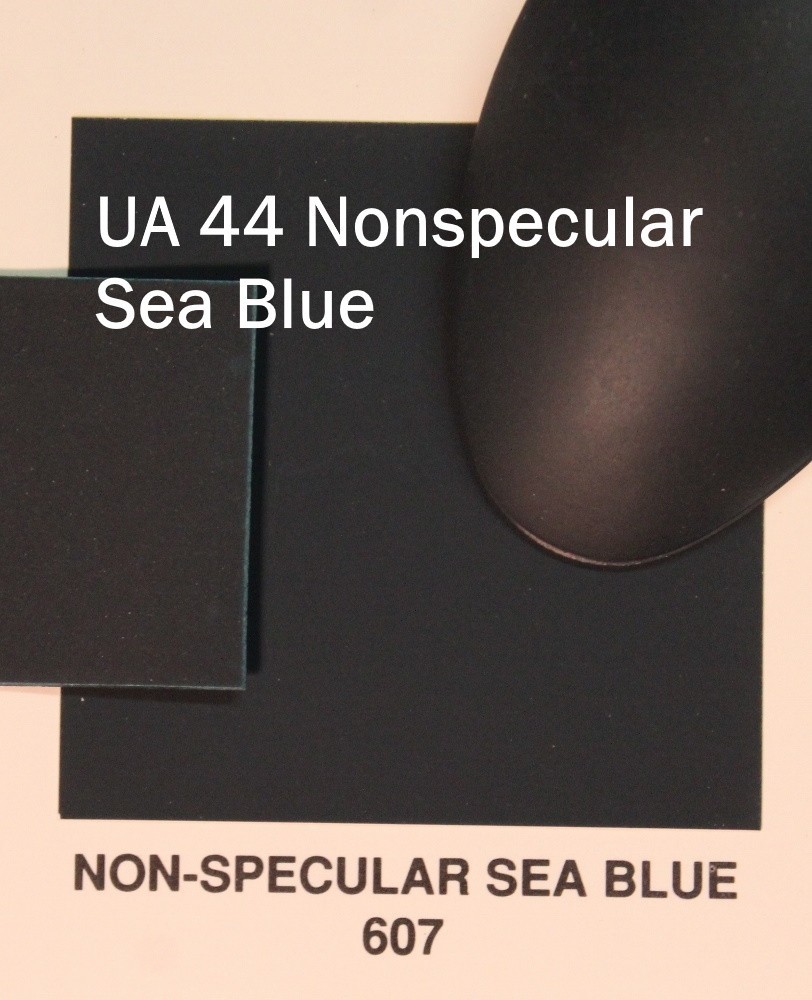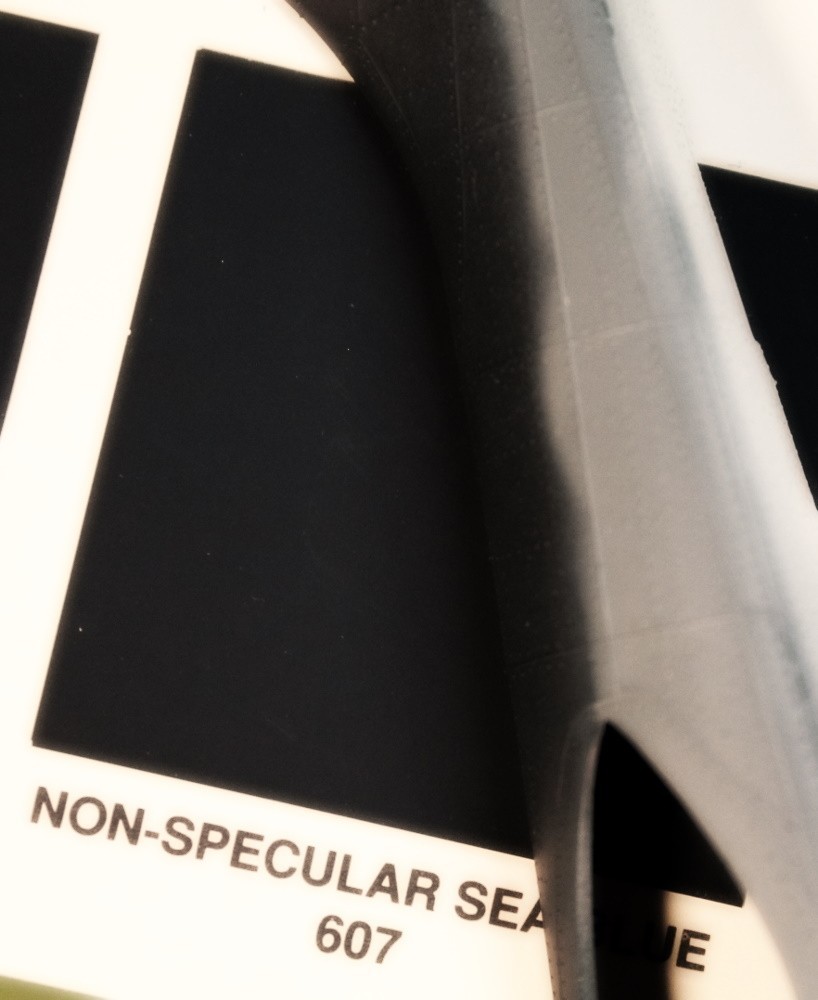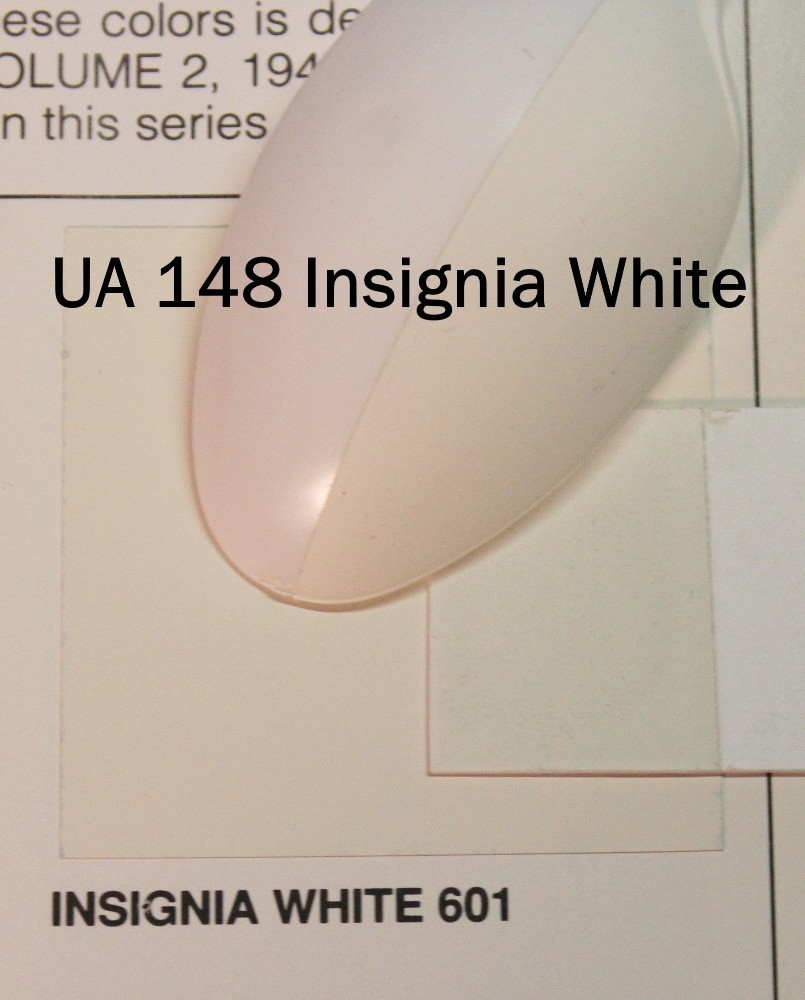 Conclusion
With this set of LifeColor paints, one can reproduce USN and USMC aircraft camouflage for WW2 in the Pacific. Mostly. Including the pre-war PBY color instead of glossy sea blue is odd. PBY Blue is a cool color, and maybe someone can find where such a color was used during the war - I'd like that. Regardless, I am again impressed with the easy of use of these paints. Airbrush performance is excellent. Except for Insignia White requiring multiple coats that did not quite fully cover, and scratches easily, adhesion and durability are excellent and I have no complaints. The bottle design is great.
LifeColor have created another excellent set for modelers of Second World War USN aircraft. I happily recommend it.
Please remember to mention to LifeColor and Airbrushes.com that you saw this product here – on Aeroscale.