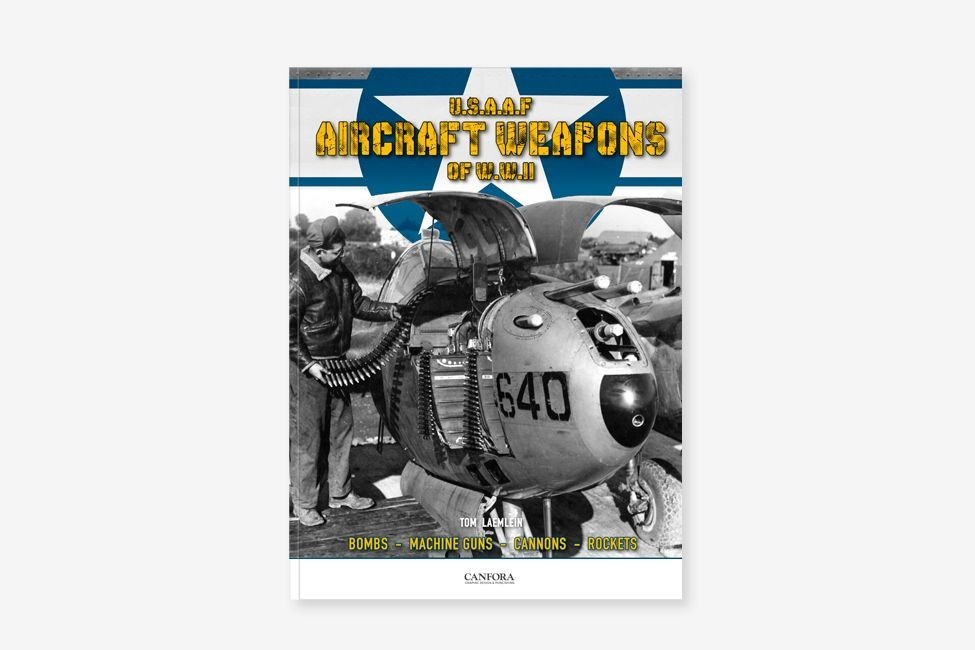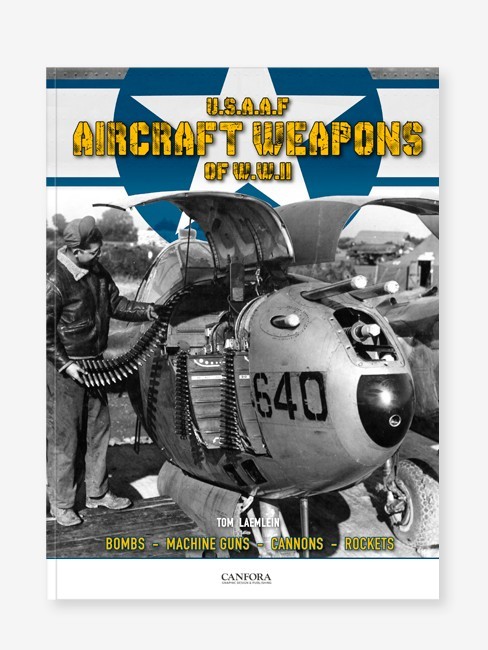 Introduction
This volume is a softcover, A4 portrait format with 160 pages printed in a good quality glossy paper. It has been written by Tom Laemlein and as the title says, it covers the weapons used by USAAF during the Second World War.  Having such a generic title, it includes guns, bombs and rockets, and has photos of both the European and Pacific Theatres.
The book is mainly a photo collection, other than the introduction of 6 pages the rest is occupied by more than 300 images and their captions.  Most of the pages have two or three big size images, some have only a really big one, and only a few have more than three.  In any case, they are all clear and crisp. There are also some color photos.
All photos have informative captions, identifying aircraft type and weapon shown, and most of the times unit and year.
The book is divided into 6 chapters:
Introduction
P for Pursuit
A for Attack
B for Bomber
Weapons Maintenance
Air-dropped & launched weapons
Introduction occupies the first six pages of the book, and is the only text section -although it contains also several support images.  Starts with a brief history of the use of weapons on aircraft during the First World War and then details the development of the different Browning MG's used during WWII.
And then comes the different photographic sections of the book.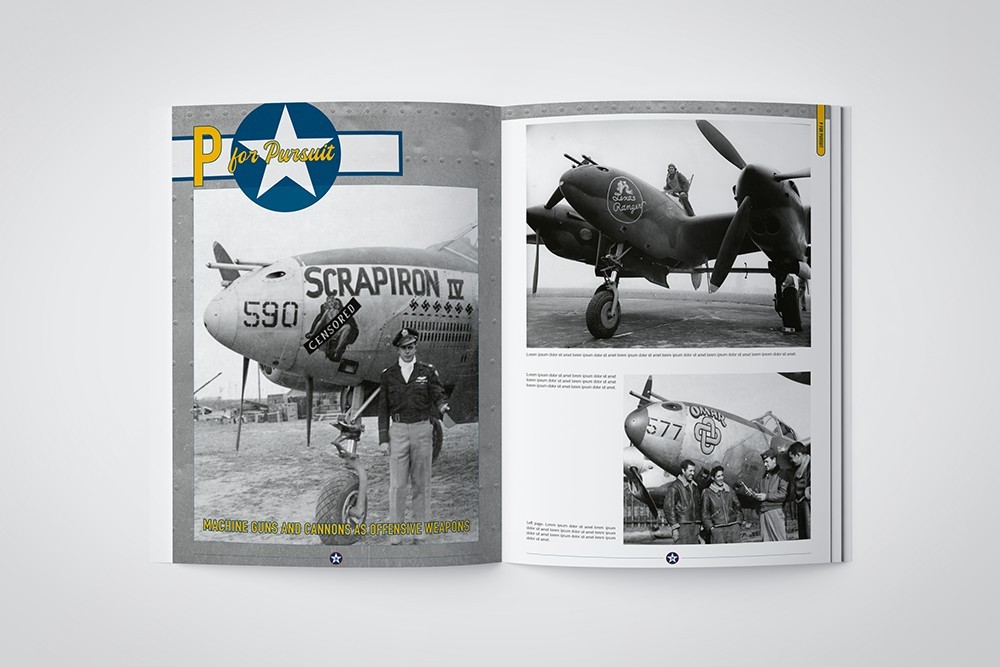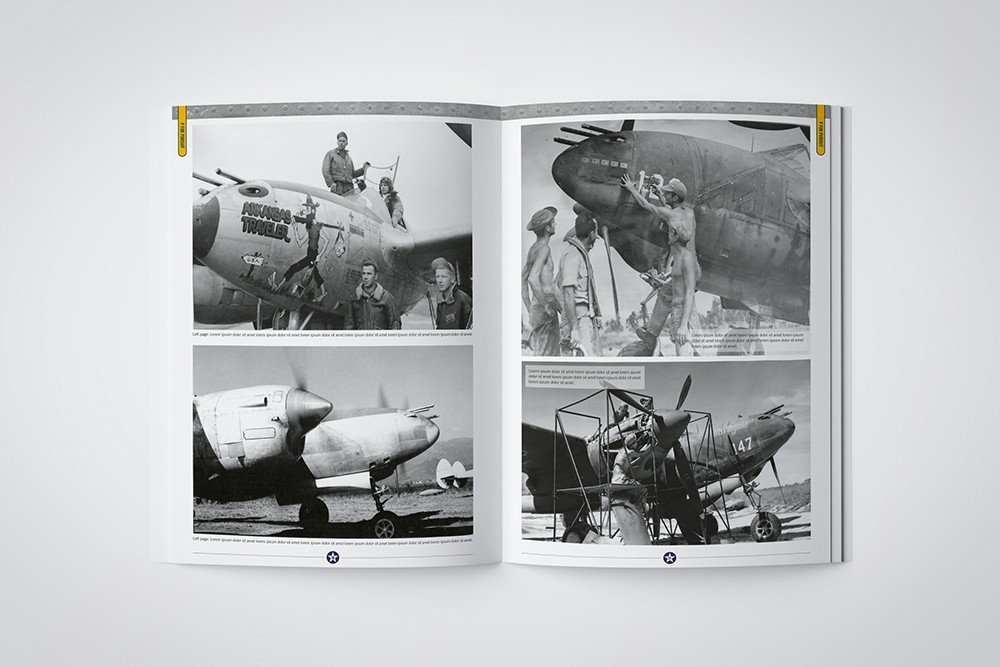 P for Pursuit covers Machine Guns and cannons as offensive weapons. There is a good amount of photos of P-38, P-39, P-51 and more aircraft. Most of the photos show the aircraft while on ground, often being close-up so their MG's can be clearly seen.
It is worth to note the amount of images that show also nose art, names or killing marks on the aircraft.  It is common also to see the pilots or ground staff working on the aircraft.
A for Attack deals with Machine Guns and Cannons for ground attack.14 pages of photos in good detail of A-20 and other aircraft with their weapons ready. Again, many of the photos show names or interesting nose art.
B for Bomber, despite the title this section does not deal with bombs, but the use of Machine Guns and Cannons in offensive and defensive roles on Bombers. B-17, B-24, B-29 and other bombers were also heavily armed with MG's for defence against fighters, and the next 36 pages have lots of photos of these weapons, the turrets from inside and outside, tail cannons and more.
Weapons Maintenance cover the next 34 pages. Photos here show these weapons in detail, loading ammunition belts or servicing the MG's. There are lots of inspirational images for scenes, some of them with the guns removed from the aircraft. We can find here also several color photos.
Air-dropped & launched Ordnance, until now all previous chapters have dealt exclusively with MG's and guns. It is time for bombs and rockets.
The photos of these last 38 pages are full of rockets, launch tubes and bombs, either installed under the wings, being installed or stored. The majority are for external carried bombs, on aircraft like the P-47, P-51, A-26 or P-40 among others.
Many images show ground staff with all types of bombs, again providing a good source of inspiration for scenes.
The last page has a chart of the Aerial Bombs used, with a drawing of the profile, weight, markings, fuzes, use and other details.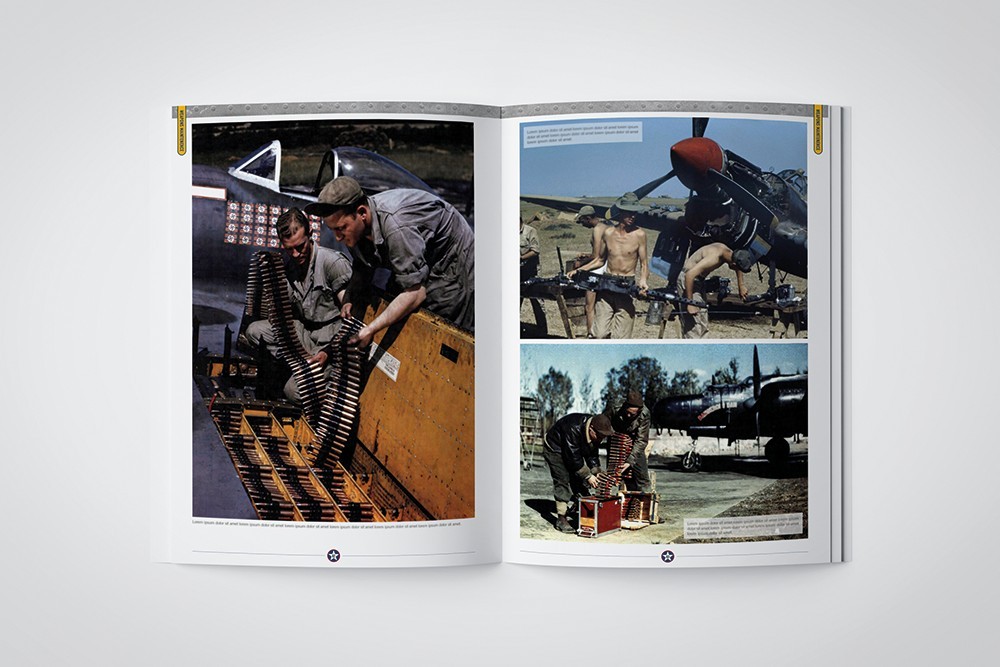 Conclusion
This is a beautiful book about USAAF weapons. It has plenty of images in excellent quality, some of them in colour, with lots of nose art, markings and crew work as can be seen on sample pages above.
It is not a technical book with extensive descriptions or history of the ordnance and guns, this part is kept to the minimum -its strength is the photo collection.
It will be useful for modellers or history fans, the first finding a great source of inspiration for ground scenes, loading bombs, gun belts with the bays open or with pilots simply posing in front of their machines. But also non modellers will enjoy the wide range of aircraft and situations portrayed, how they were armed and used or the beautiful paintings on the nose-and even the curious messages written on bombs.
In summary, this beautiful collection of over 300 carefully selected photos should provide hours of entertainment, discovering new details on successive reads.
Please remember, when contacting retailers or manufacturers, to mention that you saw their products highlighted here - on <b>AEROSCALE</b>