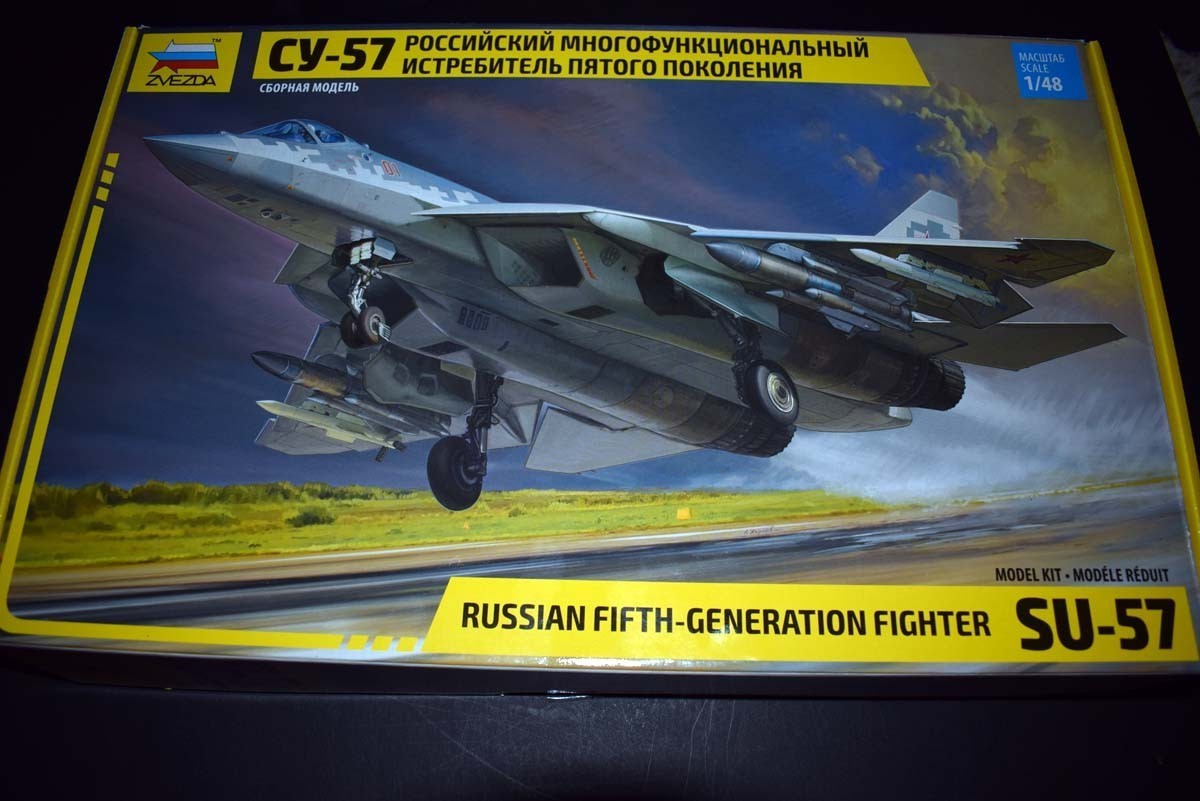 Introduction
Sukhoi have produced some memorable aircraft in their time and so rightly written their name into aviation history. As a company they started at the beginning of World War 2, but came into their own during the Jet engine age. The latest offering from them is the Sukhoi Su 57 which is reported to have gone into service in 2019 with its maiden flight having taken place2010. Zvezda has recently released a 1/48th scale offering of this aircraft and I get to take a look at what is on offer.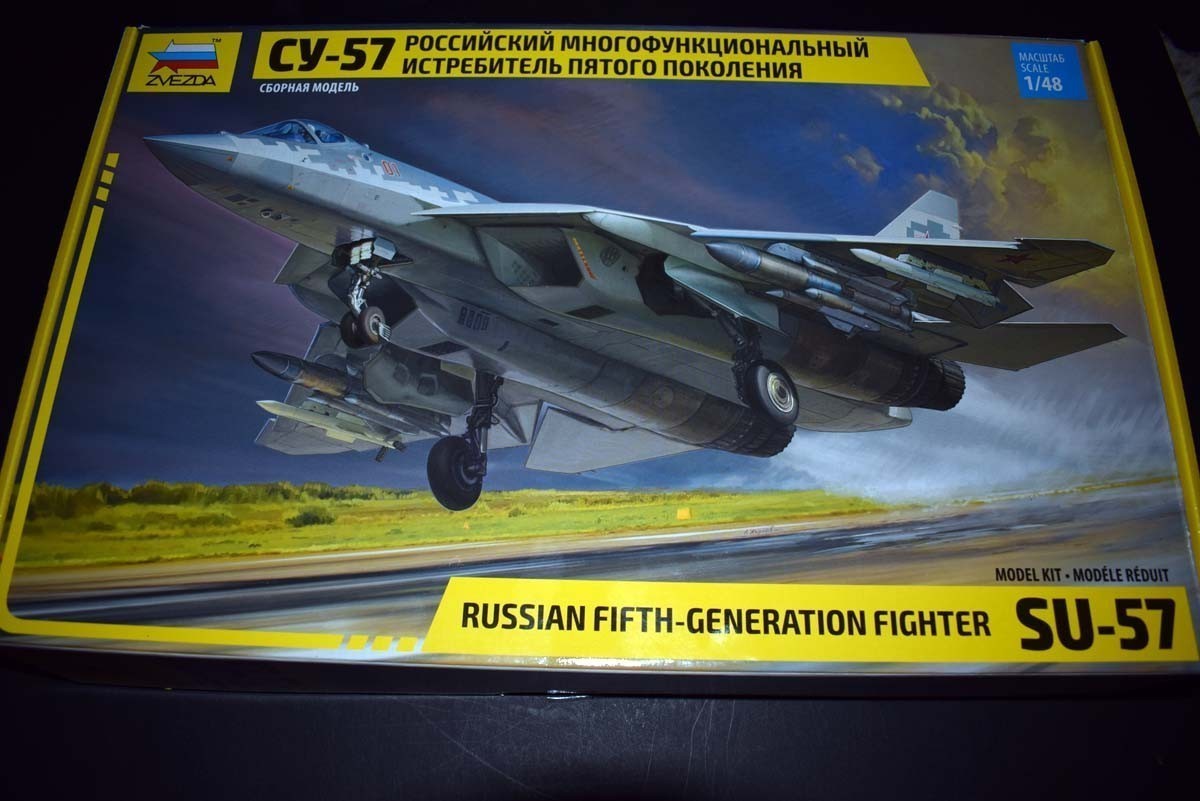 Review
This release from Zvezda arrives in a substantial and large flip top cardboard box, a design which I approve of. Inside the upper and lower fuselage are floating around free which I question the wisdom of, a bag containing all of the coloured sprues, a Ziploc bag containing the clear parts and a further Ziploc bag protecting the decals. All of the paper and instructions are loose in the box. An examination of the parts reveals a broken part in the form of the crew ladder and an unusual texture on the upper fuselage.
The cockpit in this offering is fairly bare, which with this being a new aircraft in service and Russian as well, I suspect the details available are small in number. You do get a nicely tackled pilot and ejector seat; there are also decals to provide some instrument panel detail. Once these elements are installed in the tub of the cockpit I believe it will look to be busy enough to satisfy most modellers and I doubt it will be anytime soon that someone will provide cockpit detail.
Internal detail includes a weapons bay that has a very nice quantity of detail present; as regards accuracy of the detail your guess is as good as mine. The air intakes go back a decent way inside the fuselage and have a compressor fan face at the end. There is a slot included for a stand if so desired. But this has created a defect in the finish if not used; this is also true of the weapons pylons that require holes to be opened up.
The fuselage itself is smooth on the lower half but textured on the upper face; I was convinced this was a mistake or moulding fault, but I am being told it is to do with radar absorption. The flight control surfaces are fixed which is a shame, but not a game breaker in my books. The jet exhaust appears to offer variable thrust direction which is not covered and the exhaust cone is simplified; again I can forgive this as I am sure a resin offering will appear and the detail itself is too fine for injection moulded plastic. The canopy has been well tackled with a good degree of detail present and of a decent thinness. A nice representation of the crew ladder is included in the kit, but is broken which seems to be a common issue with this release.
The undercarriage legs have a nice level of detail on them and would seem accurate when compared to aircraft images online. They do need some cables added to look complete and it is not beyond most modellers to tackle. The nose wheel bay is devoid of any real details and that is a shame, but I did manage to find a video that is present in this review that will give the scratch builders some information. The two rear wheel wells are provided with some ribbing detail that again will need help to lift to a more pleasing finish with realistic details present.
There is a very good selection of missiles and fuel tanks included with offering and I can only praise Zvezda in regards to this aspect of the release. I am also pleased to see decals supplied specific to the weapons systems.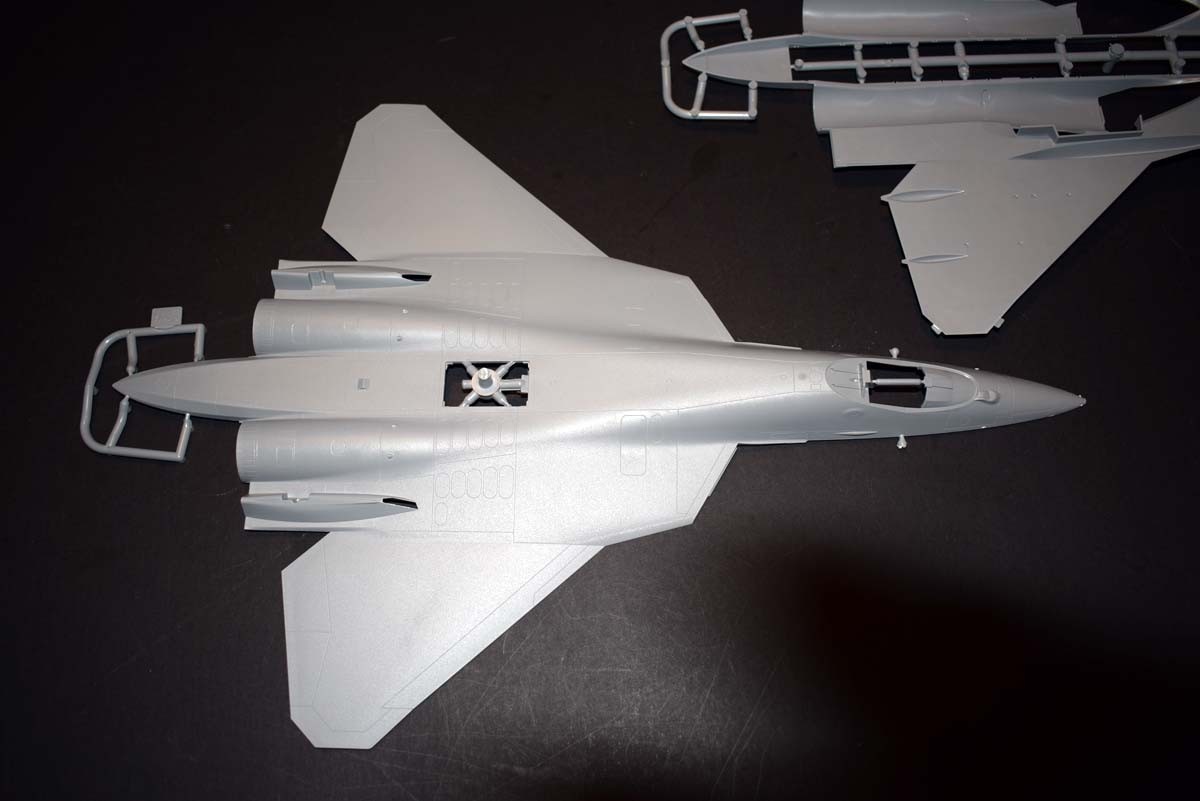 Conclusion
This offering from Zvezda is a nice release of a new aircraft. The visual aspects of the aircraft look to have been covered in this Zvezda release, but I cannot help but feel there is a lot missing for obvious reasons. The biggest upset for me is that the fuselage has been left loose in the box and that parts in the bag have a broken piece that is not even in the bag; with this being part of the crew ladder is its only saving grace. It seems strange but the look of this model is very appealing and the shape is far more visually appealing than the fifth Gen aircraft coming out of the US at the moment. The thing that really impressed me with this model are the huge array of weapons and drop tanks which are very nicely replicated here.

Episode 154. From T-50 to Su-57. Part 1.
That's mighty! | Meet Russia's fifth-generation fighter jet, the Su-57
Су-57 с новым звуком пилотаж на форуме Армия 2020 Кубинка