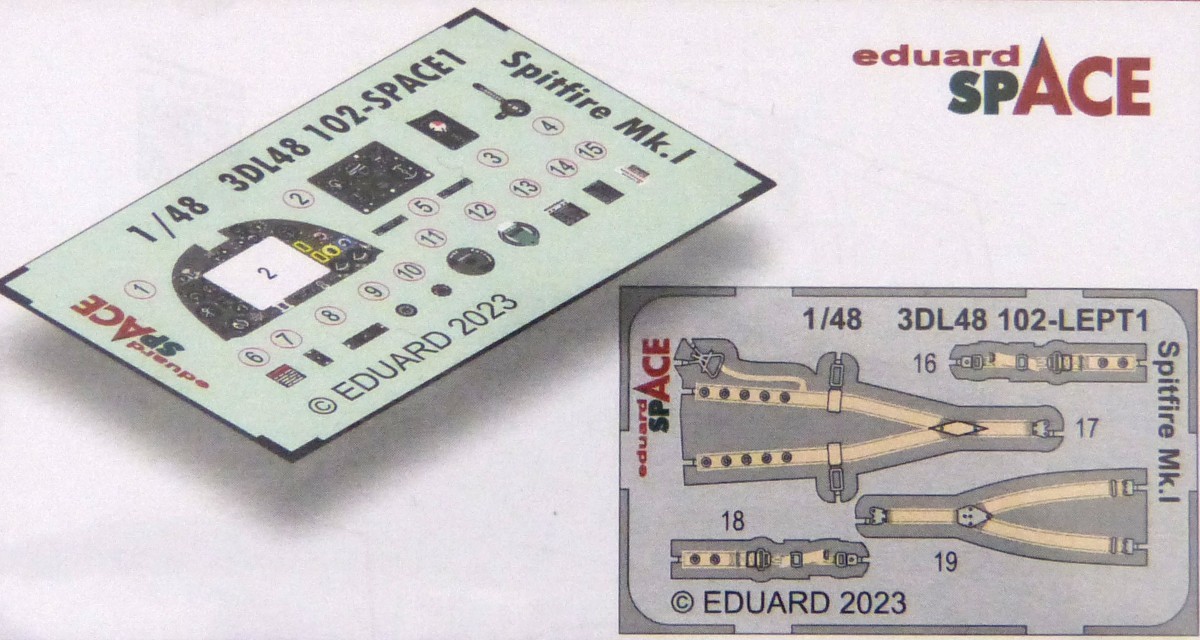 Tamiya certainly didn't do a bad job on the "office" when they produced their new-tool Spitfire Mk.I a few years ago, including etched seatbelts to help bring things to life. (I've got to say I think they overcomplicated the engineering in the way they allowed for open and closed canopy options, but that's a story for another day.) But, however good a kit's cockpit is straight from the box, there's usually scope to add more detail, so Eduard have released a very welcome SPACE set which combines 3D decals and pre-coloured photoetched parts to take things to the next level.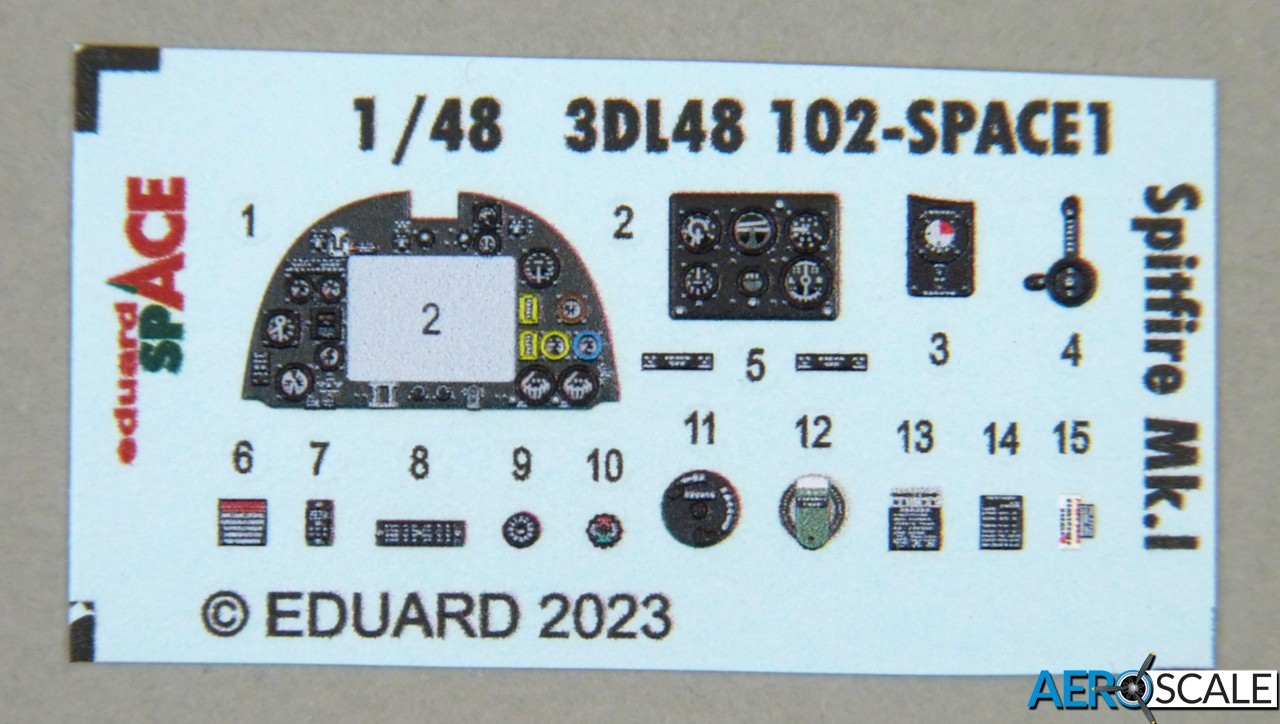 The 3D decals provide a new instrument panel, plus fascias and data placards for other items of equipment. These will make an immediate improvement, because Tamiya's main panel with its decal overlay is a bit basic by comparison. I always think trying to take a close-up photo of an item like this risks doing it a disservice - remember, some of the instrument bezels show here are only 1mm in diameter, so the SPACE panel features printing that includes a mass of tiny lettering that's far beyond what I could hope to replicate with even the finest paintbrush. The same is true on the fascias and placards, and they will really pop out when installed. 
The panel is multi-layered to give realistic depth, and the bezels etc. are crisply depicted. The instuments themselves are "glazed", so the panel is essentially ready-to-use without any preparation unless you want to weather things. The blind-flying centre display is slightly darker than the rest of the panel, which does match its appearance in some reference shots. The difference is subtle but, if it doesn't look right to your eyes, I think careful application of a dark wash or some black pastel will tie everything together for a more uniform appearance.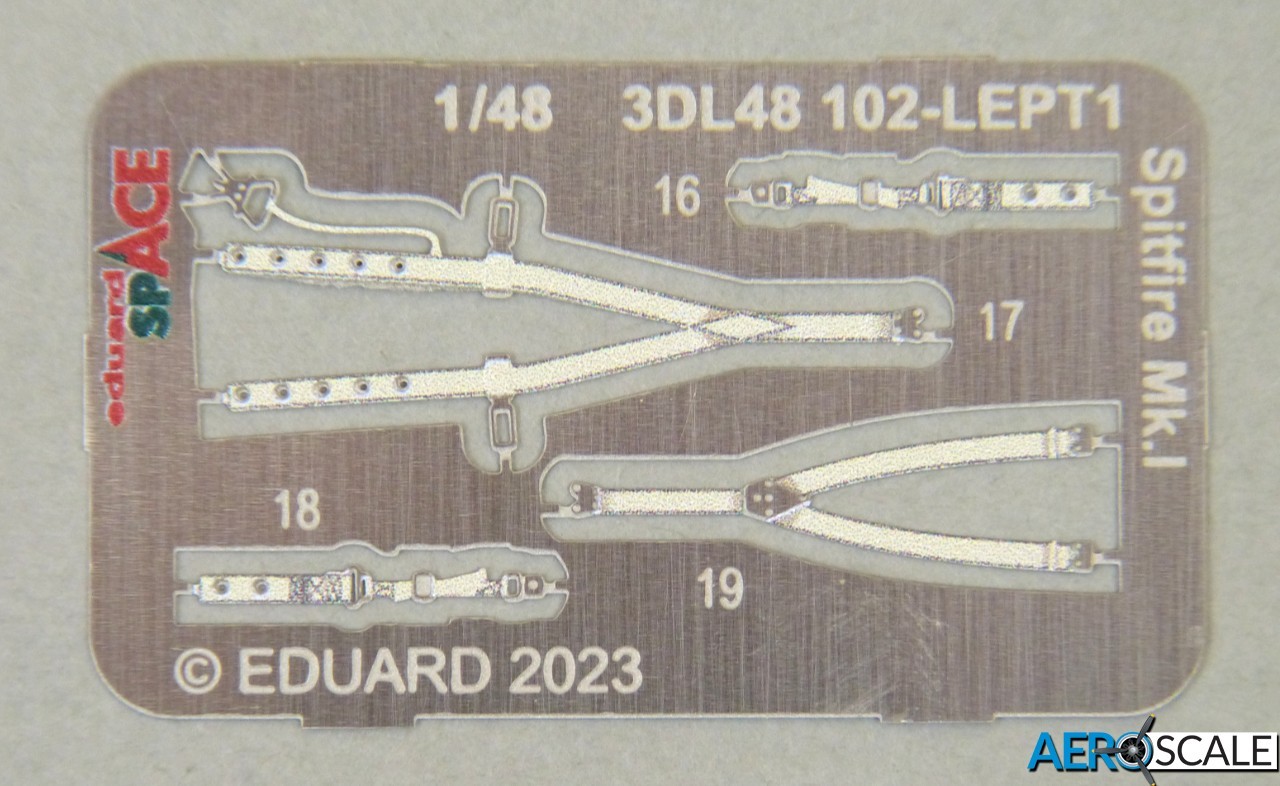 Eduard provide a nicely done pre-coloured etched harness that will be a time-saver over painting Tamiya's one and, as with the 3D decals, it includes some finer detail than I could hope to paint. It's surprising at first glance that it seems much simpler than Tamiya's harness, but this is because Tamiya include alternative parts to use with their pilot figure - something Eduard don't do. The new harness might work with the figure, but it isn't designed to, so you may need to do some careful measuring and cutting to get it to fit.

I noticed a slight "over-shoot" with the paint on one of the straps, but it'll only take a moment to remove the feathery surplus.
As usual, Eduard include a neatly illustrated set of instructions that make it clear where some simple surgery is needed to fit the new parts. There isn't much required, so this SPACE set would be suitable for modellers looking to upgrade a kit's cockpit for the first time.

Conclusion
Eduard's Spitfire Mk.I SPACE set is a worthwhile option to add to an already fine kit. Call it the icing on the cake, or eye-candy - it's not essential, but it will make a noticeable improvement, and it's nicely priced at less than a tenner make it an affordable treat 

Item #3DL48102 is available now from Eduard - Price: £8.08 
Many thanks to Eduard for the review sample.
Please remember, when contacting retailers or manufacturers, to mention that you saw their products highlighted here - on AEROSCALE