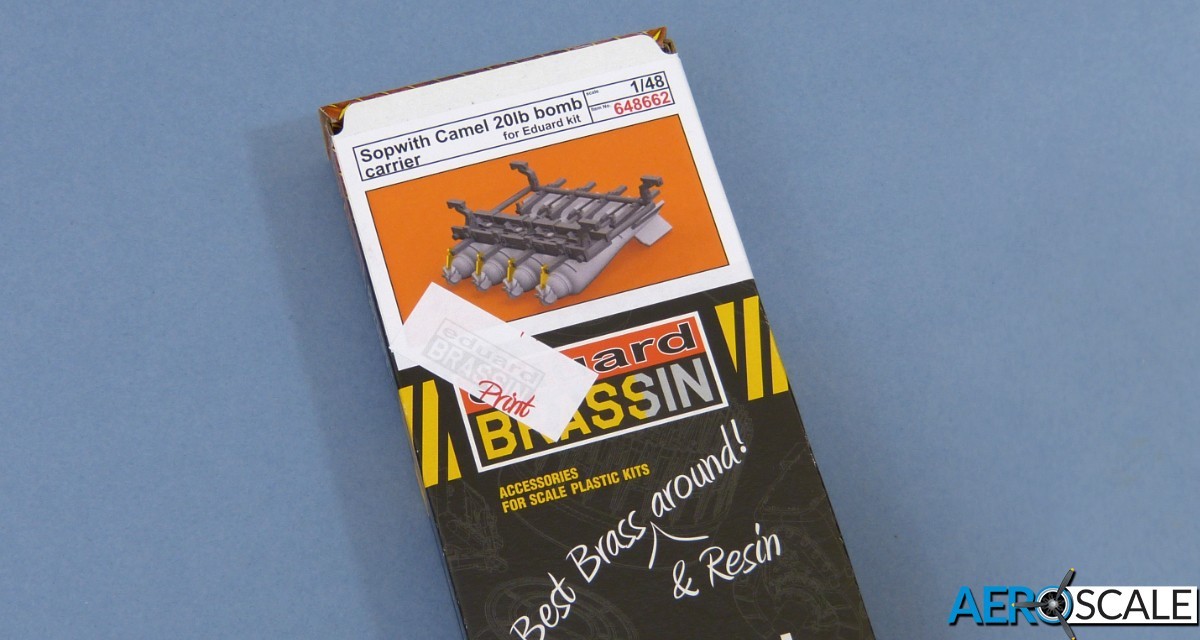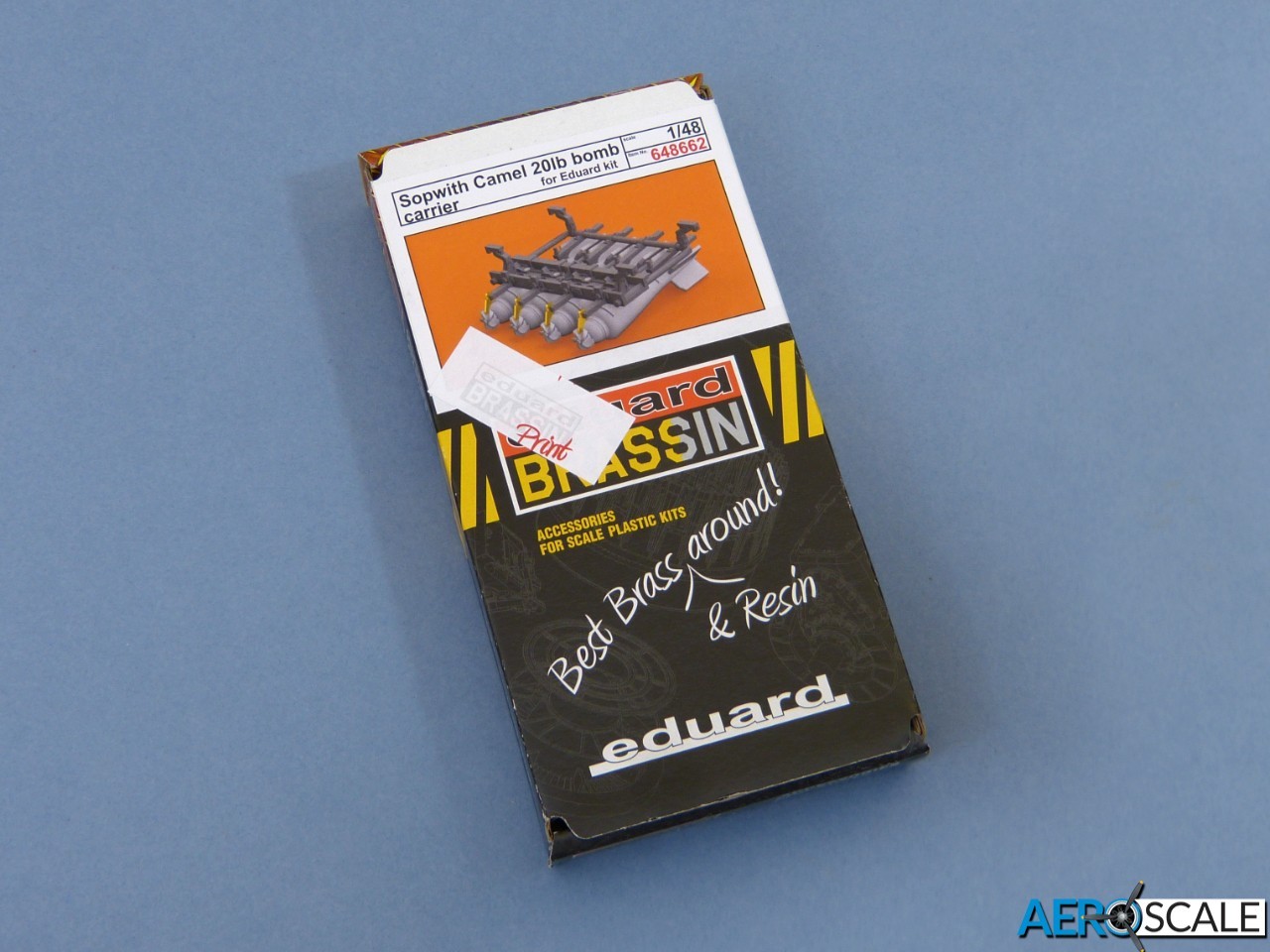 To say I've been impressed by Eduard's new 3D-printed Brassin sets is something of an understatement - the way they contain items which were previously impossible to produce as single pieces is simply phenomenal. So I was understandably eager to see how this evolving technology would work on something as complex as the Cooper bomb rack.
Taking things back a stage, Eduard's new-tool Camel (https://aeroscale.net/news/camel-co----eduard-s-new-tool-sopwith-camel) already includes a choice of racks; a perfectly decent moulded styrene version, plus a rather fiddly photo-etched alternative. Strangely, Eduard ignore the plastic rack in their "Camel & C." boxing, only showing the etched version in the instructions. Ironically, I think I'd actually use the former, because it's both simpler and the photo-etched rack looks a bit "2-dimensional".
So, this new Brassin rack scores instantly by offering the best of both worlds - superb extra detail that's way beyond the kit's plastic rack, while being simpler to use than the etched alternative.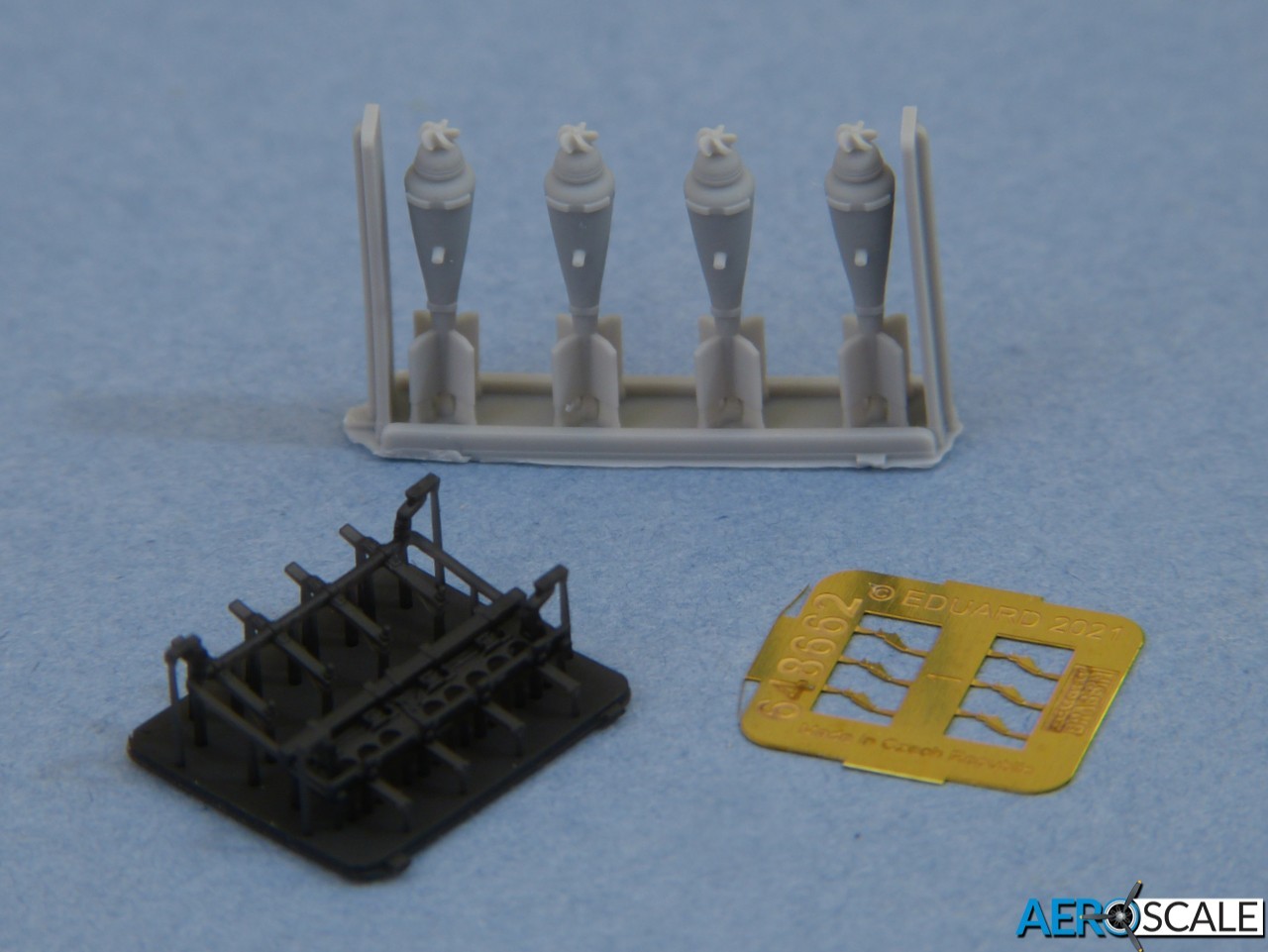 The new rack is quite extraordinary - a beautifully delicate item, presented on a "cat's cradle" of dozens of thin supports. Preparation won't be something you can rush, but the end result should look fantastic.

Accompanying the rack is a very nicely cast set of four 20lb bombs, which are attached to their casting block by their tail fins. Preparing these conventional resin parts will be quick and simple. The only minor downside that I can see to the way Eduard have designed things is that the curved cradles are cast integrally with the bombs. That's fine, so long as you model the rack full, but you'll need to scratch build the cradles if you want to depict the rack empty.

Rounding everything off is a small etched fret that provides release clips, with a couple of spares in case the tiny parts decide to take flying lessons when you're using them.

Eduard include a clear set of instructions with excellent diagrams and colour matches for Gunze Sangyo paints.

Conclusion
Eduard's Brassin Cooper bomb rack set is another little gem that really demonstrates the possibilities of 3D-printing as the technology continues to evolve. Despite it's simplicity in the number of parts, I couldn't really recommend it to total beginners or anyone who's ham-fisted, simply because the rack is so delicate and will be easy to damage during preparation for use. But, so long as you're careful, the finished rack and bombs should look superb. It's also extremely good value for money, considering the detail and sheer "eye candy" factor it provides.
Item #648662 is available from Eduard now - Price: £3.96
Many thanks to Eduard for providing the sample for review.
Please remember, when contacting retailers or manufacturers, to mention that you saw their products highlighted here - on AEROSCALE