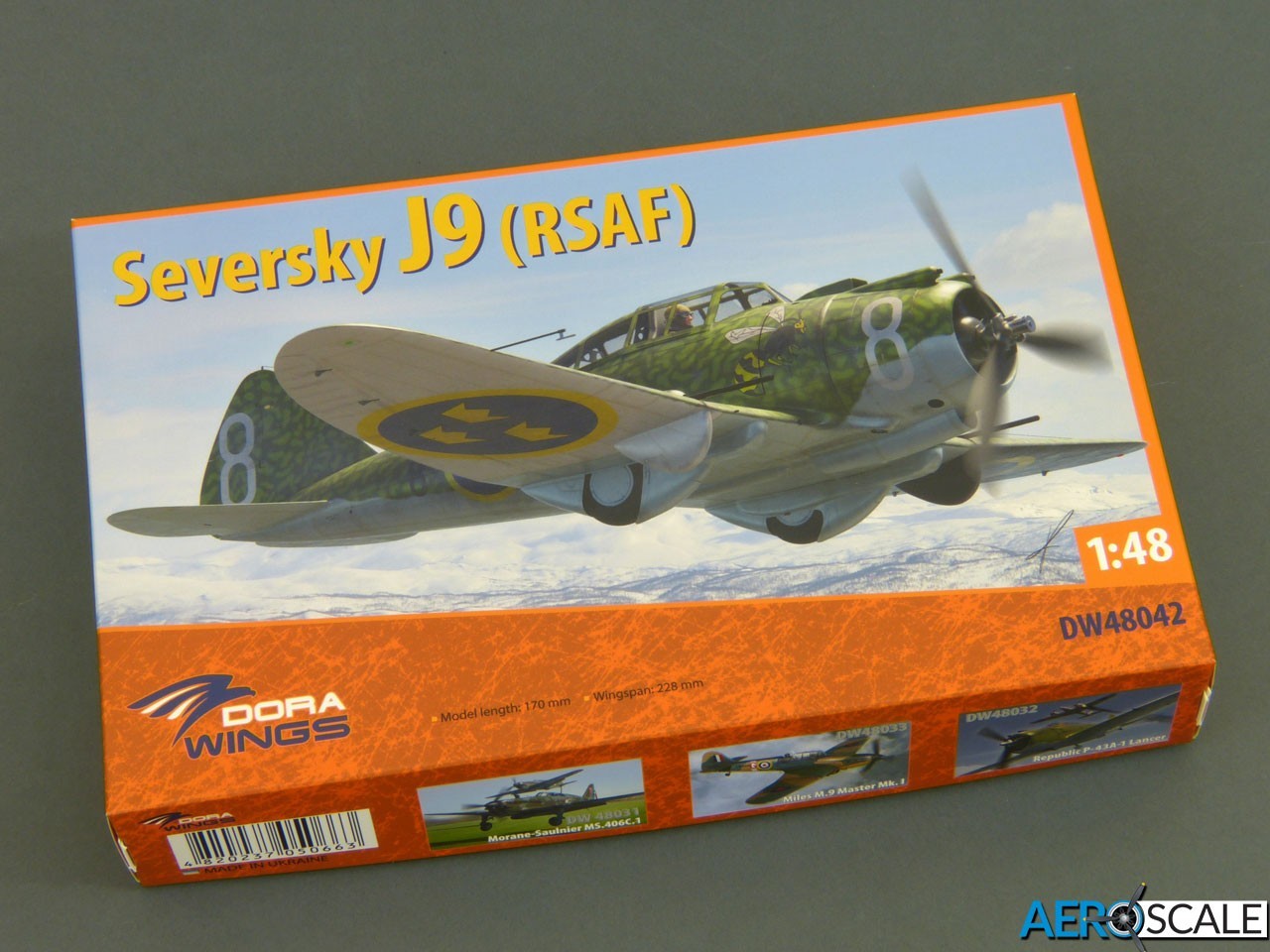 The J-9 was the last of the Seversky P-35 family to remain in service, for while the tubby little fighter was already considered obsolete by the USAAF at the start of WW2, the Royal Swedish Air Force used it throughout the conflict, only finally retiring it in the early 1950s.

Dora Wings' kit arrives in a compact and attractive top-opening box, with the main runners bagged together and the clear parts and accessories further protected in their own bags. The kit comprises:
163 x grey styrene parts
14 x clear styrene parts
31 x etched brass parts
A sheet of vinyl painting masks
Decals for 4 x colour schemes
I'll begin by saying that I find it's becoming increasingly hard to find a suitable term for models like this, for while it's not a mainstream kit in the conventionally accepted sense, it's in a totally different league from what we would have accepted from a smaller manufacturer only a few years ago. 

Nevertheless, I think it's fair to say the kit is most suitable for modellers with at least a reasonable amount of experience. This is partly on account of the etched details included, but also because the styrene parts will need a degree of preparation before assembly due to there being a bit of flash evident. That said, I found only one very shallow sink mark in the whole kit, which is very impressive, and the parts are completely devoid of any ejector pin marks. The same was true in Dora Wings' P-43 Lancer reviewed here: https://aeroscale.net/news/republic-p-43-lancer
I don't know how Dora Wings seemingly manage to avoid using ejector pins, but I wish more kits were like it.
The surface finish comprises delicately engraved panel lines and embossed fasteners on the metal areas, and raised ribs to represent the fabric-covered control surfaces. These are depicted realistically taught - none of the saggy sack-cloth look some other manufacturers go for.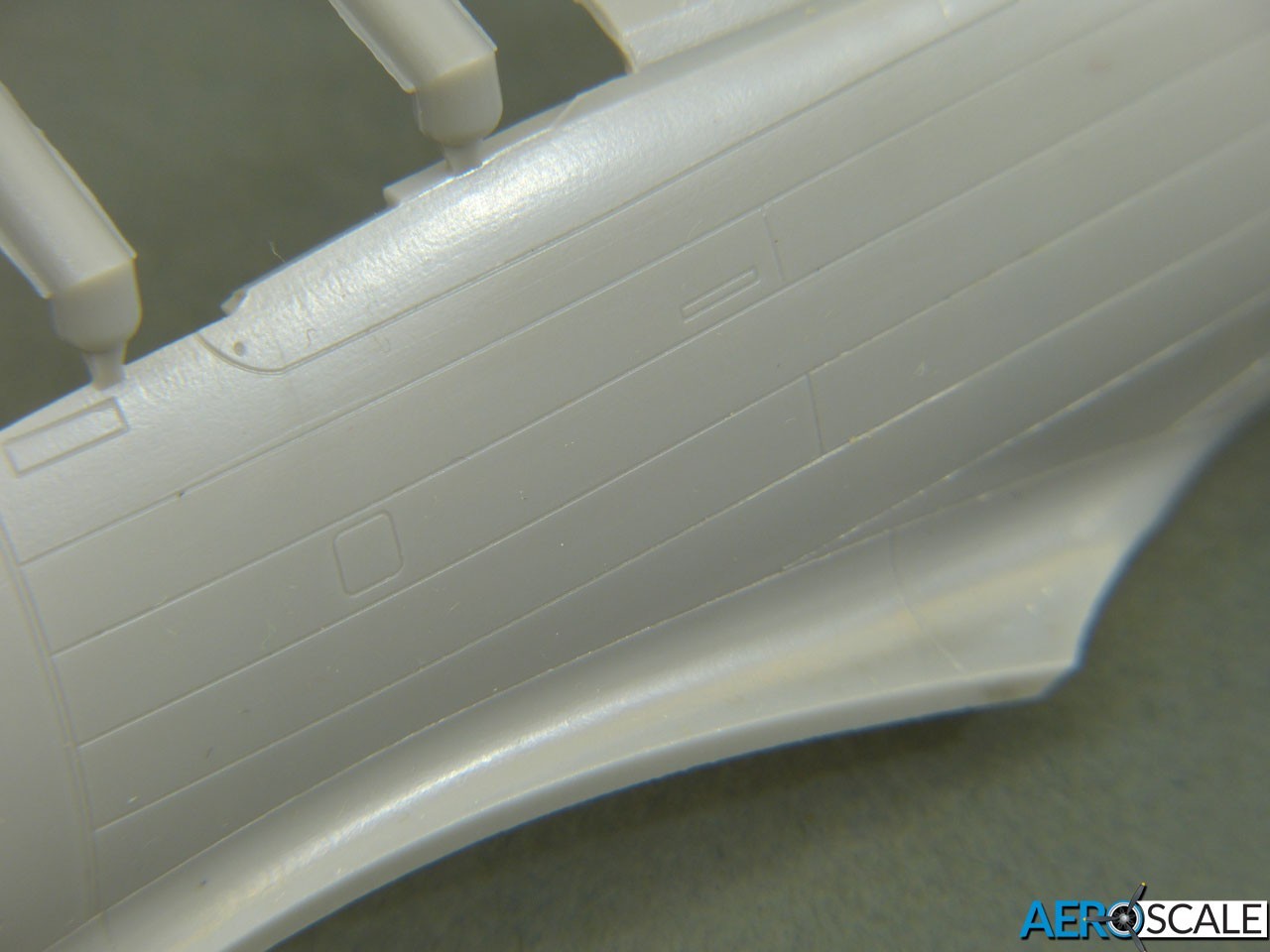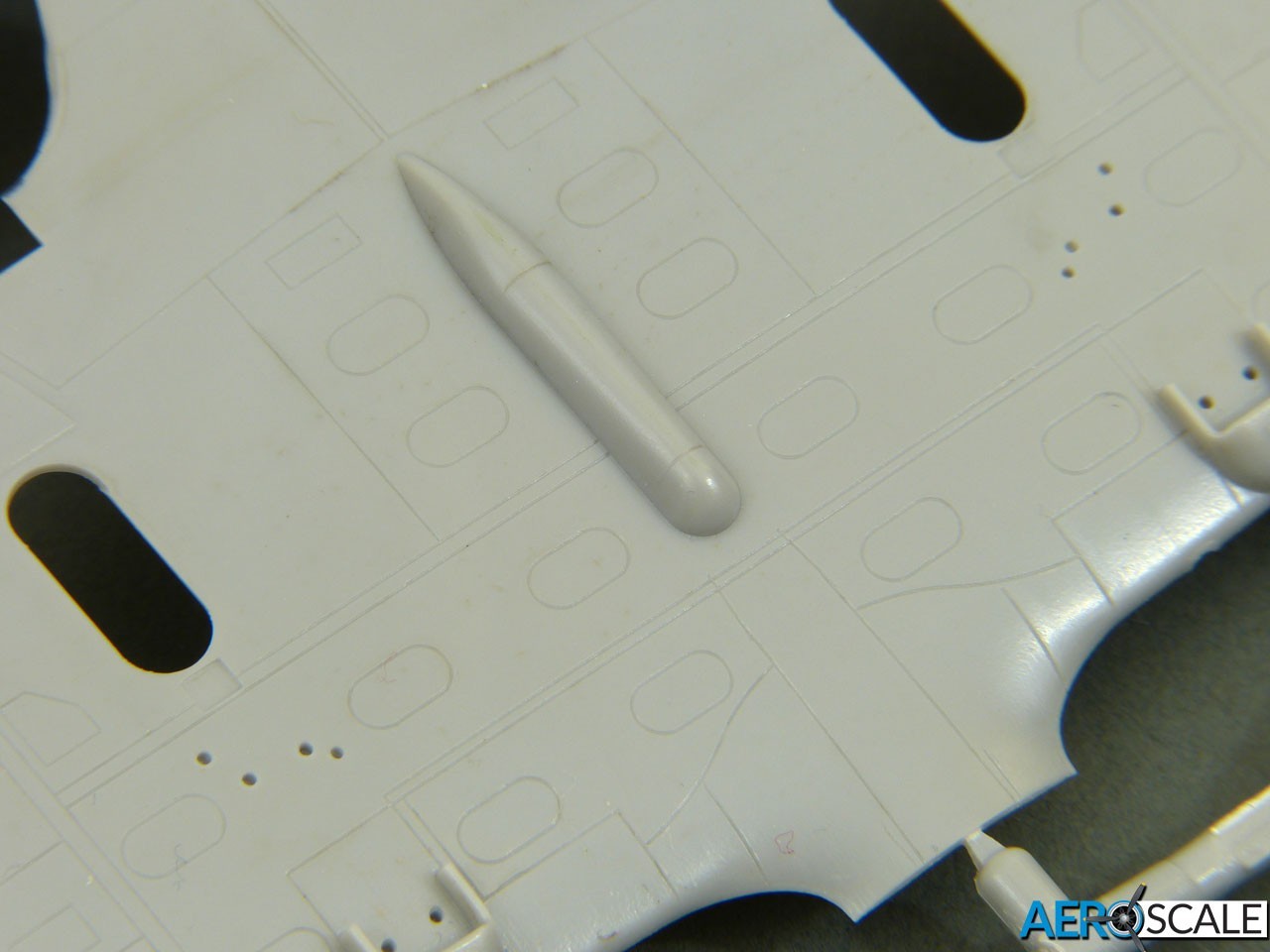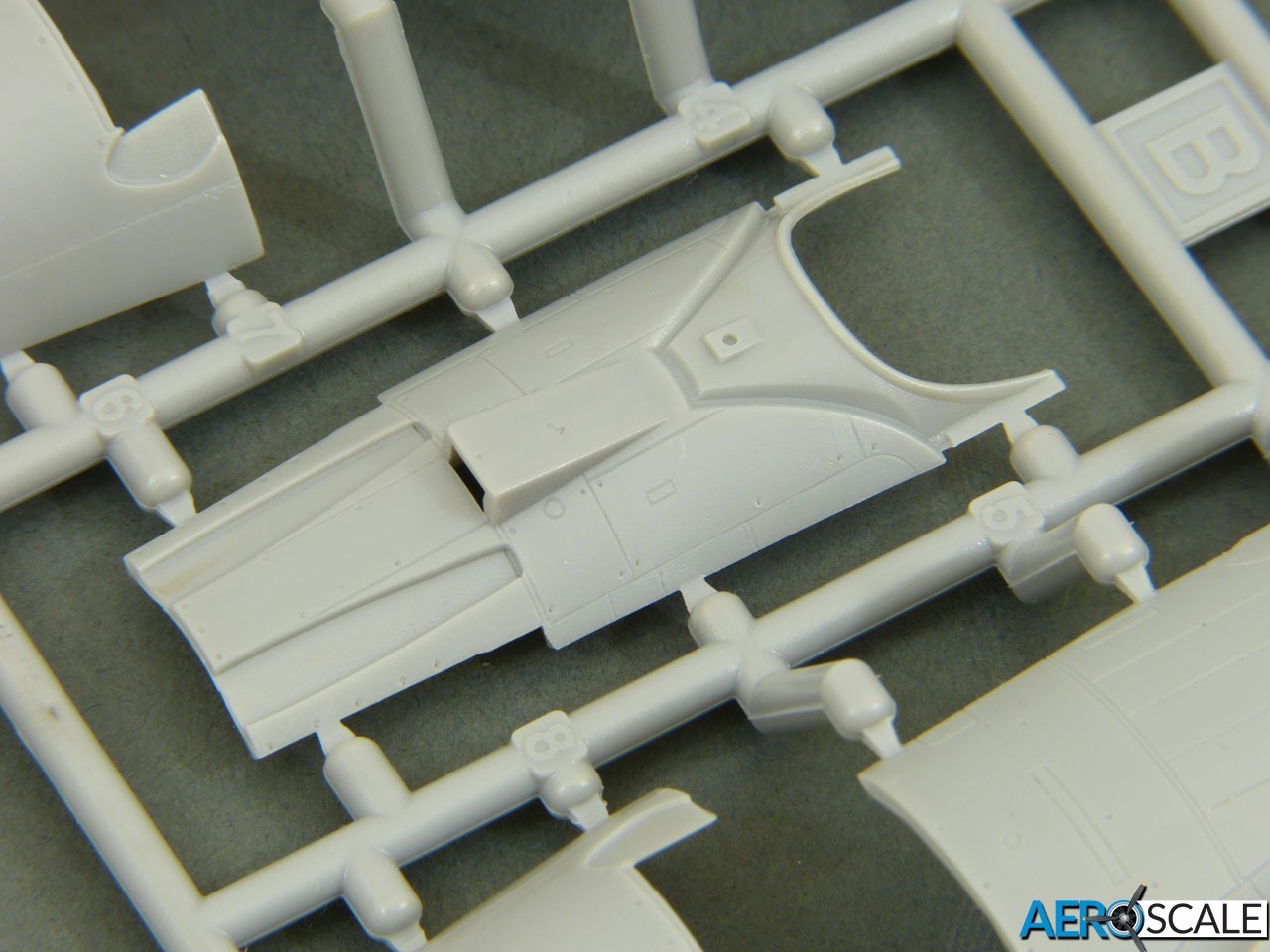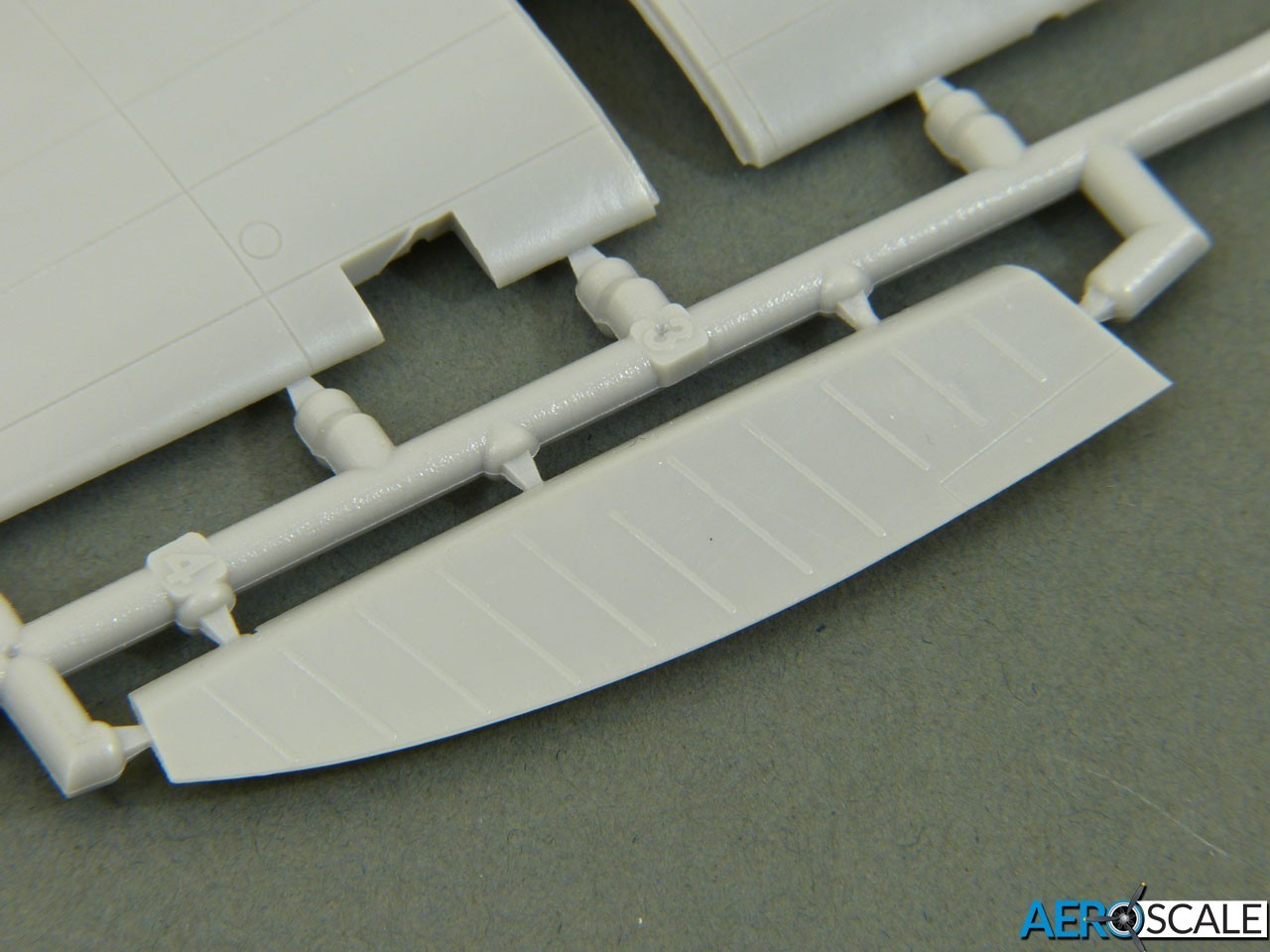 Test Fit
As with the Lancer, there are a lot of runner attachments on the main parts of the airframe, so be prepared to spend a few minutes cleaning these up. They are almost all restricted to the mating surfaces of the parts, which is nice as it avoids marring the exterior of the kit.
There are no locating pins on the main parts, but everything lines up very neatly indeed. The upper forward fuselage is produced as a separate section, and this is basically a perfect fit in the sample kit, with the panel lines aligning precisely.
The wings are constructed with an almost full-span lower surface and separate top panels. Almost full-span? This is because the underside of the wingtips and trailing edges of the flaps are moulded as part of the top panels. The fit is good, but it does mean seams to fill. On the plus side, the trailing edges are beautifully thin.
The fit at the wing roots is very good, and the gap visible in the dry-fit photo below should disappear if you run a strip of tape wingtip-to-wingtip to apply a bit of tension while the cement dries. The way the trailing edges at the roots are designed does mean seams on the top surfaces, and these will require a bit of attention, particularly if you complete the model in a n/m finish.
EDIT - Having started construction for real and assembled the wings and dry-fitted the basic cockpit interior, the gap visible in the photos has already gone. Barring some attention to the seam at the rear of the wing-roots, this part of the build will be a filler-free assembly.

The stabilisers plug in solidly after easing the slots for their locating tabs, and all the control surfaces are separate, which is always a nice touch if you like to offset them on your models. Unlike Dora Wings' earlier Lancer kit, the rudder is a one-piece affair, so there's no awkward seam to worry about this time and the change wins a definite thumbs-up in my opinion.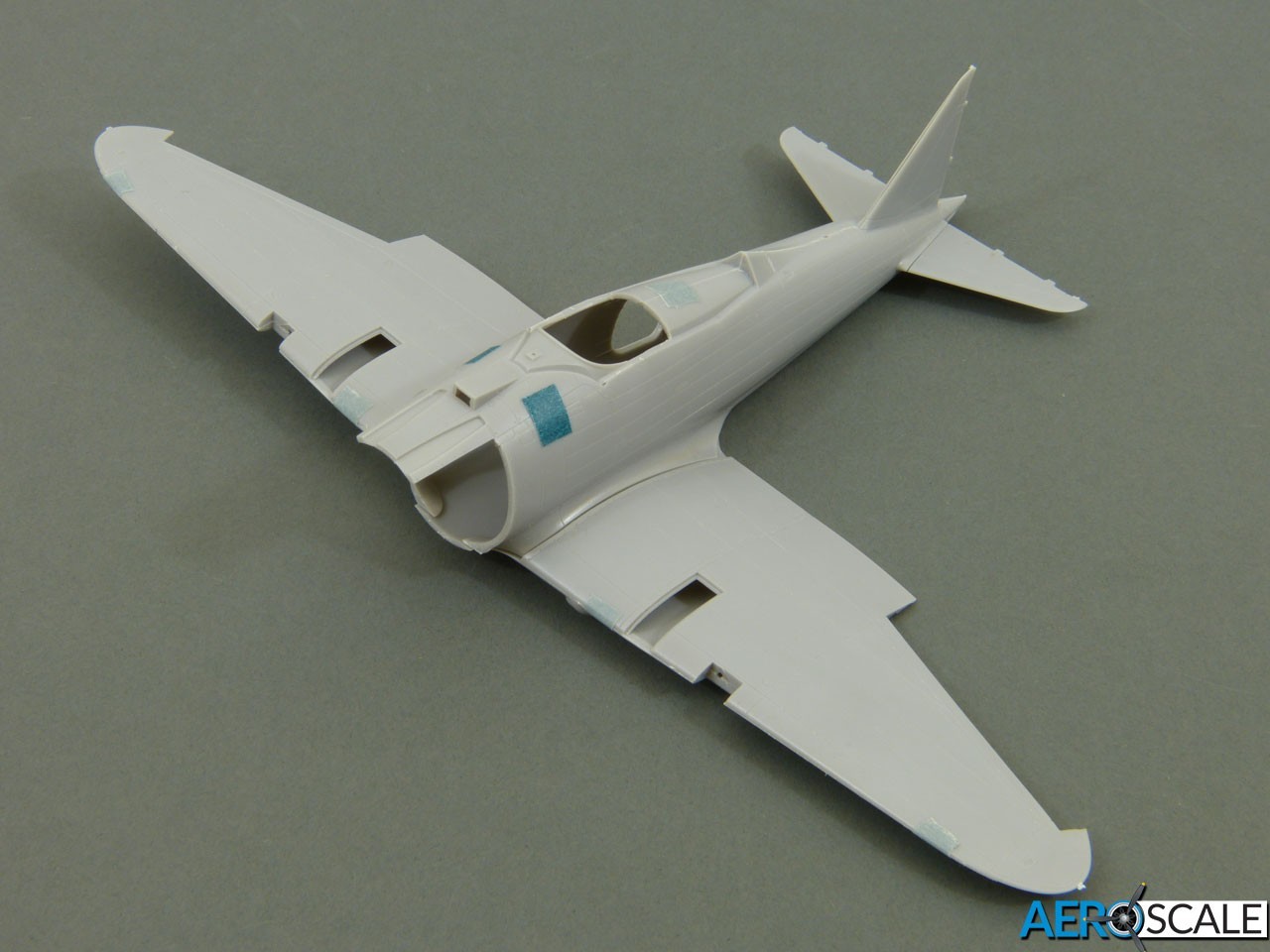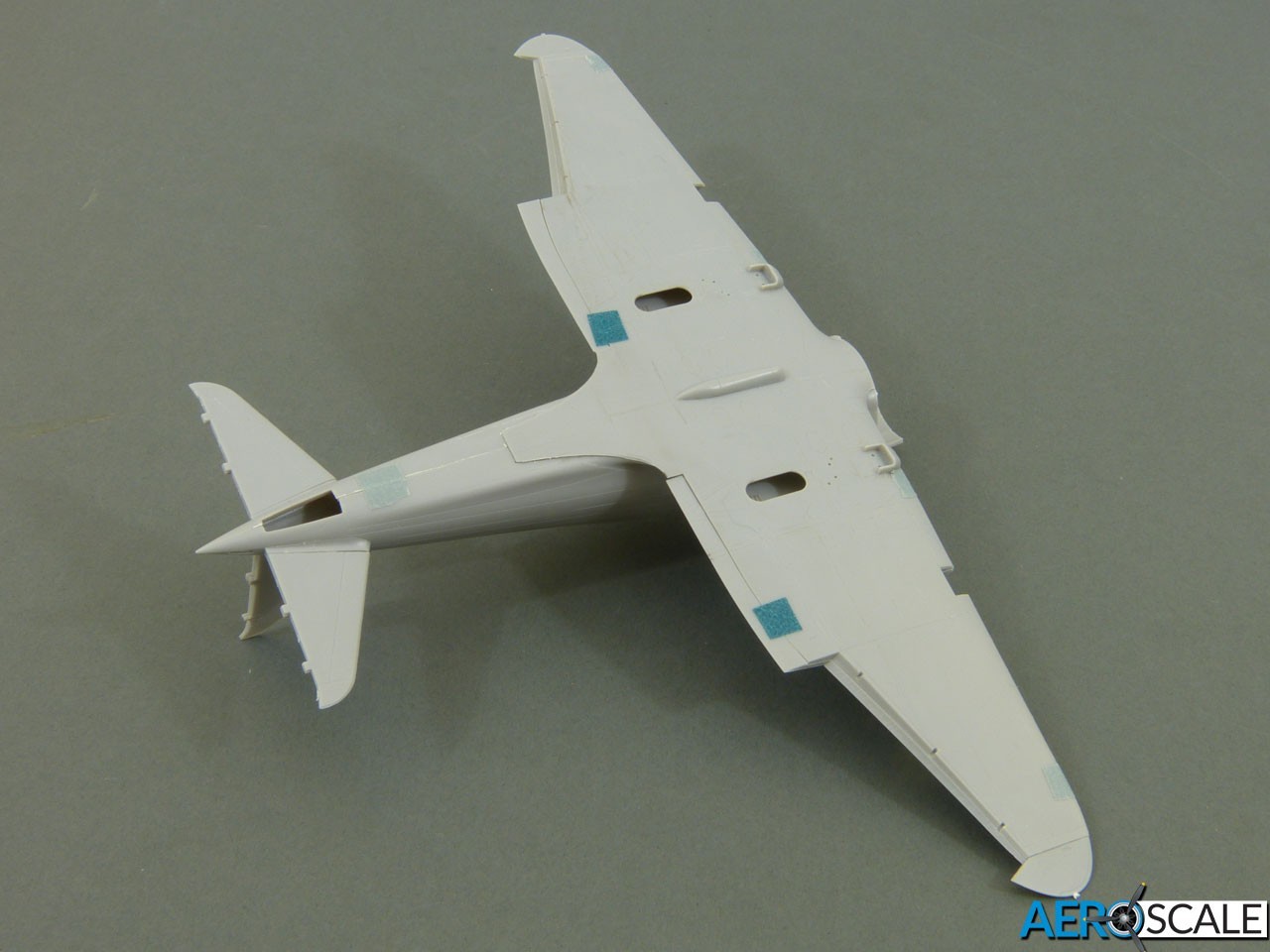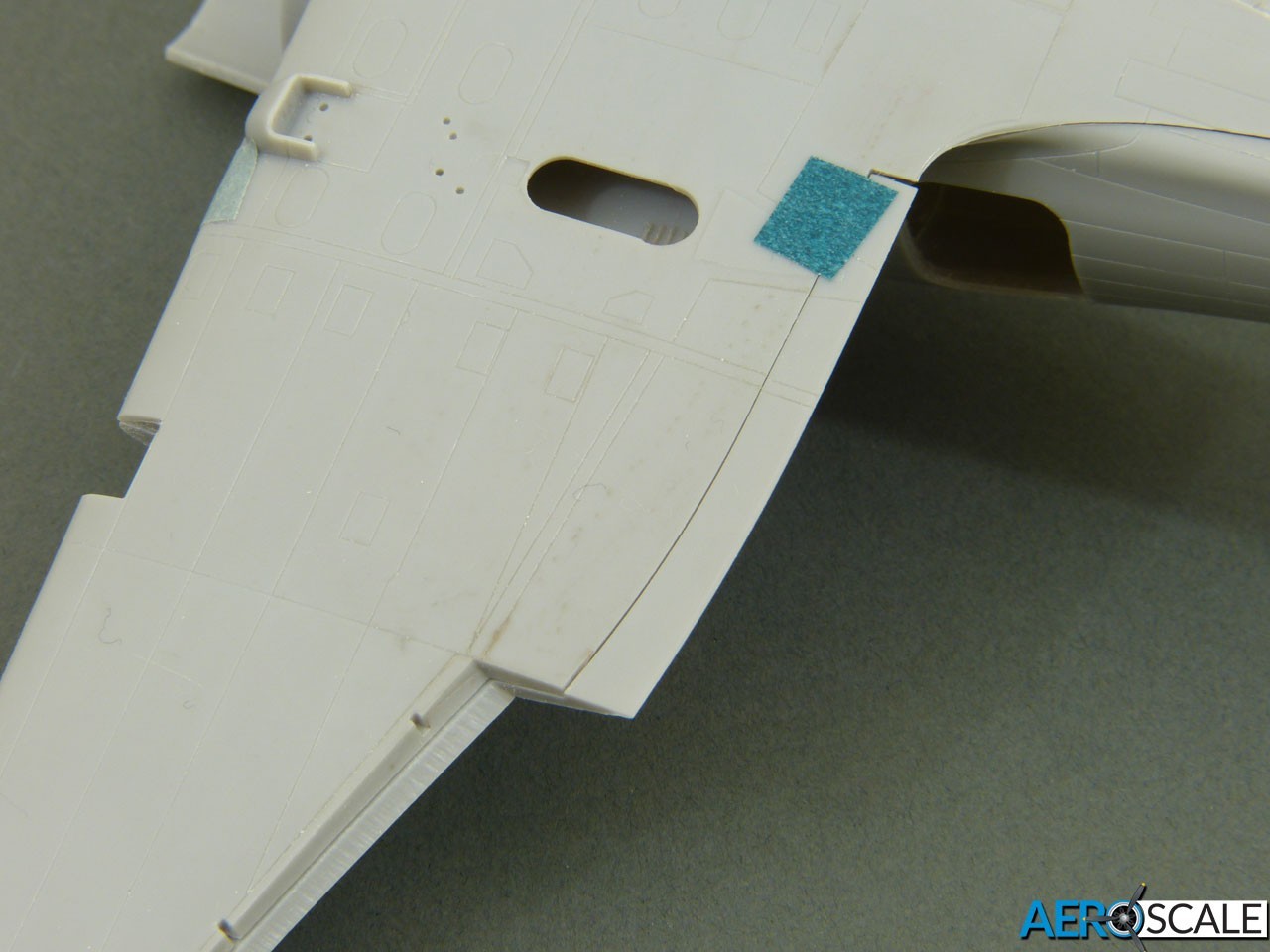 A Few Details
Construction begins, as you'd expect, with the cockpit, which is very neatly detailed with a combination of plastic and etched parts. The side consoles and throttles are fitted with photo etched switches and levers, while there's a choice of moulded styrene or etched  instrument panels. If you choose the latter, they sandwich pin-sharp decals against styrene backplates and the result will look excellent with a drop of varnish in each bezel as glazing.
The pilot's seat has a separate frame and a nicely produced 3-part etched harness. One of the odd features of the aircraft is that there's a second seat tucked away in a rather cramped compartment behind the cockpit. Dora Wings don't provide a harness for this, but I think that's fair enough, because I imagine it would have been stowed away when not in use to prevent it flapping around loose during manoeuvres and risking damage.
Any work on this compartment won't be wasted, because the access hatch is moulded clear to depict the large window, and a couple of etched handles are provided for the inside if you wish to pose it open.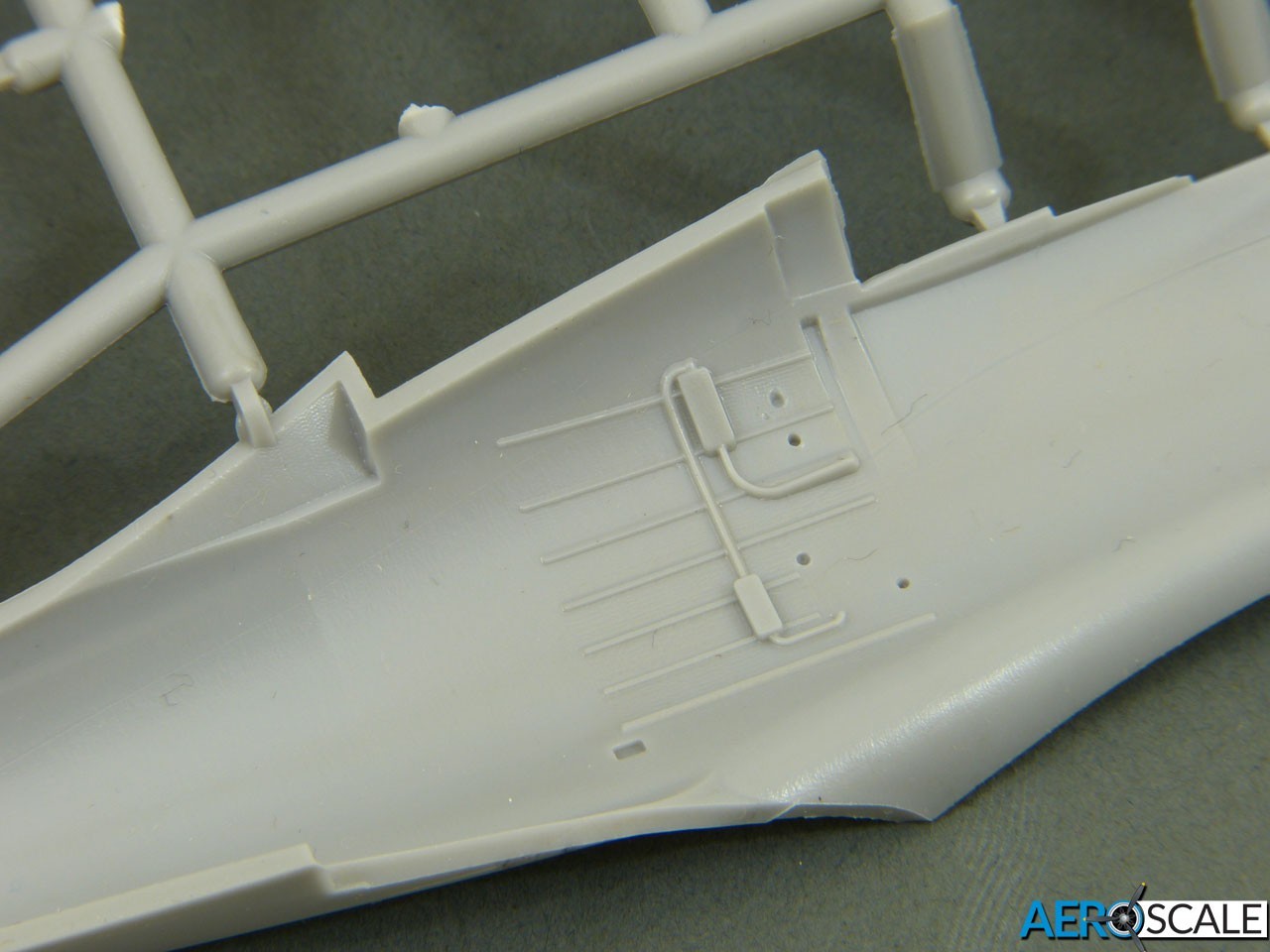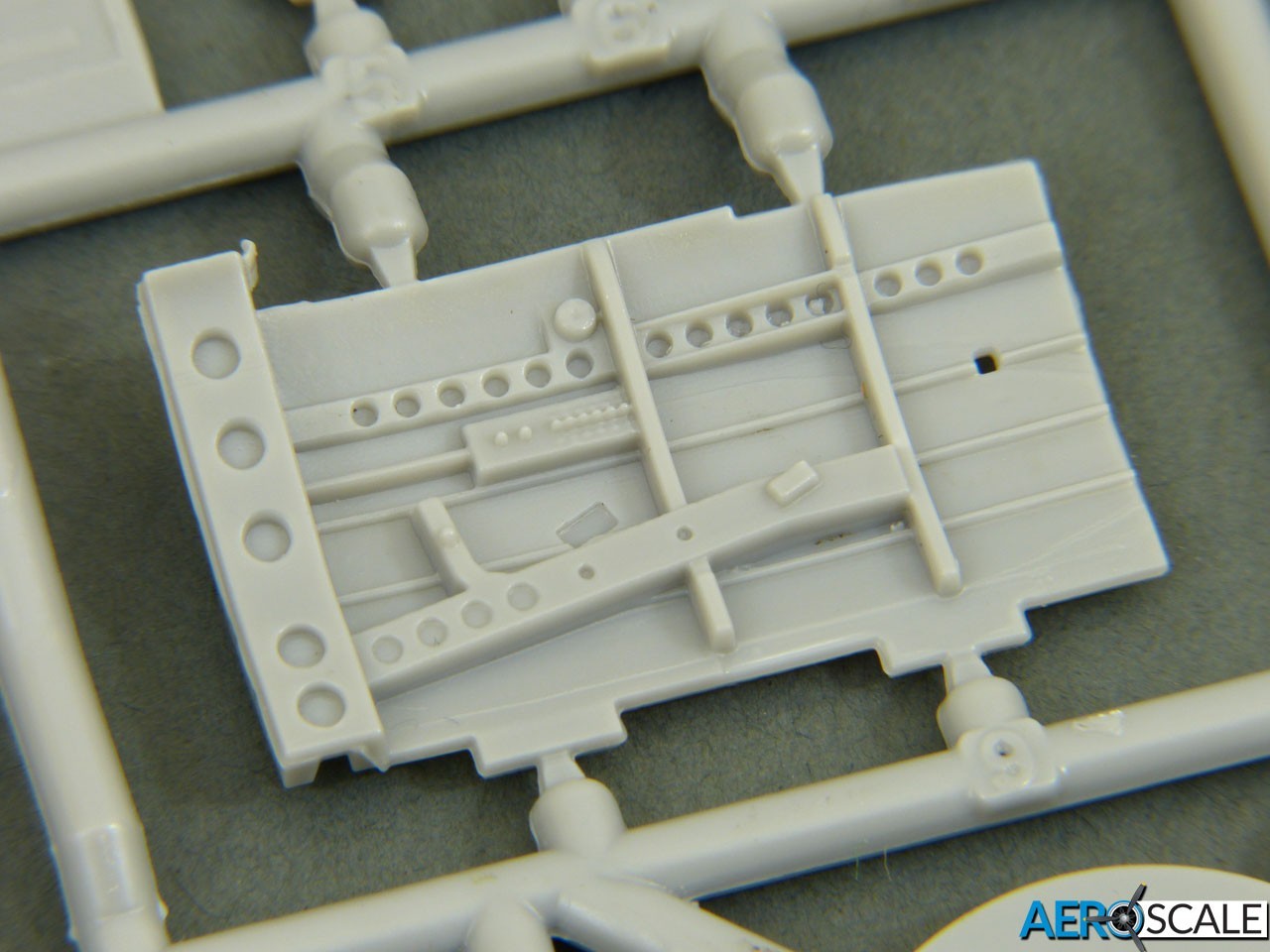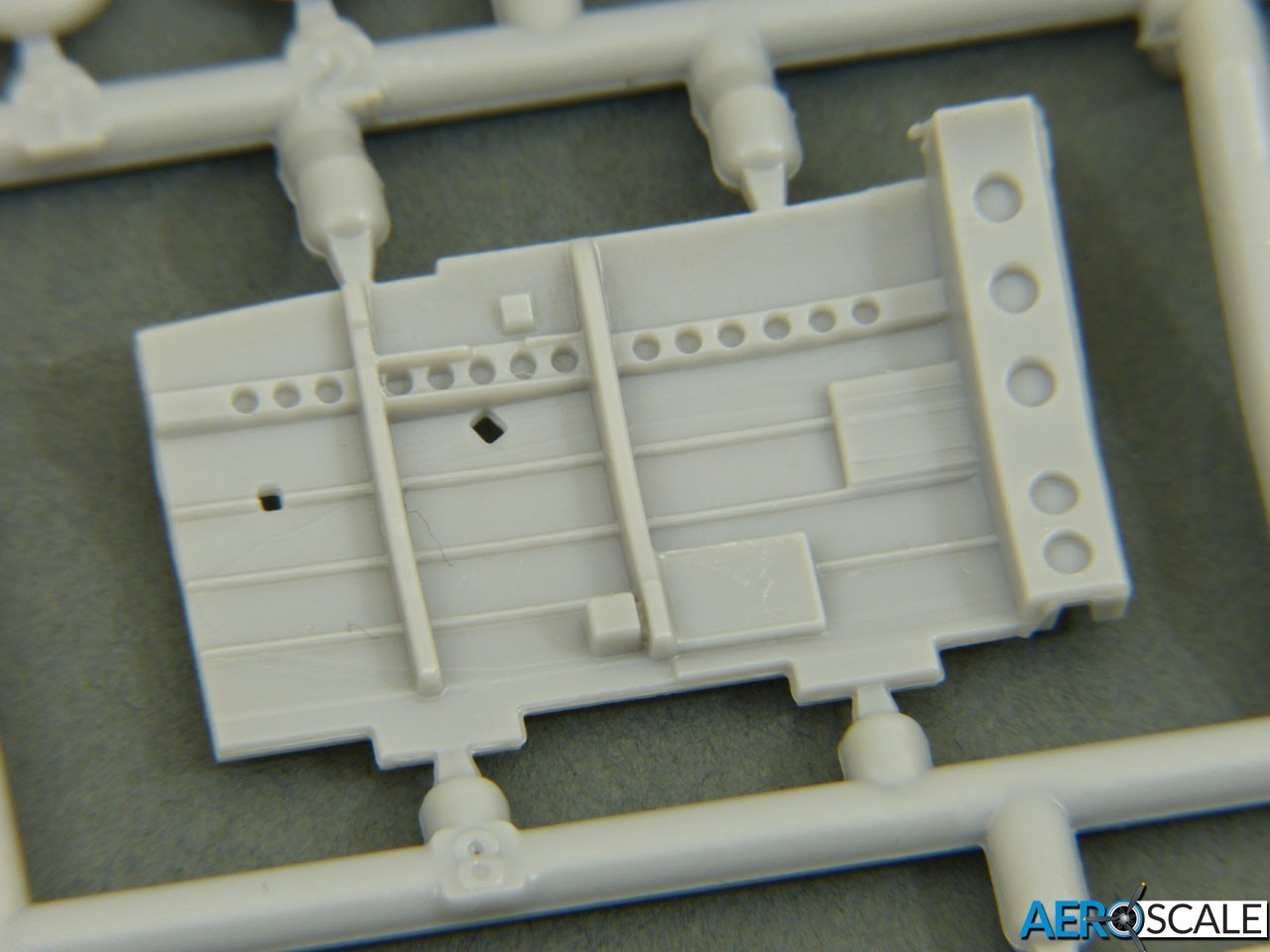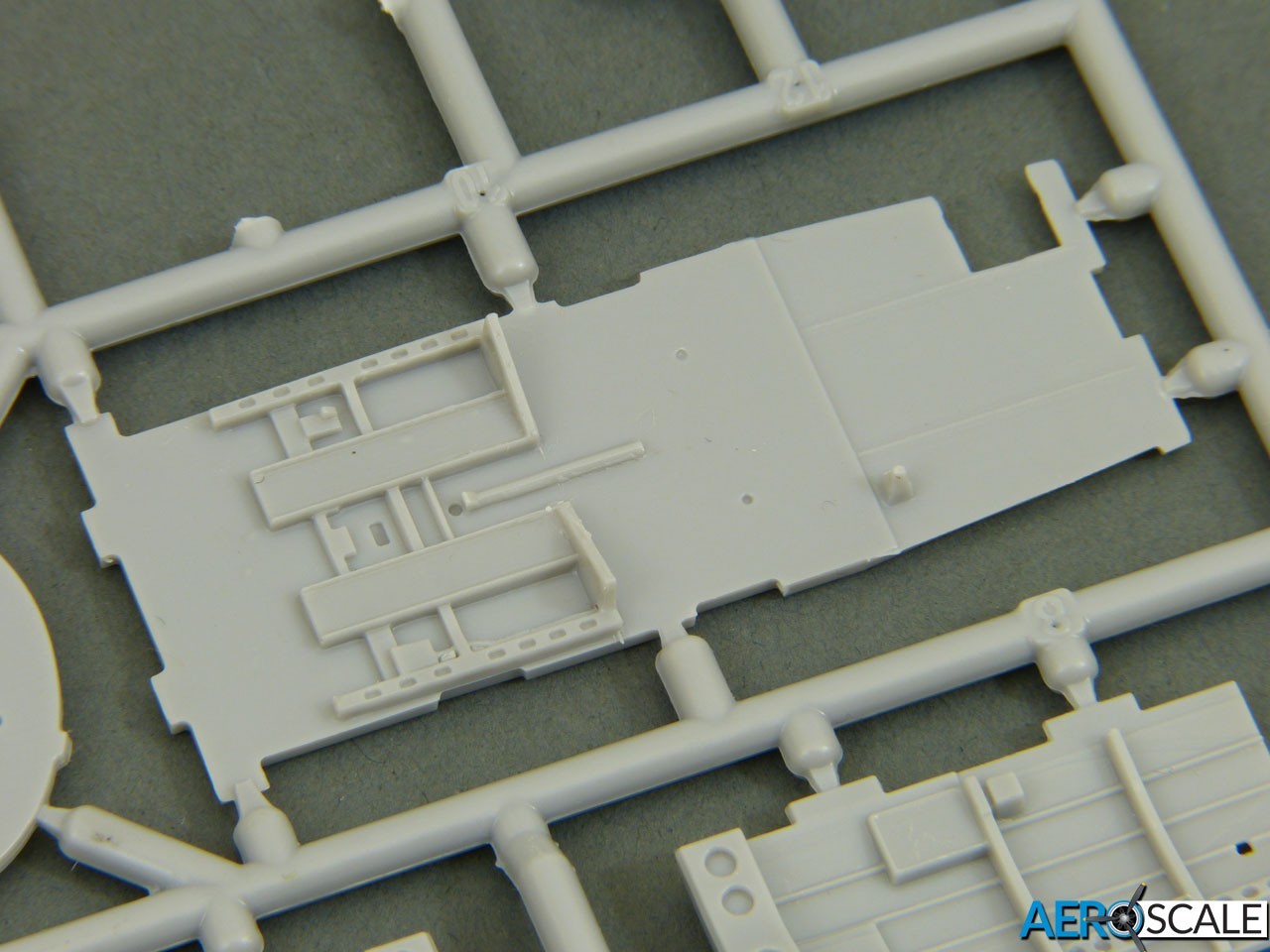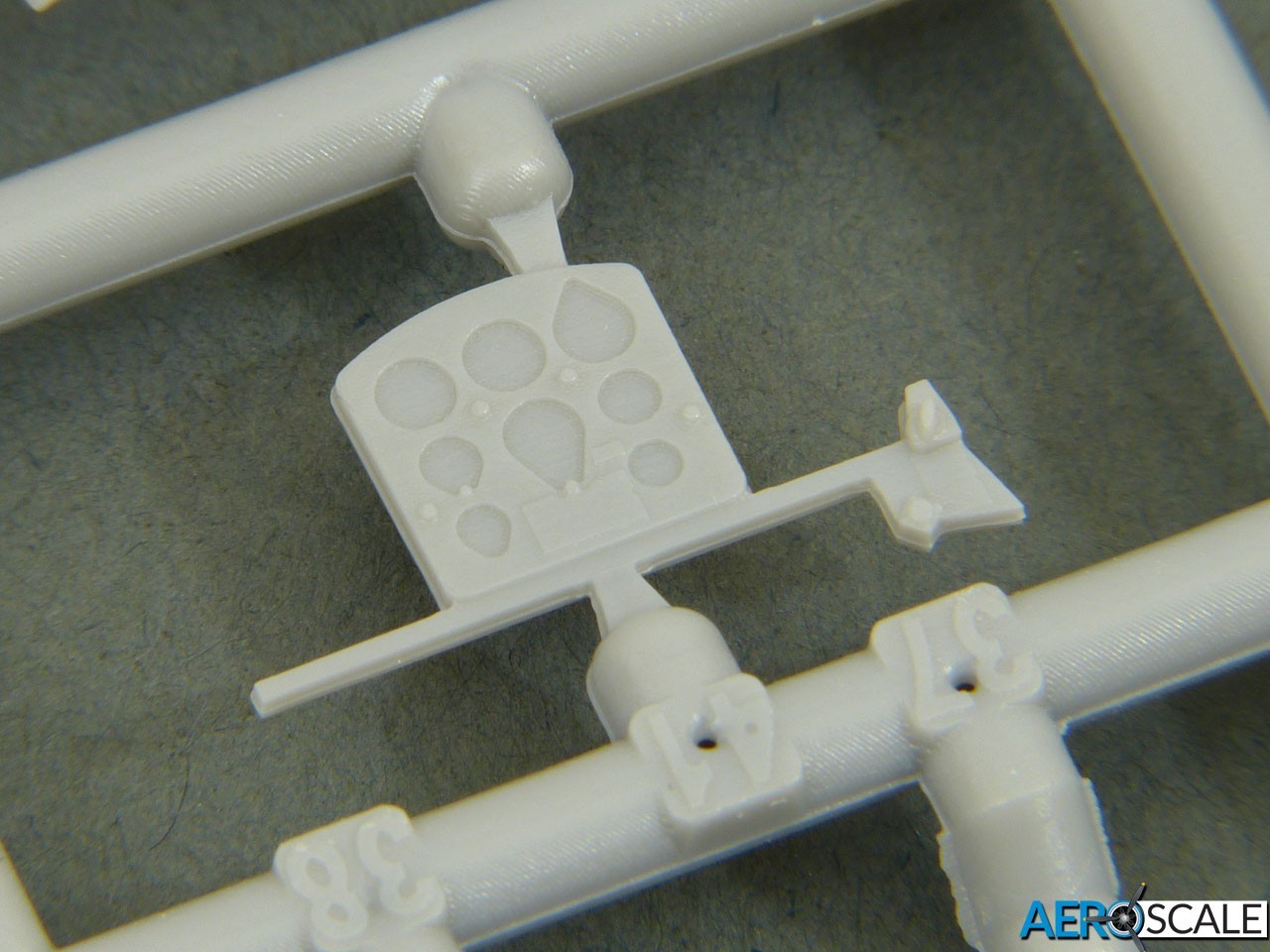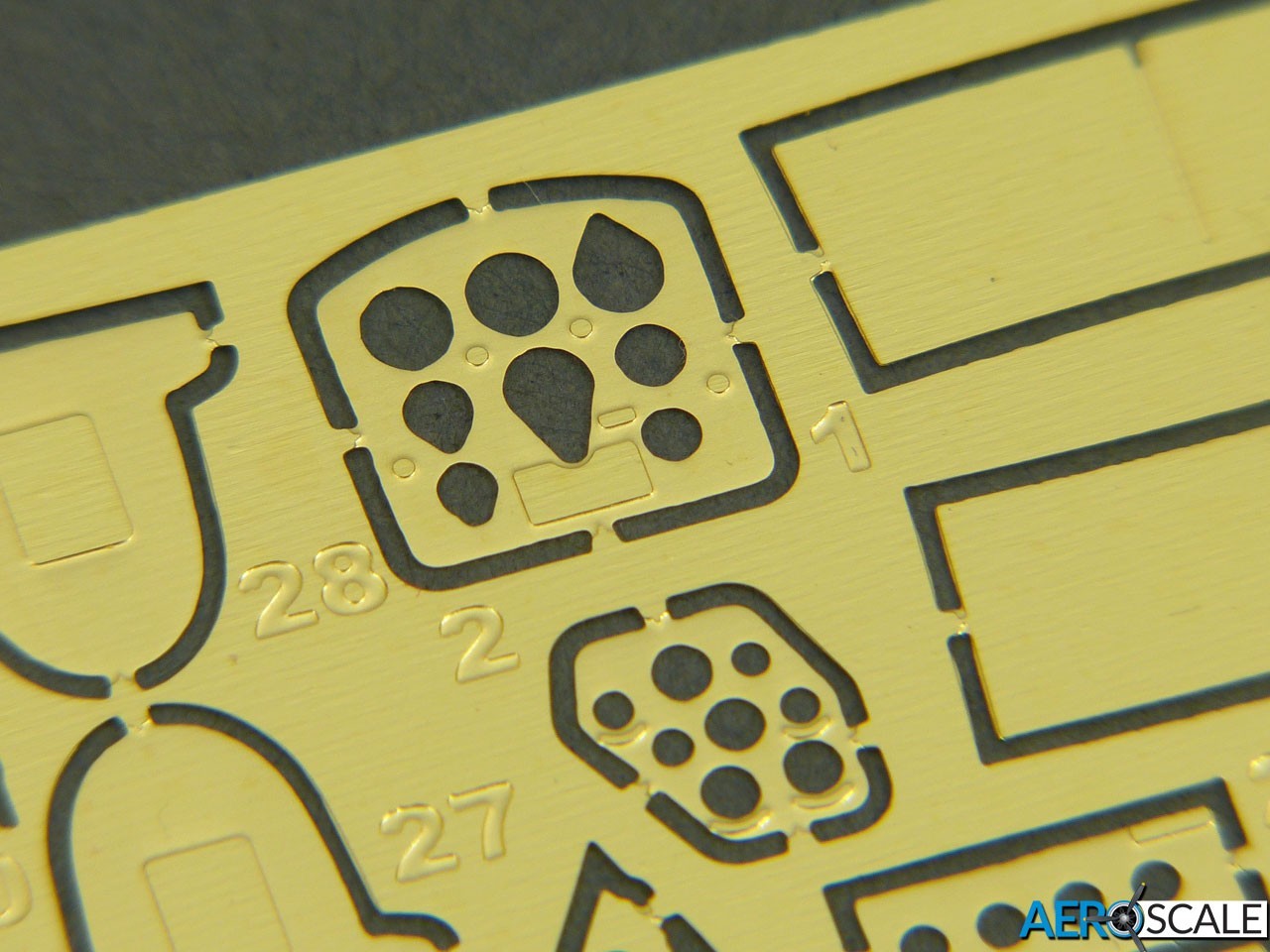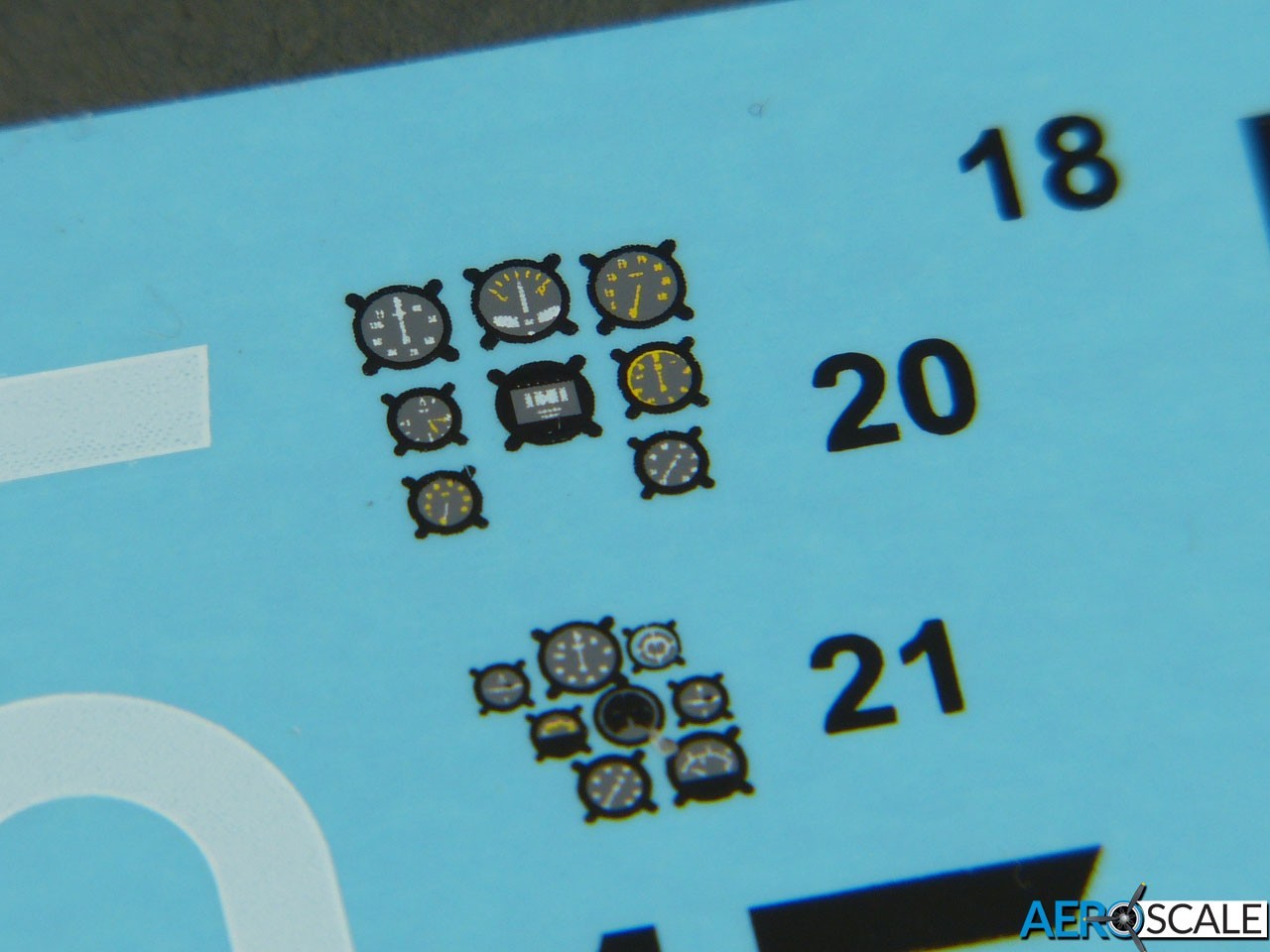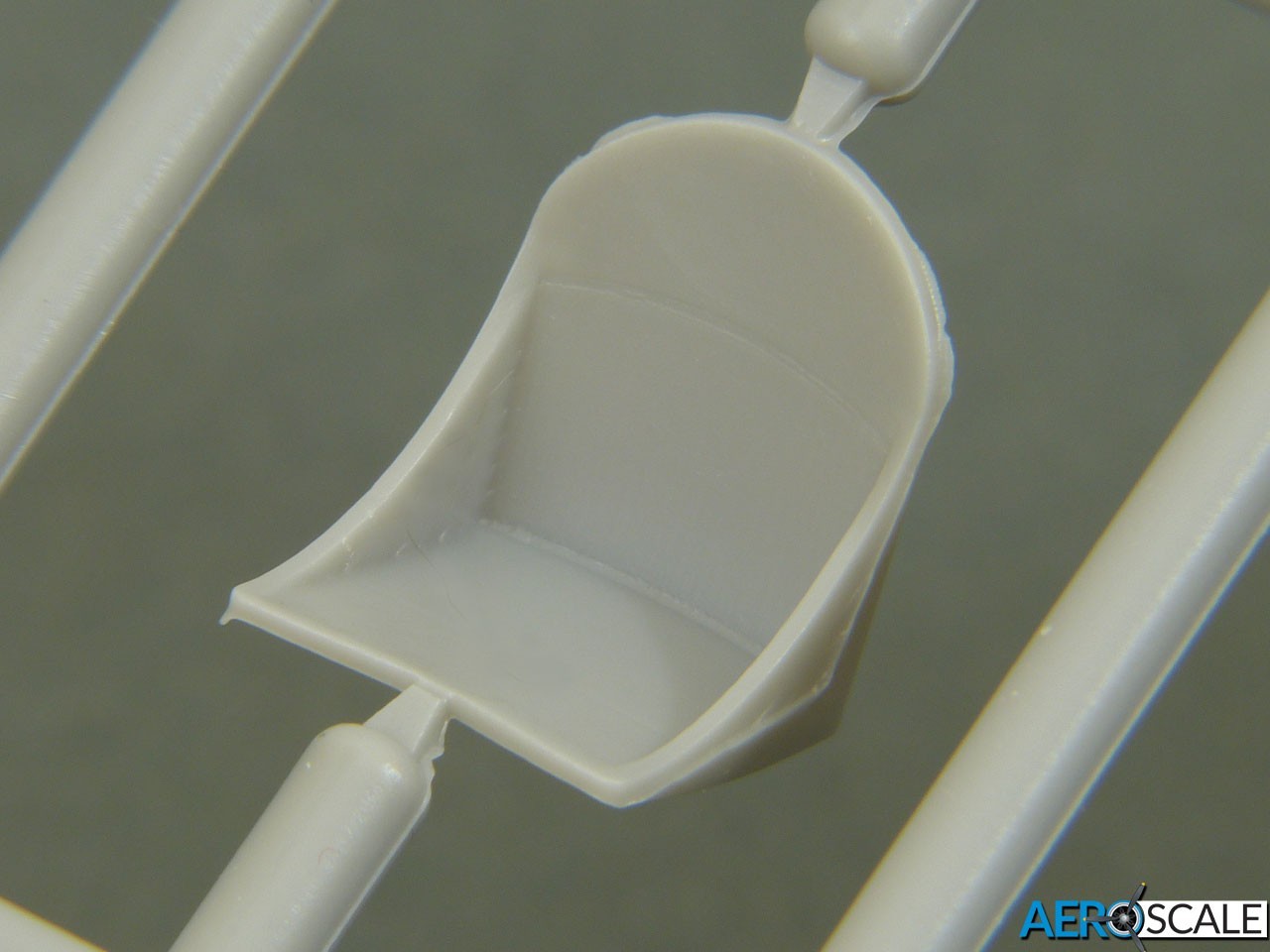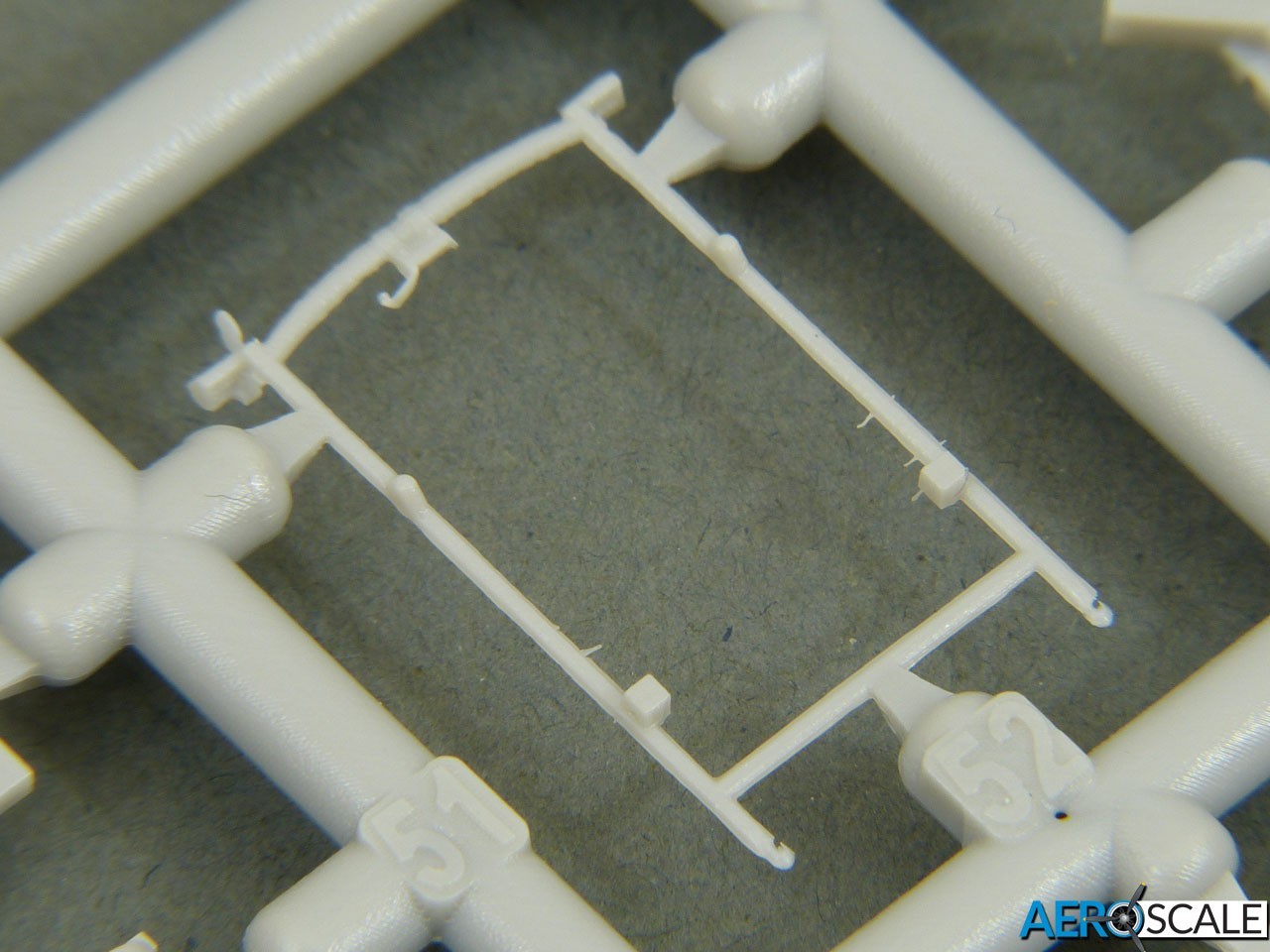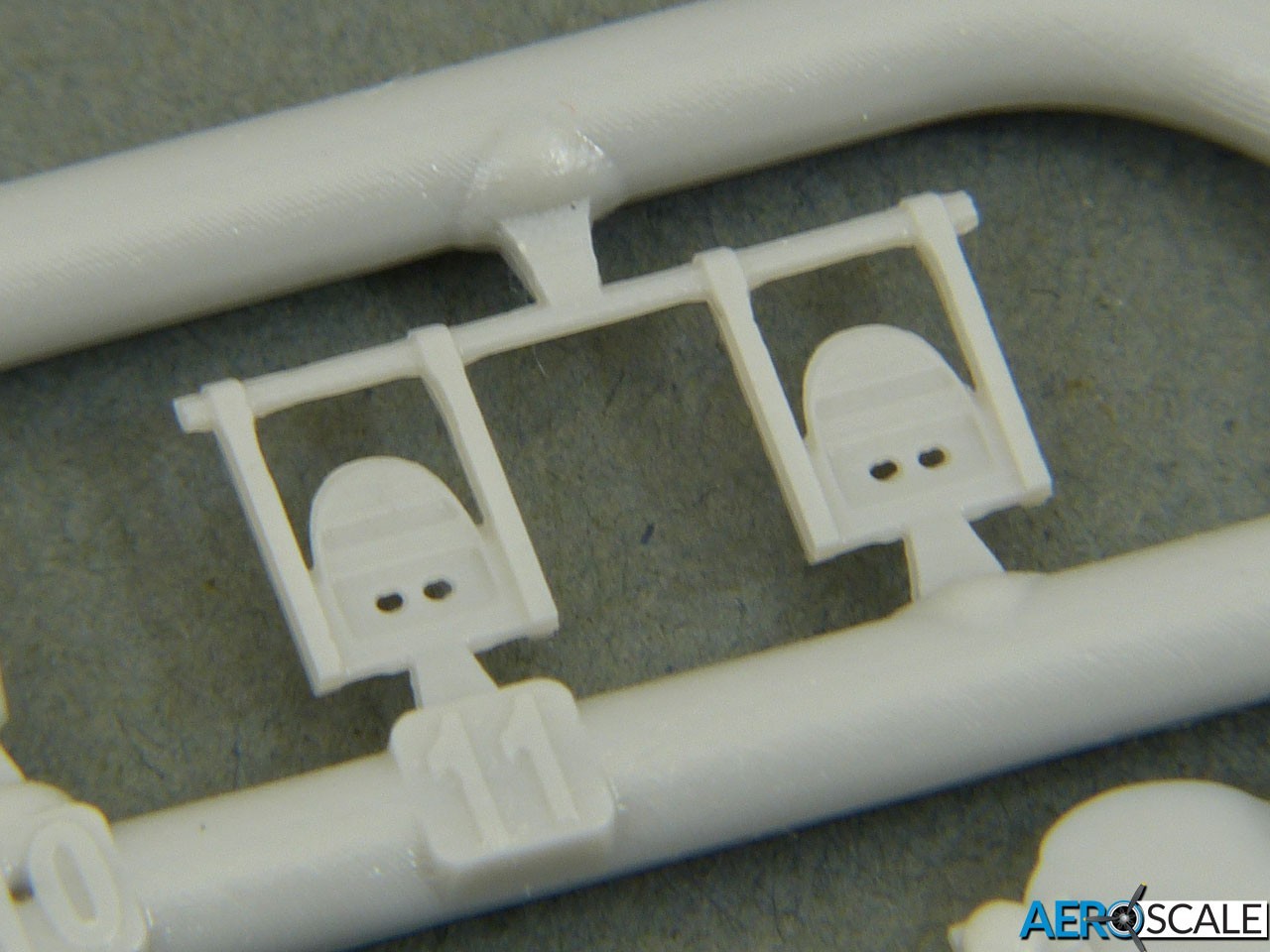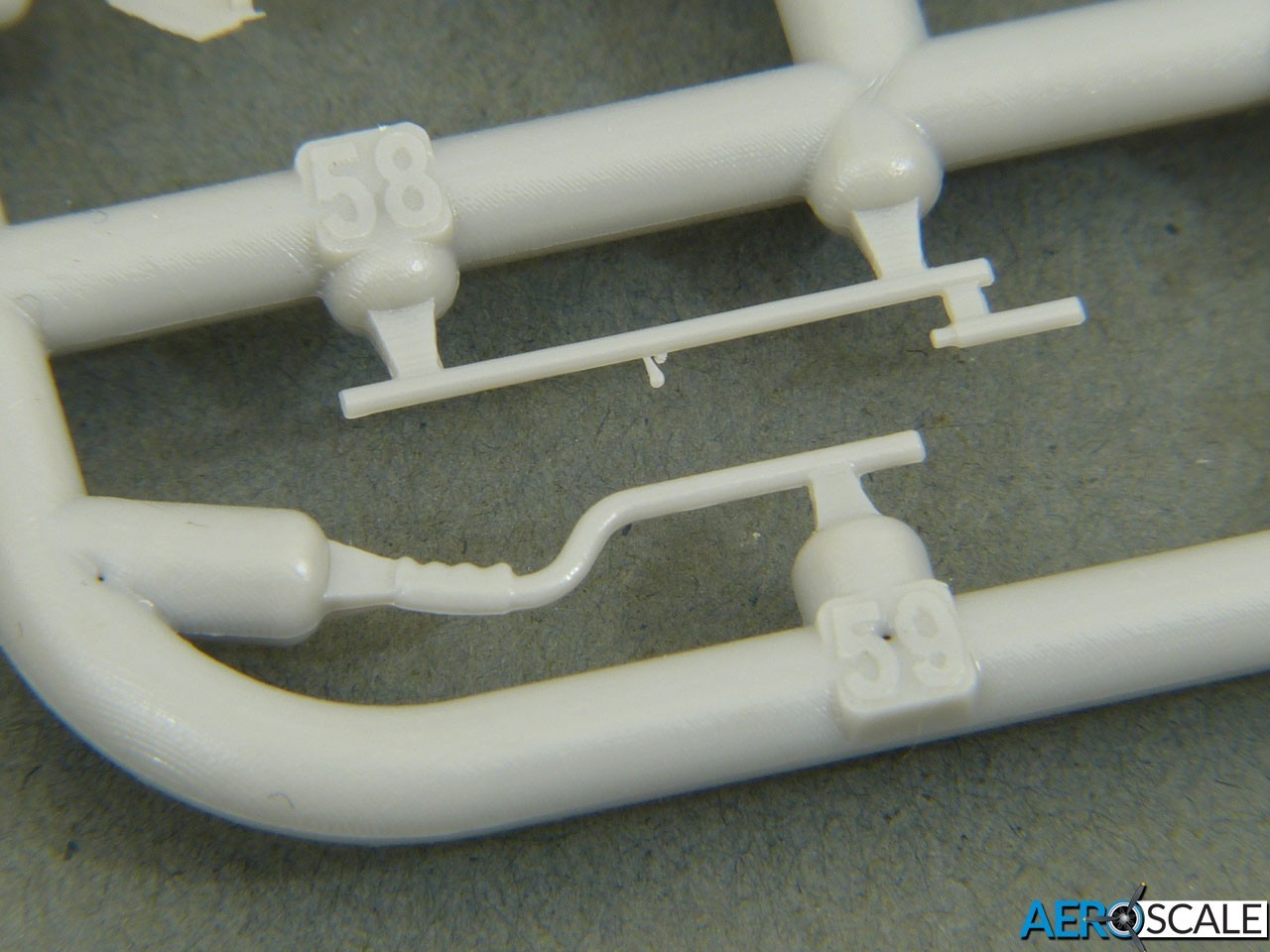 The Pratt & Whitney R-1830 engine shares the same runner as the P-43 and so will once again build into a real gem, with over 30 parts. The cowling is a 3-piece assembly, to which are fitted etched cooling gills. If you don't fancy the idea of installing these, you could always use them as patterns to cut gills from thin styrene sheet.

The propeller looks good, but watch out for a little flash at the tips which give it an uncharacteristic squared-off appearance at first glance. There's a separate spinner for two of the featured colour schemes - and I'd give this a quick polish to remove its "milled" ridges (these look way more prominent in the close-up photo than in real life) - or, alternatively, pitch-change counterweights.

The wing is fitted with inserts to prevent a hollow look to the recesses for the mainwheels (it seems odd to describe them as wheel wells, proper, because so little of each wheel sits in them), with nicely moulded exterior fairings with etched inserts.
The main undercarriage itself is neatly moulded, and the mainwheels feature unweighted tyres and crisply defined hubs. The tailwheel is quite a fiddly-looking affair, with 6 parts for the leg and a wheel that's split in halves.
There are separate inserts for the wings to depict the bulged machine gun covers, and wonderfully bulbous blisters beneath the wings for 3 of the featured colour schemes to collect spent cartridges.

The canopy is thin and distortion free, with well defined framing. A very nice touch is the inclusion of a set of painting masks which will save a lot of work. It would have been nice if a mask had also been included for the window in the fuselage hatch, but the framing is prominent enough that liquid mask should work OK.  The clear parts also include navigation and landing lamp covers, along with a gunsight 

Instructions, Painting & Decals
Dora Wings have printed the assembly guide as an attractive full-colour 12-page A5 booklet. Construction is broken down into 34 stages, and the sequence is pretty logical, although some subassemblies are quite separated from the point at which they're used. For instance, the tailwheel assembly is covered in 3 widely separated stages, and it would have been easier to follow things if they'd been grouped together. No doubt squeezing everything into the booklet while keeping the diagrams at a reasonable size was a factor in this.

Colour callouts are provided for most details and matched to Mr Hobby, Tamiya, Ammo MIG, Hataka and Life Color ranges, so it should be easy to find suitable paints wherever you live.
Decals are included for a very interesting quartet of Royal Swedish Air Force colour schemes:
1. Seversky J-9, No. 8, 1st Division F8, 1942
2. Seversky J-9, No. 35, 3rd Division F8, summer 1942
3. Seversky J-9, Yellow F, 3rd Division F11, late 1944
4. Seversky J-9, No. 15, F8, spring 1940
The colour schemes are very attractive and offer plenty of variety, with something to suit all tastes. The first two aircraft sport flamboyant unit markings over quite a complex mottled camouflage, while the third scheme is simpler, with simple olive green upper surfaces, but huge national insignia on the top of the wings. Lastly, the 1940 aircraft is finished in n/m overall.

The decals are printed by Decograph and look to be very high quality. The registration is flawless on the sample sheet and there is minimal excess carrier film around the thin, glossy items that show excellent colour density.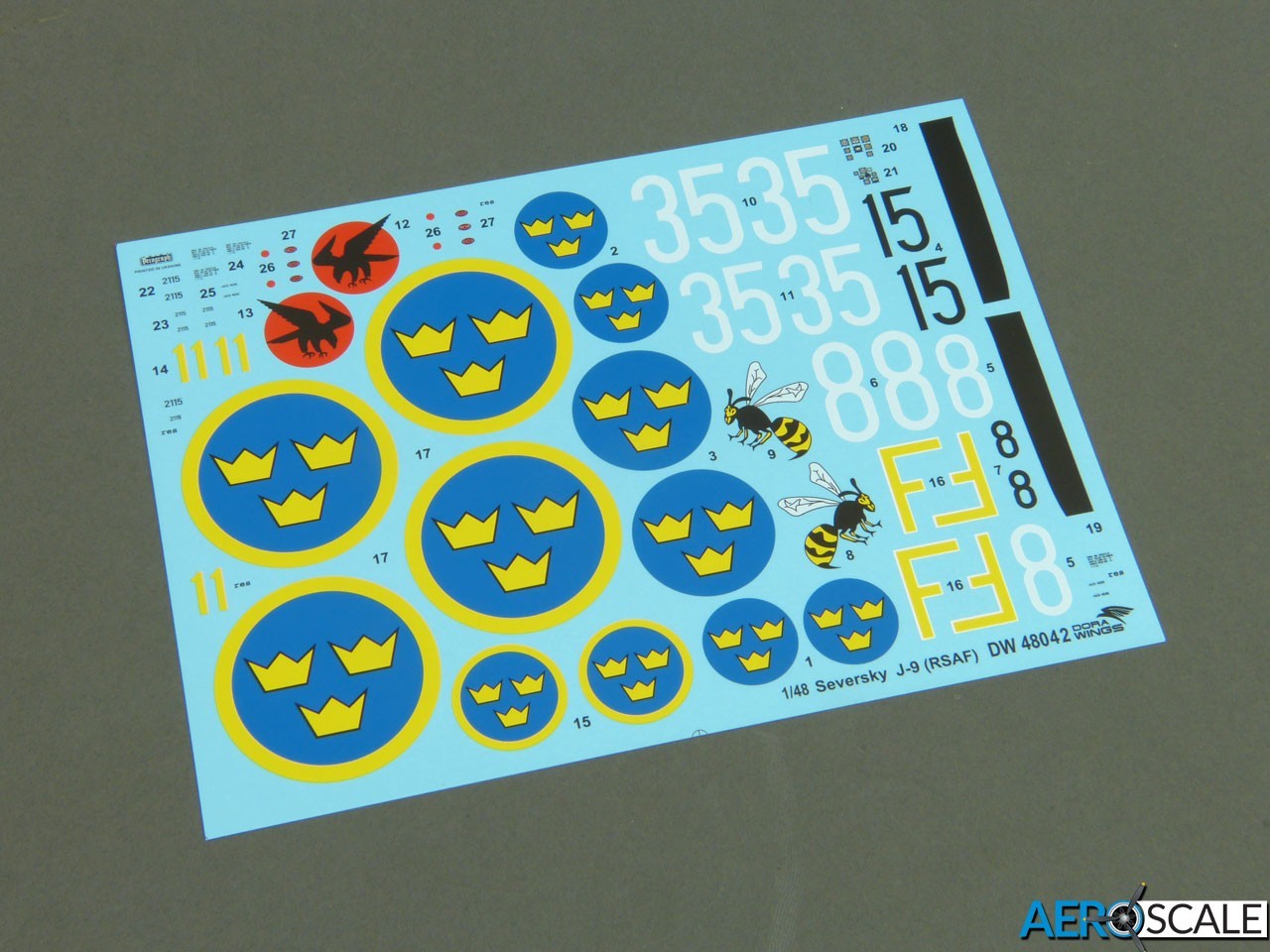 Conclusion
Dora Wings' Seversky J-9 looks a real little cracker of a kit that should prove a thoroughly enjoyable build. As noted above, I'd suggest beginners get a few builds under their belt before tackling it, but anyone used to old-style "limited run" kits will find it an absolute breeze and will marvel at the enormous progress that smaller manufacturers have made in recent years. It's often said that we're in a second Golden Age of modelling, and I can believe it when lesser-known aircraft types like this are produced in 1:48 as such high quality kits.
Many thanks  to Dora Wings for providing the sample model for review.
Kit #DW 48042 is available now from Dora Wings - Price: 29.00 Euros
Please remember, when contacting retailers or manufacturers, to mention that you saw their products highlighted here - on AEROSCALE