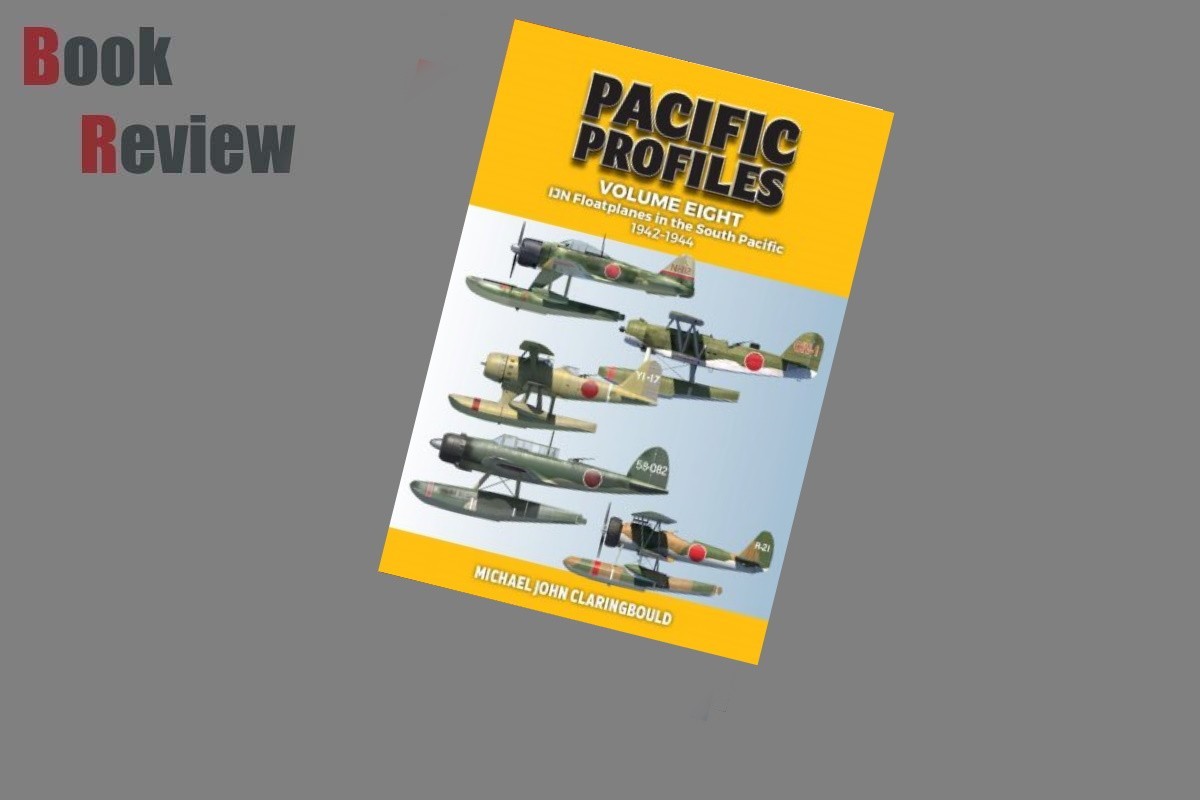 Introduction
Few South Pacific air war subjects pique my interest as Japan's R-Area Air Force and its seaplane and floatplane operations over and against Guadalcanal, and the rest of the Solomon Islands.  Such aircraft were used extensively by the Imperial Japanese Navy.   This book reveals how essential and active they were in the South Pacific, especially in the Solomons and New Guinea.  Japan created some innovative and historically significant floatplanes, some being technically advanced; their  bases were seaplane tenders, warships, developed or primitive shorelines, and even submarines.  For generations many of those units were at best a mystrery, either unknown or misunderstood.   Those aircaraft also wore some appealing colors and markings, and are a favorite of modelers of Japanese aviation.

Legends and myths and misunderstandings have been perpetuated for decades.   Fortunately, survivors of the era have emerged with a growing amount of surviving original documents and relics.  An increasing cadre of modelers and researchers privy to such resources, capable of reading, translating and understanding them, and dedicated to analyzing actual colors and markings, are establishing a more homogeneous consensus of the subject.   This new book corrects the record and includes new markings and information.

Pacific Profiles Volume Eight IJN Floatplanes in the South Pacific 1942-1944  is a new title from Avonmore Books, which specializes in high-quality printing of titles focusing on the early part of the air war in the southwest Pacific.  Authored and illustrated by world-renowned wartime Japanese aviation expert and former diplomat Michael John Claringbould, with access to original sources and with the ability to read it, this book is the fruit of months buried in original Japanese and other documents.  Raised in Port Moresby, Papua New Guinea, these subjects are a life-long pursuit of his.  Composed of 124 pages including the index, it is published by Avonmore Books and catalogued with ISBN 9780645246940.  Avonmore tells us:
Volume Eight of the Pacific Profiles series presents the most accurate profiles and histories to date of Imperial Japanese Navy floatplanes which served in the South Pacific theatre, throughout New Guinea and the Solomons. The markings of the seven floatplane types deployed in the theatre are covered: the A6M2-N Rufe, E8N2 Dave, E13A1 Jake, F1M2 Pete, E7K Alf, E9W Slim and E14Y Glen.

Floatplane operations commenced in January 1942 with the invasion of Rabaul. Later Rufes were often misidentified as Zeros with their presence in the Solomons seemingly ubiquitous. Petes often fought Allied fighters, with other types focused on reconnaissance and occasional bombing missions, sometimes at night. Most floatplane activity had ceased by late 1943, leaving a handful of stay-behinds operating from Rabaul and Kavieng.

Illustrated, unit by unit, are examples of the varied types of markings, camouflage and tail code systems which appeared on floatplanes assigned to sea tenders, shore, ship and submarine-based units. Each of the 76 profiles cites draws on evidence from colour photos, Combined Fleet orders, POW interrogations, technical reports and post-war wreck surveys. Brief histories of every unit includes their role in the theatre and defines the ever-changing markings systems as ordained by Tokyo. Numerous maps and diagrams help the reader understand command structures such as the R-Area Air Force and the 11th Seaplane Tender Division.

Never before have such accurate profiles been presented, most for the first time. The author is world-renown for his expertise in Japanese aerial warfare in the Pacific.
The seeds for Mr. Claringbould's passion were planted in 1976 when, "...an irritable priest at Alexishafen, on New Guinea's north coast, reluctantly allowed me to scour and photograph Japanese aircraft wrecks on the mission's land," where he found a Ki-43-II. "Curiosity caused me to start collecting all material on this arcane subject, but it was frustrating.  Few publications, including Japanese-language ones, agreed on interpretations..."  Thus he began decades of research to learn and clarify.
Mr. Claringbould has authored more than 20 other titles. Most concern the South Pacific air war.  His series Pacific Profiles currently offers eight titles, focusing on Allied and Japanese fighters, bombers, transports and miscellaneous types, and Japanese seaplanes.  You can view this book on the company website here:  Pacific Profiles Volume Eight IJN Floatplanes in the South Pacific 1942-1944.
For decades I always suspected these warplanes were far more active than books revealed.  I am enthusiastic to show you what this book reveals.

Content
IJN Floatplanes in the South Pacific 1942-1944 is presented through 124 pages with 17 chapters and several subsections:
1. Pre-war IJN Floatplane Markings
2. R-Area Air Force
3. No. 17 Kokutai
4. Yokohama Kokutai (fighter wing)
5. Chitose Air Unit
6. Kiyokawa Maru Air Unit
7. Kamikawa Maru Air Unit
8. Kunikawa Maru Air Unit
9. Sanyo Maru Air Unit
10. Sanuki Maru Air Unit
11. No. 14 Kokutai (fighter wing)
12. No. 802 Kokutai
13. No. 938 Kokutai
14. No. 958 Kokutai
15. Miscellaneous units
16. Battleships, Cruisers and Minelayers
17. Submarine-based floatplanes
Acknowledgements and Sources
Index of Names
After a brief introduction to the author, the book explores the challenges of deciphering IJN organization and unit codes and markings. Aircraft and units were redeployed between parent units and other commands as necessary. Codes could change with restructuring of commands. Fortunately, the author can cite a 'blueprint' for the subject; regulations published by the Combined Fleet in November 1940 dictated character formats, colors and numbers, and the assigning authorities. He addresses exceptions, including manufacturer-level color use. Glossary & Abbreviations presents mainly Japanese terms, and a chart demonstrating the difficulty to unequivocally identify floatplane units in the IJN 'South Seas' theater. Next, we are immersed into the chapters of tactical and technical markings, and camouflage the aircraft wore in Pre-war IJN Floatplane Markings. These chapters are richly illustrated with photographs and artwork. It starts with a brief history of IJN integration of seaplanes and progresses into camouflage and further markings. Kumogata was a 1937 camouflage scheme developed for operations over China and it is described, along with colloquial terms for and changes of camouflage. We receive an overview of service marking used for positioning trolleys, slings, and warning marks. We also learn of ship-borne air detachment tail code developments. Along with several photographs, the text is supported with six profiles with descriptive captions. An instance of tail code changes is illustrated and described.
While each chapter reveals exciting stories and information, perhaps my favorite chapter of this book is R-Area Air Force, which recounts the history of that command. Even without illustrations it is fascinating. It presents the parent ships and units the force was built from, dates, organization, descriptions, commanders, compliment of aircraft and crews and defensive troops, mission, selection of sites, serviceability numbers, and an overview of combat experiences. Informational tables support the text along with aircraft profiles. The exploits of Submarine-based floatplanes are equally amazing to read.
Chapters 3-17 introduces us to the air units. Pacific Profiles are a wealth of information and each Kokutai ("Ku") chapter begins with a history of the unit including:
· Commanding officers
· Establishment location and training areas if pertinent
· Base of arrival in-theater
· Aircraft tail code unit prefixes
· Aircraft manufacturer numbers
· Date of commencement of operations
· Combat
· Losses
· Transfers
· Re-equipping
When available, each unit history includes the record of losses of pilots and aircraft (with name and cause when known), e.g., FPO1c Hori over Tulagi. Several instances of air unit personnel fates fighting on the ground are chronicled. Sometimes victory claims are mentioned, e.g., No. 201 Ku. The author may note kills claimed during a fight but will compare those to known Japanese and Allied losses. Personal interest stories are found, e.g., Lieutenant (jg) Yamazaki was a photographer, and top Marine ace Joe Foss shot down by a lowly Pete. Each chapter continues with a treatise on the markings and colors of the aircraft. Hokoku aircraft are mentioned and shown in a photograph. Chutai subunits and command markings for buntaichos and shotaichos are discussed. Most Kus are presented through 3-5 pages of text and photos, with 4-8 illustrations.
Full color profiles with accompanying captions and commentaries round out each chapter. Anecdotes and information enrich many histories and some are fascinating, i.e., a Rufe pilot landed on the ocean after receiving severe float damage by a P-38 and was recused before his aircraft sank, an incident of a ramming attack, and detachments named for specific pilots.
For a book this size, it is a wealth of information.
Photographs, Artwork, and Graphics
An impressive gallery of black-and-white photos supports the text. They span the gamut of professionally exposed and developed images to amateur pictures. Some are stills taken from motion pictures. Many show damaged aircraft. Many more show Japanese photographs of life servicing and operating floatplanes. The author chose excellent images that visually confirm insignias and odd camouflage patterns. You may be as awed by these as am I.
Perhaps the most impressive part of the book is the original color artwork by the author of select aircraft. The publisher writes:
Each of the 76 profiles cites draws on evidence from colour photos, Combined Fleet orders, POW interrogations, technical reports and post-war wreck surveys.
As in the artist's Zero book, weathering and wear is illustrated. Many profiles are authenticated with a wartime photograph of the aircraft. Each profile is accompanied by a caption listing, if known:
· Type and model.
· Manufacturer number.
· Kokutai number.
· Assigned pilot, including the name in Japanese writing.
· Base.
· Date of completion/abandonment/destruction.
· Cause of abandonment/destruction.
Most of the profiles include a narrative of the history of the aircraft, most consist of a line or two. Many illustrations are accompanied by photographs of the subject aircraft.
The artwork depicts:
1. Flight scene: A Kiyokawa Maru Dave winging through the sky.
2. Combat scene: F4F Wildcat attacking F1M Petes over Guadalcanal.
3. Flight view: Kamikawa Maru Rufe colored by rising sun.
4. Flight view: E7K Alf from cruiser Naka.
5. Combat scene: F1M releasing bombs at an USN target.
6. Combat scene: No. 14 Ku Rufe dogfighting P-38s.
7. Combat scene: F1M Pete dogfighting a P-40.
8. Flight scene: a Dave at dusk.
9. Flight scene: a Pete at dusk.
10. Flight scene: a No. 958 Kokutai Jake landing to escape a storm.
11. Flight scene: Watanabe E9W1 of submarine I-21 above Sydney Harbor Bridge, 29 May 1942.
12. Profile: Kawanishi E7K2 Alf, ZI-51, Kamikawa Maru, 1938.
13. Profile: Nakajima E8N1 Dave, "Yo"-188, Yokosuka Ku, mid-1930s.
14. Profile: Nakajima E8N1 Dave, No.3, cruisier Nachi, 1930s.
15. Profile: Nakajima E8N2 Dave, No.14, Hakata Ku.
16. Profile: Nakajima E8N2 Dave, No. 2, battleship Mutsu, 1938.
17. Profile: Nakajima E8N2 Dave, AII-2, battleship Mutsu, August 1942, with a mix of sentai markings.
18. No. 17 Ku: 2 profiles of a hikocho E13A1 17-1 and a buntaicho F1M2 18-8.
19. Yokohama Kokutai (fighter wing): 2 A6M2-N profiles.
20. Chitose Air Unit: 3 F1Ms and an E13A.
21. Kiyokawa Maru Air Unit: profiles of 2 Daves; 3 Petes; 3 Jakes in different camouflages and tail code designs.
22. Kamikawa Maru Air Unit: 6 profiles of 4 Petes, a Jake and a Rufe.
23. Kunikawa Maru Air Unit: 6 profiles of F1M Petes.
24. Sanyo Maru Air Unit: 4 profiles include a Dave, 2 Petes and a Dave,.
25. Sanuki Maru Air Unit: 2 Pete profiles.
26. No. 14 Kokutai (fighter wing): 2 Rufe profiles.
27. No. 802 Kokutai: 4 Rufe profiles with interesting markings.
28. No. 938 Kokutai: 4 profiles of Petes and a Jake.
29. No. 958 Kokutai: 4 profiles of Petes and a Jake.
30. Miscellaneous units: profiles of an E13A before and after surrender paint applied.
31. Battleships, Cruisers and Minelayers: 16 profiles of Alfs, Daves, Jakes and Petes including one on a catapult; 3 separate floats displaying colors and markings of cruiser sentai 6.
32. Submarine-based floatplanes presents in profile, planform and head-on views:
a. Yokosuka E14Y, Submarine I-9, Espirito Santo, 11 November 1942.
b. Watanabe E9W1, Submarine I-21, Sydney, 29 May 1942.
Further graphics include tables and maps:
a. "South Seas" Floatplane Units, Deployment 1942-1944: showing individual unit deployments by month and fates; this ribbon chart demonstrates the difficulty in accounting for IJN floatplane assignments.
b. All submarine-based aircraft missions in the South Seas: date; Submarine; Target; Time.
c. R-Area Force,1 November 1942 is a table of organization and equipment for the 11th Seaplane Division. It lists the ships that supported the 1st and 2nd aircraft wings and their compliment of aircraft types. It further documents the Attack Unit, and includes an amazing list of two and three letter code names for various locations in the Solomons.
d. R-Area Force, 1 December 1942 presents a month of unit changes.
e. Ship-based tail codes and colors in the South Seas, 1942-43 presents, in color, tail codes for 31 ships.
Maps
I. Primary Floatplane Bases, South Seas Theater 1942-44 in New Guinea and the Solomons.
II. Shortland Base depicts the headquarters of the R-Area Force in December 1942, illustrating the landmasses and landing area, and keyed with the three main floatplane bases and numerous anti-aircraft sites.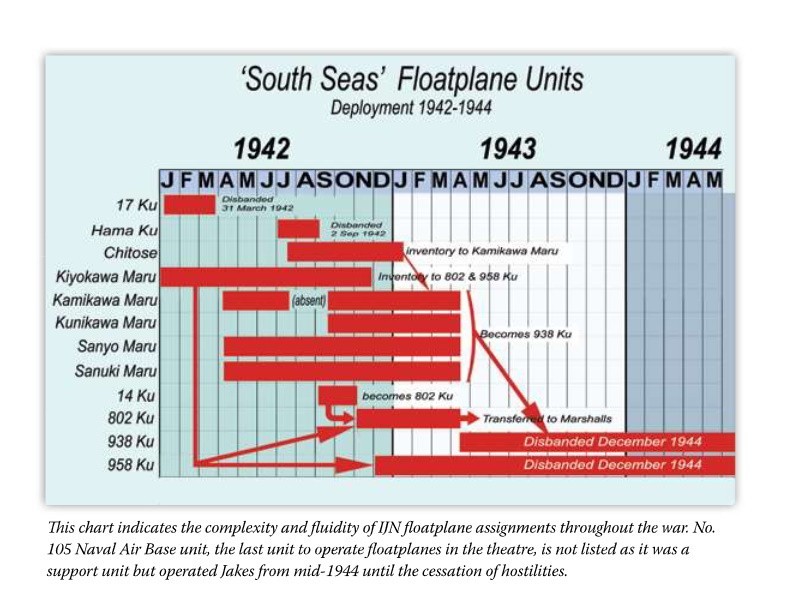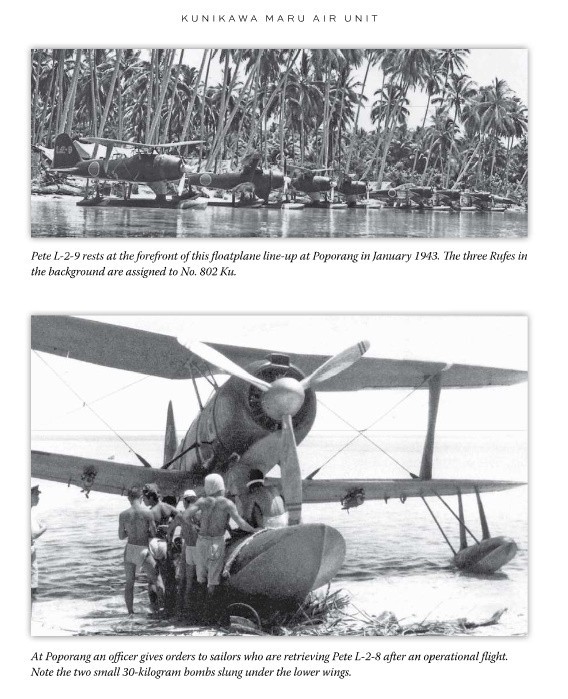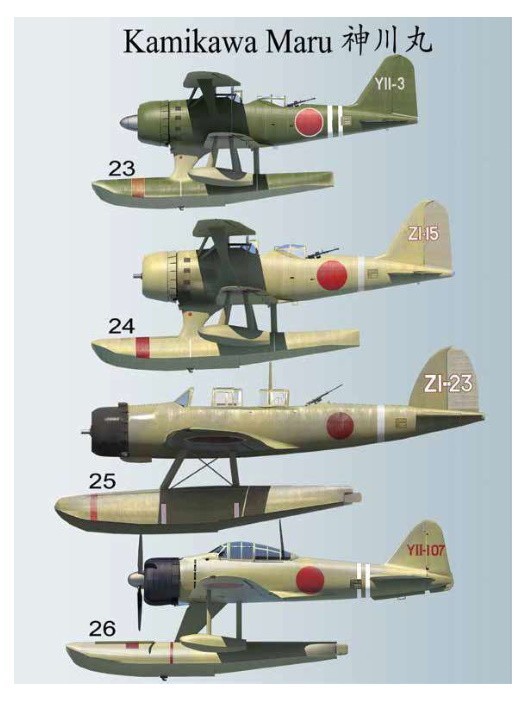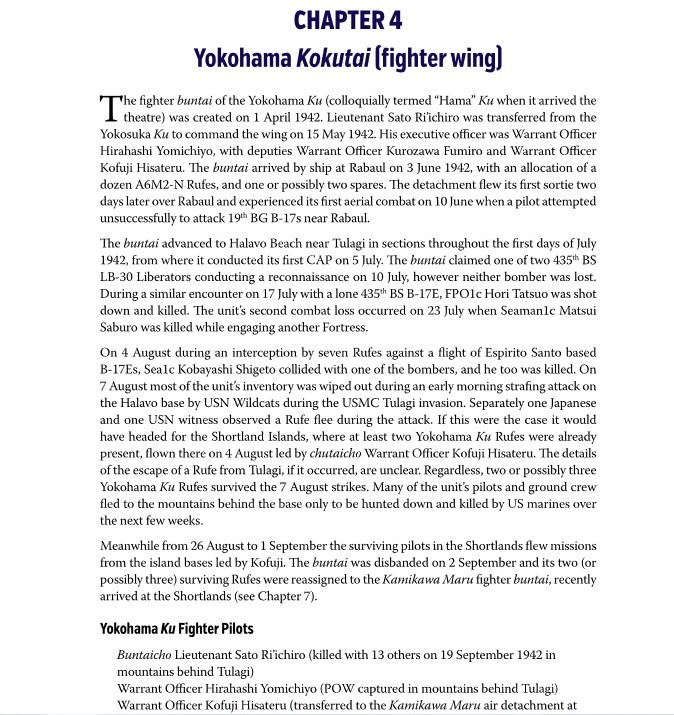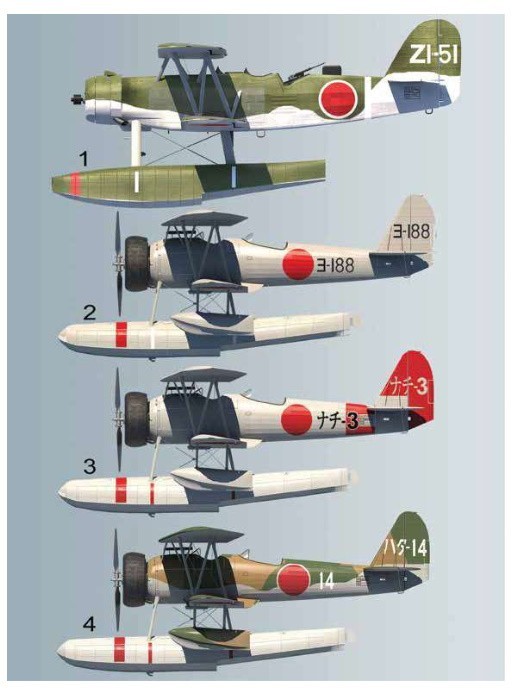 Conclusion
Okay, not to go fanboy here but while there are some books out there that have my attention, few do so to the extent of IJN Floatplanes in the South Pacific 1942-1944.  With this book Avonmore has fulfilled decades of desires for a history and analysis of colors and markings of South Seas floatplane subjects.   Exceptionally resreached and rendered artwork.  Clear useful tables of data.  Information covers more than mere airplanes, it documents personnel assignments and fates, combat, and organizational structures.   It is worth purchasing the book for the gallery of photographs and artwork. 

To keep it simple, I enthusiastically recommend this book.
Please remember to mention to Avonmore and retailers that you saw this product here - on Aeroscale.