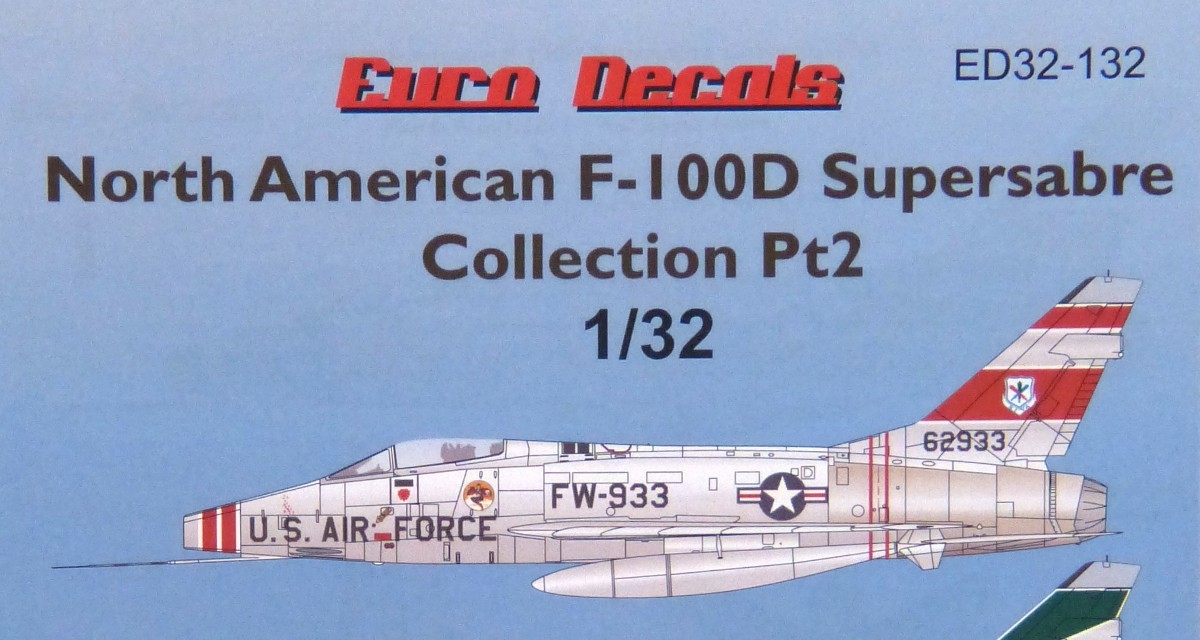 The Super Sabre's big fin is perfect for showing off colourful unit markings, so it's no surprise that Ray Horwell at Fantasy Printshop has released a second set of F-100D markings in his Euro Decals range.

The decals arrive in a zip-lock bag, with full colour A4 instructions.

This time the four featured aircraft are:
1. F-100D 56-3151 of the 481st Tactical Fighter Squadron, 27th Tactical Fighter Wing USAF, Cannon Air Force Base, New Mexico, 1959
2. F-100D 56-3056 of the 524th Tactical Fighter Squadron, 27th Tactical Fighter Wing USAF, Cannon Air Force Base, New Mexico, 1959
3. F-100D 56-2862 of the 454th Tactical Fighter Squadron, 323rd Tactical Fighter Bomber Wing USAF, Bunker Hill Air Force Base, Indiana, 1957
4. F-100D 55-2933 'CANDI II' of the 1st Day Fighter Squadron, 413th Day Fighter Wing USAF, George Air Force Base, California, 1959
The decals are spread across two sheets - individual aircraft markings on one, and US Air Force insignia and stencils for a single model on the other.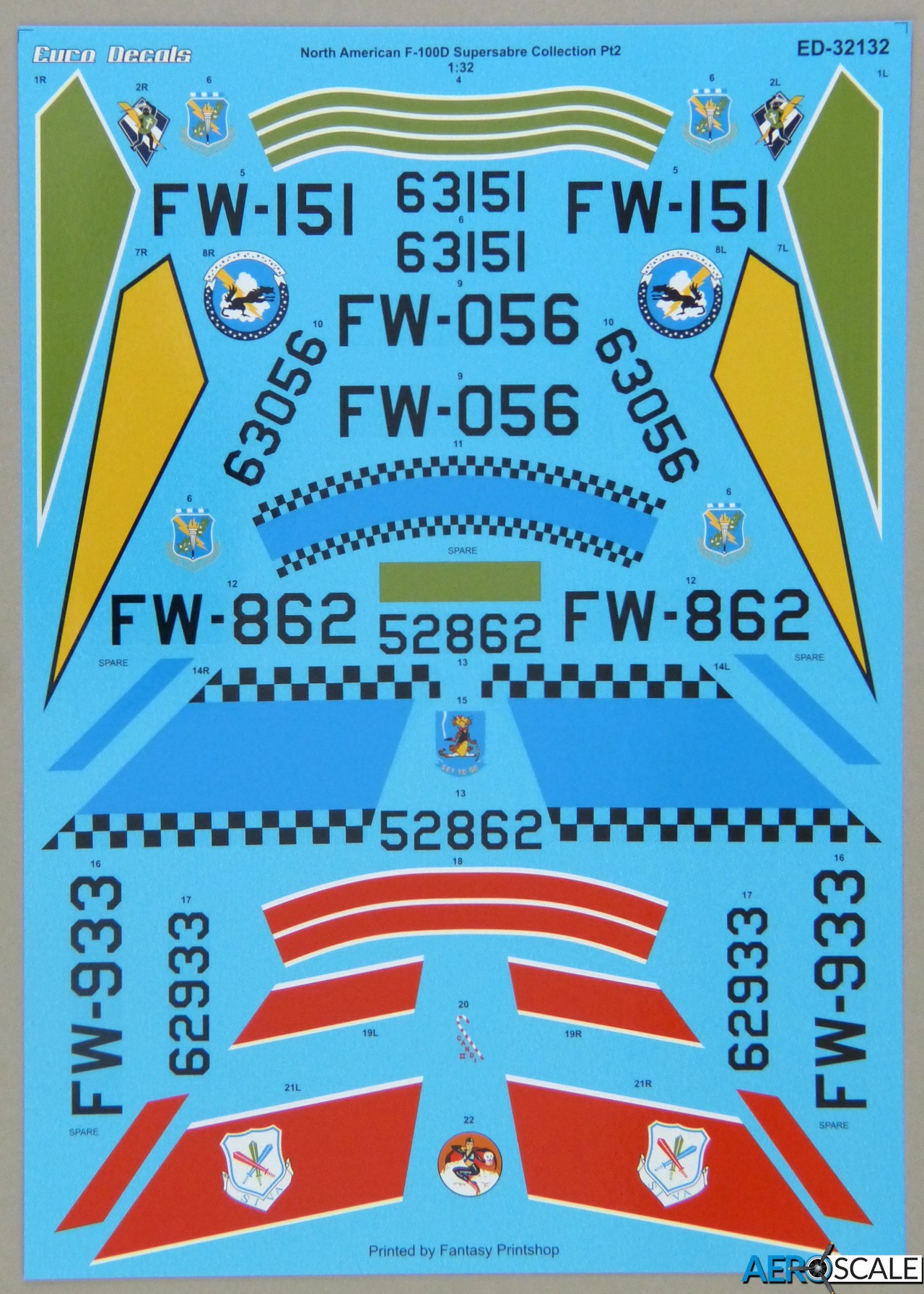 As we've come to expect from Fantasy Printshop, the quality of the decals is excellent, with the thin, glossy items showing pin-sharp register. The carrier film is crystal clear and has been kept right to the outline of the items except where it's used to provide support or to group multiple items. Using Fantasy Printshop decals previously, they've had great colour density and have snuggled down beautifully with light application of standard setting solutions.
The decals are accompanied by high quality full-page colour profiles and plan views of each scheme. Matches are provided for Humbrol, Xtracolour, Xtracrylix and Lifecolor paints.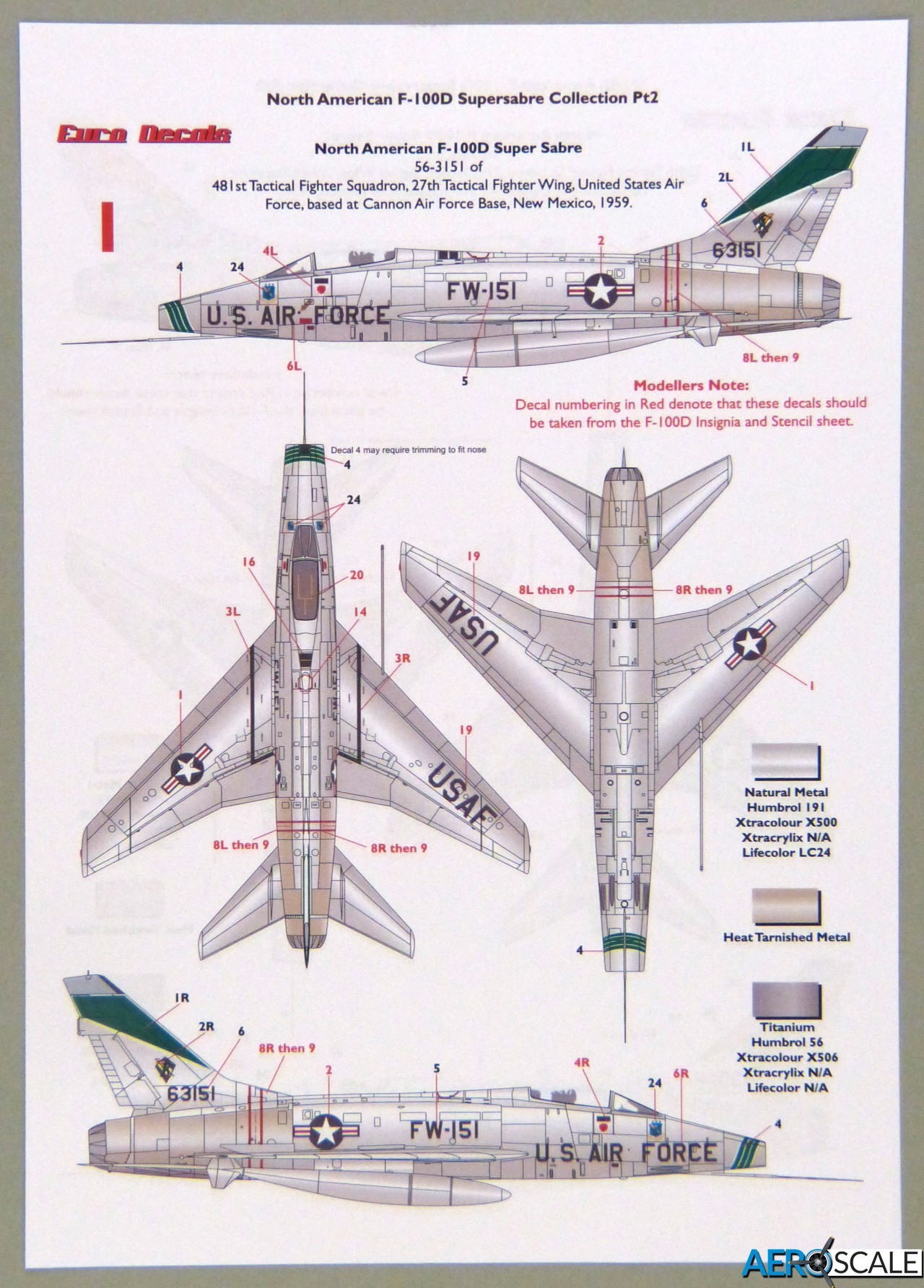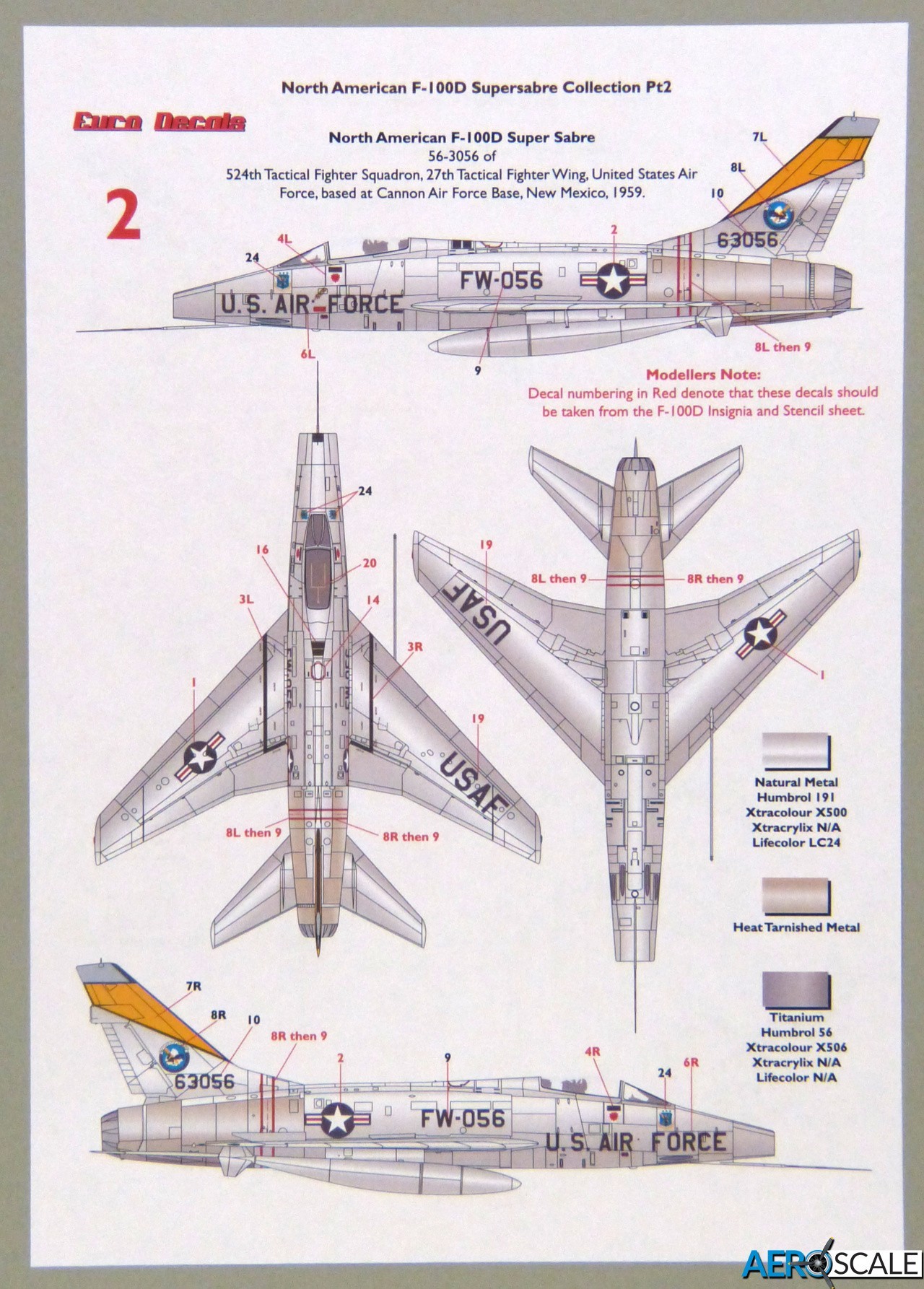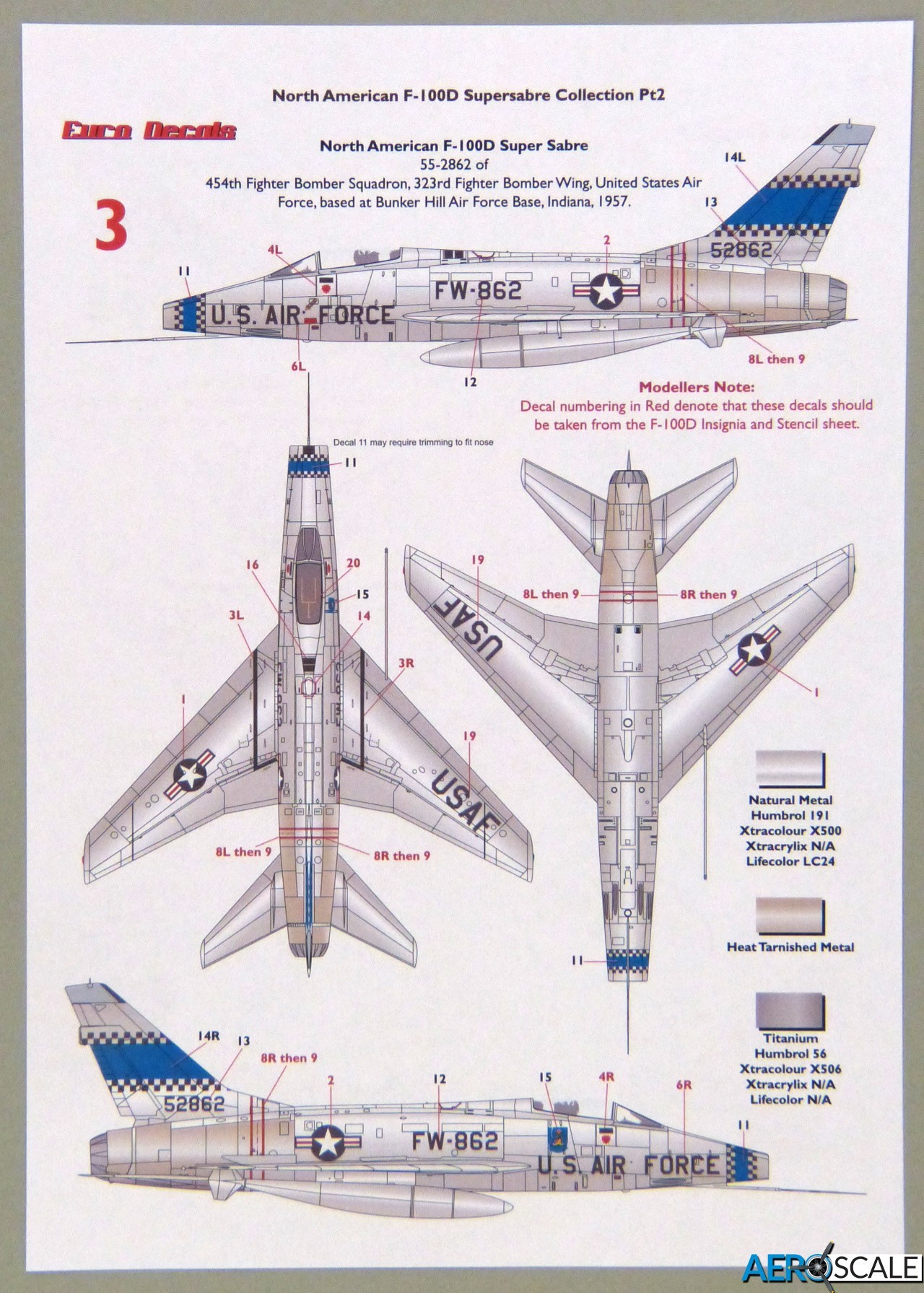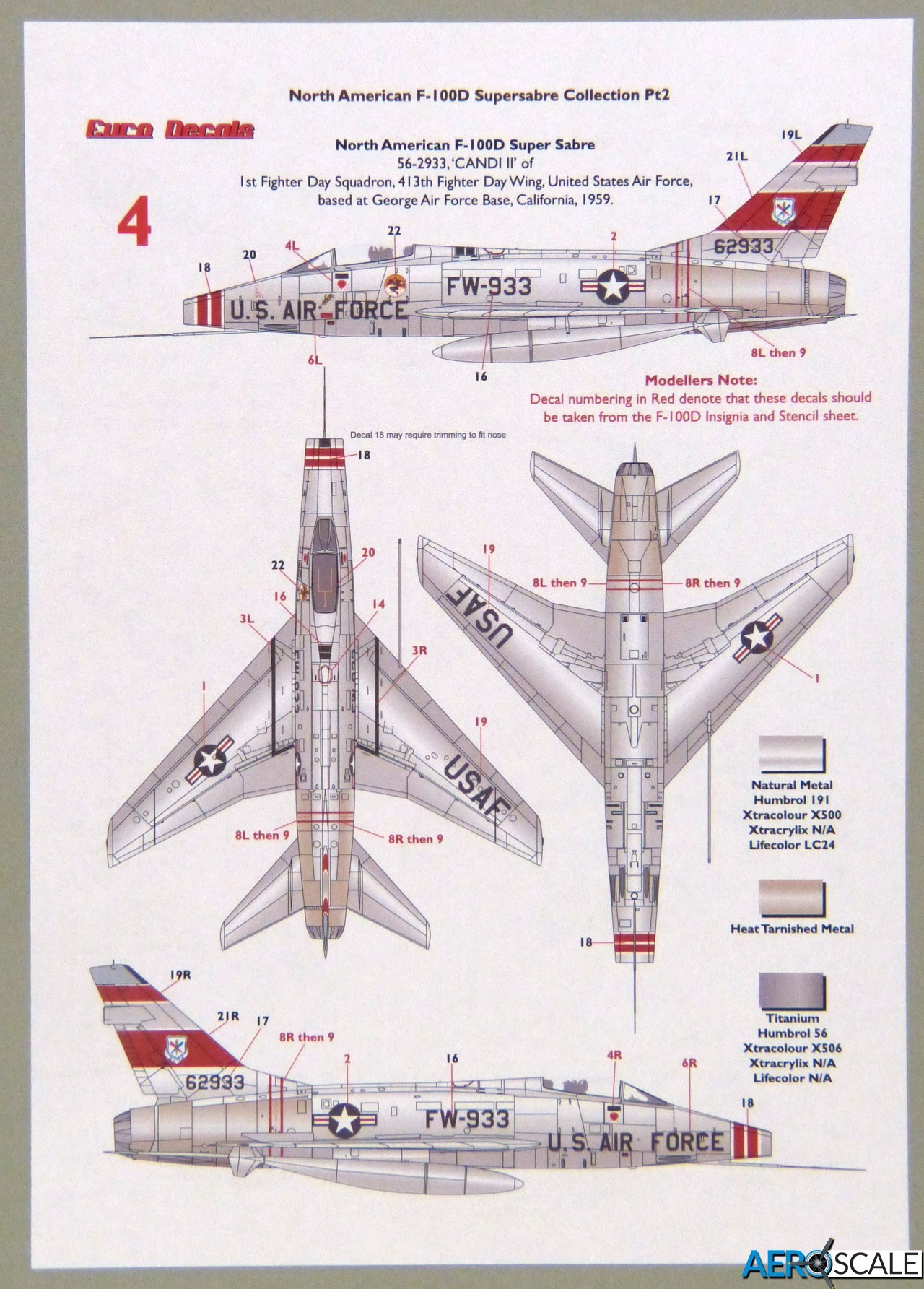 Conclusion
This is another excellent set from Ray Horwell at Fantasy Printshop. Ray produces his waterslide decals by hand with traditional silk-screen printing. This is a skilled and labour-intensive process, and quality like this inevitably comes at a price. The results speak for themselves, though, and any of these featured Super Sabres will be a guaranteed head-turner on a show table or in a model collection.

Euro Decals set #ED 32132 is available now from Fantasy Printshop - Price: £36.95
Many thanks to Fantasy Printshop for the review sample.
Please remember, when contacting retailers or manufacturers, to mention that you saw their products highlighted here - on AEROSCALE