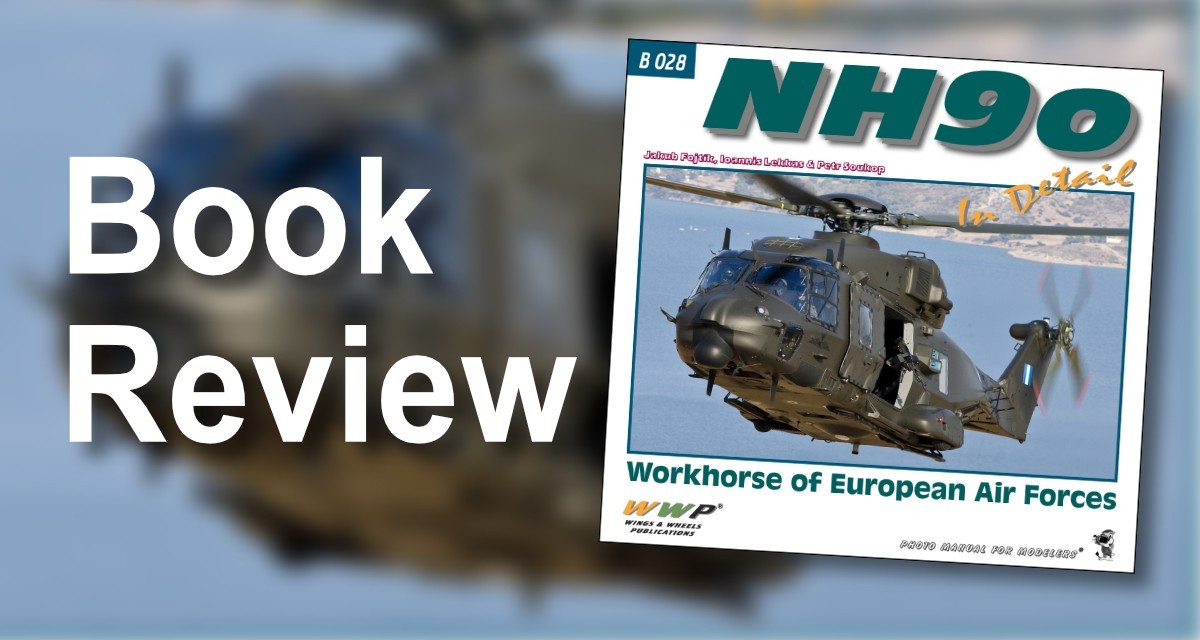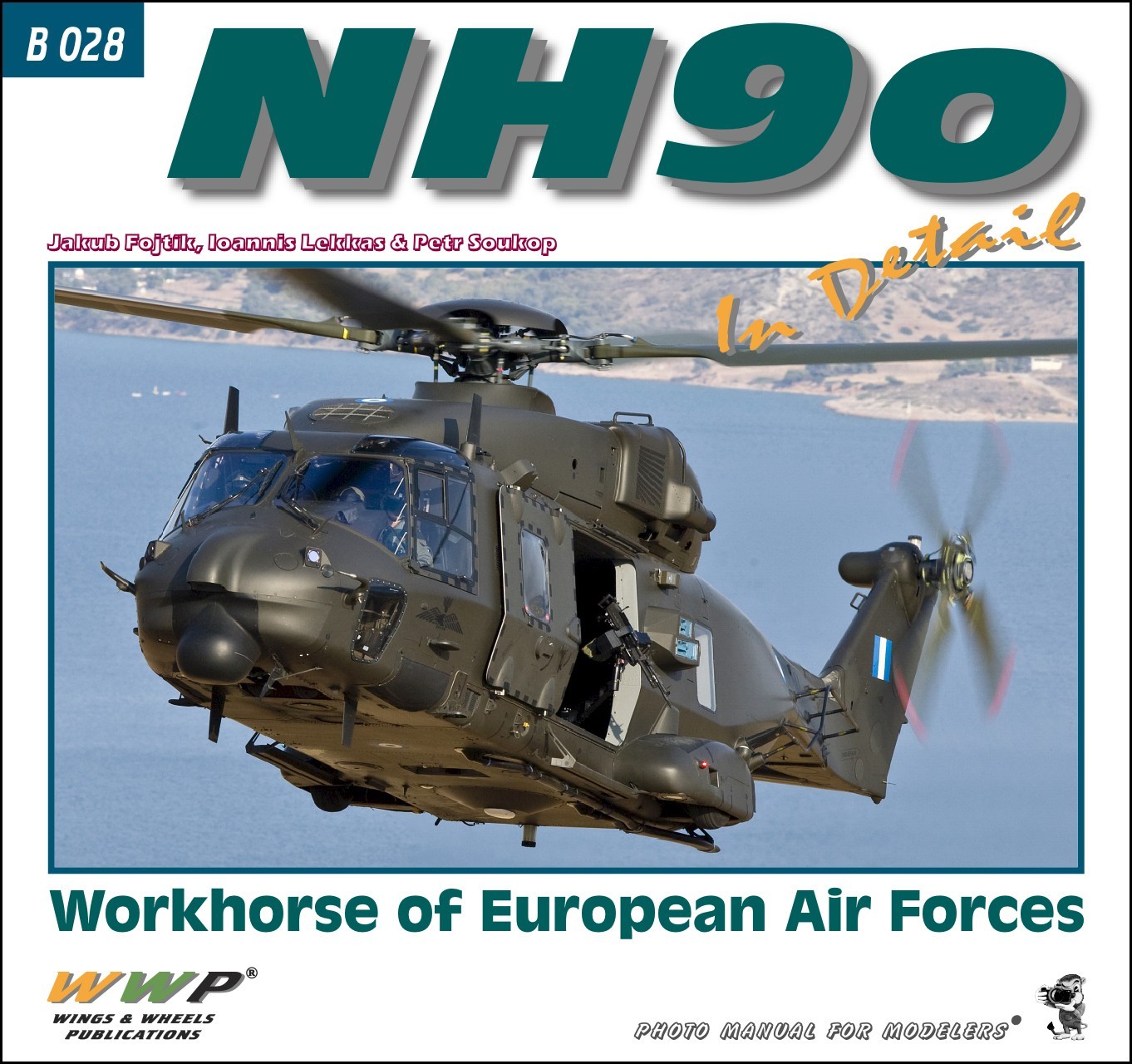 Introduction:
The sheer potential of a helicopter is amazing and perhaps the biggest proof of concept is the utility/transport multi-role that is widely accepted in every military in the world. A joint European idea emerged during the end of the last century for a new battlefield transport and naval ASW aerial platform, which led to the development of the NH-90 helicopter. Innovative technologies and composite materials were first introduced promising never-to-be-seen performance, modularity, crew protection, ease of maintenance but in the end, the NH-90 was plagued by performance/cost concerns and contract cancellations. Even though it may not be able to live fully up to ever-growing expectations, the NH-90 is still a proven and capable platform in the hands of 13 world's militaries.  
To learn more about this workhorse of European air forces, or to take your model to a different level of detailing, look no further for a stunning visual reference book on the NH-90 and its variants by WWP.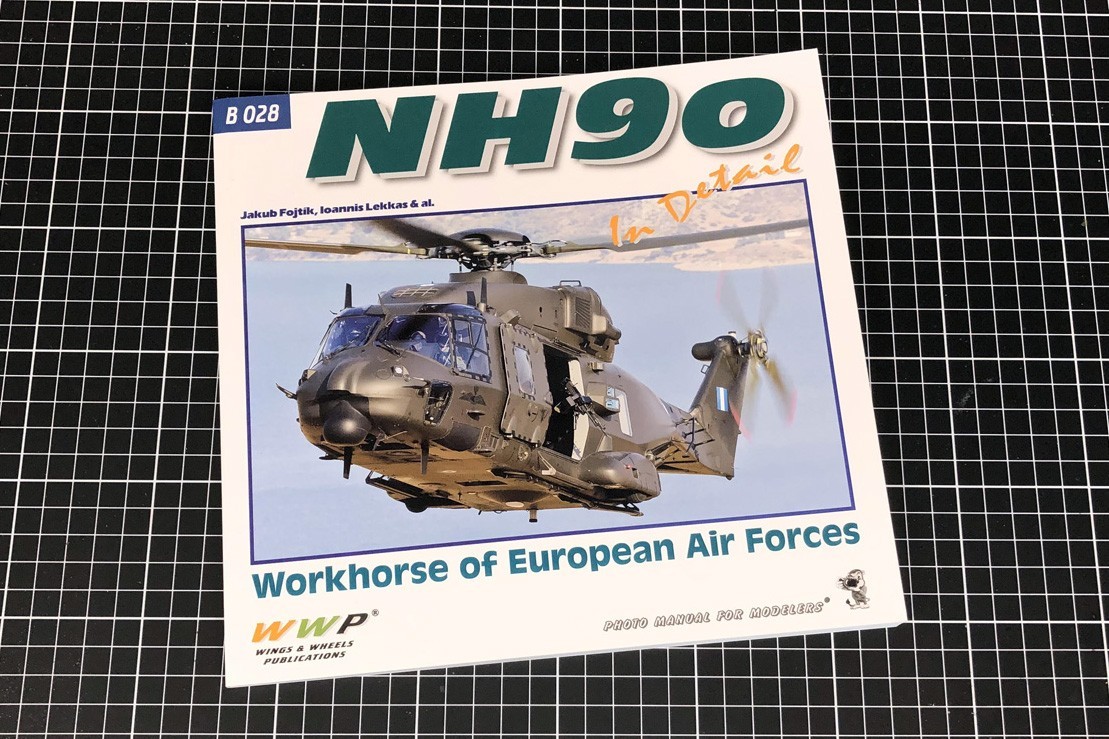 Review:
Title: NH90 in detail - Workhorse of European Air Forces

Publisher: Wings & Wheels Publications (WWP)
Code: B028
Authors: Jakub Fojtík, Ioannis Lekkas et al.
Format: softcover (22x24 cm)
Pages: 156
Photos: 300+ (color)
Color: full color
Language: English
ISBN: 978-80-87509-72-2
Retail Price: $53 (€44)
Like all other WWP publications, this one is excellent as a handy reference book on your desk or a treasured addition in your ever-growing library. The book is printed on high-quality paper and comprises of 156 pages filled almost exclusively with large high-res photographs of the subject showing all the possible detail inside and out, accompanied by short image captions. Folding the book in landscape layout is possible and will not break the spine if you're using it as a reference while modelling.

This particular title delivers over 300 color photographs covering both versions of the NH-90 (TTH – Tactical Transport Helicopter; covered by pages 4-107, and NFH – NATO Frigate Helicopter; covered by pages 108-131) in great depth. The chapters are color coded on the page edges and allow for easy navigation:
TTH users:
• Belgian TTH
• Greek TTH
• German TTH
• French
• Spanish
• Australian
• New Zealand's TTH
• Swedish HCV TTH
NH users:
• Belgian NFH
• Dutch NFH
• French & Italian NFH
• Swedish HCV NFH
TTH close-up walkaround:

1) EXTERIOR
• nose details
• cockpit windows
• cockpit details
• fuselage left side
• fuselage right side
• rescue hoist
• on-board weapons
• external fuel tanks
2) INTERIOR
• cargo cab
• cargo cab – left/right side
• cargo cab – floor/rear ramp
• seats
• rear part
3) OTHER
• undercarriage details – front, right/left main 
• rear cargo ramp
• tail boom
NFH close-up walkaround:

1) EXTERIOR
• nose details
2) INTERIOR
3) OTHER
• fuselage left side
• fuselage right side
• bottom and rear
• pylons and weapons
• tail details
Common close-up walkaround:
• fuselage roof details
• engine cowlings
• exhausts
• air intakes
• engines – left/right
• transmission
• tail rotor drive shaft
• main rotor
• tail rotor 
• parking and FOD covers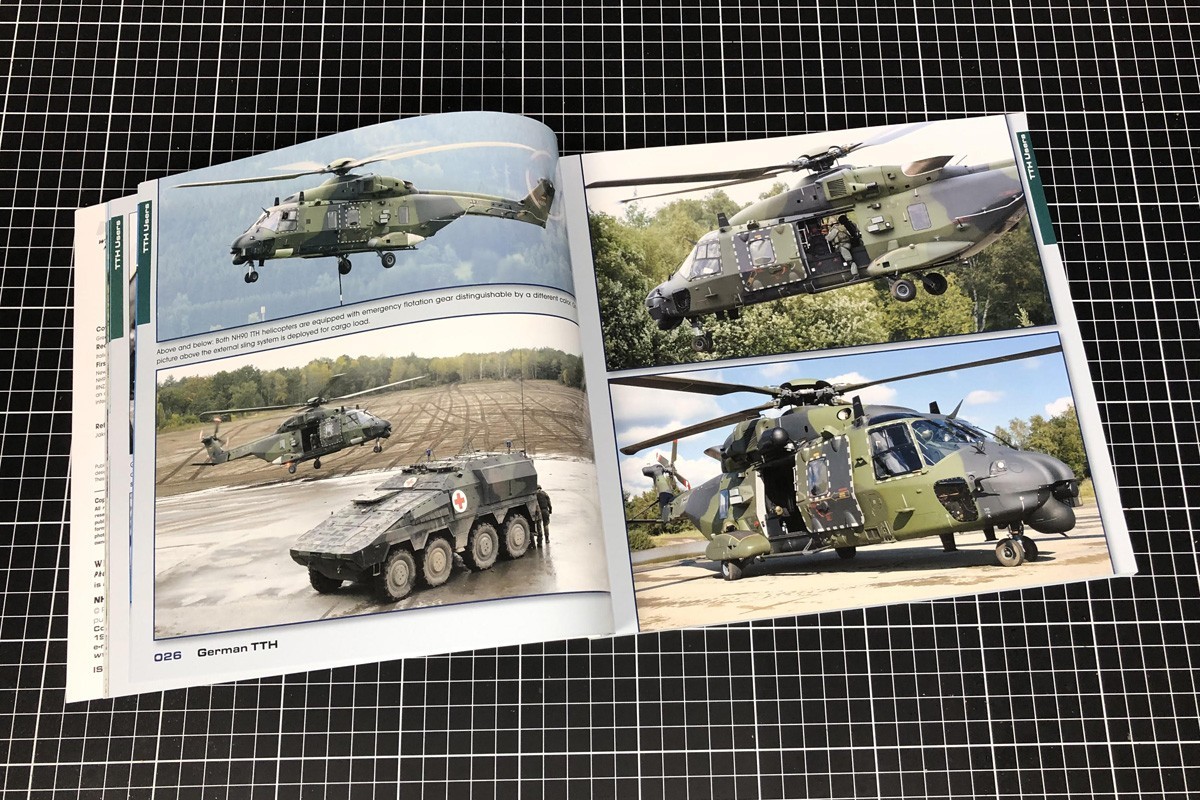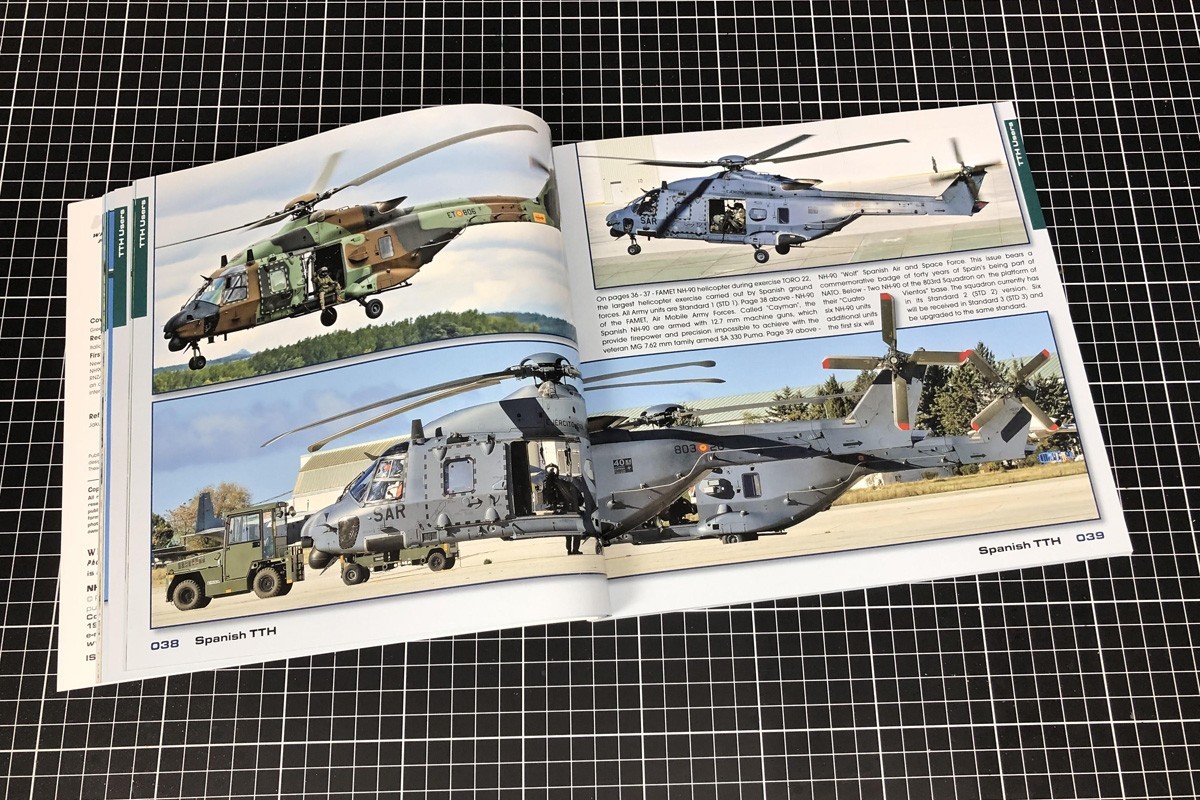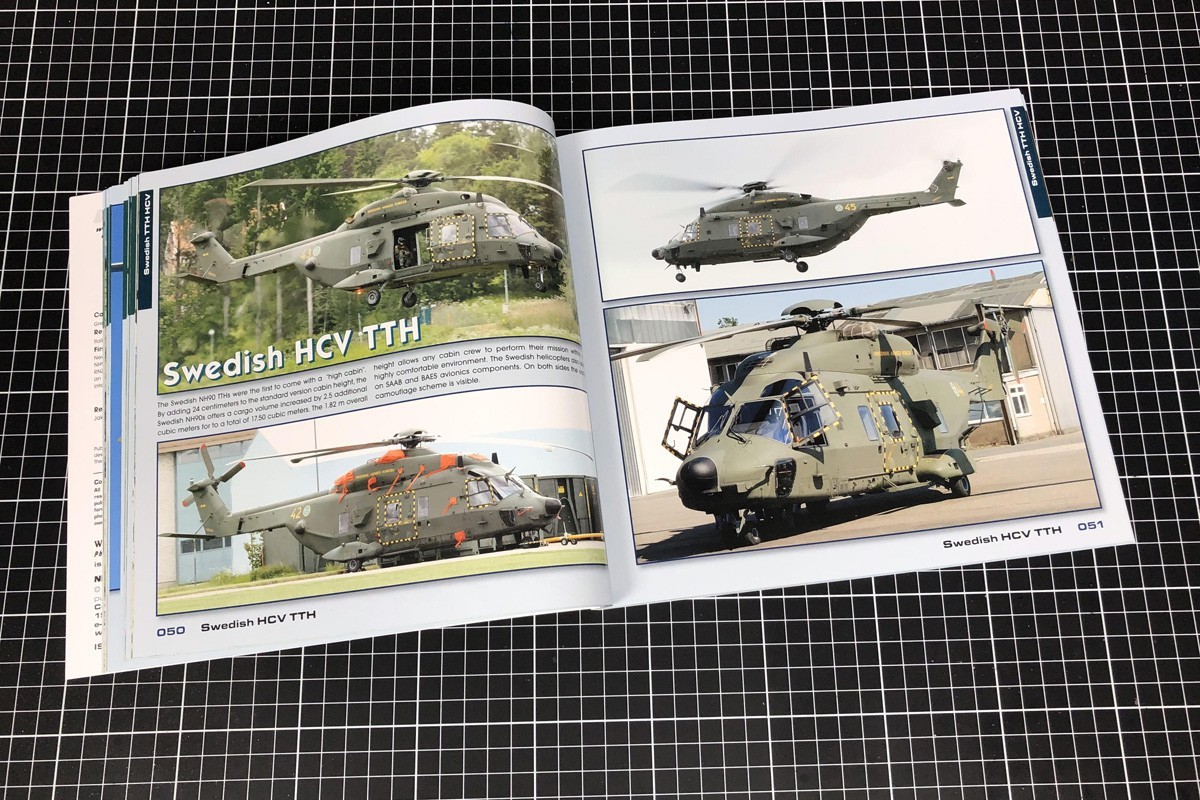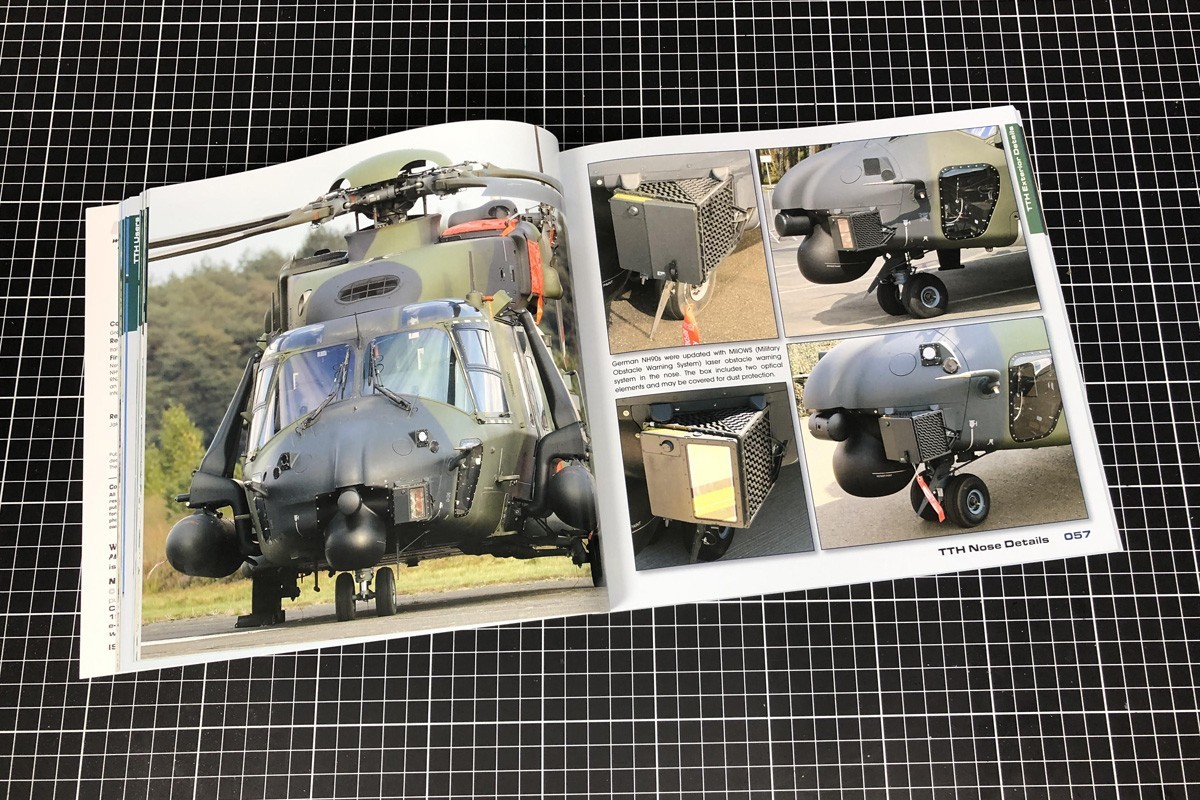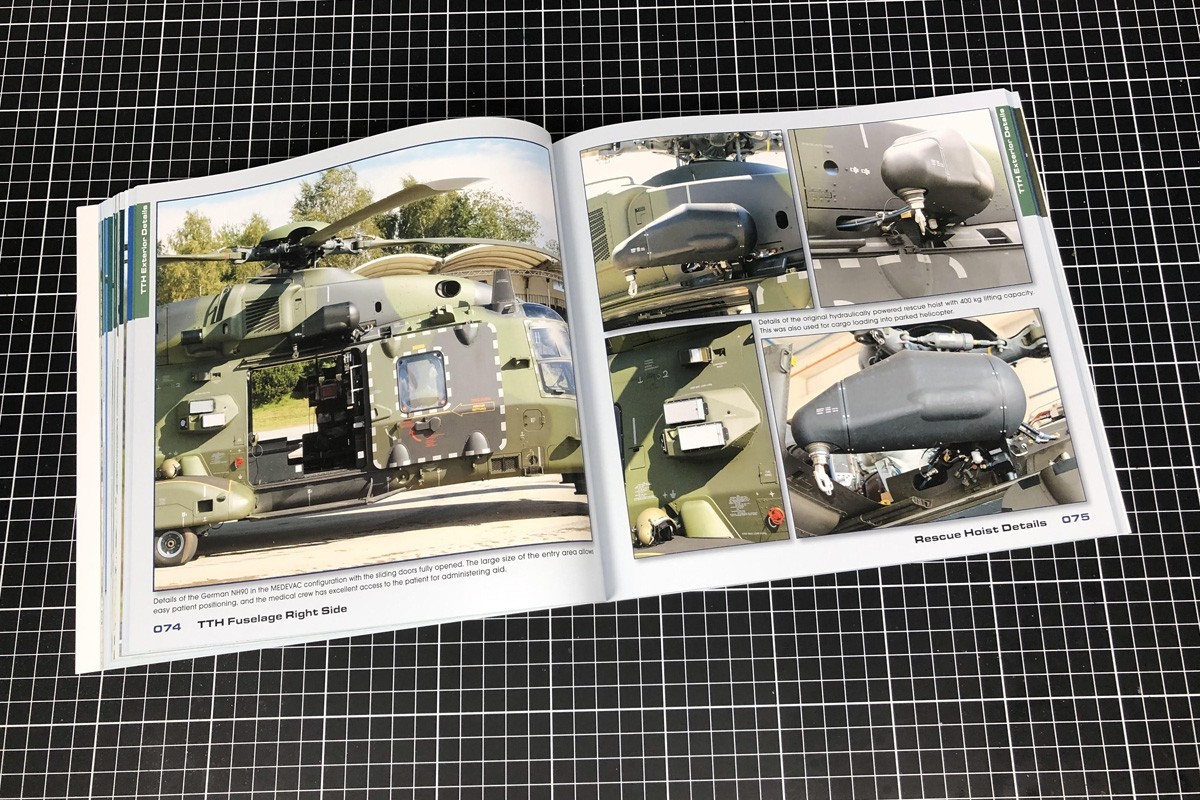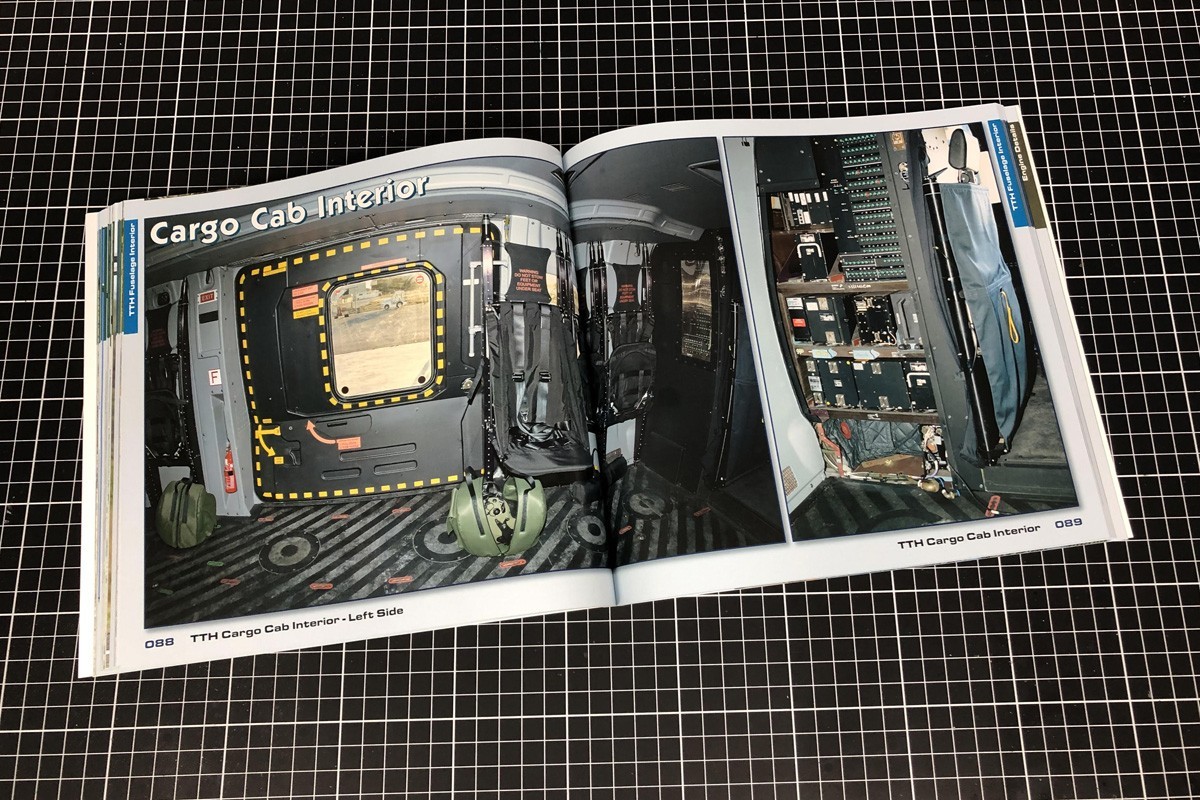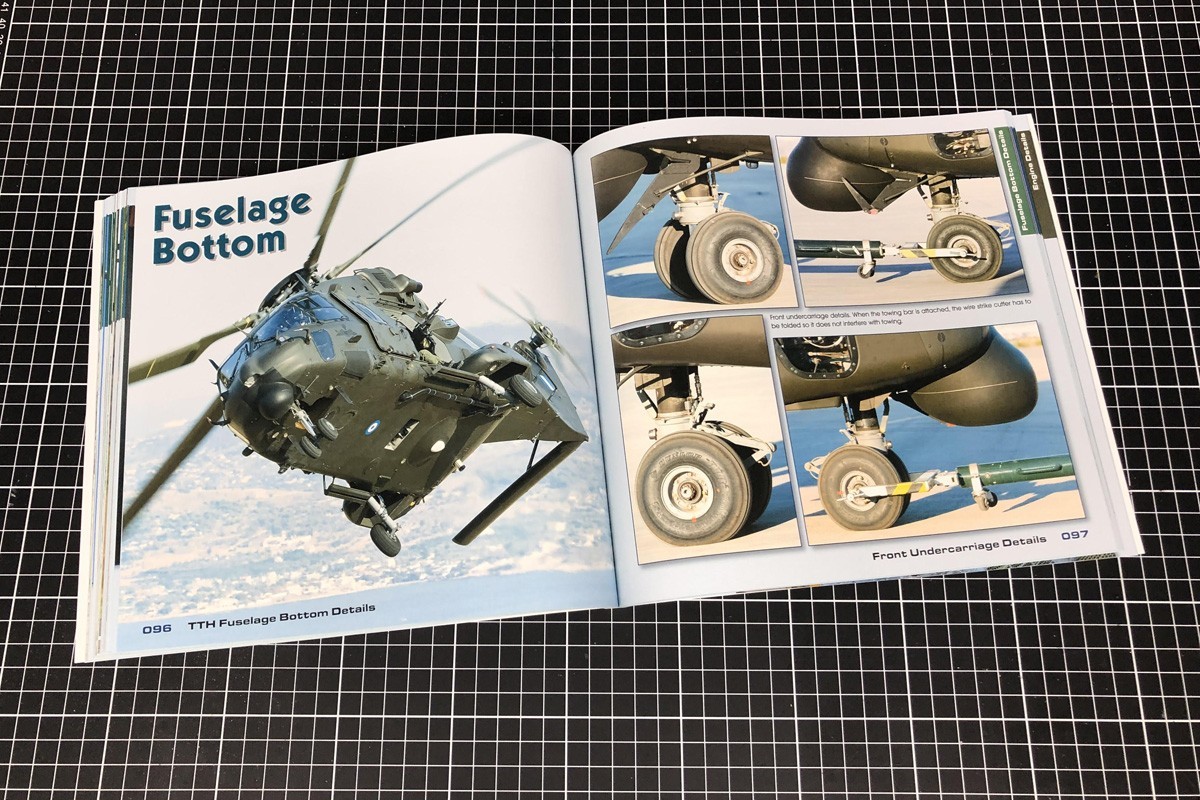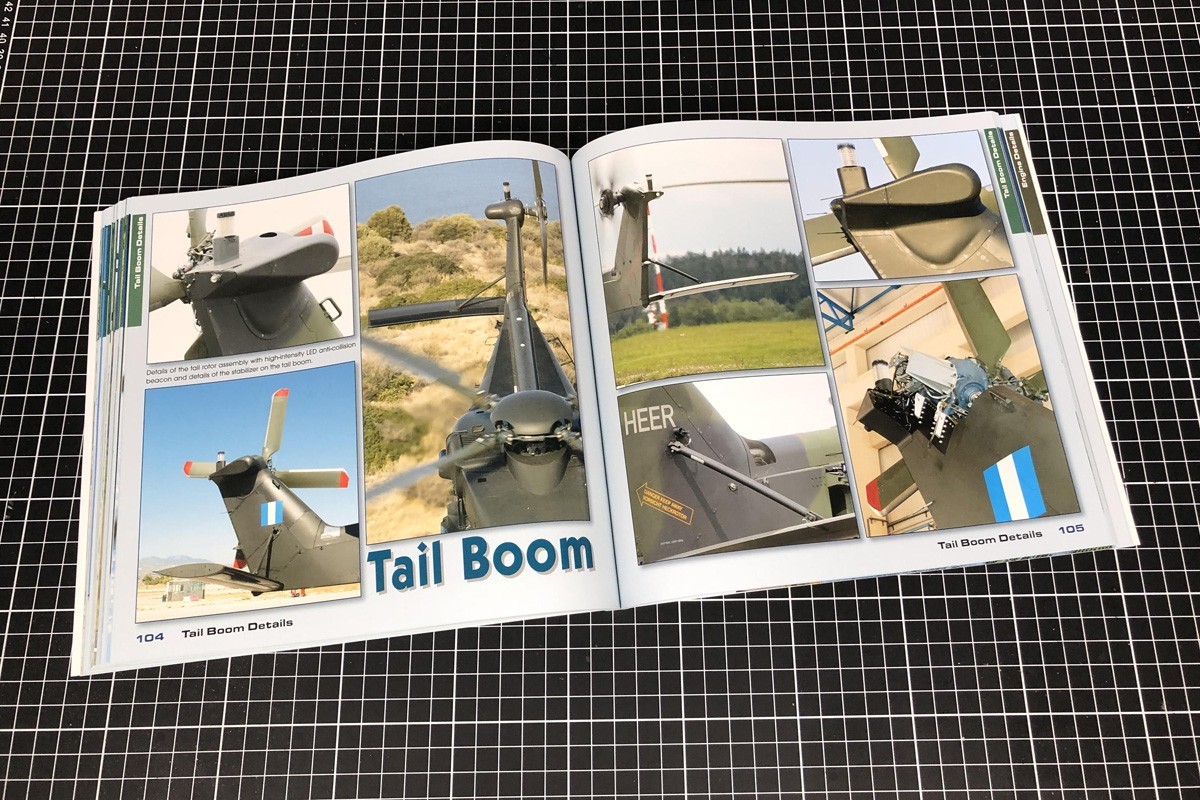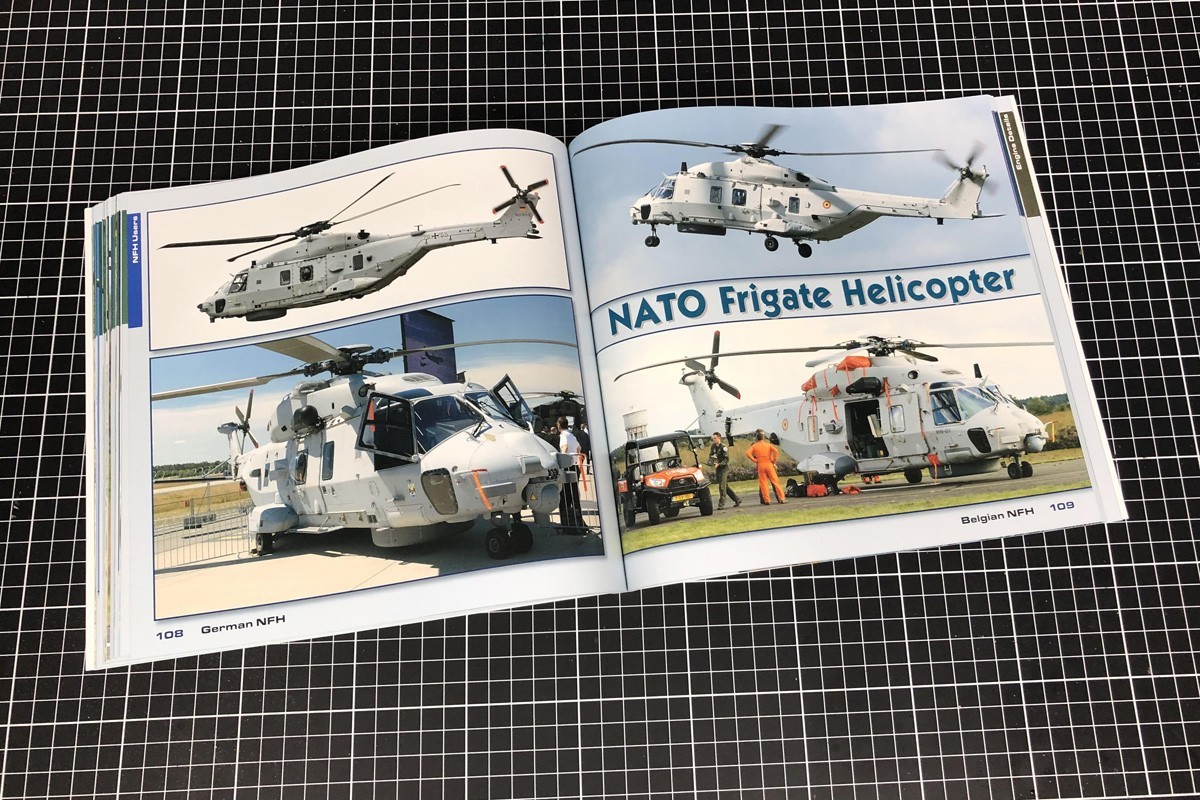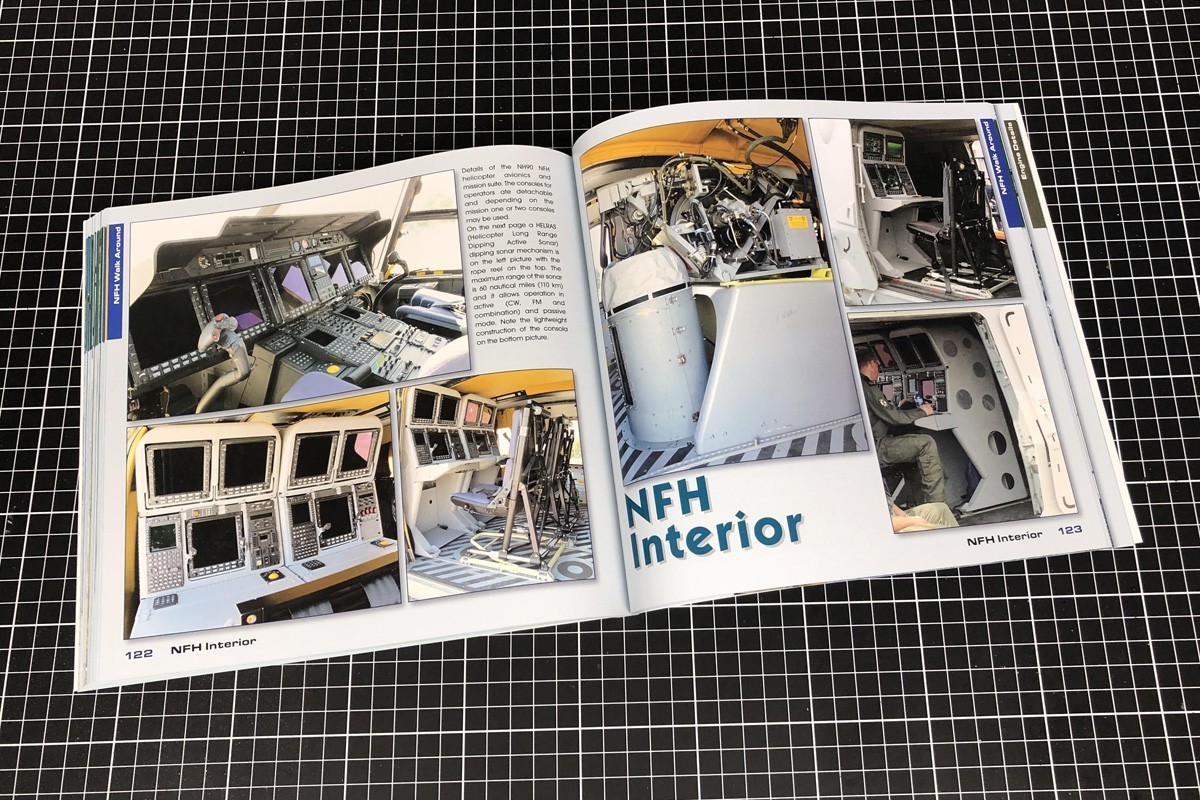 With every joint aircraft project large as this one, there is bound to be interesting things in the background and the authors share the history and the development with the reader in the first section while describing user variants. History chapters follows HQ images of the first 8 users: Belgian, Greek, German, French, Finnish, Spanish, Australian, New Zealand and Swedish AF and show great detail of the overall look and only a hint of slight weathering of these machines in use. Note that these helicopters are pretty well maintained and most of them have not seen many deployments to combat areas so weathering is minimal. 
Walkaround section is where this book shines. The captions provided give many details on usage and various user modifications. Every world user of the NH-90 is described along with the differences in model versions and configurations. Various sensors, FLIR, weather radar, self-defence equipment are provided in detail in the nose details section. Large cockpit glazing as well as other connected details such as: doors, glass, wire cutters, locks etc. for both crewmembers are thoroughly shown and it's a great intro to a well detailed cockpit section.
The NH-90 cockpit is very detailed since this particular helicopter was envisioned to sport all of the most advanced avionics available in the day. High-res images show the complexity of the avionics, overhead panels, buttons and switches as well detailed flight controls. Everything in the flight deck is covered from several angles to ensure no details are skipped. 
The exterior fuselage is well detailed and many minute details are shown in the pictures: from flare dispensers, defensive suite sensors, ports and vents, and the main hoist used for rescue and cargo loading. Since this is a combat transport, some weapons are bound to be onboard. The main weapon stations are in the cargo bay supported on pintle mounts. Depending on the user, weapons used are mostly area suppression weapons such as the M3M .50cal machine gun, M240B, M134DH mini-gun, MG3 etc. To increase flight range, the NH-90 uses standard 617l external fuel tanks, which will definitely increase visual interest if used on your scale model.
The business end of any transport helicopter is its cargo bay. Loads of useful details are provided in the book; from various circuit breaker panels, floor details, foldable seats and plumbing to cargo bay door details.  The cargo ramp is shown in the latter sections of the walkaround. If you are trying to bring more detail this is the place to see. One minor nitpick is that the book depicts a clean cargo bay so you're on your own if you want to place stowage the correct way.
Other fuselage details such as the undercarriage is described in the next segment. Various angles show the flotation gear and gondolas. Formerly mentioned cargo ramp is well detailed in both open and closed position. Different user versions also differ in on communication equipment carried on the tail boom, which is noted as well.
After the TTH version, the following book section describes the NFH (naval) version. A short history introduction is given, followed by a quick user variant description. Extensive outside walkaround is shown in lots of pictures and captions but the interior is the biggest let-down of this part. Since a lot of the naval on-board equipment is quite specific and probably still classified, not a lot of it is shown. What is to nicely shown though is the ASW stores and tail-fold mechanism which you can now use to detail your model.
The top fuselage and air intakes section provide more than enough details from various angles and show off everything from mechanical parts, inlets, wiring, step/service platforms, piping etc. Following is the engine bays  and exhaust section and here are well documented the differences between early and late models. A with any of the WWP publications; the transmission, rotor head, APU, main and tail rotor detail give an enormous amount of details on the structural parts, mechanics, wiring, plumbing, from every conceivable angle so all you need to apply this to your model is build and paint everything. 
A nice touch for modelers is the last page showing FOD covers on the right fuselage side and both naval hangar and ground parking surrounding and tie-downs that can be used for your model or diorama/vignette potential. The color contrast will definitely be eye-candy on a bit more drab fuselage.
Conclusion:
These WWP books are a wealth of knowledge and a visually stunning photo reference for modelers and aviation enthusiasts. The print and the images are high quality with useful captions and are worth going over after you have read the book once. Due to the large number of users of the NH-90 and different versions and loadouts, this book could have been a multi-part set, but this volume is more than enough to satisfy your modelling and enthusiast needs.

Highs: high quality images, multiple angle photos.
________________________________________
Lows: the NFH version is far less covered than the TTH but due to version commonality and sheer volume of details pictured in the book, this is not a major omission just a personal nitpick.
________________________________________
Verdict: Highly useful resource for modelling purposes. Expertly picked out and very scale-modeling oriented reference images that will give you ample references for detailing out your model.
Please remember, when contacting retailers or manufacturers, to mention that you saw their products highlighted here - on AEROSCALE