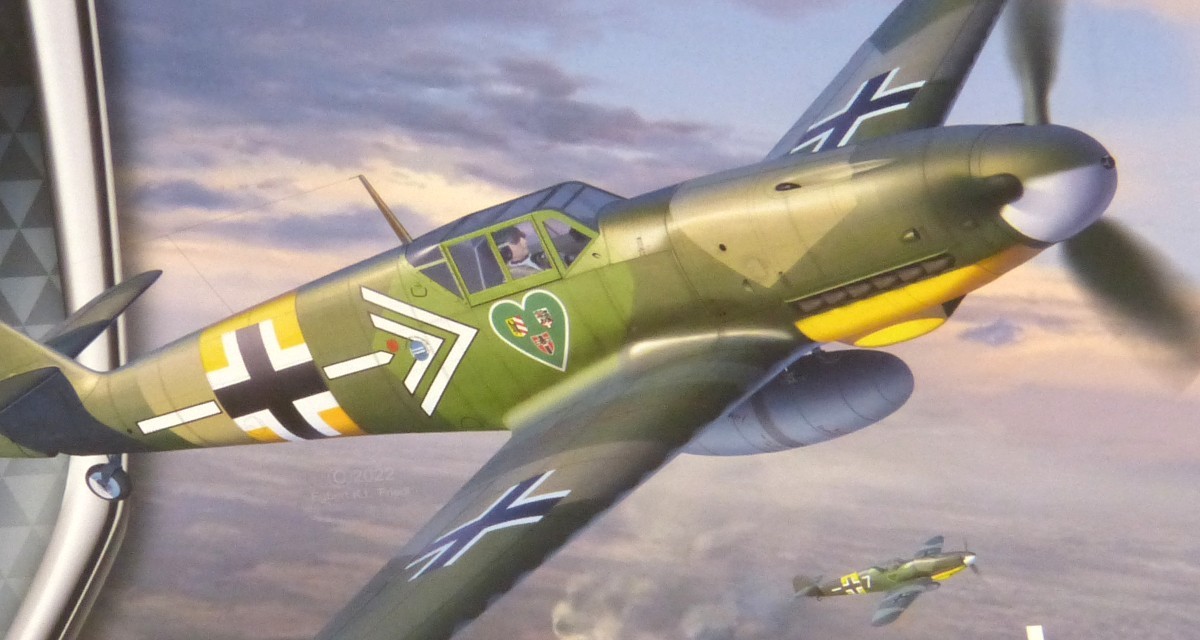 It'll be no secret to anyone who knows me or has read my reviews that I'm always a sucker for a '109! Just as Mal Mayfield famously says "You can't have too many Spitfires!" (and I fully agree with him), I can always find room for a new kit of Willy Messerschmitt's most famous creation. So, I was obviously excited when Revell Germany revisited their 1:32 Bf 109G kit to rework things and release an early-model Gustav - a 'G-2/4.

The kit comprises:
130 x parts (plus 1 extra)
10 x clear styrene parts (plus 1 spare)
Decals for 2 x colour schemes
Revell's largescale Gustav has been in production for a number of years now, but it's still pretty new in kit terms, so it's surprising to see flash appearing in several places. In my example it was particularly noticeable on the rudder pedals and gunsights, so be ready to spend a little extra time preparing parts if need be. Other than that, the surface finish is good, with neatly engraved panel lines and some raised details. 

Fabric surfaces are moulded nice and taught with rib-tapes - strictly speaking a bit heavy, but you can always knock them back a bit if you wish.

Sink marks aren't much of a problem, but I did notice one or two minor ones that will need sorting out. Knock-out pins have been kept out of harm's way, but what is a problem in my kit is some distortion of the cowlings around the exhaust openings. This might not be an issue in every example, but it's worth watching out for if you can examine the parts prior to purchase.

Dry Fit
Construction is a little bit unusual due to some design decisions Revell have made - mostly in order to allow multiple versions of the '109 to be built from a core set of parts instead of totally retooling.
So, the fuselage features an open nose area extending right back to the front of the cockpit, with an internal framework to support exterior panels. The fit's very good (and, in fact, the interior frame should help with straightening out the distorted exhaust openings in my kit). 
The wings are split into left and right panels, with separate inboard sections to cater for optional wheel bulges. The joints follow full-size panel lines and, again, the fit is good. However, I still think a little work might be necessary to match the appearance of the engraved lines. On the plus side, Revell have included separate slats (they'll forever be "Steffen" slats for long-term members of Aeroscale).

A Few Details
Assembly begins logically with the cockpit, which is pretty nicely fitted out with around 18 parts. The instrument panel is crisply detailed with correctly styled bezels and Revell provide decals for the instrument faces. The fuel line is moulded clear and there's a choice of gunsights. The rudder pedals are the correct style, but they are a bit clunky (the flash in my kit doesn't help) so I'll replace them. 

The one thing I really don't like is that Revell have chosen to mould the seat harness integrally with the seat pan and back, and it really isn't very convincing. Of course, you can add an aftermarket set, but removing the moulded straps won't be straightforward to remove. I wish they'd gone with decals - or, better still, a set of etched belts. Credit where it's due, though - the walls of the seat pan are impressively thin.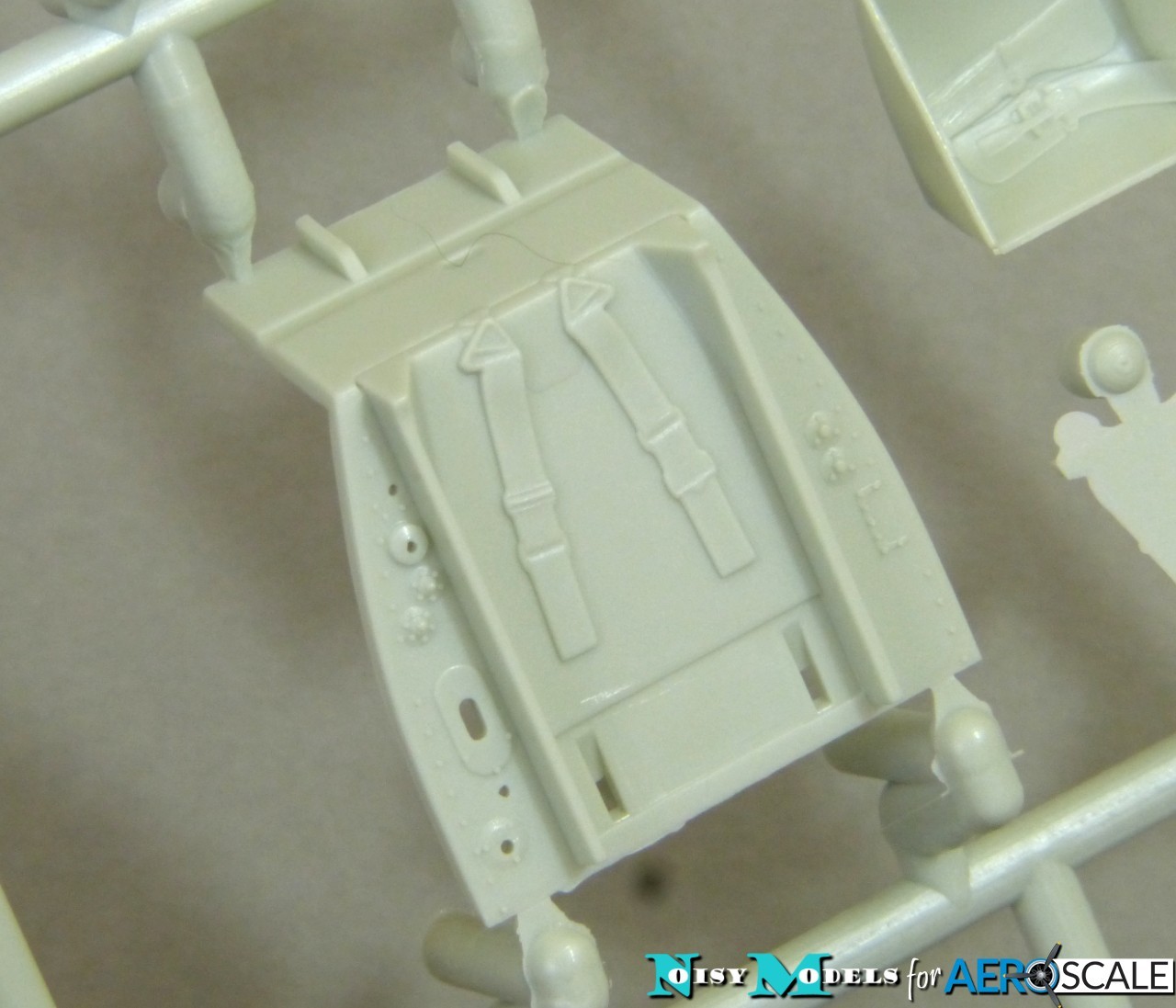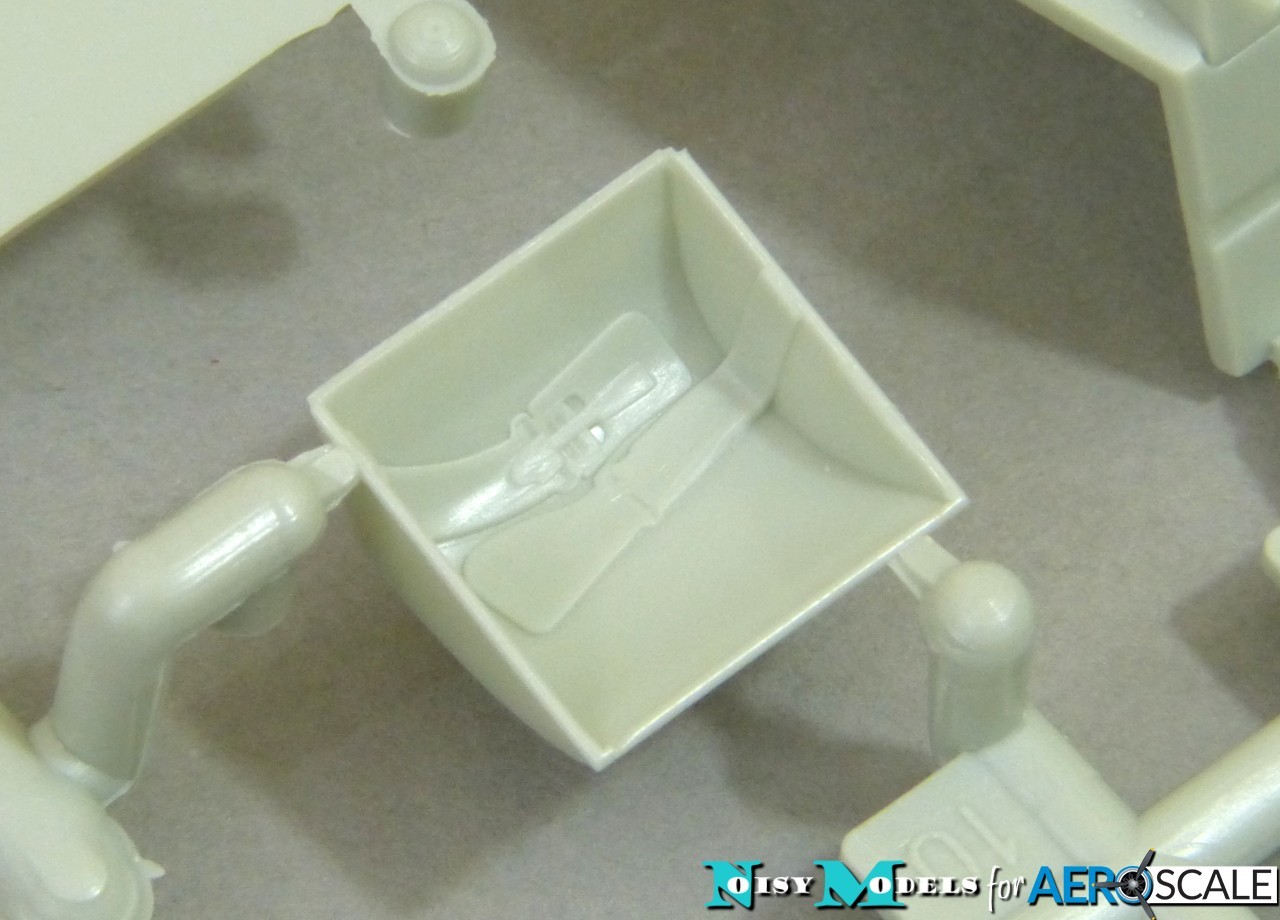 Two styles of tailwheel leg are included (with- and without an oleo scissor), and the main gear wells are nicely detailed. The gear legs are slightly awkward, though, because Revell have offered the option to build the kit with the undercarriage retracted. To achieve this, they've moulded each leg in 3 pieces (plus an oleo scissor) with the lower section doubling up for the retracted gear. This means extra seams to clean up, and I'm a bit worried the finished legs will be rather flimsy - especially if you want to depict an aircraft with the gear covers removed. If you're going to use the kit legs, I'd be tempted to insert a metal rod to strengthen them.

Two types of mainwheels are provided, the boxing including new runners for early spoked-style wheels. The hubs are crisply detailed, but the tyres are moulded unweighted so I'll file slight "flats" to give the finished model a more realistic sit.

Up front, the spinner looks good and the spinner is constructed from separate blades. The blade shape isn't bad - but it's a tad skinny towards the tip compared with photos I took at the RAF Museum back in 2005. Thanks to the way parts are laid out on the runners you get one spare blade, so you can safely experiment with reshaping it if you want. The supercharger intake could do with its rim thickening a bit and the mounting holes drilled for the tropical filter (sadly, not included in the kit).

In terms of stores, Revell provide a drop tank and ETC rack.

The transparent parts are beautifully clear and the canopy can be posed open. The windscreen has the interior armour as a separate piece, so use the utmost care installing it.

Instructions & Decals
Revell provide a good quality 32-page instruction booklet printed in colour. The diagrams are clear and the sequence is pretty logical - although experienced modellers will no doubt shake things up to suit their own style of building.

Colour matches are given for Revell's own brand paints and RLM codes aren't provided. While I've always found them to be good quality paints, following Revell's suggestions means mixing some of the colours, so I'd recommend substituting other brands that are accurately ready-matched to Luftwaffe colours.
The kit includes decals for two colour schemes:
1. Bf 109 G-2, Kommodore Oberst Hannes Trautloft, JG54, Russia, August 1942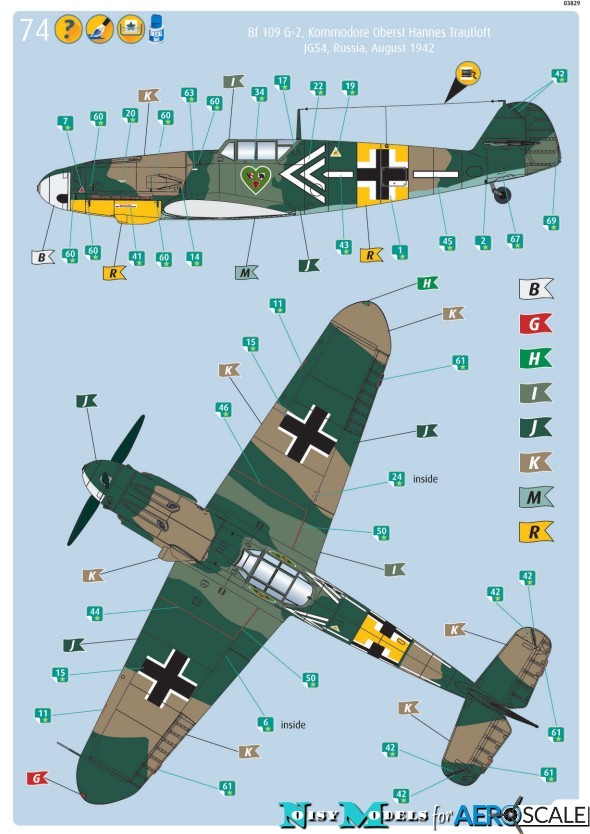 2. Bf 109 G-4, "Winkel 2", Major Gordon Gollob, III./JG52, Russia, August 1942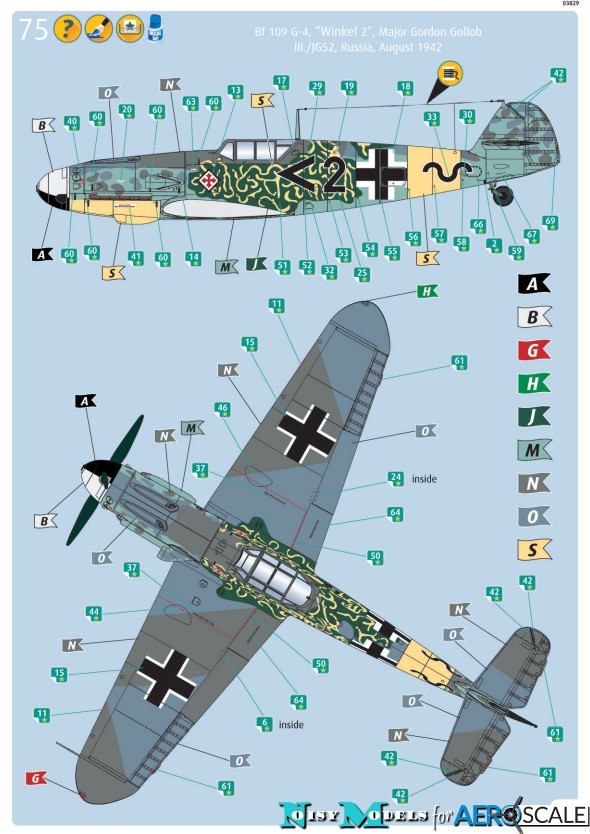 The decals are printed in Italy and look to be excellent quality. The sheet doesn't mention Cartograf, but the crisp, glossy items should work very well. The only slightly odd thing is that the white ink appears to have been printed over the black on some of the items, creating a grey fringe if you look closely. Swastikas aren't included - which is understandable from Revell Germany - but aftermarket decals are easy to find.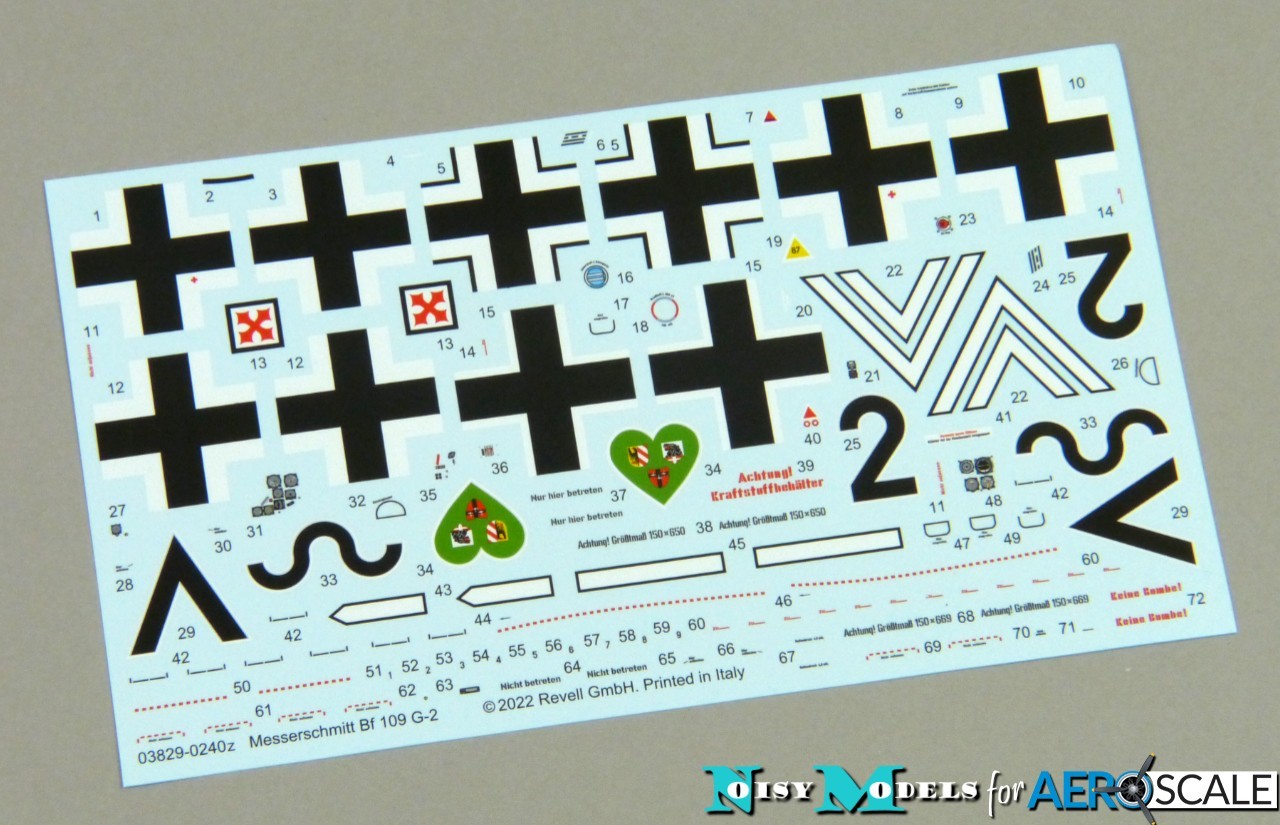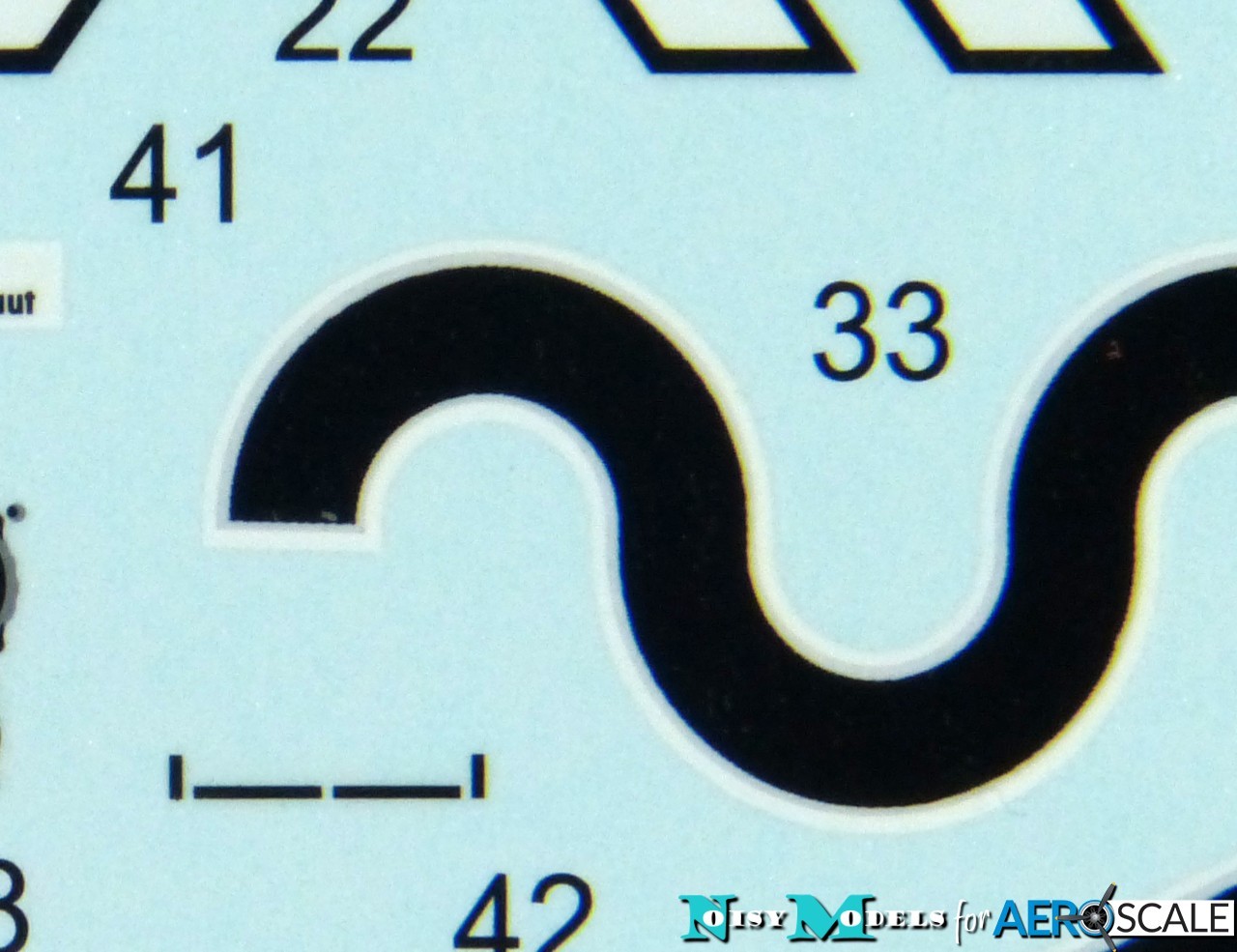 Conclusion
I've been critical of some aspects of Revell's big Gustav, but I'm actually very happy with it. Above all, it represents exceptional value for money in this day and age, letting any average modeller build a really impressive largescale model for less than £30. While it's not perfect, all the basics are there - and at this price you can afford to get some aftermarket upgrades for it without breaking the bank - and it could be a showstopper if you really go to town on it. With a tough financial outlook ahead, Revell Germany have pitched this release just about spot-on to cater for high quality affordable modelling. 
Item #03829 is available now from Revell GmbH - Price: 28.99 Euros
I bought my kit from Jadlam Toys & Models for £27.95
Please remember, when contacting retailers or manufacturers, to mention that you saw their products highlighted here - on AEROSCALE