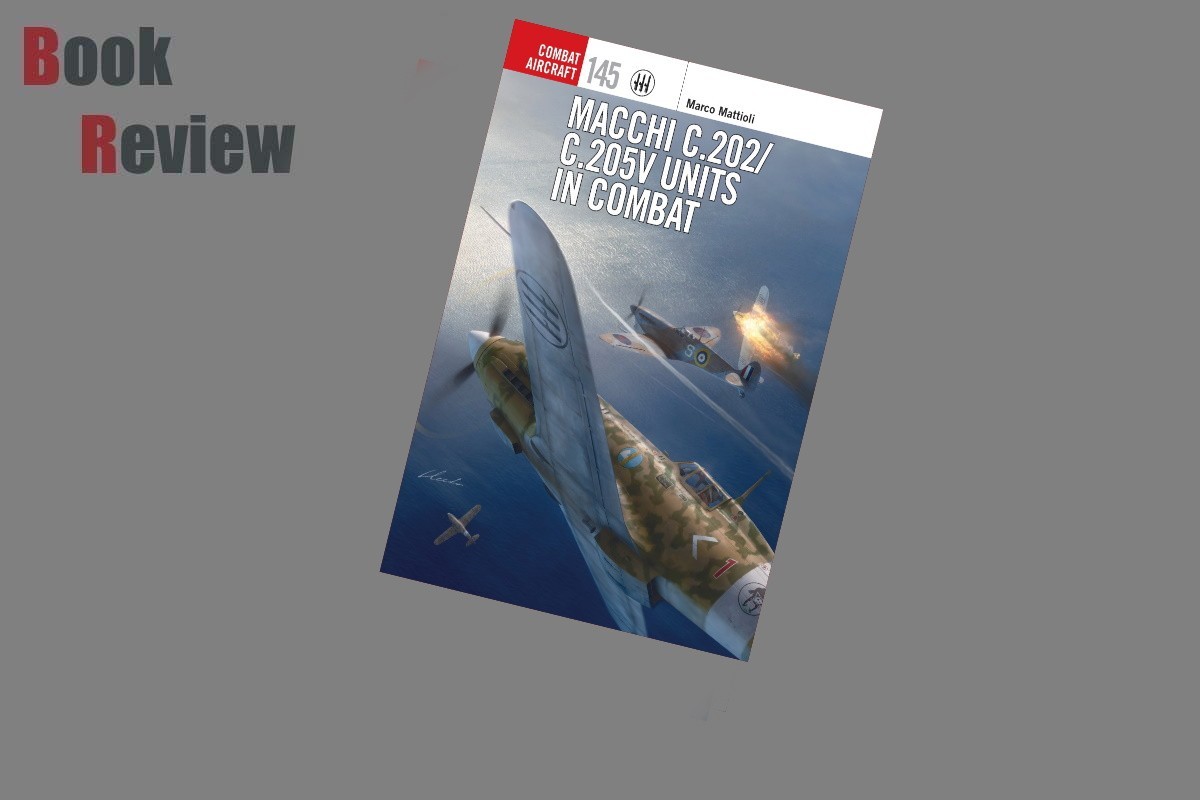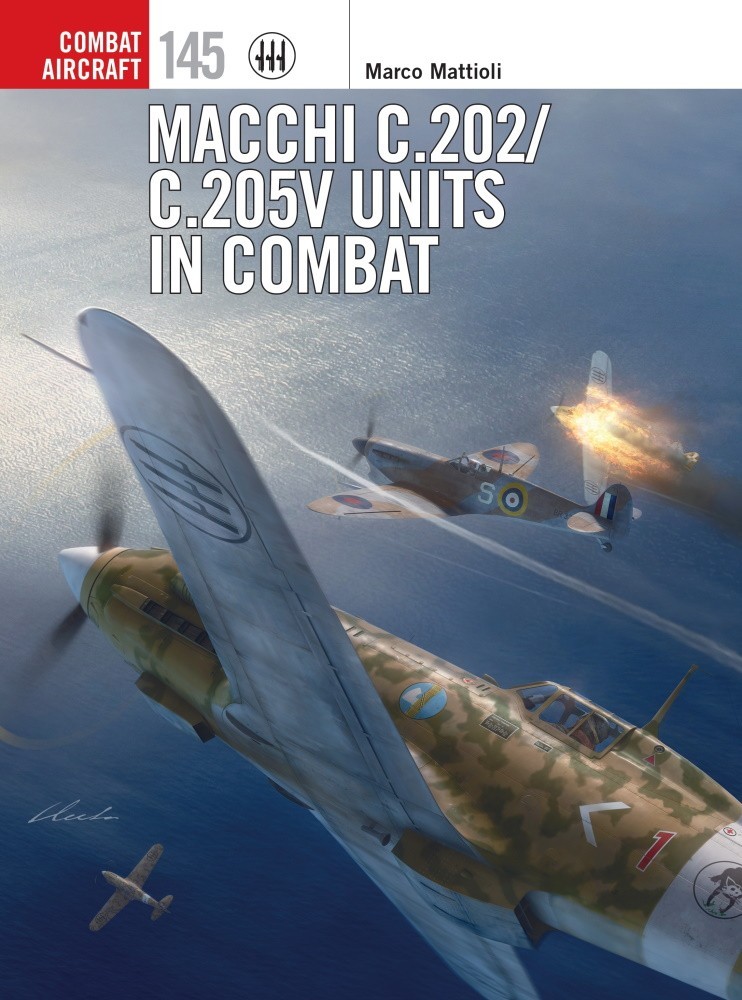 Introduction
Macchi C.202/C.205V Units in Combat is the 145th title of the Osprey series Combat Aircraft. Authored by Marco Mattioli and illustrated by artists Richard Caruana and Gareth Hector, this 96-page softcover book is catalogued with Osprey's short code COM 145, and ISBN9781472850683. The book is available in PDF and ePUB with different ISBNs. It features 30 aircraft profiles and 18 unit emblems. You can view the book on the Osprey site here: Macchi C.202/C.205V Units in Combat.
Osprey describes this subject thusly:
A study of the Macchi Folgore and Veltro, the most successful Italian fighters in World War II. With specially commissioned profiles, the book examines how these fighters were conceived, their performance and the fascinating stories of their pilots.

Italian fighters, such as the Fiat G.50 and Macchi C.200, had always struggled with their straight-line speed and restricted armament when engaging their Allied counterparts. To solve these problems, Macchi initially designed the C.202 Folgore using German engines, which contributed to create a faster aircraft, with a superior rate of climb and reachable altitude. Folgore's success in various North African engagements then paved the way for the development of Macchi's most successful fighter, the C.205V Veltro, which managed to combine increased speed and increased power. Packed with specially commissioned artwork and original photos, and written by Italian military aviation specialist Marco Mattioli, this fascinating book explores how the premier Italian fighter of the war came to life and the historical circumstances that prevented it from becoming one of the most dreaded aircraft in the Mediterranean.
Contents
Macchi C.202/C.205V Units in Combat is presented through 10 chapters and sections:
Ultimate Macchi Fighters

Folgores over Malta

Fighting over North Africa

Other Theatres

Defending Italian Soil

After the Armistice

In Foreign Service

Appendices

Colour Plates Commentary

Index
The book is organized well and easy to read. Several pilot quotes are used. Throughout the book the author supplies insightful trivia such as aircraft serviceability rates, and notes the ability if the Regia Aeronautica (RA) to recover or repair their aircraft. Mr. Mattioli even includes kills claimed in dogfights and compares them with actual kills and losses. In Ultimate Macchi Fighters we find a brief concise history of the limitations of the proceeding radial-engine Macchis continues along through the selection of an in-line engine. Performance improvements and armament changes are discussed in good detail. Six pages later we enter the crucible of combat in Folgores over Malta – 14 pages recounting that campaign. Fighting over North Africa is the longest individual chapter, presenting the days when the C.202 was ascendant over Kittyhawk's and Hurricanes, and how they fared against Spitfires and P-38s. A Macchi pilot wrote;
The [Tunisian] campaign was difficult due to a reduced number of pilots, technicians and aircraft. As far as the enemy fighters were concerned, I remember the most dangerous were the Spitfire and the Lightning, as both were better armed and more maneuverable than the C.202.
Other Theatres tells of Macchis over the Mediterranean, Aegean and Eastern Front. Next comes Defending Italian Soil which begins with the Axis surrender in Tunisia. It narrates Macchi battles over silkily and other locales, and the Italian homeland. Much of the latter involves combat between the Macchis and Allied heavy bombers. This is where the C.205 Veltro begin to appear in significant numbers. After the Armistice explains the politics and the Co-Belligerent air force and those of the Nationalist Fascists. It touches upon the influence of the Luftwaffe and the Italian air force. Exciting combat accounts enrich these pages in contrast to supply issues and integration into respective Axis and Allied operations. Finally, In Foreign Service tells of Macchis in Croatian, Egyptian and German serve.
Macchi C.202/C.205V Units in Combat is an interesting and revealing book that answered many questions I have had for decades about the Macchi fighters.
Photographs and Artwork
An exciting gallery of photographs strongly support the text. They allow us to examine the unique camouflage of Italy's fighters and should be a boon to modelers. Many portraits of pilots are included as are many diorama-inspiring airfield scenes. Many images are "war shots," having been exposed or developed by photographers in the field. There are many studio-quality images of pilots and planes, too.

Malta-based artist Richard Caruana created 30 full-color profiles of these aircraft and 19 unit insignias. Italy's various air force iterations created striking and fascinating camouflage and marking liveries. Each plate features a Colour Plates Commentary. These commentaries, like the text, often include aircraft color and marking information, including dates and affects upon operations. Flipping along the pages reinforces that I want to build more RA models.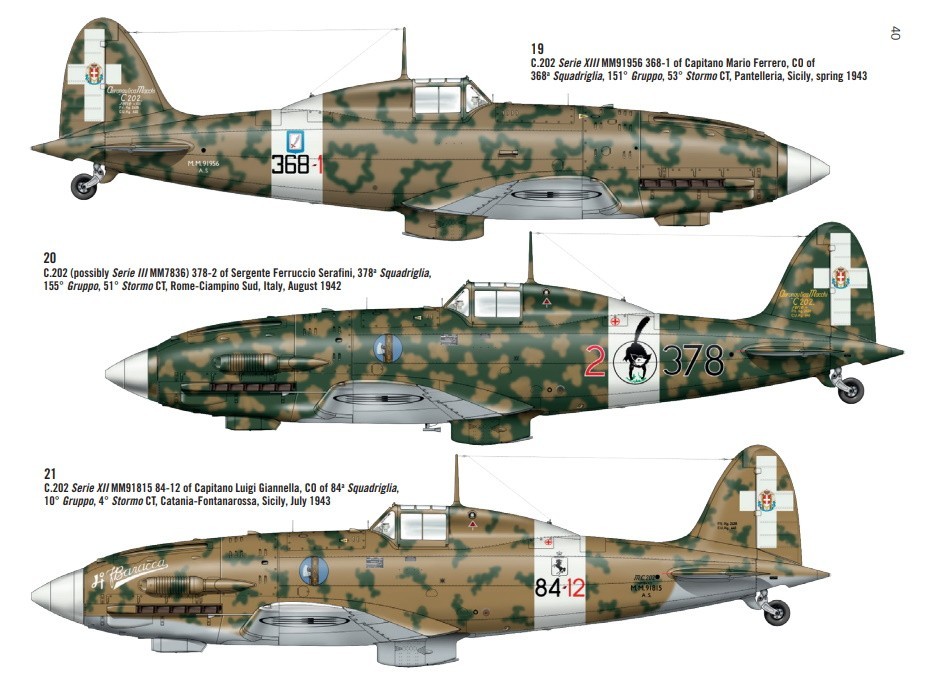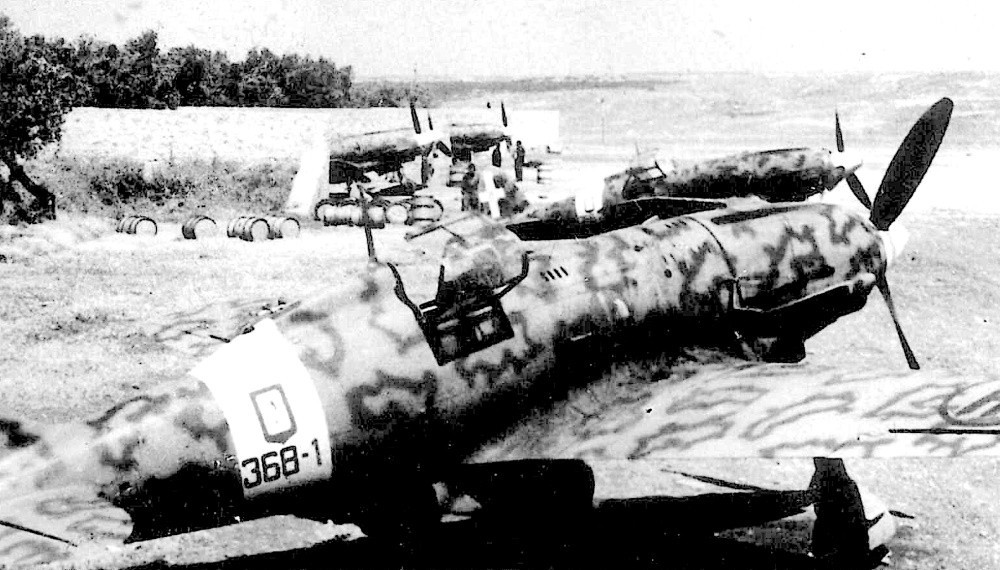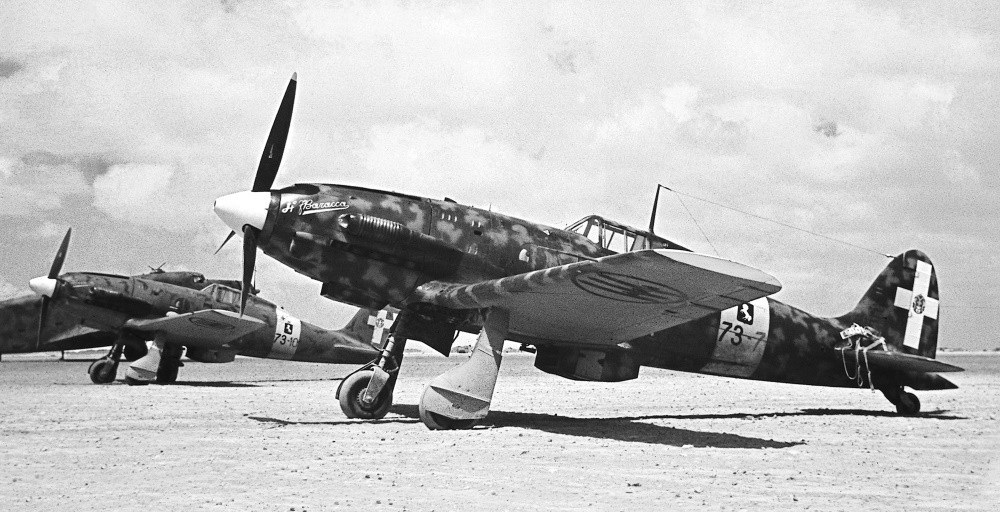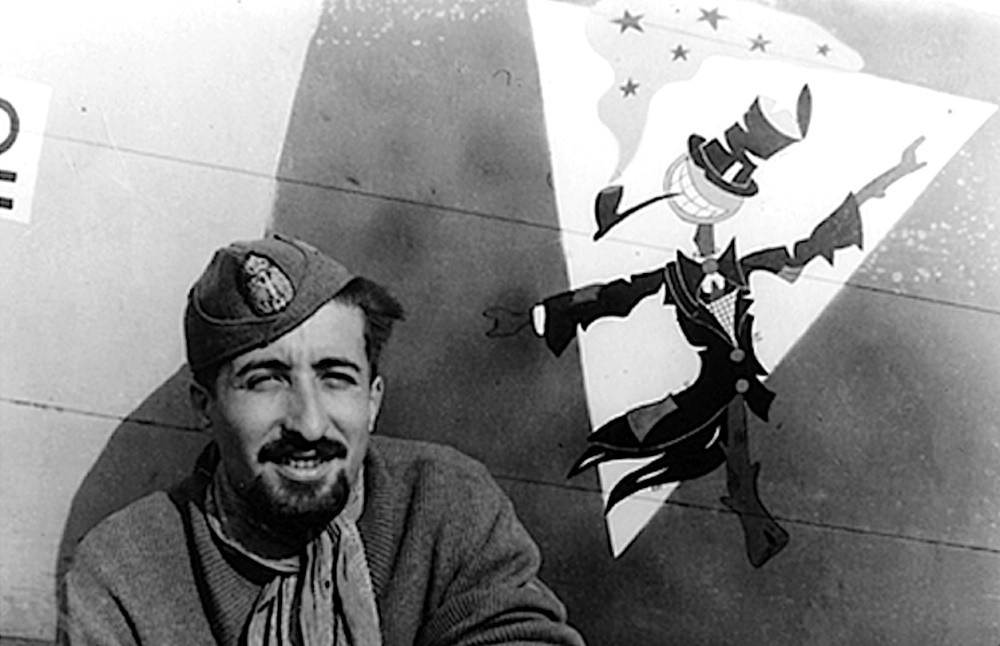 Conclusion
Macchi C.202/C.205V Units in Combat should be a valuable book for modelers and historians of the Macchi C.202 and C.205V fighters. While truncated into a 96-pageformat, it presents a great deal of interesting information. It is an excellent primer for those who plan to study the RA and the title subjects closer. The photo section is excellent, as are the color profiles and accompanying commentaries.
If you have an interest in the C.202 and C.205, this is a great source to begin your studies. I happily recommend the book.

Please remember to mention to retailers and vendors that you saw this product here – on Aeroscale.