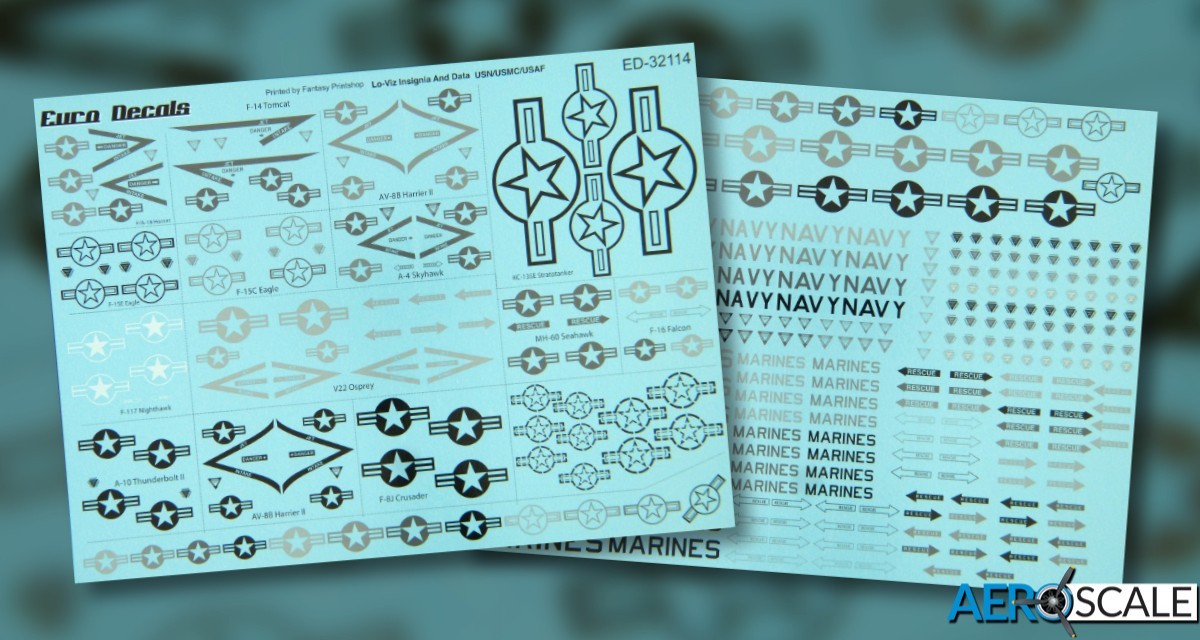 Ray Horwell at Fantasy Printshop has released a "mega-set" of 1:32 lo-viz markings that will be a real boon for modellers of current and recent US aircraft. The sheet covers USAF, USN and Marine Corps subjects and is spread across two large sheets of decals. 
The set arrives in a simple zip-lock bag. There aren't any instructions, because the decals are intended as high quality replacements for kit items, or for scratch-builders who will already have the required references for any given colour scheme.
Sheet 1 is type-specific, with national insignia and warning markings for the following subjects, along with a useful selection of spare national insignia:
F/A-18 Hornet
F-14 Tomcat
AV-8B Harrier II
KC-135E Stratotanker
F-15E Eagle
F-15C Eagle
A-4 Skyhawk
F-117 Nighthawk
V22 Osprey
MH-60 Seahawk
F-16 Falcon
A-10 Thunderbolt II
F-8J Crusader
Sheet 2 is generic, with dozens of national insignia, Navy and Marines text, plus ejection and rescue markings in black and three shades of F.S. Gray.
As you'd expect with Fantasy Printshop products, the printing is spot-on, with the thin, glossy items showing minimal excess carrier film (colour registration obviously doesn't apply with these lo-viz markings).
Conclusion
This is one of those decal sets that definitely has that "Wow!" factor when you see the size of the sheets and realise just how many builds it will cover. Obviously, a big set of traditional hand-printed decals like these inevitably represents a fair investment, but it's actually remarkably good value for anyone who building a collection of late Cold War/Modern US aircraft, working out at around £2.30 for each of the named types - plus, there are masses of extra markings for future projects. I can see this being perfect for a model club group-build or a single extended project. I'll admit now - I'm thoroughly jealous of anyone with the space to tackle a 1:32 Stratotanker!
Item ED-32114 is available now from Fantasy Printshop - Price: £29.95
Many thanks to Fantasy Printshop for the review sample.
Please remember, when contacting retailers or manufacturers, to mention that you saw their products highlighted here - on AEROSCALE