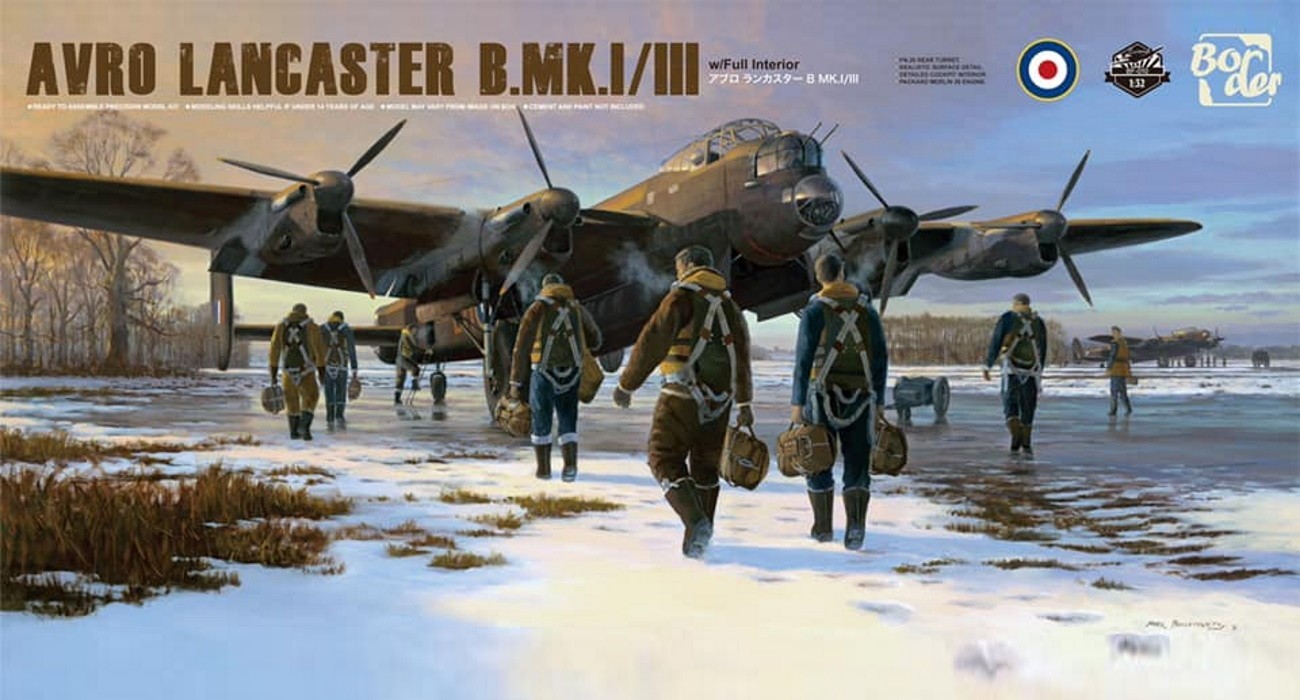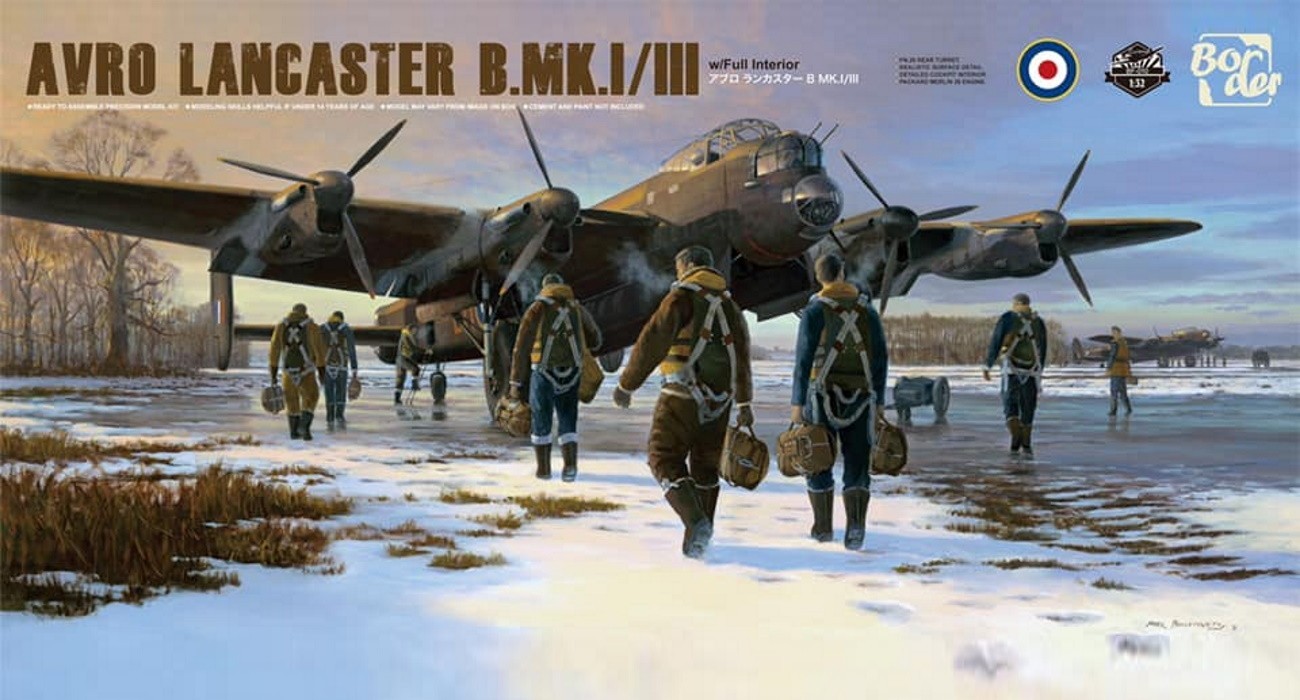 "Today BORDER MODEL will issue a statement about Lancaster.
We released the 1/32 AVRO Lancaster w/full Interior 2 months ago. We did not mention any words about WINGNUTWINGS in all our official presentations. And did not use any rendering used by their company. The only BOXART used is from Mr. Mark Postlethwaite, the artist from whom we purchased the rights to use this Lancaster painting.  Although all modelers know that this kit first belonged to WINGNUTWINGS.
But the true story is that WINGNUTWINGS has never paid for the Lancaster molds since they announced their closure in 2020. As far as I know WINGNUTWINGS also owes a lot of mold fees to many mold factories in China. The factory owners are already on the verge of closing down because of the COVID19 in 2020 and the 2021 China's power restriction policy. One of the factory owners who helped WINGNUTWINGS to make the Lancaster molds is our friend. They complained to us that the department that WINGNUTWINGS has not responded to emails for a year and a half since 2020. They don't pay fees and would not say anything about the reason. Finally in June of 2021, the factory owner sent them a final email, which probably read: If you do not pay for the tooling and give a reasonable response and explanation within a month. We will dispose of LANCASTER's molds by ourselves.  
One month later, the factory had not received any positive response and certainly no payment. Subsequently, for many reasons, including helping the factory to recover its costs and BORDER also very much hope that this LANCASTER can be successfully launched, because it is the dream of many modelers including us!Then we signed a contract to purchase the mold on July 29th 2021. From now on, the 1/32 scale LANCASTER molds belong to BORDER MODEL!
But it was not an easy project. First of all we didn't have any CAD drawings of the Lancaster, and we used a special method in order to finish the assembly instructions. It took a lot of time and money to complete the instructions. Secondly, the molds for the Lancaster were not finished. There are many parts of such a huge bomber that contain many mistakes. Some details were missing, and some parts could not be assembled. We spent more time and money tweaking and repairing the molds because we didn't want such an epic product to come to market with flaws!
Our high retail price is also due to the above reasons. High tooling costs, more modification tests, difficult assembly instructions and all kinds of unforeseen risks. And we didn't think there would be great sales for such a huge aircraft.
Then in October, we received a letter from the lawyer of Peter Jackson, the founder of WINGNUTWINGS.
The lawyer's letter claims that we stole WINGNUTWINGS' molds and violated their intellectual property rights. The lawyer's letter is full of fabrications and lies, and claims that "BORDER obtained the molds from WINGNUTWINGS". Everyone knows that all official statements of BORDER do not mention even one word about WINGNUTWINGS. And our molds were legally purchased from the mold factory!
Then we replied and explained everything, but got no reply! After another half month, all BORDER agents around the world received a letter from Peter Jackson's lawyer. He threatened our agents not to allow them to sell BORDER 1/32 LANCASTER, which made us very angry! The lawyer's letter slandered us as thieves and said we were infringing their intellectual property rights.  
First of all, according to the contract between the factory and WINGNUTWINGS, the ownership of the LANCASTER mold belongs to the factory until the payment is completed made. The factory finally sold the molds to BORDER legally after a year and a half of communication without any response and learning that WINGNUTWINGS had closed down and sent an ultimatum. So 1/32 of LANCASTER's molds belong to BORDER without any doubt!
Secondly, the article about infringement of intellectual property rights is even more ridiculous. Everyone knows that military models are not copyrighted. Neither we nor the factory keep or use any of their company CAD drawings (which I think WINGNUTWINGS employees know), the factory only has 3D drawings of the parts used to design the molds. We have relied on a unique approach to creating the instructions. And we have modified many bad designs of the mold. The overall design has also undergone some modifications due to problems with the mold and the injection process. This is already a completely new development, so WINGNUTWINGS has no so-called "intellectual property" for this mold!
A final word about Peter Jackson and WINGNUTWINGS: Many people at WINGNUTWINGS knew in advance that we had purchased the LANCASTER mold, and they were all very happy to have this product available and helped us out a lot. They are all very wonderful and friendly people. As for the great director Peter Jackson, I guess he must be especially fond of LANCASTER, but unfortunately, although he is a great director, he is a failed scale model company owner. His own company is operating without any concern for all projects, and when he encounters difficulties, he simply closes the company, completely disregarding the livelihood of his employees! His company owed several factories in China more than a million US dollars in unpaid mold costs, which is the sign of a completely selfish and irresponsible person!
Maybe Peter Jackson thinks he is very rich and has a bunch of lawyers with nothing to do, so he can go around slandering and insulting people, and these lawyers' letters make us out to be criminal thieves and liars. Seriously damaging the image of our company and intimidating our agents! However, it is you who can do such a bad thing without knowing everything, or maybe you think that Chinese model companies and mold factories only steal your poor "intellectual property". And you are free to break the contract and default on the money that the factory depends on? So next time before you send a lawyer's letter, please make sure you are a responsible and trustworthy person.
At the end, I really hope Peter Jackson can reopen a modeling company, we would love to compete and battle with you in this industry. If not, then I think it's better for you to make movies.
BORDER's 1/32 LANCASTER will be released worldwide in December 2021, we have finished all the mold modifications, finished all the instructions, decals, painting instructions, and are in full production and packaging!
Either way we will release LANCASTER"!!!....................................Border Models
BF010 - Avro Lancaster B.Mk. I/III – 1:32
Please remember, when contacting retailers or manufacturers, to mention that you saw their products highlighted here – on AEROSCALE.