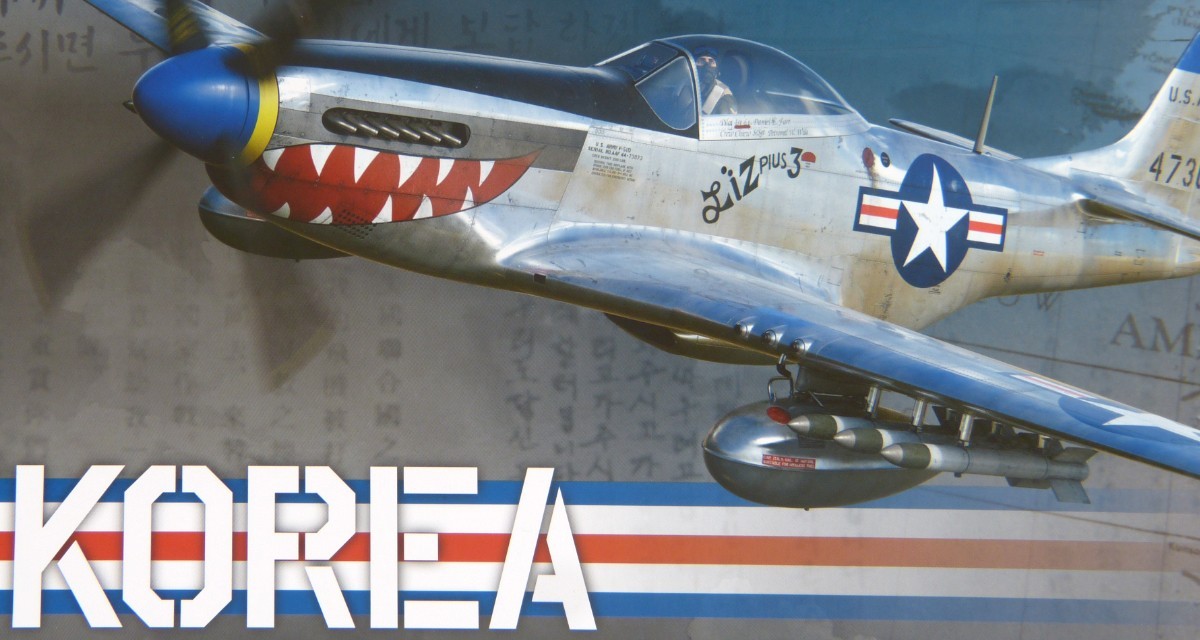 Eduard's new limited edition release comes in an impressive top-opening box and contains parts for two complete models. One is the familiar P/F-51D fighter, while the second introduces a complete new fuselage parts runner for the RF-51D (as the F-6D was re-designated in 1947). The parts and accessories are well protected for transit, and the sample kit reached me in perfect condition. It comprises:
346 x grey styrene parts (plus 112 not needed)
26 x clear styrene parts (plus 8 spare)
116 x pre-coloured photoetched parts
64 x etched brass parts
A sheet of washi-tape painting masks
Decals for 10 x colour schemes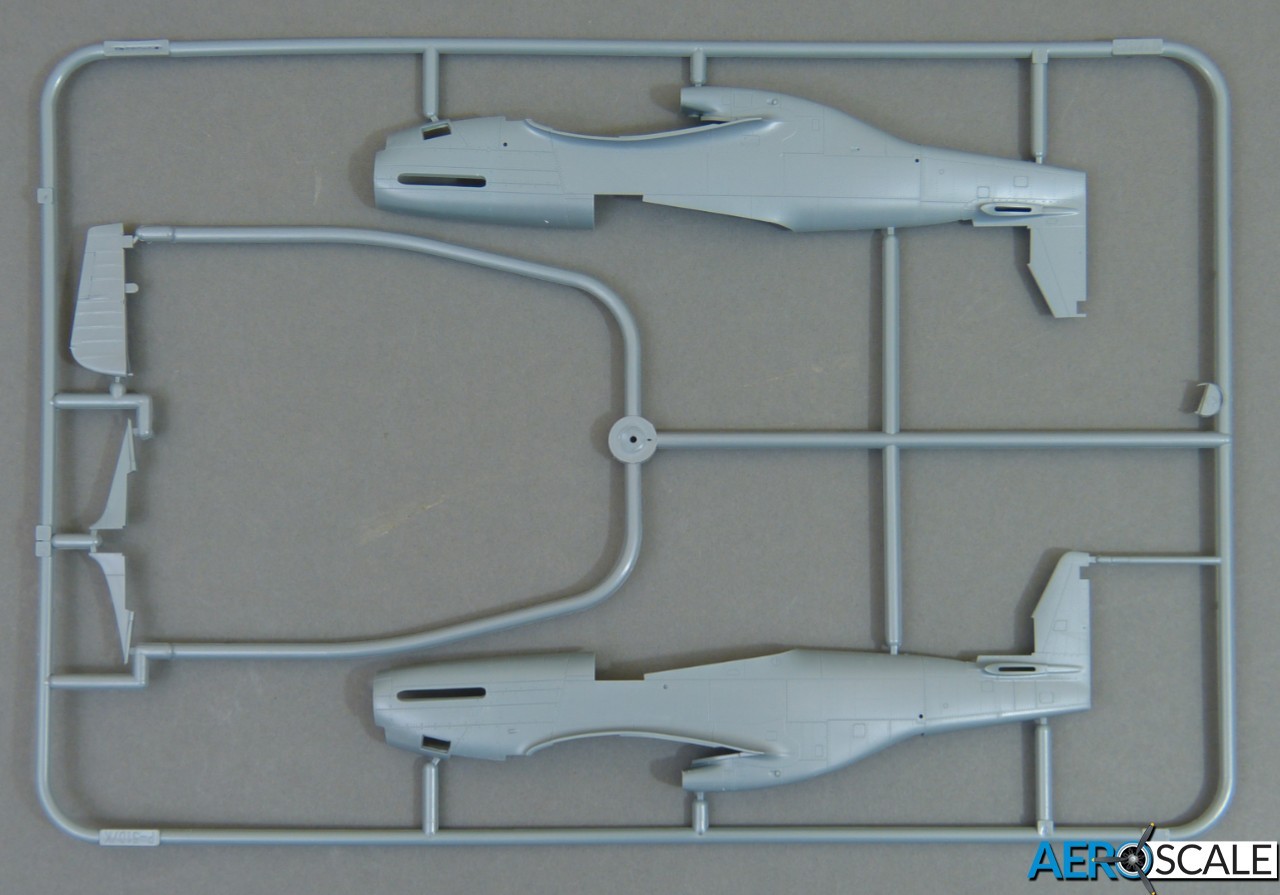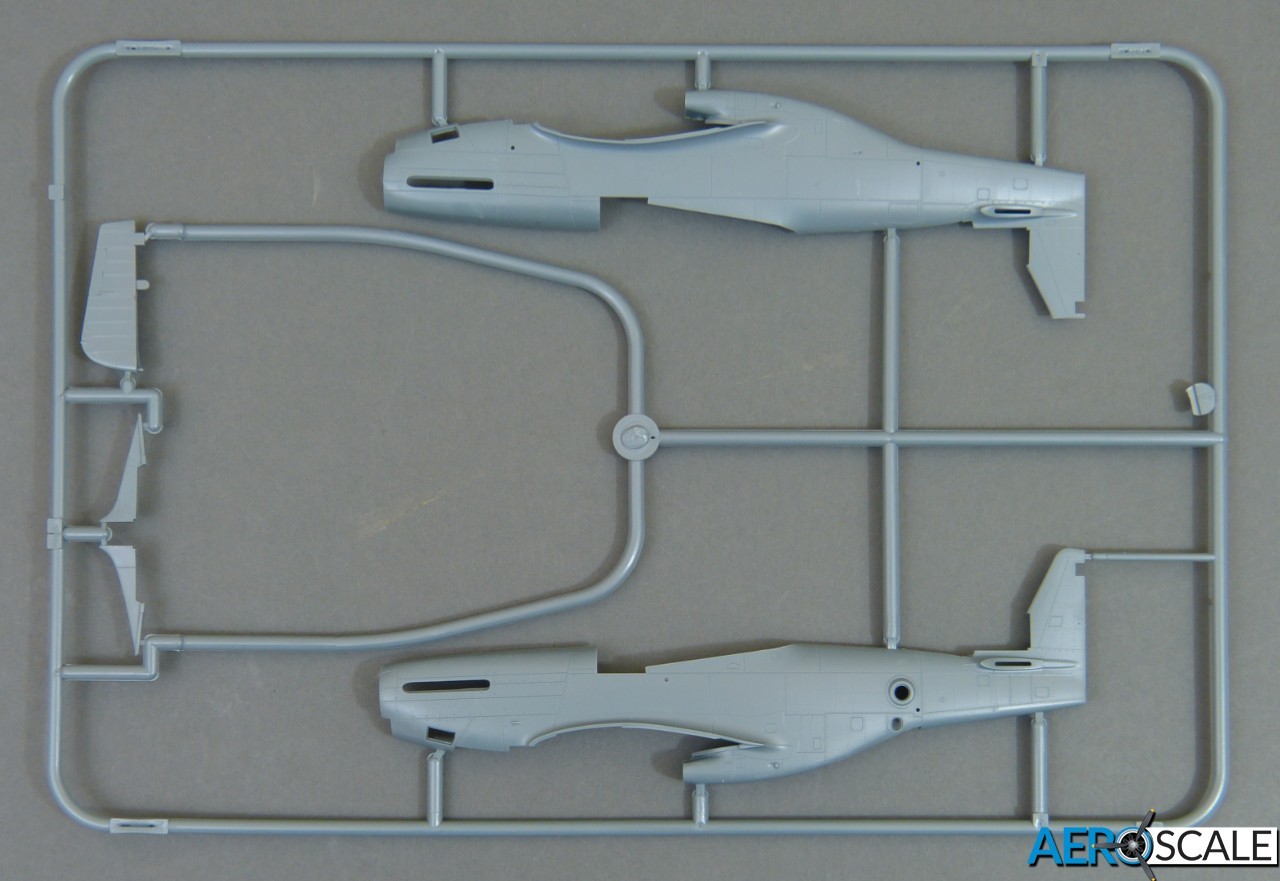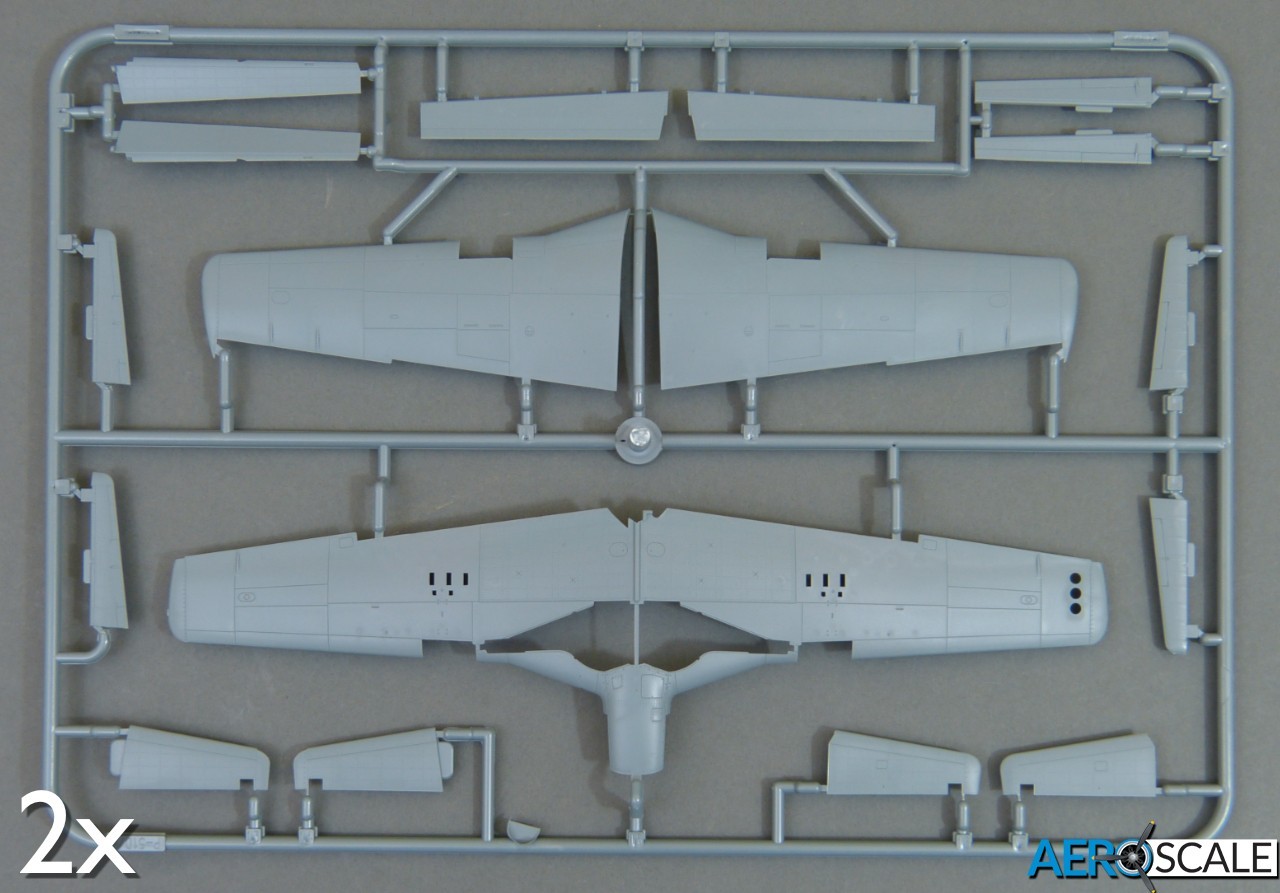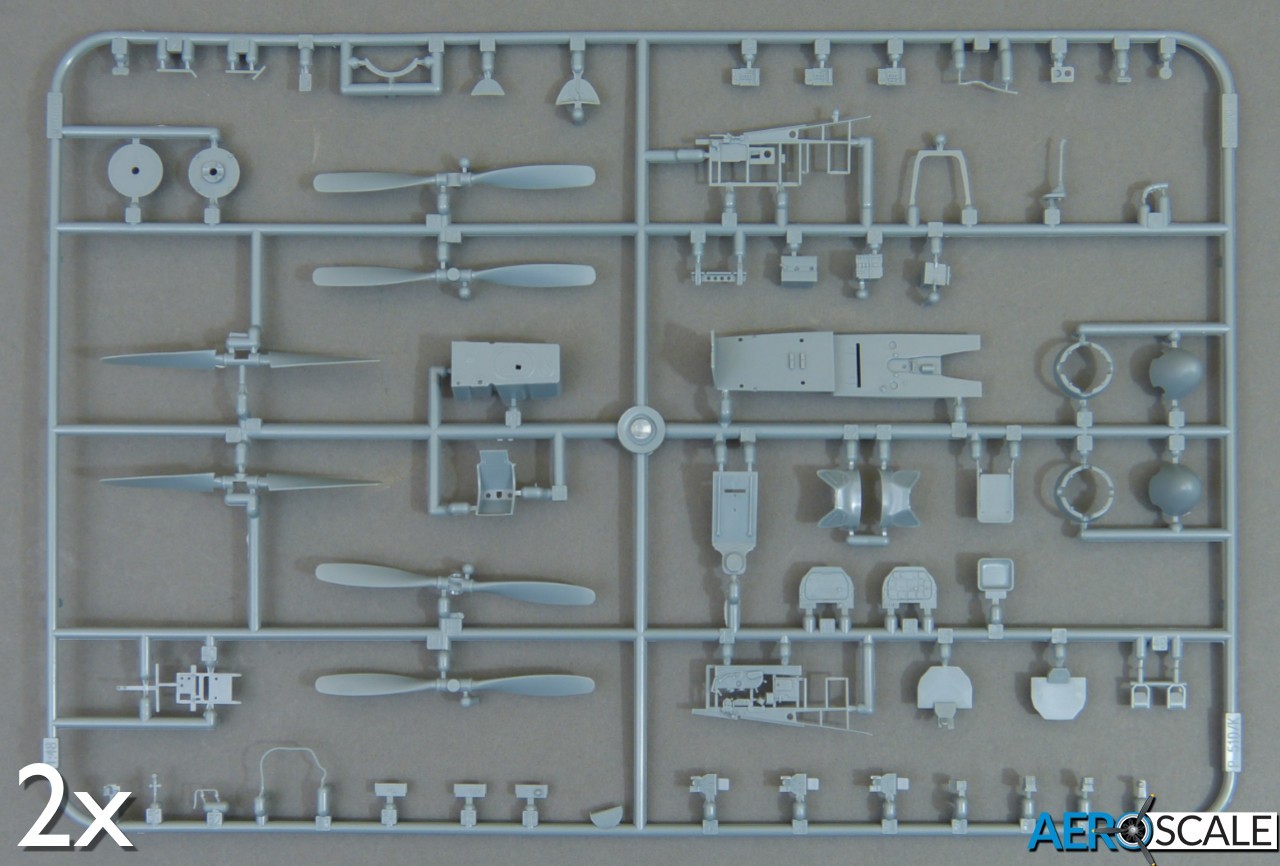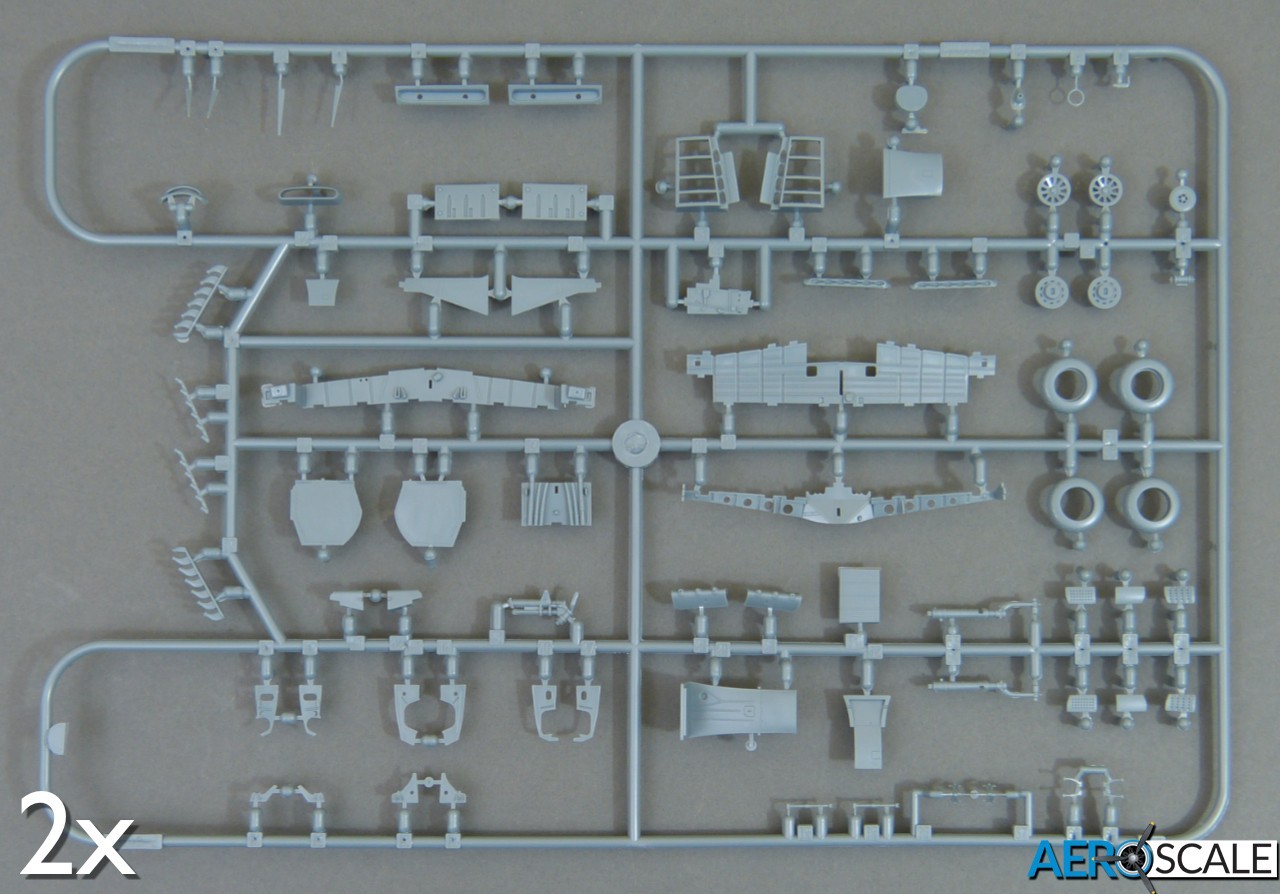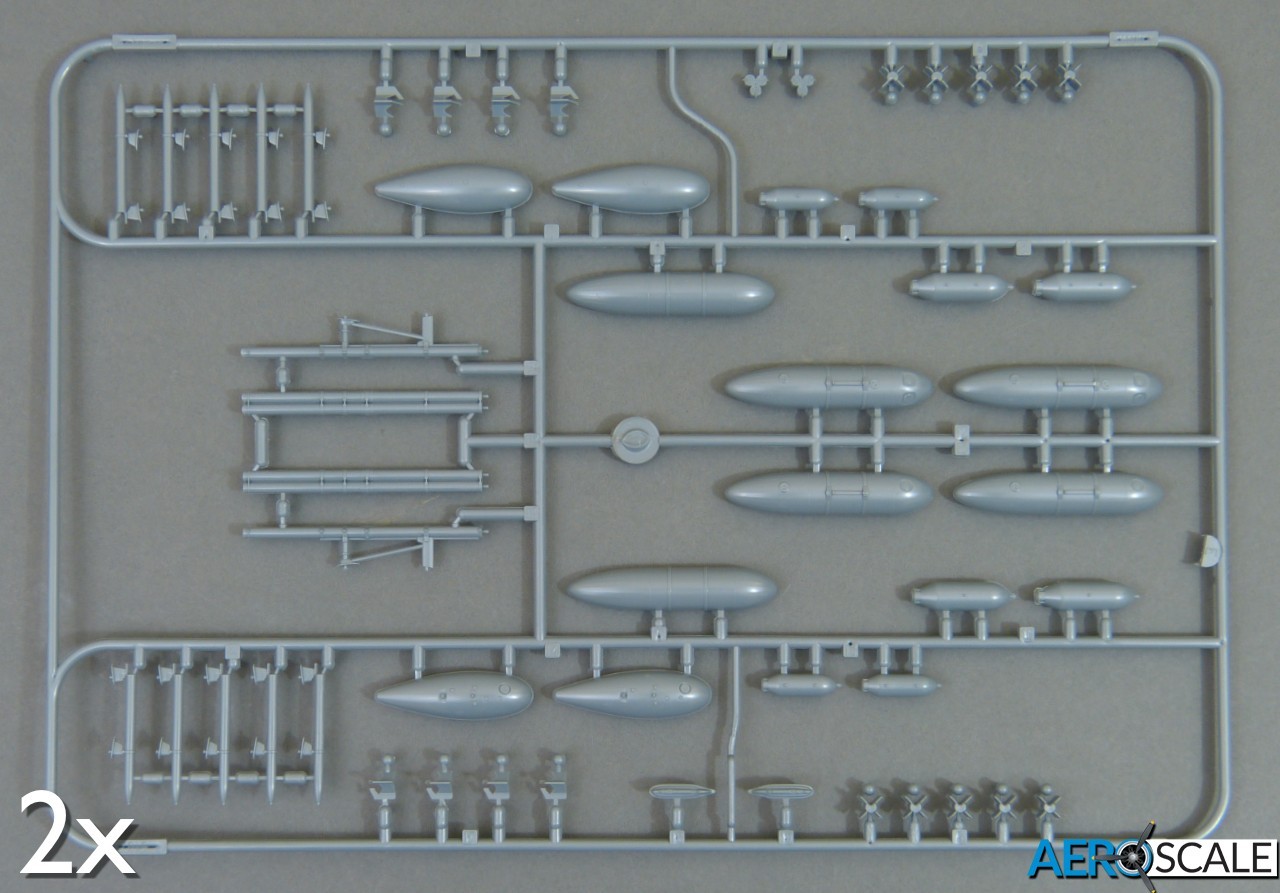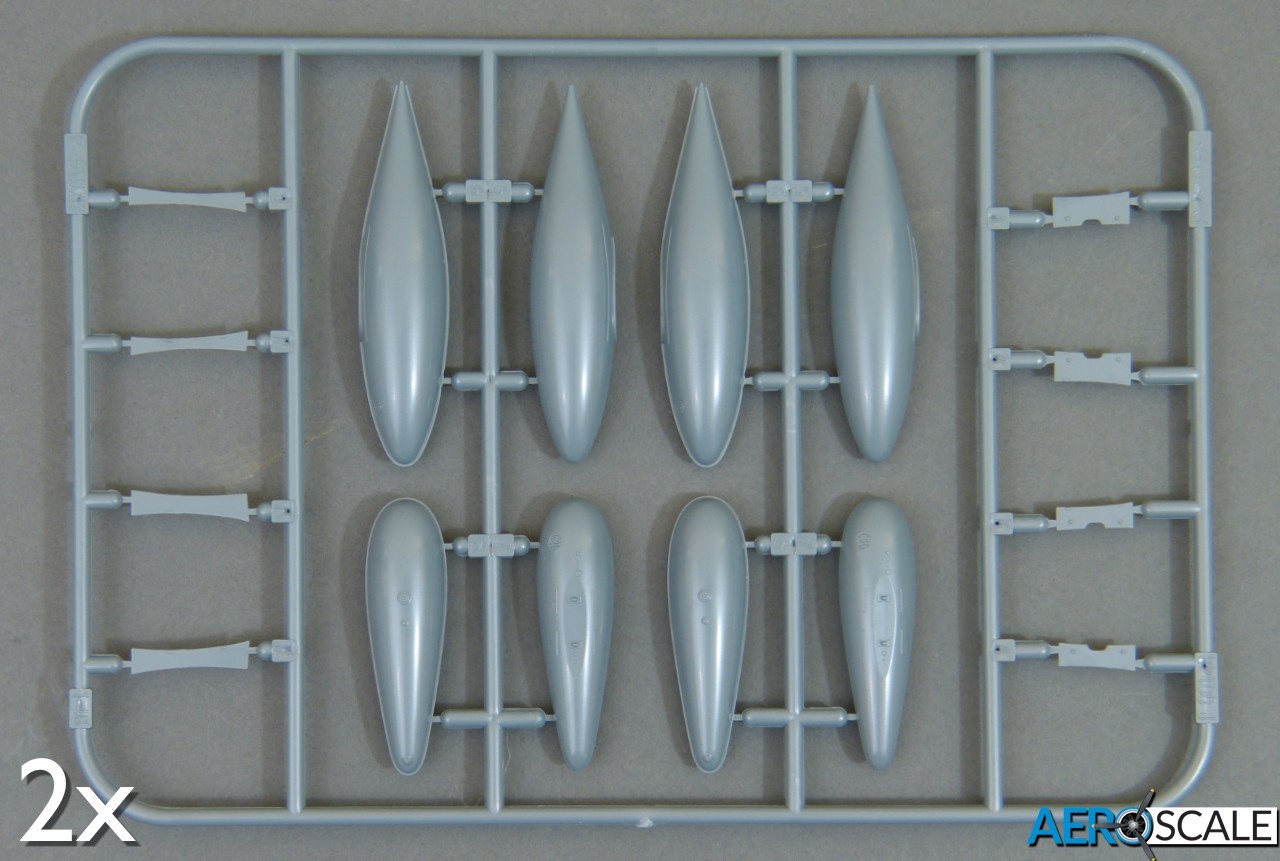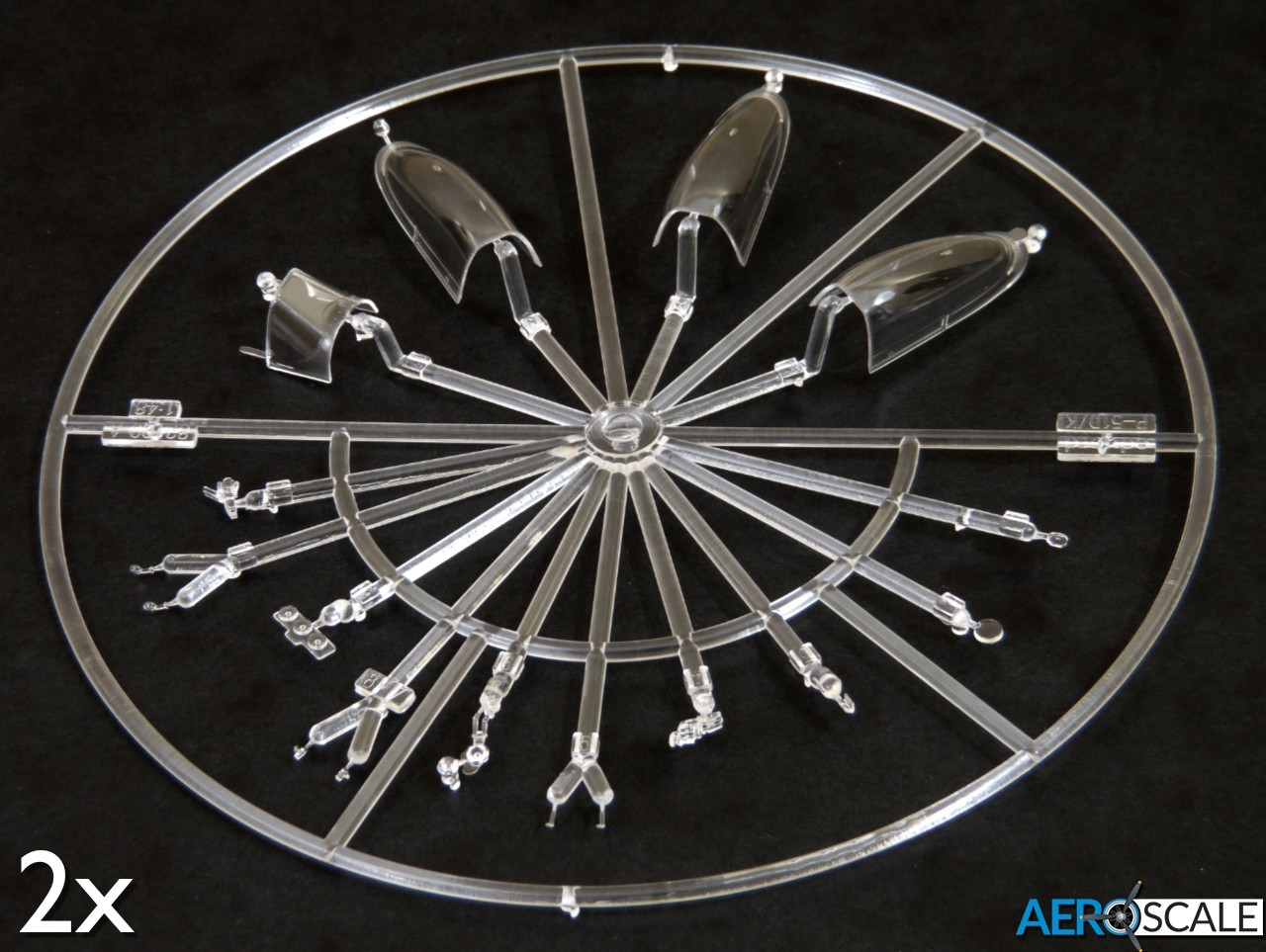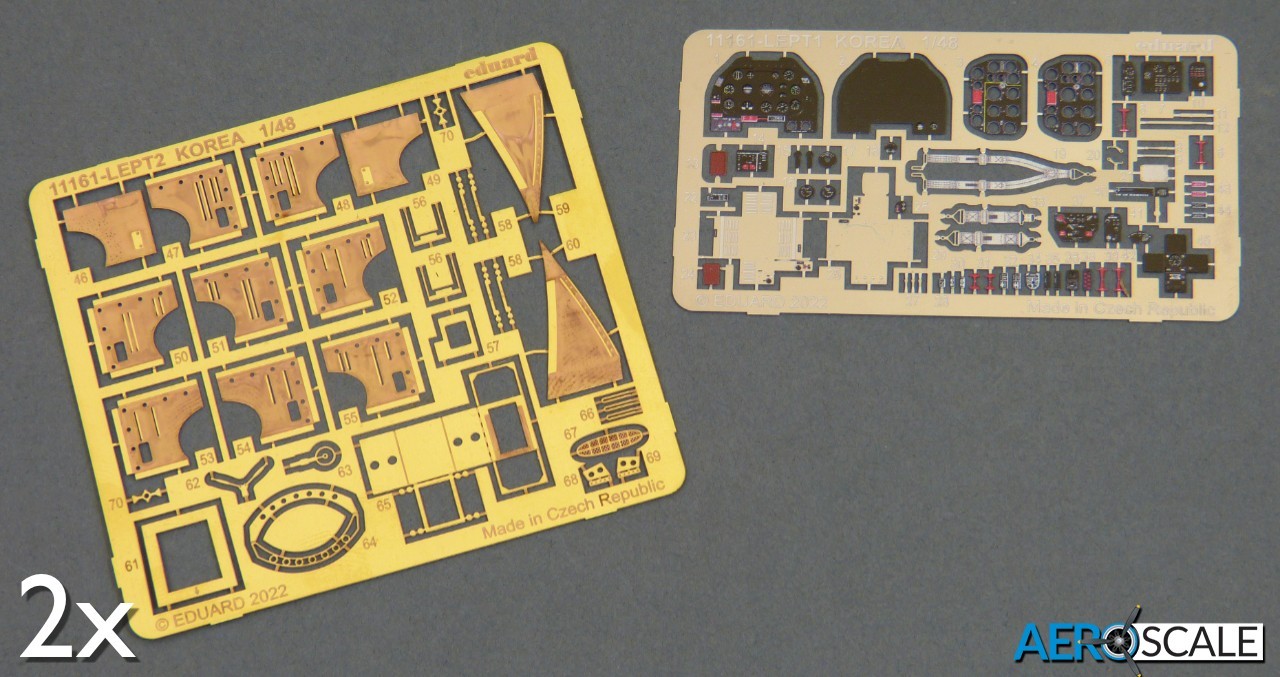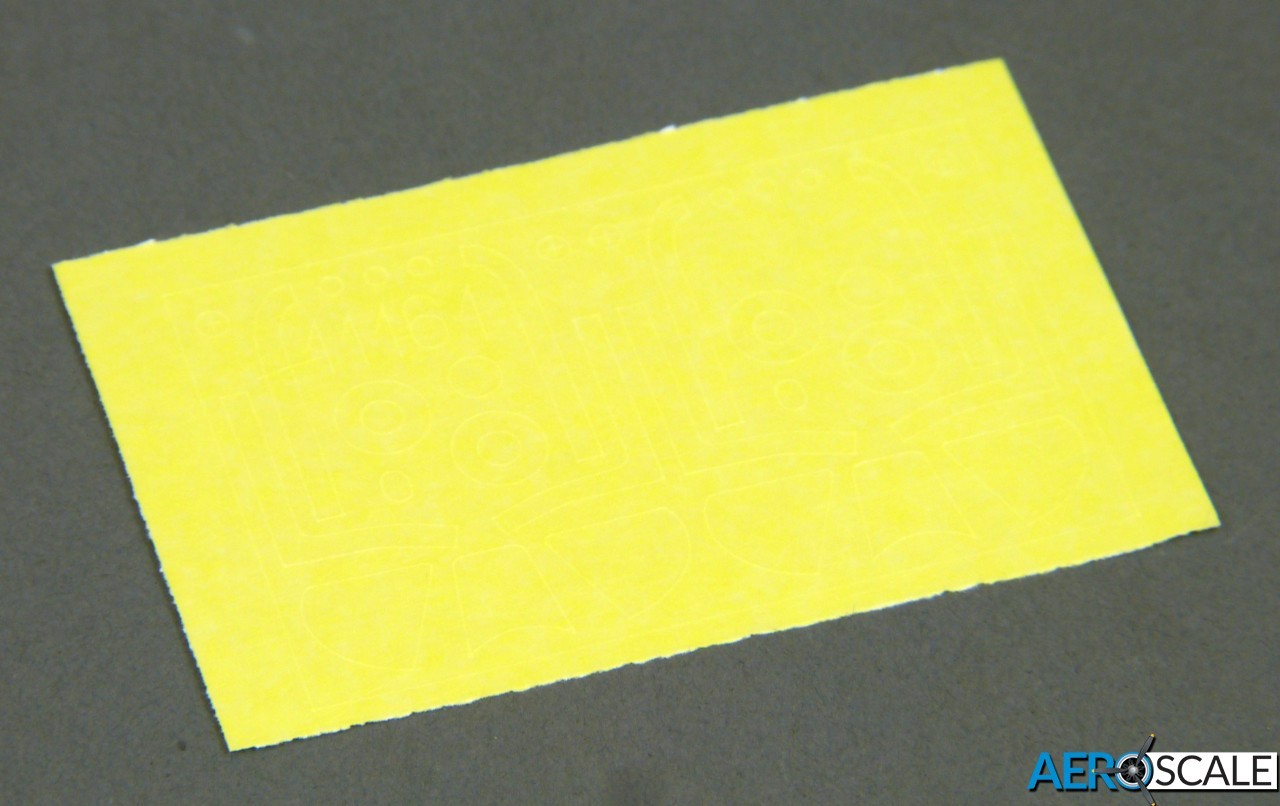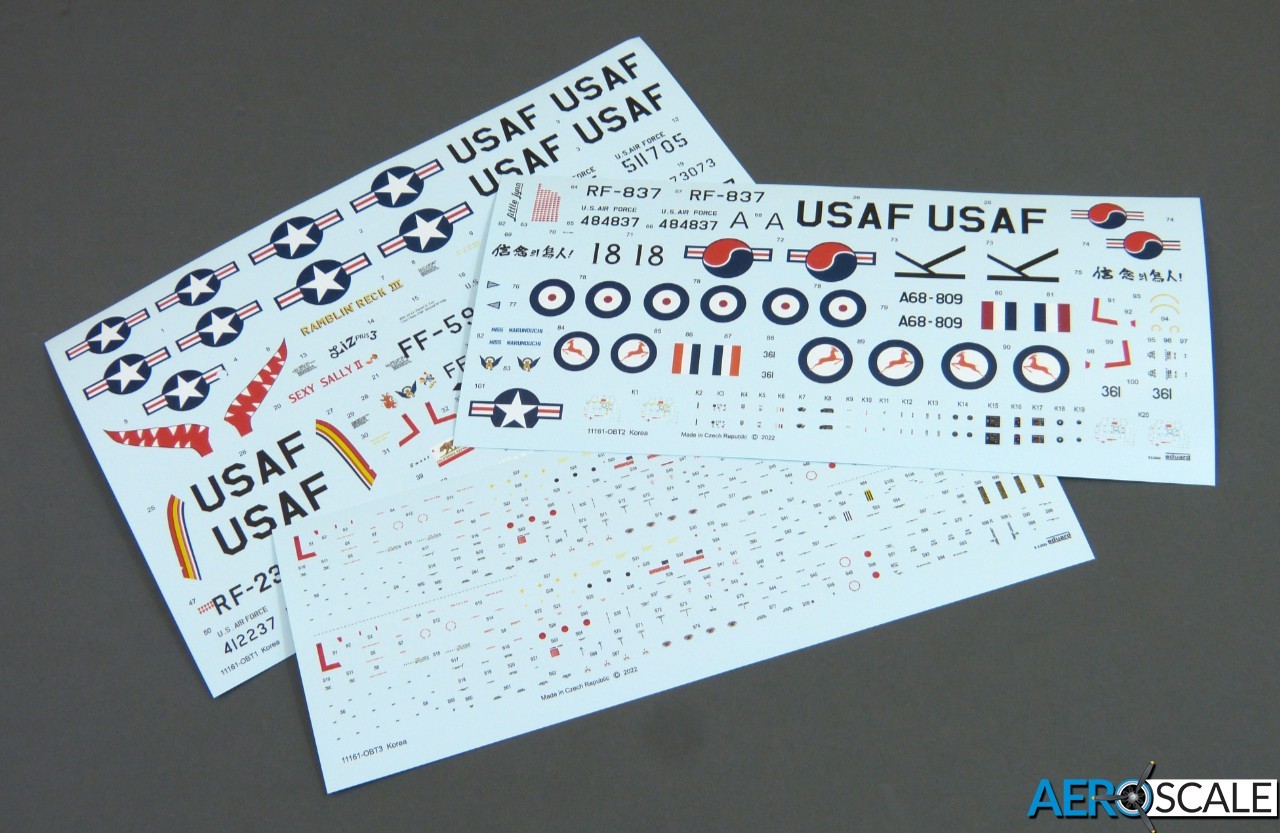 That breaks down into the following for each kit:
173 x grey styrene parts
13 x clear styrene parts
90 x photoetched parts
The moulding is excellent, with very crisp detail and, barring a few wisps of flash, just the usual release lines to tidy up. There aren't any problems with sink marks, and ejector pins have been kept out of harm's way.
The surface finish of the Mustang has always been somewhat controversial for modellers, sporting a mix of flush riveting along with puttied and painted areas on the full-sized aircraft in its factory-fresh state. Eduard have represented this with a good compromise; subtly embossed rivets on the fuselage, and a smooth finish on much of the wings. The fabric covered rudder is represented nice and taught - although I might reduce the rib stitching a tad.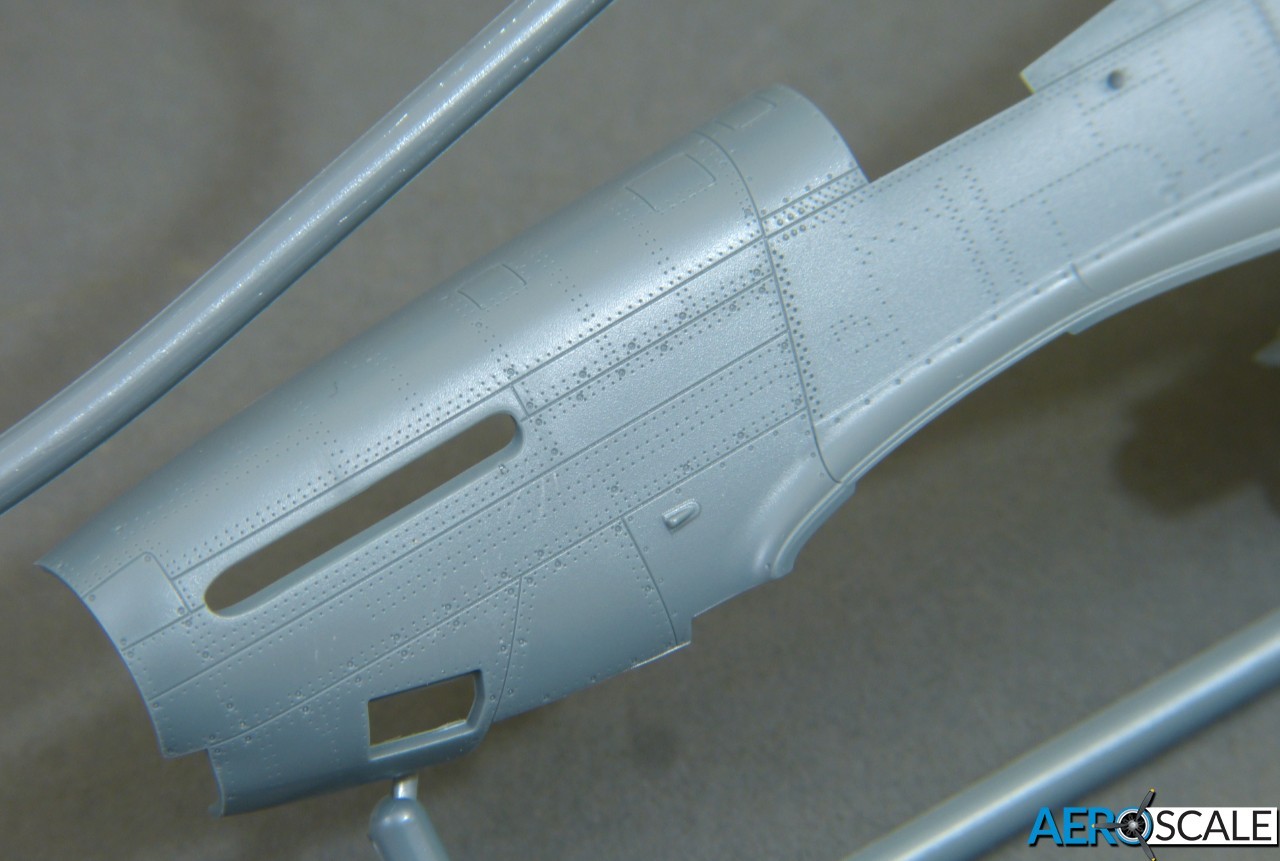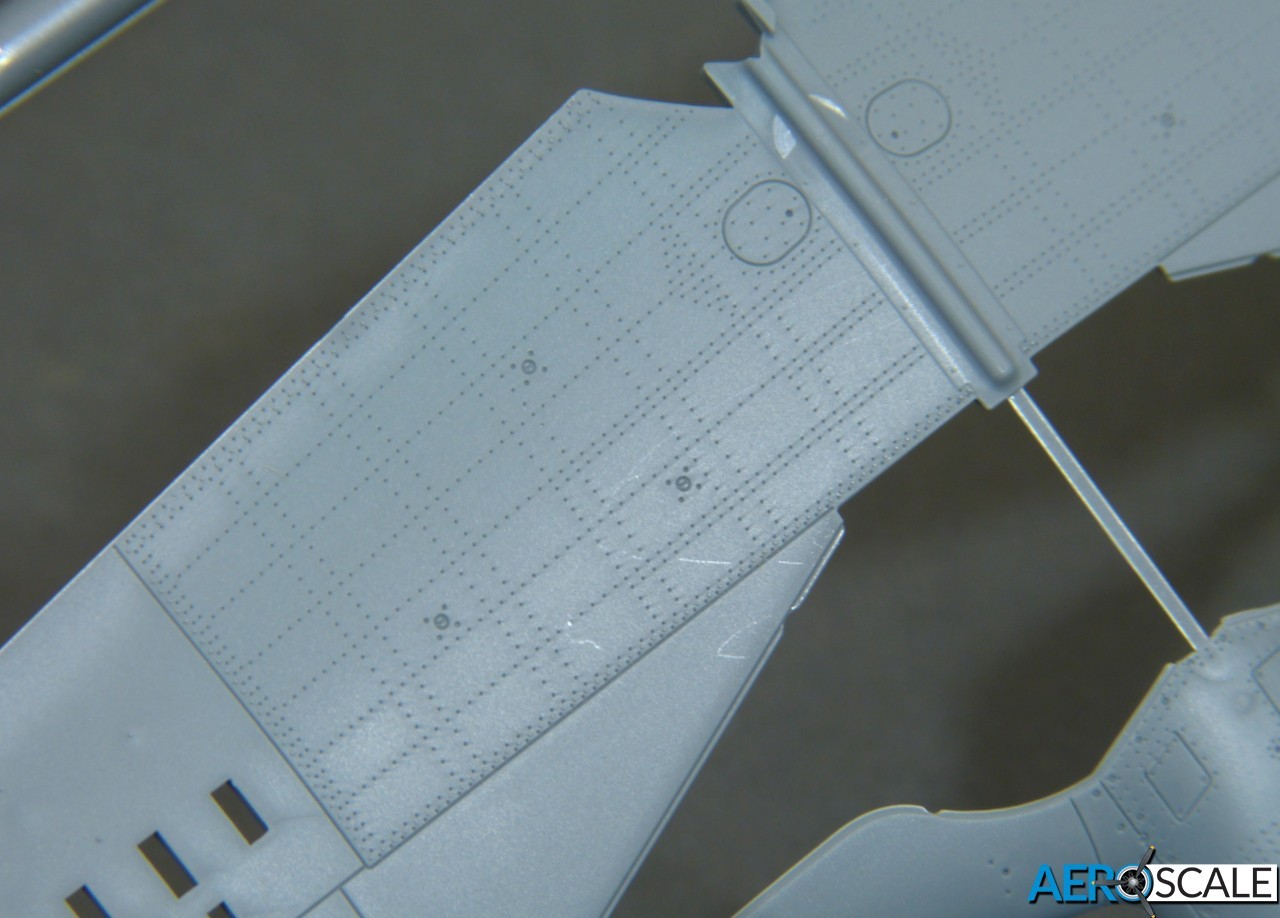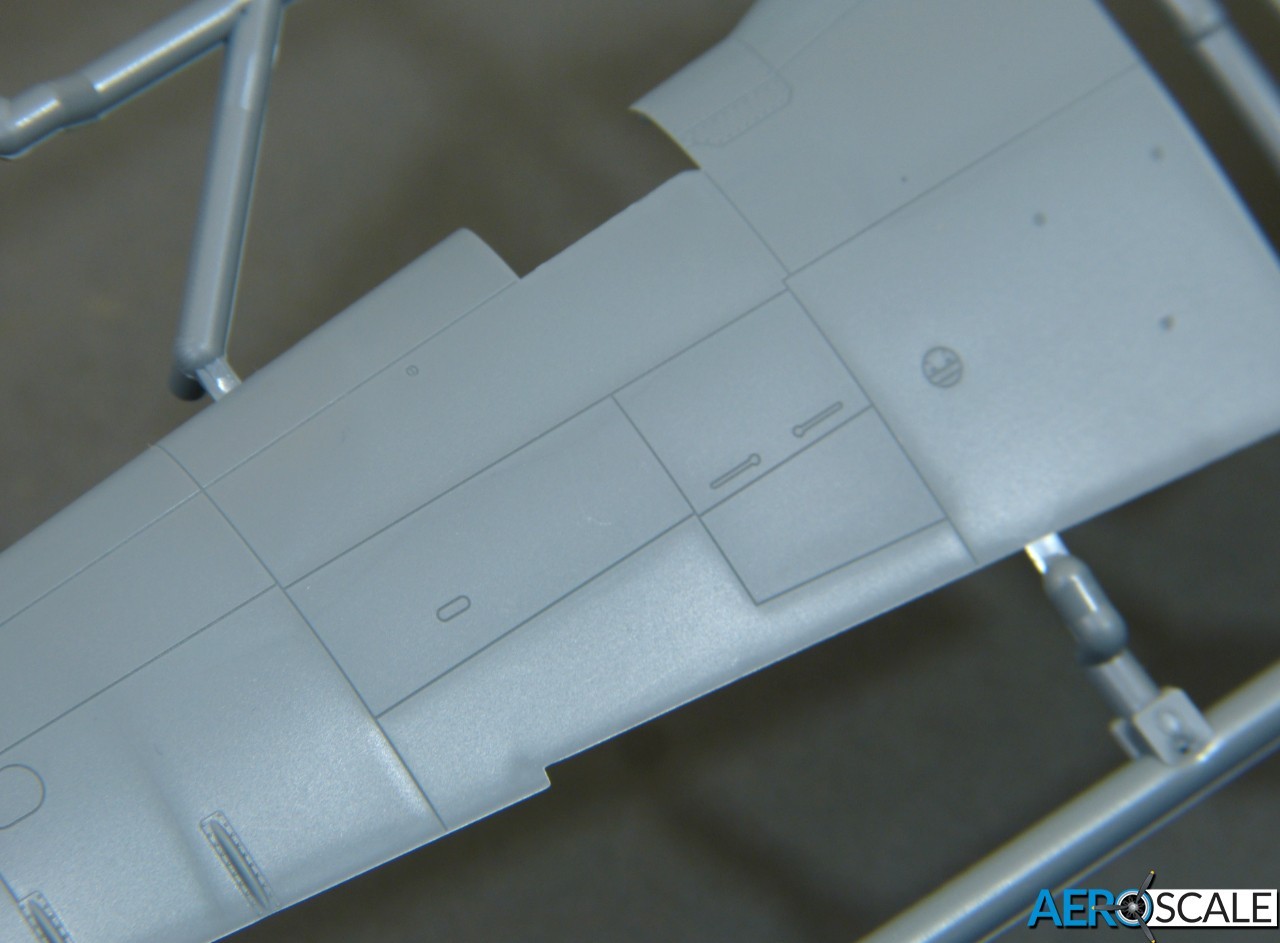 I haven't done a test fit this time because there's no reason to think it'll be any different from the original release which went together beautifully. One change I spotted, though, is that the kit's exhausts are no longer hollowed out the way they were in the original release. It's not the end of the world - you can always do the job with a small drill, or get Eduard's excellent Brassin replacements, but it would be interesting to know the reason for the change.


There is one other point now that could really trip up the unwary, though; some of the decal options feature aircraft sporting panels with louvres on the fuselage sides aft of the wings. These are supplied as etched brass inserts and fitting them isn't going to be a job for inexperienced modellers or the faint hearted. It entails cutting a hole very accurately in each fuselage half in a prominent spot where there's no place to hide any mistakes. Basically - mess it up and you've ruined the kit. Thankfully, Eduard have included colour schemes where the modification isn't required (plus, of course, you could simply overlook it in favour of a simpler build and still choose whichever scheme you like).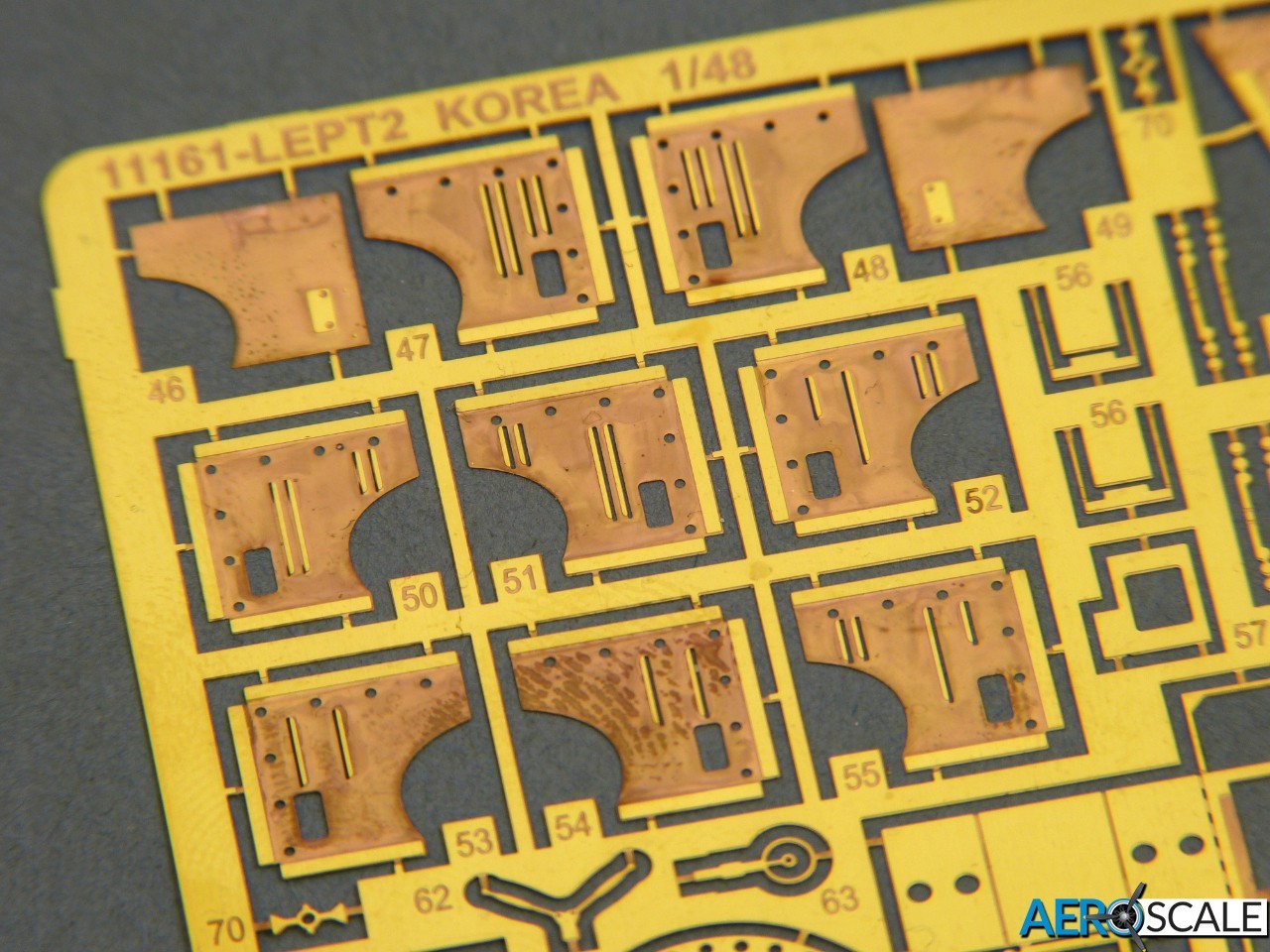 A Few Details
Whichever version you go for, the cockpit is a real gem straight from the box. Over 40 parts combine to produce a really busy "office", complete with data placards and nice pre-painted etched harness. There's a choice of styrene + decal or etched instrument panels, and a neat touch is that the instrument panel and rudder pedals subassembly attaches to the coaming, allowing you to insert it after the basic airframe is completed. That gives a handy bit of extra room to work and make sure no dust has crept in before closing things up.

The area behind the seat is packed with detail, and there are now two options for the equipment on top of the fuel tank; either the battery as before, or a new set of folded etched electrical units.

Further back, the radiator outlet now has the sides lined with etched fascias.
The camera ports for the reconnaissance version are nicely represented but, sadly, no cameras are included to go behind them. Admittedly, there probably wouldn't be much to see anyway, but I'll still check if it's worth putting something behind the clear windows to represent them.

Turning to the wings, the 16-part main wheel wells are really excellent. Based on building the first release, they go together really precisely and look great when completed.

The undercarriage is nicely detailed and locks in firmly to get the correct angle. The tyres are unweighted, so I'll file flats to get a realistic "sit" for the aircraft - this is particularly true if you opt the impressive load-out of ordnance included.

The following underwing stores are provided: two styles of drop tanks, plus 5" HVARs and 500lb bombs for the ground-attack missions which F-51s were tasked with in Korea, despite their vulnerability. 

Eduard include both cuffed and un-cuffed propellers. One slight frustration is that the instructions indicate to reduce the length of the latter slightly - so it would have been helpful if they'd included a 1:1 diagram to show exactly how much.

The clear parts are beautifully produced - thin and distortion-free. 2 styles of sliding canopy are used, both with an etched supporting frame inside. The pre-cut washi-tape painting masks will be ideal for coping with the canopy's compound curves. A nice touch is the inclusion of clear parts for the wingtip navigation lamps.

Instructions & Decals
As with any Eduard kit these days, the instructions are very classy - in this case a 28-page A4 booklet, which begins with 2-page article about the Korean War. The construction diagrams are well laid out to cope with the numerous options included, and the sequence is logical (although experienced modellers will almost inevitably change things to suit their preferred building method).

Colour matches are included throughout for Gunze Sangyo and Mission Models paints.
Eduard include 3 sheets of decals to cope with the impressive line-up of colour schemes offered and a comprehensive set of servicing stencils:
A. F-51D-30, 45-11705, Lt. Robert H. Dewald, 35th FBS, 8th FBG, Seoul City AB (K-16), Korea, December 1950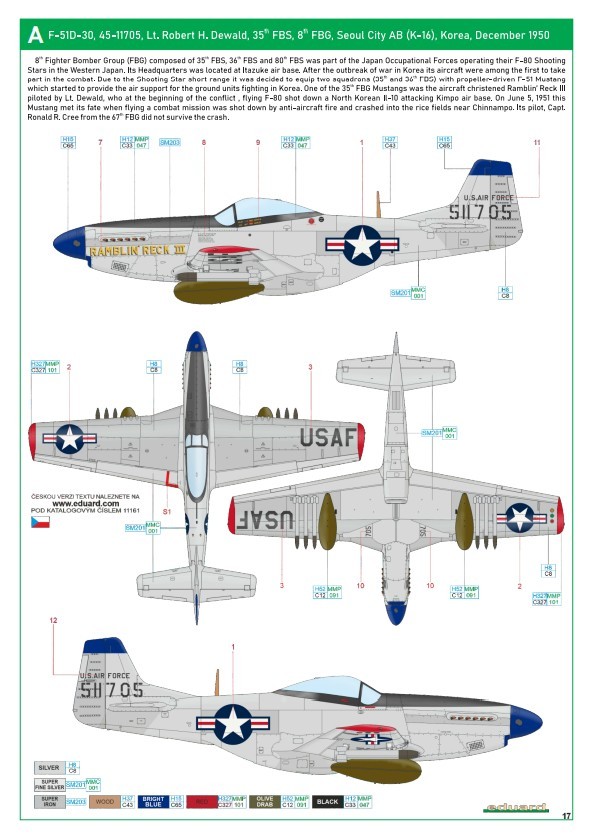 B. F-51D-25, 44-73073, Lt. Daniel E. Parr, 12th FBS, 18th FBG, Pusan East AB (K-9), Korea, summer 1951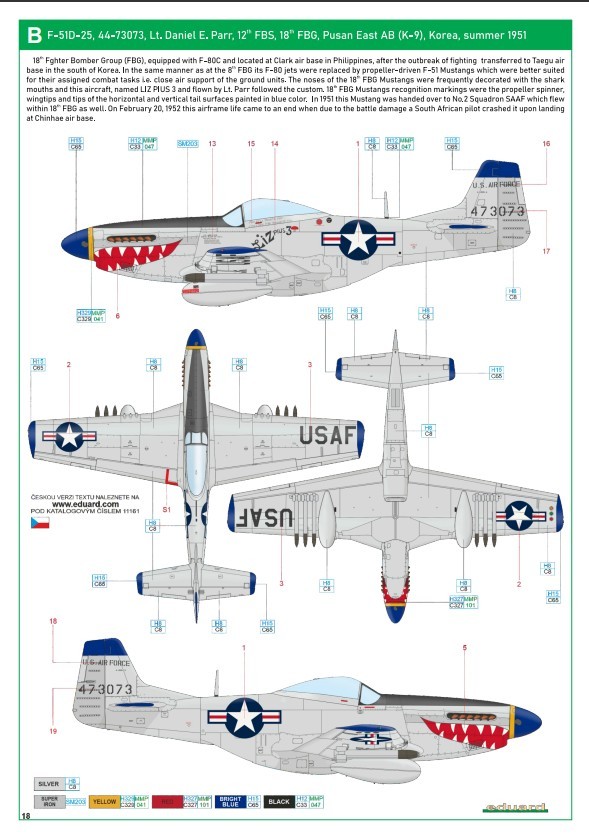 C. F-51D-30, 44-74597, Maj. Murrit H. Davis, CO of 39th FIS, 18th FBG, Seoul City AB (K-16), Korea, August 1951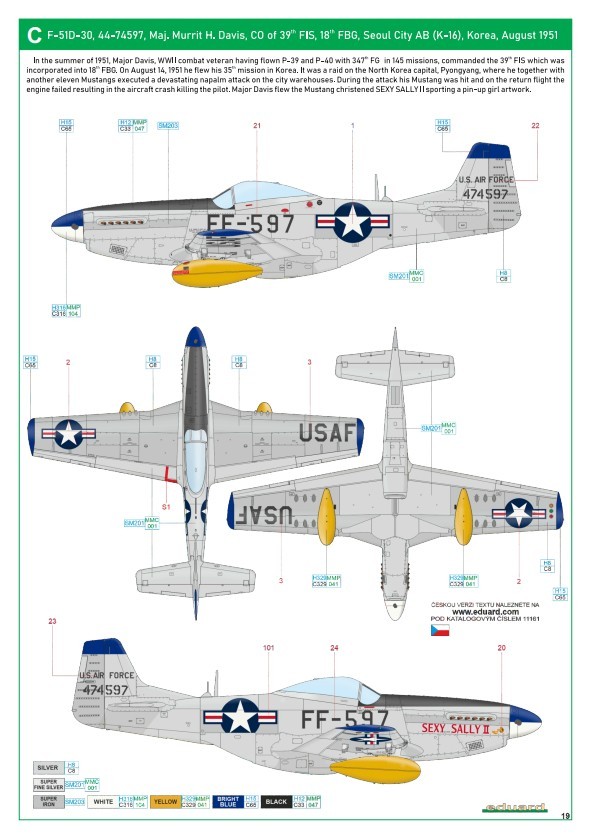 D. F-51D-30, 44-74651, Col. William H. Clark, CO of 18th FBG, Hoengsong AB (K-46), Korea, July 1952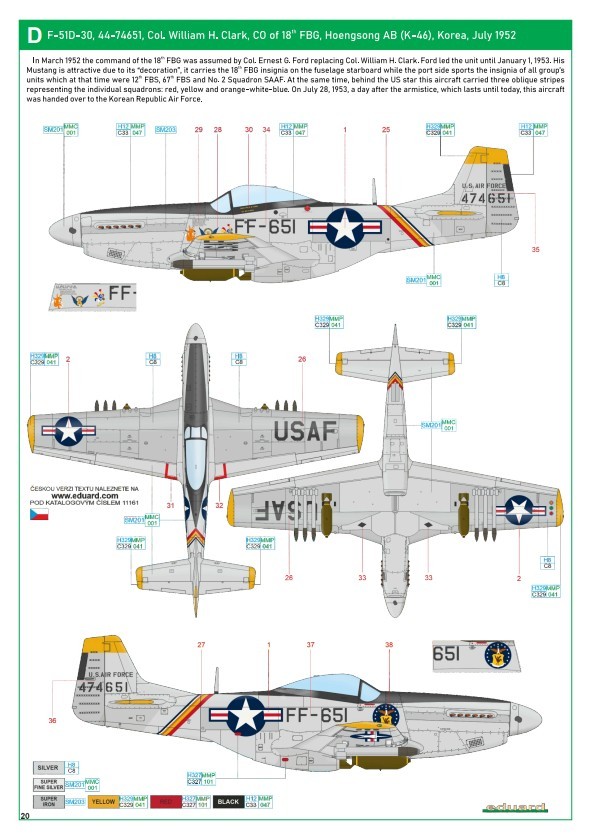 E. RF-51D-25, 44-84840, Lt. Frank M. Ward, 45th TRS, 67th TRG, Taegu AB (K-2), Korea, July 1951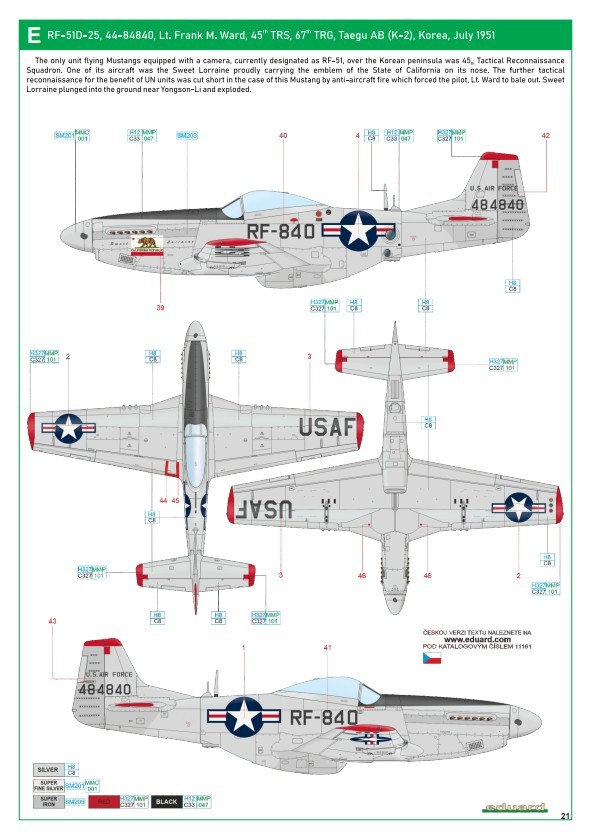 F. RF-51K-10, 44-12237, Lt. Watts/Lt. Taylor, 45th TRS, 67th TRG, Kimpo AB (K-14), Korea, 1952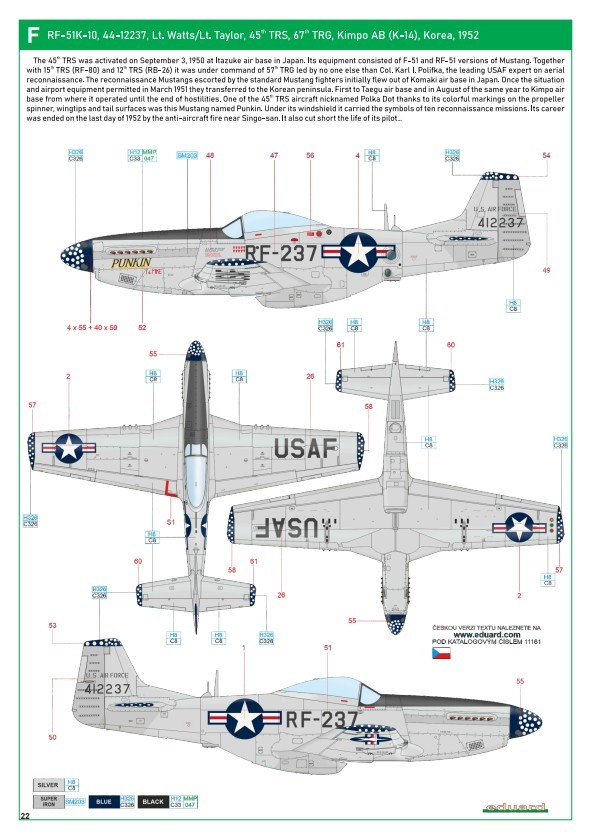 G. RF-51D-25, 44-84837, Lt. Grover J. Isbell, 45th TRS, 67th TRG, Kimpo AB (K-14), Korea, 1952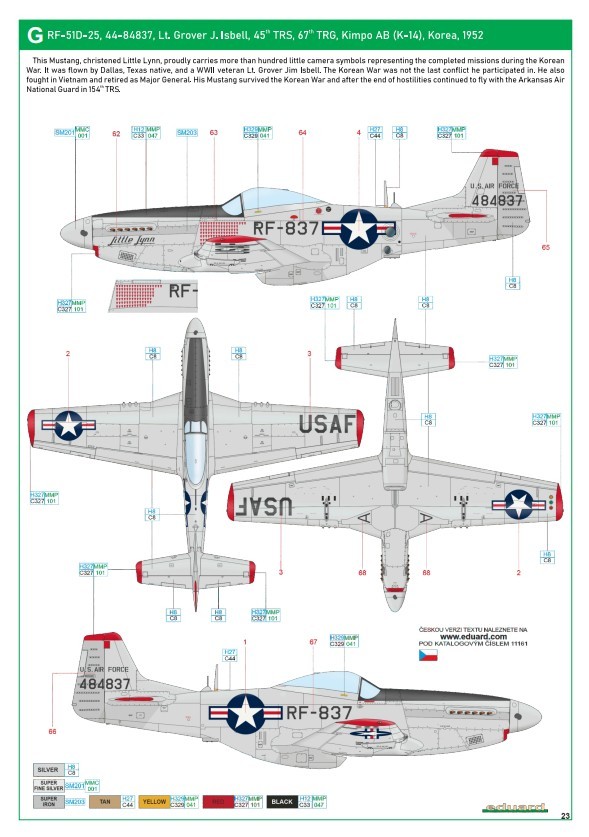 H. F-51D-30, 44-74629, Col. Dean E. Hess, ROKAF, Seoul City AB (K-16),, Korea, October 1950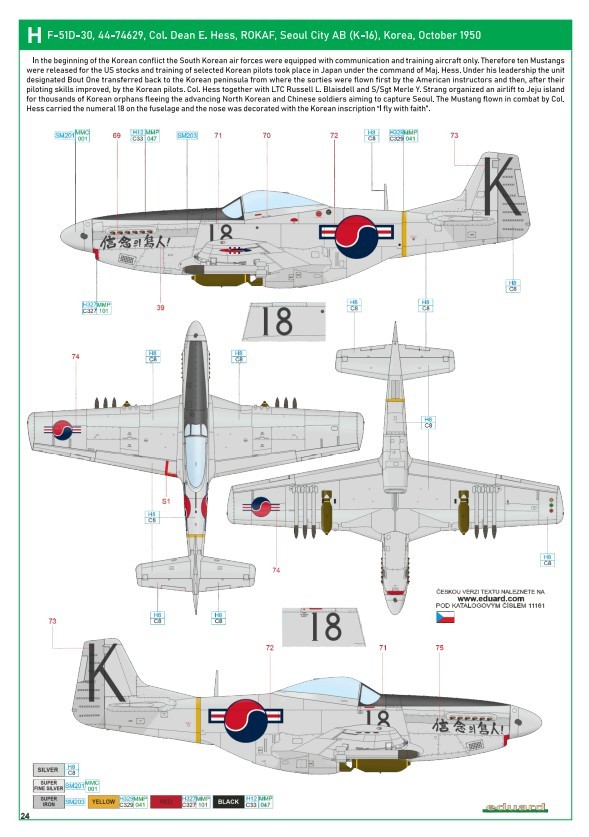 I. F-51D-25, A68-809 (45-11474), W/Cdr Louis T. Spence, CO of No. 77 Squadron RAAF, Iwakuni, Japan, August 1950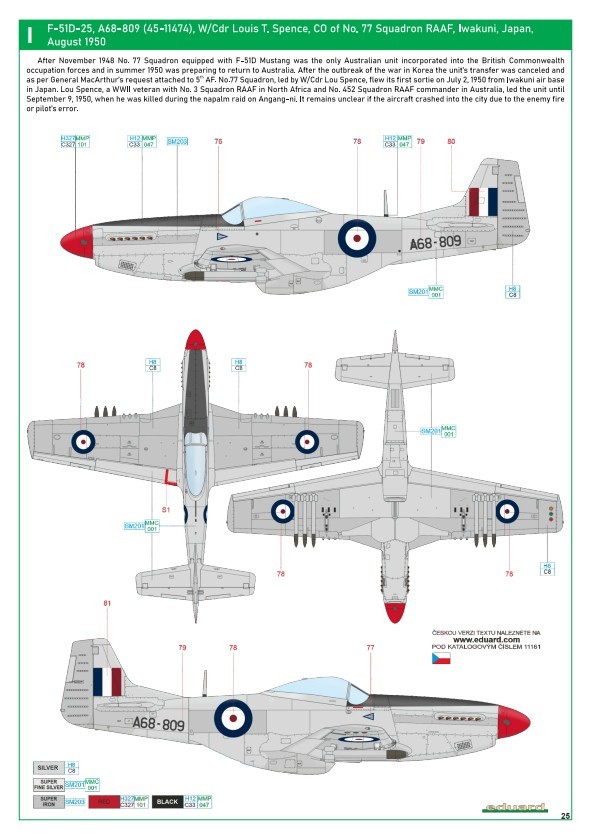 J. Mustang Mk.IV No. 2 "Flying Cheetahs" Squadron SAAF, Kimpo, Korea, 1952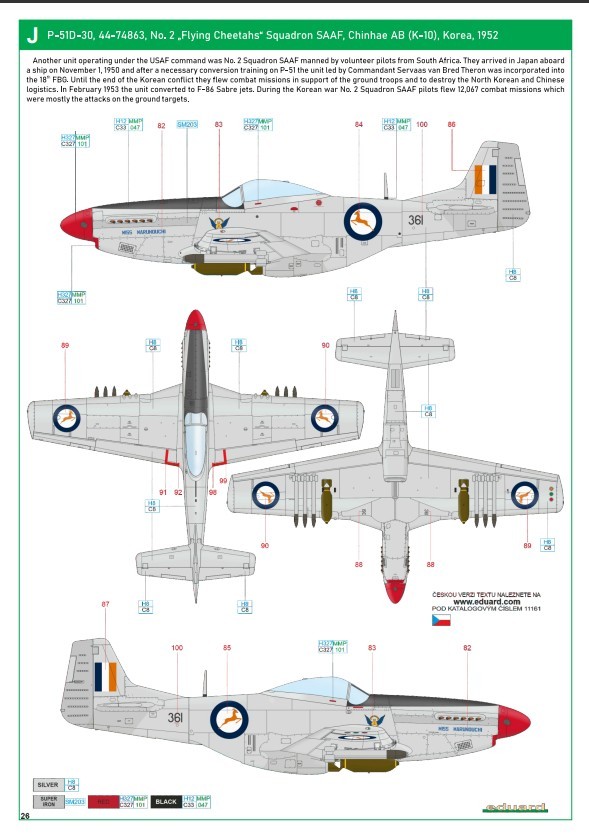 There's really something to suit all interests in the aircraft chosen, and the inclusion of South Korean, Australian and South African machines is especially welcome.
The glossy decals look to be very good quality, with precise registration on the sample sheets. As I've noted in other recent Eduard reviews, there is a fair bit of excess carrier film evident, but experience has shown this disappears fine when the decals are applied. You do need to watch out for items folding over on themselves, though, because they are pretty thin - which, of course, helps them snuggle down over moulded details. 
Eduard include a full-page placement guide for the stencils, plus a handy diagram showing which areas of the airframe were painted or left n/m.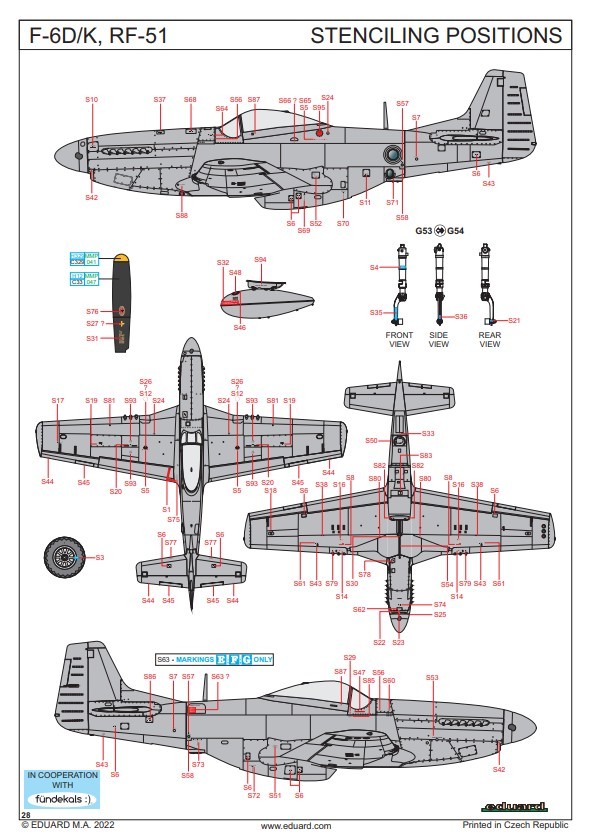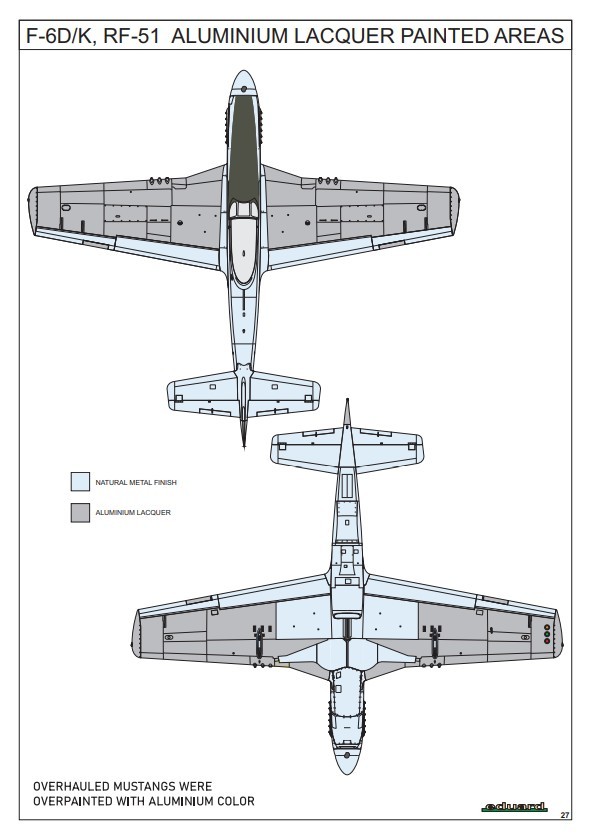 Conclusion
Eduard's Korean War dual-combo is a very good kit indeed, beautifully produced and packed with detail to please any Mustang fan. It's great to see the focus shift to the Korean War and the aircraft's swansong in US frontline service. I'd have to rate the kit as being most suitable for more experienced modellers on account of its reliance on photo-etched parts - particularly those louvred panels on the fuselage which will be a "make or break" moment if you chose to use them.
The kit is very competitively priced, working out at just over £21 for each of the models included, which I think is exceptional value for their quality.
Kit #11161 is available now from Eduard - Price: £43.49
Many thanks to Eduard for the review sample.
Please remember, when contacting retailers or manufacturers, to mention that you saw their products highlighted here - on AEROSCALE