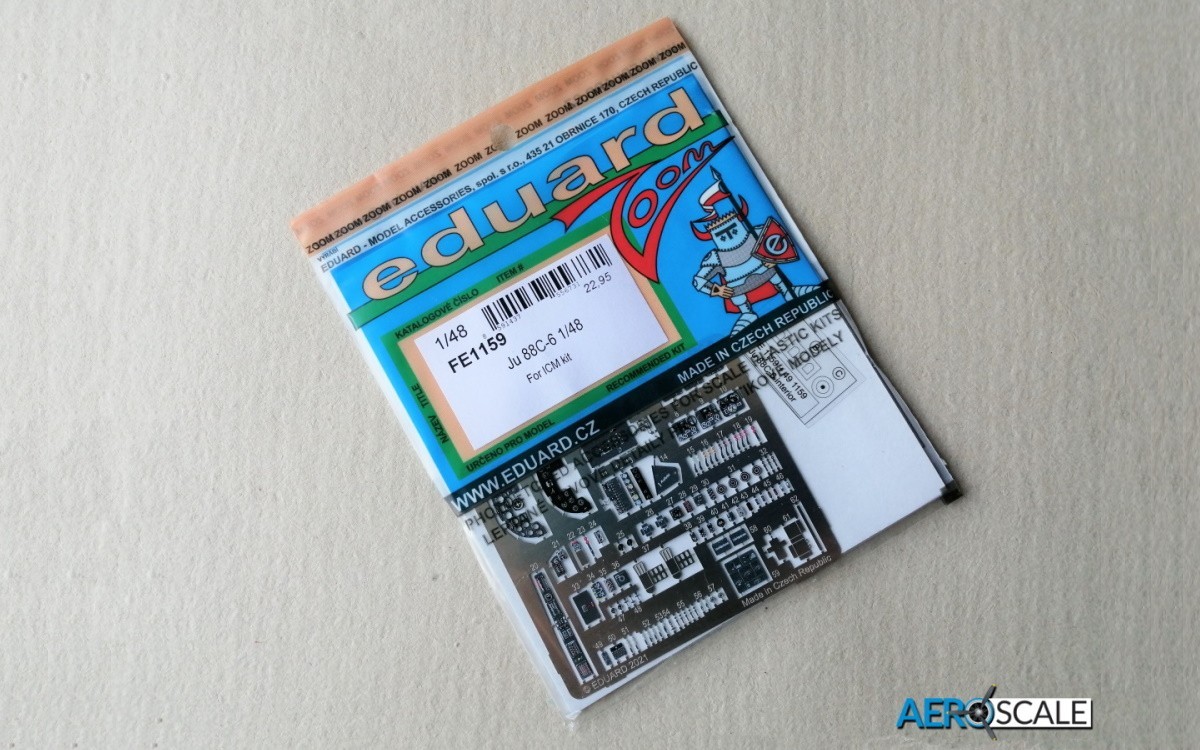 Zoom sets contain less parts and thus are a cheaper version of Eduards standard pre-coloured detail sets. They include some interior parts such as seat belts, instrument panel and occasionally exterior parts of a aircraft.

The Ju 88 with its extensive amount of glass is always one of those model subjects that needs a bit more effort put into detailing the cockpit area. The Ju 88 C-6 heavy fighter/night fighter has a substantially reduced amount of glass so the detail is mostly what can be seen looking down on the model.  There are areas of glass on the rear and sides of the belly gondola. The detail in the cockpit of the ICM kit is actually excellent, so what Eduard has concentrated on is those details that most of us find difficult to replicate: instruments and dials.  There are around eighty-three photo etched and five acetate parts. The latter need to be cut and trimmed from the sheet.
There are thirteen parts detailing he extensive number of electrical boxes to the rear. Some of the boxes are removed as is all the light relief plastic detail. The pilots instrument panel has just to parts one laid over the other. Eduard has recreated the look of the glass over the instruments for good measure.  


The right side of the cockpit has many pre-coloured instruments to attach as well non painted PE items including a box and an oxygen bottle rack. As a result lot of the existing plastic detail needs to be removed.
The left side of the cockpit features a side console with many levers: throttle, prop pitch, etc. again some of the existing plastic detail needs to be removed. The levers need to be folded over
Even in 1/48 scale there are many small parts and some folding is required. You need to also attach PE over PE in many areas. There's no guide to creating the box like structures, although if you have dealt with Eduard PE before you will know what to look for when folding. So not a set for the novice, but with patience you will achieve a stunning looking cockpit area.
Our thanks to Eduard for this review sample.

FE1159 - Cockpit Zoom Set Ju 88C-6  [ICM] – 1/48
Please remember, when contacting retailers or manufacturers, to mention that you saw their products highlighted here – on AEROSCALE.