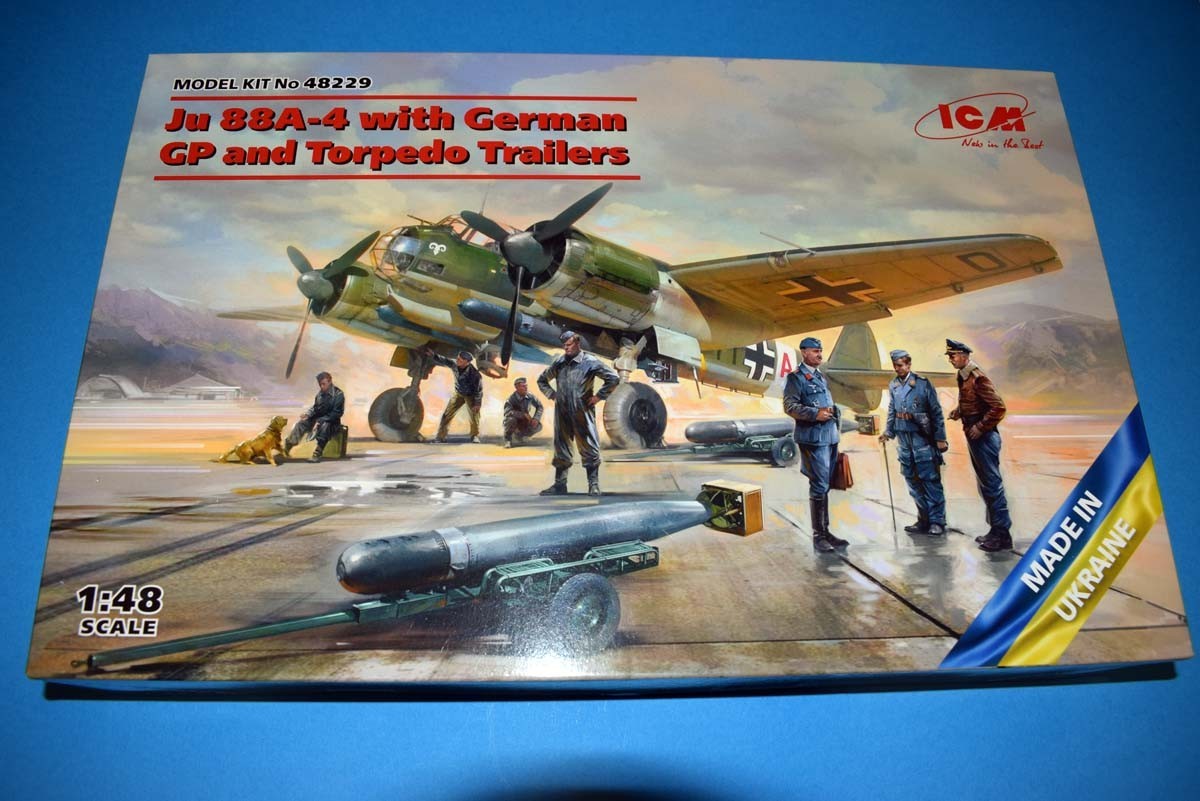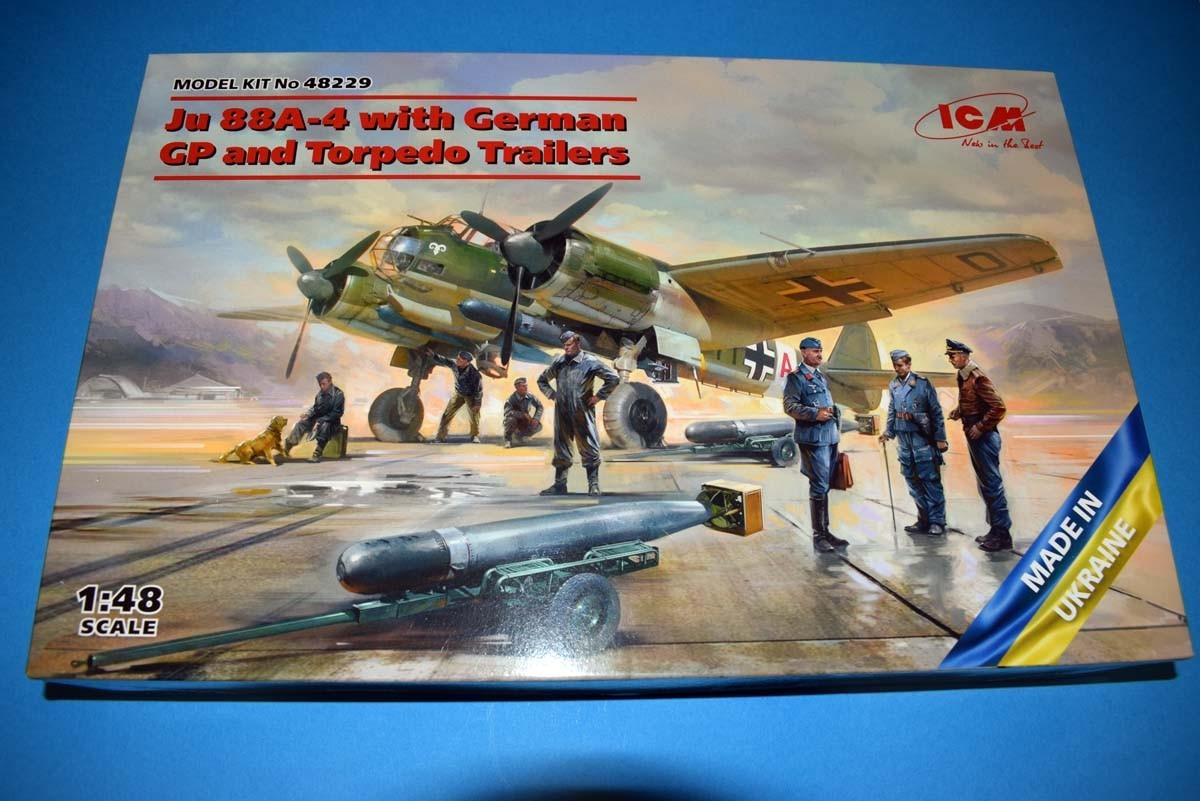 Review
This offering from ICM arrives in a flip top cardboard tray with a separate card lid depicting the artwork. Looking at the contents, which are supplied in multiple re-sealable plastic bags I see no obvious issues beyond flow lines in the larger mouldings. These however, do not feel or look to have caused an issue with the finish. The Ju 88 included in this release is kit number 48236 and is listed as a torpedo bomber version of the Ju 88. With the number of Ju 88's released by ICM, I do not intend to dig too deeply into this aspect of the release and will instead stick to what I consider to be the highs and lows.
The interior of the model has a nice level of detail in the cockpit, however there are now several sets available to improve the detail in the area in resin and photo etch. My two big complaints with this area of the release, are the pilots seat and the lack of harnesses. A model of this scale, with such large glazed areas means that scratched or after market harnesses are pretty much a must If you want to display your model to others. Another plus, is that due to this release being a diorama in a box. The inclusion of engine detail is a big plus, and opens up options. This detail is not going to be perfect, and will require the modeller to do some work to get the most from it. Well often over looked I quite like the glazing in this release, as ICM have appeared to have got a good compromise between the thickness of the plastic and the clarity of the clear parts. I have not finished this particular variant myself, but I have seen finished offerings and I have been rather pleased and impressed by how they look with the torpedos mounted giving the finish an unusual appearance.
The exterior of the model has very nice finely recessed panel lines, but care will need to be taken with any filling that is required to avoid the need for re-scribing. I also found that if you are not careful when spray painting it is very easy to flood this detail again requiring remedial work to correct. So I will say that the aircraft model is a very good starting point for those with particularly high requirements and due to the number of releases there are a lot of after market parts available. ICM has provided 4 finishing options for this release and these are:
Ju 88A-4/TORP, 8./KG 26, Grosseto, Italy, late 1942
Ju 88A-4/TORP, 1./KG 77, Italy, September 1943
Ju 88A-4/TORP, 7./KG 77, Orange-Karitat, Southern France, April 1944
Ju 88A-4/TORP, 3./KG 26, Bardufoss, Norway, February 1945
This offering provides 2 torpedo's for mounting on the aircraft, and a third for mounting on a cradle for transport. This release is kit number 48404. The cradle has a very pleasing level of detail, and the torpedo itself is in my opinion better detailed that that supplied for the aircraft model, but your opinion may vary. I cannot help but feel that the model would have benefited from having a vehicle to actually manoeuvre the trailer to complete the set in my opinion. For me the big part of this release is the figure set included with the kit which is something that ICM do very well.
This is by no means a new figure set, but you cannot help but be impressed with the detail these figures provided. You have4 ground crew who are busy doing as little as possible, but the coverall detail, the natural creases in the clothing and the stances of each figure is visually appealing in my opinion. You are provided with what I believe to be an officer, who looks like he has had one too many lunches to me, but that does not mean he is out of scale and could be used as the centre point of a story for a diorama. You have a pilot officer and he is wearing a leather jacket with detail I particularly like. You then have what I believe to be a recovering crew member who is walking with the aide of a stick and again offers a nice central element for a story. Saving the best til last, we have a dog sat down begging and has been shown interacting with one of the ground crew who has some food, which is being offered to the dog. Lastly on this sprue is a jerry can.
Conclusion
I find that having looked through what this kit offers, it makes you want to build it. There is a story within the box begging to be told while still giving each modeller different ideas I believe. 1/48th scale figures that can all be used together or in separate groups in a rarity and it is the figures for me, that sell this model offering and if they included a vehicle for the trailer I would be inclined to say what is included is perfect. But other elements are needed to lift it to the very high level of display in competition.