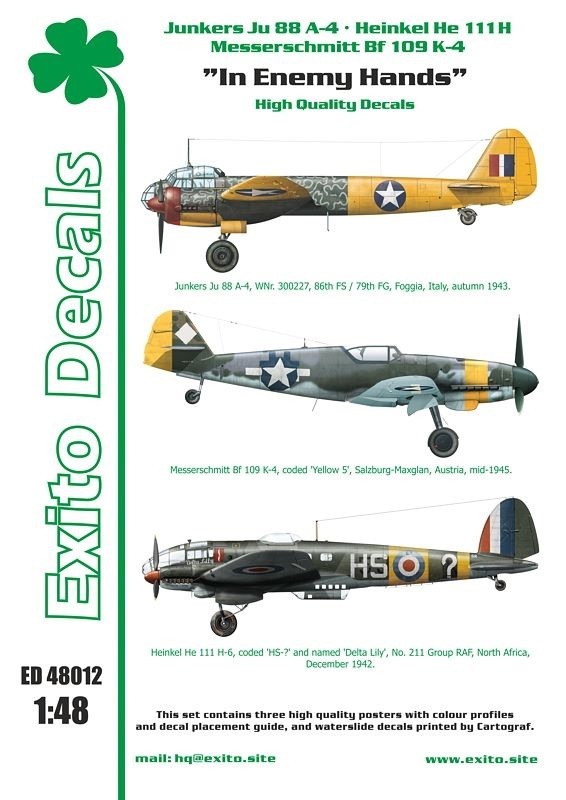 Exito's 12th decal set is entitled "In Enemy Hands" andincludes markings for Ju 88 A-4, He 111 H-6 and Bf 109K-4, available in:

ED48012 - "In Enemy Hands" Ju 88 A-4, He 111 H-6 and Bf109 K-4 - 1/48
ED72012 - "In Enemy Hands" Ju 88 A-4, He 111 H-6 and Bf109 K-4 - 1/72
Decals are printed by Cartograf. The marking options are:
- Messerschmitt Bf 109 K-4, coded 'Yellow 5',Salzburg-Maxglan, Austria, mid-1945.
- Heinkel He 111 H-6, coded 'HS-?' and named 'Delta Lily',No. 211 Group RAF, North Africa, December 1942.
- Junkers Ju 88 A-4, WNr. 300227, 86th FS / 79th FG,Foggia, Italy, autumn 1943
None of these marking options have previously been reproduced in decals in an accurate manner. Our instruction sheets include photos of all depicted aircraft, some of which you may have never seen before.Illustrations were created by Janusz Swiatlon.
This decal sheet was printed by industry leader, Cartograf of Italy, which ensures top printing quality and ease of application.It is complemented by instructions that differ from the plain market standard.Each subject is presented on an A4-sized sheet, with large side aircraft profiles printed on the front, and the remaining artwork, photos of the actual aircraft and all necessary information laid out on the rear side. This way you not only get some cool decals for your model kit, but also attractive posters to adorn your man cave, at the same time!
Please remember, when contacting retailers or manufacturers, to mention that you saw their products highlighted here – on AEROSCALE