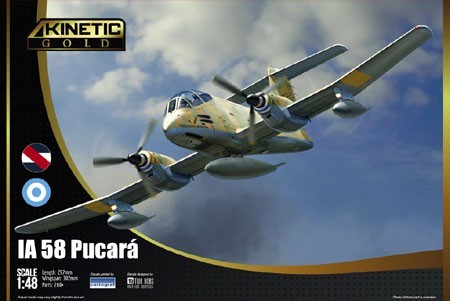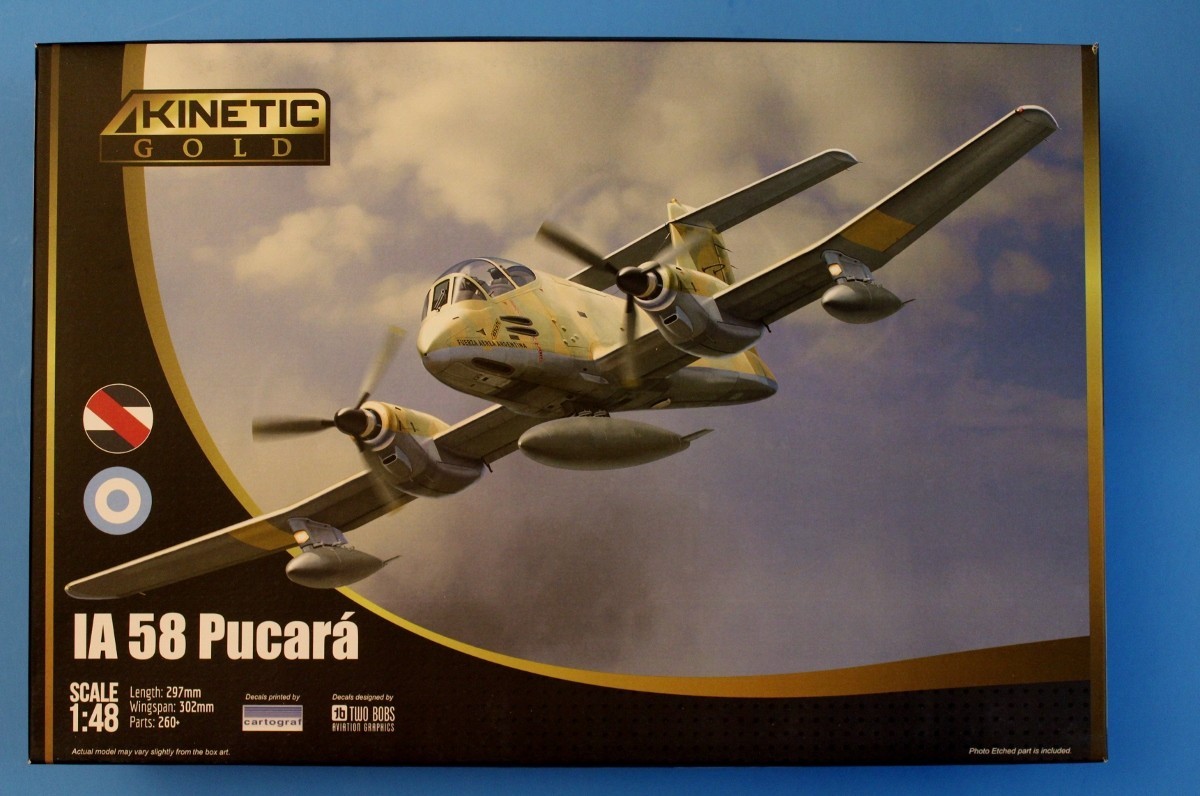 Kinetic's 1/48 IA 58 Pucará
Kinetic has released this new kit of Argentine's IA 58 Pucará, a combat veteran that has been taking flight for around 50 years. It is kit K48078: IA 58 Pucara

Designed and built by Fábrica Militar de Aviones to be a Counter-Insurgency (COIN) ground attacker capable of operating from unimproved fields, the Pucará (Fortress) is operated by four air forces: Argentina; Columbia; Sri Lanka; Uruguay. Similar the early Second World War Bf 110, the Pucará packs a fixed armament of two 20mm cannons (Hispano MS 804) and four 7.62mm machine guns (FN M2-30). External armament to be mounted on three hardpoints include:
7.62mm gun pods
12.7mm gun pods
Bombs
70mm rocket pods
Mine dispenser
torpedo.
It was blooded over the Falklands and Sri Lanka. While the IA 58 Pucará is not a household (hangerhold?) word, I am surprised that this is the first 1/48 offering. (I have only found one 1/72 offering.)

Raymond Chung, Kinetic's owner, creates kits with the philosophy for enjoyment, creating accurate models without complex assembly. Kinetic advertises this model can be built as a IA-58A or IA-58D. The model features new tooling designed and cut with computers and even detailed by laser. Kinetic markets this model as a Kinetic Gold kit. They do not explain what makes a Gold kit special. It features a small photo-etch fret and special decals printed by Cartograf, designed by Two Bobs Aviation Graphics. I recall all of the Kinetic kits I've seen have Cartograf decals, so perhaps it is Two Bob's partnership that makes them "gold." Or perhaps it is the beautiful detail engineered into the molding process? Perhaps it is the comprehensiveness of detail - I don't recall seeing a model before that features static dischargers.

Regardless, the 260+ gray styrene parts and 13 clear parts are crisply, precisely and cleanly molded. There are six sprue trees:
Sprue A - fuselage, flaps, stabilizers, miscellaneous

Sprue B - wings, cockpit, wheel wells, drop tanks, and external store pylons

Sprue C (two) - engine nacelles and props, main landing gear wheels, various brackets and fittings, and external store pylons

Sprue D - landing gear, antennas, brackets and braces

Sprue E - canopy, navigation lights, gunsight, etc.
Photo-etch fret - seat harnesses, canopy frames, mirrors, static dischargers, etc.

Sprues A-D are packed in a plastic bag while the clear parts are packed separately. Somehow, the main canopy suffered a scuff rash. Remarkably, only two parts came off the sprues, the two spinners. Almost all other parts are safe and undamaged, except D36, a main gear strut, which suffered a broken wheel axle. The P/E is also held in its own baggie, as are the decals.
You may have noticed that this kit has parts for a basic IA 58. While it has drop tanks, external stores pylons and weapons racks, it lacks an external weapon load. No bombs, pods, or rockets. You will have to raid the spares drawer or seek aftermarket items. This is a pervasive complaint about Kinetic kits - lack of a war load.

In the Box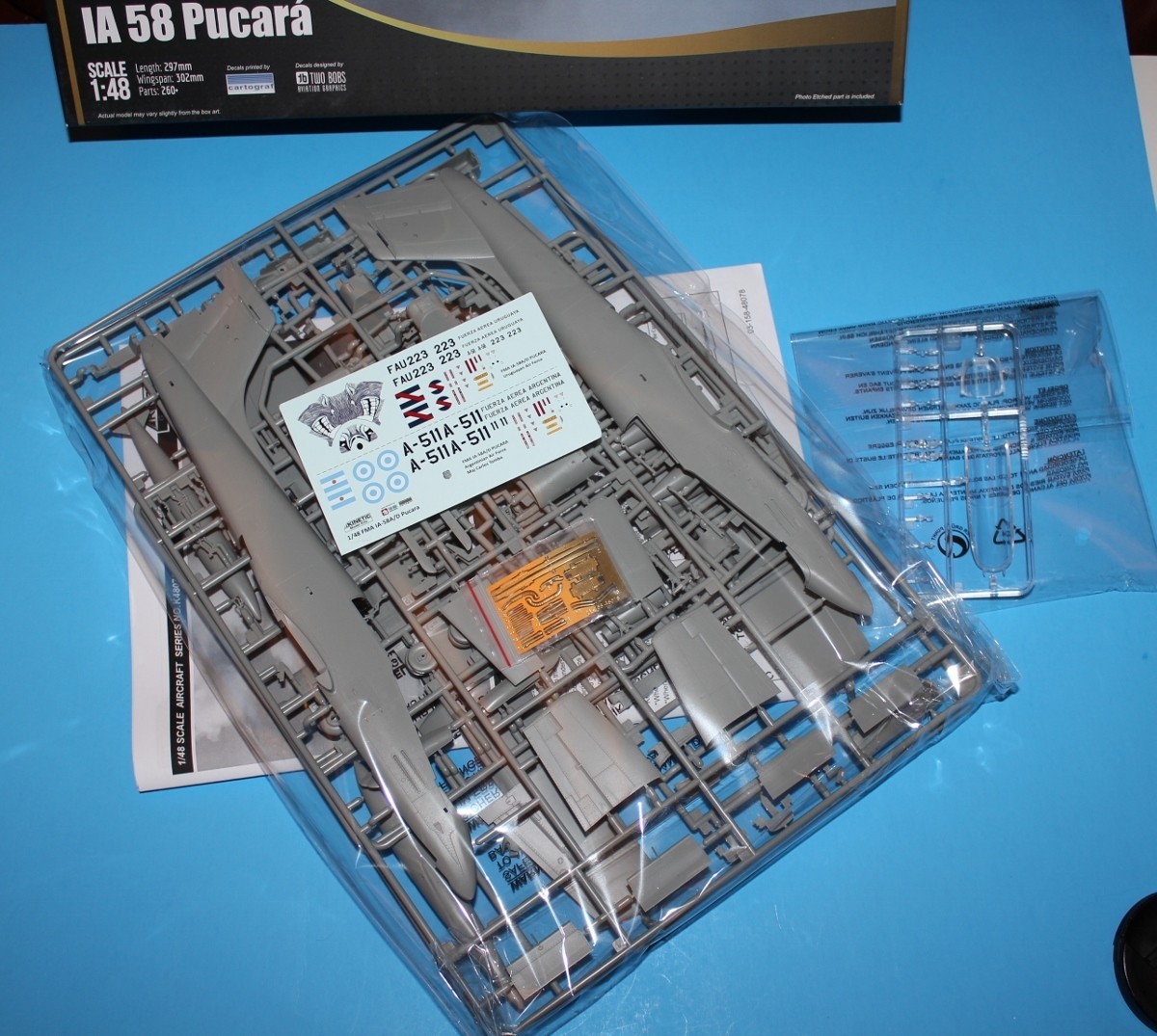 Tightly packed sprues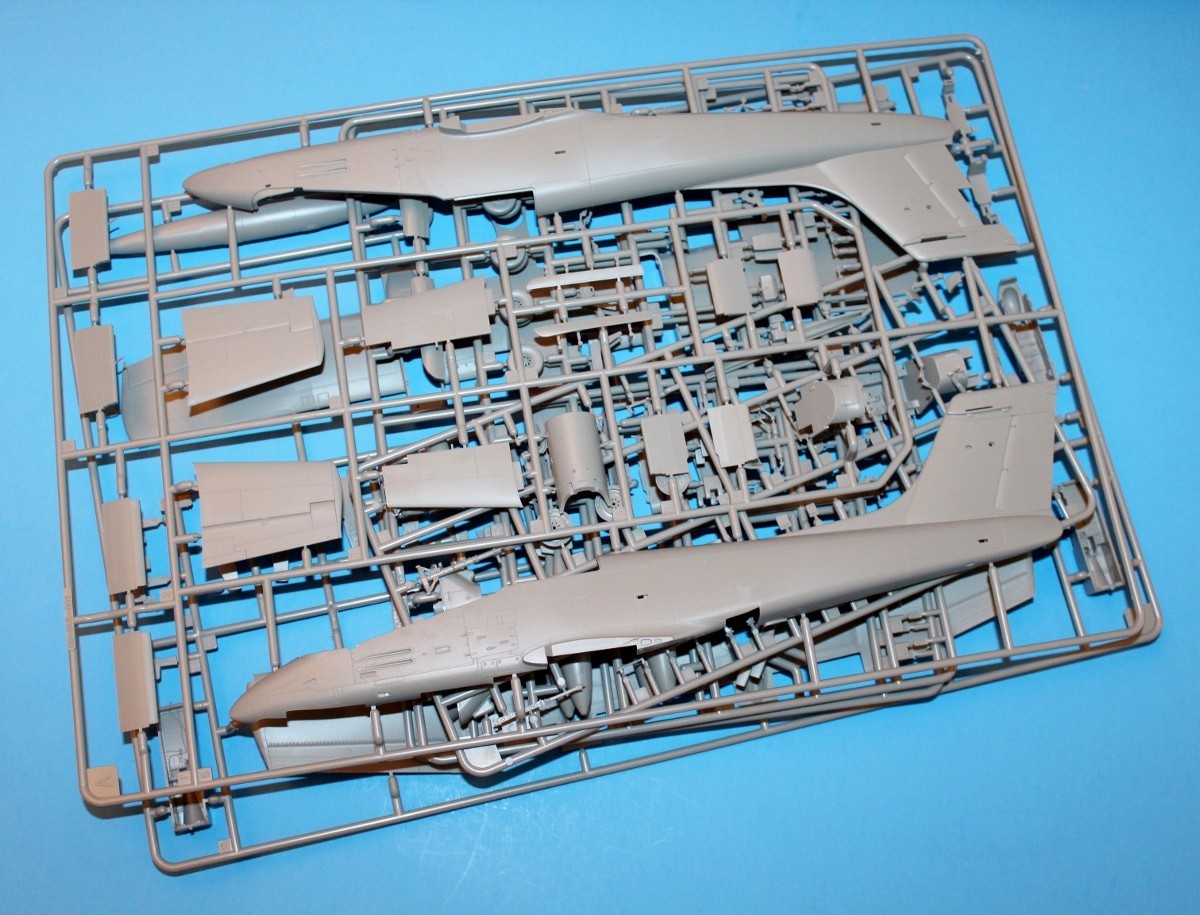 Photo-Etch (P/E)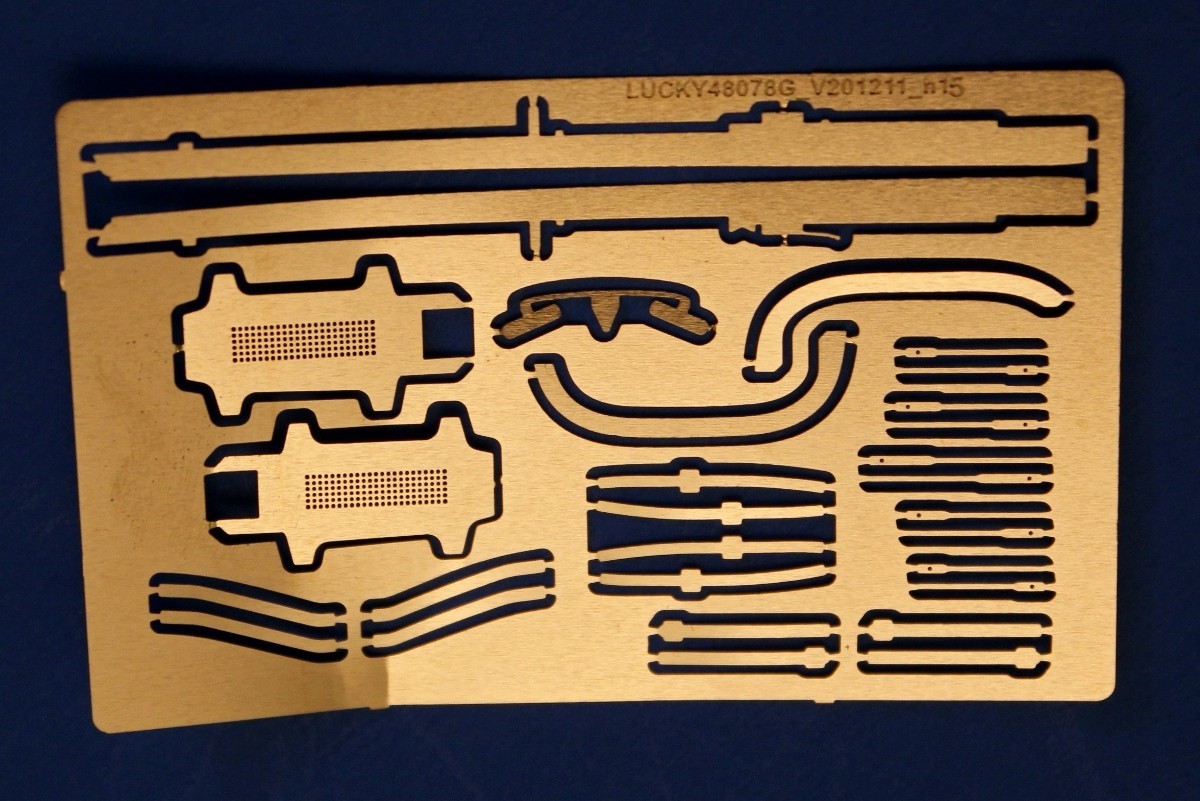 Clear Sprue (obviously)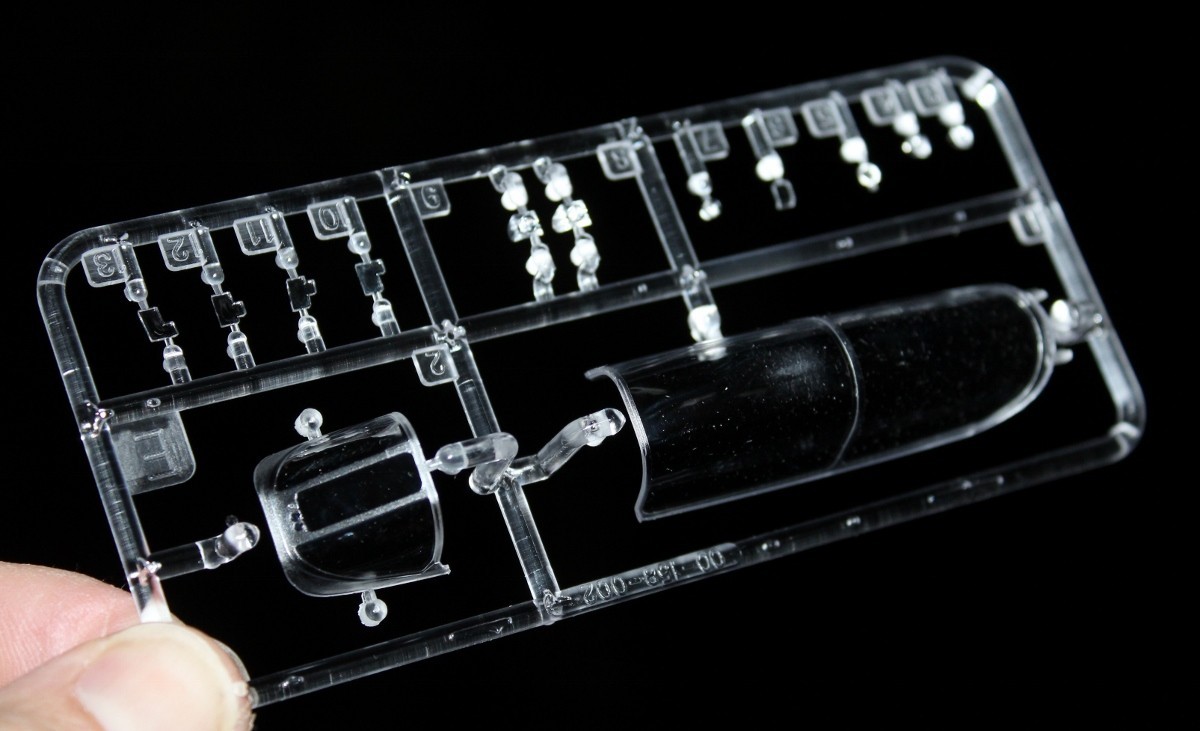 Not how clear and undistorted the clear parts are, as well as the fine framing.

Decals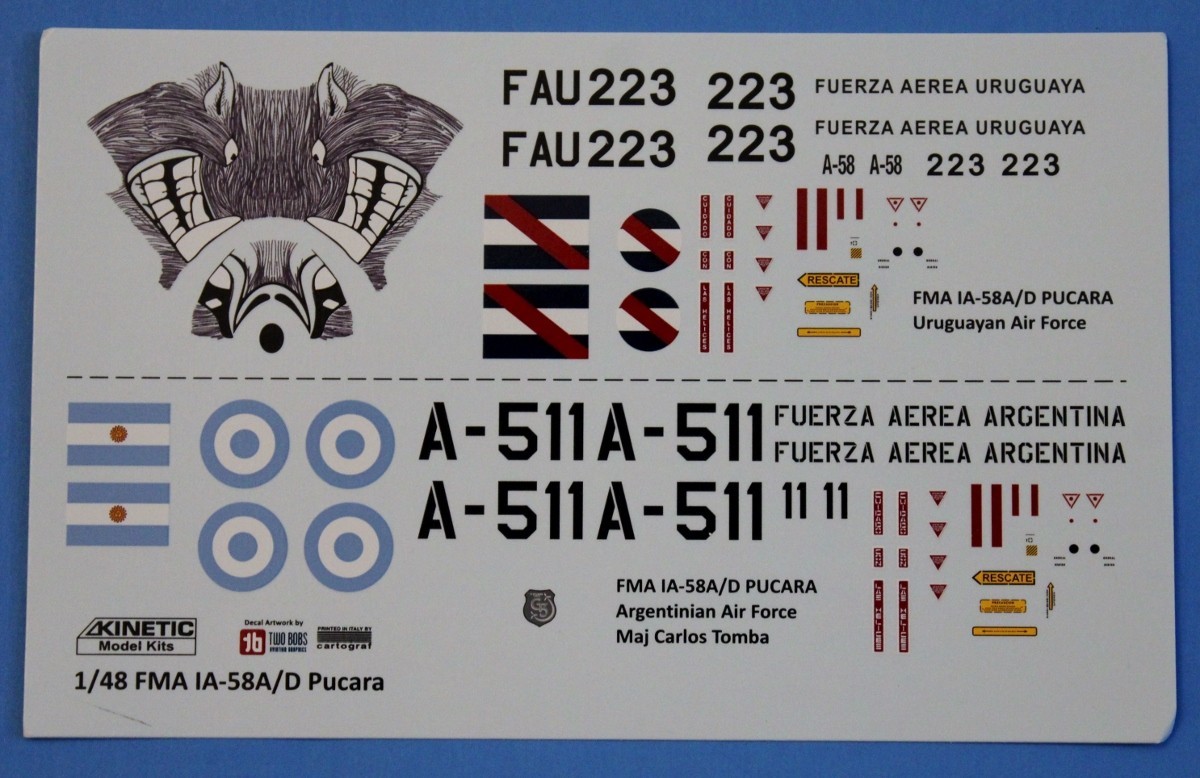 Sprues A & B
Sprues C & D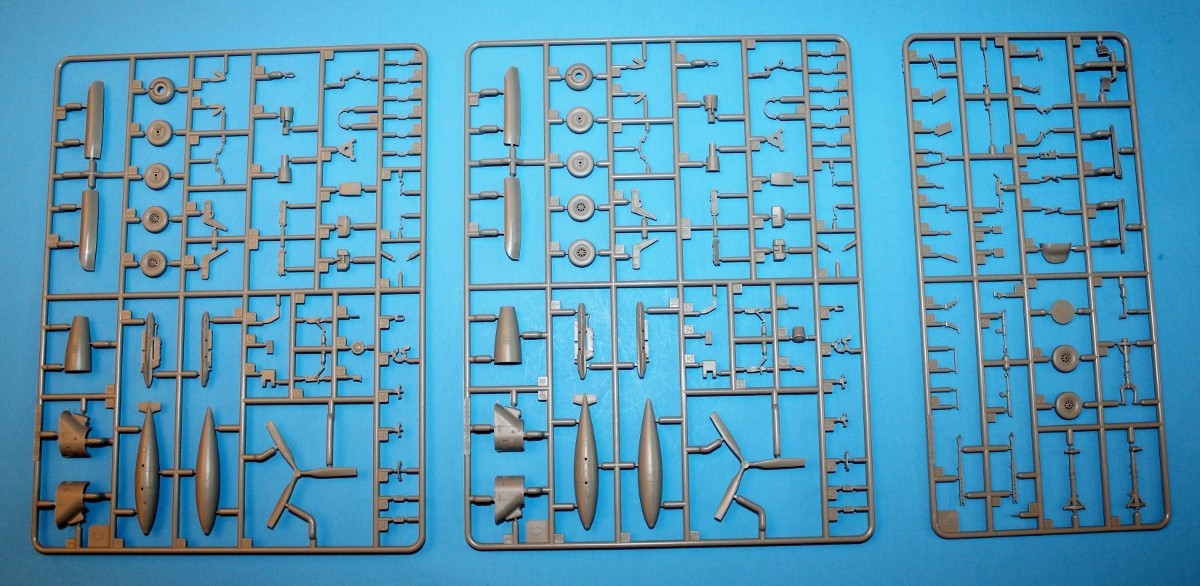 Sprues C & D with contrast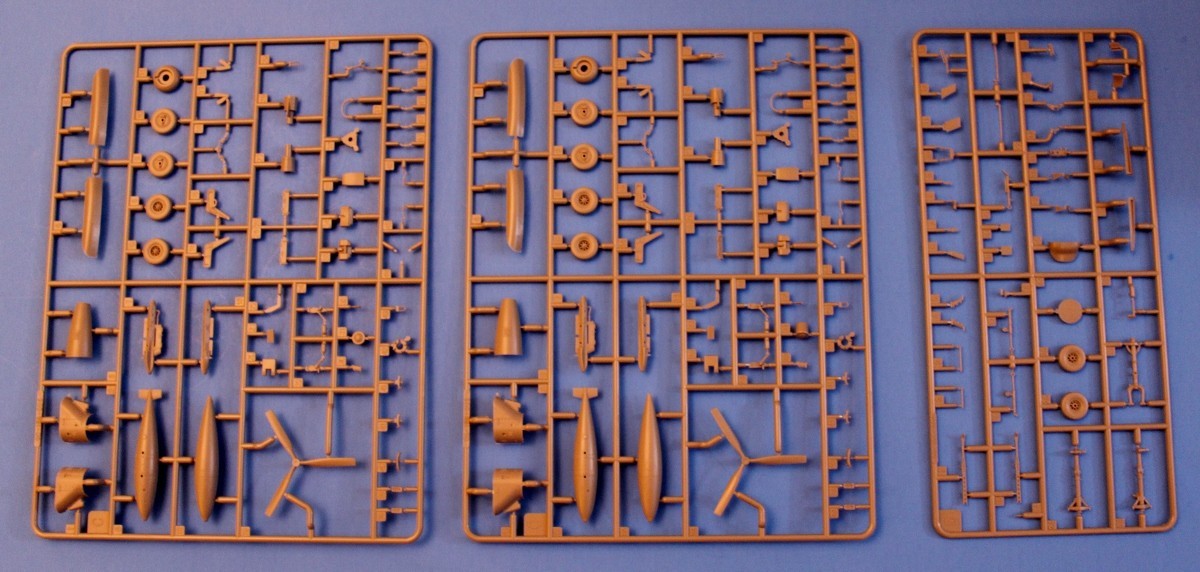 Molding
Kinetic's molding quality is top-notch. I can't find any flash, ejection marks that will be visible on the finished model, noticeable mold seam lines, or sinks. The surface looks to have a very slight texture but it doesn't feel like it does. Look at the sprue connectors - do they look small to you, too? This trait will make removing the parts easier, especially the thin fine gauge pieces, of which there are many.

Fine recessed panel lines represent external airframe components and access panels. You can see that they even recessed the flush rivets of airframe construction. Raised detail models hinges, fairings and bulges required by internal objects a skosh too big for the sleek airframe. I do note that lightening holes on some landing gear struts are not molded open. They are large enough that drilling them out should not be a problem, although that could weaken the parts. Structural integrity of parts seems to have been on Kinetic's mind when they designed the kit, as you might notice in the photo of the inside of the halves of a pylon.

Each sprue is well organized. Parts are almost all grouped by sub-component, relieving the modeler of playing the model kit version of "where's Waldo." With over 260 parts to this kit, I appreciate this feature.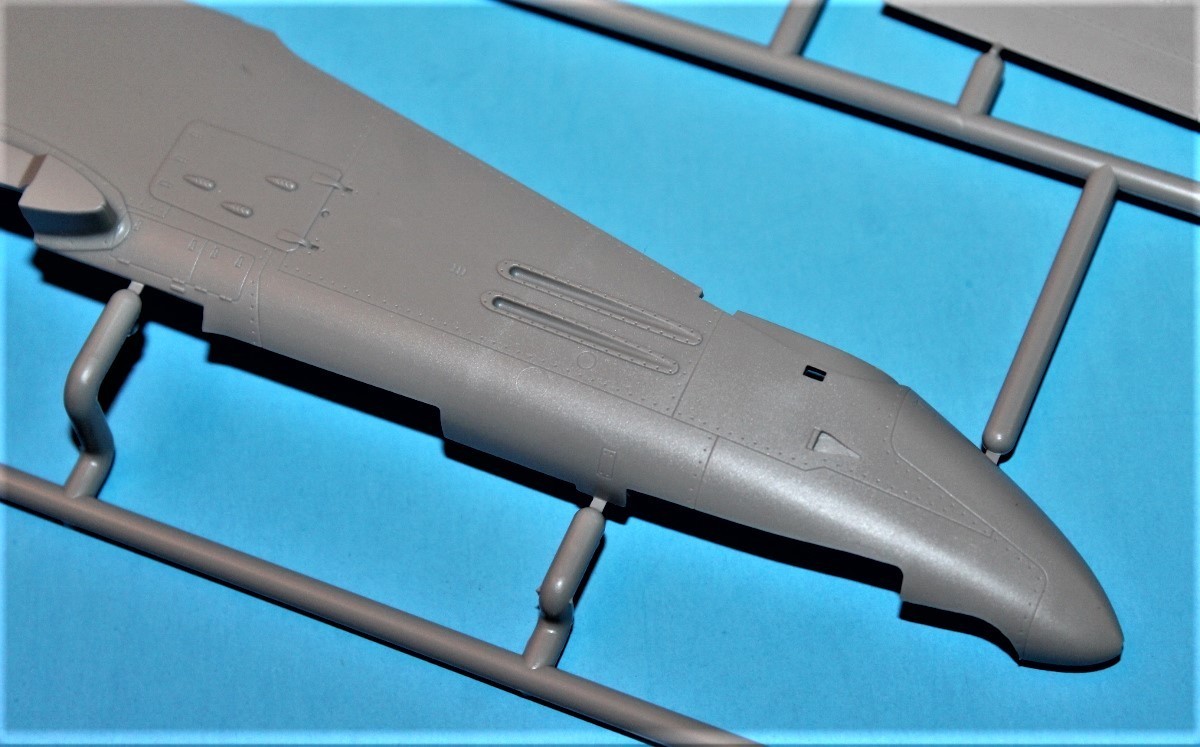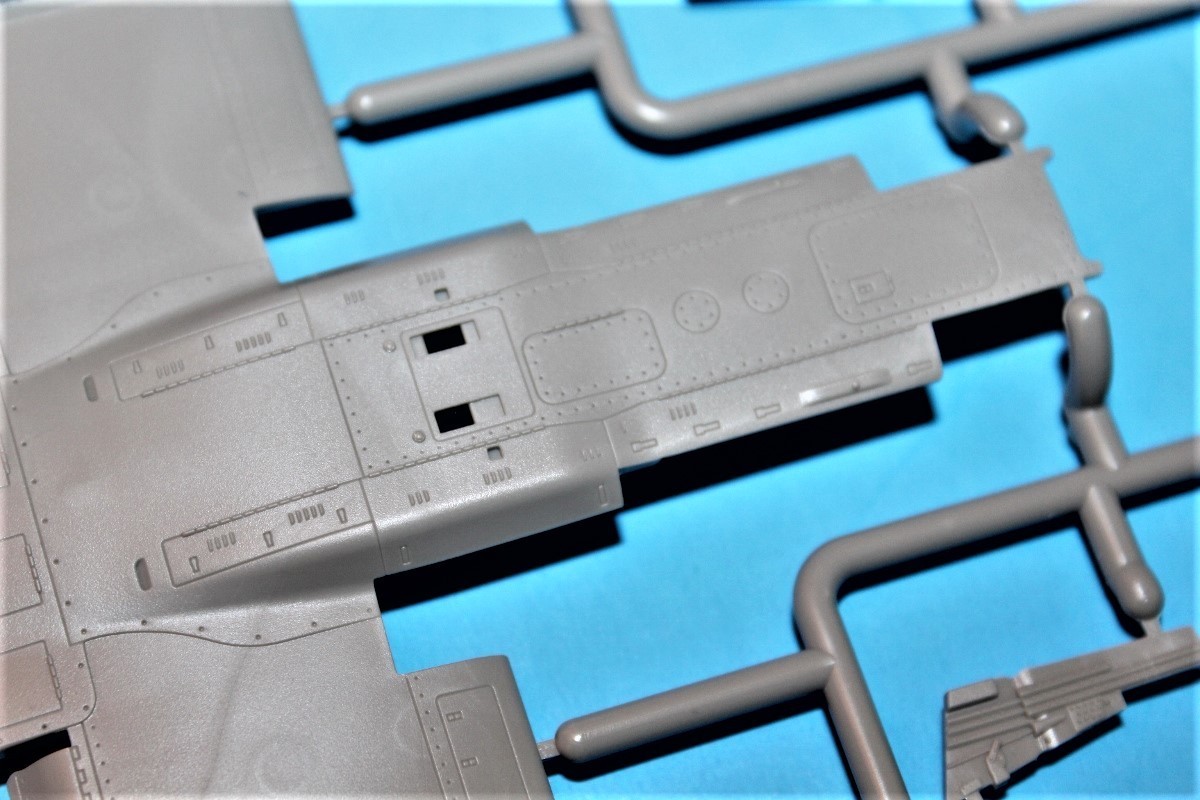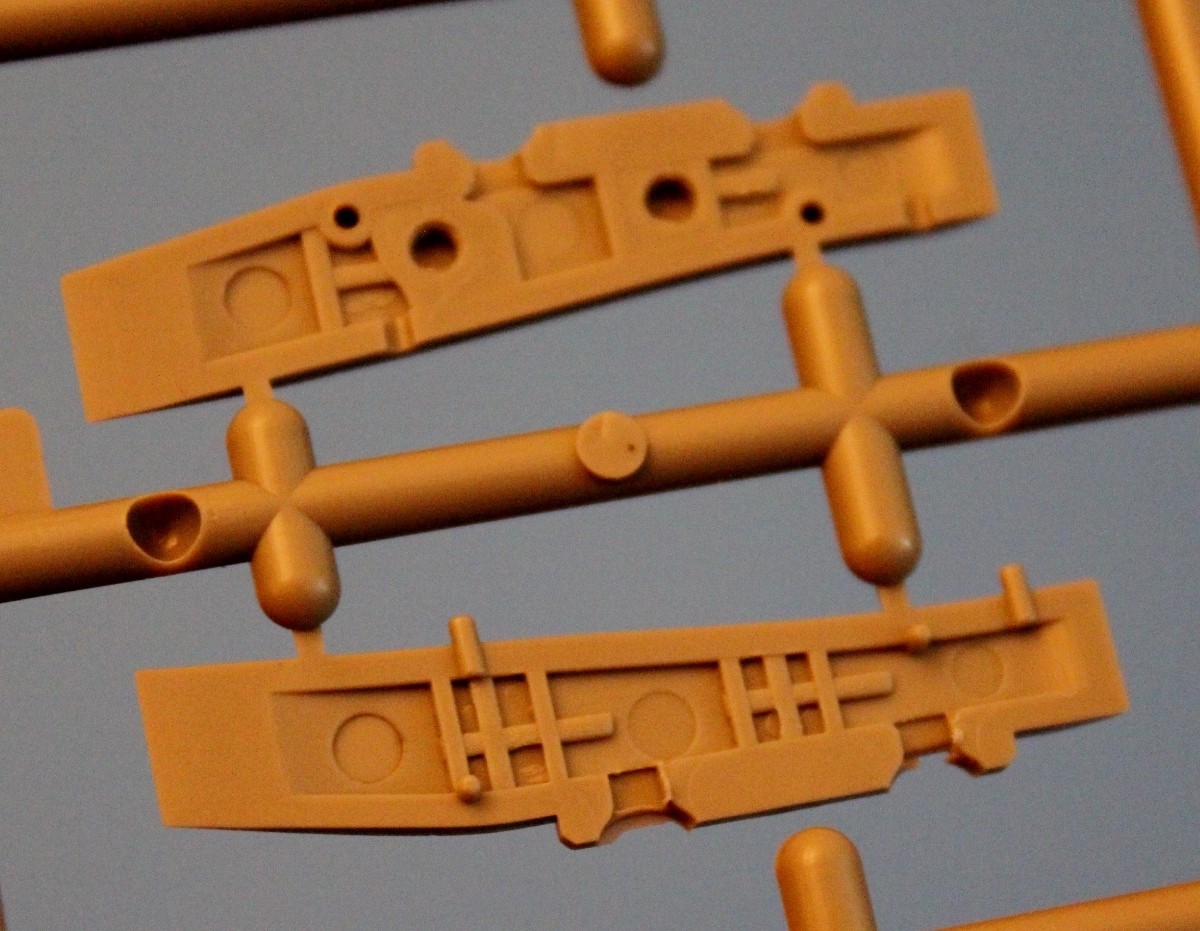 Detail
Exterior surface detail is not the only characteristic of this model.  One of the components that really catches my attention is the crisp detail of the landing gear.  Notice the small escalloped O-ring retainers of the main gear struts, and the bolts on the trunnions?  Detail is more than molding, it is parts and pieces.  There are several actuators for the landing gear sub-assemblies.

Cockpit and Wheel Wells
These areas are also well detailed.  Two slightly different instrument panels are provided, one for the airplane driver and one for the GIB.  Raised bezels detail the instrument panels but without simulated face markings.   No decals are provided, either.  Mike Grant Decals offered sheets of various instrument faces; I've used them and they are very good.
The cockpit "tub" has mainly raised details, which makes sense.  Plenty of switches, dials, buttons, and controls for powerplants, landing gear, flaps, etc.  The ejection seats are multi-piece affairs, even without the P/E.

Flaps and other items
The flaps are separate, allowing you to position them raised or lowered.  I do not know if the real Pucará flaps droop or not when the engines are shut down.

There are many individual small pieces to attach to, and inside, the airframe.  Keep those sprue nippers sharp!

Instructions and Decals
Fifteen steps guide us through assembly. The instructions are black-and-white line art and look clear and easy to follow to me. An illustration of the sprues are printed, as well as the painting key. Unfortunately, the external paint guide is also in black-and-white. Color would be a nice touch for this "Gold" series kit, but the illustrations show what we need to see.
The following are a sampling of the instruction sheet.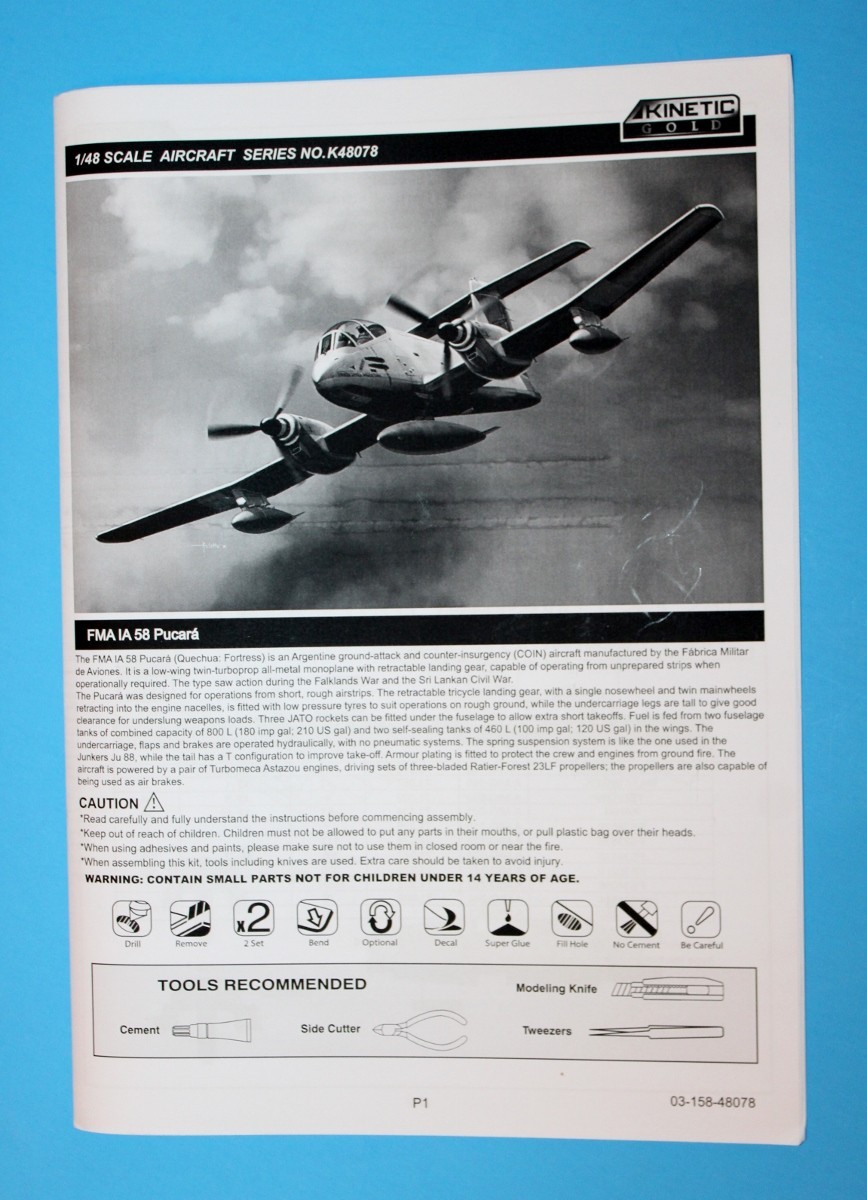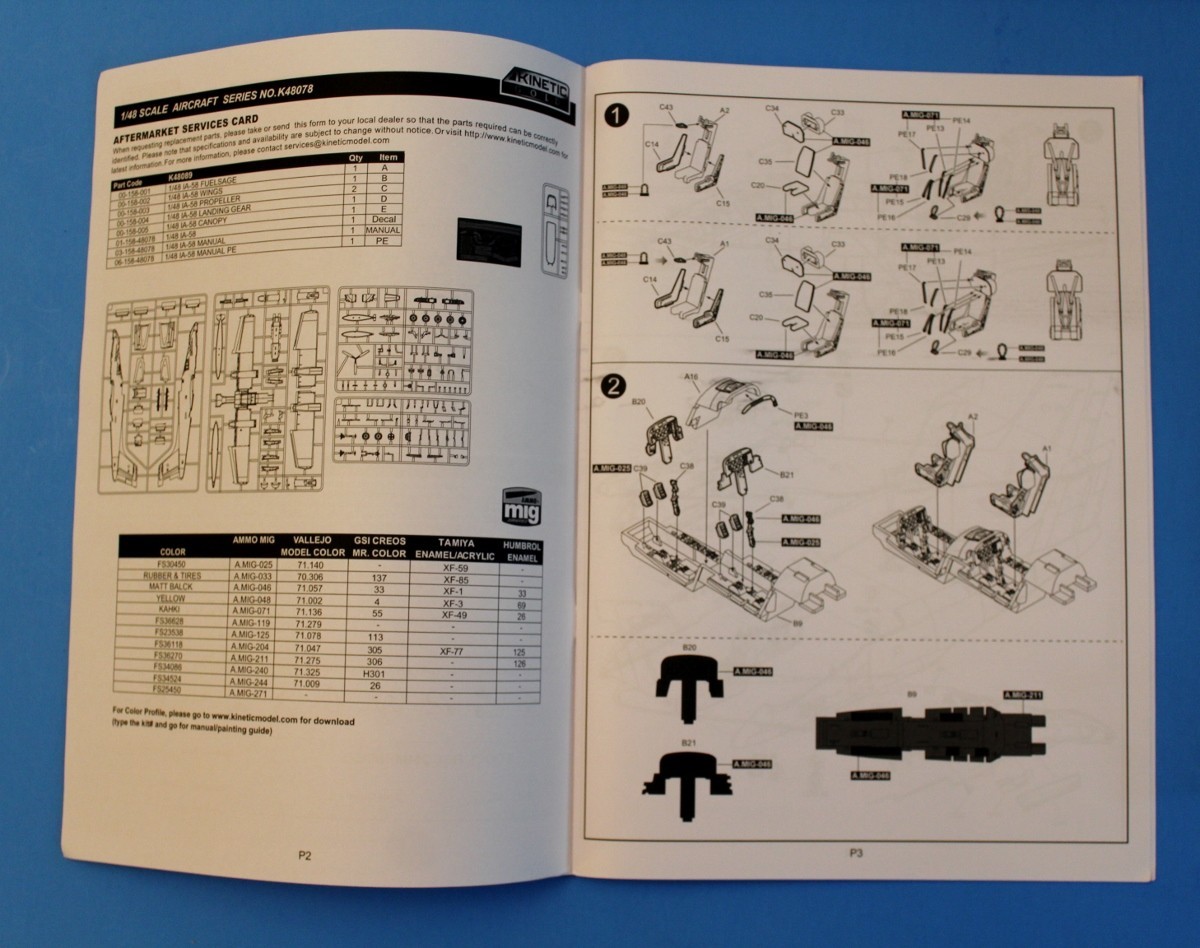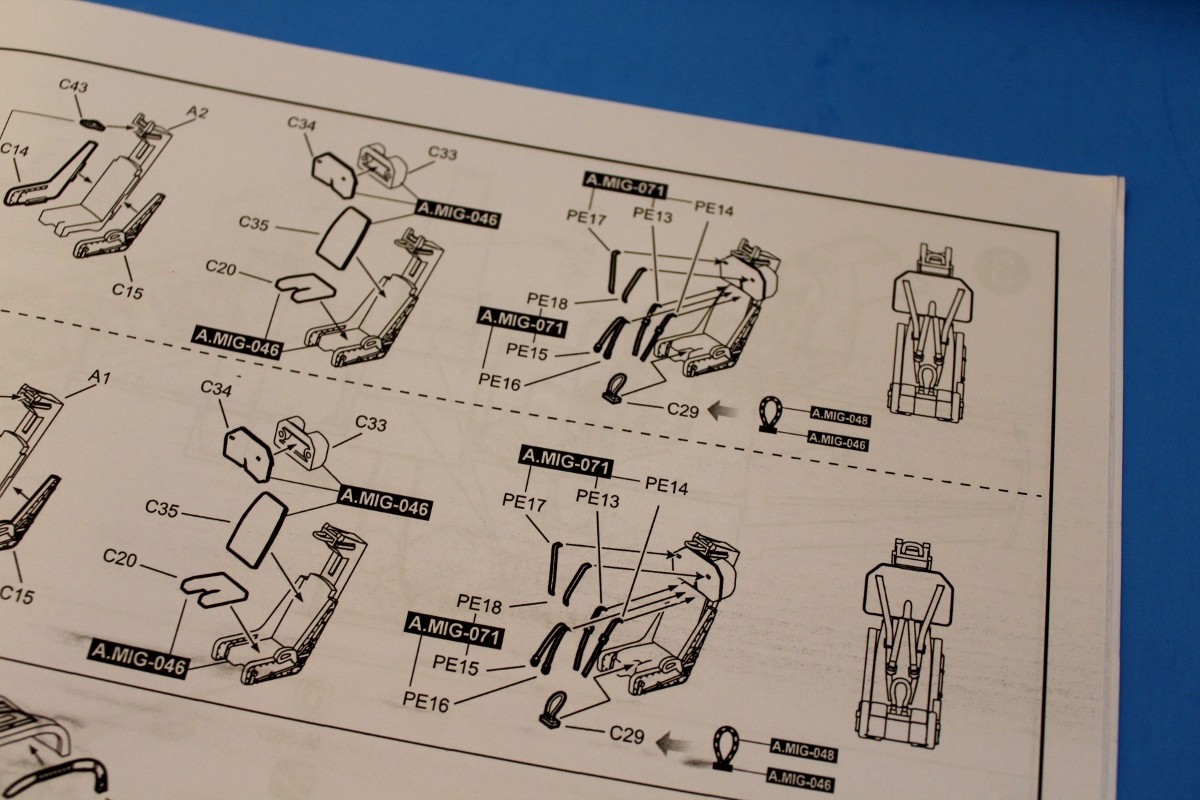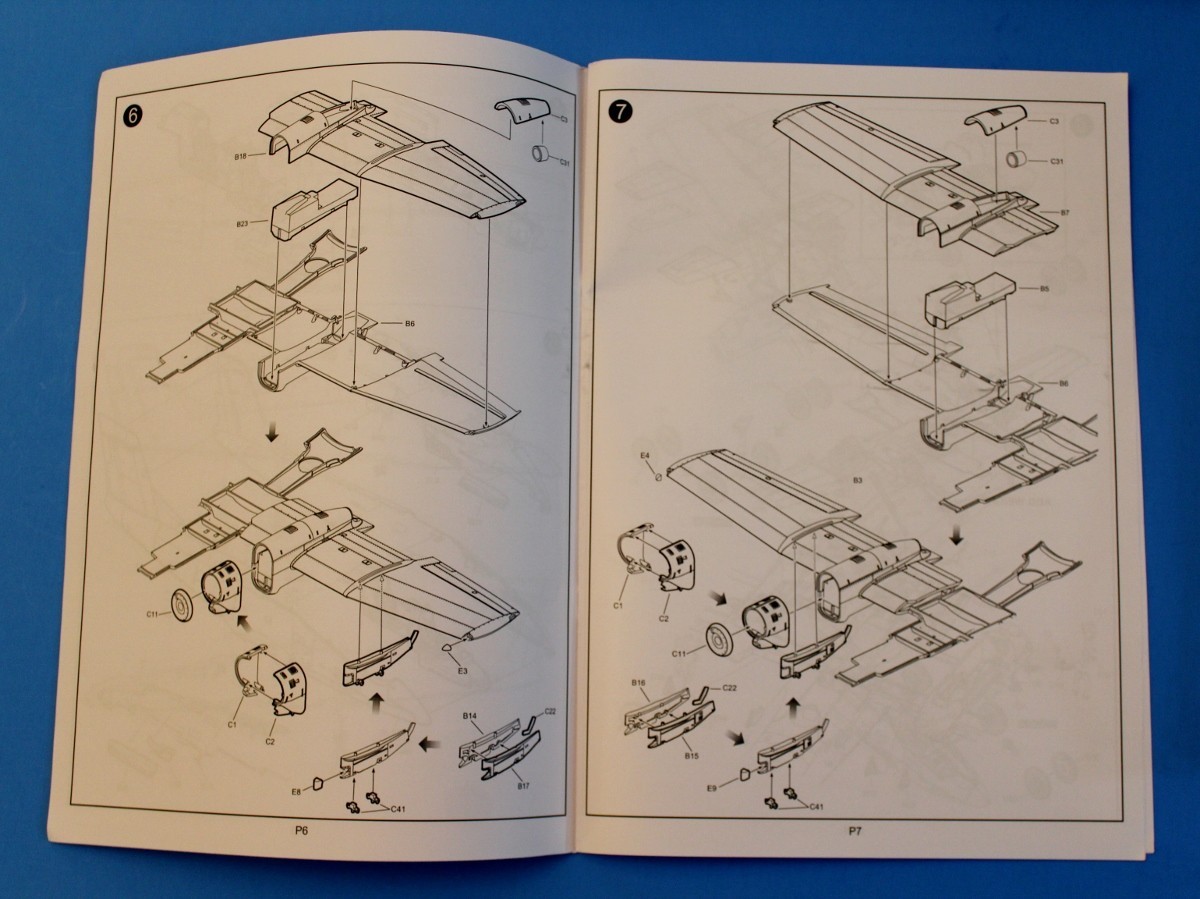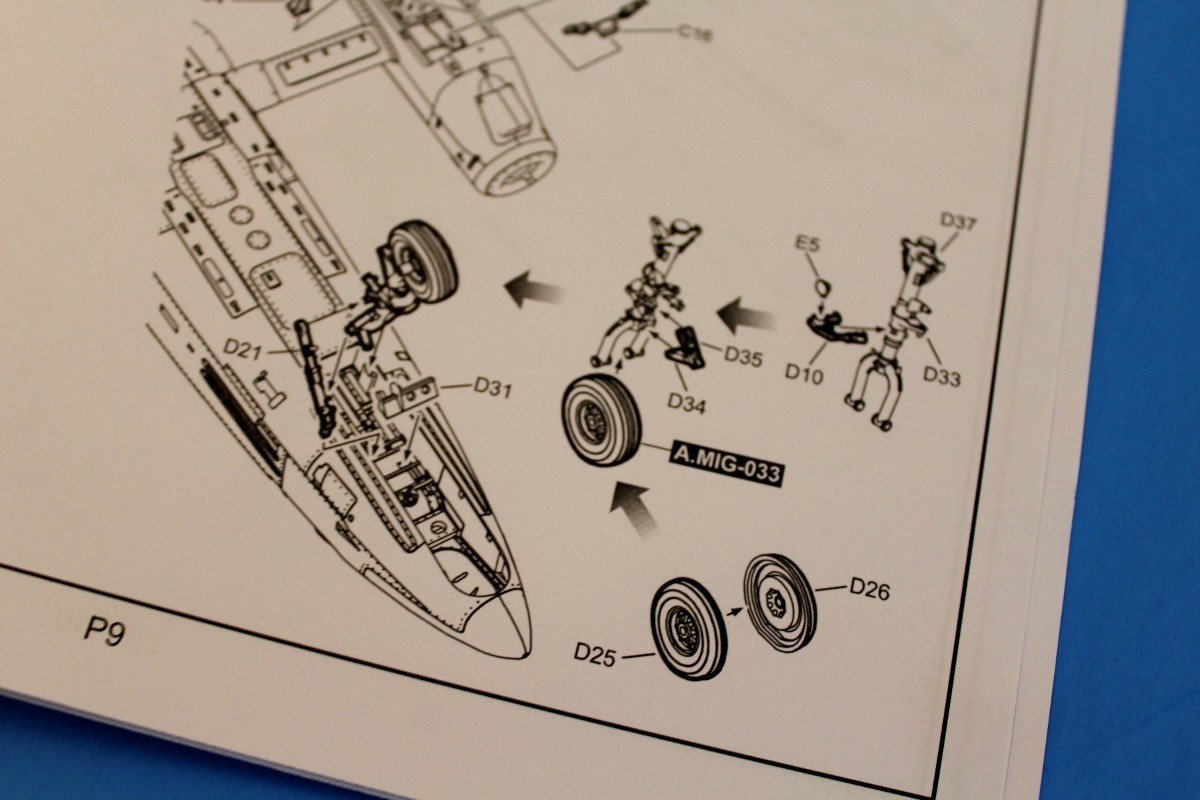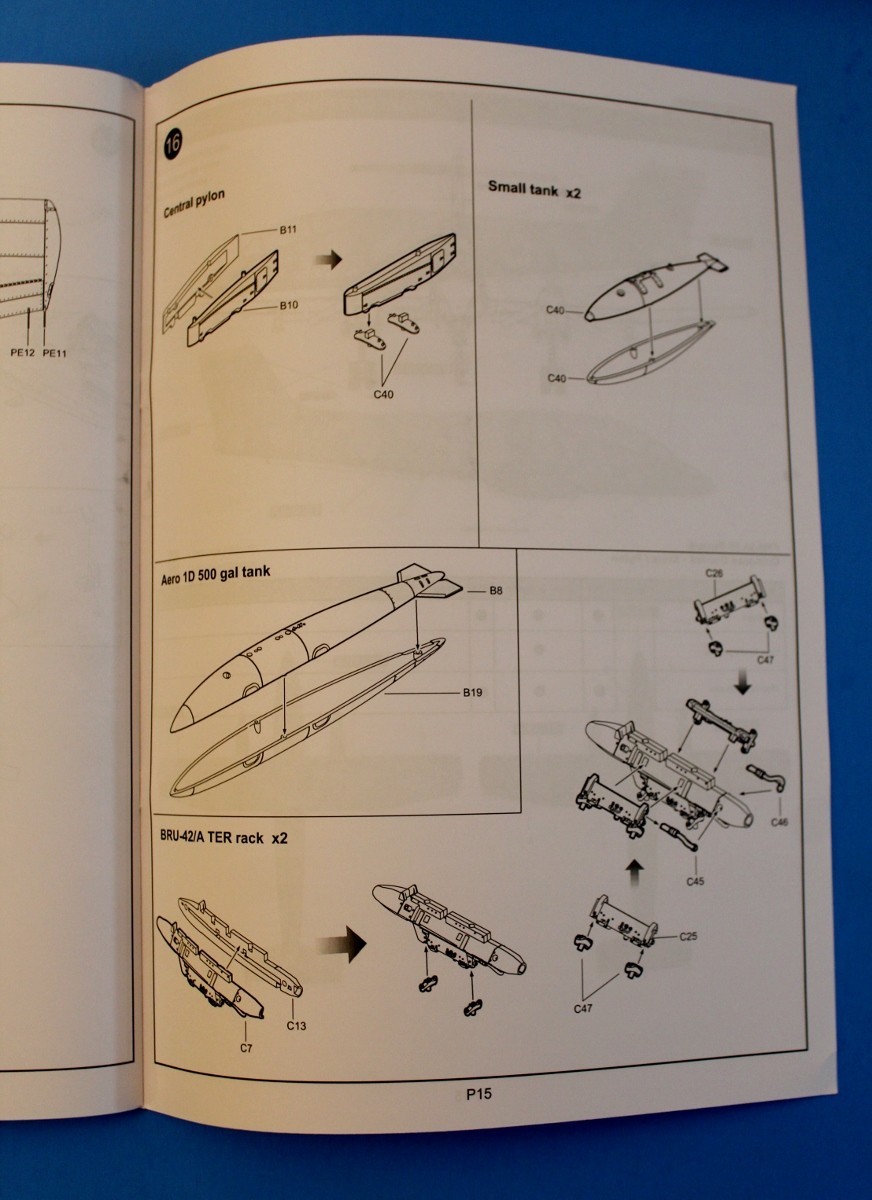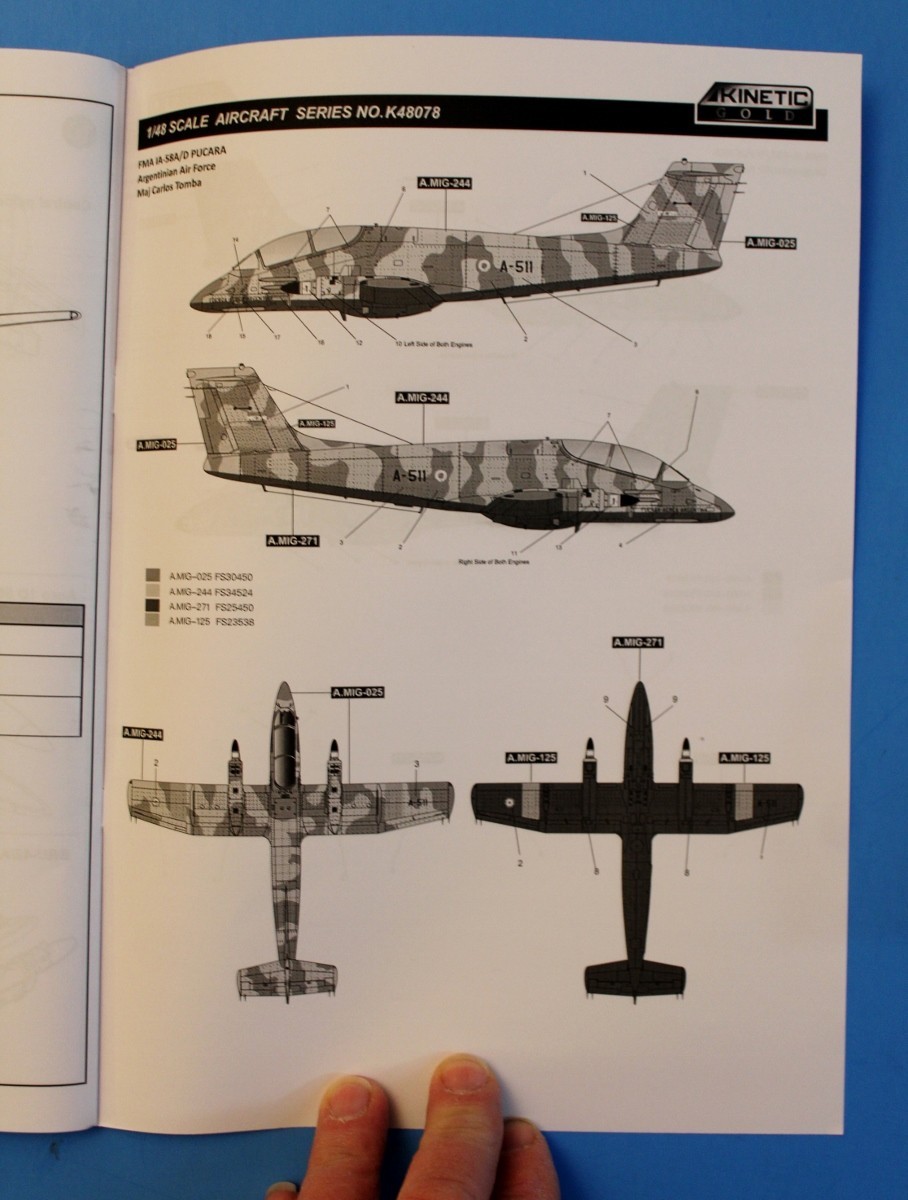 Decals
Cartograph printed these decals, which were designed by Two Bobs.  I read somewhere that the Fuerza Aérea Argentina is the wrong font but I can't see a difference looking at prototype photos.  Colors appear to be good representations of the national insignias for Argentina and Uruguay, too.
The decals look to be nice and thin, with minimal carrier film outside the printed designs.  While small, the sun in the middle of the Fuerza Aérea Argentina insignia displays crisp sun rays.
Decals for two aircraft are provided:
FAU 223, Fuerza Aérea Uruguaya, with a fierce boars head for the nose
A-511, Fuerza Aérea Argentina, Major Carlos Tomba
Typical aircraft information stenciling is included.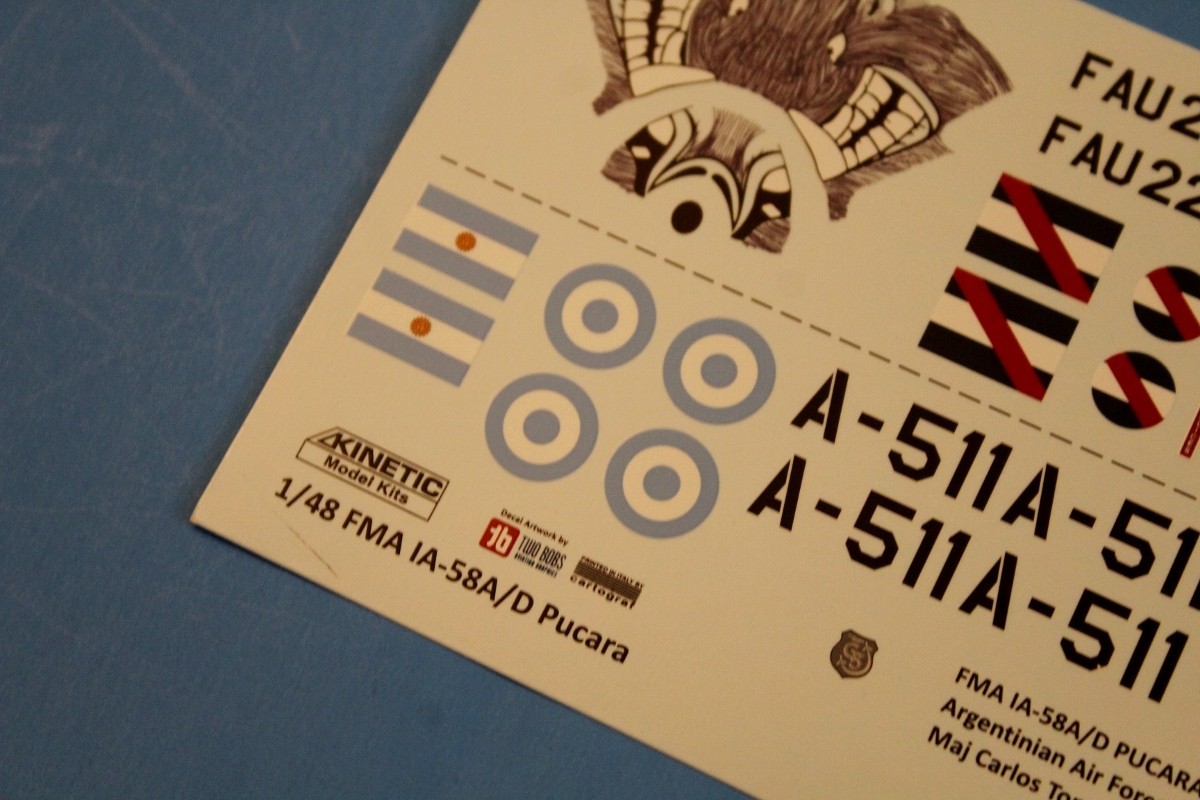 Conclusion
Who expected a 1/48 injection-molded IA 58 Pucará? Kinetic offers a very impressive model featuring a high level of detail, both in number of parts, and molded into those parts. The P/E set is appreciated. The level of molding is excellent. I look forward to testing the fit.
The decals are crisp and colorful, and the instruction sheet is clear and well organized.

Problems I found are a broken landing gear axle, and scuffed canopy. Lack of external stores is disappointing.

Kinetic has released a very interesting and high quality model of the IA 58 Pucará. With the 40th anniversary of the Falklands War/Guerra de las Malvinas next year, I will not be surprised to learn this model is in high demand.
I am impressed with this model and thank Lucky Model for sending this kit for review. Recommended.
IA 58 Pucará, kit K48078

Please remember, when contacting retailers or manufacturers, to mention that you saw their products highlighted here – on Aeroscale.