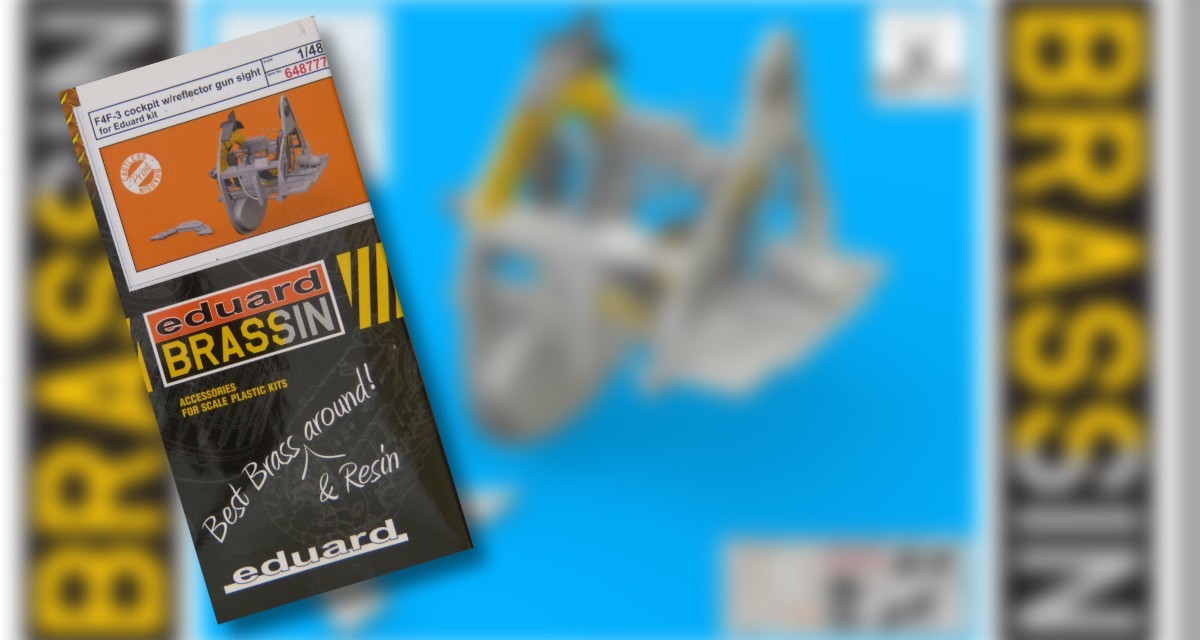 Eduard have released an extensive range of upgrades to accompany their superb new-tool Grumman Wildcat. To kick off an overview of what's available, I'll begin with this beautifully detailed replacement cockpit.
It's important to note that the standard kit cockpit is already excellent - especially in a Profi-PACK boxing. To give an idea of what it's like, here's the basic "office" from the first release clipped together before adding the etched parts.
But the new Brassin-Print cockpit takes things to an entirely new level and features some of the most impressively detailed 3D printed parts I've yet seen. It arrives in a neat flip-top box that's lined with foam at the base, with all the parts sealed in zip-lock bags.

In terms of the number of components, it's actually deceptively modest at first glance - just 12 parts, plus an etched fret, a sheet of decals and a piece of printed clear film.

The upgrade looks like it should be pretty straightforward to assemble and will completely replace the kit cockpit except for 2 parts (the aft bulkhead and the reverse side of the fuel tank) - both of which are out of sight.

It's when you start to look closer that you realise just how detailed this replacement cockpit is going to be. The core of everything is an almost mind-boggling print that forms the floor, mid bulkhead and seat supports. The oxygen tank is reproduced integrally and is complete with its hose, and the control runs are present behind where the seat will fit (missing in the kit cockpit).

The side consoles are similarly excellent, packed with crisp detail, as are the rudder pedals and centre console. The seat is more detailed than the kit version and has a much closer to scale thickness. Also included are a new control column, cockpit instrument shroud and gunsight, plus a cover for the starboard cockpit side.

Up front there's a new forward bulkhead/fuel tank and a choice of instrument panels - fully detailed for use with the decals provided, or a blank piece ready for colour-etched fascias.

The photoetched fret contains the alternative instrument panel mentioned previously, plus a seat harness and a number of knobs and switches to dot around the "office".

The decals for the instrument faces look to be crisply printed and are grouped on patches of very thin carrier film. To ensure the best results, you may want to separate them with a punch and die set and apply them individually.

Rounding everything off is a small printed film with a reflector for the gunsight. A nice touch with this and the smaller etched items is that Eduard include a spare in case of mishaps.

Backing everything up is a well-produced set of instructions, clearly illustrating the assembly and with colour matches for Gunze Sangyo paints.

Conclusion
I'm part-way through building the Profi-PACK F4F-3 and I'm thoroughly enjoying it, but seeing this new Brassin-Print upgrade has whetted my appetite to get a set of oversprues and build a second one. I guess the ultimate recommendation for any upgrade set is when the mere sight of it makes you want to get the kit it's designed for.
At less than £15, the set represents excellent value in my opinion when you consider the quality of the parts and the level of detail it offers.

Item #648777 is available now from Eduard - Price: £14.24
Many thanks to Eduard for the review sample.
Please remember, when contacting retailers or manufacturers, to mention that you saw their products highlighted here - on AEROSCALE