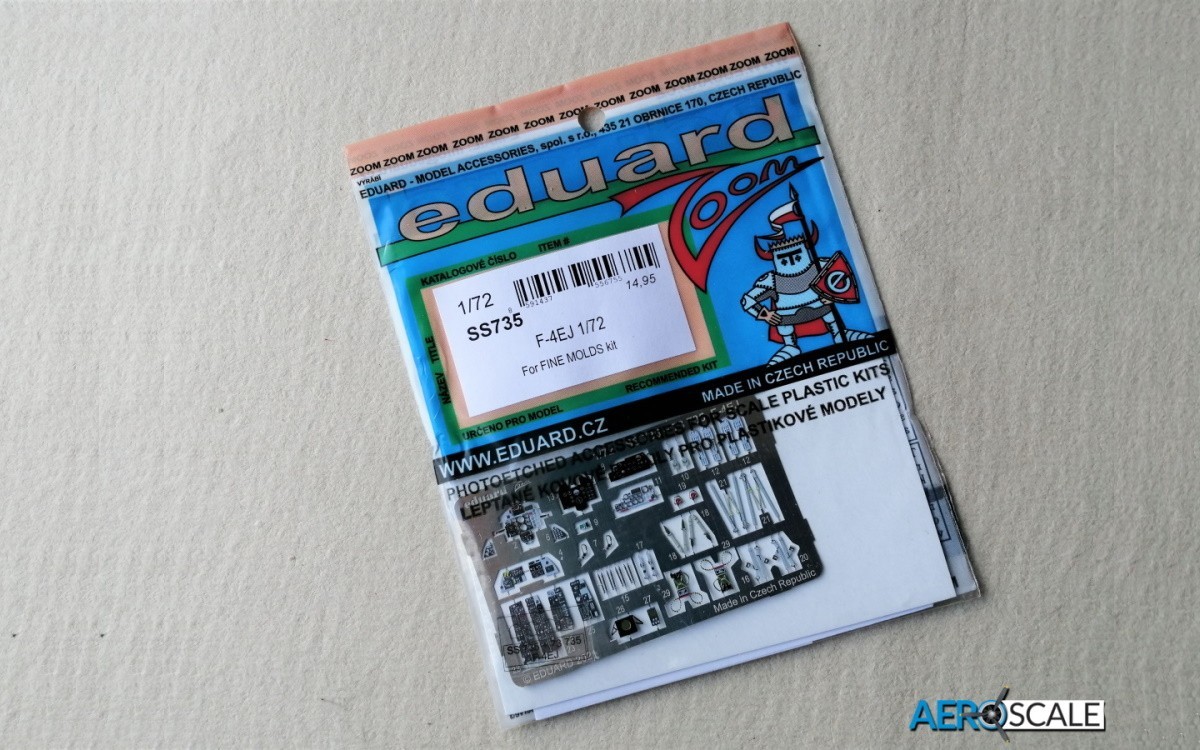 The Fine Molds series of 1/72 scale F-4 Phantoms have been  well received for their accuracy and fine detail. Eduard has pulled out the stops to release this equally fine looking pre-painted photo etched Zoom set for the cockpit. This set is for the F-4 EJ and not the updated F-4EJ [KAI],

Zoom sets contain less parts and thus are a cheaper version of Eduards standard pre-coloured detail sets. They  include some interior parts such as seat belts, instrument panel and occasionally exterior parts of a aircraft.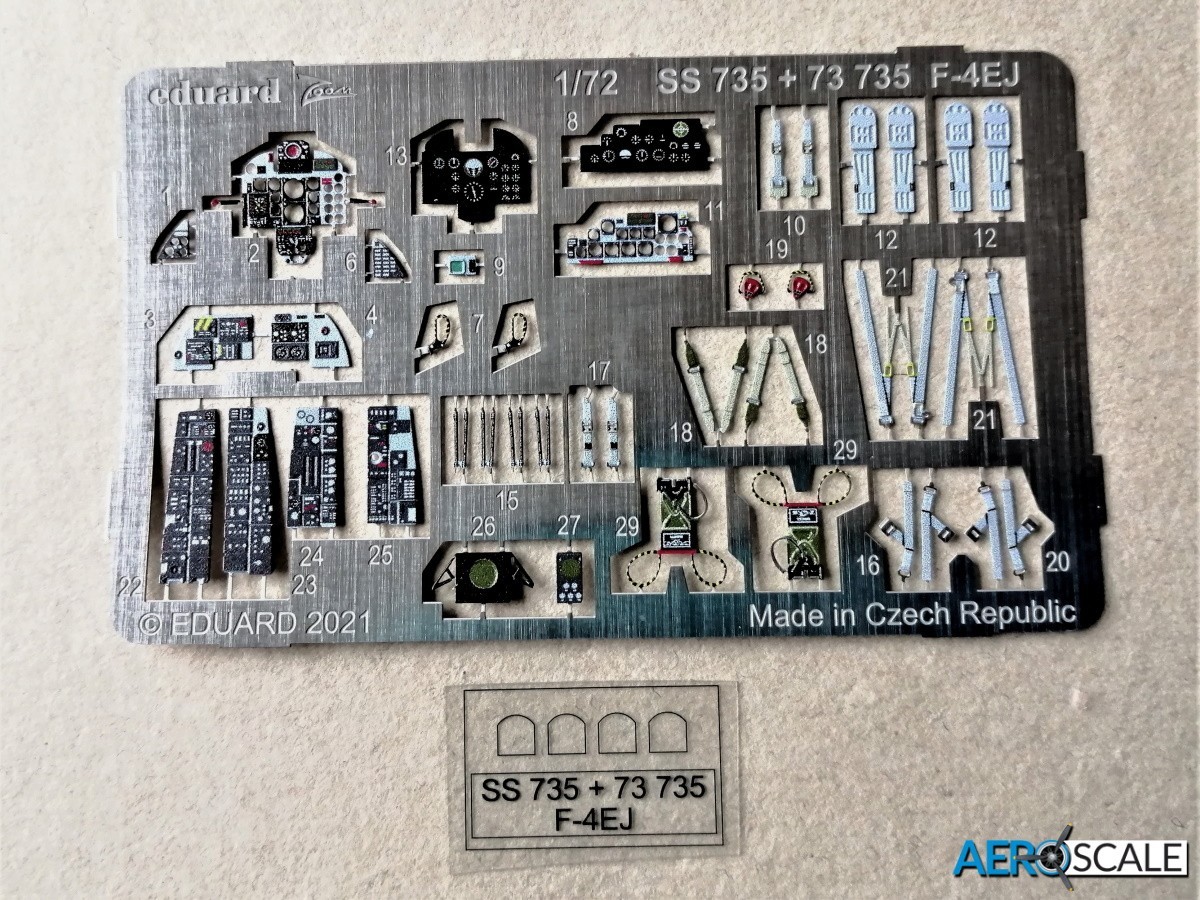 The Set contains a small pre-painted photo etched steel fret with around forty-seven parts and a tiny piece of acetate the representing the glass for the HUD's. As you would expect both positions for the pilot and RIO are covered by this Zoom set. The instrument panels of both occupants as well as the side panels are very nicely detailed. Instrument gauges look sharp and the panels follow Eduards usual treatment of this sort of detail by layering one part over another. There is no need to alter the instrument and side panels of the plastic parts as they are blank plastic parts in the Fine Molds kit.  There are two one-piece photo etched parts to create the HUD frame and there are spare acetate HUD screens in case you loose one. Obviously you need to cut them from the sheet giving the little rascals plenty of opportunity to make a bid for freedom. The only surgery required is taking a little bit of plastic off the ejector seats and removing the kits hood frame.  The plethora of straps and harnesses plus the seat activation handle will make for two very busy looking and impressive seats.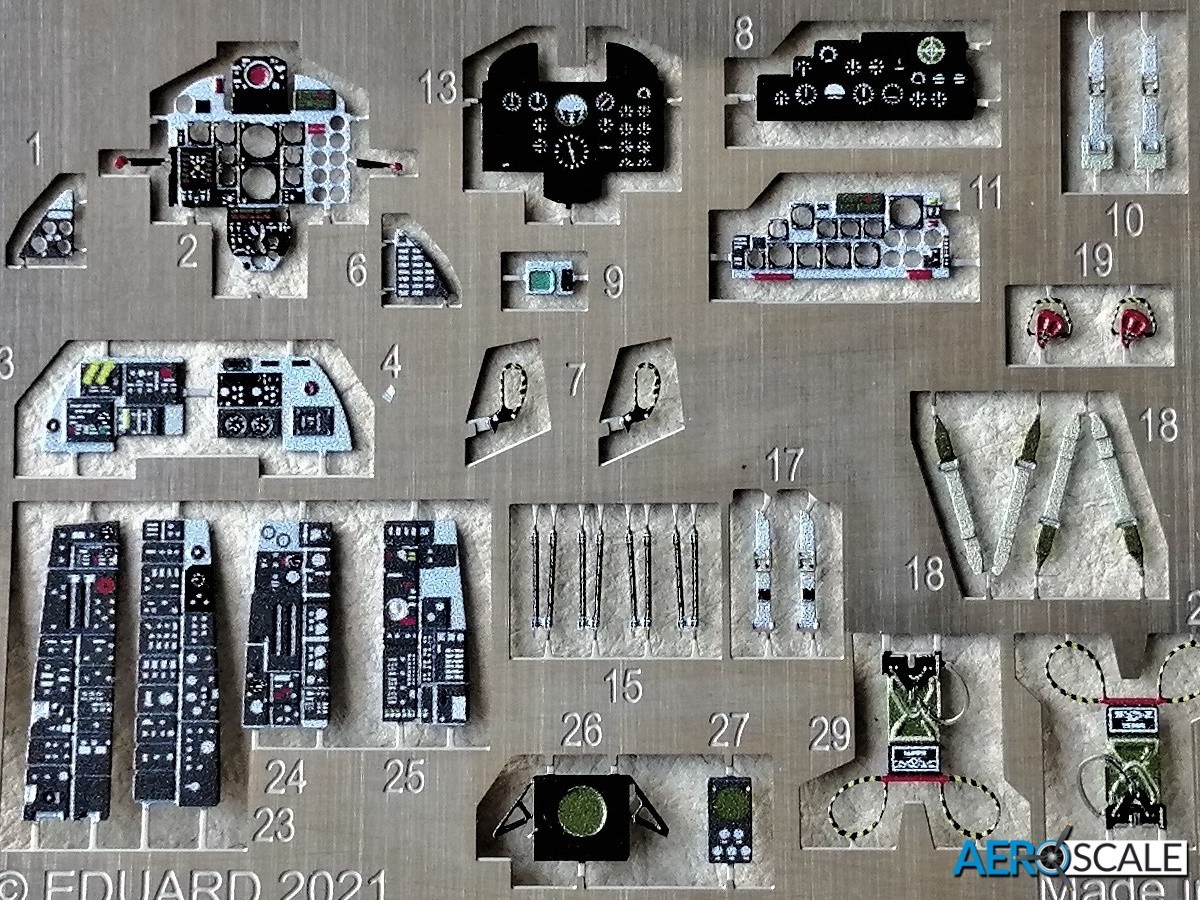 In the close ups the grainy look of the paint is barely notice able when viewing normally. It always pays to apply a varnish or Klear over the top,just to protect the painted surfaces.
Instructions are printed on both sides of an A6 sheet. The complexity of attaching the detail on the seats is made much simpler with three illustrations. The only thing lacking is colour callouts, but I guess you would follow the Fine Moulds instructions for that.
Being 1/72 scale, the items contained are small and need very careful handling. They do offer the sort of exceptional detail that most modellers don't have the skills or patience accomplish. Acquiring it is a no brainer really.
SS 735 – F-4 EJ Cockpit Zoom Set [Fine Molds] – 1/72

Our thanks to Eduard for providing the  sample for review.
Please remember, when contacting retailers or manufacturers, to mention that you saw their products highlighted here – on AEROSCALE