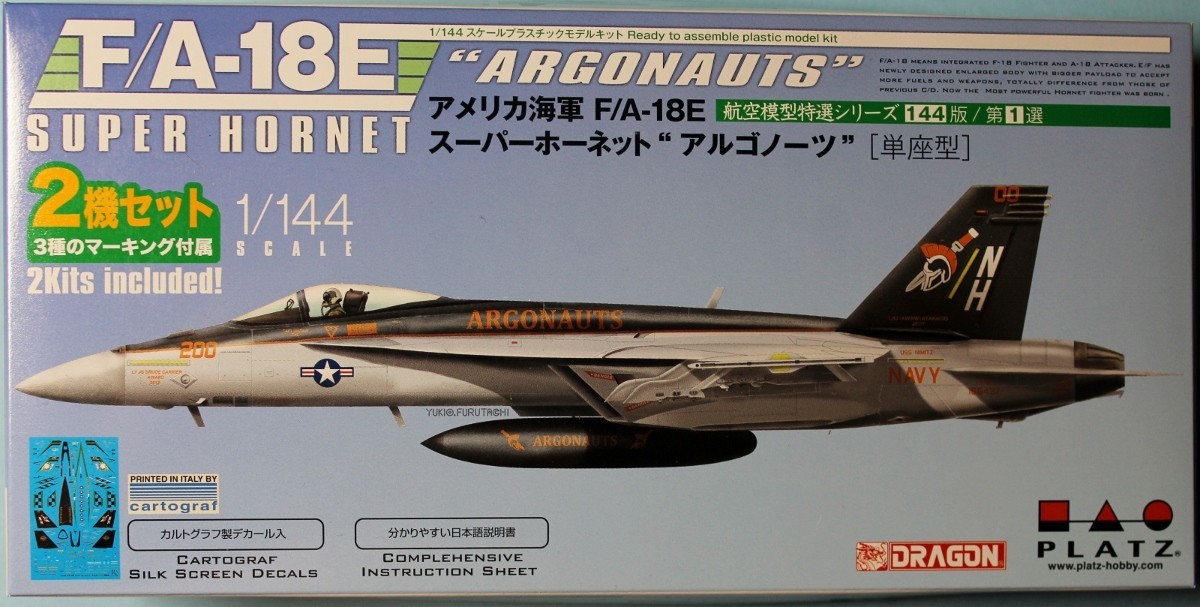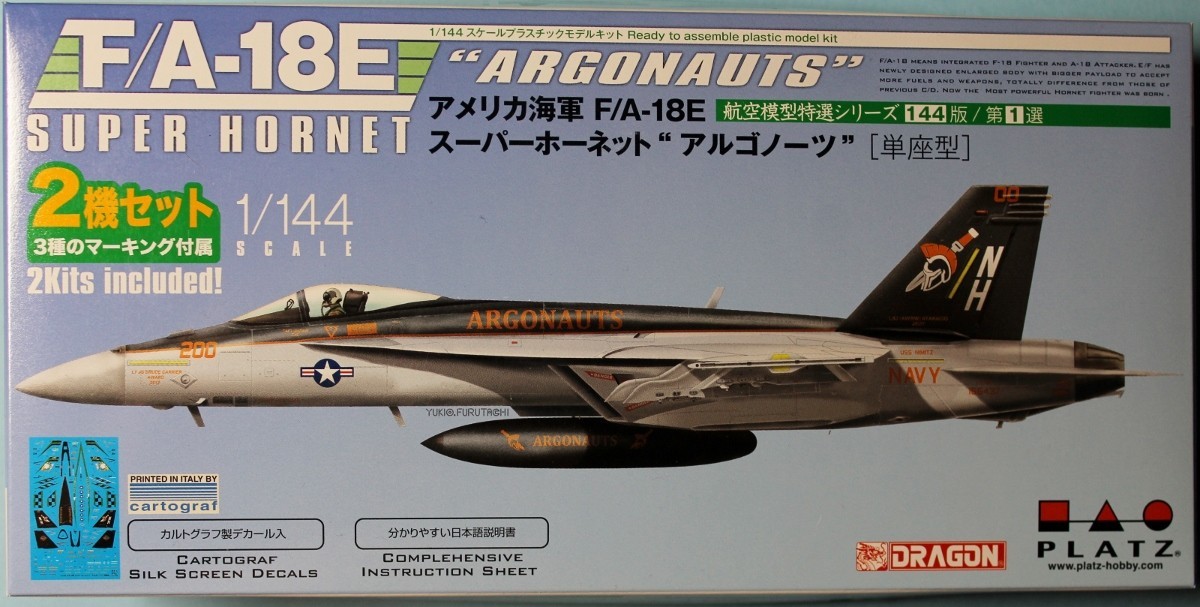 Platz 1/144 F-18E Super Hornet
Platz released this model last August, kit No. AE144-1. The origins of this model is by Dragon (2006 release), as Platz notes on their box. Platz also offers a 1/144 EA-18G Growler.
Eight sprues of light gray plastic and one clear sprue hold the parts to build one of these super bugs. Weirdly, six are identified as sprue A. All are for the aircraft, and drop tanks. Clear sprue B is the single-piece canopy. Two sprue Es hold the weapons.

Molding is high-quality. I can't find any flash, sink holes, noticeable seam lines, or ejector marks that will be visible after assembly. (Except on sprue E parts but will they be noticeable?) Unfortunately, the connectors holding the parts to the sprue and their overflow tabs are very big compared to the parts. This will make it difficult to cleanly remove a part from the sprue without some clean up. Otherwise, the crisply molded parts feature rivet detail and recessed lines for paneling and ports. These lines are broad for 1/144 and they have "soft", i.e., rounded, edges. You can see what I mean in the photos of the fuselage halves. However, overall, the parts are crisply molded for 1/144. You may not cut your finger on them but they look sharp.

Detail
Surface molding defines airframe structure, panels, ports, hatches, "slime lights" formation strips, etc. Rivets and recessed detail is way big for 1/144 but effectively demarcates the structure.
Inside the gear wells is good detail. Not much in the cockpit except the tub, panel, and SJU-5/6 Martin Baker "boom bucket" (ejection seat). The wheels have some detail but it is effectively invisible at this scale. No pilot is included.
This kit is the basis for the EA-18G Growler, hence the two-man cockpit. Parts for it and this single-pilot cockpit are included, both the cockpit tub and the upper fuselage spine extension.
The following photos show the twin sprues - front and back - and close-ups of the pieces.
Airframe Sprues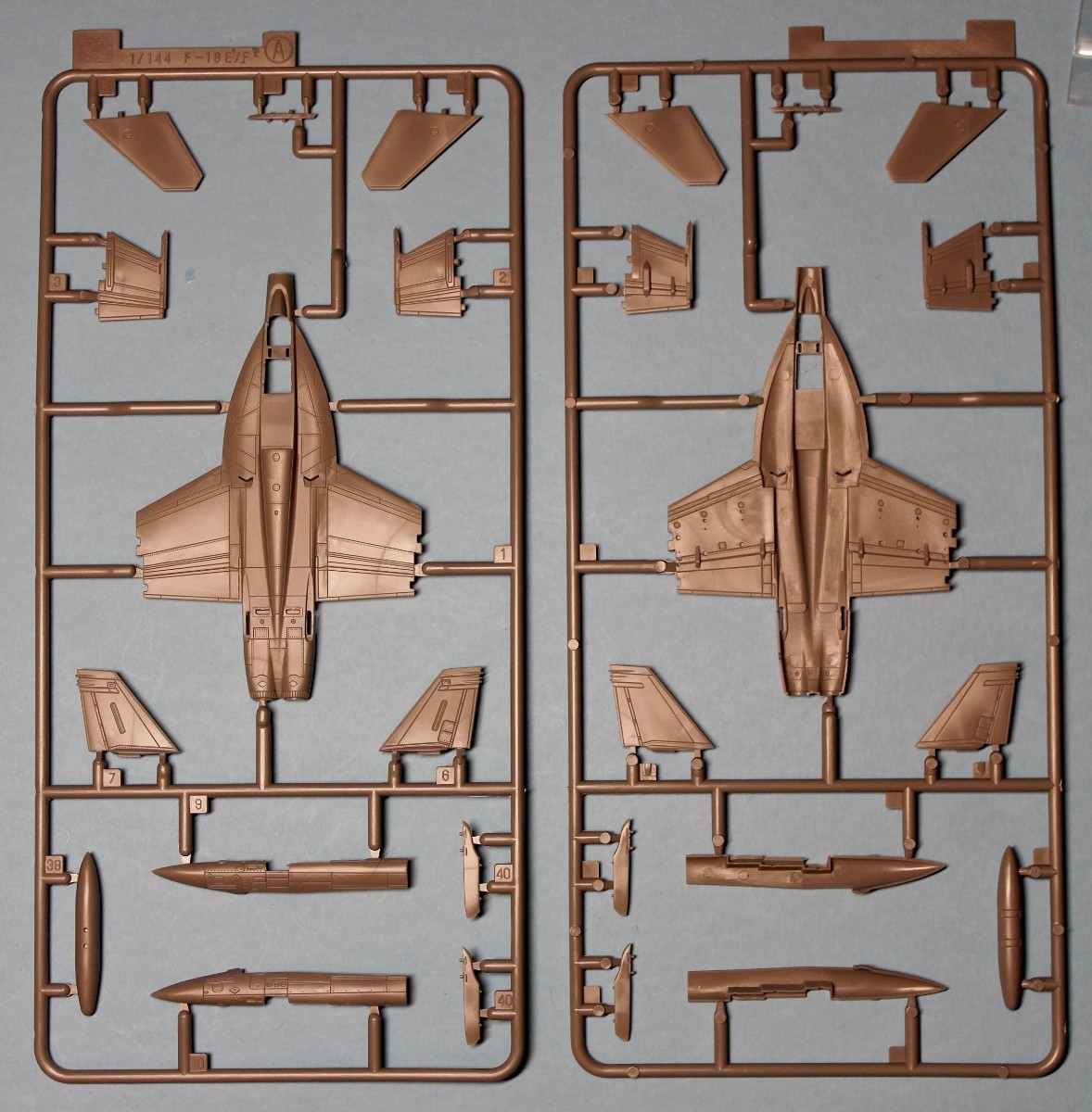 Airframe Detail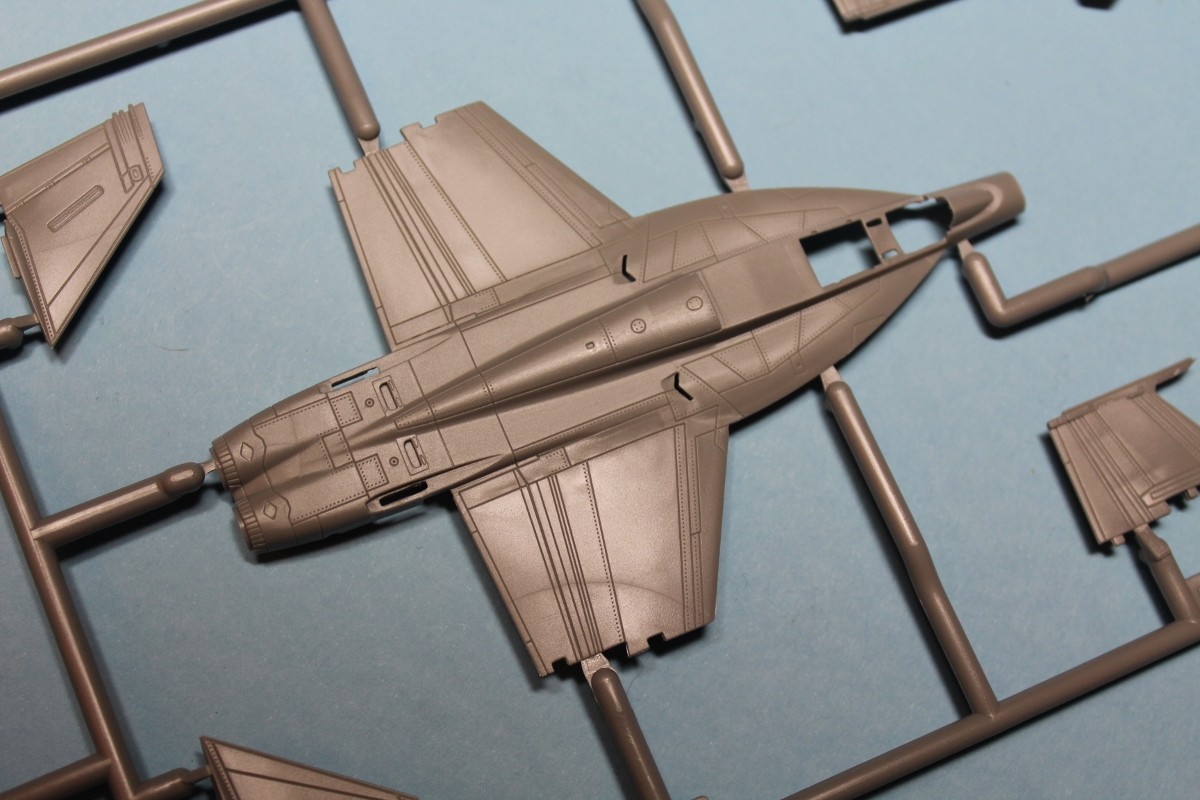 Forward Fuselage Surface Detail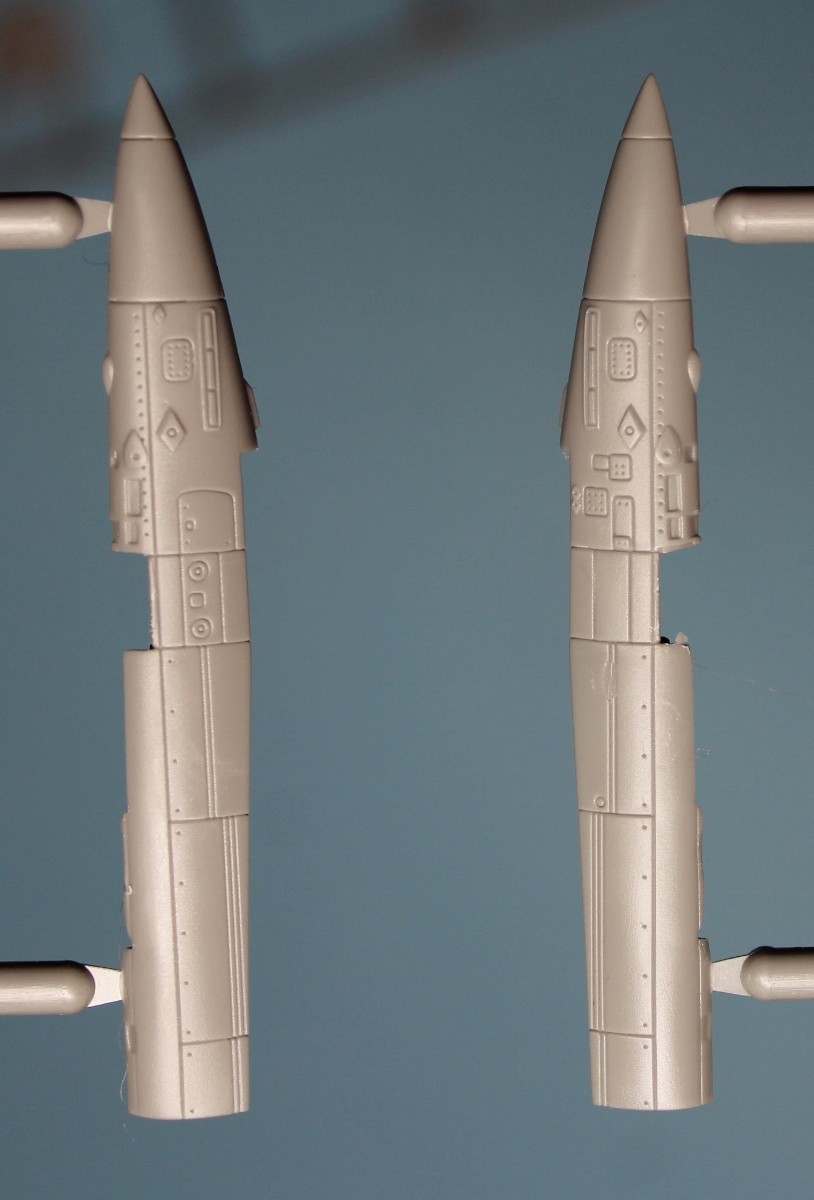 Landing Gear, Pylons, Cockpit Sprues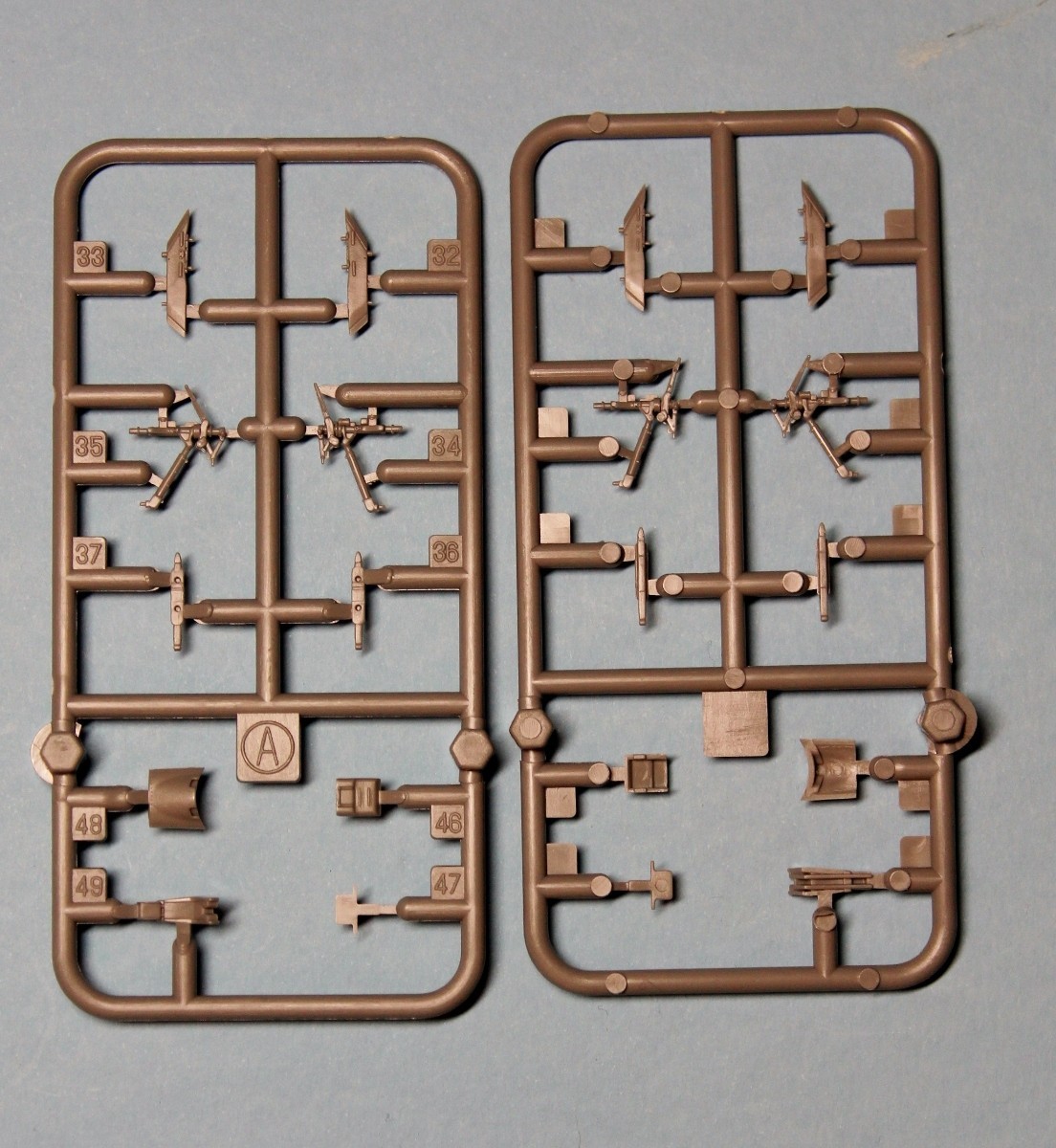 Drop Tanks and Pylons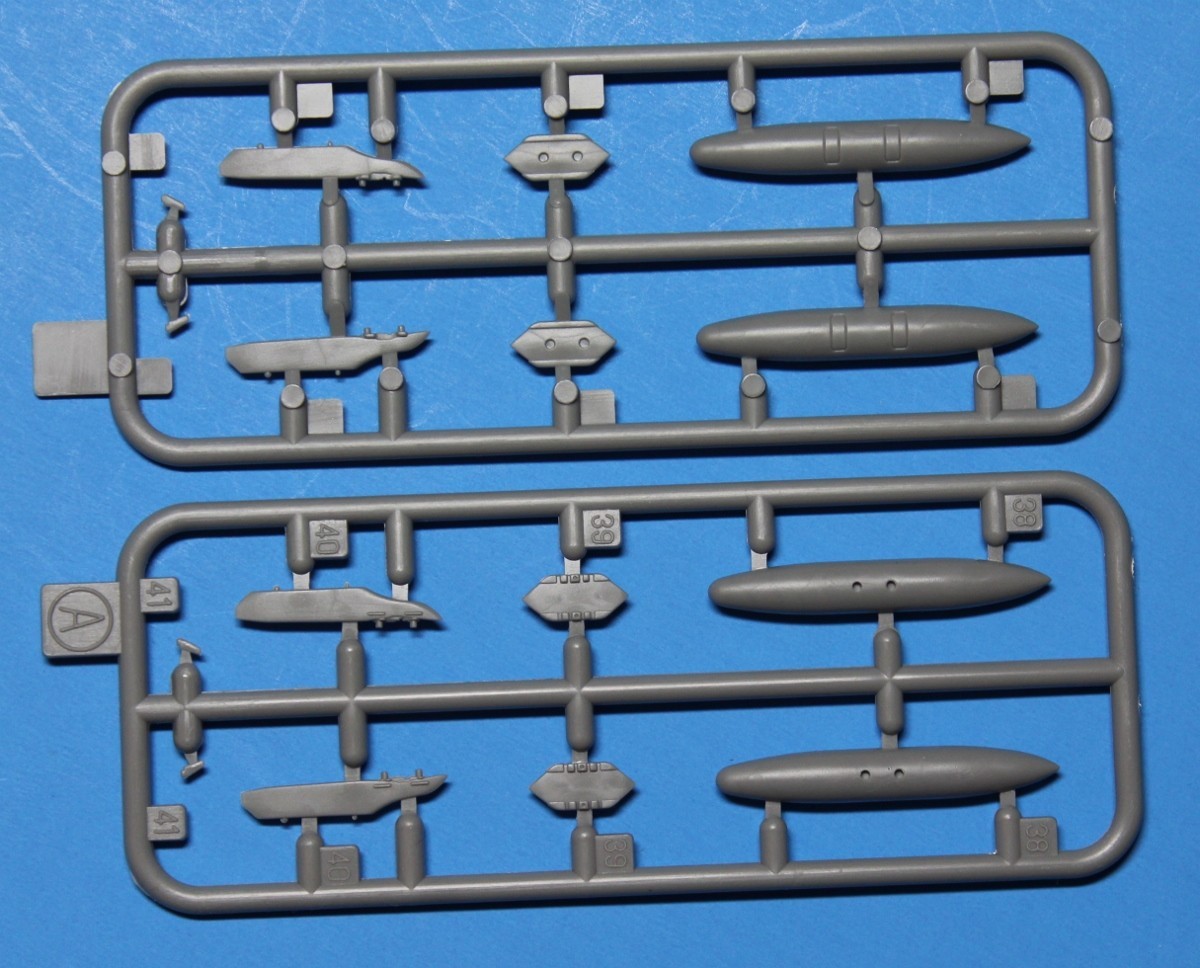 Strakes, Inlets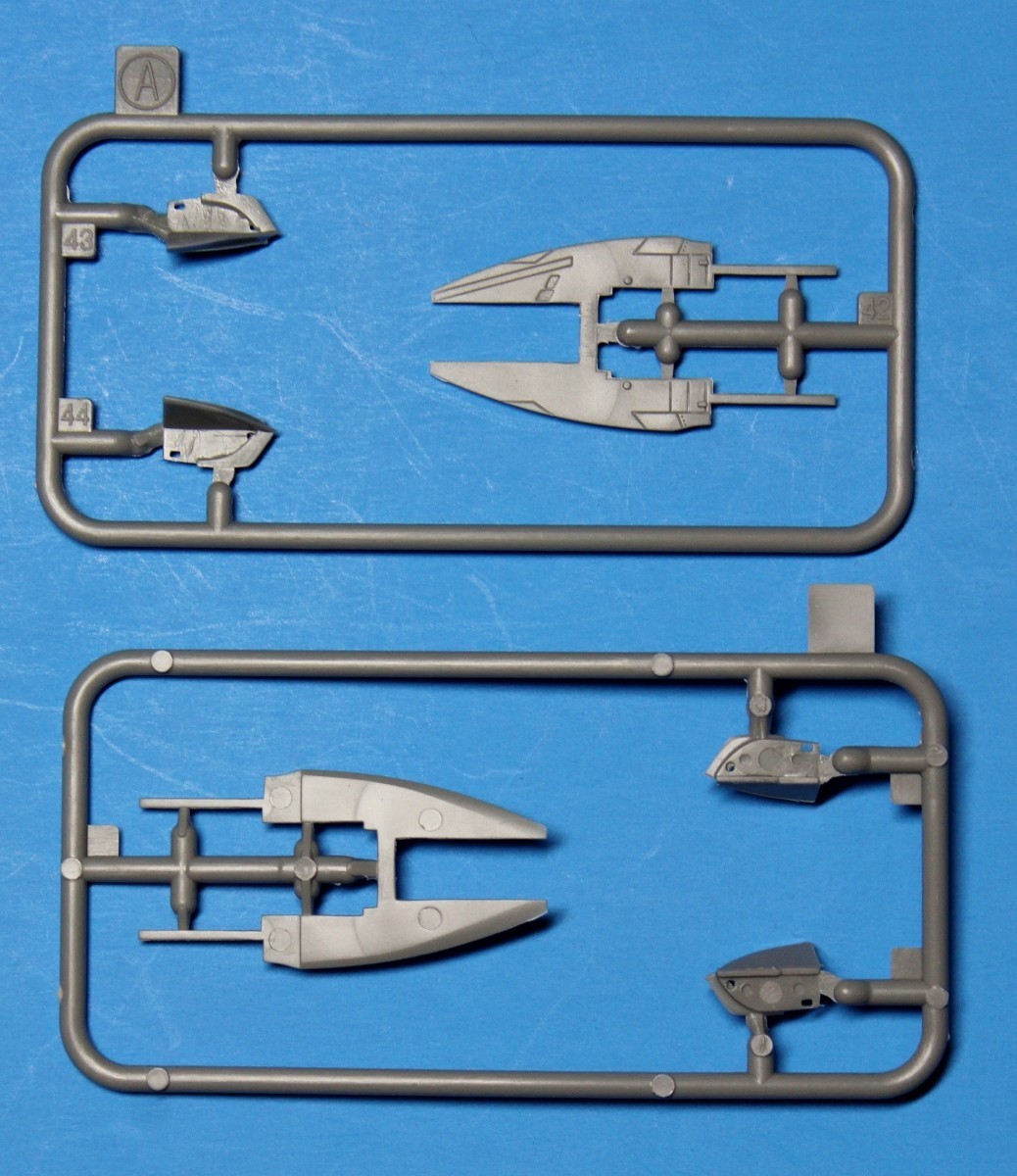 Fuselage Bottom: Intakes and Engine Area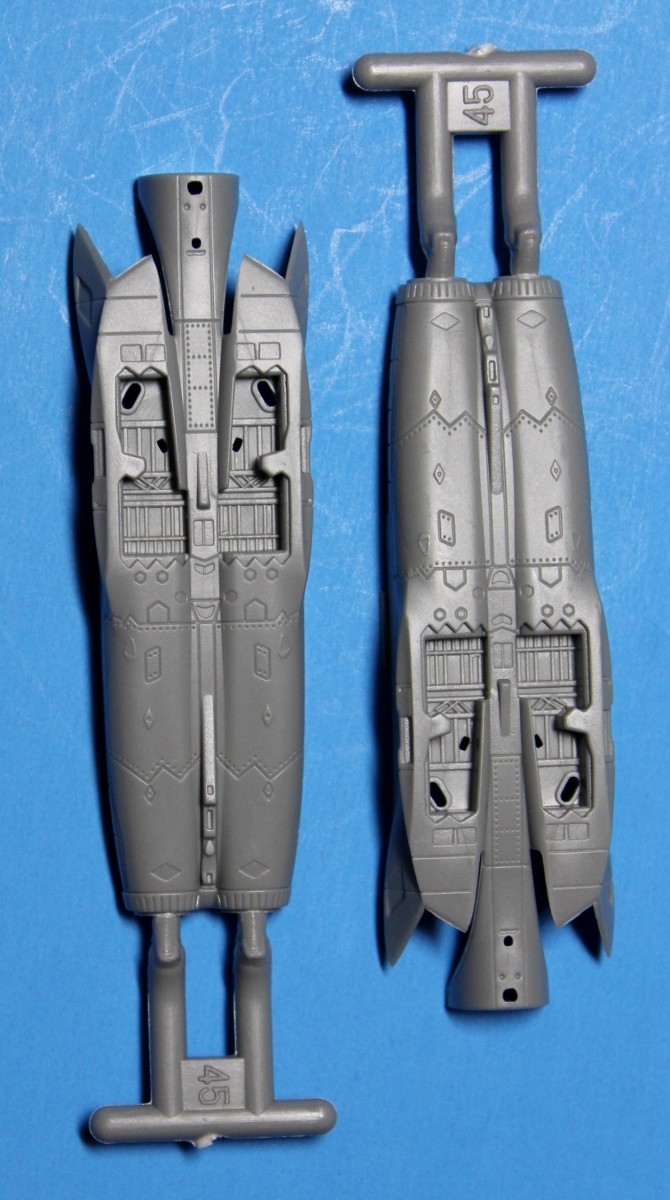 Bottom Detail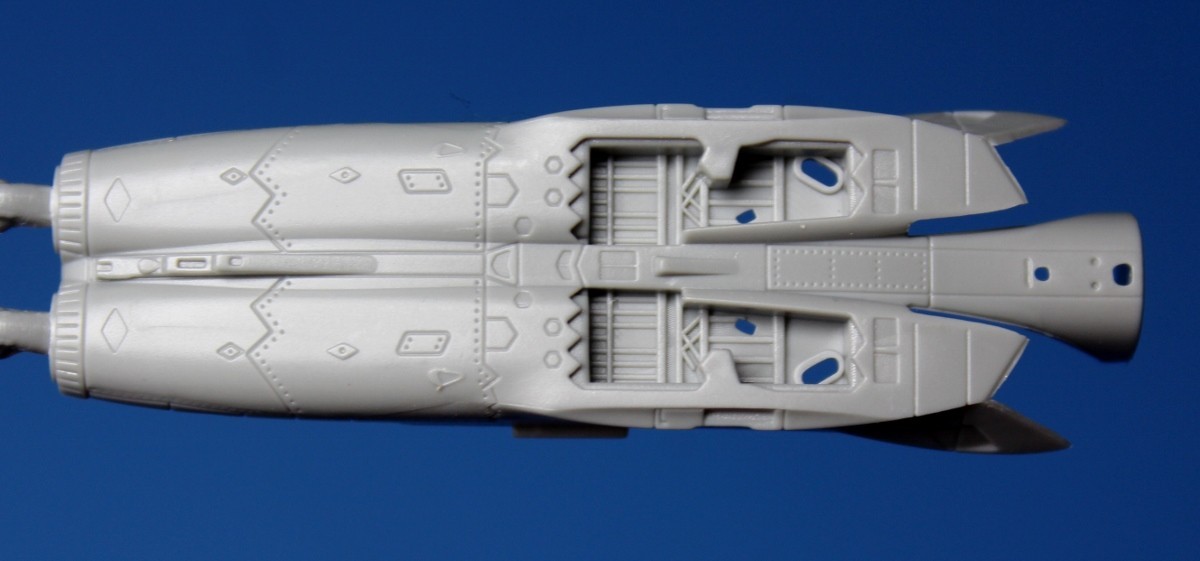 Nose Gear, Wheels, Growler Cockpit, Afterburner Nozzles, etc., Sprues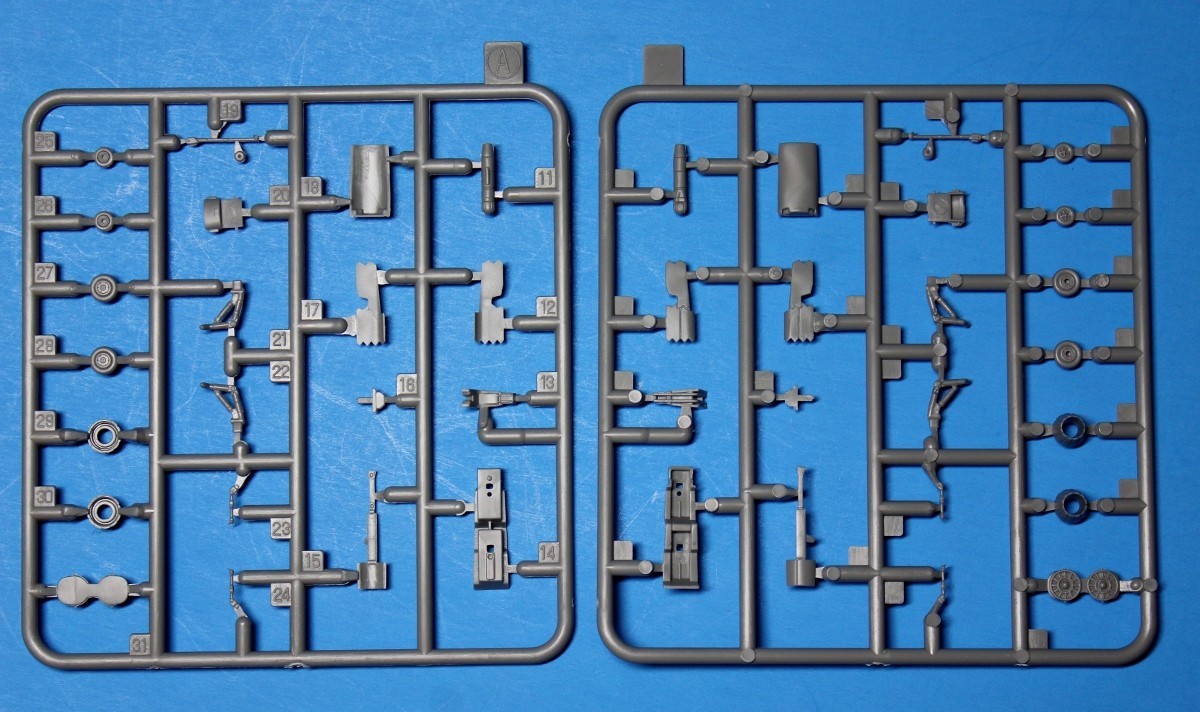 Nose Gear Detail

Wheels and 'Burner cans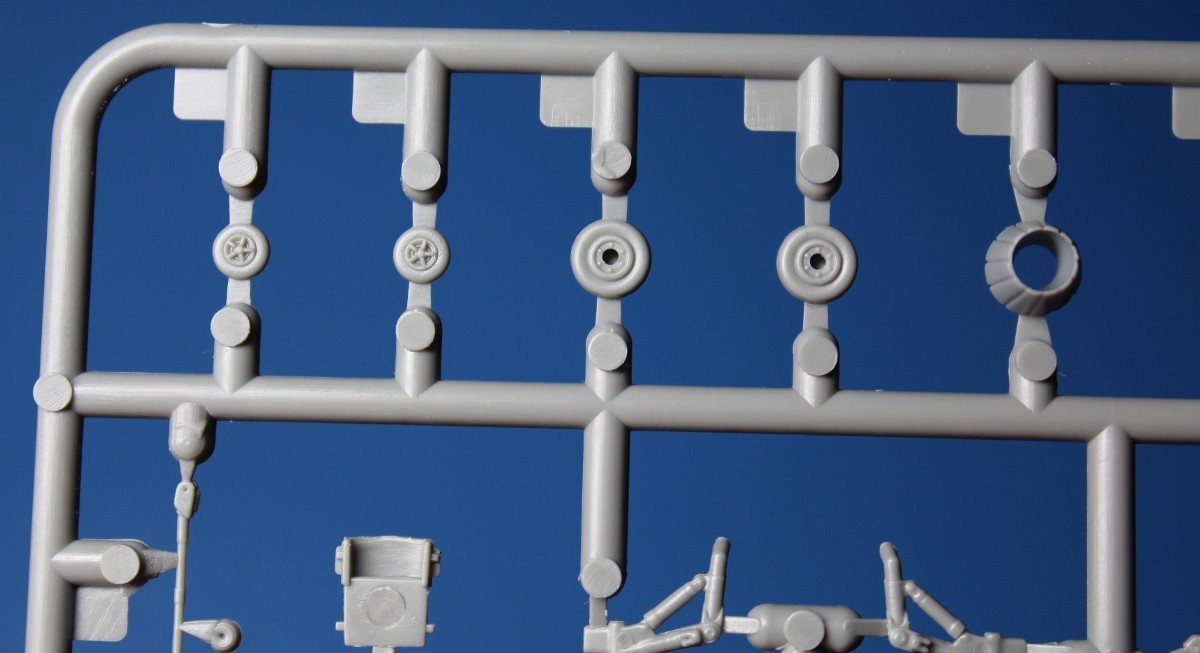 Canopy, nice & clear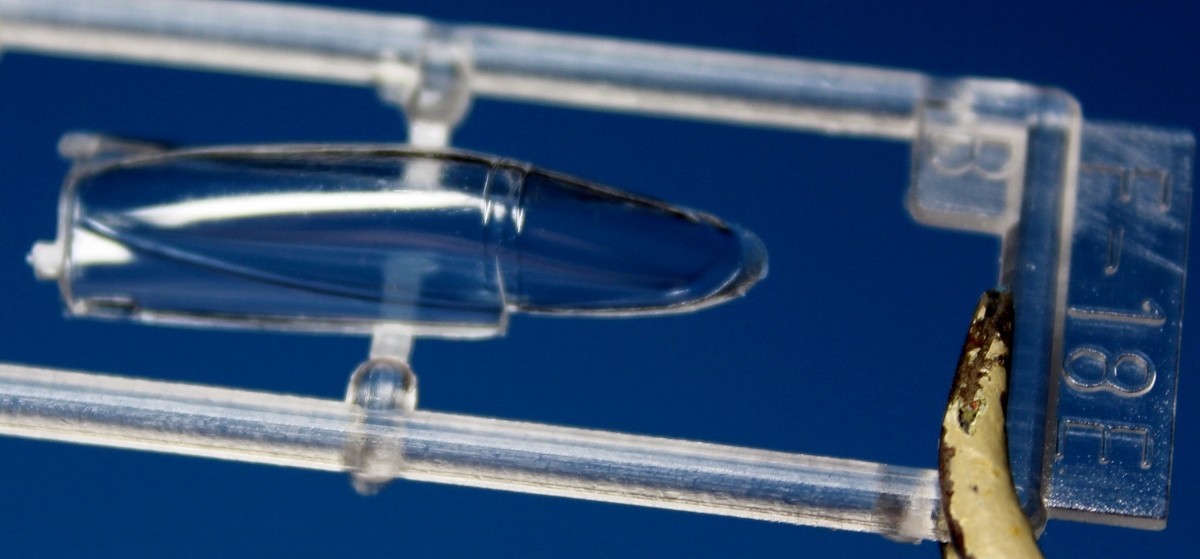 Sprue E: Weapons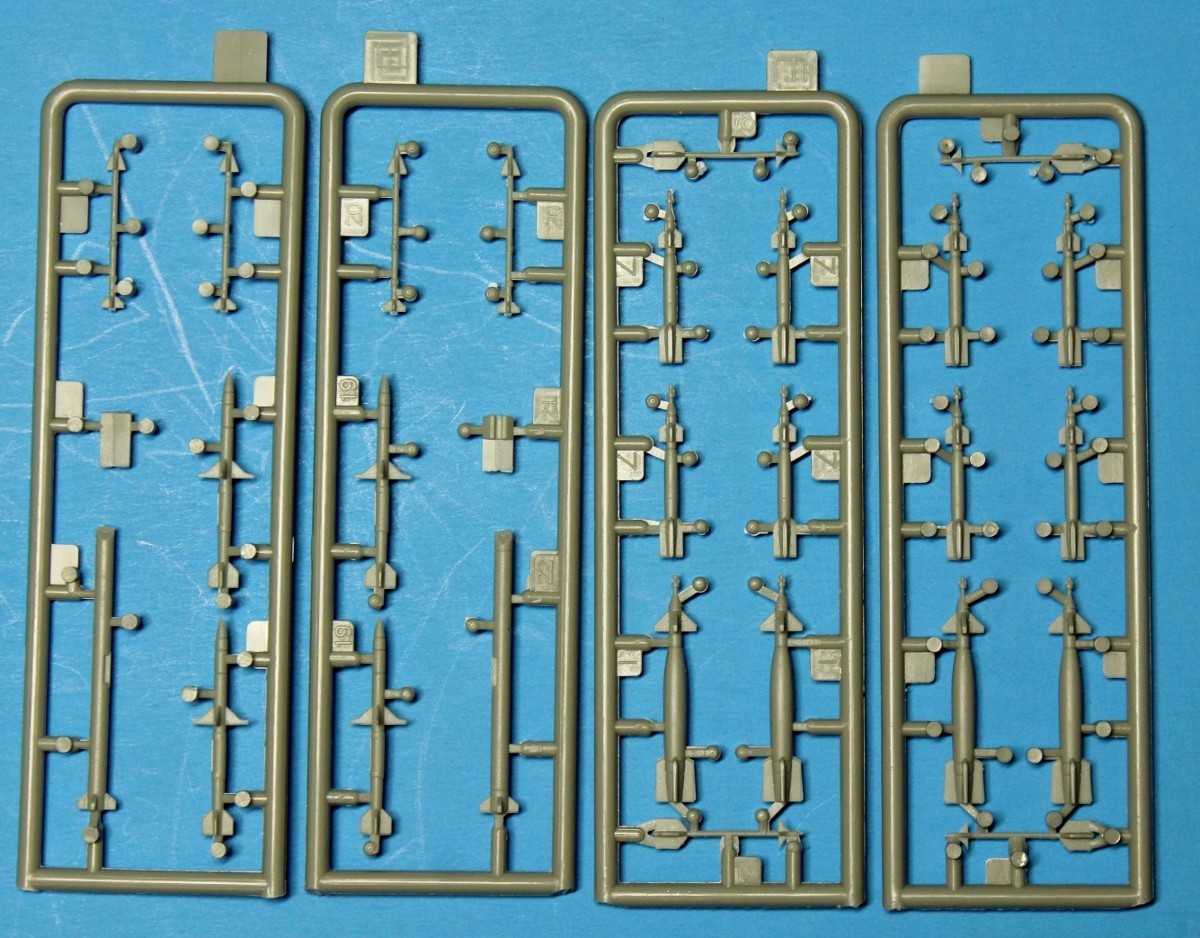 AIM-9 Sidewinder and AIM-120 AMRAAM, AGM-88 SLAM-ER Details

Laser-Guided Bombs, another AIM-9 type

Instructions
Platz's instruction sheet is good. It illustrates the kit sprues. Parts not to be used for this kit are shaded. Parts are identified as well as any painting guidance.

Decals
The kit decals are by Cartograph. Need I say more? There are plenty of these beautifully registered and sharply printed colorful decals to apply. Decals for three aircraft are provided:
Low-visibility VFA-122 "Black Eagles", NJ-214, 2006
VFA-147 "Argonauts", NH-200, USS Nimitz, 2014

VFA-195 "Dambusters", NF-400, "Chippy Ho!", USS George Washington, 2013
Those last two are colorful CAG aircraft.
Painting & Decals Guide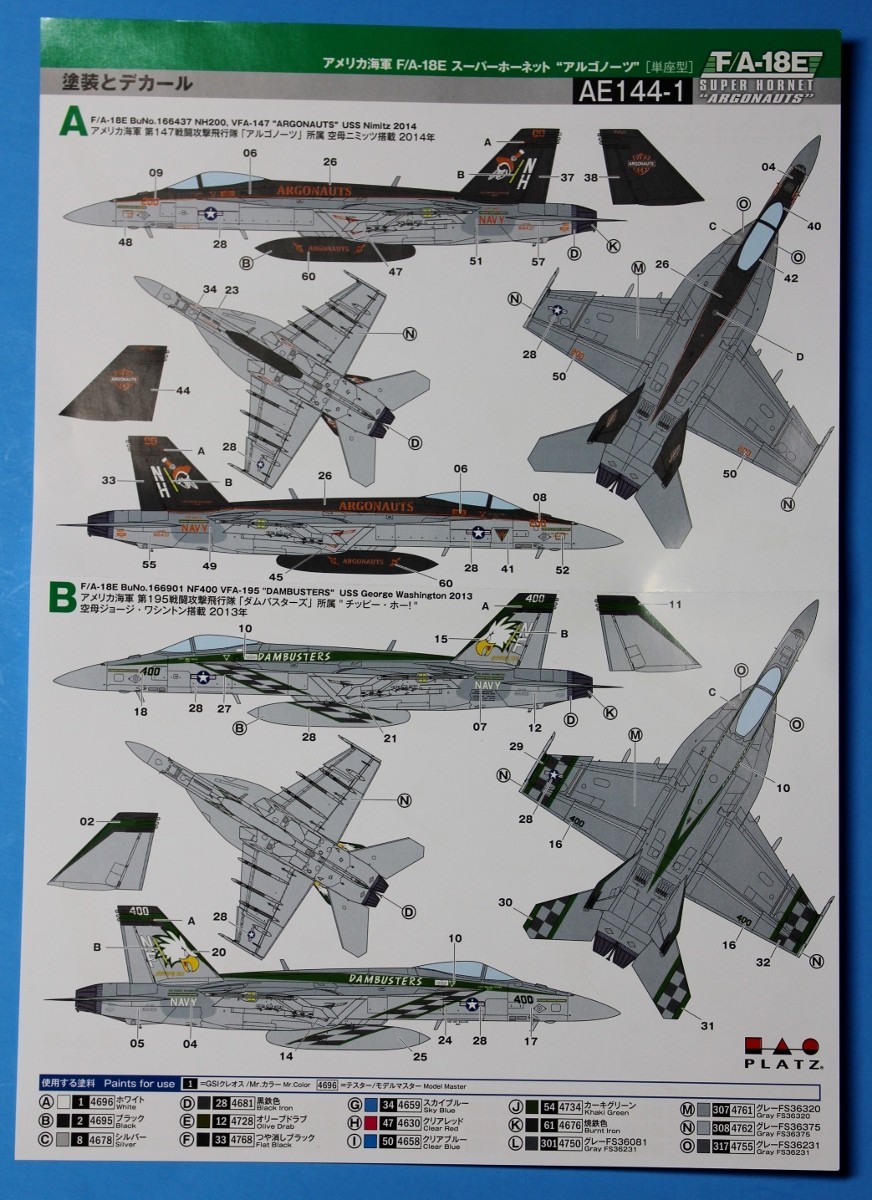 Conclusion
Platz has released an exciting kit of a well detailed "Super Bug." Two aircraft per box is extra nice. Molding is high quality except for the big connectors between the parts and their sprue. A good selection of weapons is a plus. A well illustrated instruction sheet should help speed assembly. A colorful decal sheet offers you the choice of a work-a-day Super Hornet and a CAG showboat.
Aside from the big sprue connectors, I can't think of anything to complain about this model. Recommended.