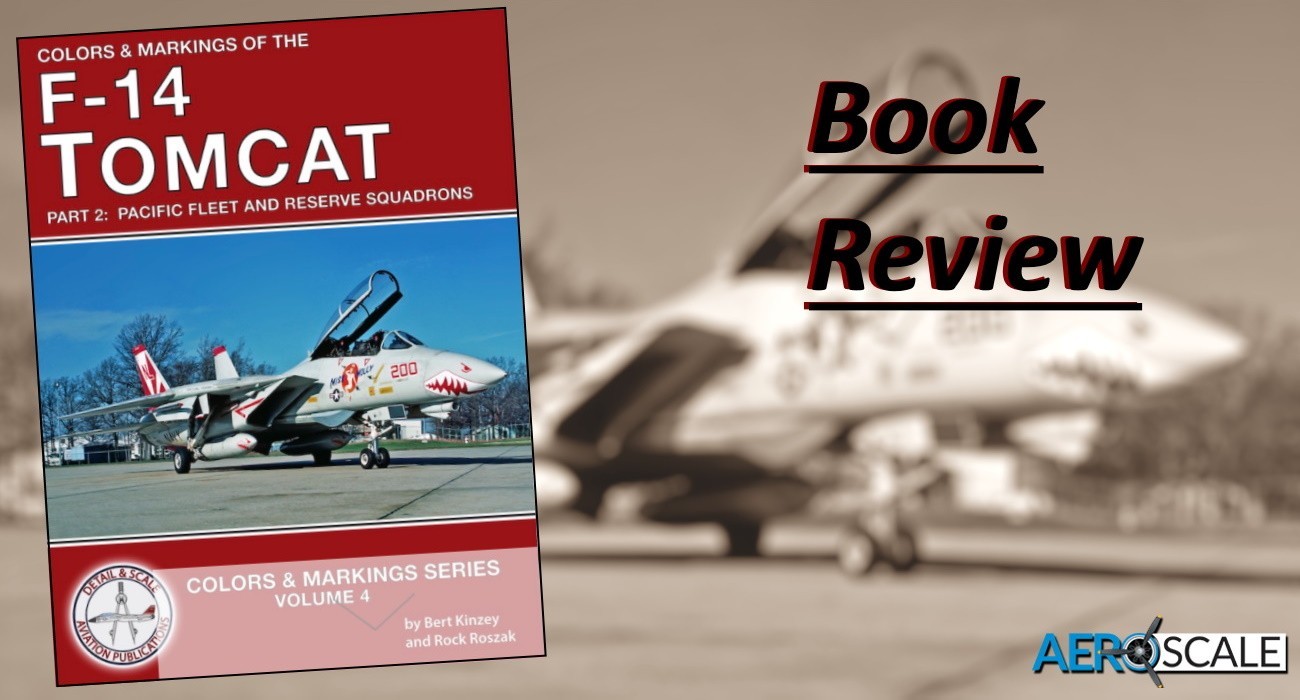 Detail & Scale has published in book form Colors & Markings of the Grumman F-14 Tomcat in three parts. They have been co-written by Bert Kinzey and Rock Roszak. This is the third incarnation of Detail & Scale study of one of the most iconic military aircraft over the last 40 years. The first series which was in print and published in the 1980's and covered the Tomcat in two volumes. The second series again was two volumes, but only available in a digital format. The third series is now available in digital and book formats and has been expanded into three printed volumes.  The first two are available now in print from Detail & Scale with the third is to be published in the future. 
The volumes include:
Part 1: Atlantic Fleet and Reserve Squadrons
Part 2: Pacific Fleet and Reserve Squadrons
Part 3: Prototypes, Test, Evaluation, and Adversary Aircraft [Publication January 2022]
Part 2: Pacific Fleet and Reserve Squadrons covers fifteen active Squadrons as well as two reserve squadrons. It includes:
VF-1 "Wolkpack"
VF-2 "Bounty Hunters"
VF-11 "Red Rippers"
VF-21 "Freelancers"
VF-24 "Red Checkertails/Fighting Renegades"
VF-31 "Tomcatters"
VF-51 "Screaming Eagles"
VF-111 "Sundowners"
VF-114 "Aardvarks"
VF-124 "Gunfighters"
VF-154 "Black Nights"
VF-191 "Satan's Kittens"
VF-194 "Red Lightnings"
VF-211 "Fighting Checkmates"
VF-213 "Fighting Blacklions"
VF-301 "Devil's Disciples" Fleet Reserve Squadron
VF-302 "Stallions" Fleet Reserve Squadron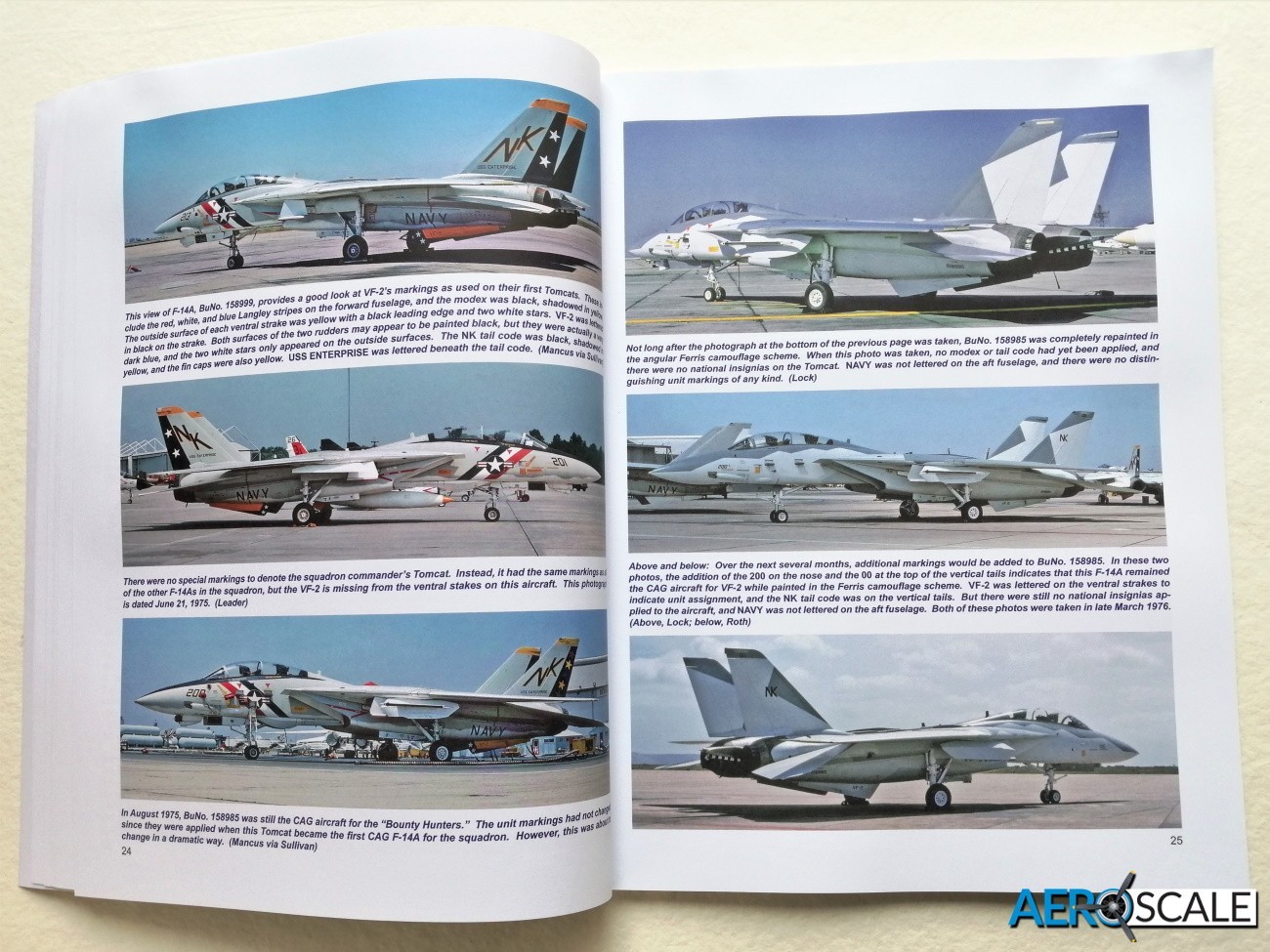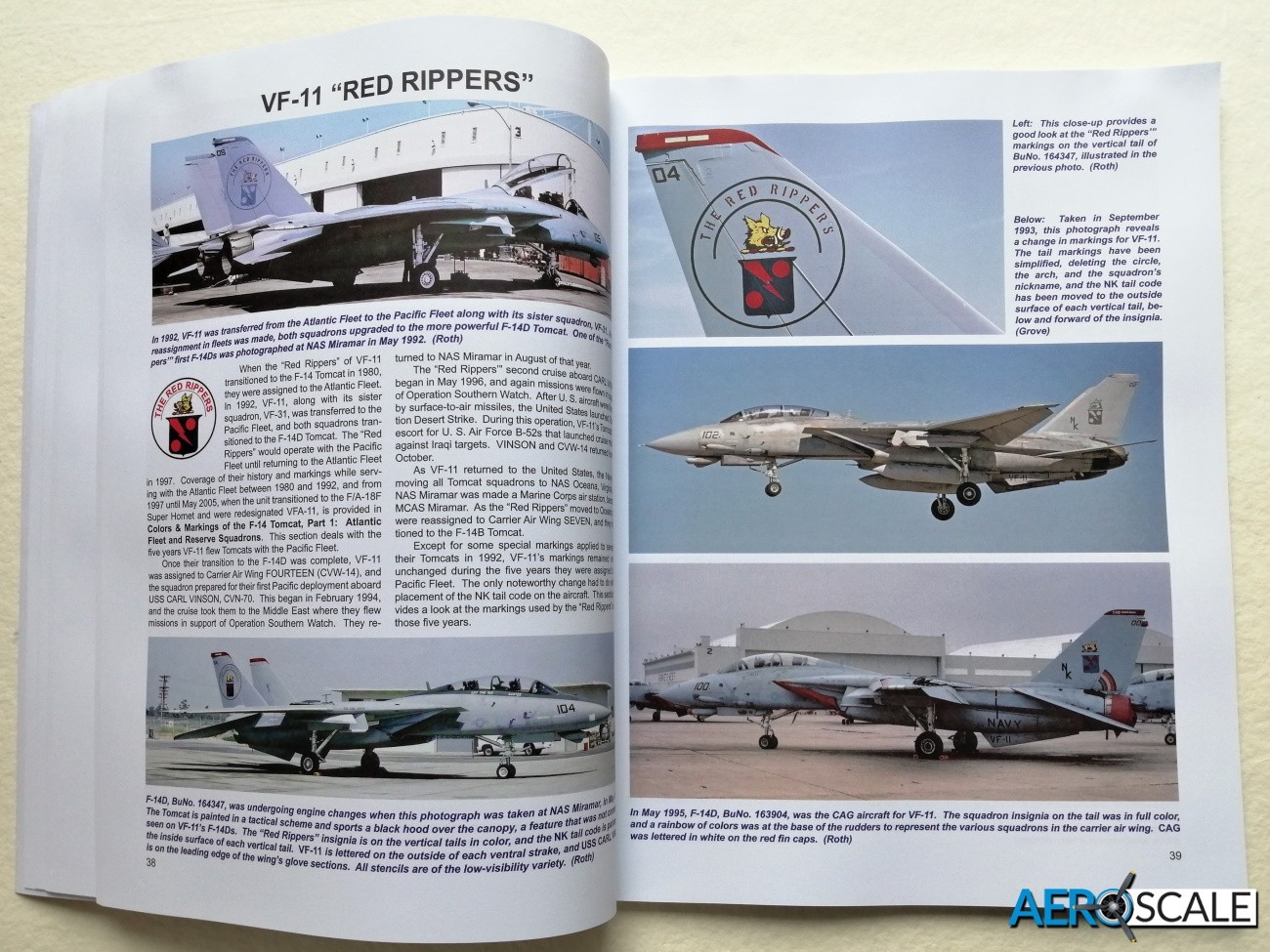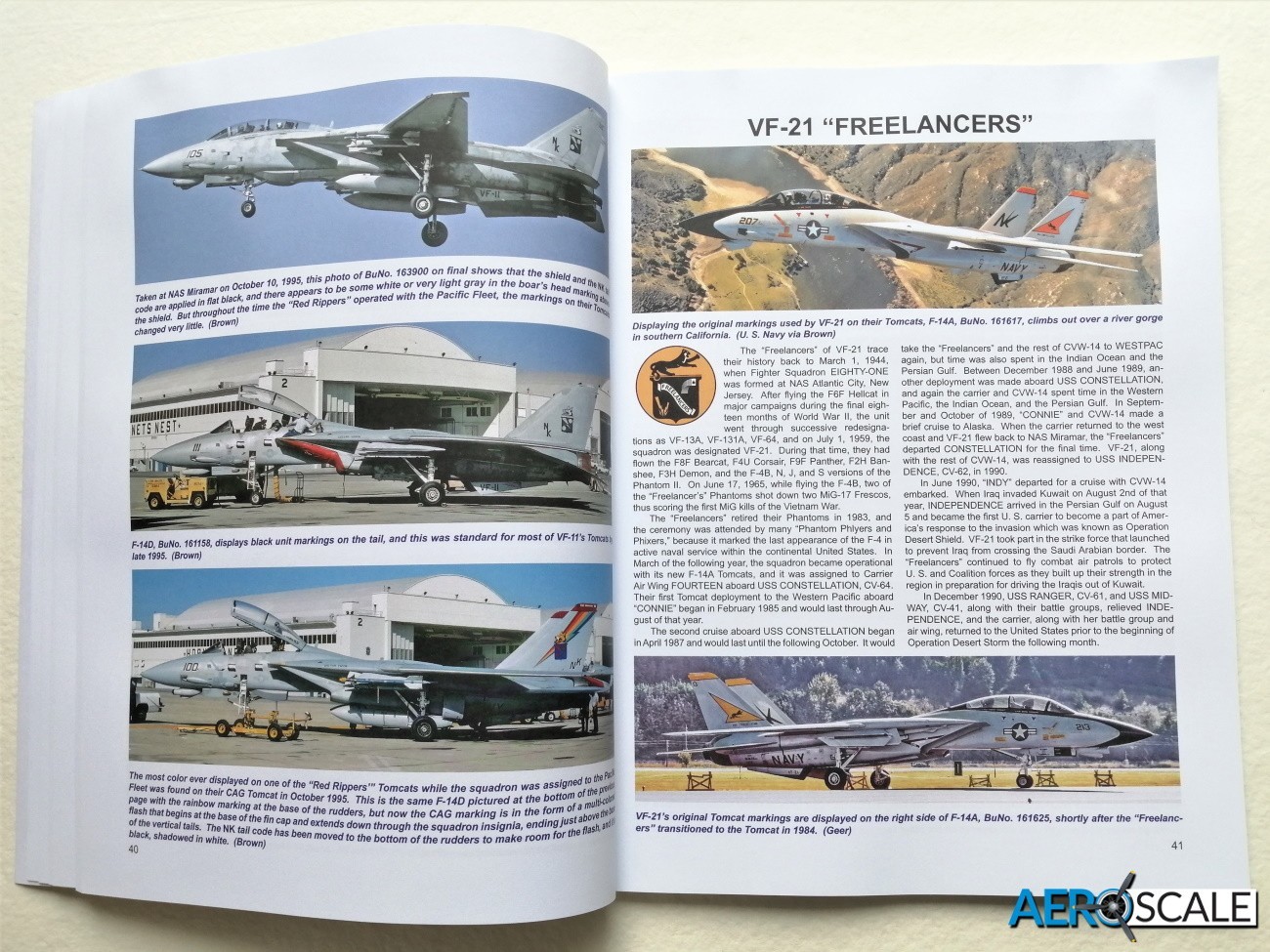 Each Squadron is covered with a short history and a much more detailed look at the Squadrons time with the Tomcat. This is backed up with a wealth of photographic imagery. Each images includes text with points of interest, which is important as some of the changes are very subtle. Additionally, there are a number of side on illustrations of the Tomcat providing color details. The majority of photographs are taken from a position so the inner and outer sides of the vertical tail surfaces can be seen. There is a bias towards CAG and CO modex numbered Tomcats though there is a good smattering of line aircraft. The bias is understandable as the Tomcat provides such a unique canvas for colourful markings. Images show the Tomcats throughout its service carrier spanning the grey and white scheme through to the subdued greys of the tactical paint scheme. There are a few images of some of the experimental camouflage. There are two images of the Tomcats of VF-111 and VF-154 sporting nose art. All very useful if you are a keen modeller of the Tomcat and would like to ring the changes with your F-14 model flight line. The photographs are an outstanding record of the appearance of the Tomcats with each Squadron. The authors thoughtfully point any subtle variation in the text accompanying the photos.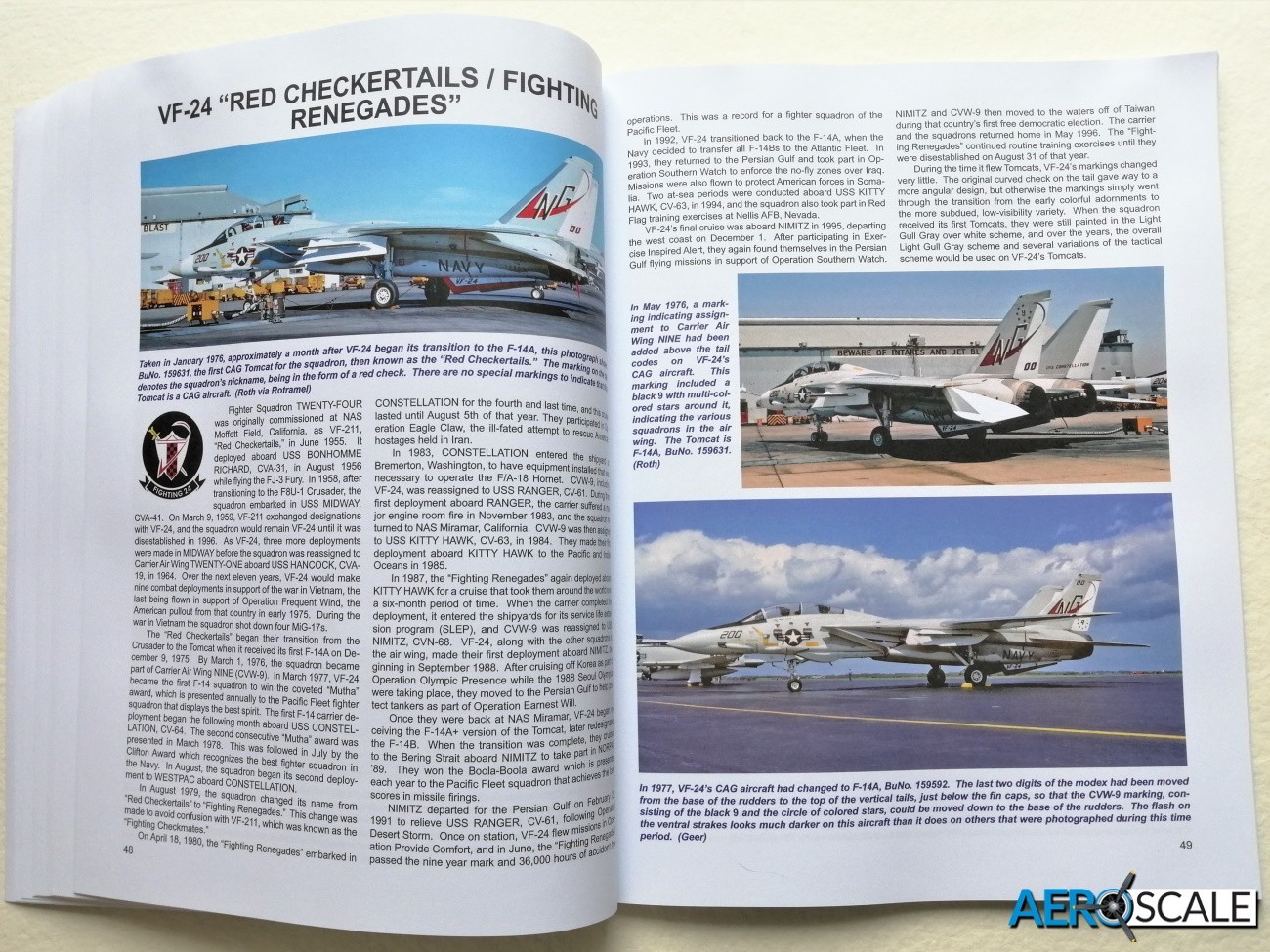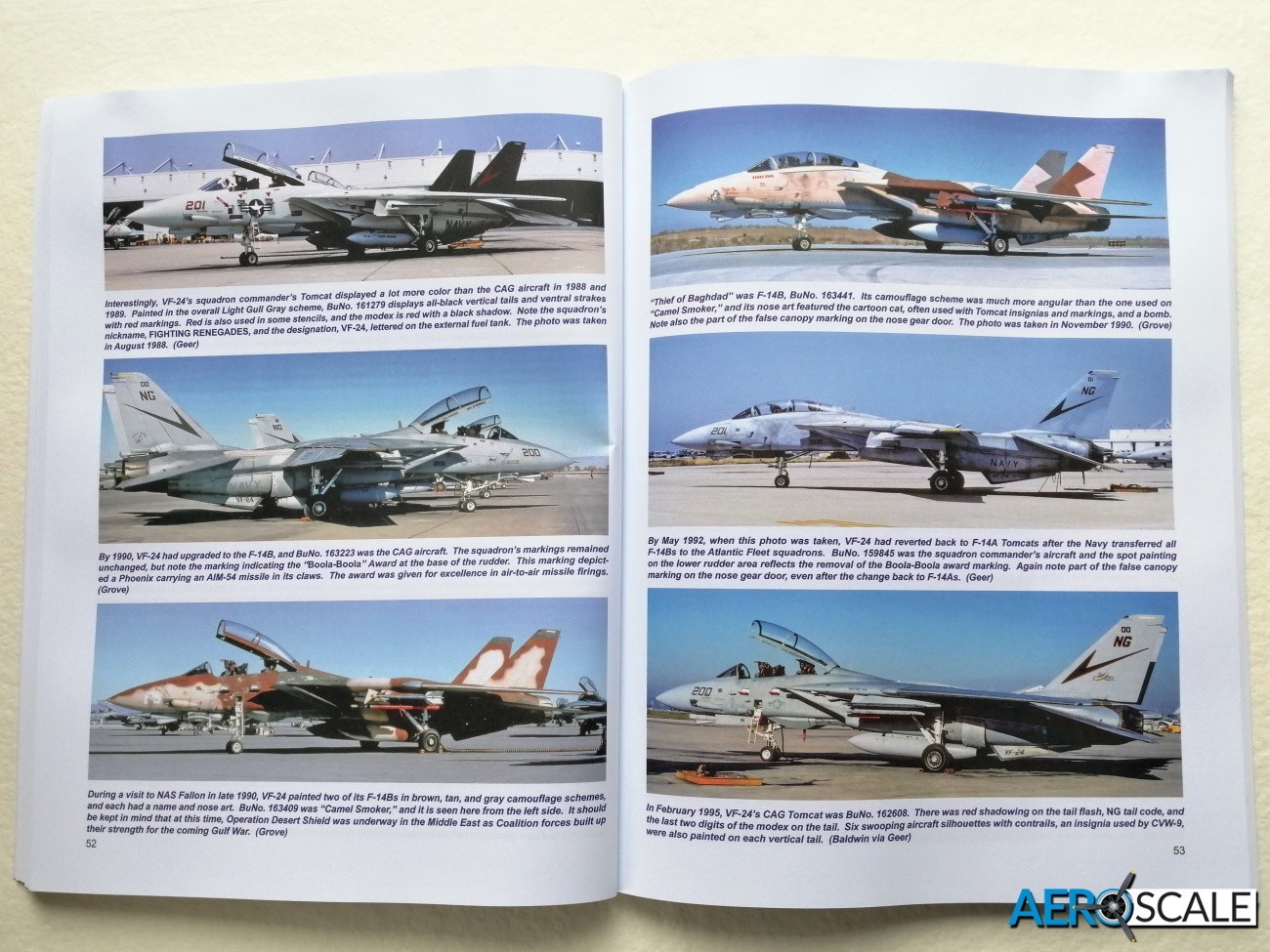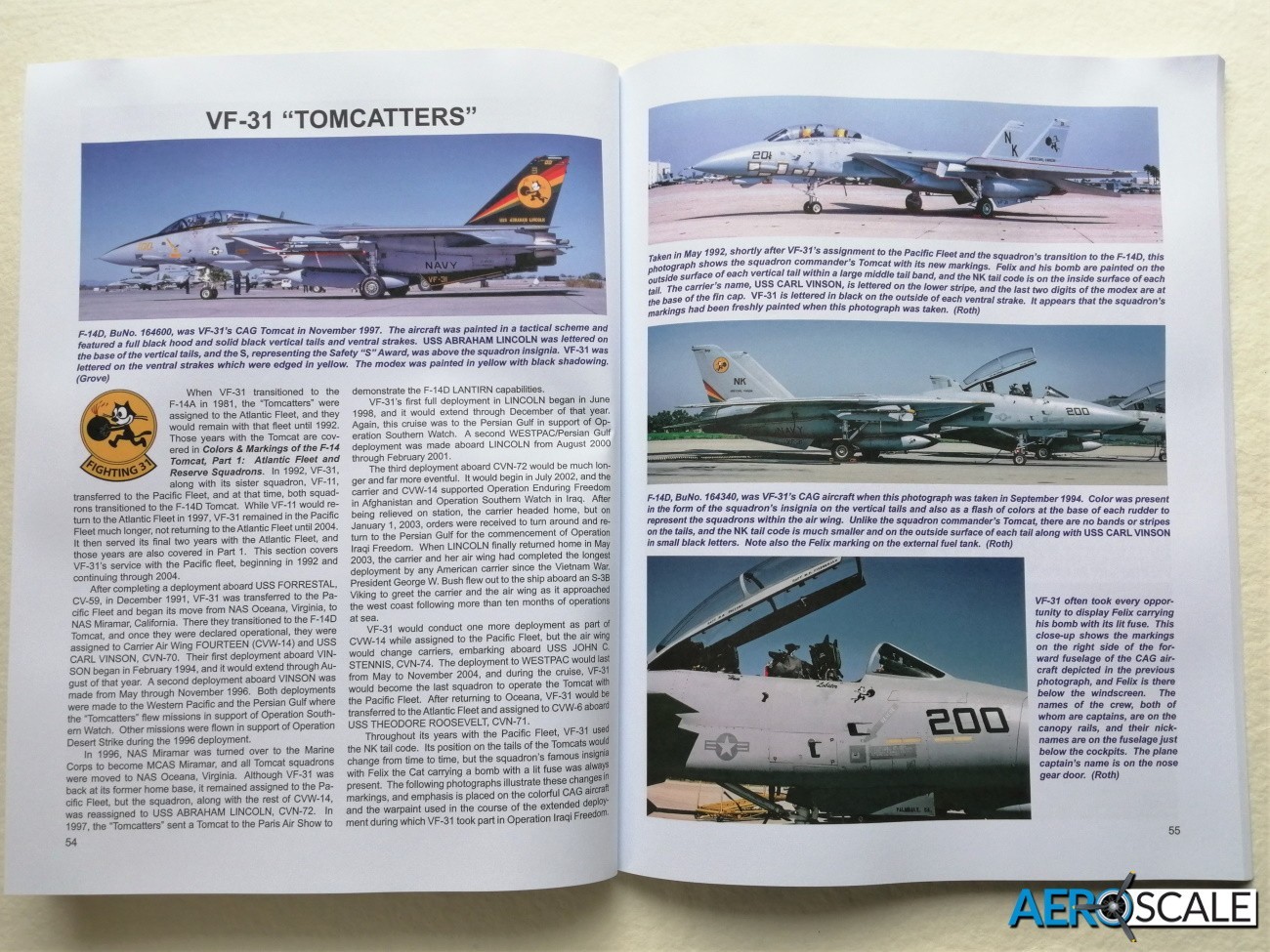 As mentioned, the volumes are available in printed form or digitally through Apple Books and Amazon Kindle. Purchasing the digital format represents a considerable saving over the printed version. It's worth noting if you already have the digital versions there is no new material with these latest digital editions. 
Conclusions
Color & Markings F-14 Tomcat part 2: Pacific Fleet and Reserve Squadrons is a considerable body of research bringing together quite a pool of contributors, hence the sheer number of photographs and information. It is a comprehensive documentary of the US Navy Squadrons utilising the Tomcat. A real go to reference if your even for anyone historian or modeller interested in the Tomcat. Going through the book had me searching Furball Aero Designs website for possible marking options for future projects. Highly Recommended
Detail & Scale
Color & Markings Of The F-14 Tomcat Part 2: Pacific Fleet and Reserve Squadrons Volume 4
ISBN 9798457065741
Authors: Bert Kinzey and Rock Roszak
127 Pages
330 Color photos
9 Color profiles
https://www.detailandscale.com/
Many thanks to co-author Rock Roszak for providing this review sample.
Please remember, when contacting retailers or manufacturers, to mention that you saw their products highlighted here – on AEROSCALE