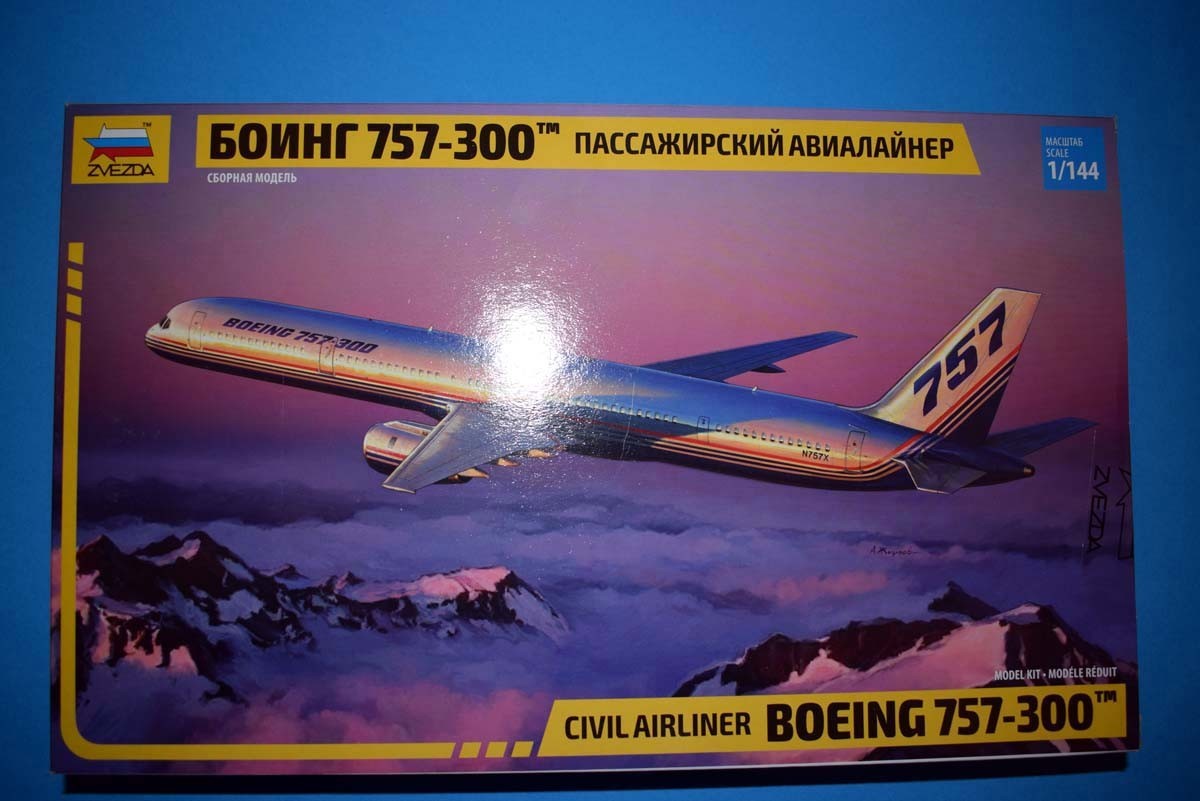 Introduction
This introduction is as provided by Zvezda:
The Boeing 757-300 narrow-body passenger aircraft is an evolution of the Boeing 757-200 with a 7 metre longer fuselage and increased passenger capacity. It accommodates from 243 to 280 passengers. The interior was designed according to passengers opinions. The cabin is equipt with additional in-direct lightening and larger shelves for hand luggage. Just over 50 Boeing 757-300 aircraft were manufactured from 1998 to 2004. The aircraft has been in service with airlines since 1999.
A pilot who flew this aircraft type told me it was a lovely aircraft to fly, but has a habit of wagging its tail on landing.
Review
This offering from Zvezda is packaged in a flip top cardboard tray and then further protected by a card carton with all the artwork on. Inside the kit parts are in two sealed bags, with the clear parts and the decals packaged in a Ziploc bag which is one of the few things I do not like about the packaging. An examination of the mouldings does not reveal any obvious issues that I can see. Access to the parts is good and I particularly like that Zvezda are one of the companies that still provide display stands for some of their aircraft models.
Looking at the exterior areas of the aircraft there is very nice finely recessed panels, that are over scale but that would otherwise be invisible. Glazing is provided for all of the side windows, but none of the passenger portions of the aircraft are catered for. You do get a minimal cockpit which provides a general cockpit layout, pilot's and engineers seats and control yokes for the pilots seats. A check on-line for cockpit images reveals the details provided are generally accurate, but simplified. The engine nacelles have a reasonable level of detail as regards in-take and exhaust, and all the exterior detail appears accurate. As regards assembly of this model it can be considered as, fuselage, cockpit, wings, tail and engine. The option is the undercarriage depending on if you want to have it up or down. The undercarriage elements are generally accurate, but obviously simplified due to the requirements of the scale. I personally think that airliner models look better clean with the undercarriage raised.
The finishing option provided with this release is the livery of the aircraft used on the roll out ceremony, which is reasonably colourful. But what impresses me about the decal sheet, are the silver outlines for all of the windows and the door access panel information.
Conclusion
As I have said previously, airliners are not models that appeal to me as a rule. However, this release has with previous Zvezda releases do have an appeal of their own, due to the ease of construction, exterior detail when cleanly built, the colourful finishes and the effort put into the decals especially around the windows. Lastly I particularly like the style of the display stand, which I believe will show the model off well