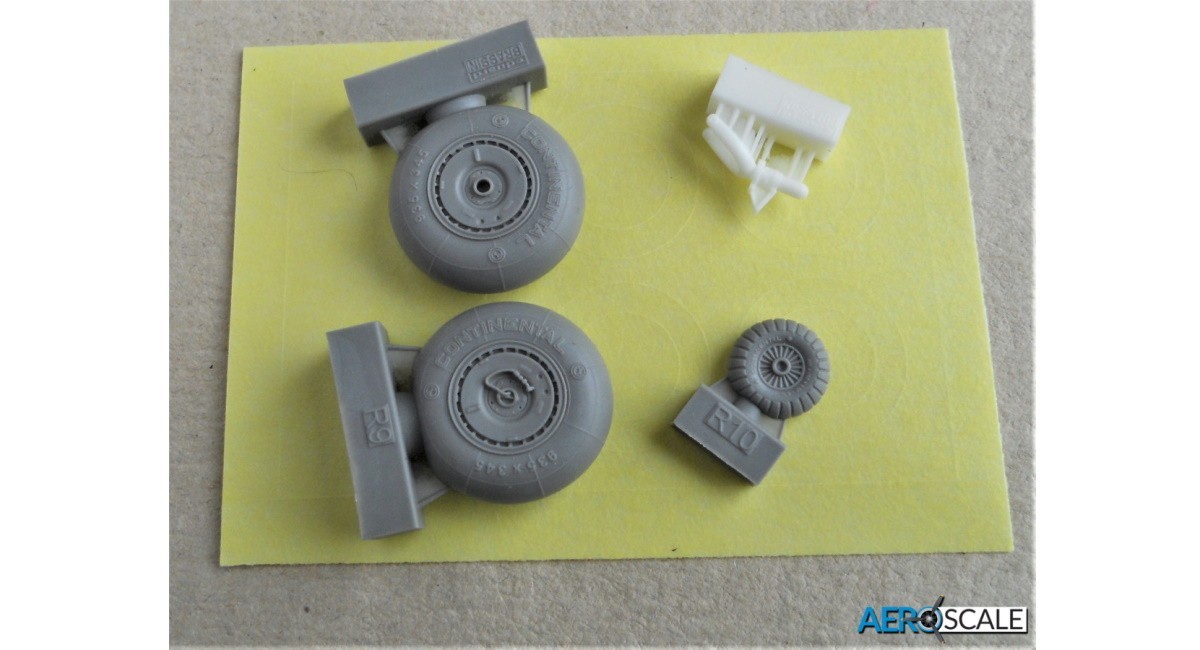 The parts come in a transparent sleeve that will fit through the narrowest of letter boxes. 
This resin set contains:

2 x main wheels
1 x tail wheel
1 x 3D printed rear wheel oleo
1 x Instructions
Paint masks
These items are direct replacements for the kit parts.Although the kit wheels are not bad, they are moulded as two halves. With the one-piece resin replacements there is little cleaning up and or the need to re-define the tread.  Although these resin tyres are pretty slick. The kits wheels don't have the raised detail that these resin ones have. The tyre manufacturers name Continental features on the side walls. I did wonder if the raised area would be to proud, but no they look fine. Another advantage of the resin wheels is that they are slightly weighted. The brake hose into the hub is nicely defined as is the hub detail generally.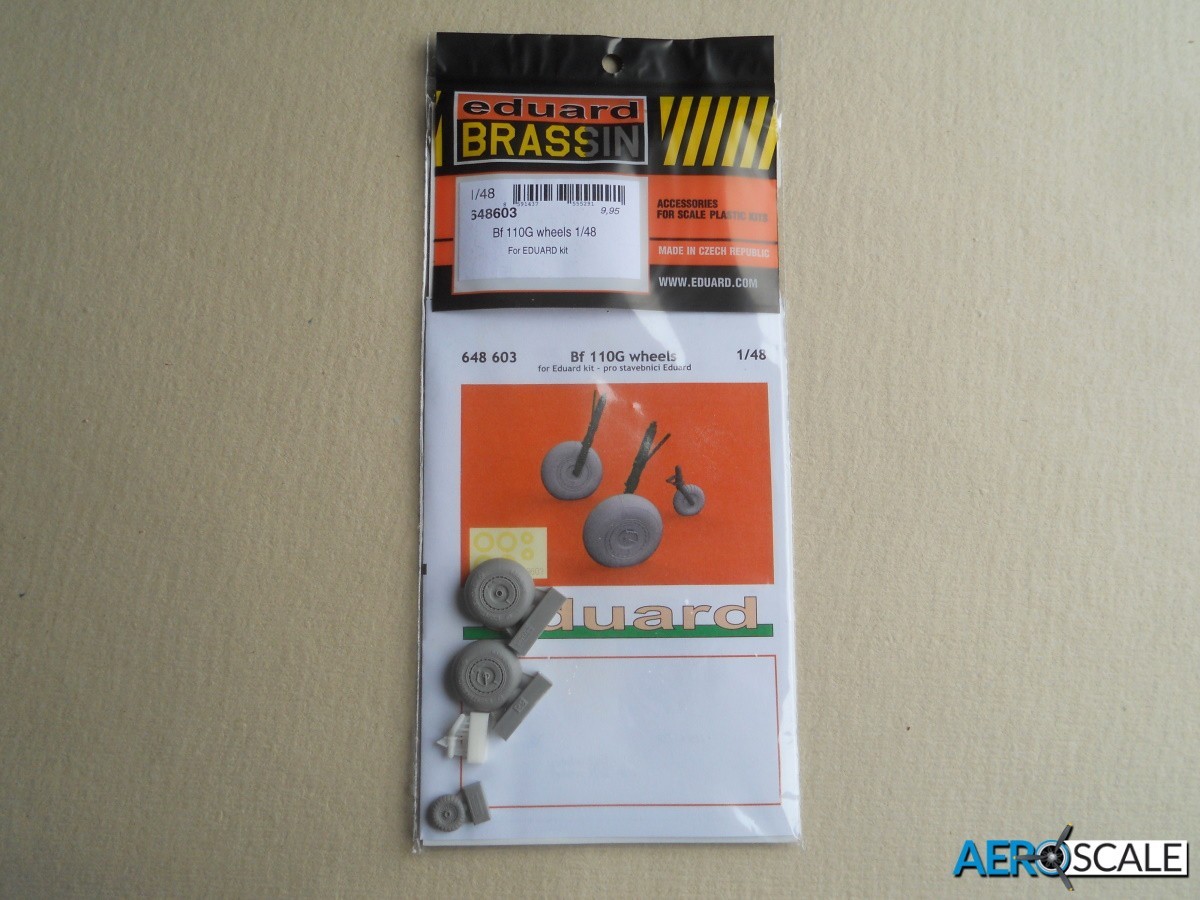 The one-piece tail wheel has much more of a tread and the spoke detail is well defined. The 3D printed oleo is in white resin and will need the small attachment point removing. There's a little very thin flash in the inside the torque link that will need to be removed. The arms of the oleo have tiny spurs into which the hub of the tail wheel fits.
You do need to carefully remove the wheels from their casting blocks. The ones on the main wheels are quite substantial. Though they do fall where the tyre would be naturally flattened. Its always advisable to soak any resin parts in a warm water and a good dose of washing up liquid to get rid of any excess release agent.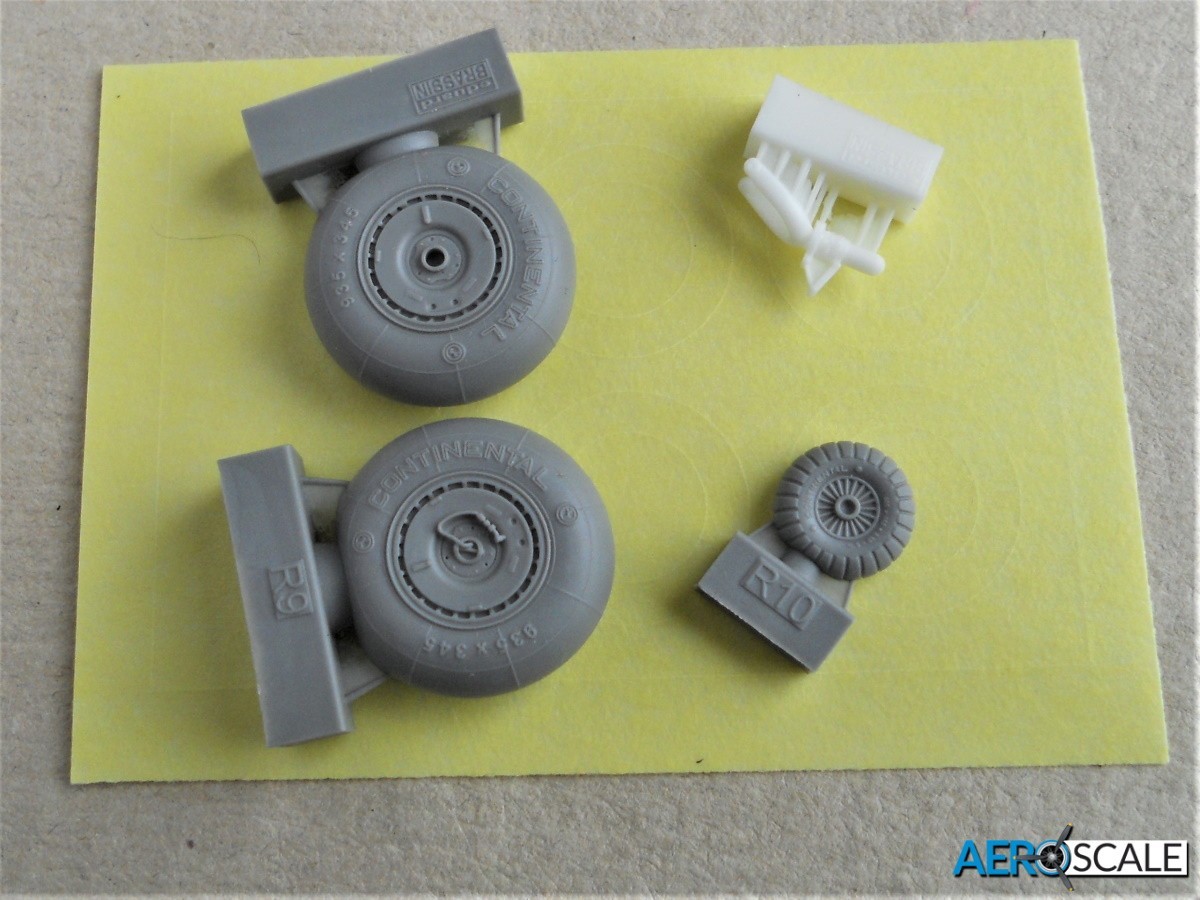 Conclusions
These are great looking wheels and will certainly look much better than the wheels contained in the kit. You just need to take a little care removing the items from their respective casting block. Also take the correct precautions when sanding down the residue casting block. Highly recommended
648 603 - Bf 110G Wheels - 1/48
The Kabuki paint masks will speed up the painting process particularly if you are spraying. They are made to fit around the hub. With care they can be used several times.
Our thanks to Eduard for the review sample.
Please remember, when contacting retailers or manufacturers, to mention that you saw their products highlighted here – on AEROSCALE.