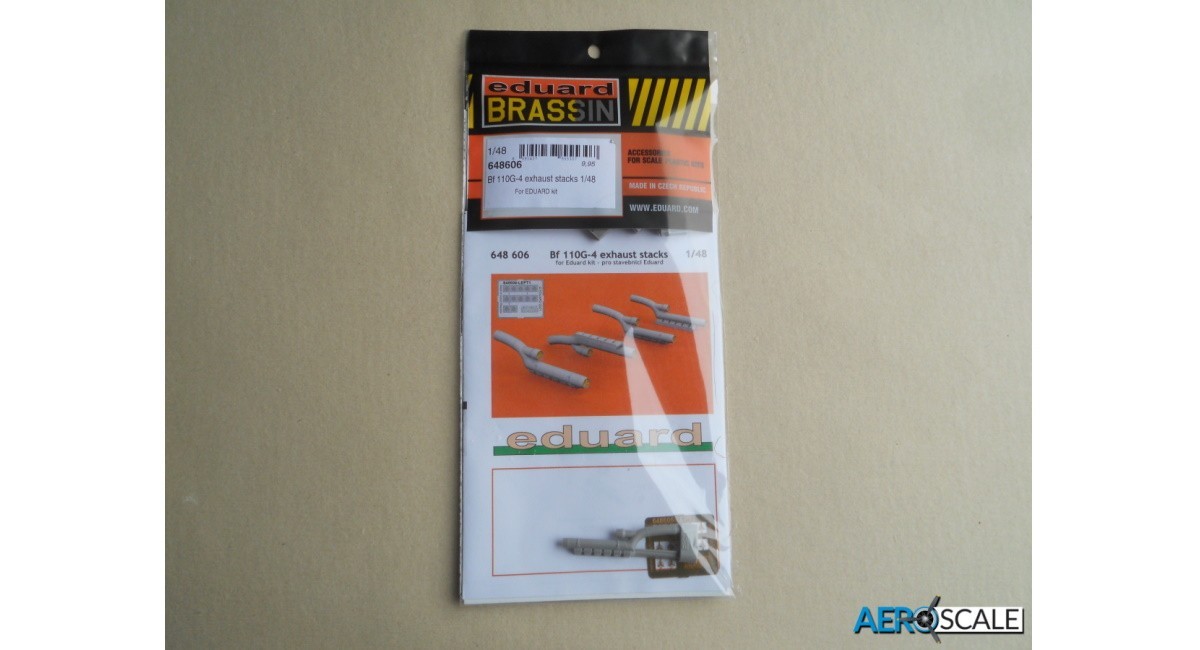 The extended exhaust stack was the solution to the  problem of exhaust flare that all night fighters could suffer from if not corrected. The shrouding prevented loss of night vision and also reduced the likely hood of their approach being observed by their prey.
These direct replacements are designed to fit Eduards ProfiPACK or Weekend Editions. Contents include:
4 x resin exhaust stacks
1 x small fret of photo etched parts
1 x set of instructions
I have included the relevant section of the instructions that show the construction of the plastic kit parts. You'll note the more simplified construction of these resin replacements parts. One cut with a fine hacksaw blade at the end of the exhaust removes all the casting block. You may feel the need to drill out the ends as they are solid. The tab of resin that spans the individual exhaust from the engine forms a useful attachment point to the nacelle, so is not to be removed.
There are twelve small photo etched guards to set into the exhaust inlets to add that touch more detail. As you would expect from Eduard the quality of the photo etched parts is excellent, but handle with care as there are no spares. They just slot into the recesses at the front of the exhaust pipes.
As always take the correct precautions when cutting and sanding down resin parts.
This detail set is much easier to construct and detailed compared to the exhaust stack contained in the Bf 110 G-4 night fighter. Highly recommended
Price from Eduard £3.97 not including postage.
648 606 - Bf 110G-4 Exhaust Stacks – 1:48
Our thanks to Eduard for providing the sample for review,
Please remember, when contacting retailers or manufacturers, to mention that you saw their products highlighted here – on AEROSCALE