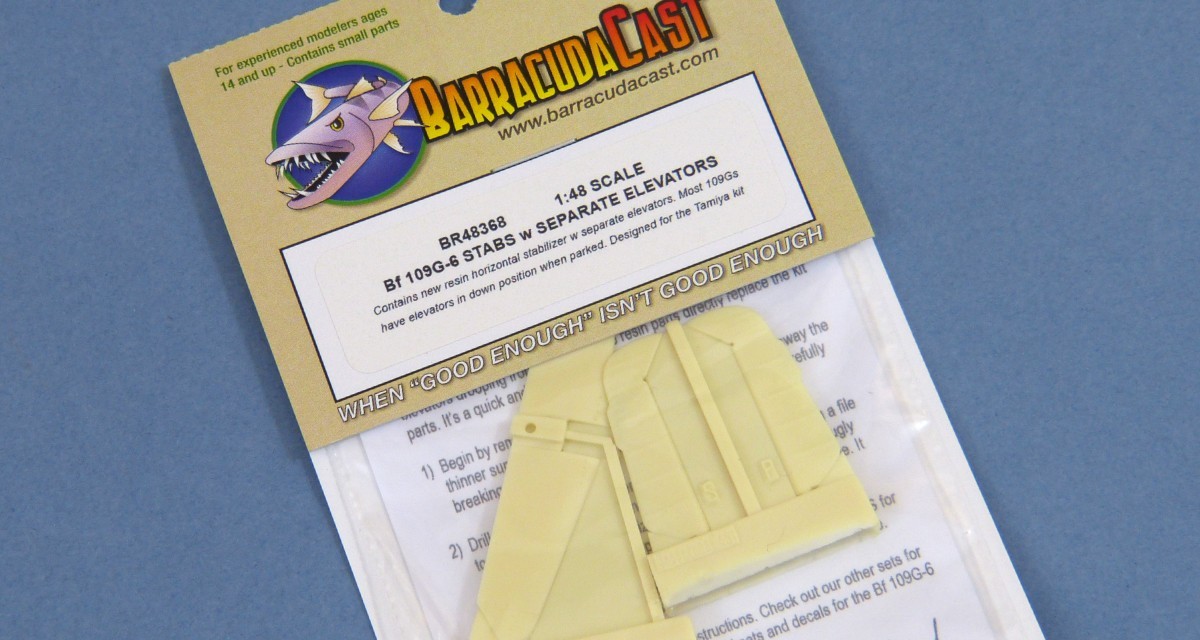 Take a look through wartime photos of parked Bf 109s and, as often as not, you'll see the elevators deflected. So it's disappointing that Tamiya chose to mould them integrally with the stabilisers in their 1:48 Gustav, meaning a bit of fiddly surgery's required to remove them, followed by some modification work to allow them to be fitted at the desired angle.

Barracuda Studios have saved all that hassle with a beautifully straightforward resin tailplane with separate elevators that's a drop-in replacement for the Tamiya part. The sample set is flawlessly cast and preparation will be quick and easy. The only point I can see that might catch out the unwary is the small casting feed on the surface of the tailplane - forget to smooth this away and you'll have a distinctly non Bf 109-like lump under the tip of the tail on one side.

The elevators are handed, so don't muddle them or you may end up with drain holes on the top surface.

Roy Sutherland has included excellent step-by-step instructions with clear colour photos, so even total newcomers to using resin upgrades should have no difficulties.

Conclusion
With anything produced by Roy Sutherland, you know the quality's going to be second to none, and his upgrade for Tamiya's Bf 109G is no exception. At a stroke it will save a lot of modifying the kit tail and will instantly add life and interest to the finished model.
Many thanks to Barracuda Studios for the review sample.
Set #BR48368 is available now from Barracuda Studios - Price: $8.95
Please remember, when contacting retailers or manufacturers, to mention that you saw their products highlighted here - on AEROSCALE