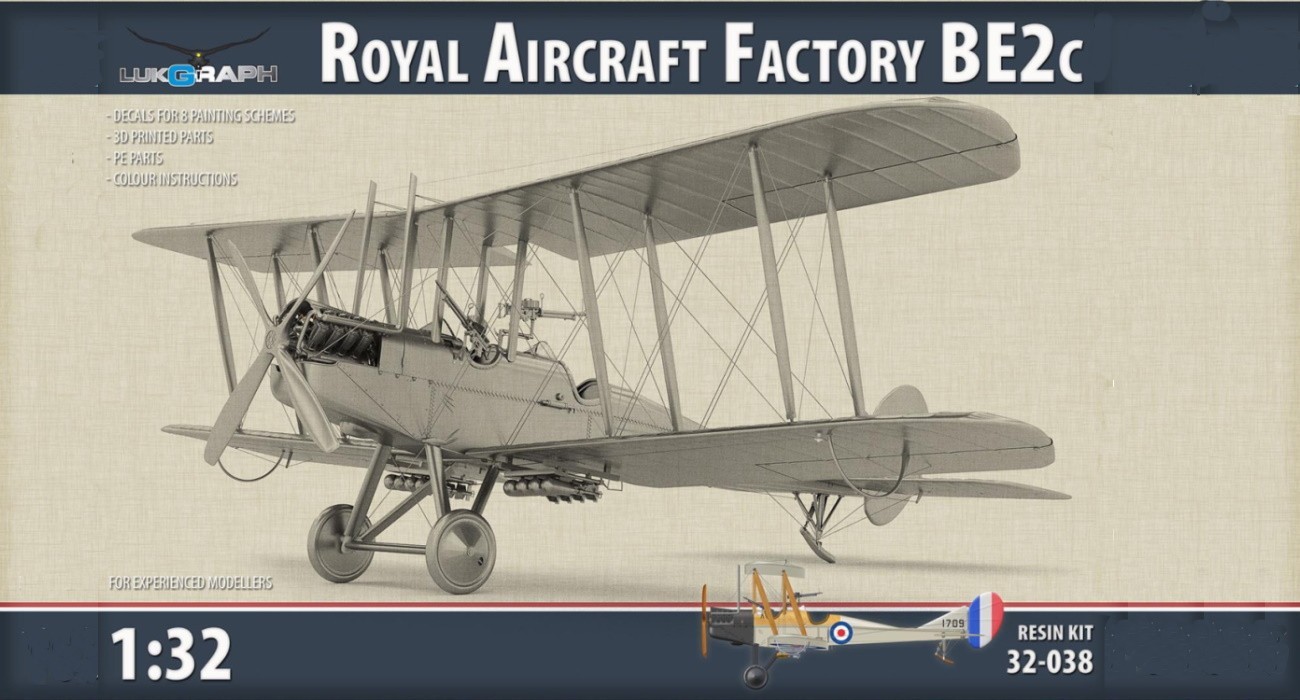 Royal Aircraft Factory BE2c 1:32 LukGraph resin kit. From today we accept pre-orders - shipping time to 90 days.

32-038 - RAF BE2c STANDARD SET 1:32 €149.25
32-038 - RAF BE2c PREMIUM SET 1:32 €189.32
Premium set includes additional 4x A4 decal sheets (transparent), 1x woodgrain and 3 x CDL, and masks (1 mm rib strips) all made by LukGraph (decals and masks also available in online store as separately product).
Resin Casting Parts:
fuselage, wings (wire reinforced), horizontal and vertical fins, larger interior elements.
All struts and axes reinforced by wire, wheels x 2.
3D prints:
RAF-1 Engine, exhaust pipes and water pipes, propeller, guns, magazines, fuel tanks, 2 x wicker armchairs, and all interior parts.
Some elements duplicated for the construction of a training plane.
Additionally, over 100 photo-etched parts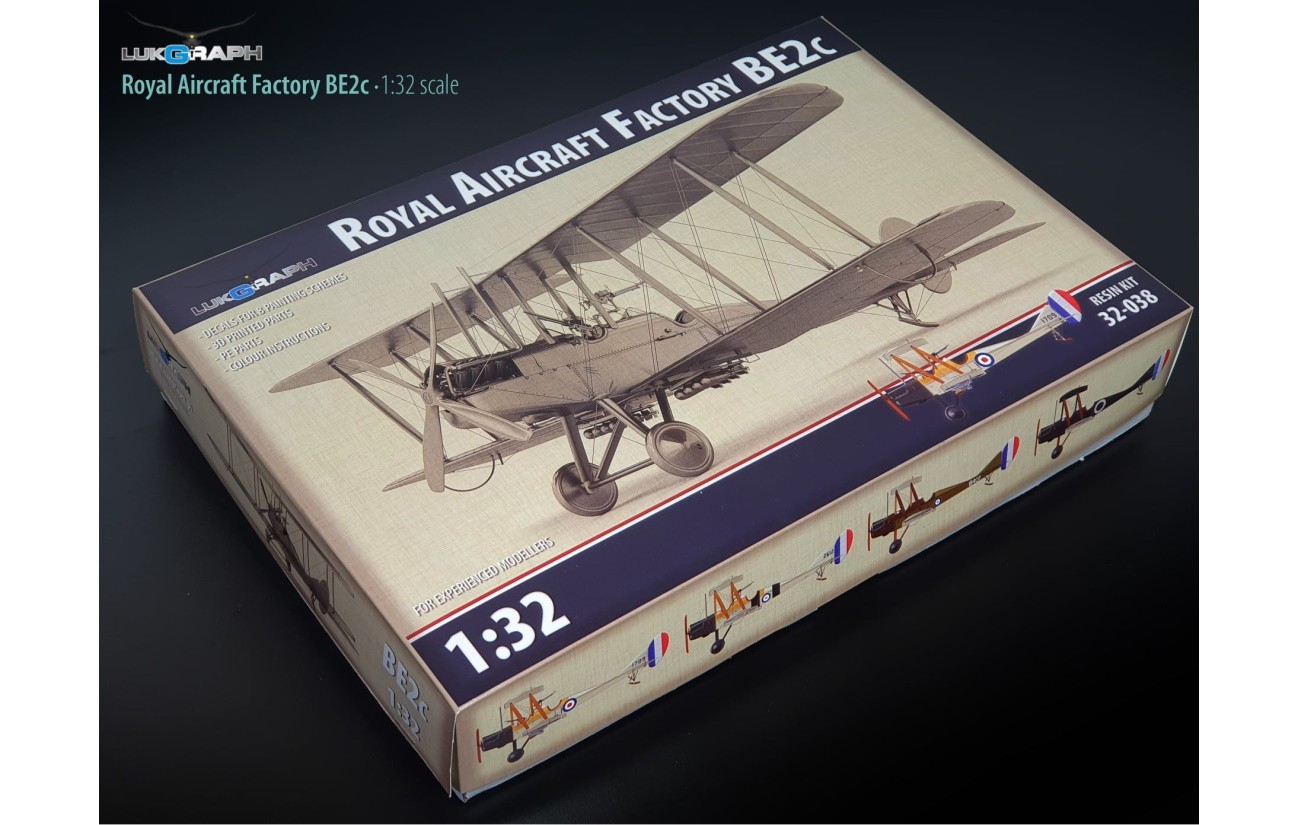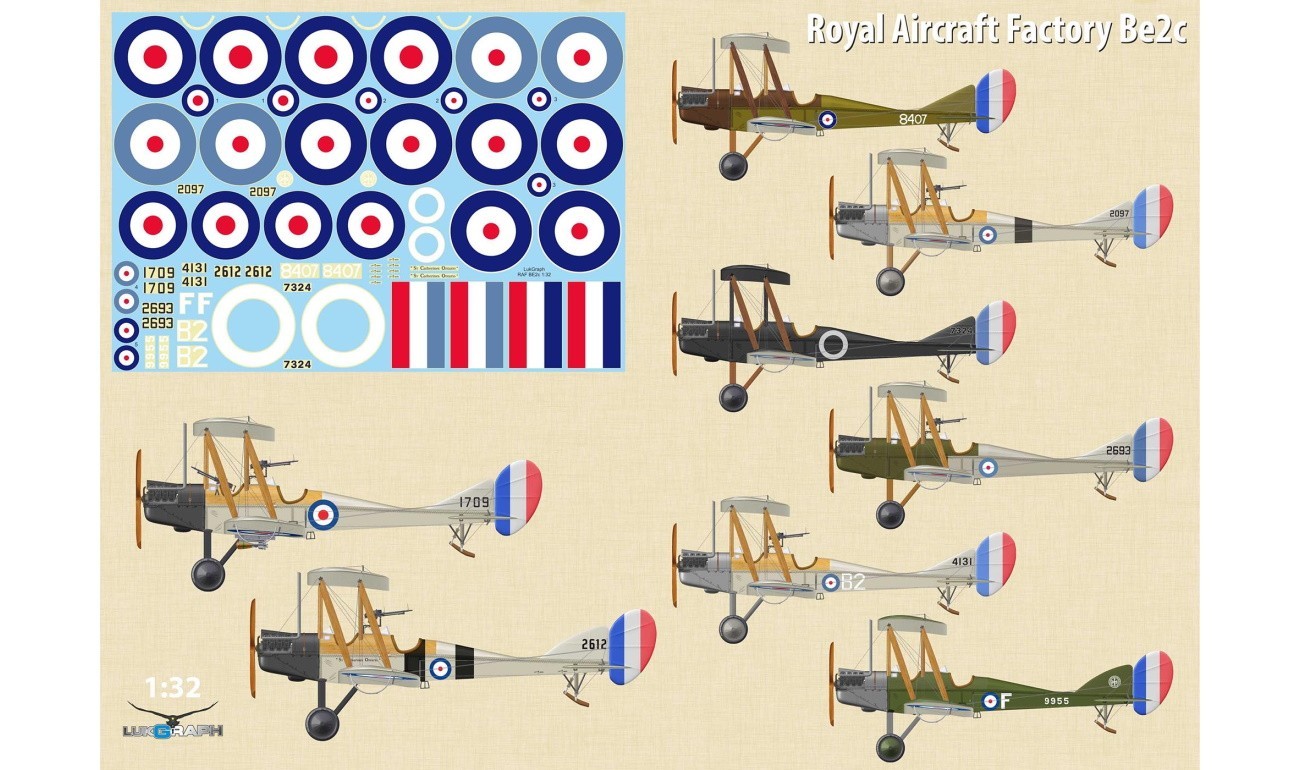 Painting schemes:
BE2c "1709" – RAF 1915
BE2c "2693" – RAF 1916
BE2c "8407" – East Lothian 1916
BE2c "2612" – "St Catherines Ontario" 1916
BE2c "9955" – RAF Cranwell 1916
BE2c "7324" – Hounslow 1916 – night fighter
BE2c "2097" – Maricourt 1916
BE2c "4131" – Risalpur, India 1917
We try to improve our workshop with each release. We try to do everything we can to ensure that this short series of resin models is at the highest level.
LukGraph Team
32-038 - Royal Aircraft Factory BE.2c - 1:32
Please remember, when contacting retailers or manufacturers, to mention that you saw their products highlighted here – on AEROSCALE.