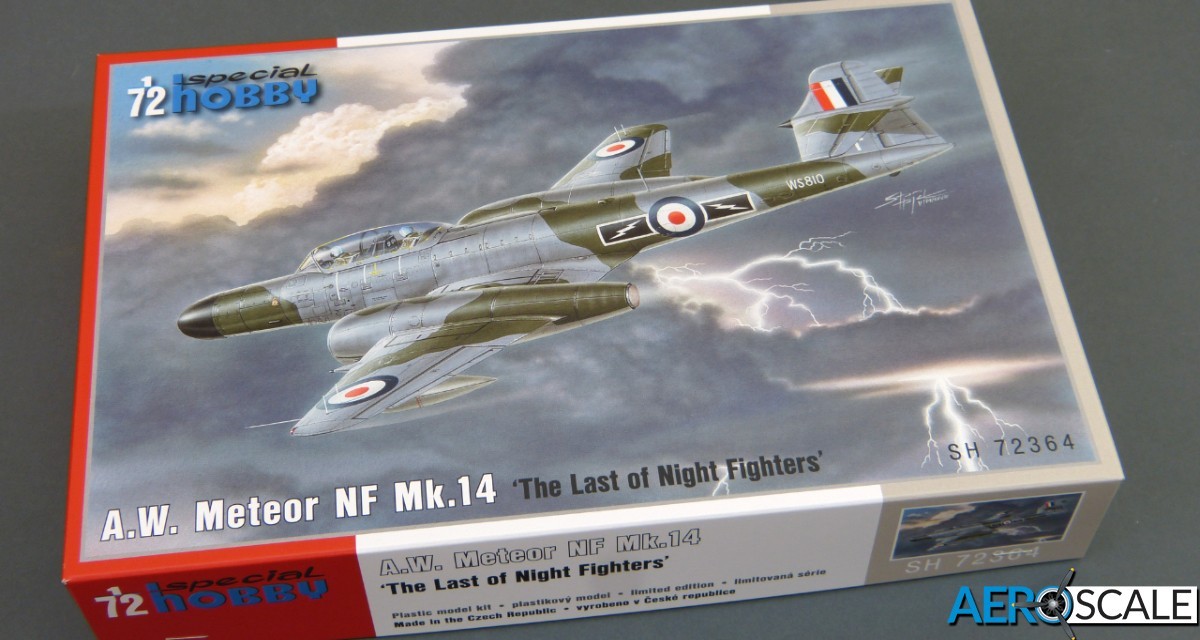 Special Hobby's Meteor NF Mk.14 arrives in a compact and sturdy conventional box, with the runners and accessories bagged together in a neat bundle. The decals and clear parts have their own bags to protect them and everything in the sample kit survived the journey perfectly.

The kit comprises: 
123 x grey styrene parts (plus 25 not needed)
10 x clear parts
Decals for 4 x colour schemes
The model is nicely moulded, with what appears to be a mix of Special Hobby's traditional short-run technology for the airframe parts and 3D-designed details. There'll be a little extra preparation compared with a fully mainstream kit and I found a little wispy flash here and there, but nothing to worry about. It will be a good idea to watch out for moulding seams, but I didn't spot any problems with sink marks or poorly placed ejector pins. The surface finish consists of neatly engraved panel lines .

Dry-assembling the fuselage and wings is encouraging, with a nice tight fit at the roots. The horizontal stabilisers slot in firmly and squarely, promising a pretty straightforward build.

One thing that's instantly clear is that this Meteor is going to look very striking - the stretched nose just seems to go on forever! Tail-sitting certainly shouldn't be a problem, because there's masses of room for some weight if needed.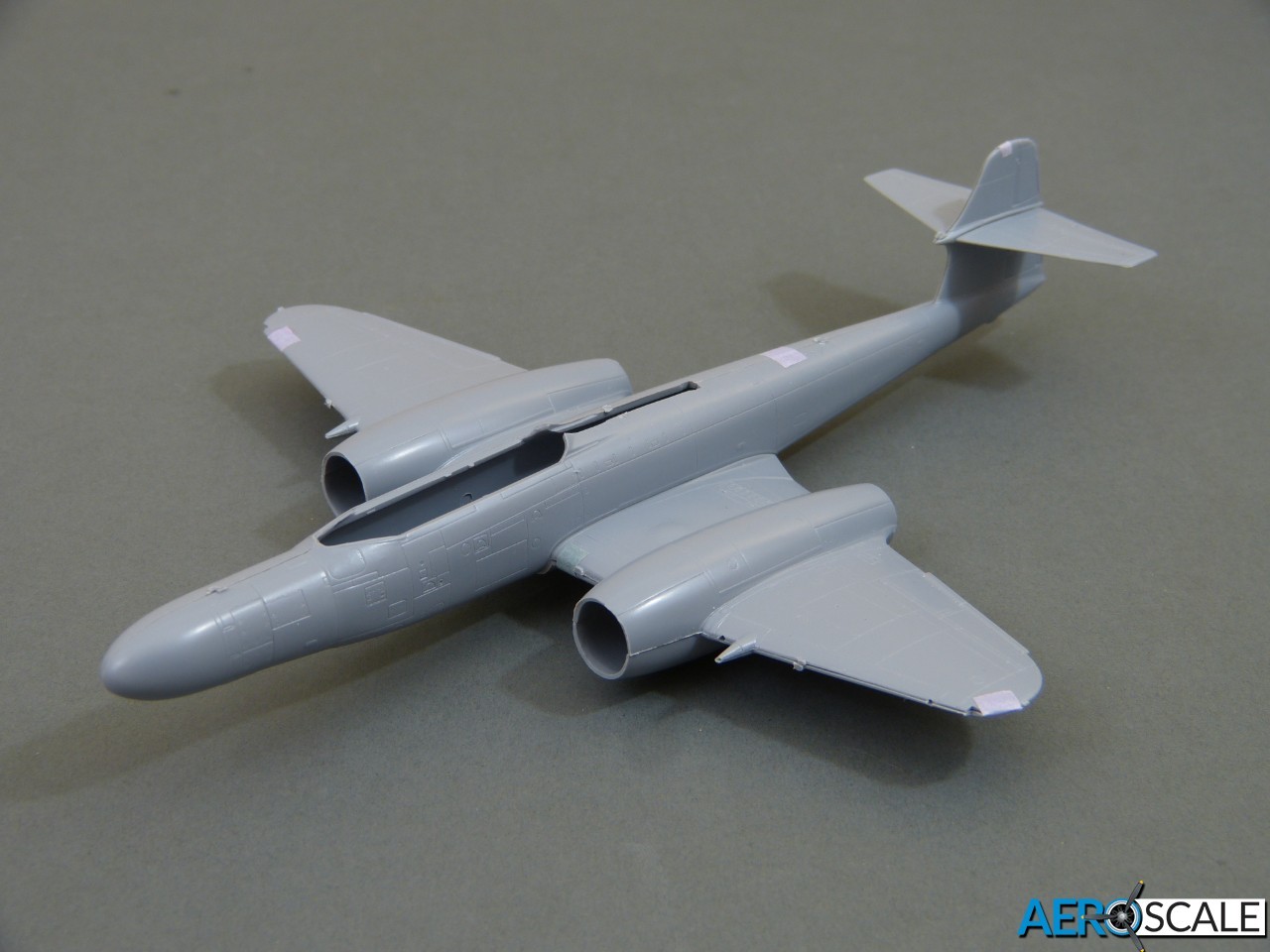 A Few Details
Construction begins with a very well detailed cockpit for this scale, with over 30 crisply moulded parts. The seats should look fine with the addition of harnesses (sadly, not included) and, yes, that's right - they are simple bucket seats, not ejection seats, even though this is a 1950s night fighter. A decal is included for the pilot's instrument panel.

The full size cockpit is basically black throughout, so I'll use a very dark grey on the model with subtle highlighting to allow the detail to pop out. There are plenty of useful shots online showing where you can add a few touches of colour to further bring the "office" to life.

Turning to the wings, Special Hobby include very decent renderings of the front and rear of the distinctive Derwent engines to avoid a see-through look to the nacelles. 

The wheel wells are boxed-in and reasonably detailed, while the main gear is surprisingly complex for this scale, with 2-part legs and weighted wheels. The nosewheel is moulded integrally with its leg, but the detail is very crisply defined and it should look excellent. 

The kit is fitted with a trio of extra fuel tanks - one under each wing, plus a big belly tank - once again adding to the striking appearance of the aircraft.
The kit includes a number of very small  items, including lamp covers and tiny protruding cannon muzzles for the wings (the guns were moved to the wings to allow for the radar equipment in the nose), and you'll need to add a few aerials from scratch.
Rounding everything off is a nicely moulded canopy which can be posed open or closed, along with a choice of windscreen styles.

Instructions & Decals
Special Hobby have printed the instructions in colour as an A5 booklet, with construction broken down into 31 logical stages. The diagrams are very clear, so I can't foresee any particular problems. Colour matches are provided for Gunze Sangyo paints.

Decals are included for four colour schemes, with a trio of RAF night fighters joined by a French test aircraft:

A. Meteor NF Mk. 14, s/n WS810, 60 Sqn., Singapore, 1960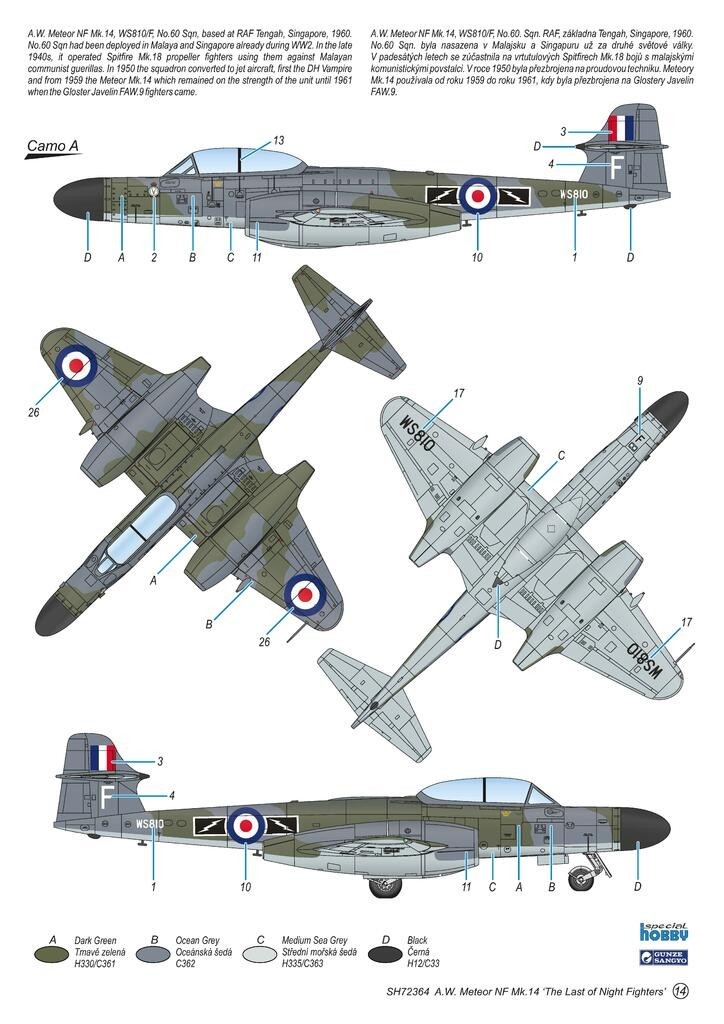 B. Meteor NF Mk. 14, s/n WS775, 85 Sqn., Church Fenton, 1958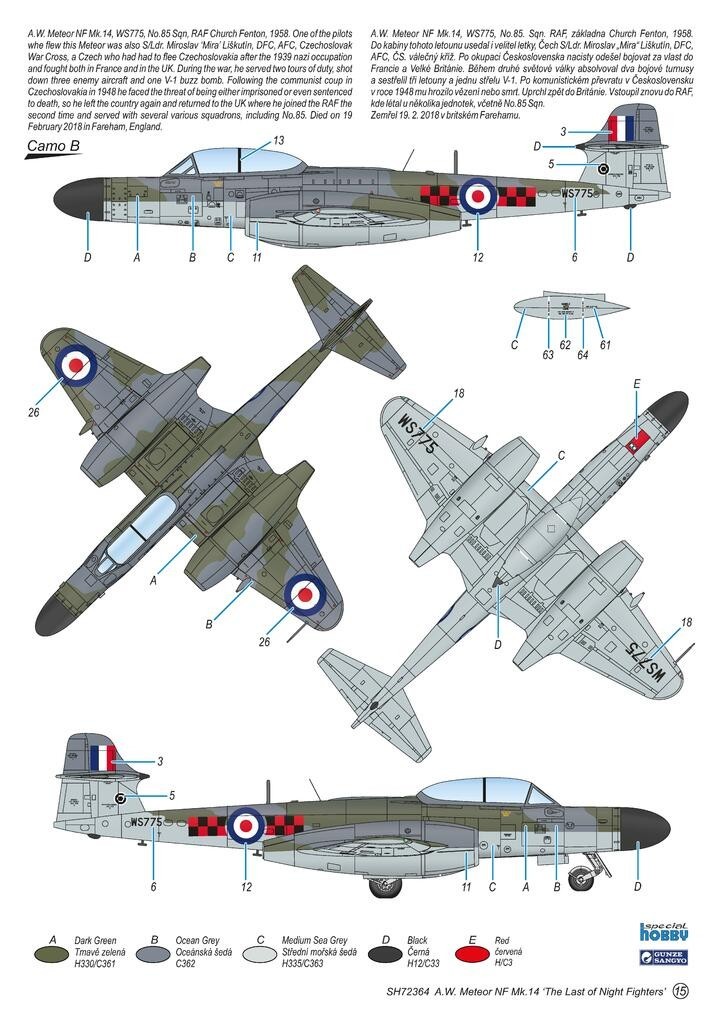 C. Meteor NF Mk. 14, F-ZABM/WS747, Centre d'Essai en Vol, France, as it appeared in 1979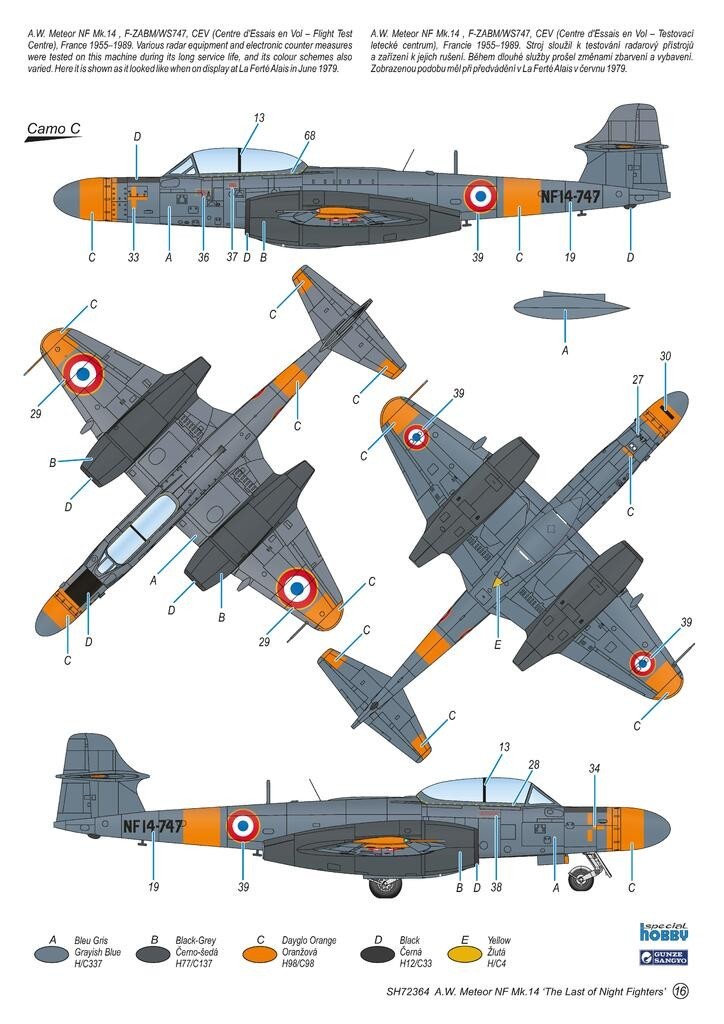 D. Meteor NF Mk. 14, s/n WS790, 264 Sqn., Linton-on-Ouse, 1955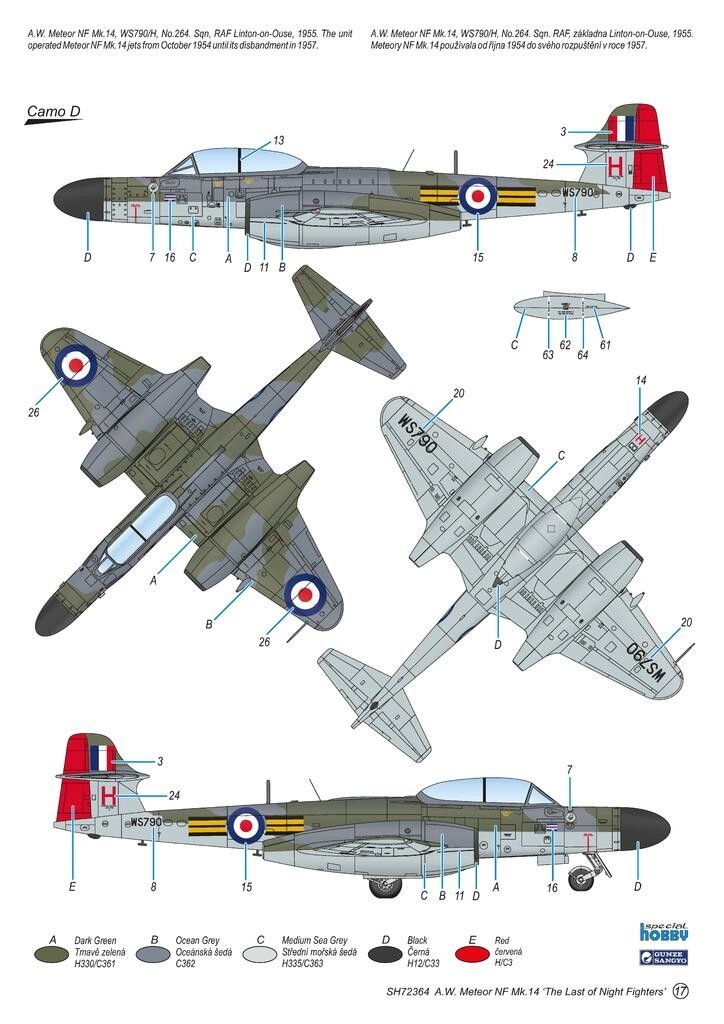 The decals appear to be excellent quality, being thin and glossy, with pin-sharp register. A comprehensive set of stencil markings is included, and Special Hobby provide a full-page placement diagram to accompany them.

Conclusion
I don't often work in 1:72, but I'm really looking forward to building the Mk 14 because I've long had a soft spot for the Meteor and this variant looks radically different to any which I've built previously. Special Hobby look to have done a fine job on the kit and it should be a rewarding build for anyone with a bit of experience with short-run models.
Many thanks to Special Hobby for providing the sample for review.
Item #SH72364 is available now from Special Hobby - Price: 19.90 Euros
Please remember, when contacting retailers or manufacturers, to mention that you saw their products highlighted here - on AEROSCALE