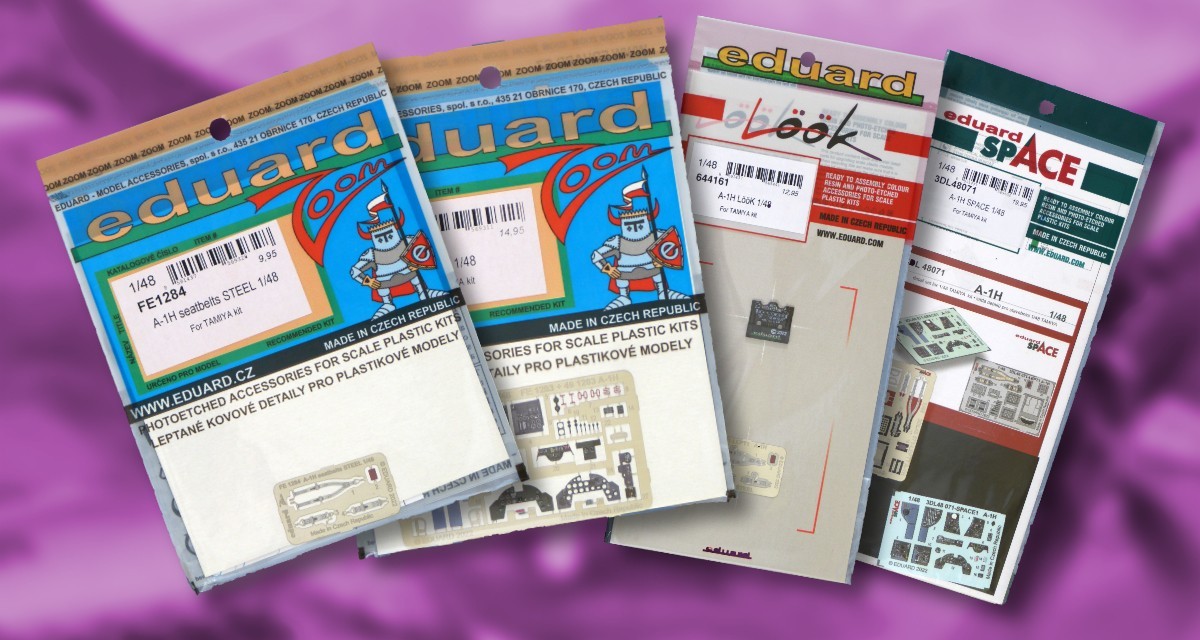 I've always liked Tamiya's Douglas Skyraider. It's a straightforward kit which builds into a very impressive model. The cockpit is a bit of a let-down, though, certainly by modern standards. There are just 5 parts - a 2-piece tub, plus a seat, control column and instrument panel. True, the raised detail on the side consoles is nice and crisp, but injection-moulding limitations mean there's plenty more in the "office" that couldn't be included.
To help cheer things up, Eduard have released a quartet of upgrade sets that offer something to cover a range of approaches.
FE1284 - Seatbelts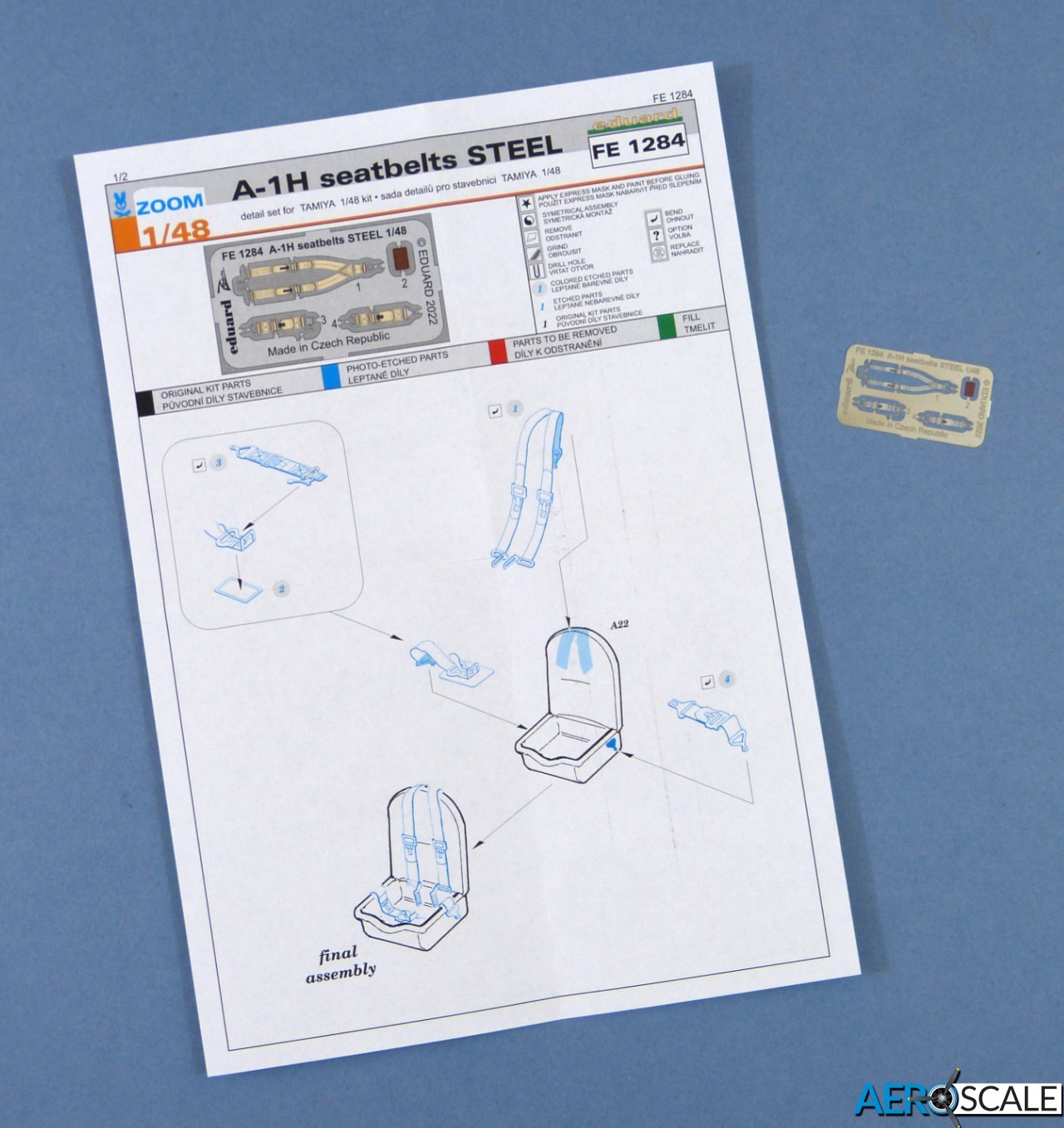 Starting with the simplest, Set #FE1284 provides pre-painted photo-etched seatbelts. Adding some sort of harness is really a bit of a "must" if you don't install Tamiya's pilot figure, because the seat is going to look very bare otherwise - and, with a bit of crafty positioning, the lap belts should cover the pesky ejection pin mark in the pan of the seat, obviating the need to fill it.
The belts themselves are very nicely done, with printed detail that is far finer than most of us could hope to match with even the strongest magnifier and steadiest hand. With just 4 parts and minimal folding required, this is an ideal set for anyone new to using etched sets, and it's accompanied by a clearly illustrated sheet of instructions.
Item #FE1284 is available now from Eduard - Price: £4.09

ZOOM Set #FE1283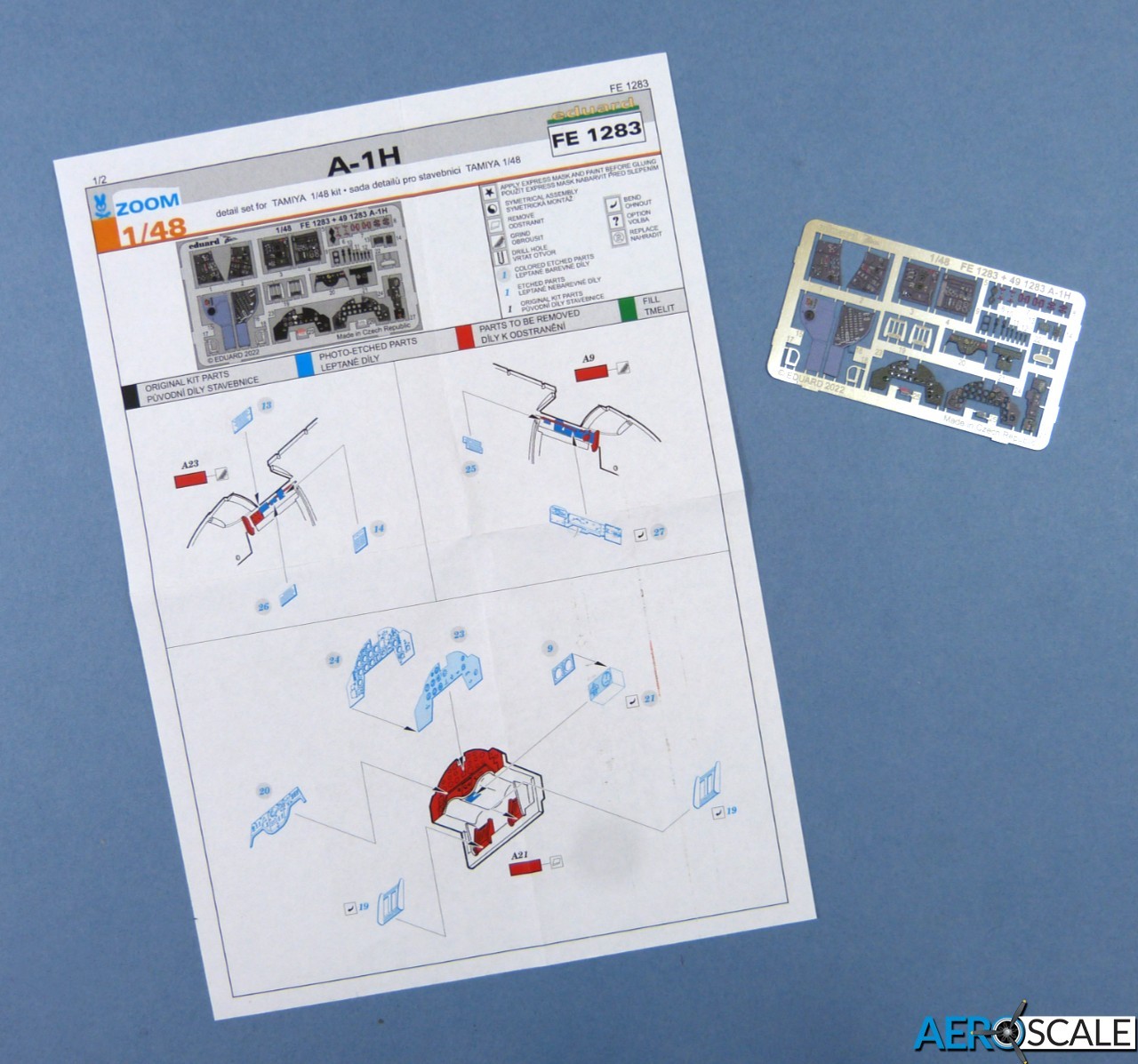 Moving up a step, Set FE1283 tackles the cockpit as a whole. (Note: it doesn't include seatbelts, so you may want to get the previous set to accompany it, or source a harness elsewhere.) To use this upgrade, you'll essentially have to remove all the moulded details from the kit parts, but the result should be spectacular with a complete new multi-layer instrument panel, side consoles and equipment for the cockpit sills. Crucially, it goes further and adds the missing detail below the consoles on the lower sides of the cockpit tub. It also provides new rudder pedals to replace Tamiya's integrally-moulded versions. Rounding things off are a rear view mirror and grab handles to fit inside the windscreen and canopy.
Needless to say, preparing the kit parts to accept the new details will require care and patience (e.g. carving away the moulded rudder pedals looks like it will be quite fiddly), but the results should be well worth it. Modellers with less experience working with etched parts could omit some of the items, but be aware - to get the most out of the set does require accurately rolling and folding some quite small parts.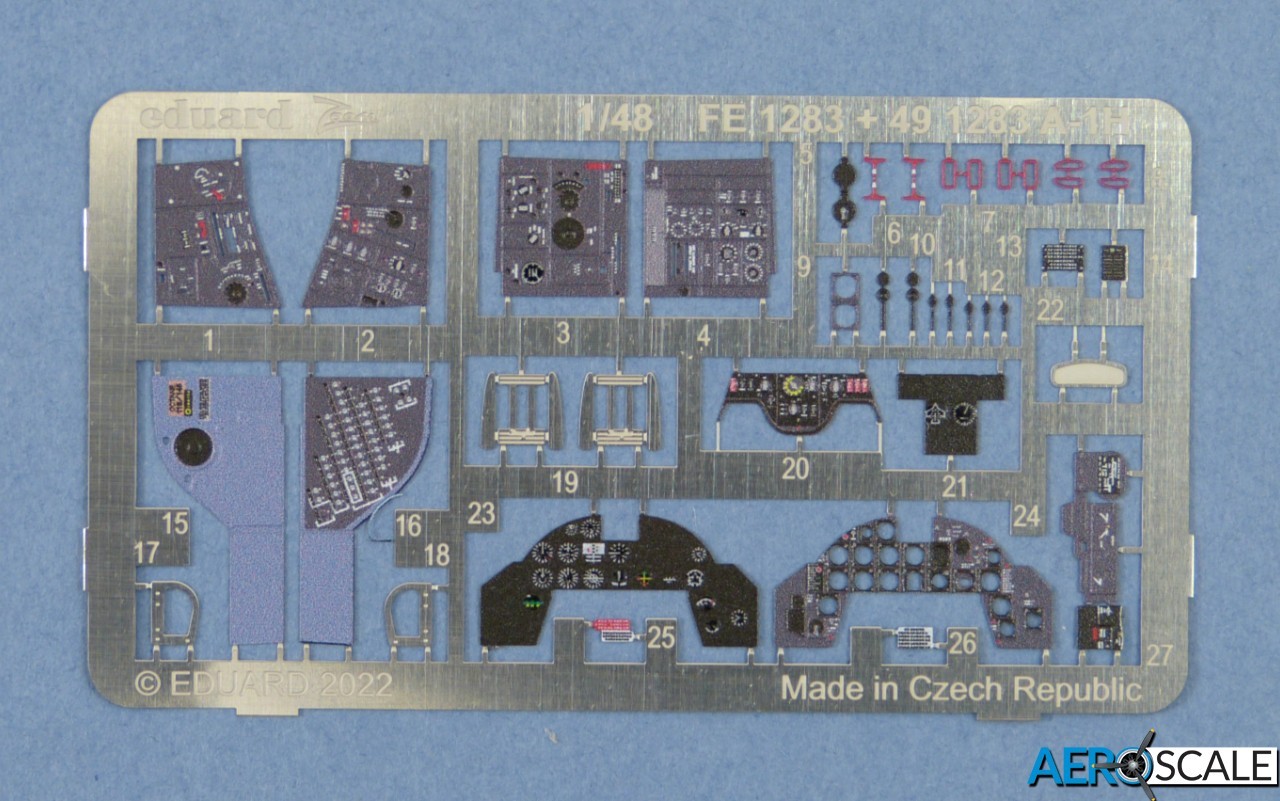 Eduard provide a neatly illustrated sheet of instructions that break everything down into manageable stages. They're colour-coded to show where surgery's required. However, there does seem to be one slip - they show a lining plate for the cockpit floor (part #32) which isn't on the etched fret.

Item #FE1283 is available now from Eduard - Price: £6.35

LööK Set #644161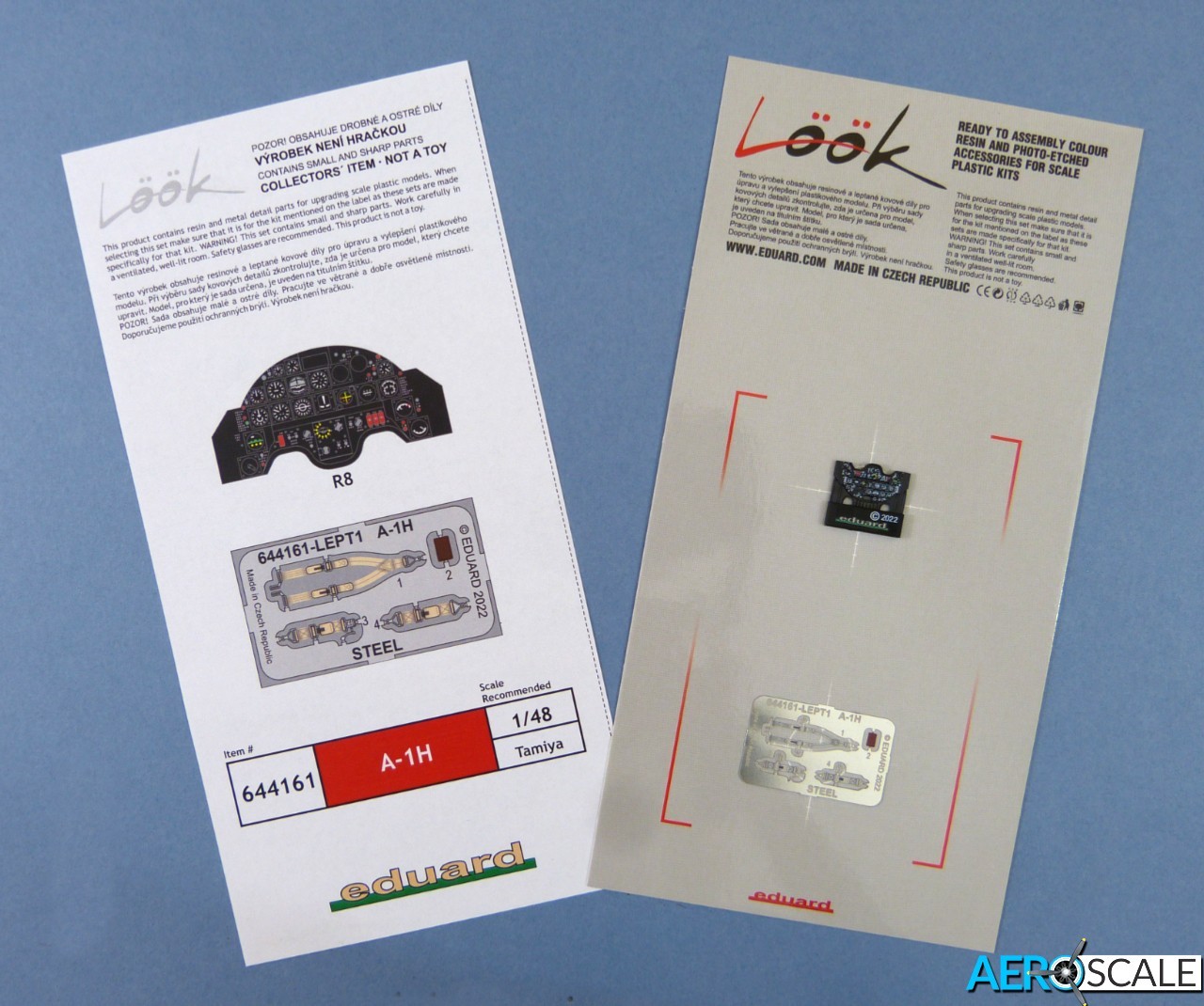 LööK Set #644161 represents something of a mid-way between the previous two upgrades described and is ideal for anyone wanting to give a simple, worthwhile boost to the kit's "office". It includes an identical seat harness to that described above, and adds an instrument panel that's cast in black resin with pre-painted bezels and instrument faces. As usual with LööK sets, the parts arrive attached to a card backer. I normally complain that Eduard glue the etched fret on too strongly, making it hard to remove without damaging it, but I have to say it came off absolutely fine this time. 
The quality of the pre-painting always suffers a little in extreme close-up photos, but it looks great to the naked eye - far more detailed than would be possible by hand. The instruments come ready-glazed, so it's ready to install in the model as soon as you've removed it from its casting plinth. Careful use of dry-brushing and washes should help highlight the crisp 3D details on the panel, but I'd recommend protecting the glazed bezels with drops of liquid mask to avoid marring them.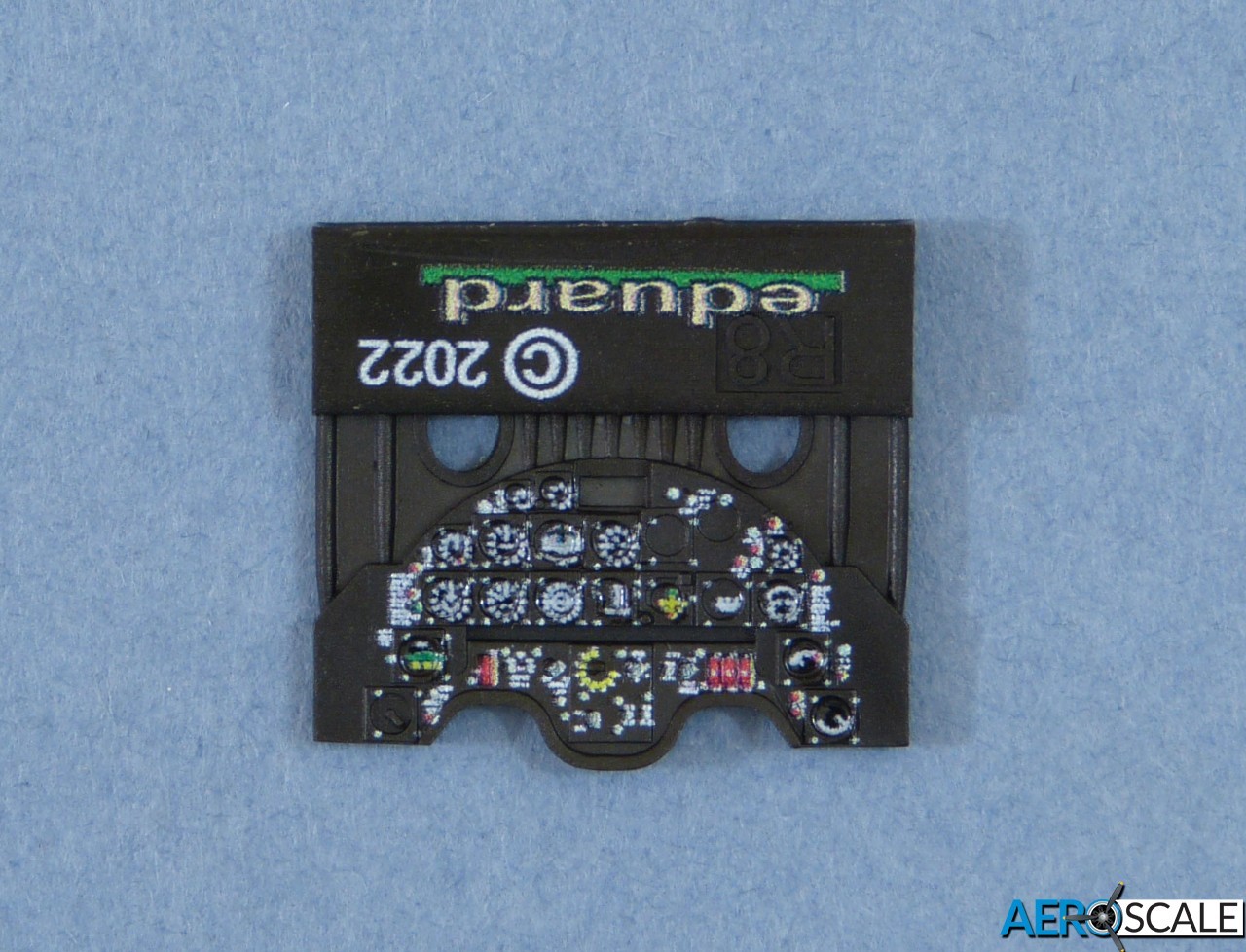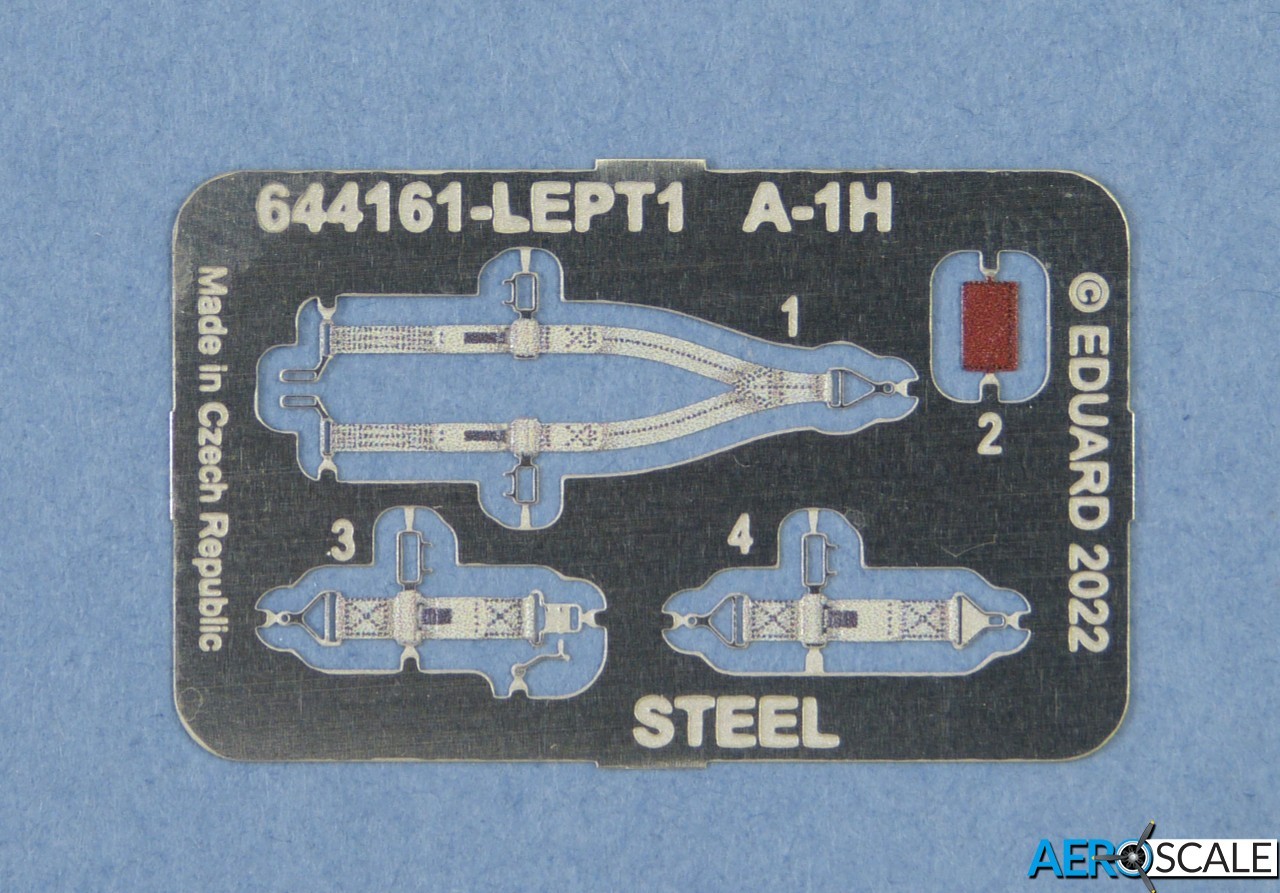 A simple sheet of instructions accompanies the set. These are fine for showing how to install the seat harness, but they fail to indicate that minor surgery is required to the kit to fit the instrument panel - basically, you need to remove the original panel from kit part #21. This won't be at all difficult, and would make quite a good way to start for anyone who's never modified a kit before. 
Item #644161 is available now from Eduard - Price: £5.50

SPACE Set #3DL48071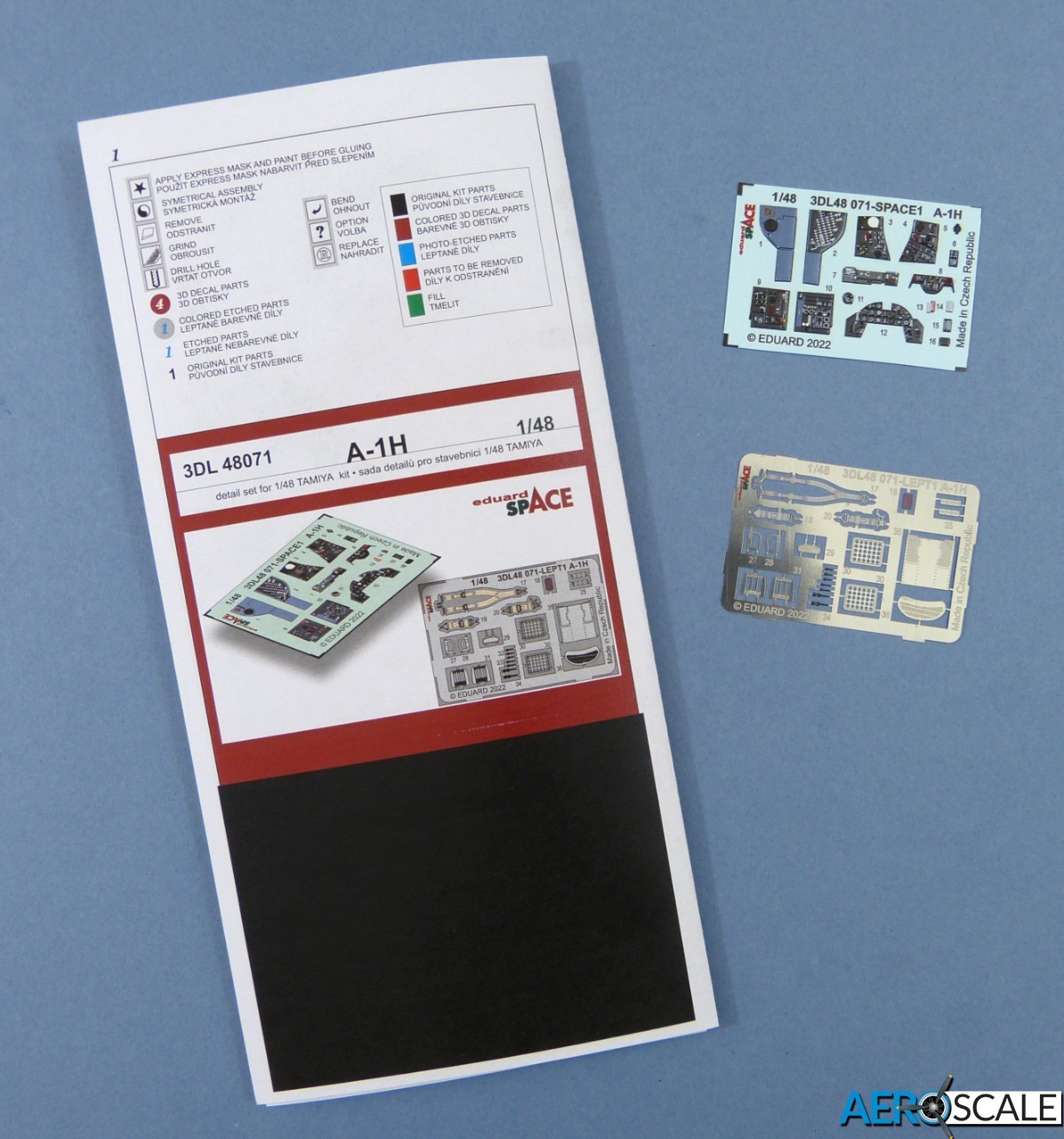 Last in this round-up is Eduard's 3D-printed SPACE Set #3DL48071, which again completely overhauls the cockpit, but also adds a few exterior details. Although it's more comprehensive than FE1283 described earlier and also includes an etched seat harness, it's actually simpler - using fewer parts to achieve a similar level of detail. As before, the instrument panel, consoles and sides, sill details and rudder pedals are all replaced - and this time the liner for the cockpit floor is included, complete with heel plates. 
The 3D-printed decals look "eye-poppingly" good, the details standing out somewhat stronger than their colour-etched counterparts and, once again, the overall effect should be excellent. Instruments are glazed so, as noted above, you may want to protect them if you weather the parts. Etched levers are included for throttles etc. along with a rear-view mirror and grab handles for the windscreen and canopy. 
This time there's a sprinkling of exterior parts too, with details for the canopy frame, a mesh to replace the solid air intake, plus perforated plates to fit under the rear fuselage.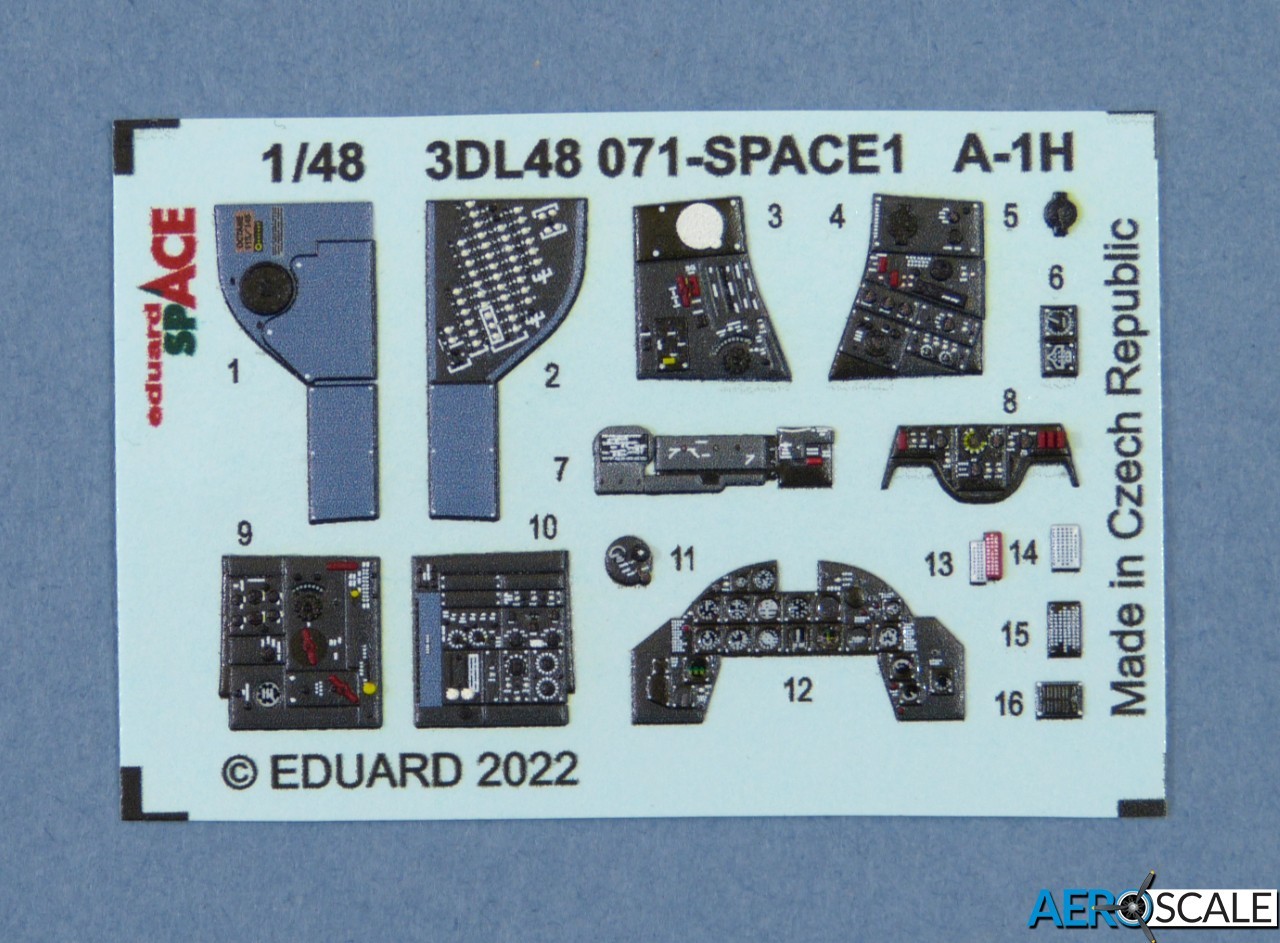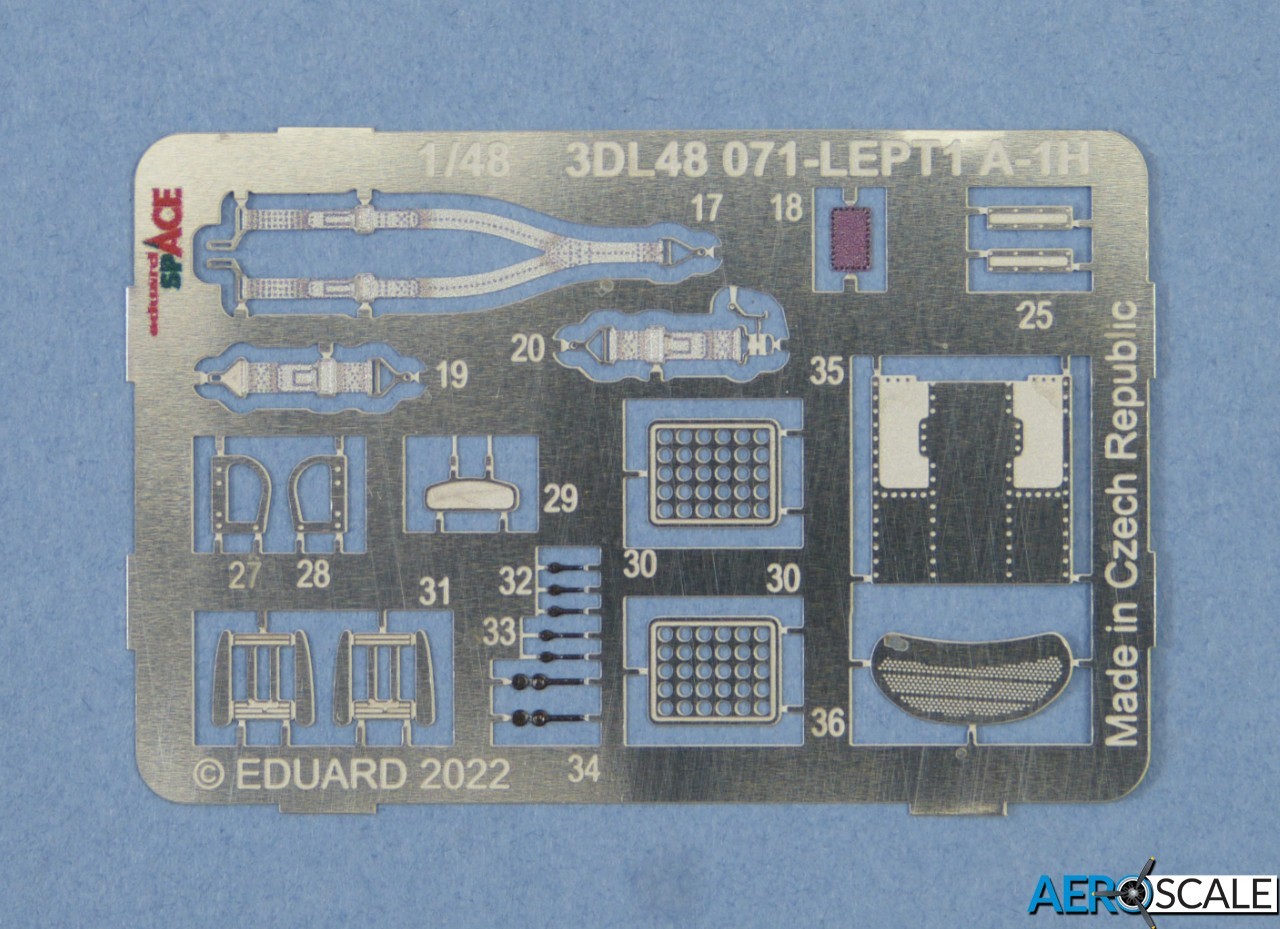 The same note of caution applies as with the etched set - you'll need to do a fair amount of preparation to install this upgrade, removing all the moulded details from the kit parts. There are still a few folds required for the etched parts and the 3D-decals will have to conform to some reasonably complex shapes on the side consoles, so this probably isn't a suitable detail set for inexperienced modellers.
The instructions are very good, once again clearly colour-coded to show where surgery is needed and breaking the work down into sensible chunks.

Item #3DL48071 is available now from  Eduard - Price: £8.32

Conclusion
Purely in terms of value for money, the combined 3D-decals/photoetched SPACE set wins out for me because I'd want to give the cockpit a complete make-over, but Eduard have done well in offering a variety of ways to upgrade Tamiya's Skyraider, ensuring that there's something suitable for everyone, whether they want to quickly enhance the existing details or go to town and replace everything. This approach also gives options for any modeller with a few successful builds under their belt to find something suitable for their experience level.  
Many thanks to  Eduard for the review samples.

Please remember, when contacting retailers or manufacturers, to mention that you saw their products highlighted here - on AEROSCALE