Army Wants 70 Self-Driving Supply Trucks By 2020
The Army is ready for unmanned vehicles but not yet for a completely unmanned convoy. The 2020 iteration is called Expedient Leader-Follower because the Army still wants a human soldier driving the lead vehicle, with up to nine autonomous trucks following in its trail. But Oshkosh and Robotics Research told me they could take the humans out altogether, if the Army wanted.
By SYDNEY J. FREEDBERG JR.
on August 20, 2018 at 4:00 AM
Link to Demo Film:
https://youtu.be/pwbLO81faGc
If you find self-driving cars impressive today, think about Army trucks that can drive themselves off-road, in a war zone, less than three years from now.
For all the Army's embrace of high technology, the service still wants the lead vehicle in the convoy to have a human driver, at least at first. But the unmanned trucks that follow behind will need to stick to the trail without relying on street signs, lane markings, pavement, or GPS. They might not even have a clear line of sight to the vehicle ahead of them, which may turn a corner in a city or disappear into a cloud of dust driving cross-country. En route, they have to avoid not only pedestrians, animals, and vehicles, like civilian self-driving cars, but also rubble, rocks, trees, and shell holes. And they have to avoid solid obstacles without stopping every time they see tall grass, a low-hanging branch, or a dust cloud in their path — the kind of common-sense distinction that's easy for humans but very hard for computer vision.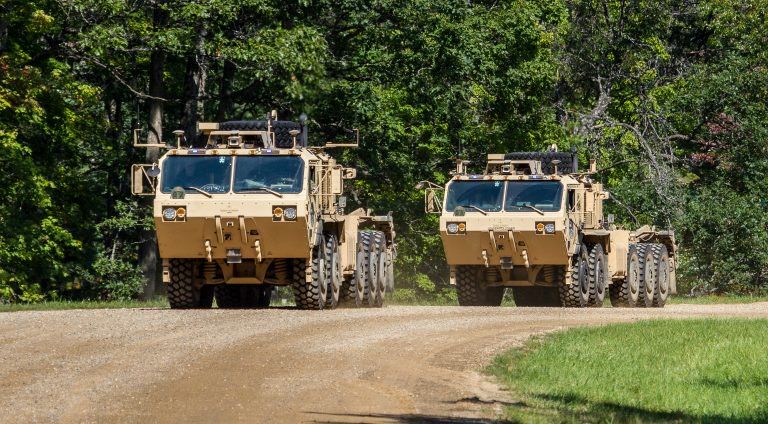 Self driving PLS trucks on test course.
But the Army is confident it can be done. Army Secretary Mark Esper has publicly enthused about the technology after riding in a prototype, saying it could both free up manpower for the front line — most troops work on logistics and maintenance, not in combat units — and save lives from roadside bombs and ambushes — to which supply convoys are particularly vulnerable.
After years of tinkering, the Army has accelerated its Automated Ground Resupply (AGR) program by spinning off something called the Expedient Leader-Follower demonstration. Contractors are currently installing Robotics Research LLC's computer brains and sensors on 10 Oshkosh M1075 PLS (Palletized Loader System) trucks that'll be used for safety certification tests in 2019. They'll convert 60 more to self-driving vehicles in time to equip two Army transportation companies in 2020.
While the two units' main job will be to demonstrate the technology works in field conditions, "if they get called to deploy, they will deploy with the vehicles," said Alberto Lacaze, president of Robotics Research, in an interview with me yesterday. "That could happen fairly quickly."
Exactly when the large-scale demo starts in 2020 is still a moving target, based mainly on how 2019's safety testing goes, said Pat Williams, VP for Army and Marine Corps programs at Oshkosh Defense. It's the Army's call on whether to compress the timeline, he told me, but "there's interest in pulling that left where possible."